Edinburgh, Scotland
May 5-10, 2014


This is Part 1 of my trip to Scotland. This is Part 2: Aberdeen and Dufftown
My father-in-law, Jim, wanted to go to Scotland and I have a friend living there right now, so why not?
Note: Jim and I took over 900 photos on this trip. I winnowed it down to about 80, and broke it into 2 parts Edinburgh and Aberdeen, for this essay.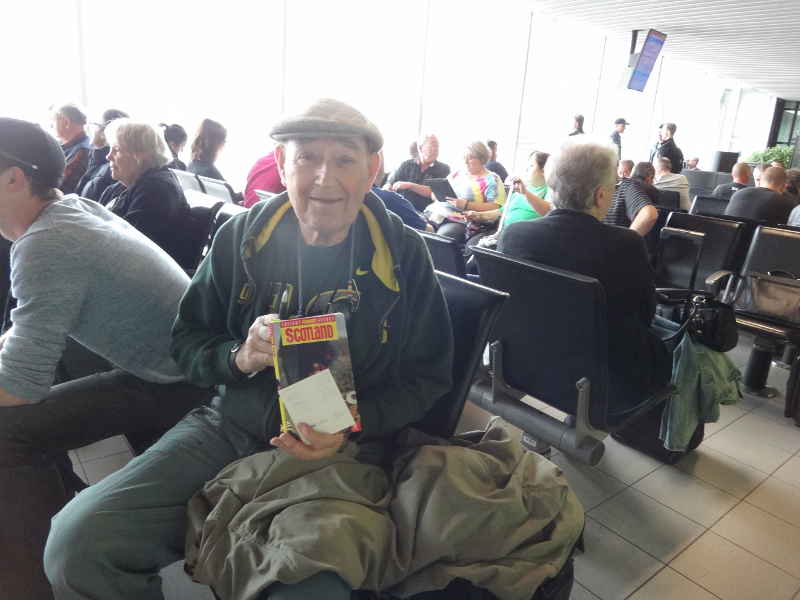 Jim brushing up as we wait at the airport. Our only snag in security was at Copenhagen where Jim got special attention from their version f the TSA. Danes really are tall and blond.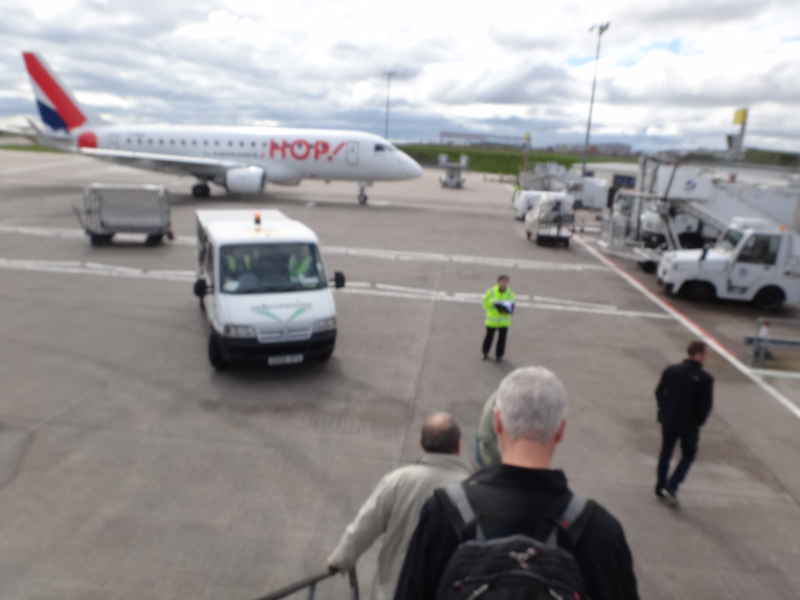 Aberdeen airport was a little . . . less than I had expected. I do like international air travel now with all the free movies and such.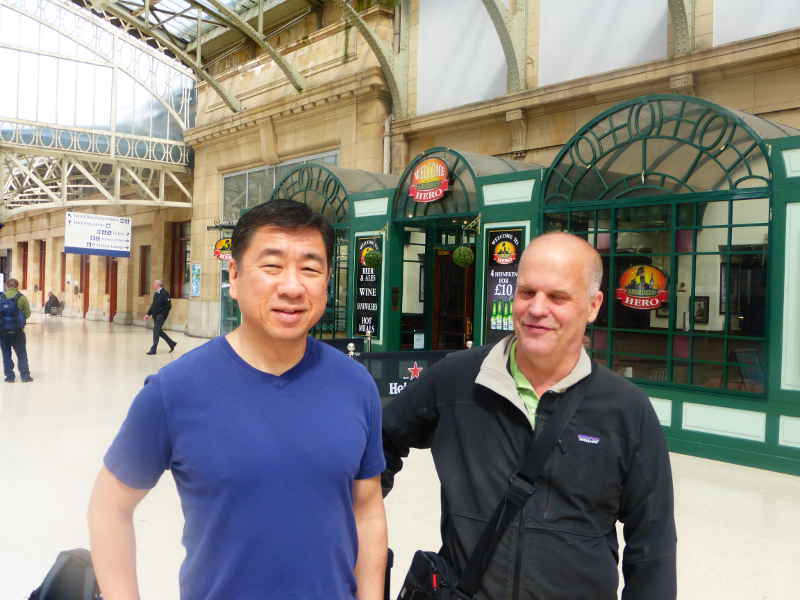 I helped Larry flunk out of college in 1982. We've been friends ever since. He met us at the airport and took us to the train station (planning error on my part.) It's nice to be old in Scotland. Had I been 55, my round trip train ticket would have cost £19 instead of £54.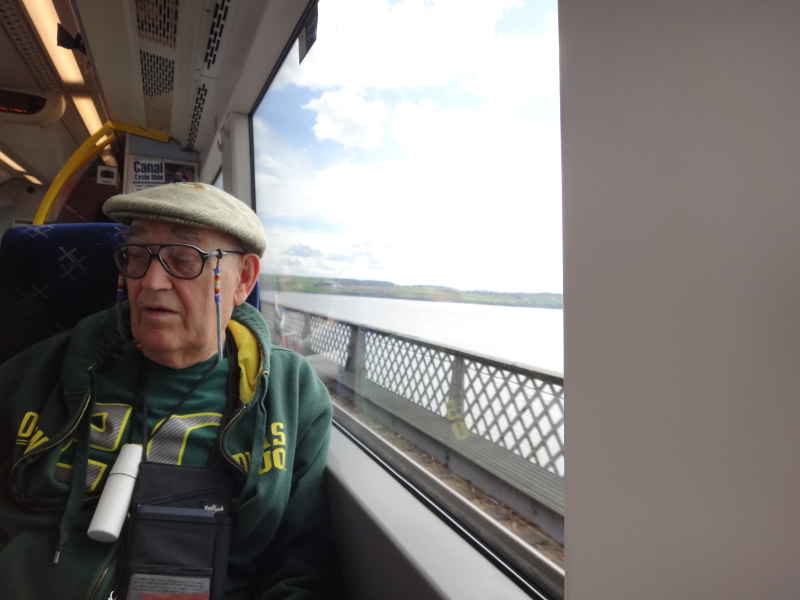 Train travel is VERY nice - good seats, ability to purchase snacks and drinks, free wi-fi, clean and quiet.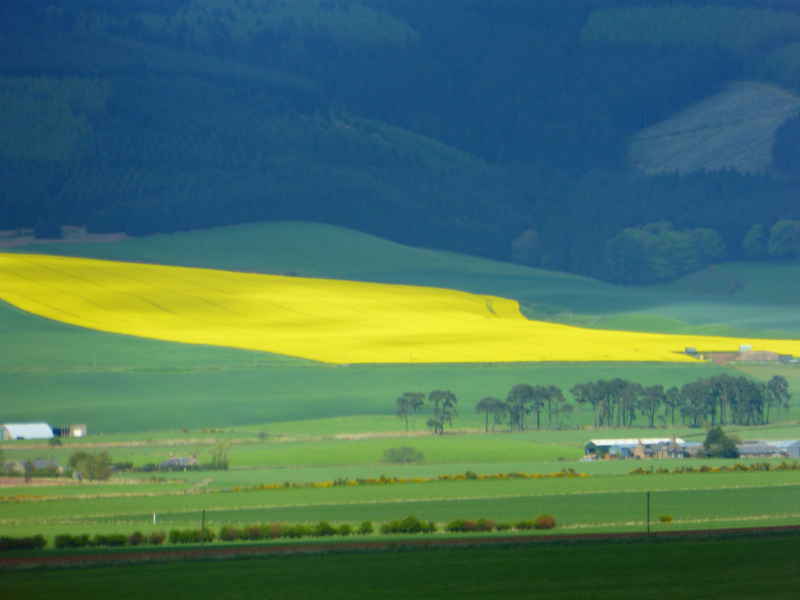 Scotland is very pretty - we decided these were fields of mustard.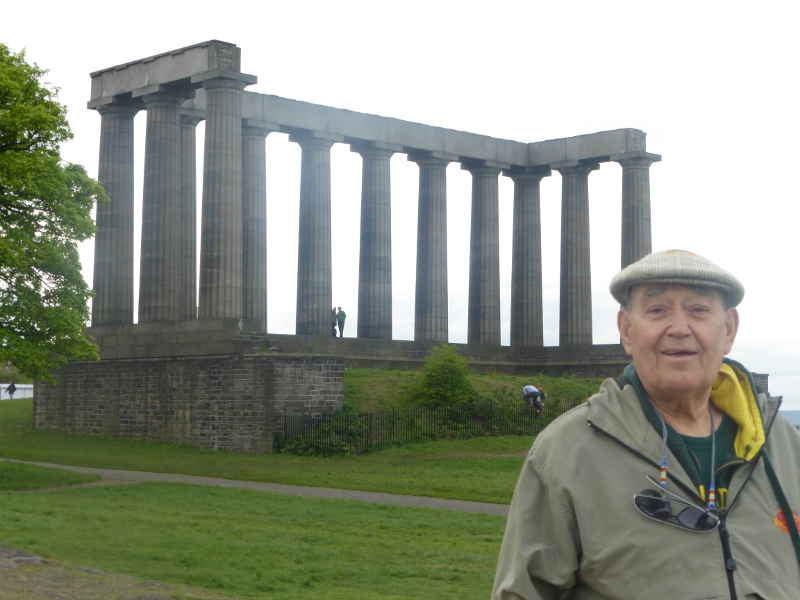 We hit Edinburgh, checked into the Apex Waterloo hotel (excellent) and went to our first sight, Calton Hill, which was right behind the hotel. That monument was supposed to be for the Scottish sailors who died at Trafalgar, but the ran out of money so there it sits.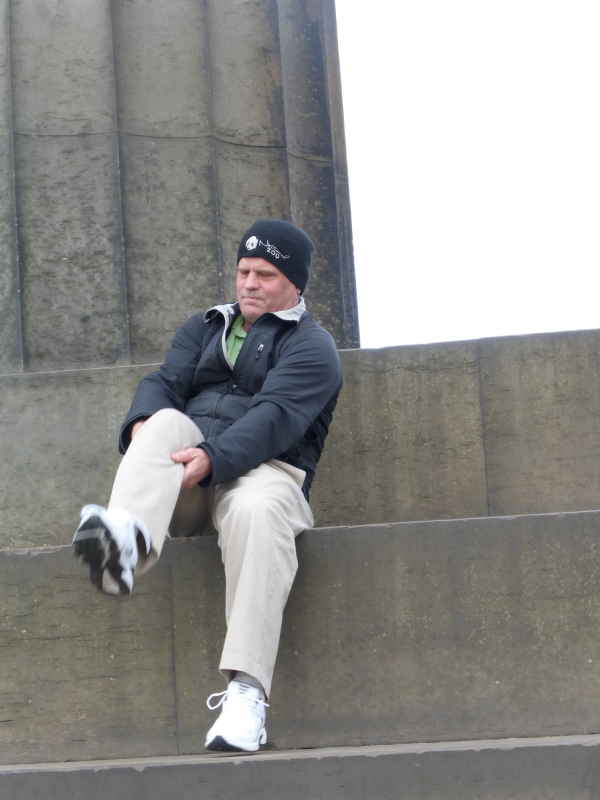 Other people were sitting on it, so I thought I'd give it a go. The ledge was about chest height, and by the time I'd humped my aging butt up there, I'd developed a cramp.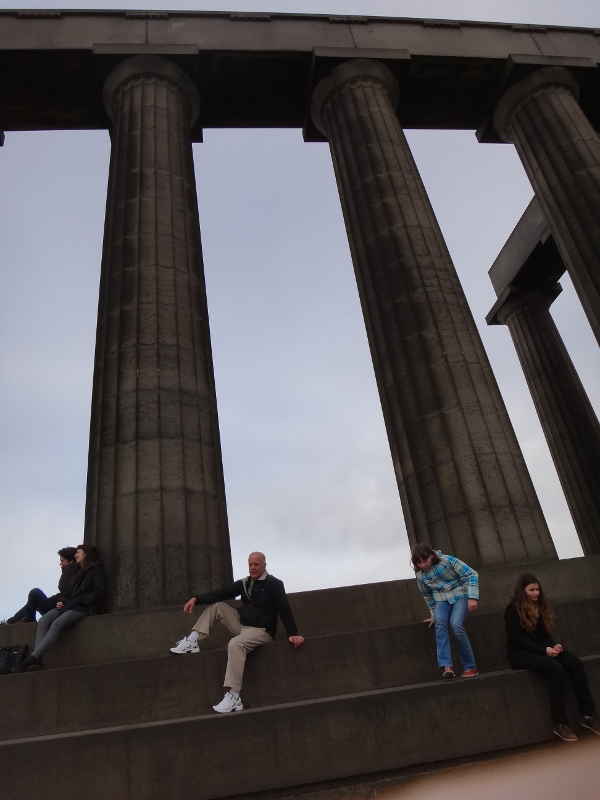 Where I instructed Jim to take a picture of me "like one of your French girls."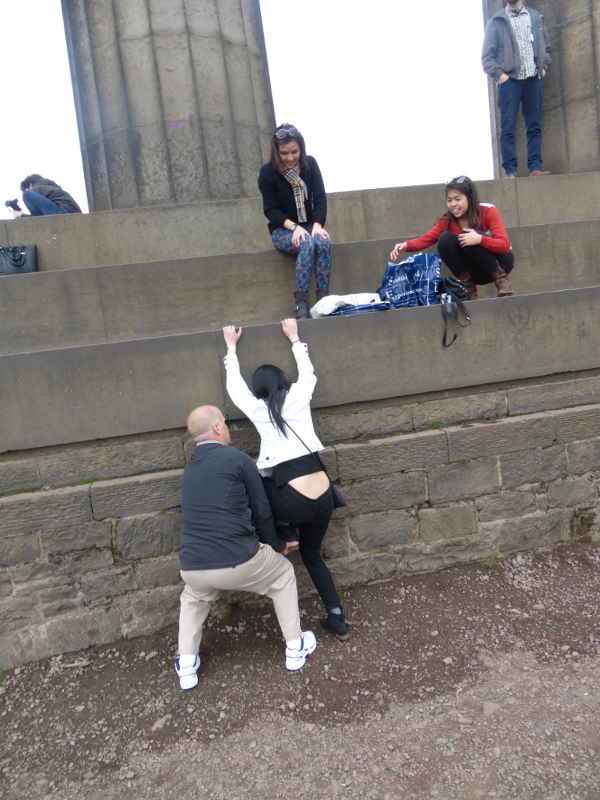 I then set about helping other people climb up on the monument - these young women were from Thailand. The first rule of climbing on monuments is to get as many people up there as possible so no one gets in trouble.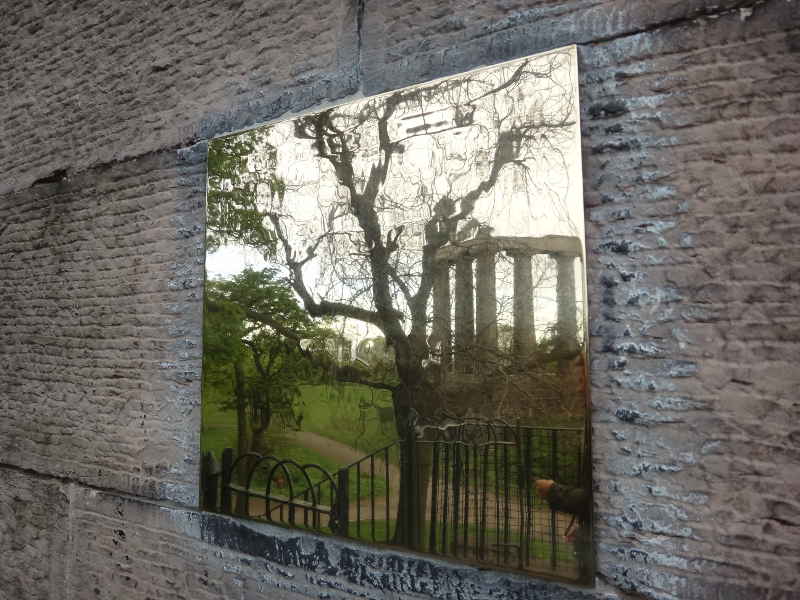 What's really cool about this picture is that is actually a brass plate that had been polished so much the words smoothed out and it is now unreadable. That brass plate is older than the town I live in.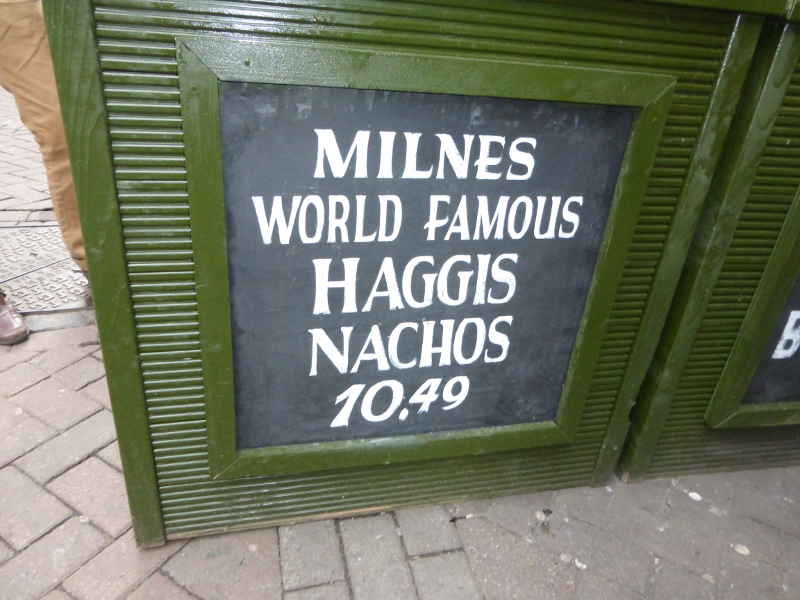 After wandering around Calton Hill and getting a good feel for our location, we went off in search of sustenance. One of my goals was to eat Haggis, and that turned out to be easier than I had anticipated. We did not have Haggis Nachos, though. On this first night, I had Fish-n-Chips, which the Scot's serve as one entire half of a fish.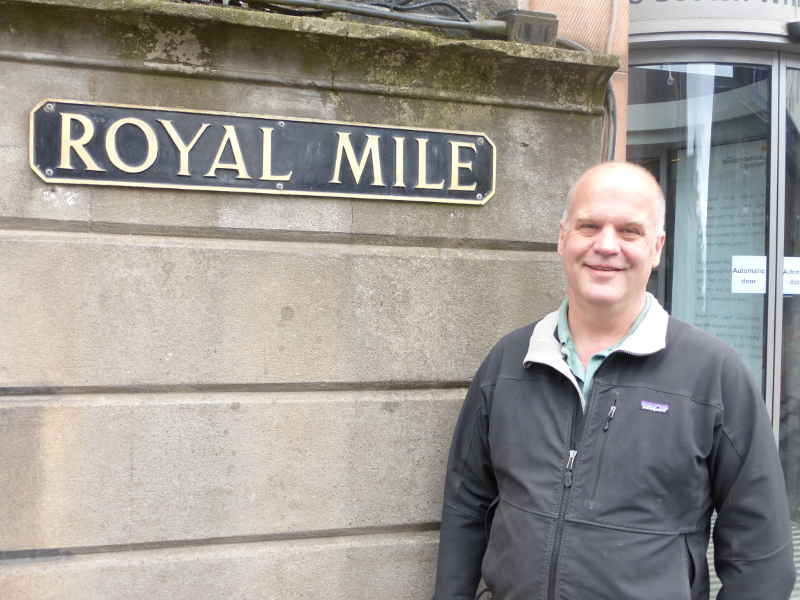 Next morning, it was off to Old Town to see the Royal Mile.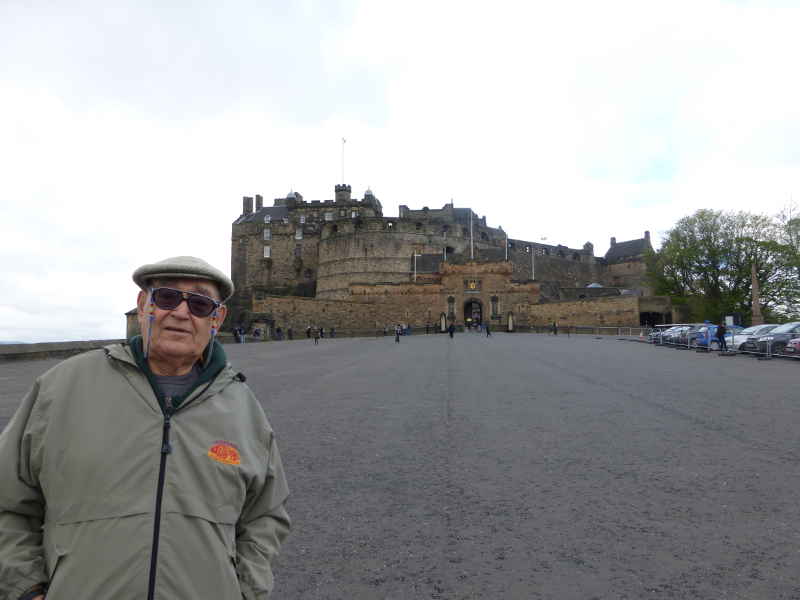 Edinburgh Castle is a REAL castle, made for defense and old school ass kickery. It is on a volcanic knob that has a commanding view of the city.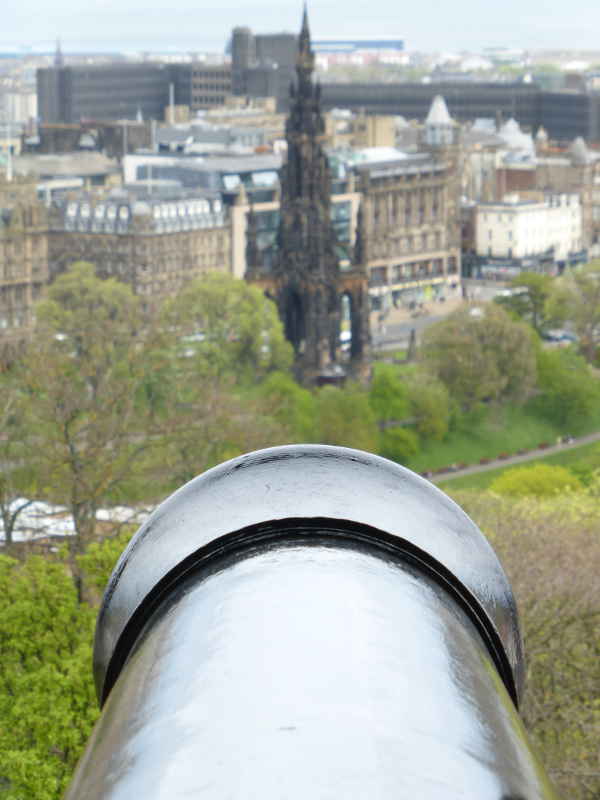 When I say "commanding" I mean it. I don't think the cannon crews got very much practice.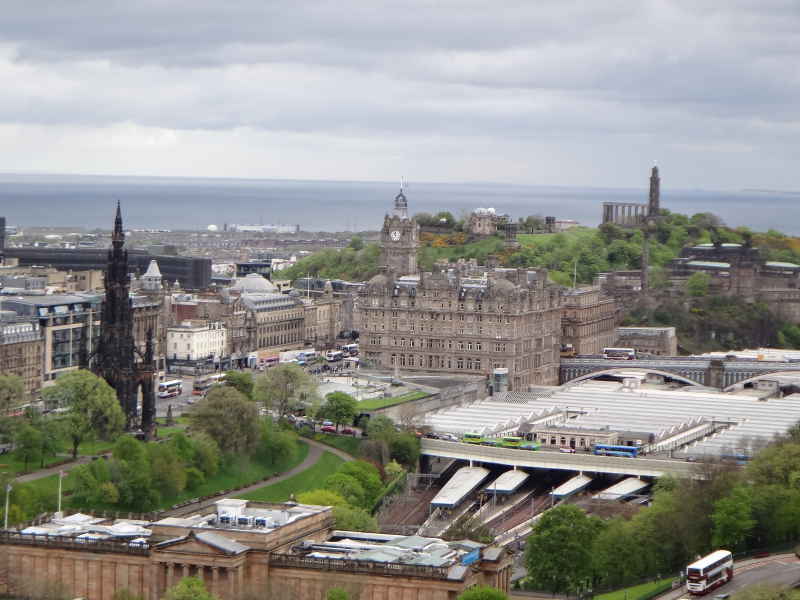 This is the view back over the city. The spire on the left is the Walter Scot Memorial (more on that later) and in the distance is Calton Hill. In the background is the Firth of Forth, which I'd always thought of as a made up name.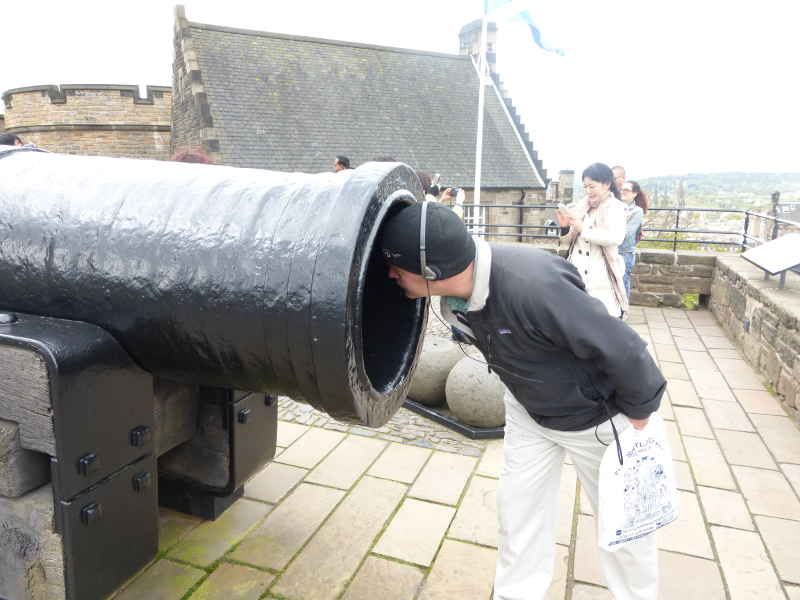 Mons Meg was one BIG cannon, more of a ballista, really, firing those huge stone balls you see in the background. Do yourself a favor at the castle and get the audio guide. It is well worth the money.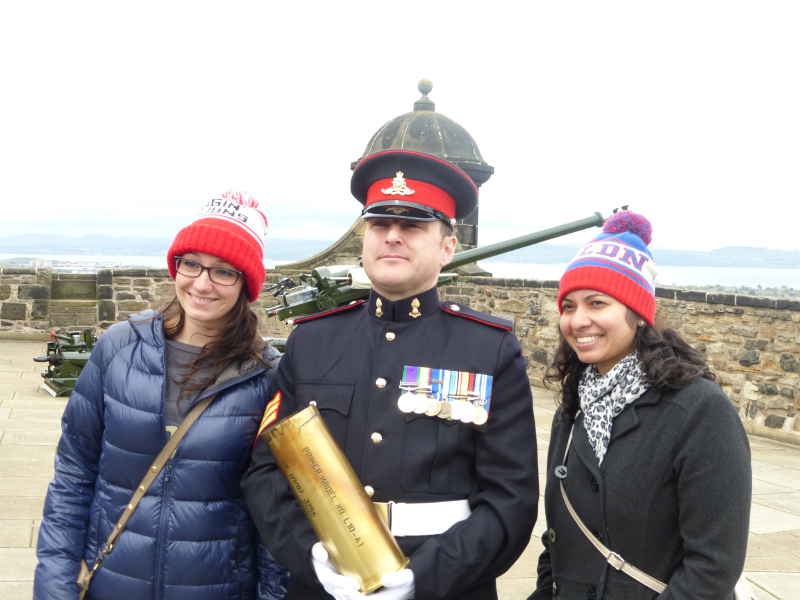 They really like their cannons - they even fire one off every day at 1pm - a tradition from back in the day when ships needed to calibrate their chronometers. This guy was really nice - he's a retired Sergeant Major. We had a nice talk about howitzers (that's the British version of the M101 I got to play with.) That's the nice thing about being a cannon cocker - you never lose your love of making big noises.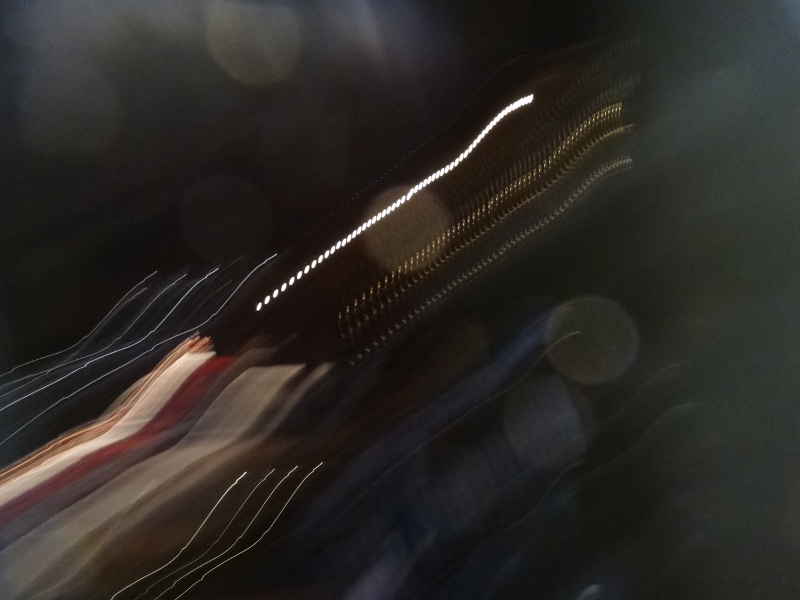 They have a TON of stuff at Edinburgh Castle - we spent the day there, from opening at 10a until about 4p. One of the sights is the Honors of Scotland, of which you are not permitted to take pictures. This was the best I got before the guard caught me. Keely and I first saw the Stone of Scone when it was still held by England.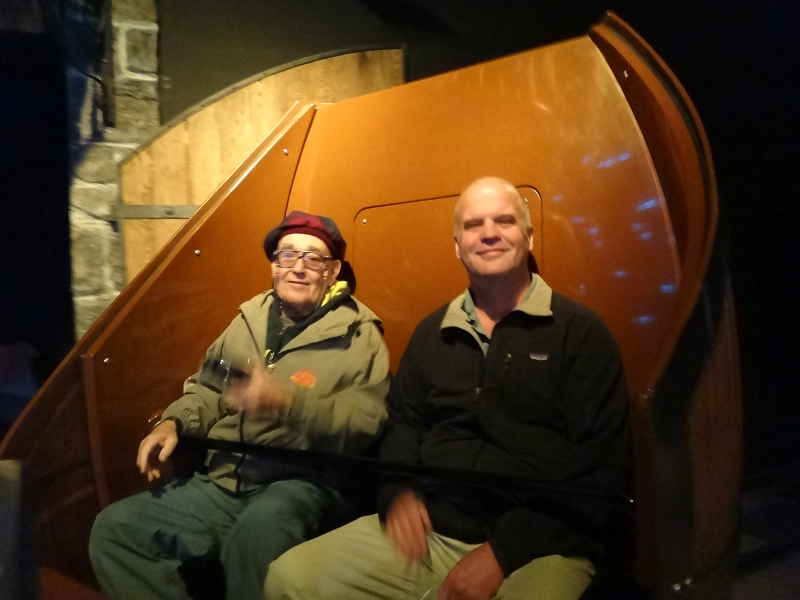 After the castle, we went on the Scotch Whisky Experience, where we rode in a barrel (ala the Disney's Haunted Mansion, complete with ghost guide)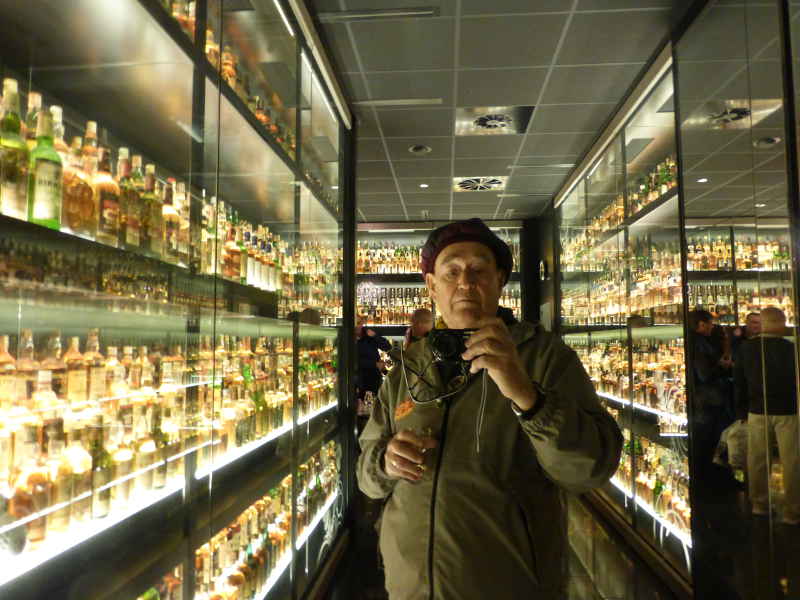 The Scotch Whisky Tour is home to the largest collection of Scotch Whisky in the world. As part of the tour, we got our first (of many) tastings of Scotch Whisky.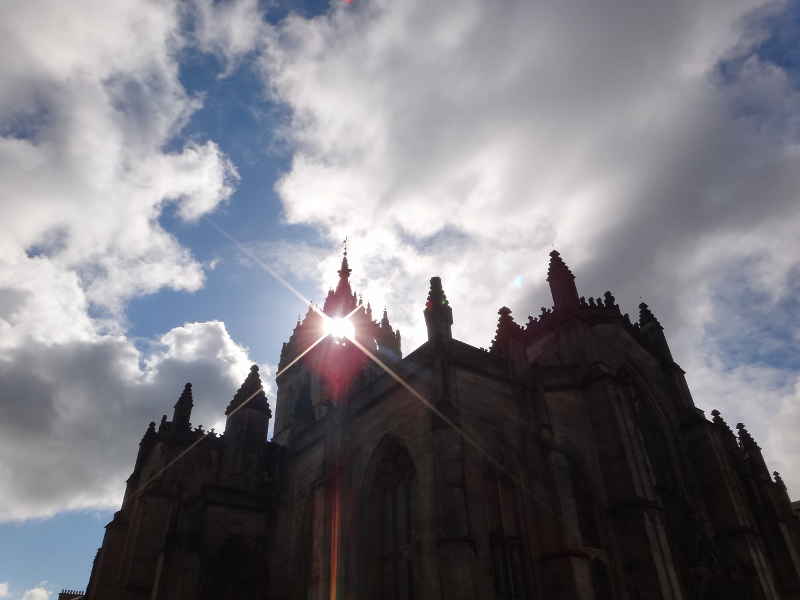 Next day was off to the Royal Mile again, this time hoping for walking tours. Here's a travel hint: NOTHING in Scotland is open before 10a. Still, I got a great shot of St. Giles Cathedral.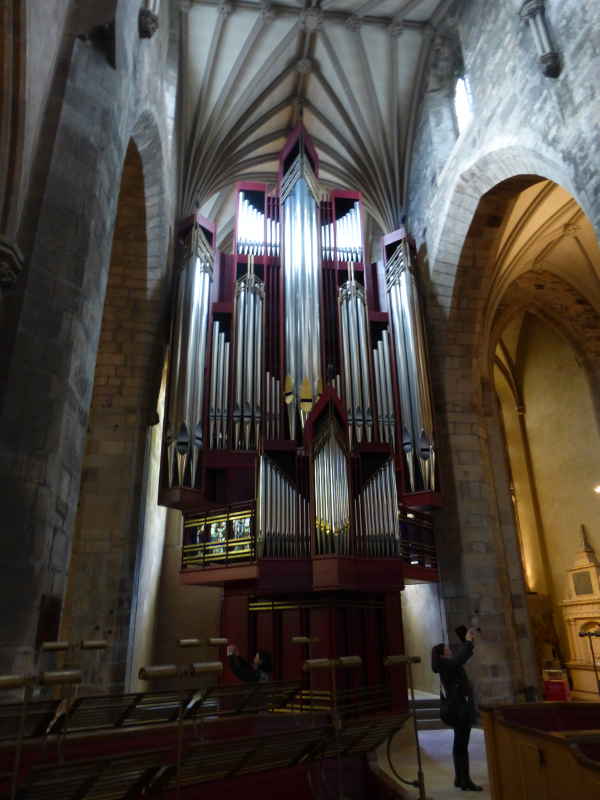 The insides were REALLY cool (and free) and they fired this bad boy up for testing. It sounded just like in the movies.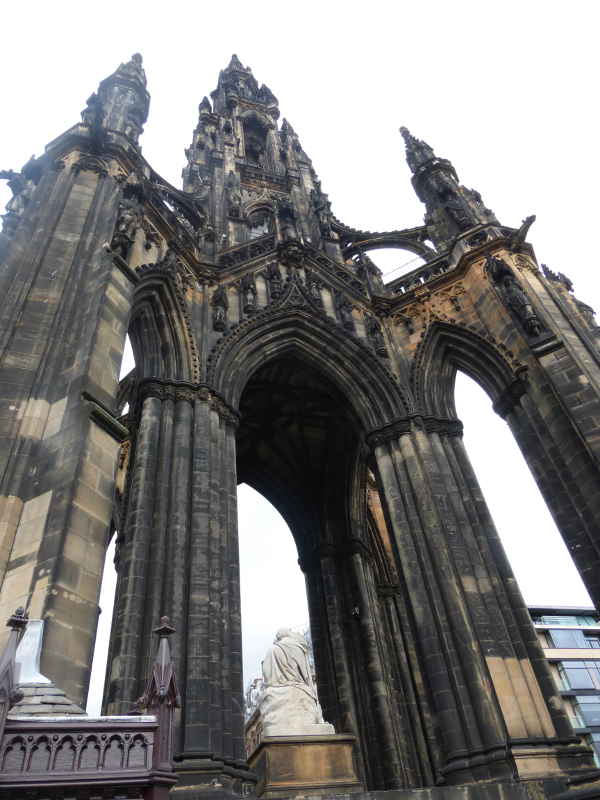 We finally found our tour agency, but he next tour wasn't until 2:30p, so we headed back over to New Town and the Scott Monument, aka the Gothic Rocket because it looks like a church steeple about to take off.
287 stairs, 4 landings, and space a the top of about 6 people. Not for claustrophobics. It got a lot tighter than this at the top.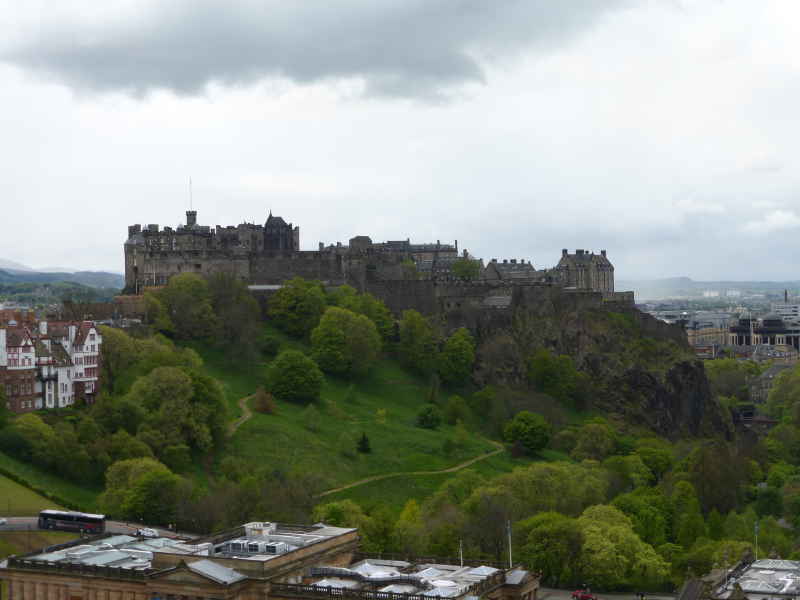 The view was worth it, though.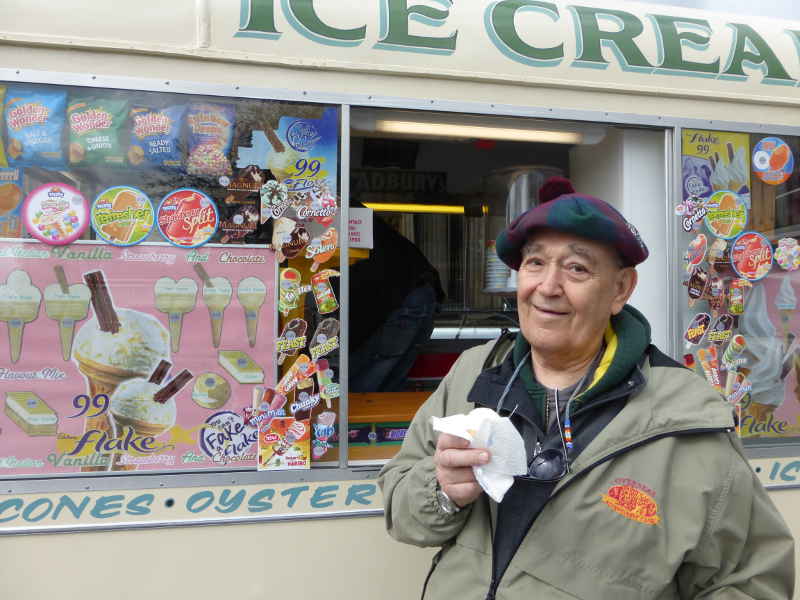 Near the Gothic Rocket was an ice cream truck. I glanced at it and something out of place caught my eye - look next to Jim's elbow: Oysters? What the heck are oysters doing in an ice cream truck?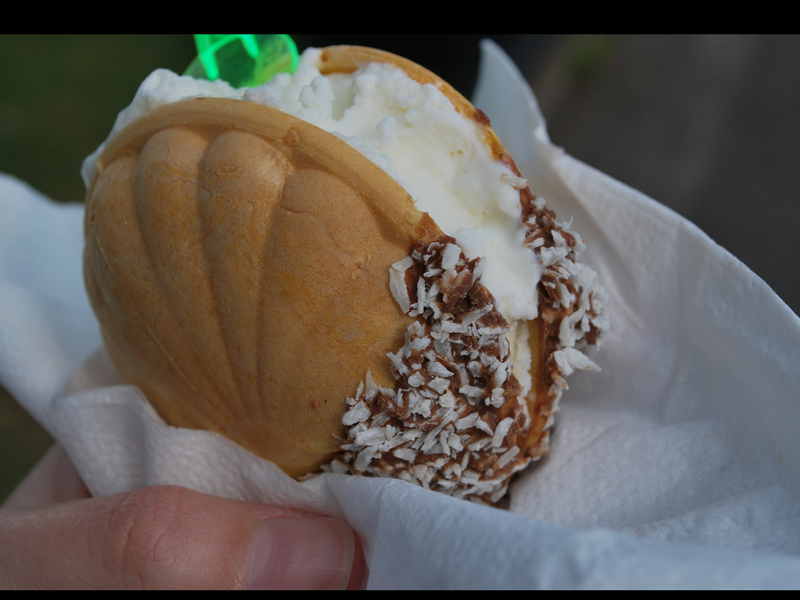 Turns out, they are pretty damn tasty. Waffle cone shells dipped in chocolate with coconut flakes, a spritz of marshmallow in the bottom and a scoop of vanilla gelatto for the filling. The more you know.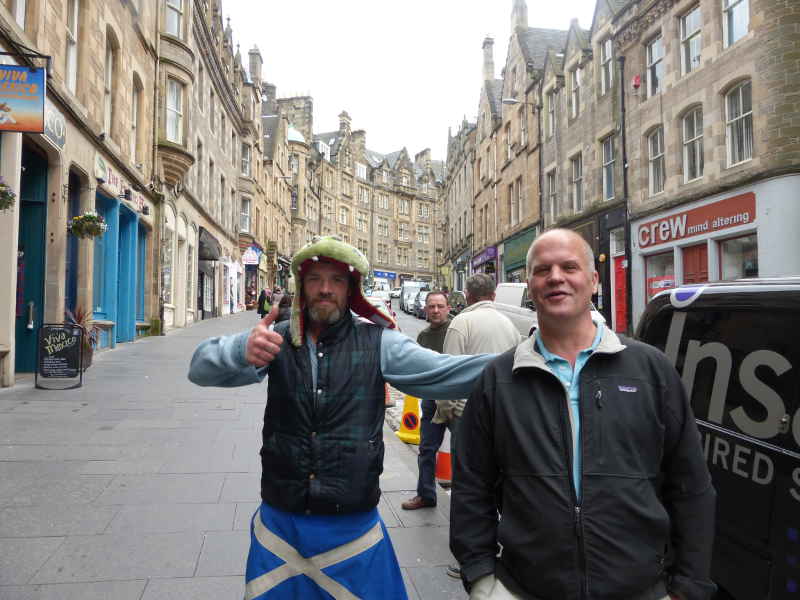 One of the things Scotland has that we don't is proud drunks. This guy, in his Nessie hat and St Andrew's kilt, was happily staggering up the street, gibbering away. The nice thing about Scottish drunks is they seem to be very friendly - at least by day.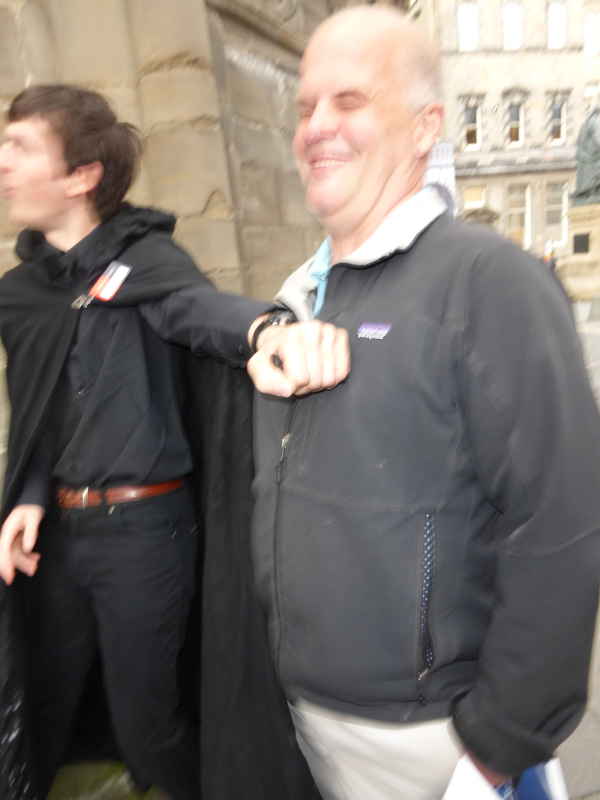 We took a Royal Mile tour (unimpressed) and then a Ghost tour (better, but I've been on better, too.) I include this picture of the guide stabbing me because, honestly, I never knew I made that face.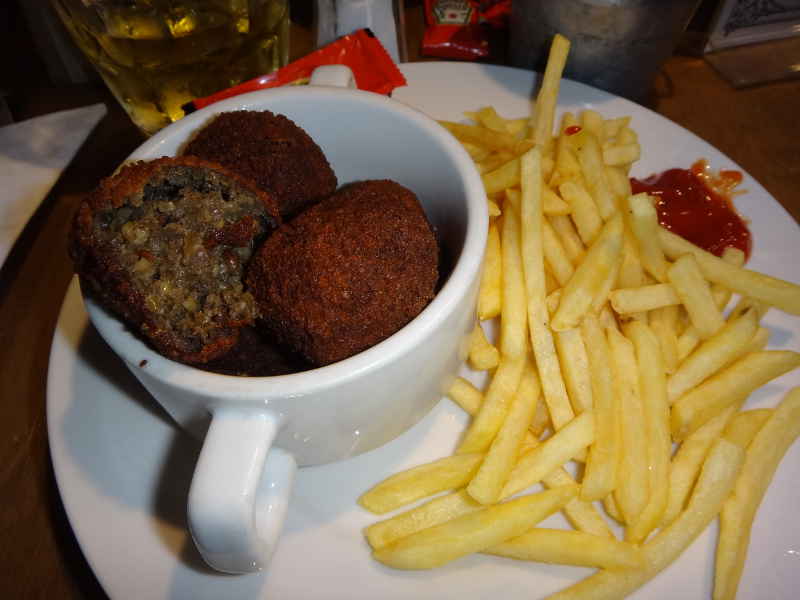 Deep fried Haggis balls and chips for dinner.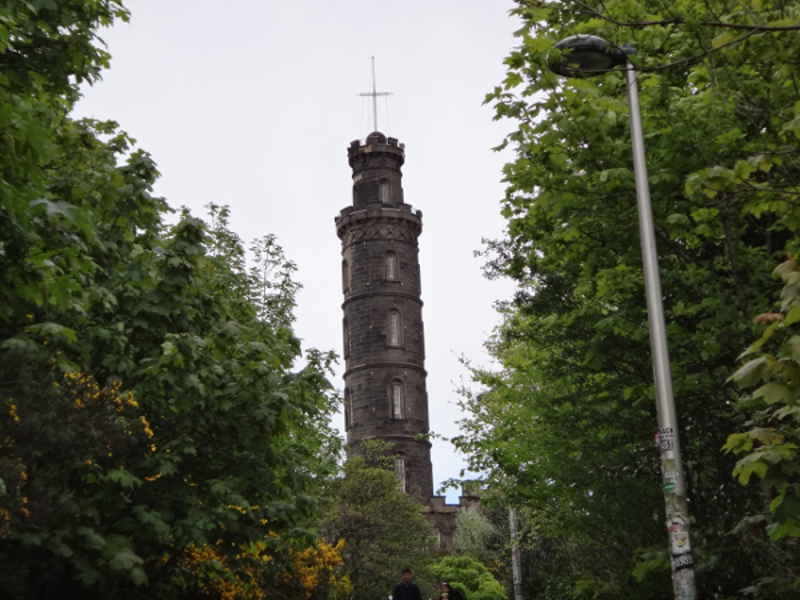 In the morning it was back up Calton Hill to the Nelson Monument 150 steps up this time.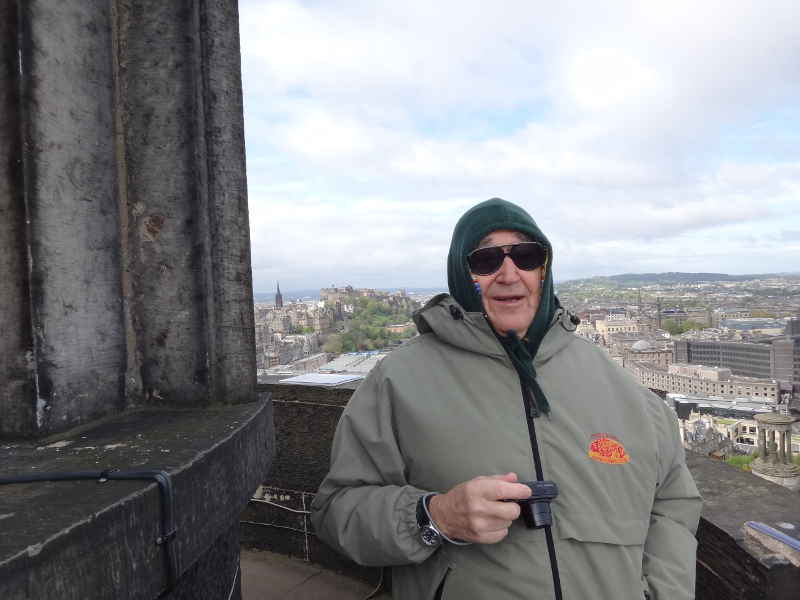 Nice view, but wicked cold and windy.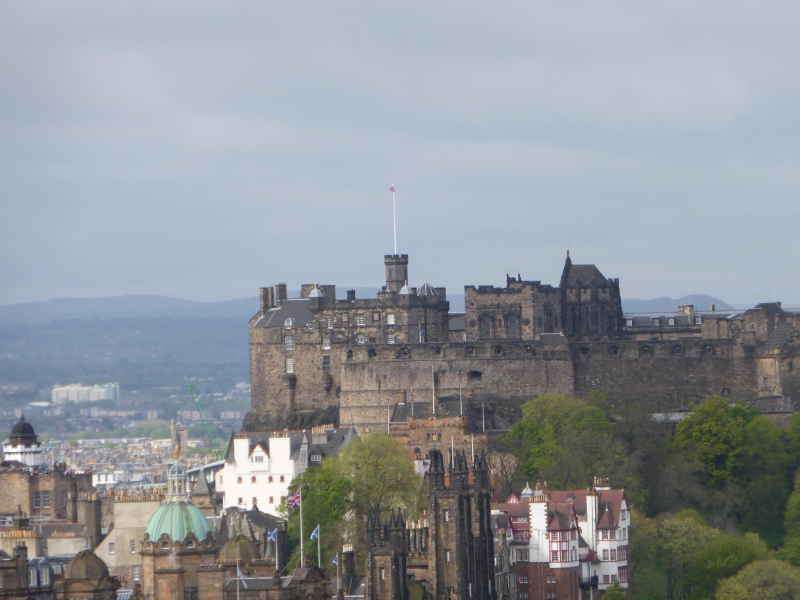 Another outstanding view. They really make Edinburgh for sightseeing.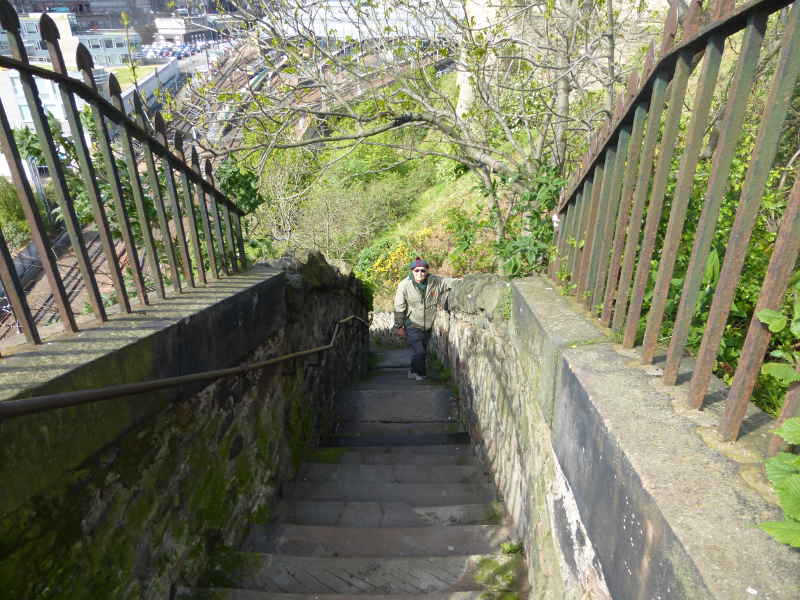 We were heading to Holyrood today, and to get there from Calton Hill, we had to go down Jacob's Ladder (where we saw a hobo camp.)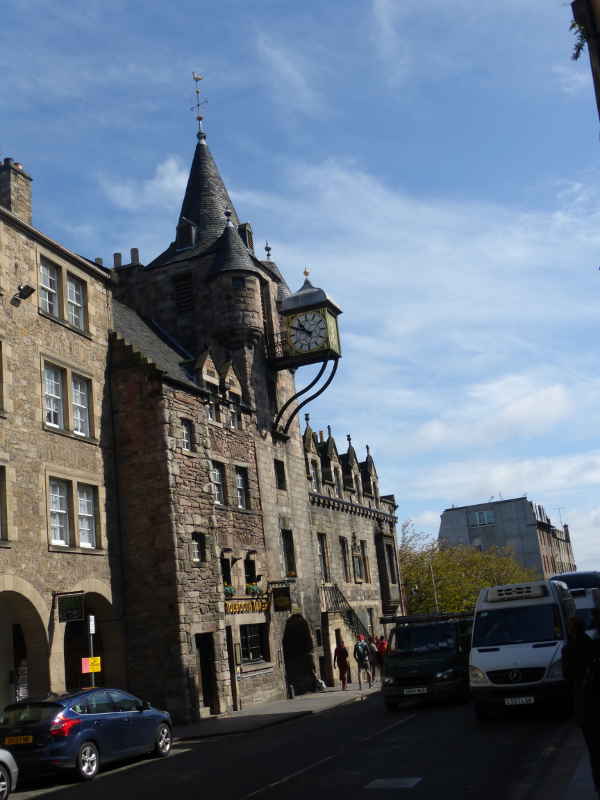 To get to the Royal Mile, we had to pass through a skeevy part of town, complete with a 2 block long wall of graffiti. Once we came out at Cannon Gate, it was beautiful again.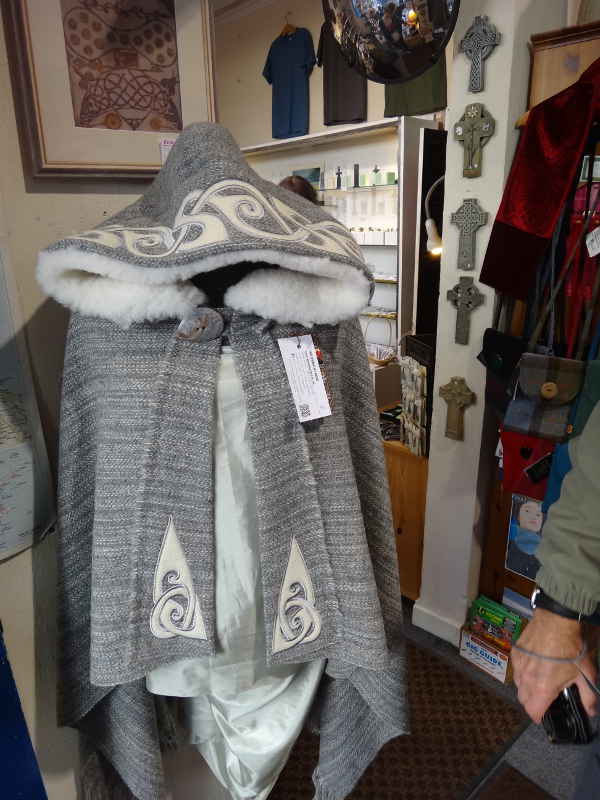 The shops at the Holyrood end of the Royal Mile are much, much better than up by the castle. If Keely could tolerate wearing wool, she would now have this bitchin' cape. As it is, she got earrings.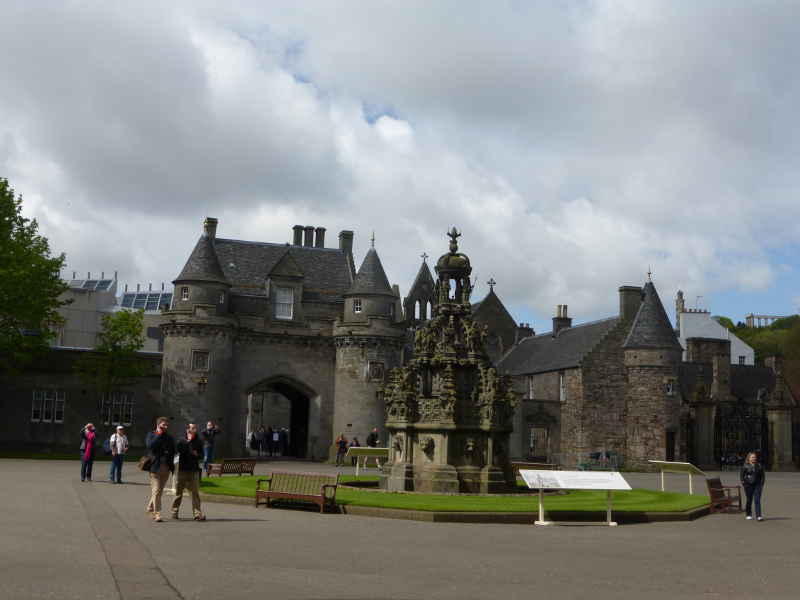 Palace of the Holyrood is really neat, but it is a working palace (the Queen stays there when she needs to remind the Scots who is boss) so there are wardens everywhere - no pictures. We did get to see the room where Mary, Queen of Scot's husband (and friends) murdered her alleged boyfriend before her very eyes. Domestic abuse: It's historical!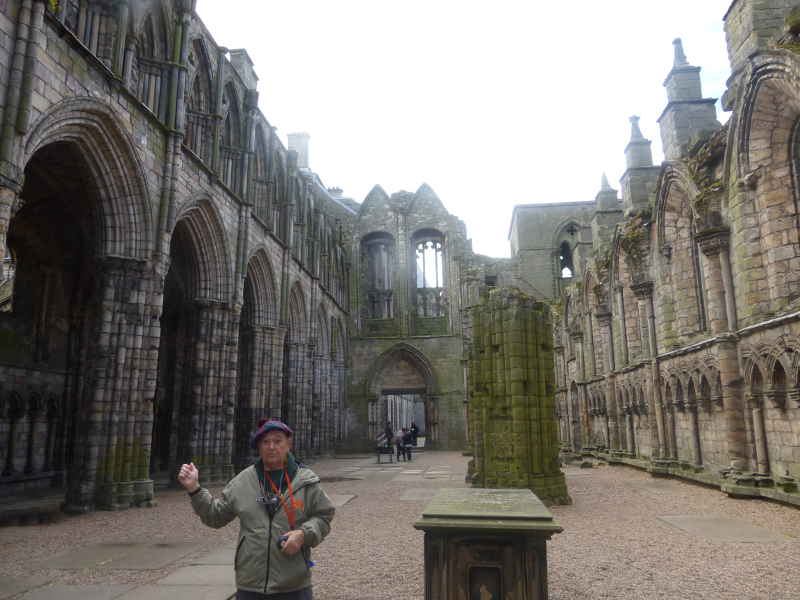 The ruins of the abbey next to the palace. I like ruins.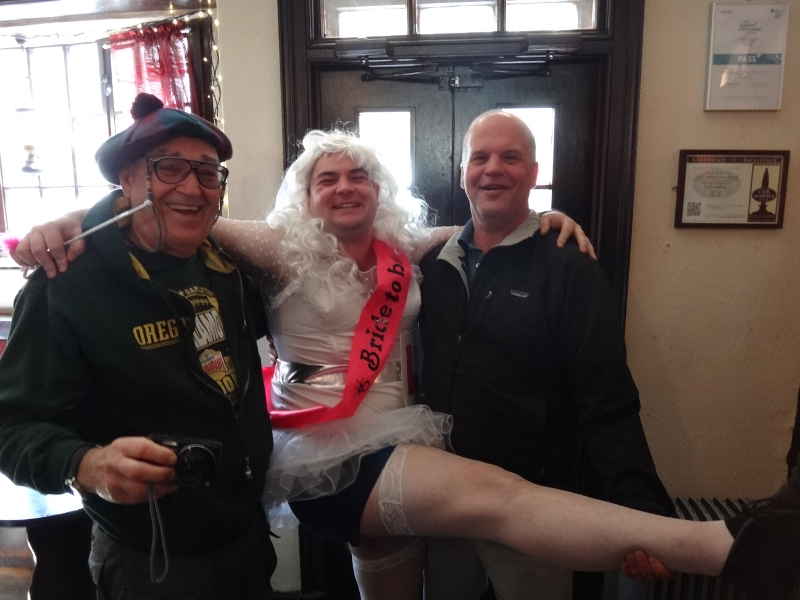 After the tour, we stopped off at a pub for a pint, and stumbled across a bachelor party in progress. They have strange traditions in foreign countries. Congratulations, Ben! Best wishes to you and the lucky lady.
Back up to the top of the Royal Mile, where Jim met a fellow member of the Lindsay clan. I have to say: Everyone we met in Scotland was really, really friendly.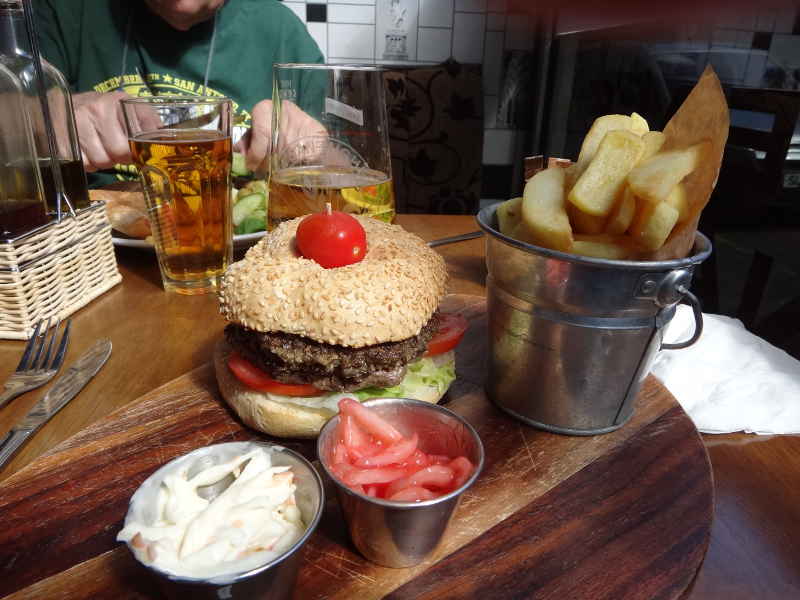 Afternoon lunch of a Highlander burger: Hamburger with a haggis patty on top.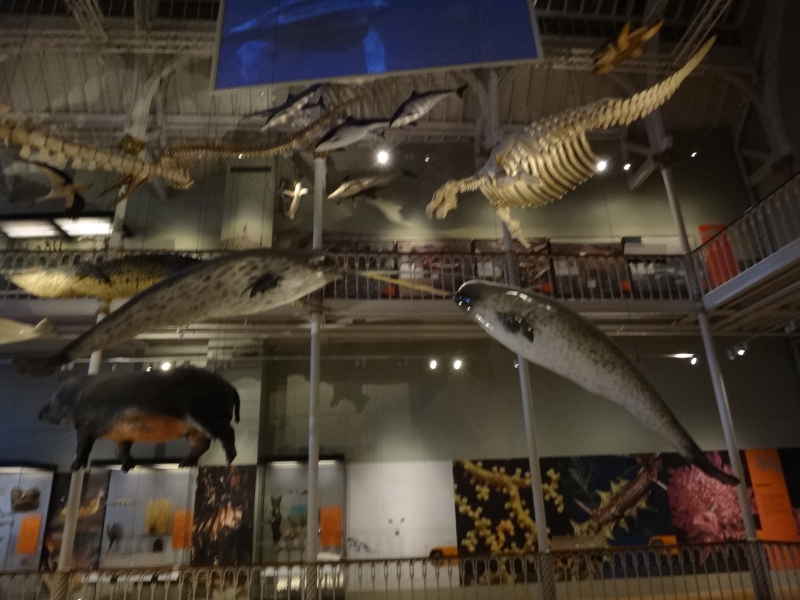 Scottish National Museum. Museums and galleries are free, so that was cool. The rest of Scotland was effing expensive.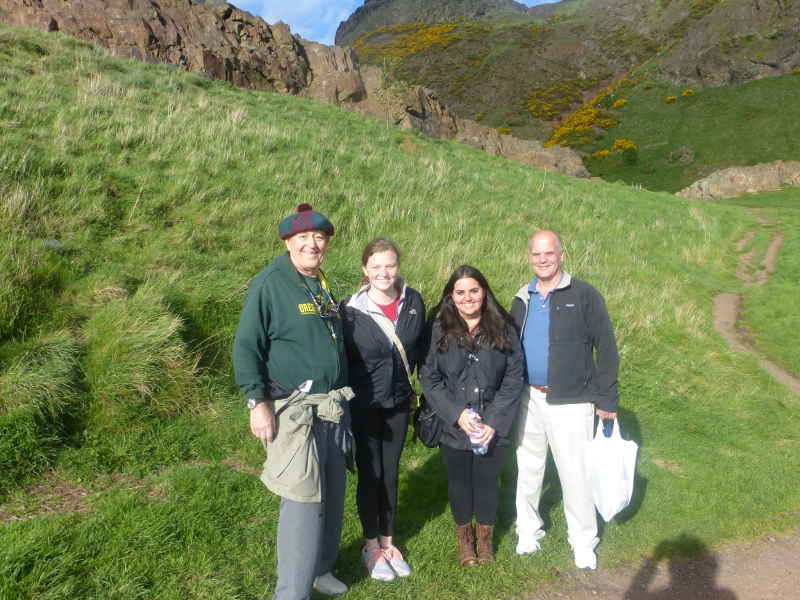 All attractions close at 5pm, so we got ushered out and found ourselves with an unplanned evening. We hadn't really been impressed with the walking tours, so Jim suggested we hike up Arthur's Seat, back down at the other end of the Royal Mile. There were dozens of people hiking the trail and we saw a group from University of Ohio. These girls were talking about dropping out, so Jim and I encouraged them "Look, I'm 51 and he is nearly 80. If we can hike this trail, you can, too." They made it!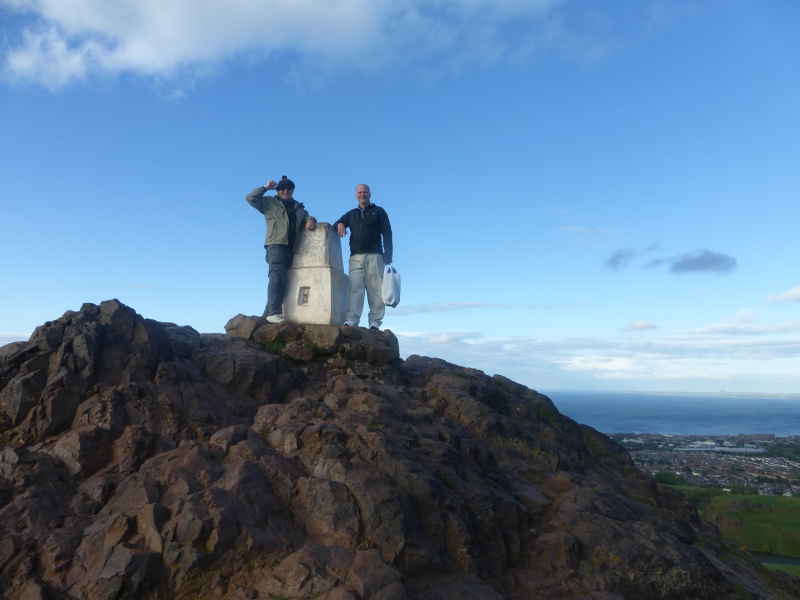 823ft up - it were lovely, except for the drunks screaming at each other "FOOK YOU!" "FOOK ME? FOOK YOU!" (it went on for several minutes, ending with the breakage of a wine bottle "YOU BROKE THE RUM, YOU FOOKING FOOKTARD!")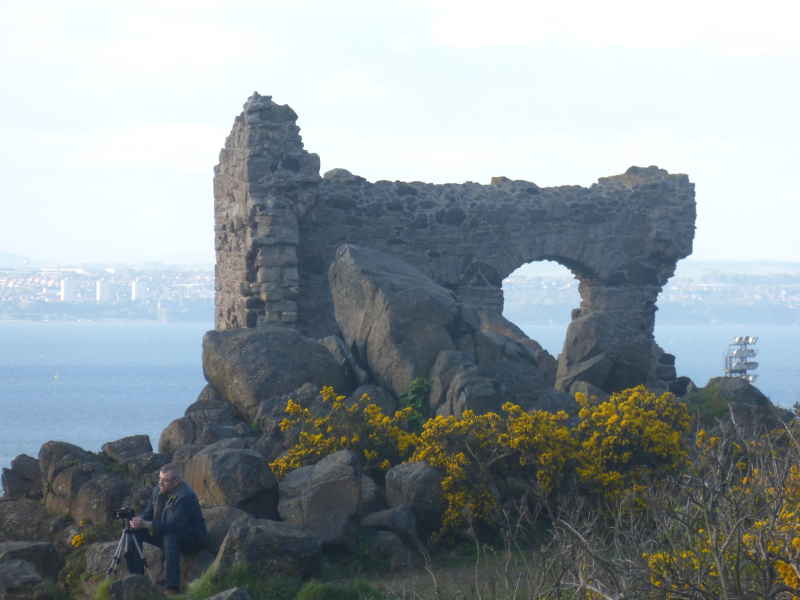 On the way back down, we stopped to take pictures of this ruined monastery. How do you get ruins, anyhow? It seems it'd take a long time for walls this thick to collapse.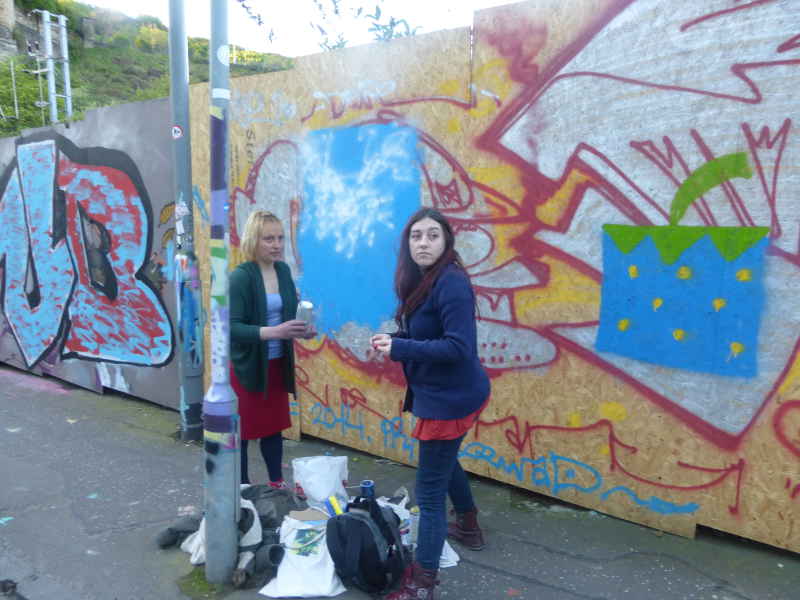 On our way back through the skeevy part of town, we stopped to chat with these two girls tagging the wall of graffiti. They were very pro Scottish Independence - the first people we'd met who were for it. This does not bode well for the movement.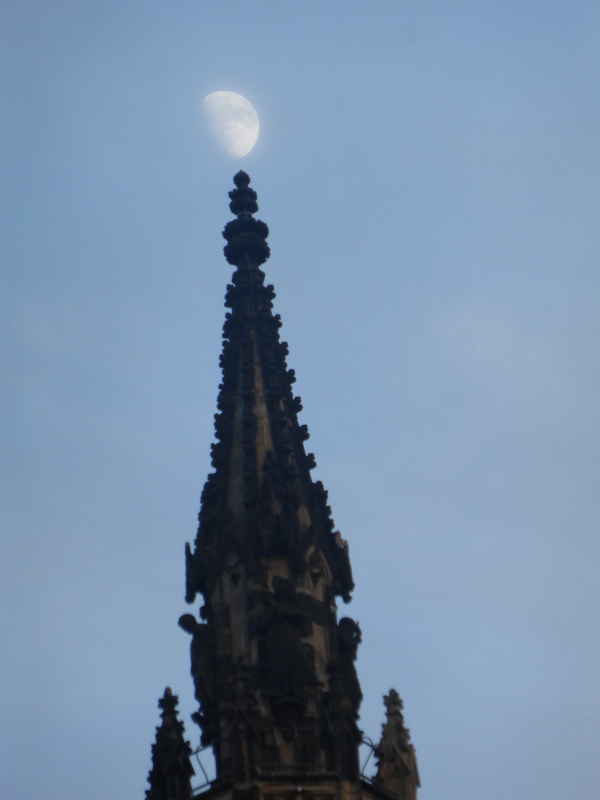 Evening was coming on, so I snapped this art shot of the moon over the Gothic Rocket as we made our way back to the hotel. This was our last night in Edinburgh and Jim was adamant about having dinner in the same place we'd had dinner the first night - so I had the same thing: Fish and chips.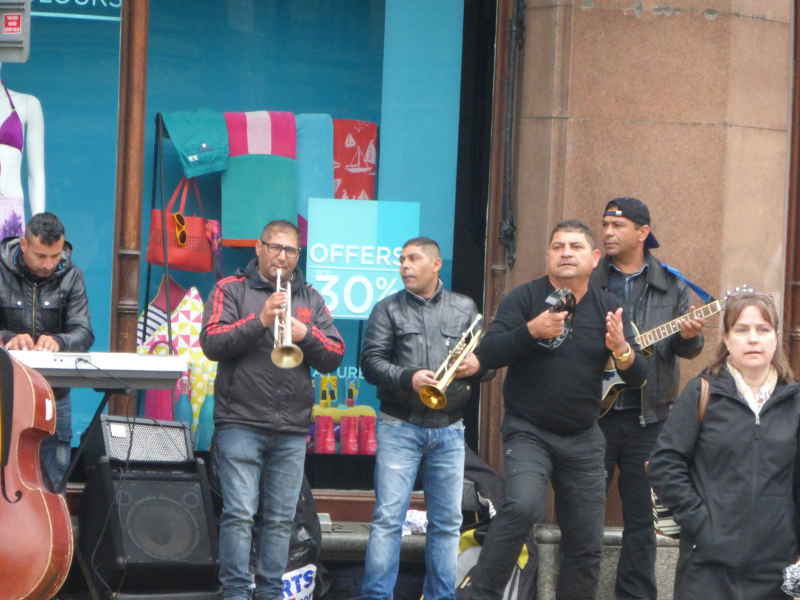 Friday morning - things were hopping in Edinburgh. This jazz band was ROCKING - really high energy, and they went on for HOURS.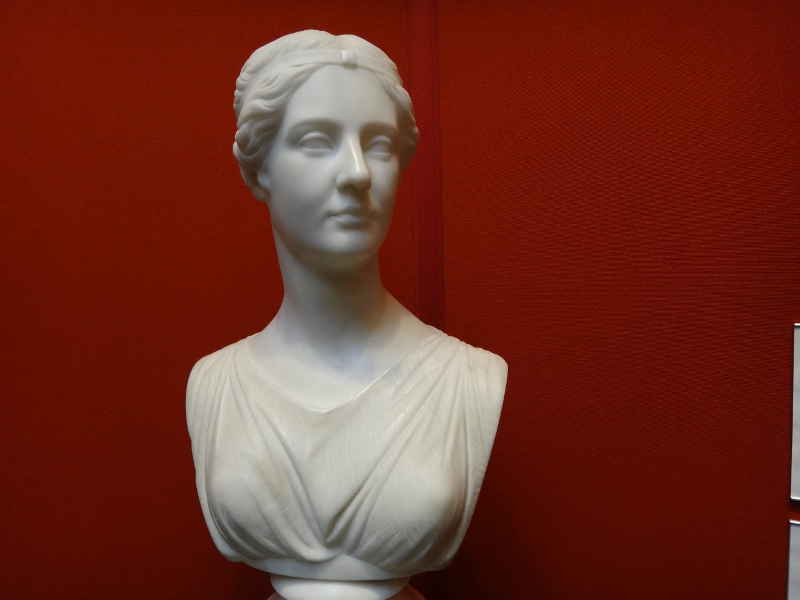 We went to the Scottish National Gallery and it was really, really good. I include this bust as she is an ancestor of mine: the Honorable Olivia Cecilia Laura Kinnaird. They had lots of Kinnaird sculptures there. No tartans, but lots of busts.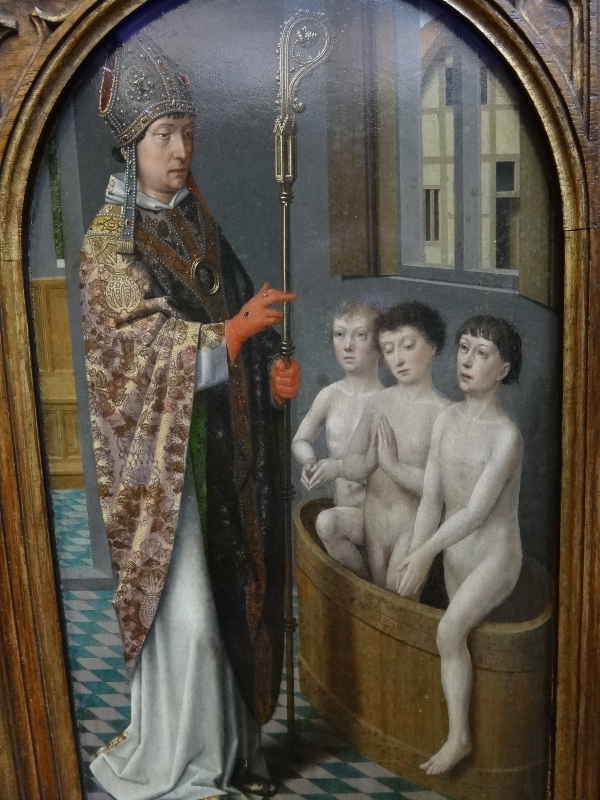 Of all the great art in the Scottish National Gallery, this was my favorite. It shows St Nicholas (yep, that St. Nick: Santa Claus) raising three boys from the dead. It wasn't your normal, everyday resurrection, either - these kids had been murdered and salted down to be used as food during a famine. St. Nick raised jerky from the dead.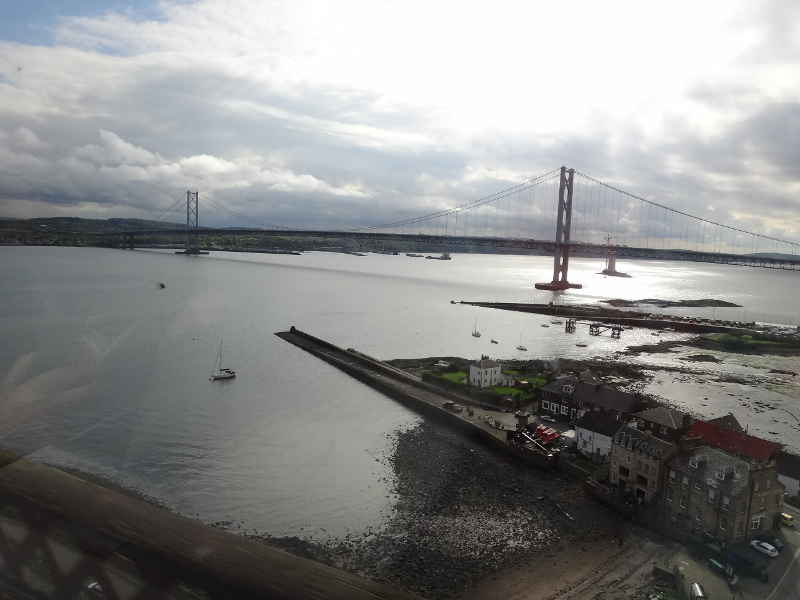 And that was it - time to get back on the train and go to Aberdeen. That sailboat - that one you see as we cross the Forth Bridge - is the only sailboat I saw the entire trip.