Aberdeen and Dufftown
May 10-15, 2014
This is Part 2 of my trip to Scotland. This is Part 1: Edinburgh
Before I get started, I wanted to include this picture of a Titian painting I'd taken at the Scottish National Gallery in Edinburgh - I'd forgotten it in Part 1. I just like how it looks - Titian like BIG paintings.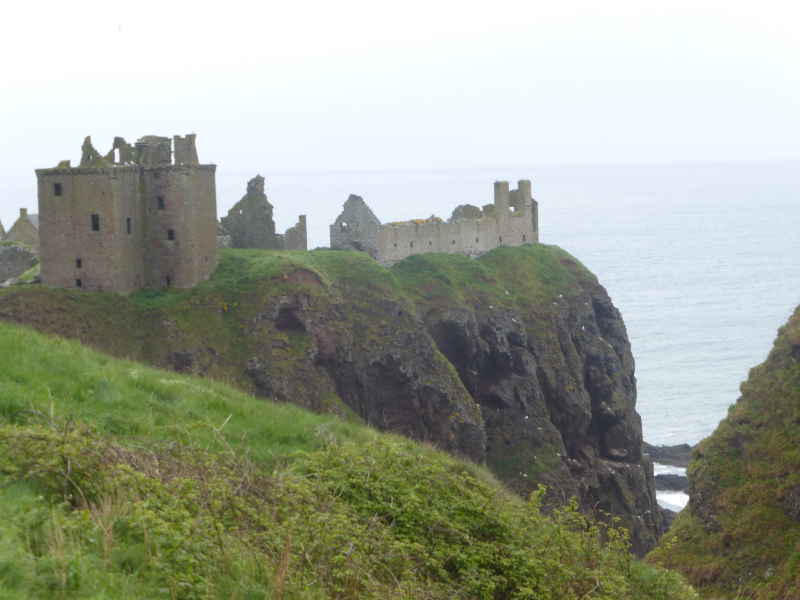 Larry picked us up at the train station and took us to the place he shares with his girlfriend, Pam. In the morning, it was off to Dunnottar Castle. I don't know how it worked in olden times, but if I was confronted by a castle, high on a cliff, accessible by just a narrow spit of land, I'd put 20 guys to close off the narrow spit and call it good. Things HAD to be different back then, because a lot of the castles we saw did not have commanding views of the countryside.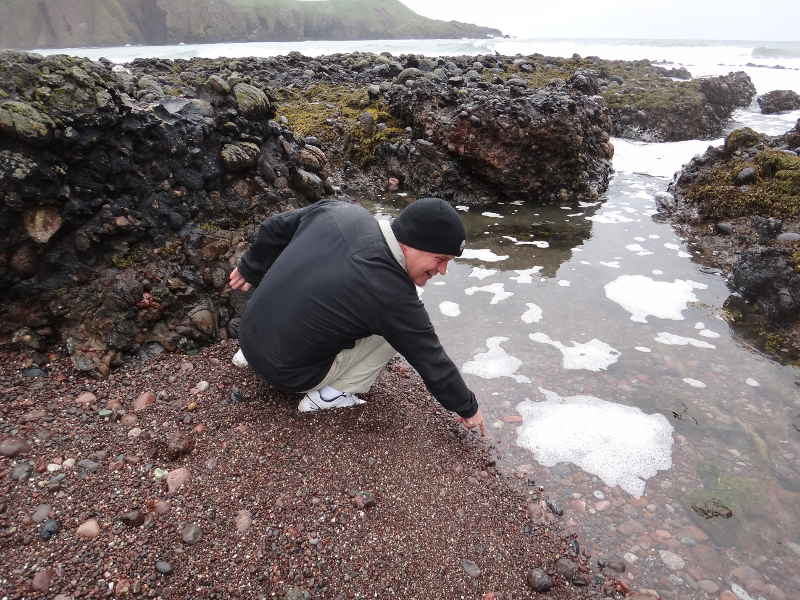 I needed to take a side trip and dip my finger in the cold North Sea. Yes, it was very cold. It was also pissing down rain that day, so even the air was cold.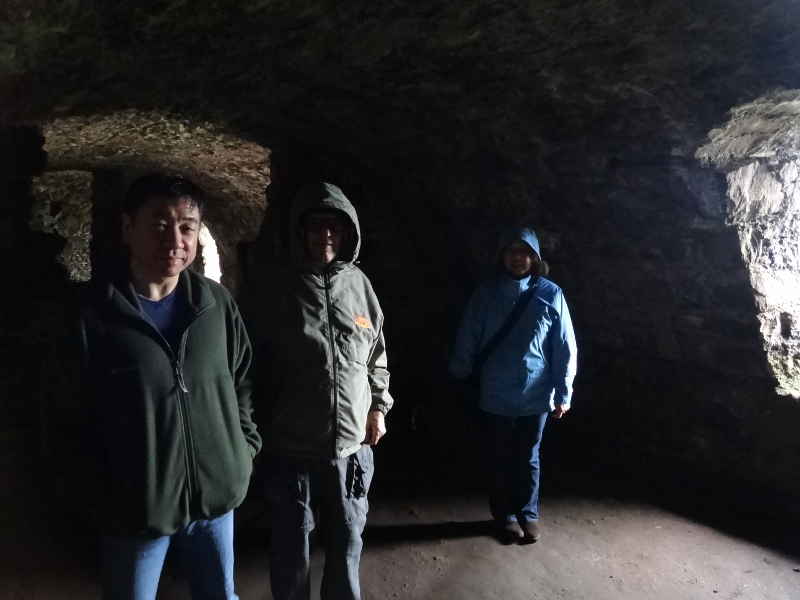 We took dozens of pictures of the ruins of Donnottar. I really liked this one of Larry, Jim, and Pam, down in the bowels.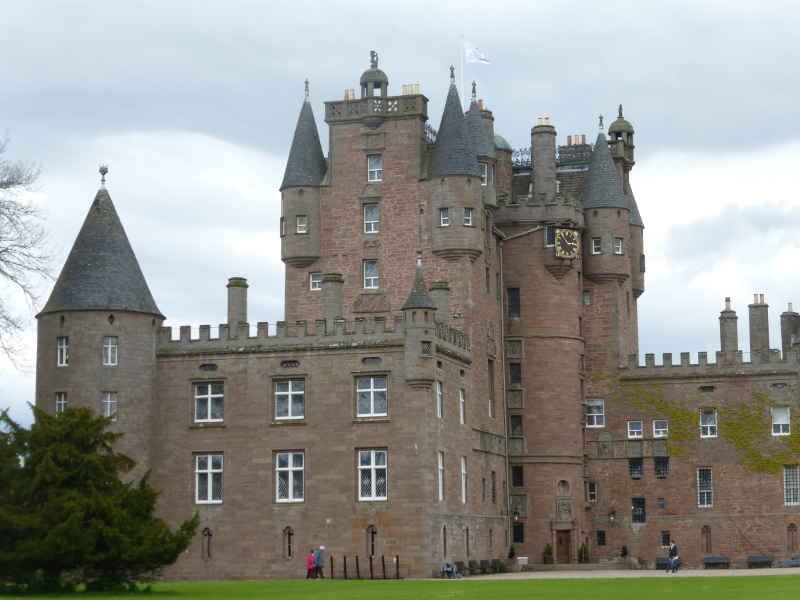 Glamis is another castle that had to look different back in the day - gunpowder would have changed everything. Glamis is effing BEAUTIFUL.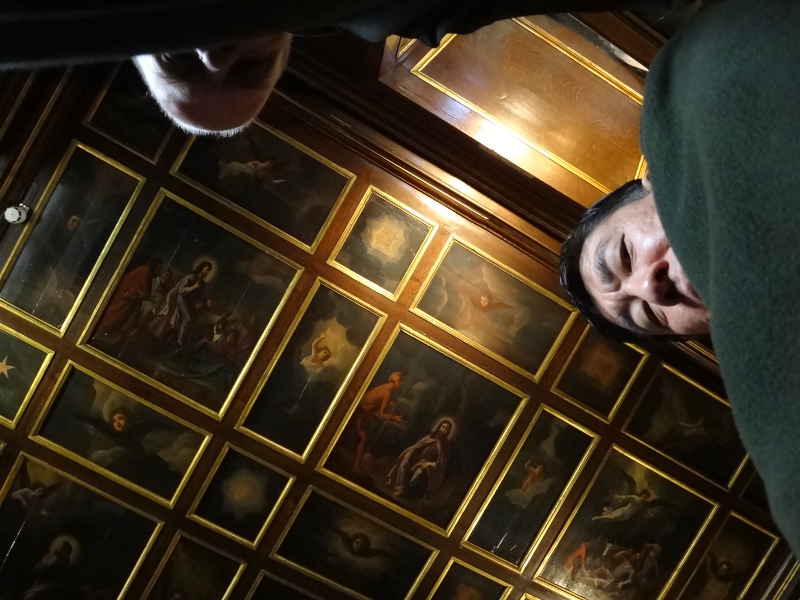 You are forbidden from taking pictures inside Glamis, so I was tricky and took this shot while we were in a little chapel. Larry, of course whispered "What are you doing!?!" The ceiling is pretty cool, don't you think? Also, there is supposed to be a ghost that inhabits this room, but she must have been busy that day, washing her sheets or something.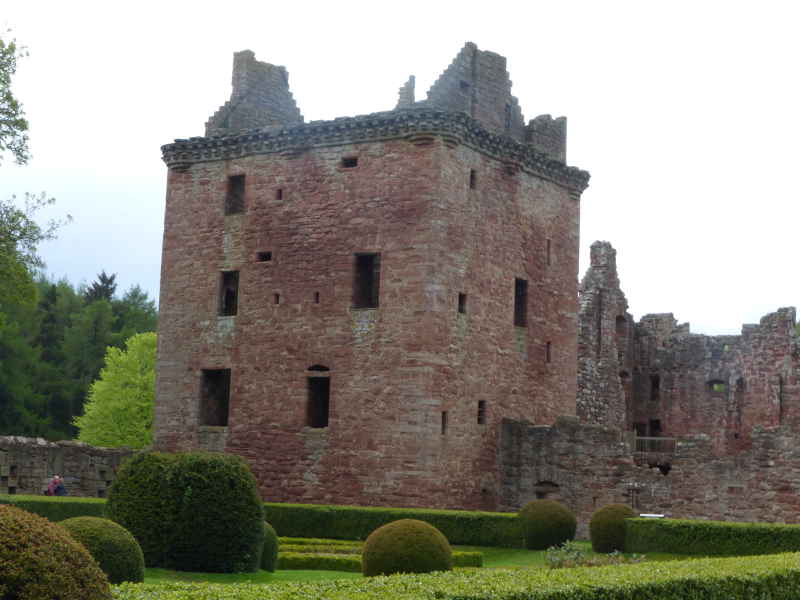 The next castle was Edzell, home of Jim's ancestors, the Lindsays. The Lindsays were intertwined with Glamis castle as well. Here's a snippet from the legend of the Monster of Glamis in Wikipedia: "The legend of the monster may have been inspired by the true story of the Ogilvies.[14][17][18] Somewhere in the 16-foot-thick (4.9 m) walls is the famous room of skulls, where the Ogilvie family, who sought protection from their enemies the Lindsays, were walled up to die of starvation." Man, nobody like the Ogilvies.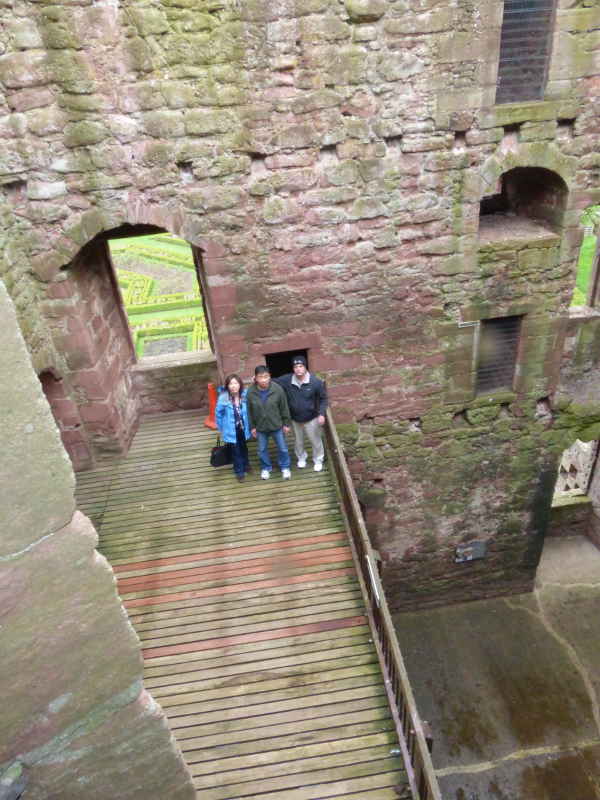 Though it is a ruin, Edzell Castle is really cool. It has fantastic gardens - you get a glimpse through the window just past Pam's shoulder.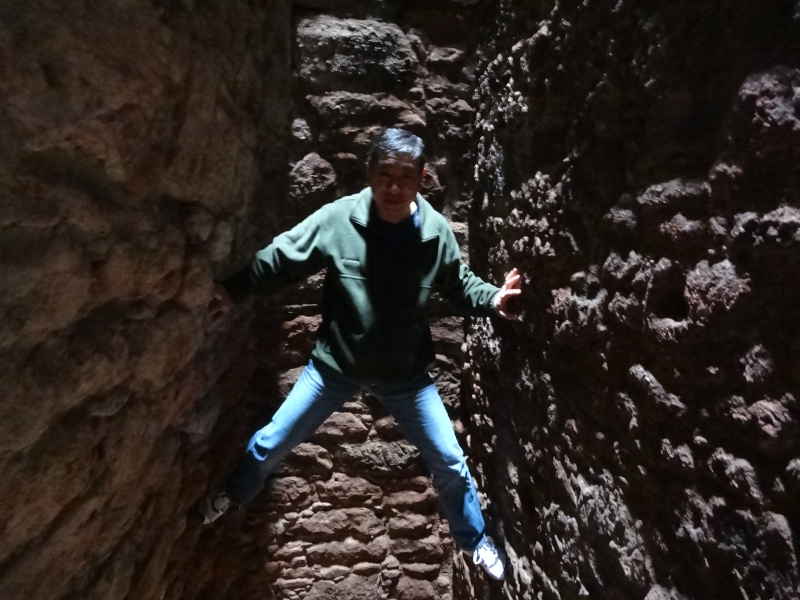 The chimneys back in the day were huge. Santa Claus could have come down with all his elves and he reindeer. I don't see how the rooms were heated at all.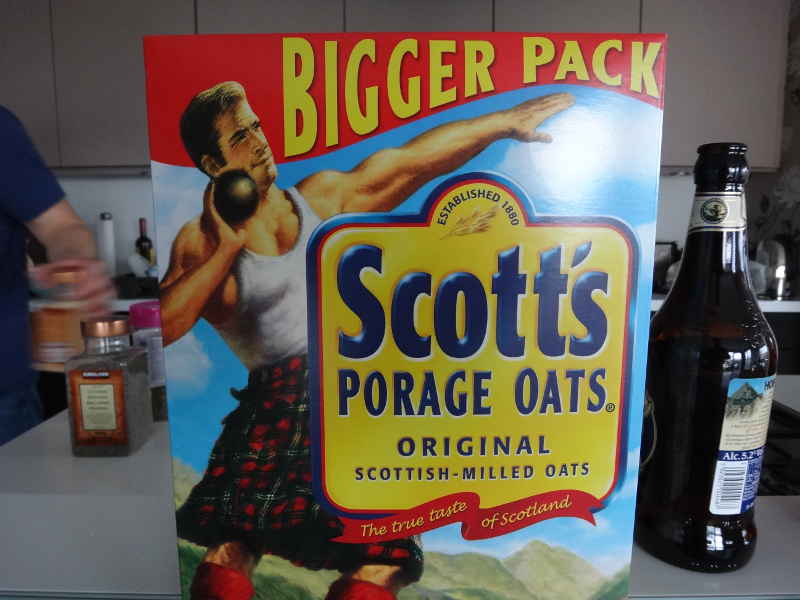 The next morning, we took off for Dufftown and the Whisky region of Scotland. We began our day with what L:arry called "Huey Lewis tossing a ball while wearing a kilt porage"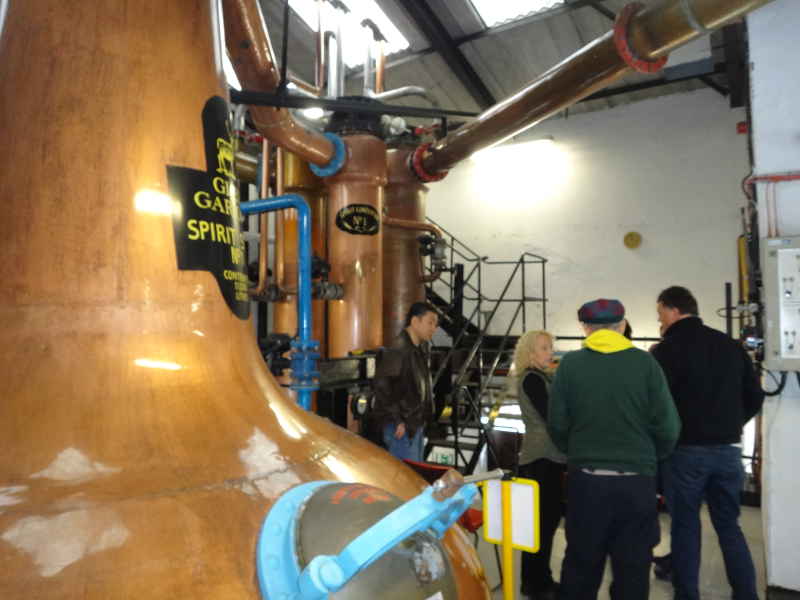 Our first distillery was Glen Garioch. As distilleries go, they were very small - only one still capable of distilling only 21K liters at a time. I was to learn a lot about industrial distillation over the next couple days.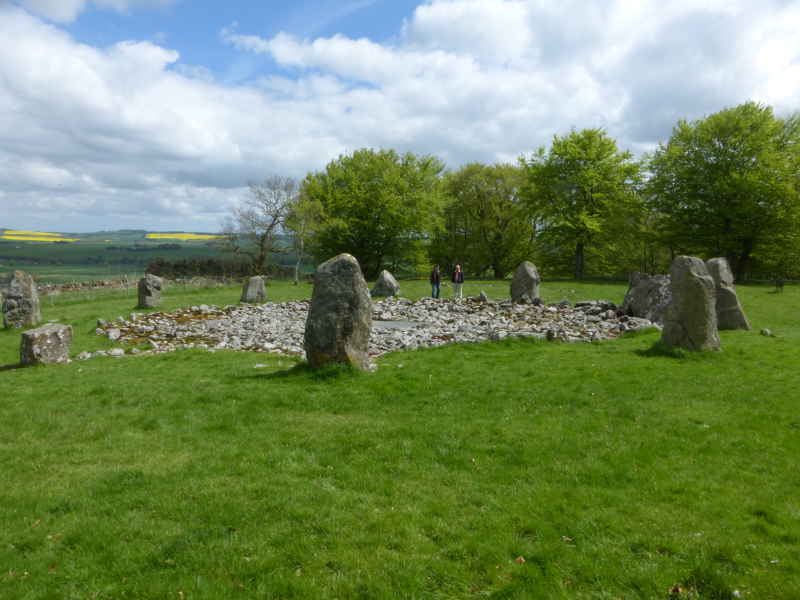 Next was off to the Spey valley, where most of the Scotch in Scotland is made. On the way, we stopped by this stone circle (sorry, can't find a link for it - the road signs just called it Stone Circle)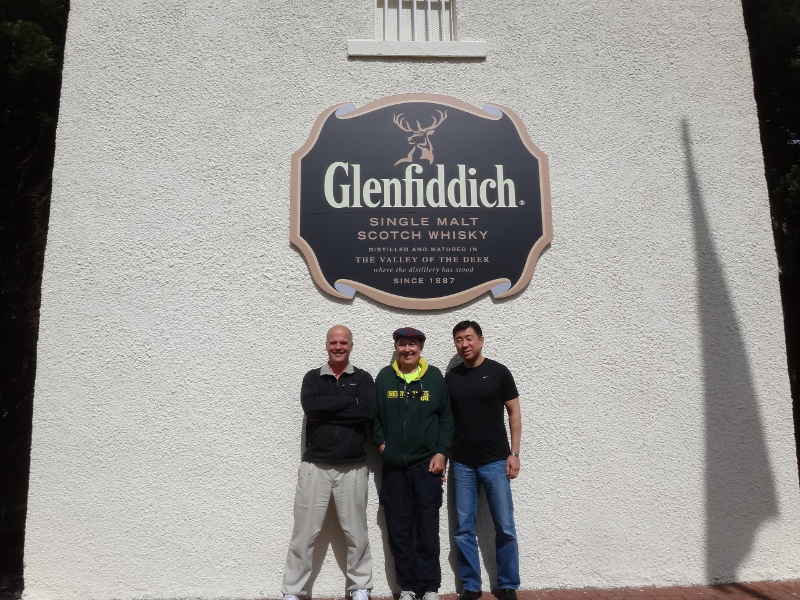 Next was Glenfiddich. The difference between single malt and blended whisky was lost on me. Single malt is rarer (because not very many people like it, I think, AND they make a buttload of money on blended because . . . ) and Blended is a cash cow because they can mix up to 40 different malts with grain alcohol.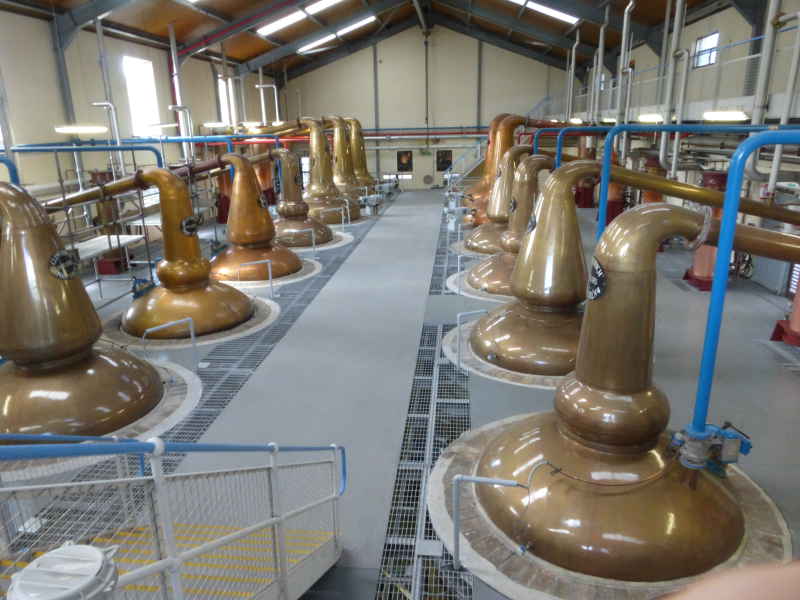 Glenfiddich is a HUGE operation. Know what's really cool? There is very little waste heat radiating from these pot stills. They are each boiling 45K liters of wort, but the building is not hot.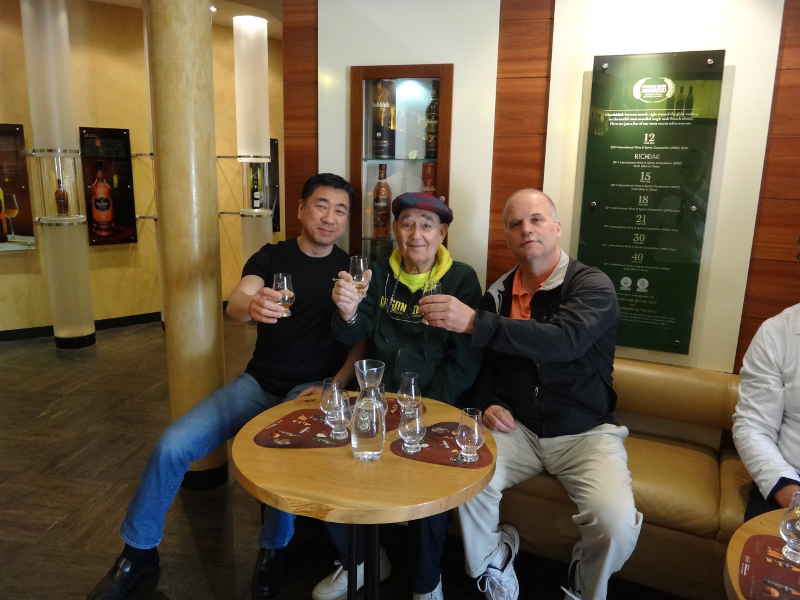 The tasting - the best part of any Scotch Whisky tour.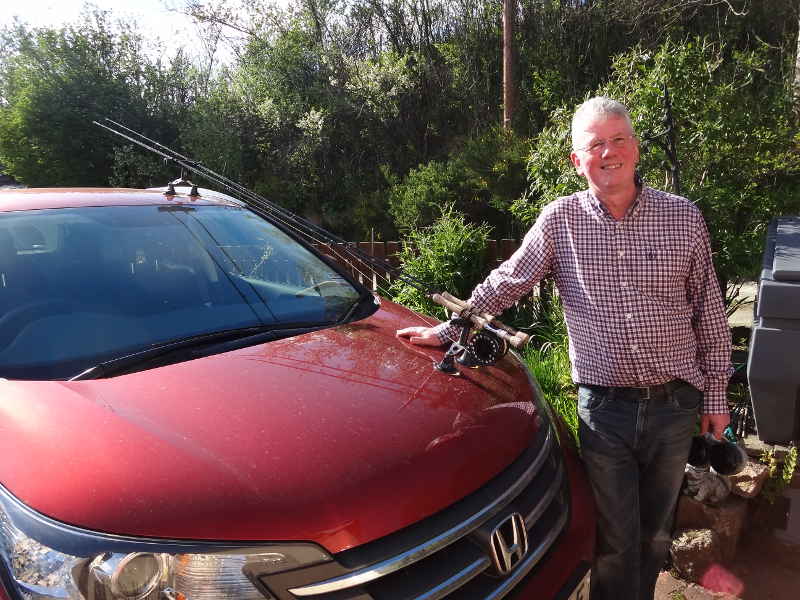 We made our way to the Castleview B&B, run by Ian. Ian is a SERIOUS fisherman - that rack-mounted flyrod setup was new to me.
I cannot recommend this B&B enough. If you are ever going to be near Dufftown, book a stay here.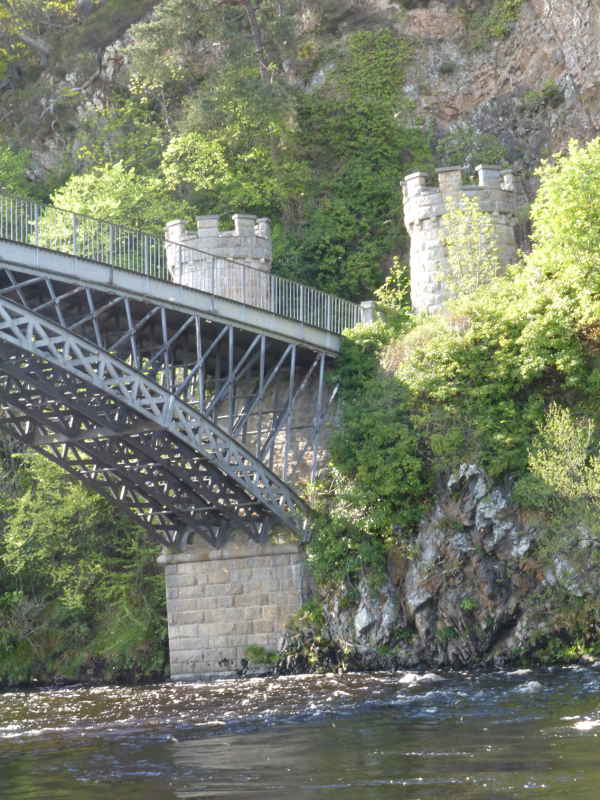 Ian gave us a dinner reservation in the town of Huntley, and on the way, we saw this bridge over the river Spey. I like how they do their bridges. The water was a very dark tea color, mostly because of the peat. We took a break and skipped stones for a bit.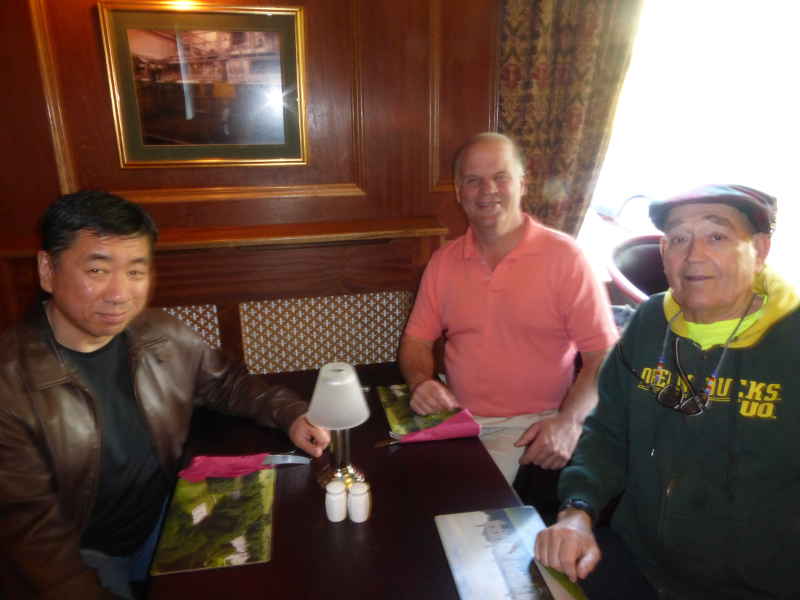 Dinner was good - and expensive, like all things in Scotland.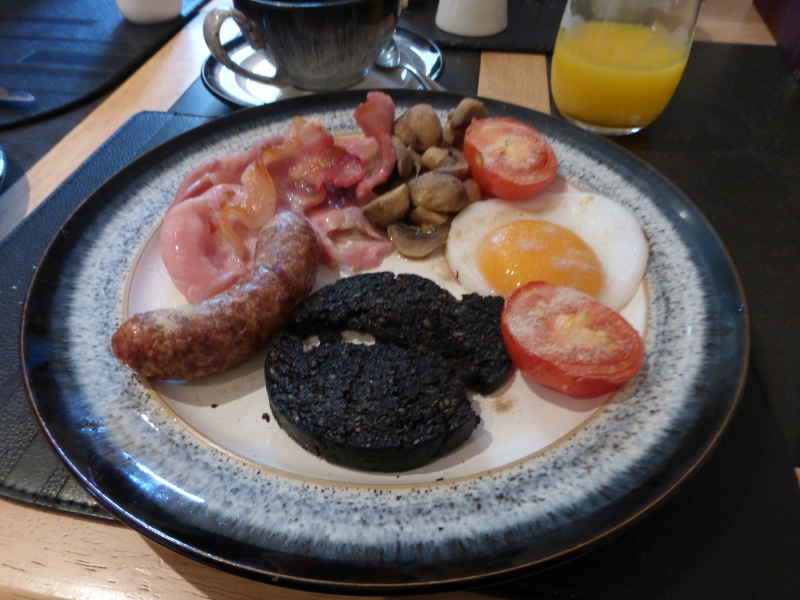 The next morning, Ian made us all a traditional Scottish Breakfast, complete with blood sausage. Actually, I had salmon and eggs - Ian is a fisherman, after all.
Glenlivit is in Dufftown and is the major employer. Ian used to work there and his wife, Betty, still does.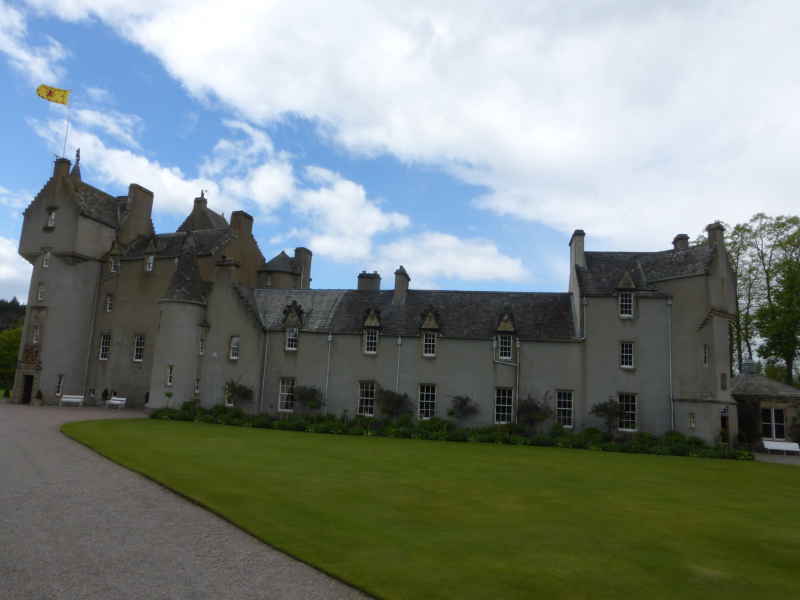 Ian made a couple suggestions for us for sight seeing. First on his list was Ballindalloch castle. This place was fantastic - if I ever go back to Scotland, I'm going to take Keely here.
It is a working castle, still owned and - presumably lived in - by the McPherson family. The grounds are absolutely stunning. There were a lot of pheasants.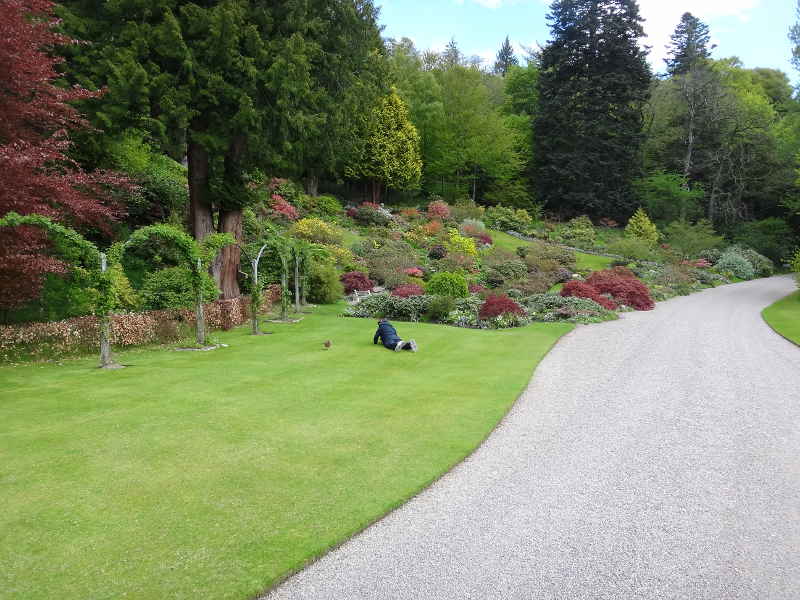 Jim built up a nice rapport with that female pheasant.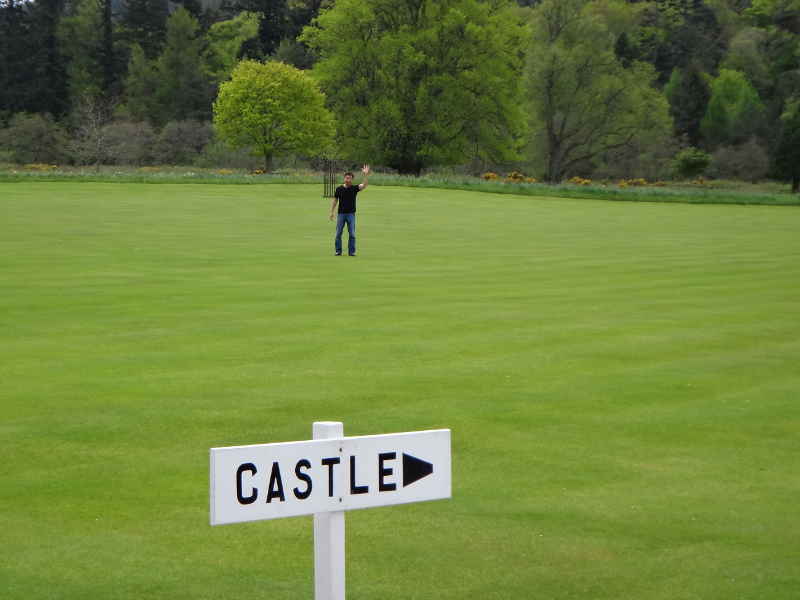 There was a ginormous, flat field out in front of the castle, the urge to walk on it was irresistible.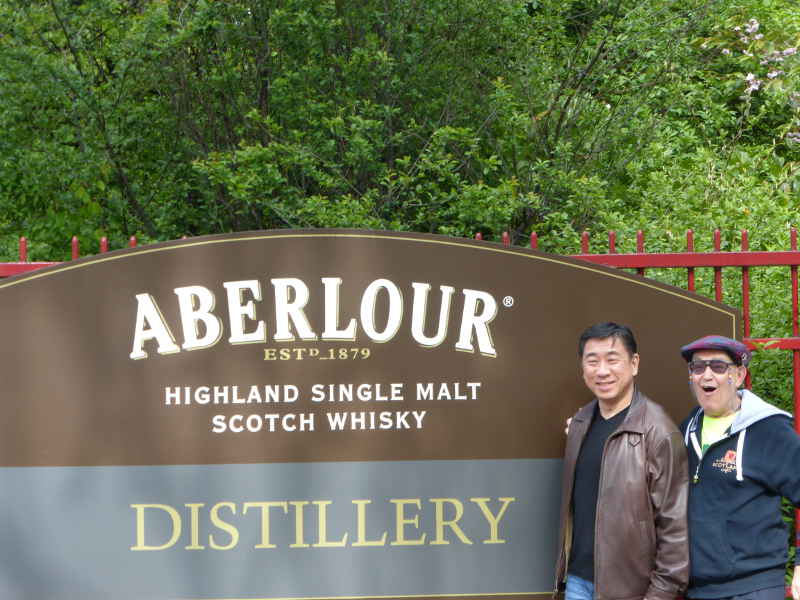 After Ballindalloch, we went to Ian's second suggestion: Aberlour distillery, another outstanding visit. By now, I could give a Scotch Whisky tour all by myself, but these guys did a great job.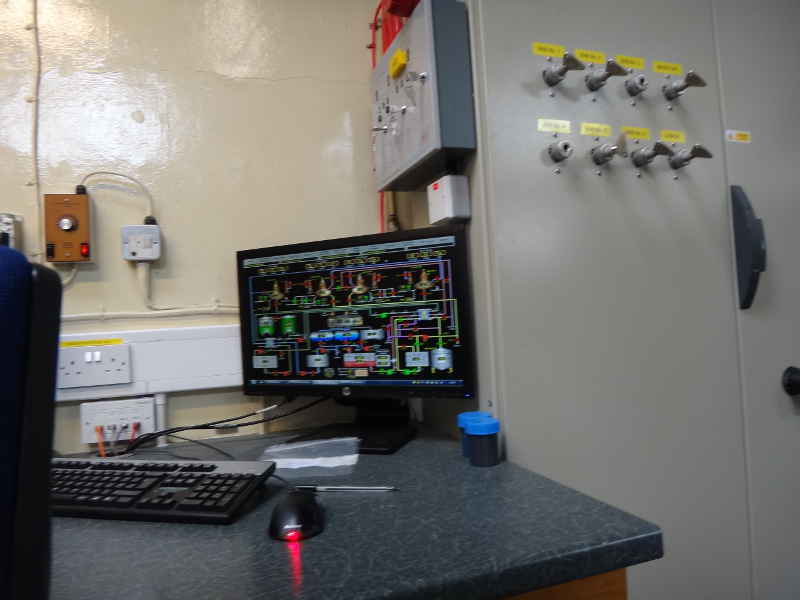 Forbidden picture of the control station for the distillation pots. The first part of the distillation (the Head) is poisonous Methanol and other volitiles, it is boiled off and further processed for whatever products they can get. The middle is the good bit, and they boil it to where the resulting distillate is ~65% Ethanol. They take the last bit - the Tail, and add it to the next batch of wort to both quickly (and cheaply) raise the temperature and extract any remaining alcohol. It's all managed right here.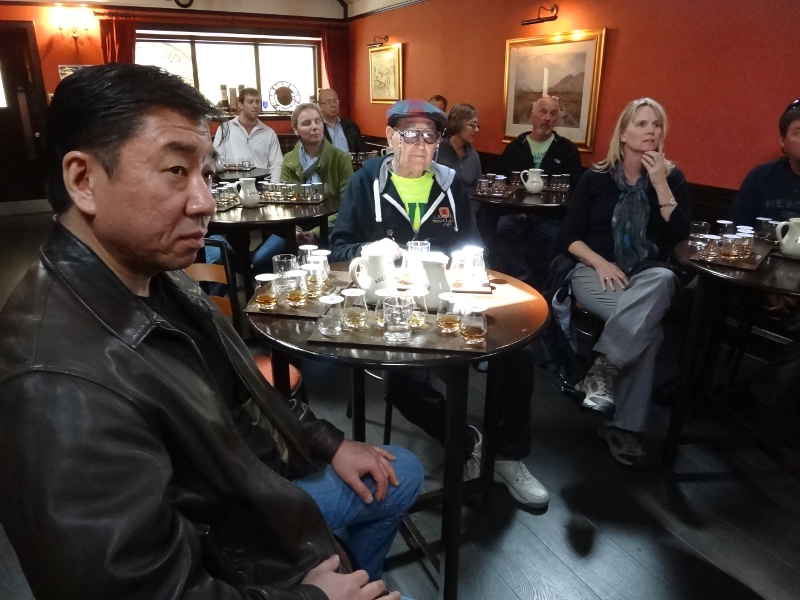 For tasting, they give you 6 samples - including the 'low wines' from the first distillation up through a single malt that had been aged 15 years. Good stuff.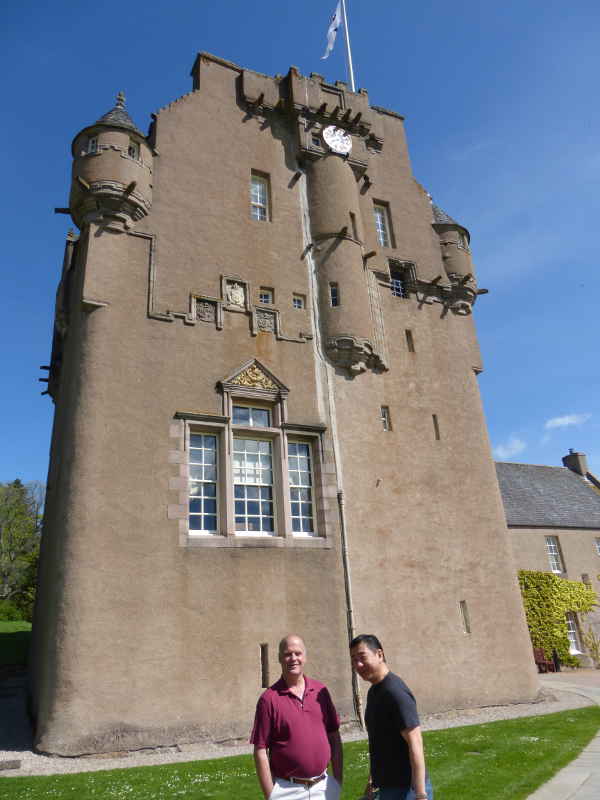 The next day was back to Aberdeen where Larry took us to Crathes castle. It was here I got an idea of the real scale of what it meant when a king granted lands and titles. The lands belonging to this Laird extended 80 miles to the south and 40 miles to the north. There used to be a 2 story high wall enclosing the area around the castle so the villagers and such could seek protection when some other Laird thought to go a reaving.
The grounds were . . . just excellent. This is the view of the backside of the castle, and they really love their gardens in Scotland.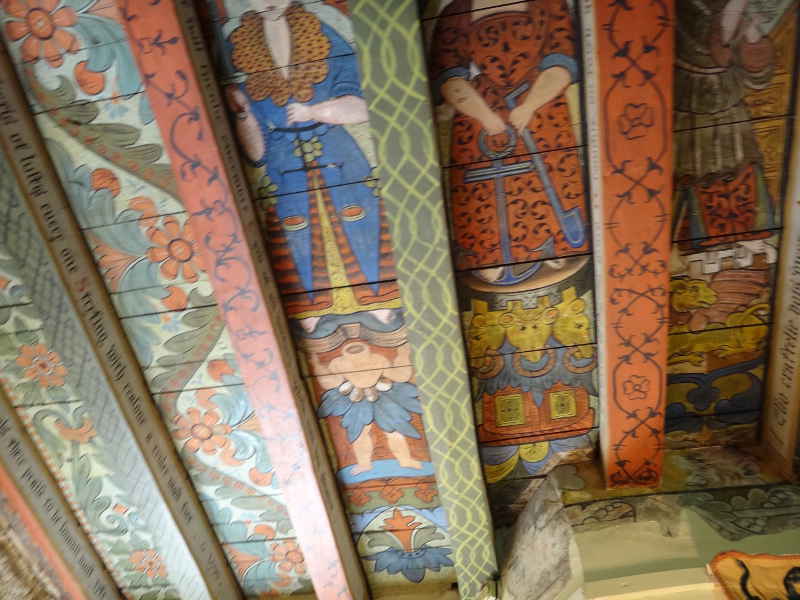 One thing you never see on TV is that in real life, every inch of the interior of the castle was decorated - tapestries and frescos on the walls to paintings on the ceiling If you ever get a chance, go see Crathes castle.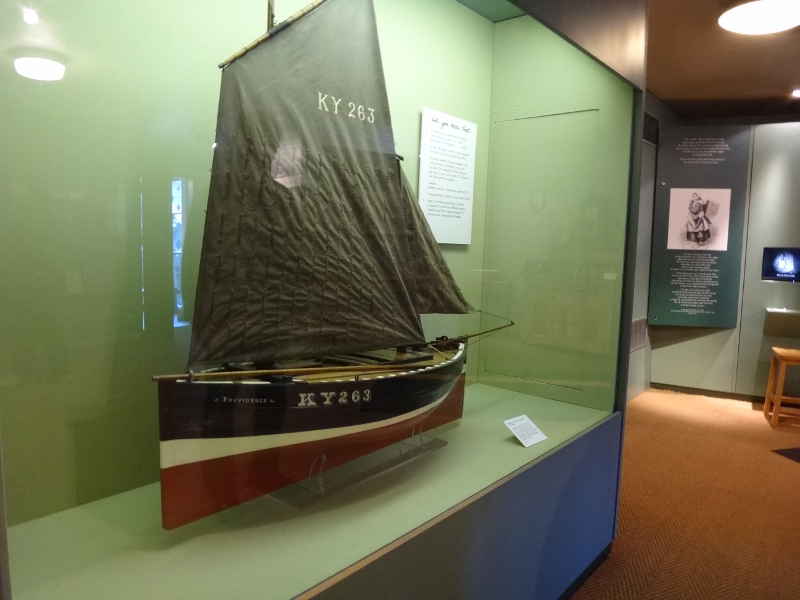 Back to Aberdeen to round out our last day. I wanted to see the Aberdeen Maritime Museum, but we probably could have skipped it. Aberdeen is an oil town and they don't give two hoots about their seafaring unless it relates to oil. Prior to the discovery of the North Sea Oil, Aberdeen existed only as a fishing town - yet this is the only mention of their fishing past.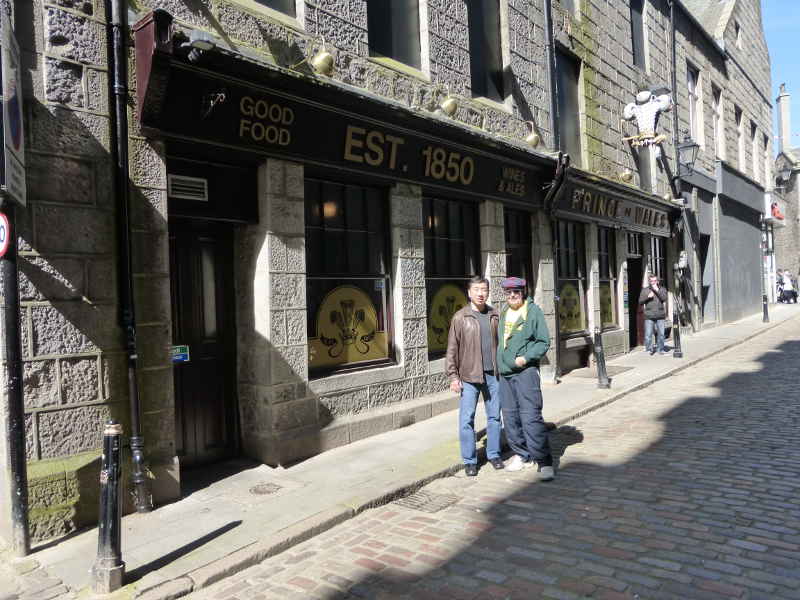 Larry took us on an abbreviated pub crawl - a pint in 4 pubs.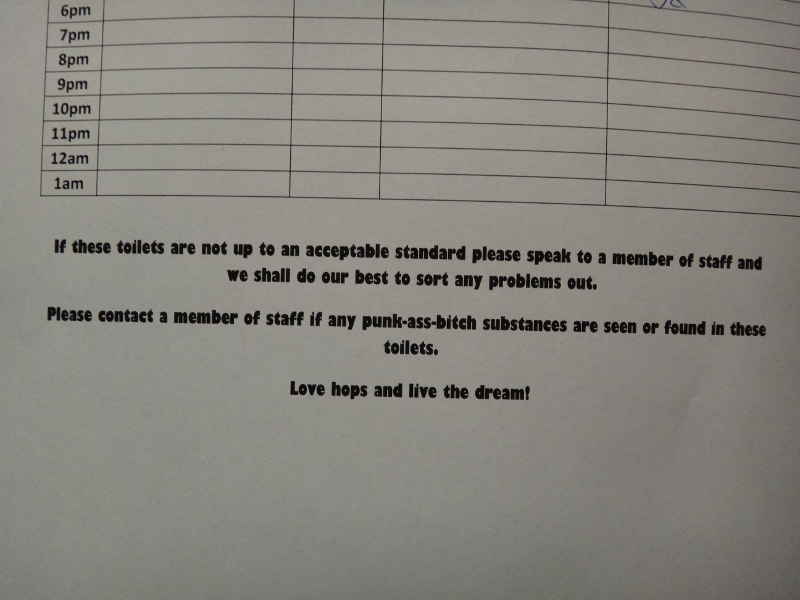 Micro-brewing is just starting in Scotland, and we stopped that the BrewDog Bar of Aberdeen. If I'd have woken up there, I'd have thought I was in Portland, except for the sign in the bathroom.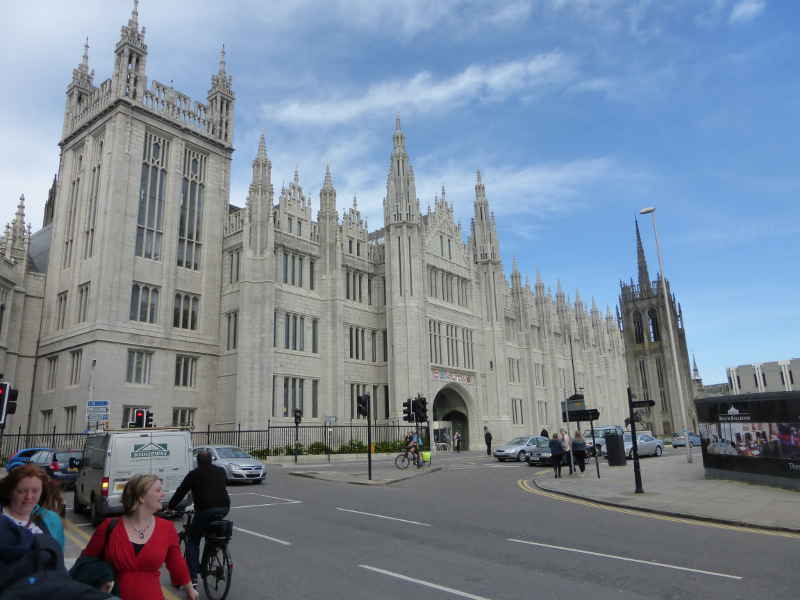 After the pubs, Larry showed us some sights in Aberdeen. This impressive bit of architecture is Marischal College, right downtown.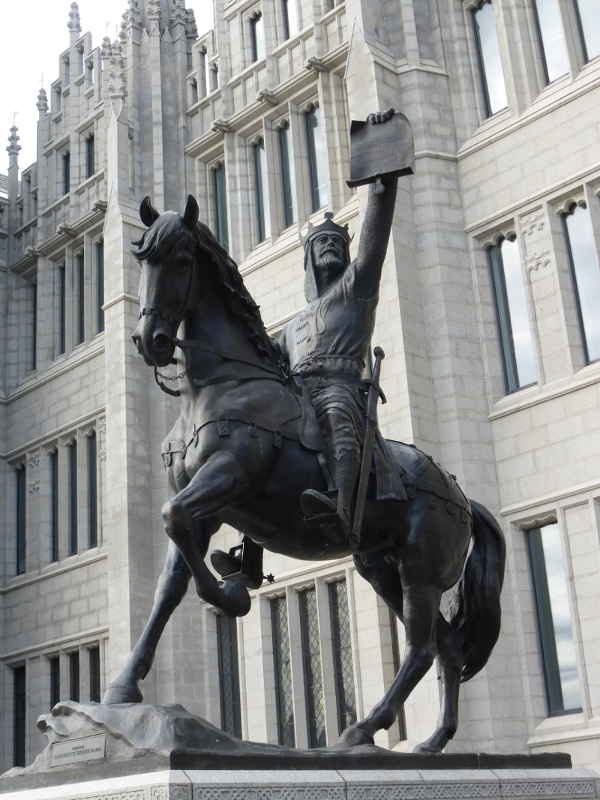 And in front of Marischal College is a statue of Robert the Bruce, holding a piece of paper that probably says "This coupon entitles the bearer to one unified kingdom in Scotland."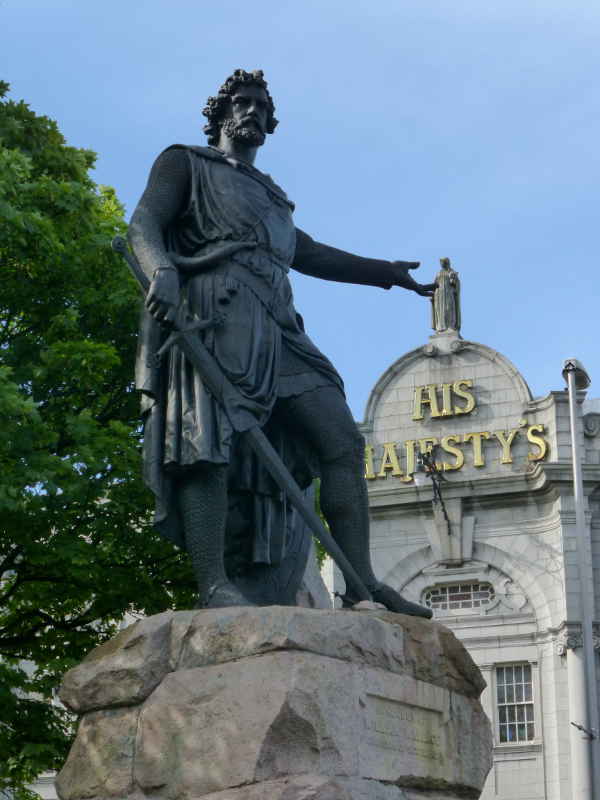 Just down the way, standing 20ft high, is the statue of William Wallace, played by Mel Gibson before he went crazy. What's important here is what Billy is point towards: His Majesty's Theater, where we saw our last sight of our Scottish adventure: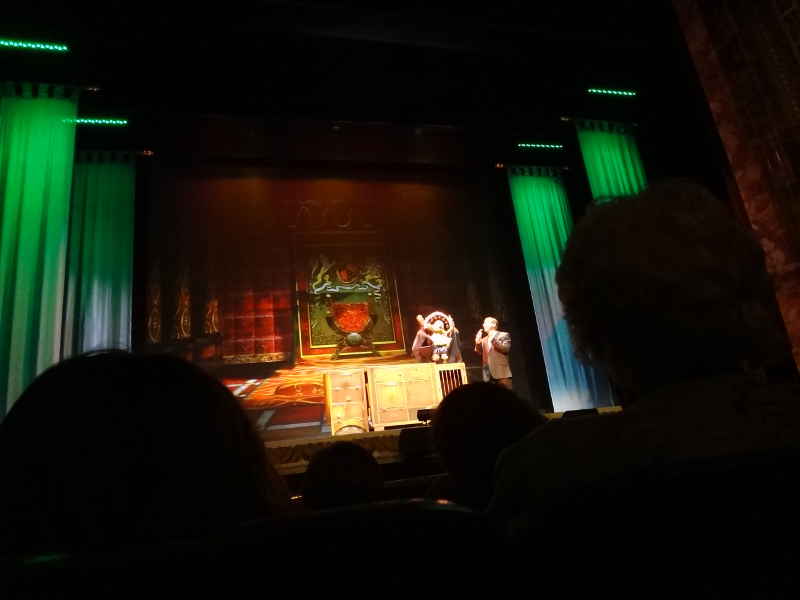 a play called Horrible Histories Barmy Britain - all the blood and guts without any of the boring bits. 4 actors (3 men, one woman) act out the history of the British Empire and let me tell you, you haven't lived until you've seen a little fat man dressed as Queen Victoria rap and breakdance across a stage.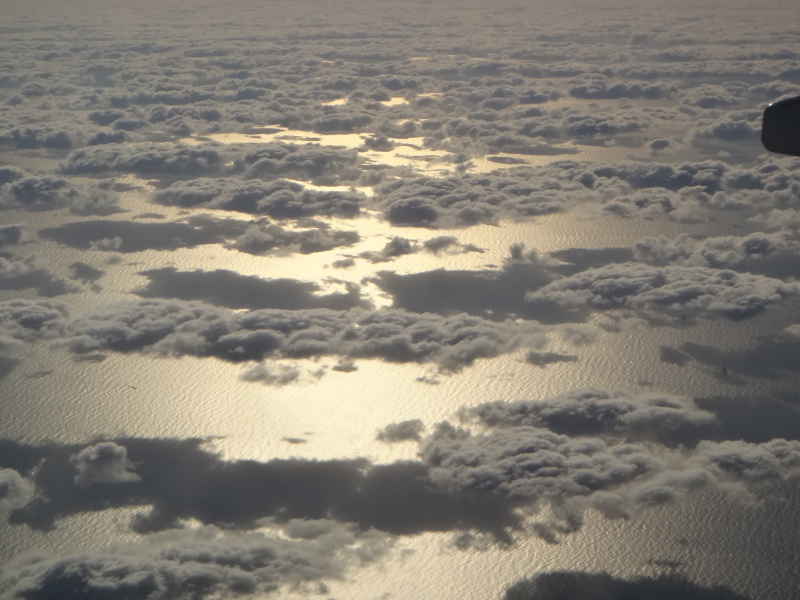 And just like that, it was "Home again, home again, jiggity jig." I hope you enjoyed the writeup.