Our Boston Experience
April 13-17, 2012

There's ~75 pictures in this essay so I split them into 3 pages. Sorry if that inconviences anyone.
The Boston Marathon is the dance. Chicago, New York, London, Berlin - those are biggies, but Boston is the dance. And when we go, we try to do it in style.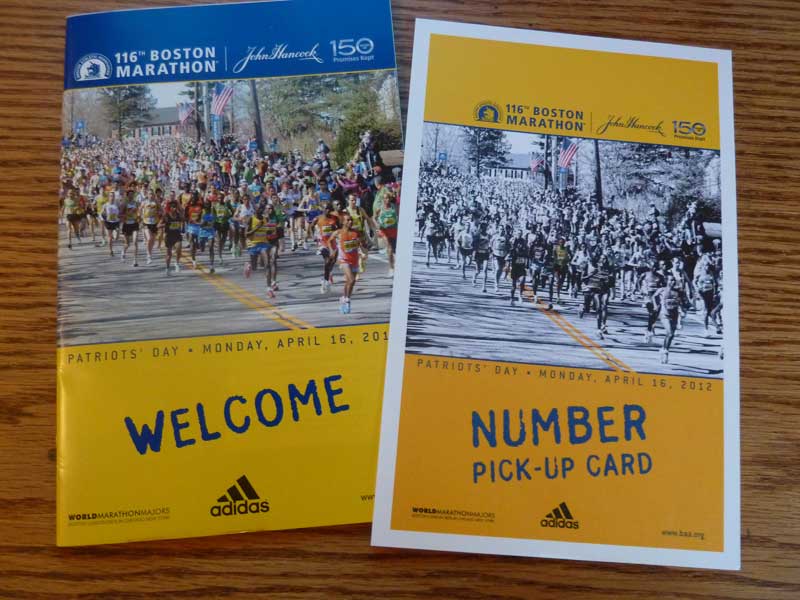 One does not simply show up and start running. First you have to qualify, then you have to apply and get accepted. The 27,000 competitor race fills up in a matter of hours. Once you get in, then you have to make hotel reservations or you are going to end up sleeping on the streets. It is estimated the Boston Athletic Association (B.A.A) pulls in over $90M for Boston with this one event.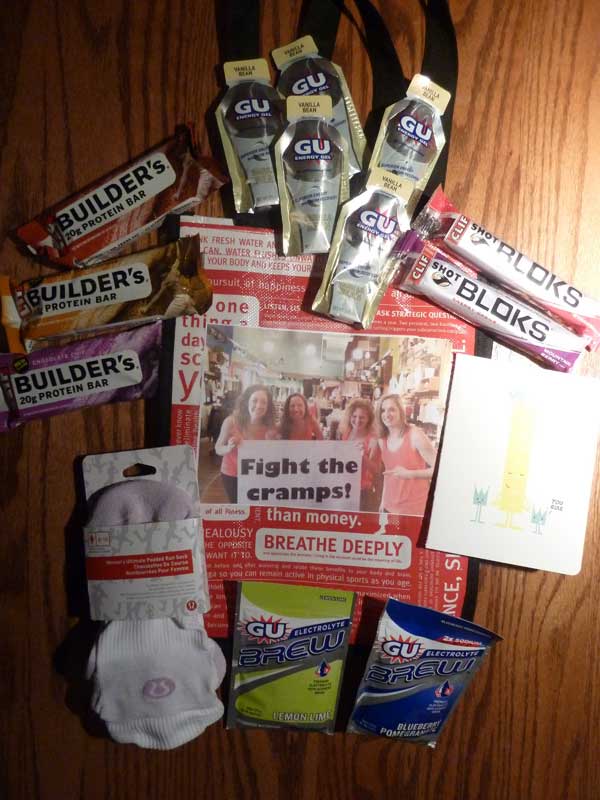 I know some people breeze into Boston for a weekend, but from out here in Oregon, you might as well be making an expedition to Mars. As mentioned in other write-ups, Keely is a lululemon ambassador for the Bridgeport store. Lululemon takes their support of local athletes very seriously and when they found out Keely was heading east, they made her a very nice care package.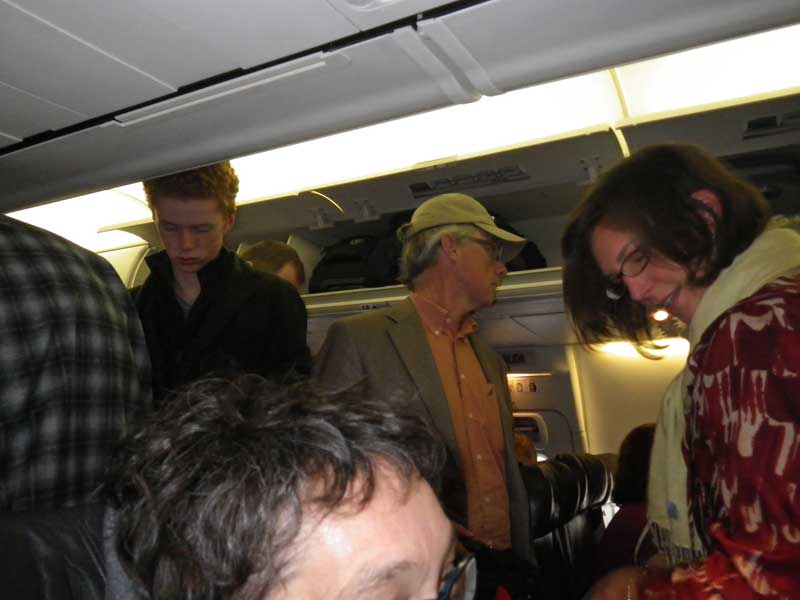 Our trip started with ominous portends: We sat directly in front of a ginger (the young man standing to the left.) I was able to control my revulsion, but only just.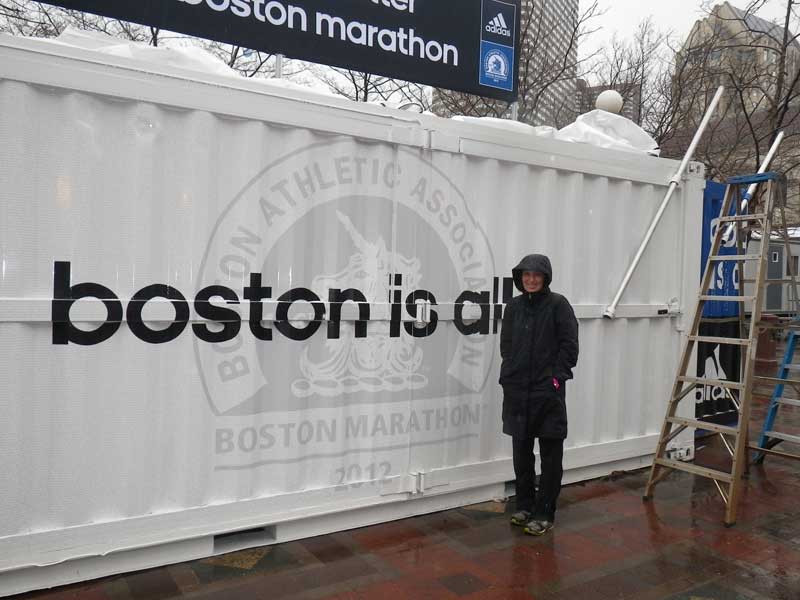 We truly were cursed - upon arrival in Beantown, it was raining. Being good Oregonians, we didn't let that stop us. We headed straight out and down to Copley Square, at the finish line.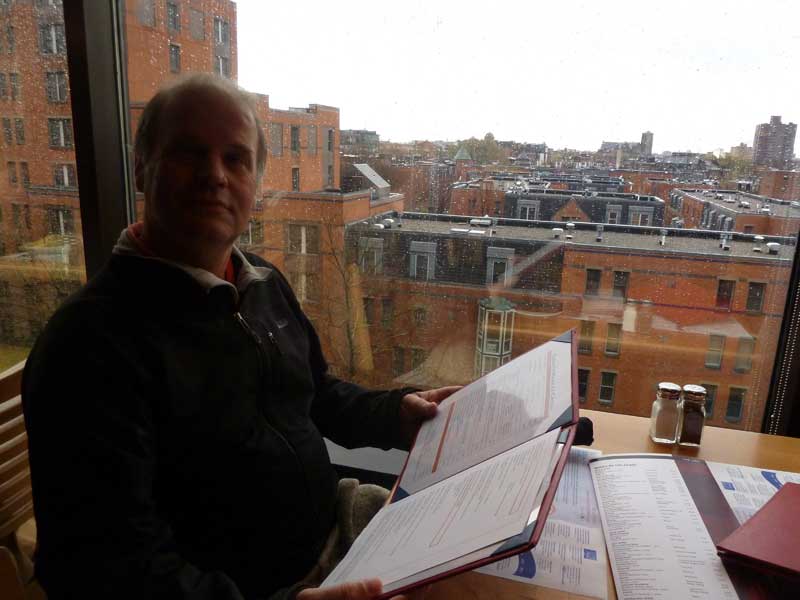 12 years ago, Keely and I had our first visit to Boston and we ate at Legal Seafood. It was FANTASTIC. I wanted our first meal to be special, so we went straight to Legal Seafood at Copley Square. It was . . . terrible. No, not just terrible, it was gawd awful. Never again, Legal Seafood. Never, ever again.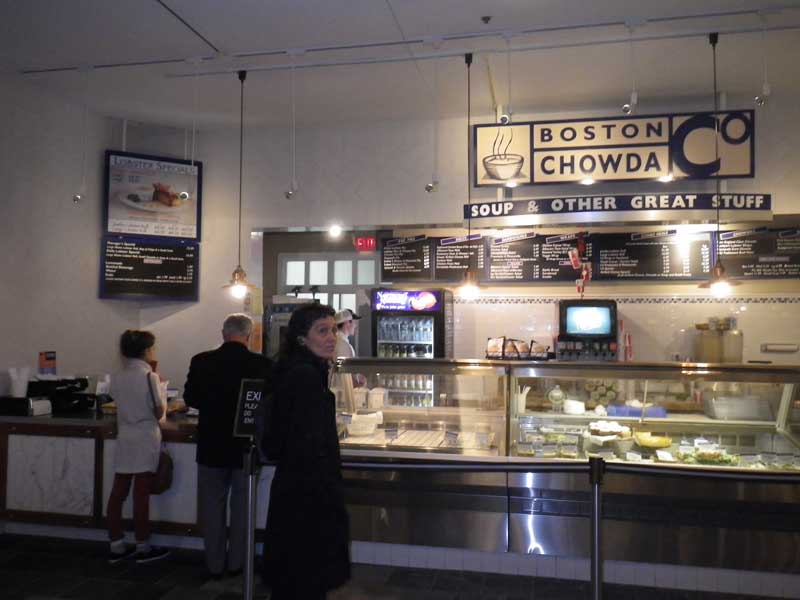 The Ginger's Curse didn't stop there. Keely was never served her meal at the horrible, terrible, gawd-awful Legal Seafood, so we hit the mall to see if she could get something to eat. Boston Chowda was pretty damn bad, too.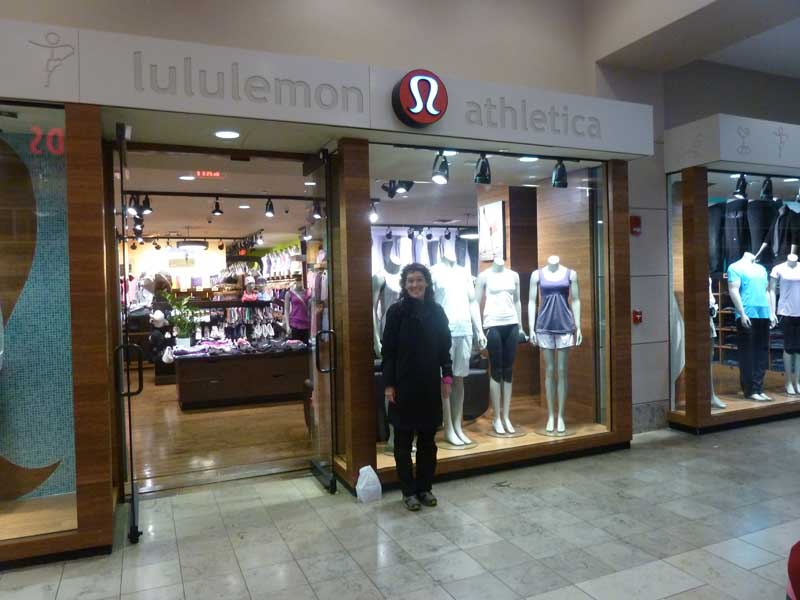 Keely just had to stop at the lululemon there in the mall, but we didn't spend any time there. She wanted to go to the one on Newbury.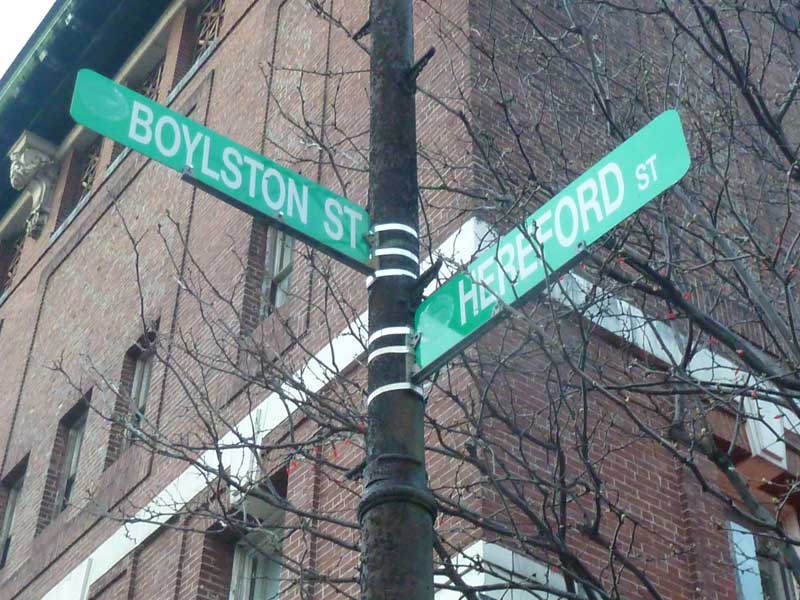 On the way, we passed the famous "Right on Herford, Left on Boylston" corner - the final turn on the marathon.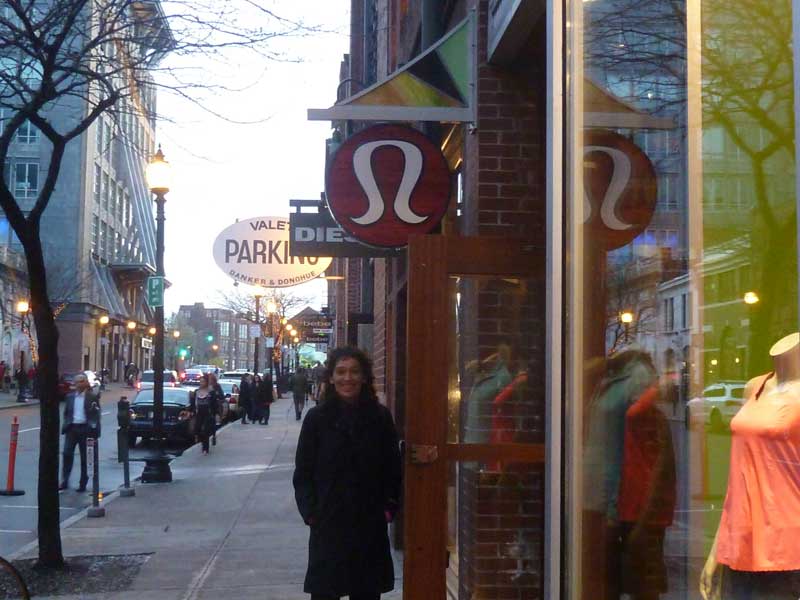 And somehow, once we got to lululemon on Newbury, the Ginger's Curse was broken. Right here, at this spot, things started getting better.
Inside the store, Keely was a little shy, so I immediately announced she was an ambassador from Oregon. All of the sudden, three other ambassadors popped out of the woodwork. Blue (on the left) is a race director from Malibu, CA. Wayne is with B.A.A. and is the running ambassador for this store, and Melinda is one of the yoga ambassadors.
We closed out the day there at lululemon. The store manager, Mieke, mentioned something that caught my interest: There was a Midnight Bike Ride planned for the night before the marathon. I like biking, but had no bike. Hmmm . . .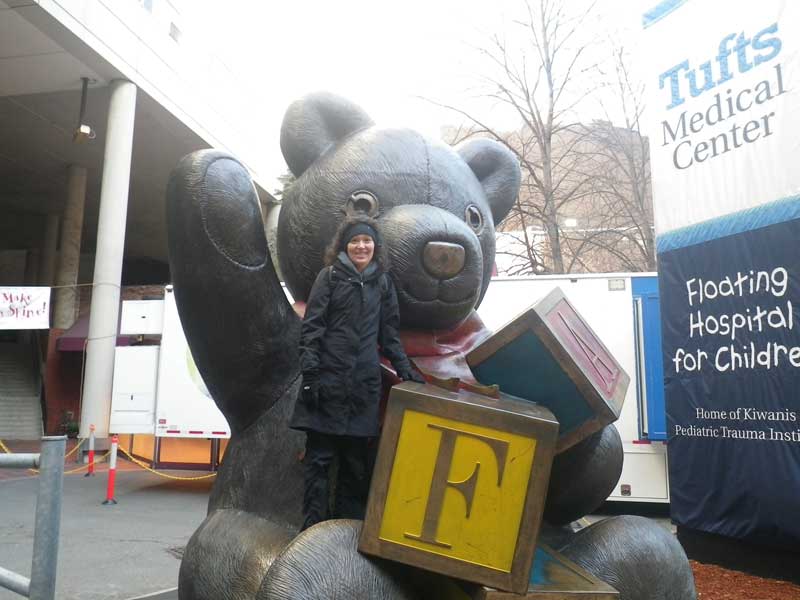 The next morning we headed out to the New England Aquarium. On the way, we passed Tufts University. Keely has a thing about posing on big bronze statues.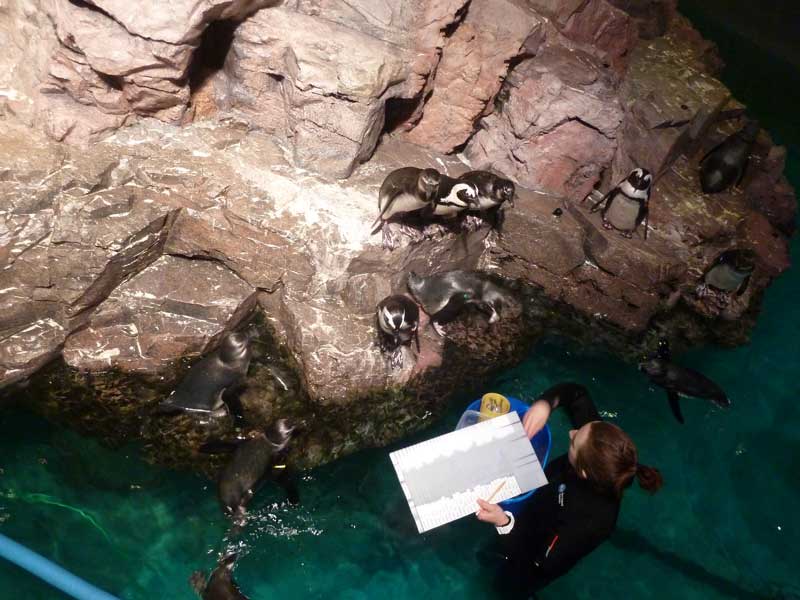 The New England Aquarium is very, very nice. I bet this penguin feeder has a Ph. D. in penguinology.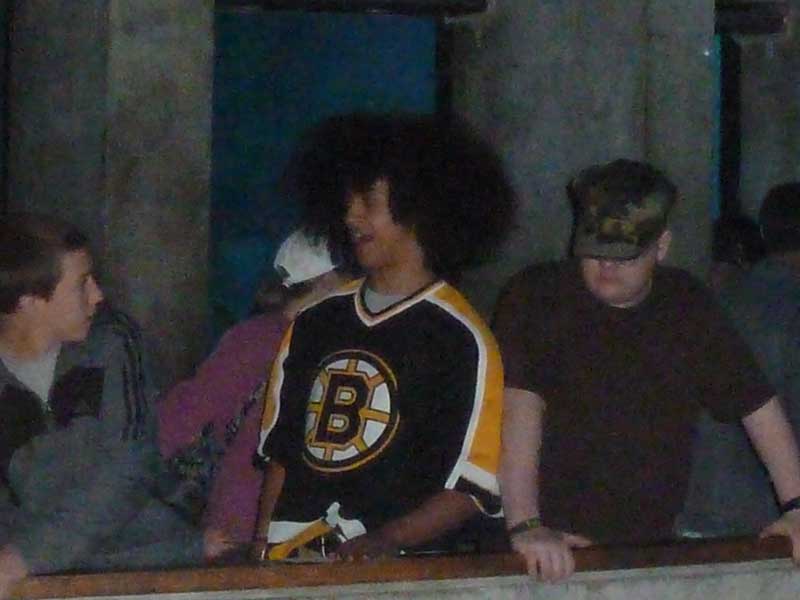 Look everyone! It's Sideshow Bob!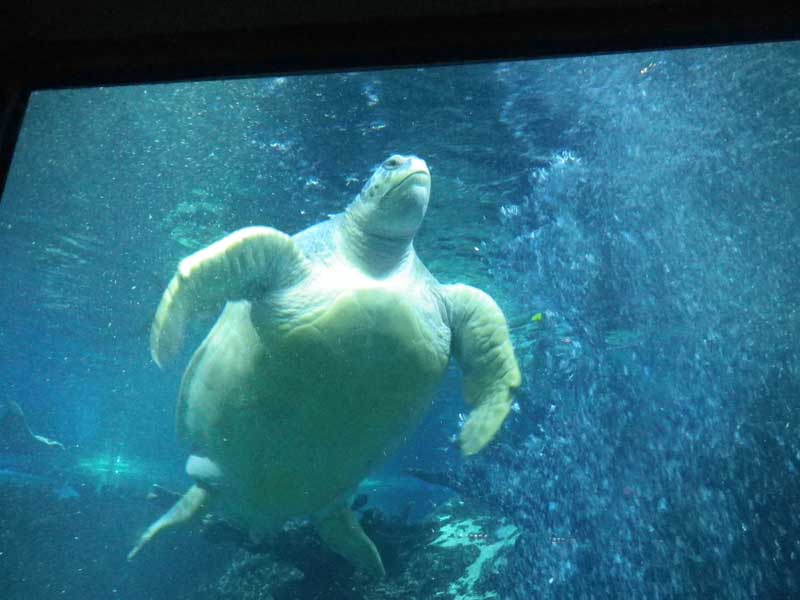 One of the stars of the aquarium is Myrtle, who was an adult when she was put in the tank at the opening in 1969.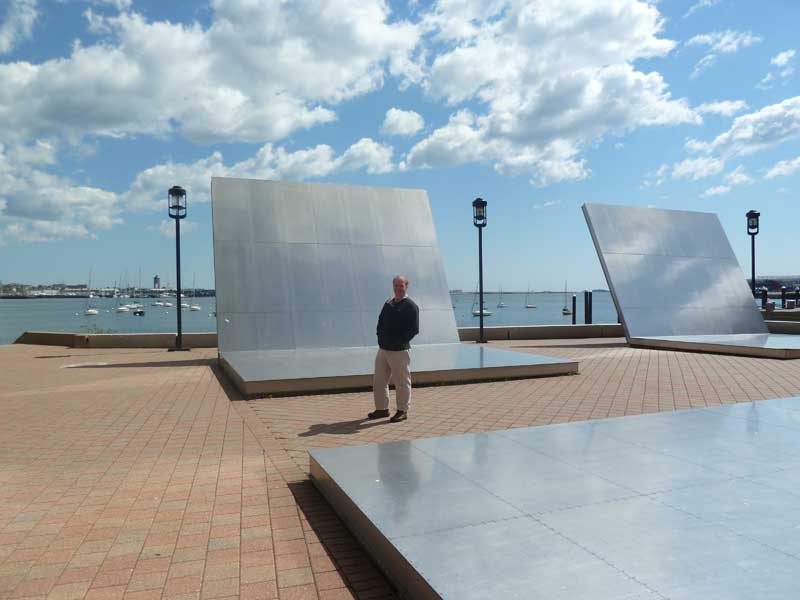 After the aquarium, we walked along the waterfront. Nice use of space and light.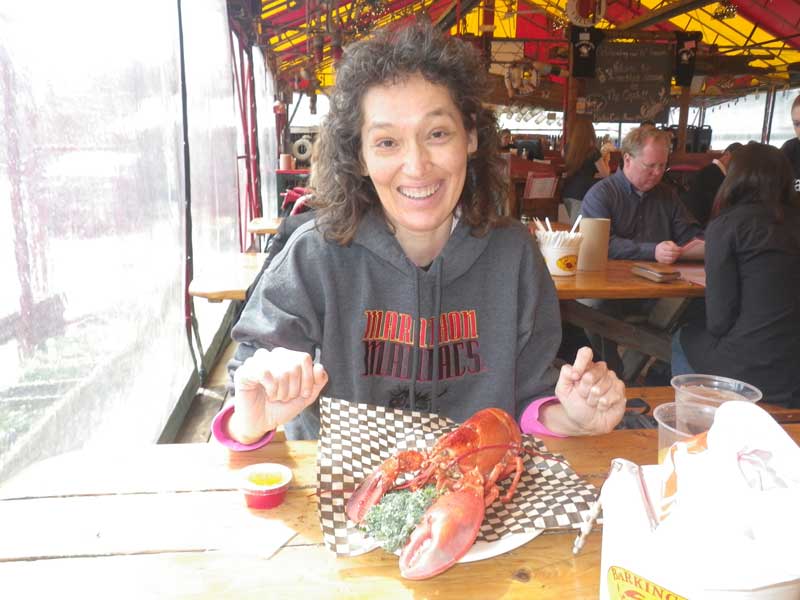 We had lunch at the Barking Crab - very, very nice. I could have gotten a 10lbs lobster for $215, but I don't know if I can eat 10lbs of lobster. Now, I guess I'll never know.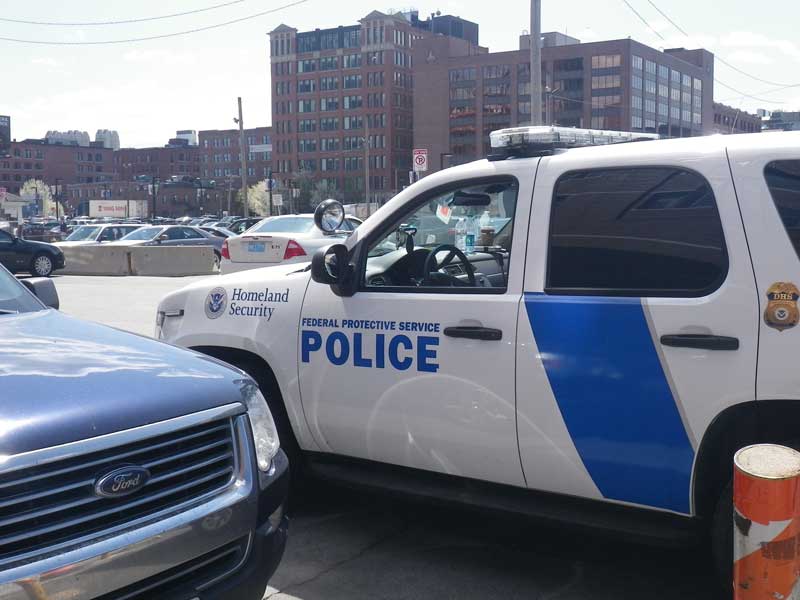 Ohhh, my very first Homeland Security sighting. I wonder what they are protecting? Something important, I am sure.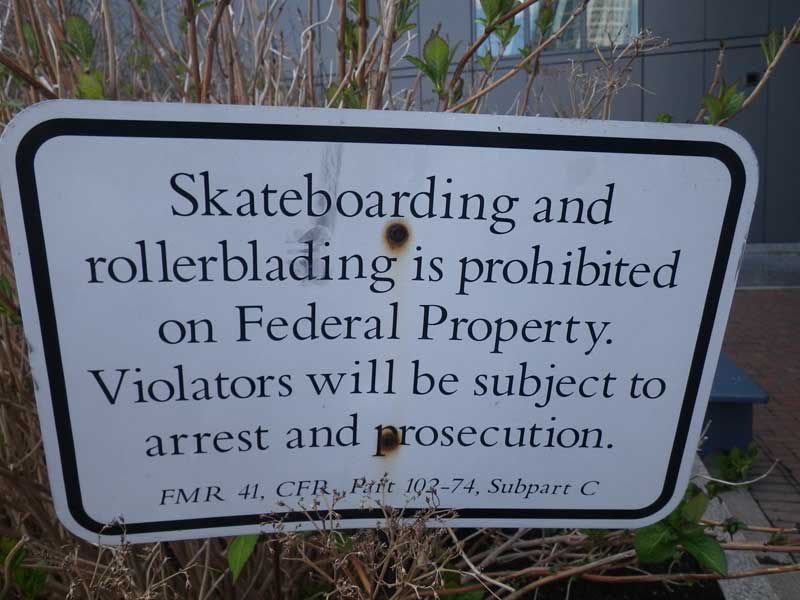 Well, there you go. We are all safer now, ain't we?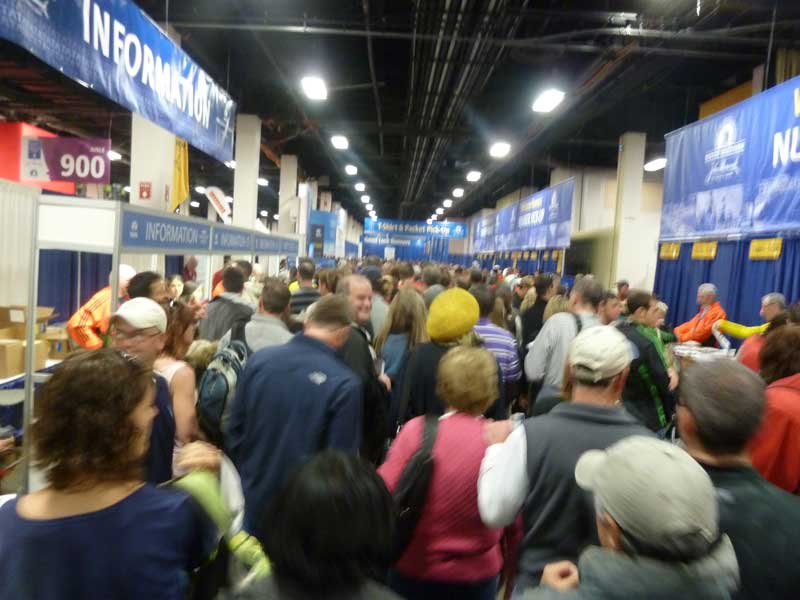 Next was the Boston Marathon Expo. Keely was running the marathon, but I was running the lowly 5K. There enter wall on the right hand side was dedicated to providing marathon runners with their bibs - I was forced to go into a skanky little back room (play Where's Andy? Can you see me?)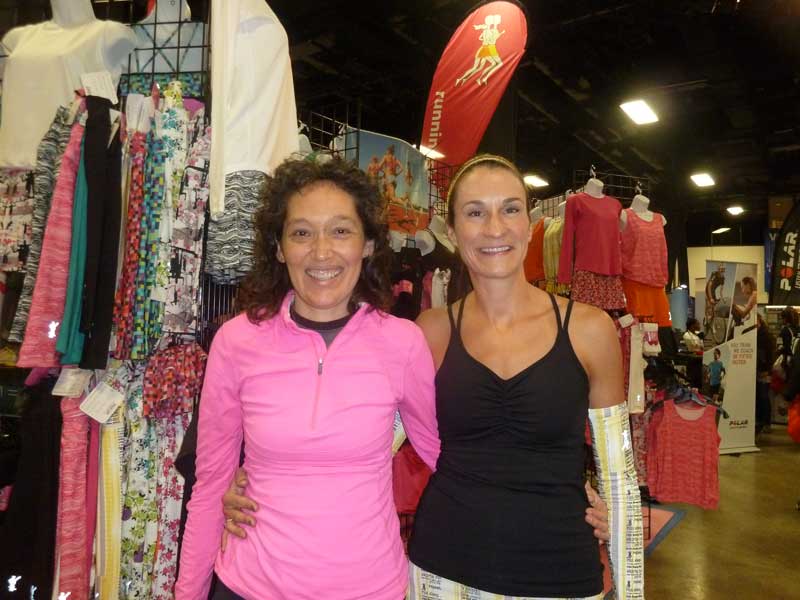 The expo at the Boston Marathon is like a Who's Who in the running world. Here's Keely with Christy, one of the twins that own and operate Running Skirts.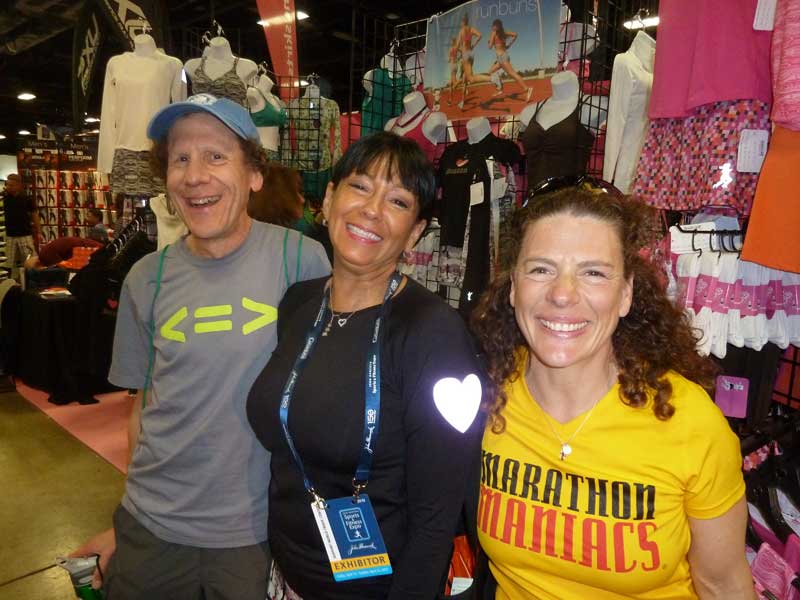 There is a group of people called Marathon Maniacs, and you get a number when you sign up. Keely is #2374, Marc Frommer (l) is #9, Sutah is #53, and the un-named woman on the right has just joined.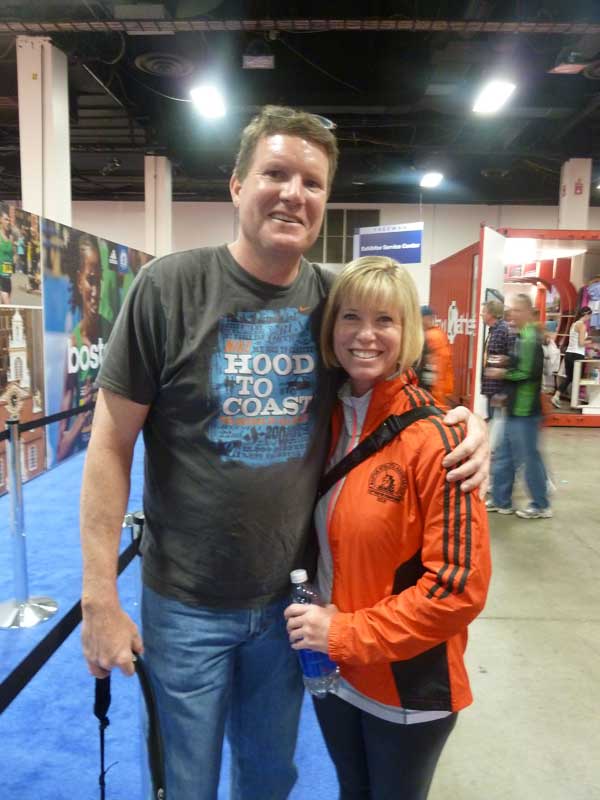 Brian and Linda are from Oregon as well. They were on the plane with us.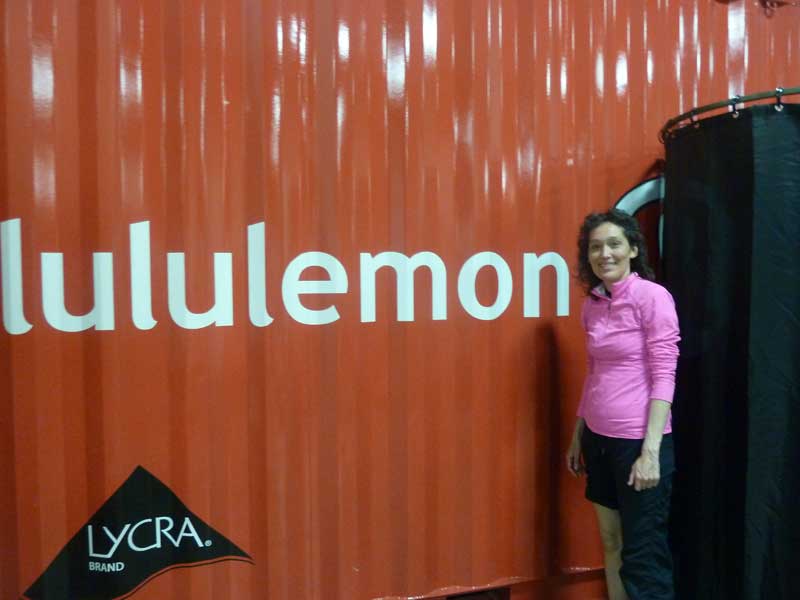 And, of course, Keely ended up at the lululemon exhibit.
I stayed for as long as I could, then headed out. Our hotel was right near the Boston Commons, so I went there to see what I could see.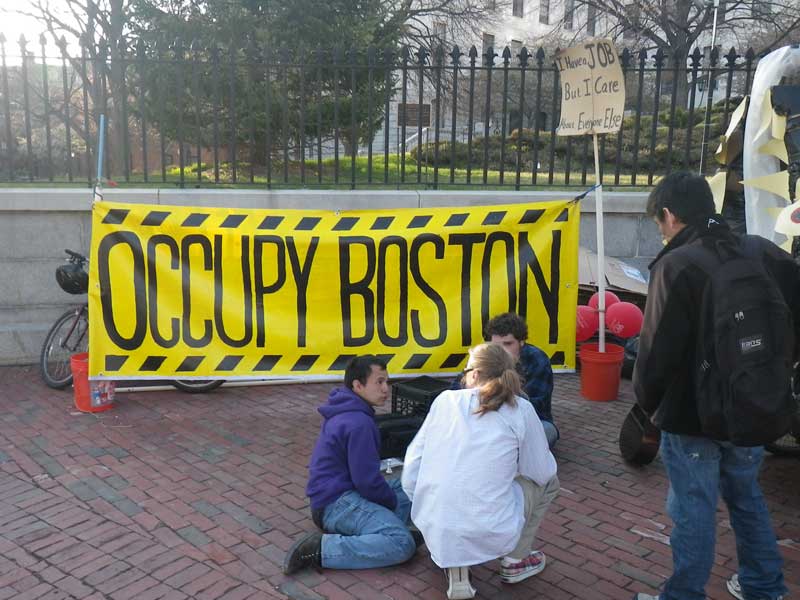 This was the only day I saw these guys. They'd camped out in front of the State House.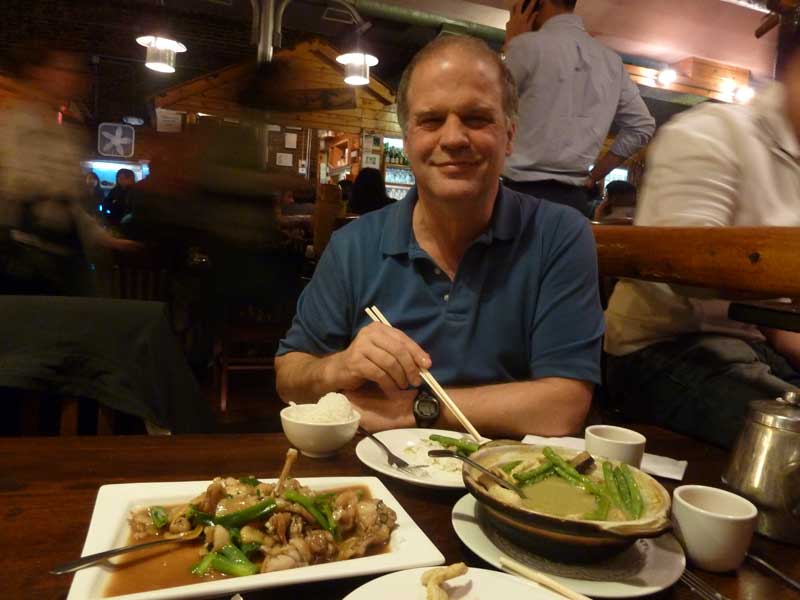 We rounded out the evening at the Penang restaurant near the hotel. It was REALLY good. That plate on the left? Frog's legs. Damn good frog's legs, too.