Keely Becomes a Runway Model
May 11, 2012
Life's a hoot. Give it a chance, and it'll surprise you over and over again. Never in my life had I expected Keely to become a runway model, yet here she is.
Background: Keely runs - a lot. She also likes to wear nice athletic clothes and she likes to encourage other runners to both run and wear nice athletic clothes. She's so enthusiastic, in fact, the people at the lululemon store at Bridgeport asked her to become a Store Ambassador. Does it pay? No, not in money, but she has reaped many non-pecuniary rewards.
One of the things that sets lululemon apart from other athletic clothing retailers is their connection to the community - they genuinely support locals who are athletic. Not professionals, mind you, just people, like Keely, who are enthusiastic about fitness and health and staying moving. When lululemon decided to hold a FUNction to highlight the Spring 2012 fashions, they wanted to use local ambassadors as the models. They asked Keely and she accepted.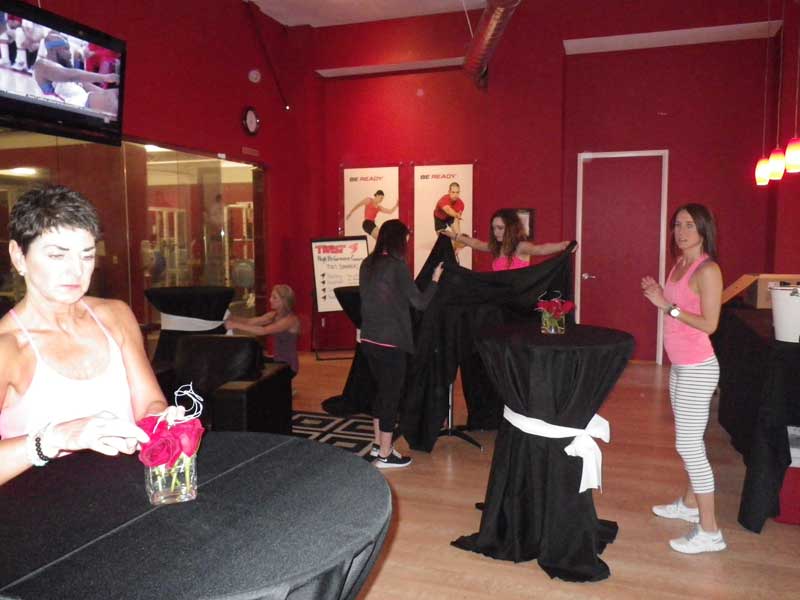 The FUNction was put on at the Twist Sports Conditioning facility in Portland. We arrived early, in time to see the place being transformed from gym into showroom.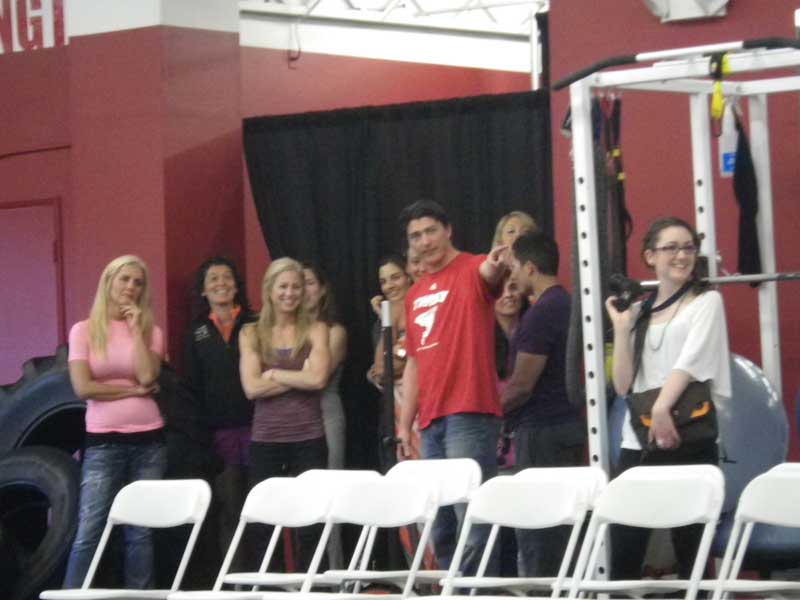 Keely and the other models getting pre-show instructions from the owner of this Twist Conditioning franchise.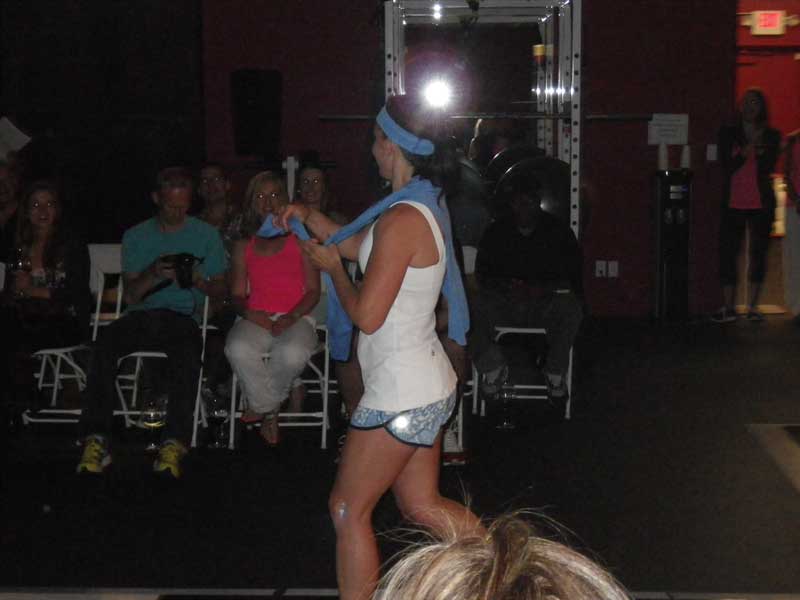 I happened to be sitting next to Bill, who was married to Rhonda, seen here. Rhonda runs 100-mile races. 100 miles! I don't even like driving 100 miles and she's RUN 28 of these races.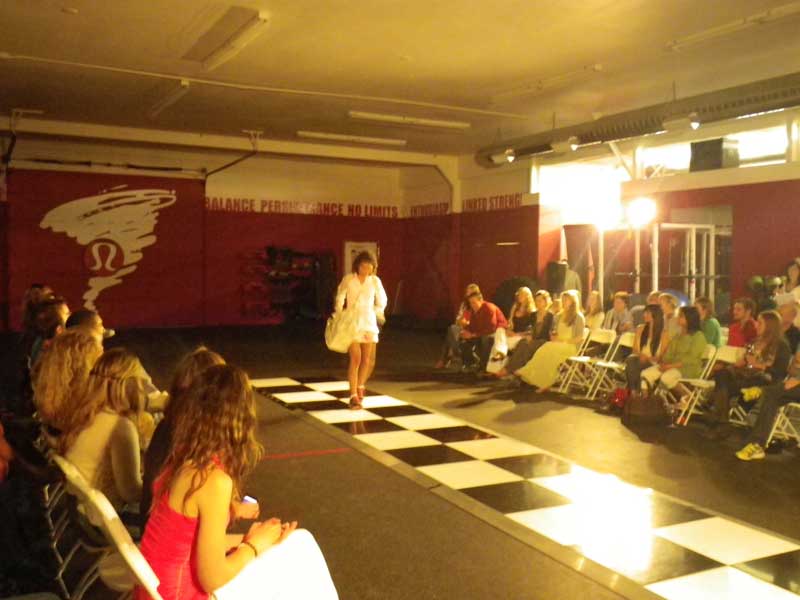 Keely made her first appearance sporting a running skirt, light weight coat, and sports bag.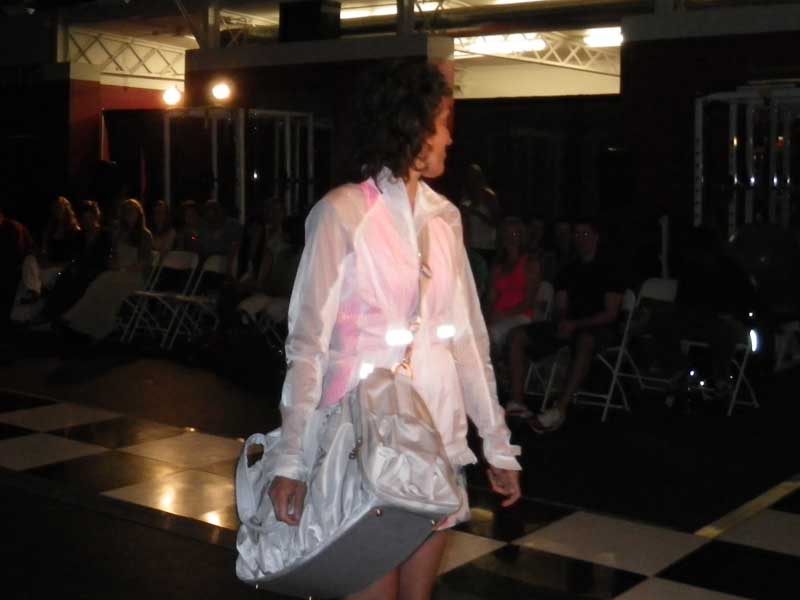 Hmmm, typical rookie model mistake: She hasn't developed the skill to instantly detect a camera and turn towards it yet.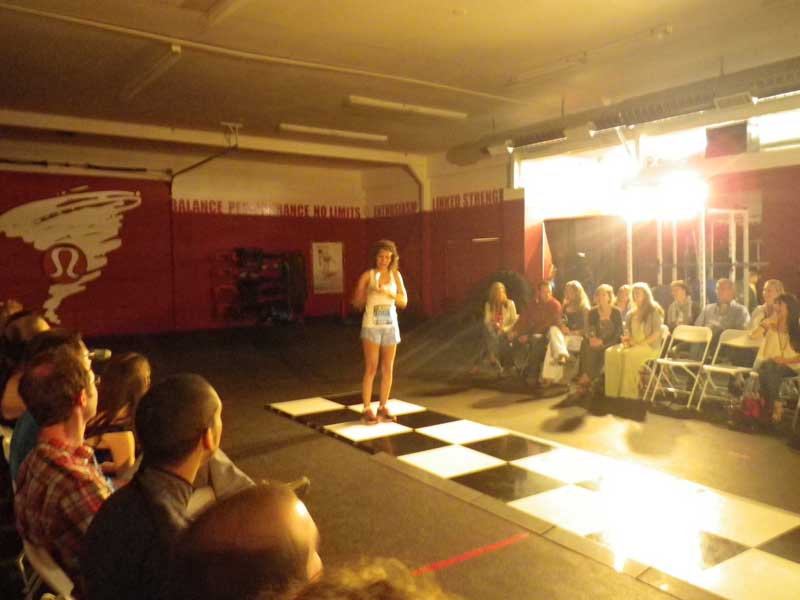 For her second appearance, she was rocking lululemon shorts, wearing her Boston Marathon bib, and a special bra that allows people to store SCADS of stuff. She had an iPod, packets of Gu, a credit card, cash, all kinds of things runners would want to have but don't want to carry in a bag or on a belt.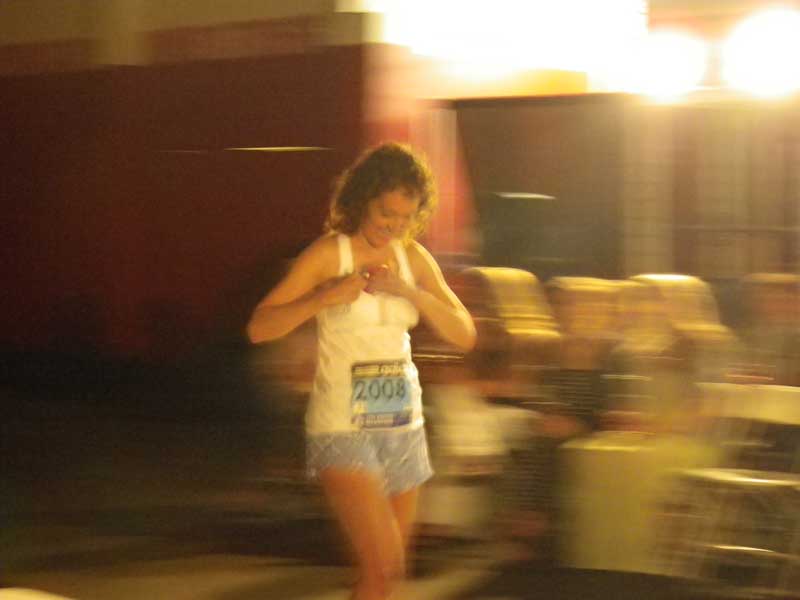 I hate the low-light functionality of my Pentax camera, but I do like this picture.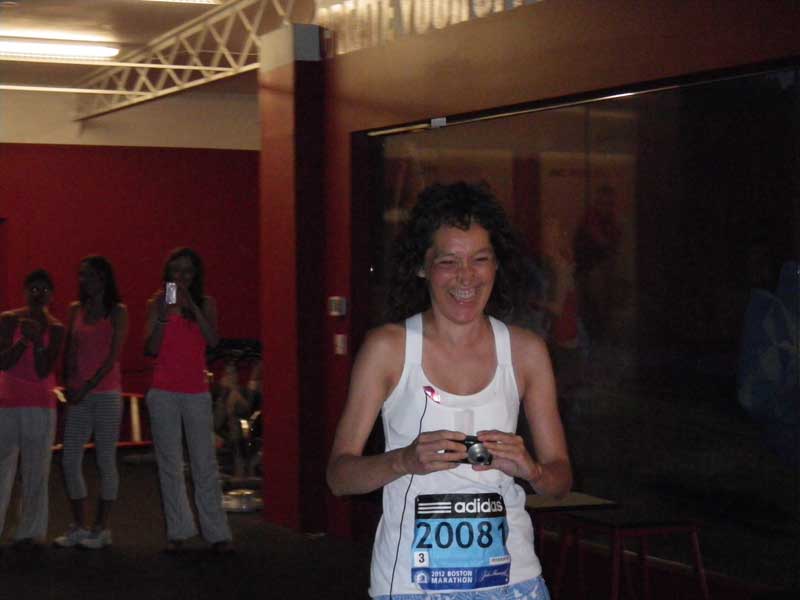 For her grand finale, she pulled out a camera and took a picture of the crowd. She was loving it, and so were they.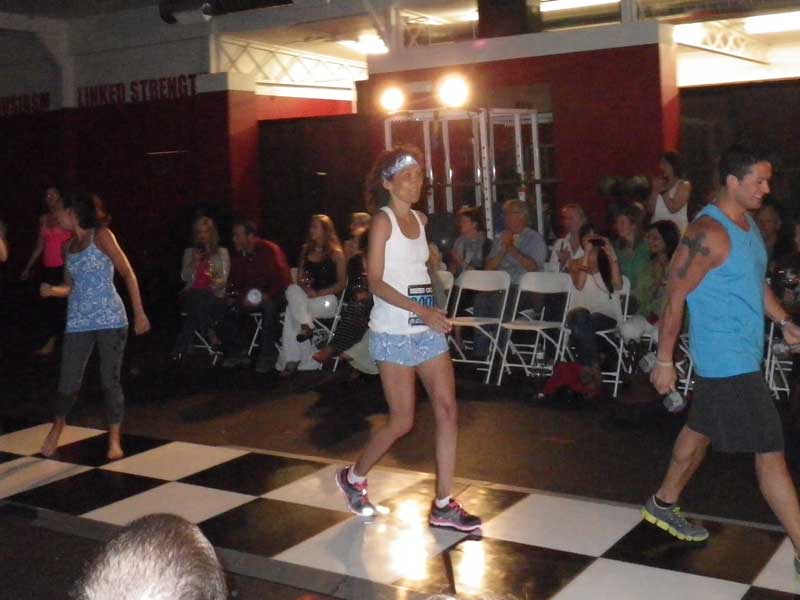 At the end of the show, all the models came out for the . . . whatever they call it when all the models come out at the end of the show.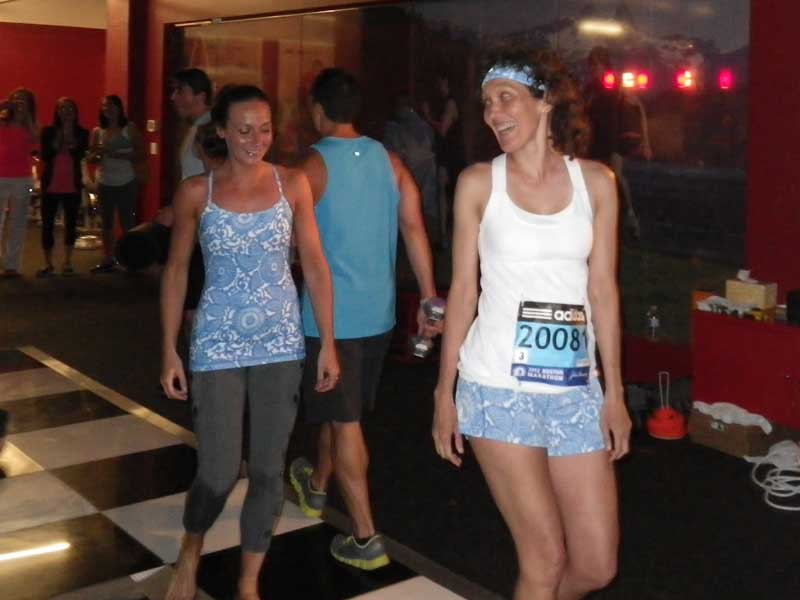 This is my favorite picture of my wife as a runway model. It looks like she's been doing that all her life.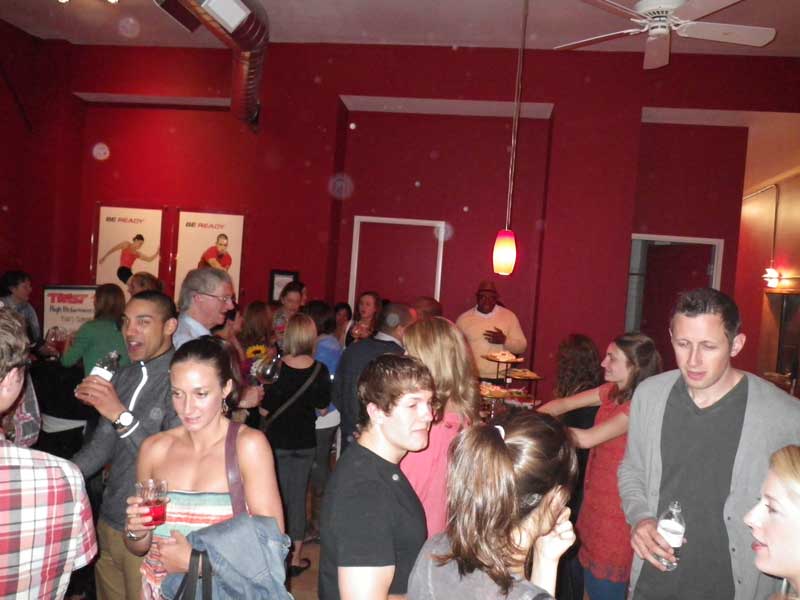 After the show was the reception. Just FYI: Those little glowing dots are spots of dust reflecting the light of the flash. They are NOT spirit orbs or lost souls.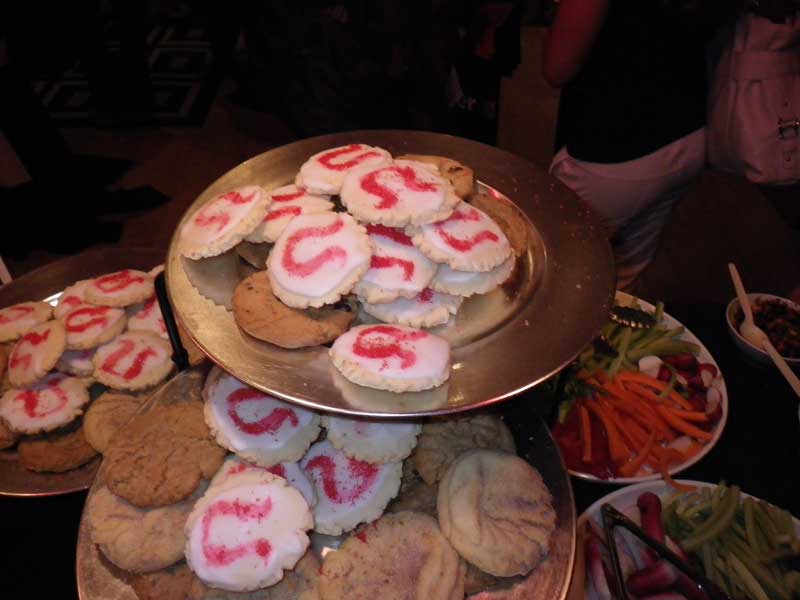 And the thing I like best about lululemon? The cookies.