Modeling
October 7, 2019
One of the things about boat building is once you build a boat, you have a boat. Now you need to either store it or move it along. Since I find building boat much more fun than owning boats, I am beginning to explore making models of skin-on-frame canoes and kayaks.
When I was running the Toledo Community Boathouse, I found making models helped getting people to understand what we'd be doing. This is a 1:2 scale model of Gave Gentry's Chuckanut "open kayak." at 8' long, it made excellent wall art when I was done. That's Capt. Ben in the cockpit - he turned 10 just the other day.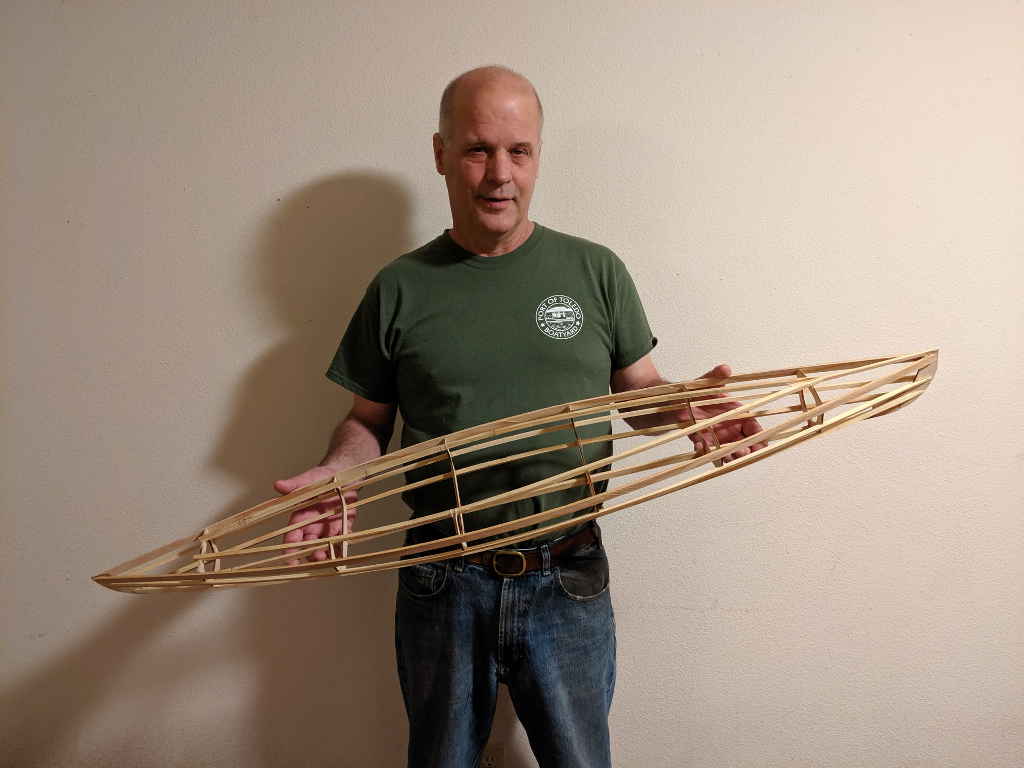 Even 8' boats can fill up a garage pretty quickly, so this time I was shooting for 1:4 scale model of the same-ish boat (I'd changed the topsides a bit to suit my fancy.) I had the frames laser cut from 1/8" plywood and ripped the stringers from some pallet wood I had. Ripping 3/16 x 3/16 x 48" sticks is kinda terrifying. This model is mostly hot glued together, but I do have some of the stringers lashed in with waxed dental floss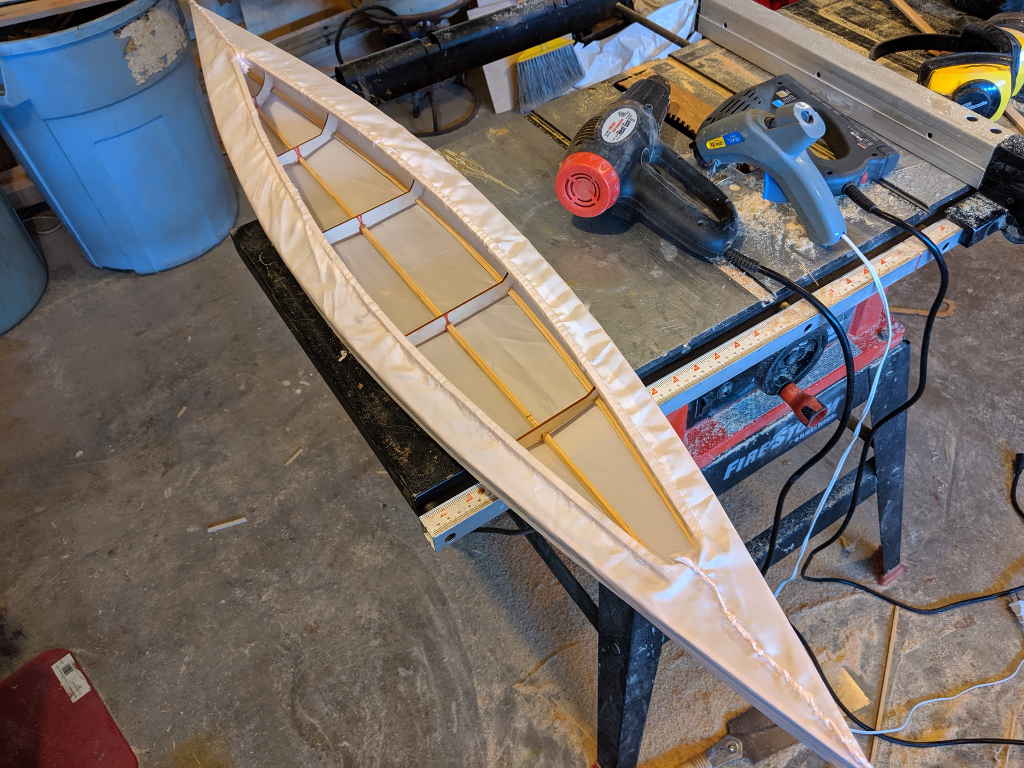 The next step was to skin it. I had some pink polyester cloth I'd gotten from Good Will for some forgotten project. Since I used polyester cloth for covering full sized boats, I figured I'd give it a try. It's slippery and things are small, but I was able to get it on.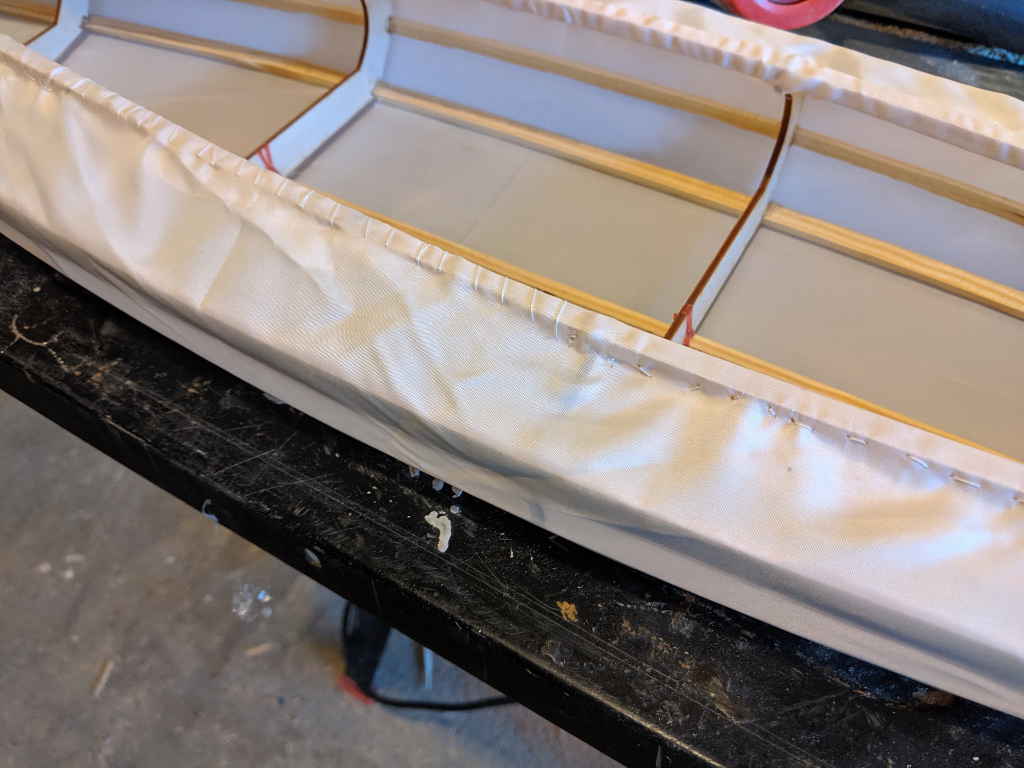 It pulled about as tight as it does on a full sized boat. You can see I was experimenting with stitches, wrapping around the . . . carlin? Is that what the cockpit piece is called worked, but it ate up thread. I ended up just doing a lock stitch.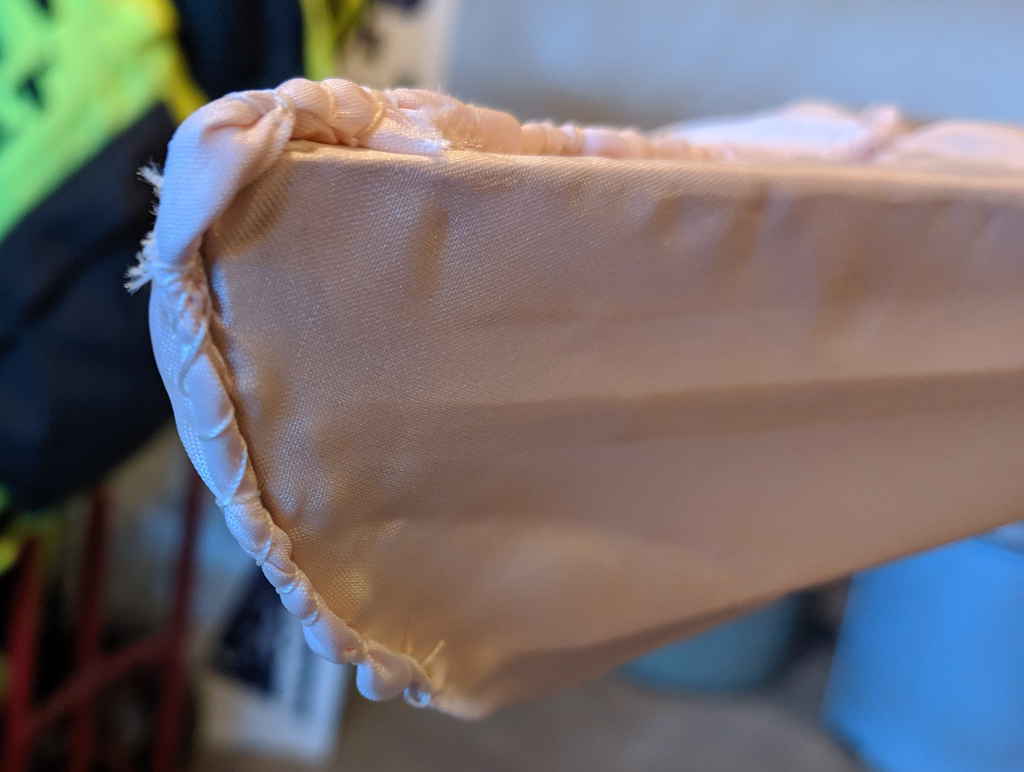 The devil is in the details, and models are all details. It really isn't all that bad, especially since this is my first attempt.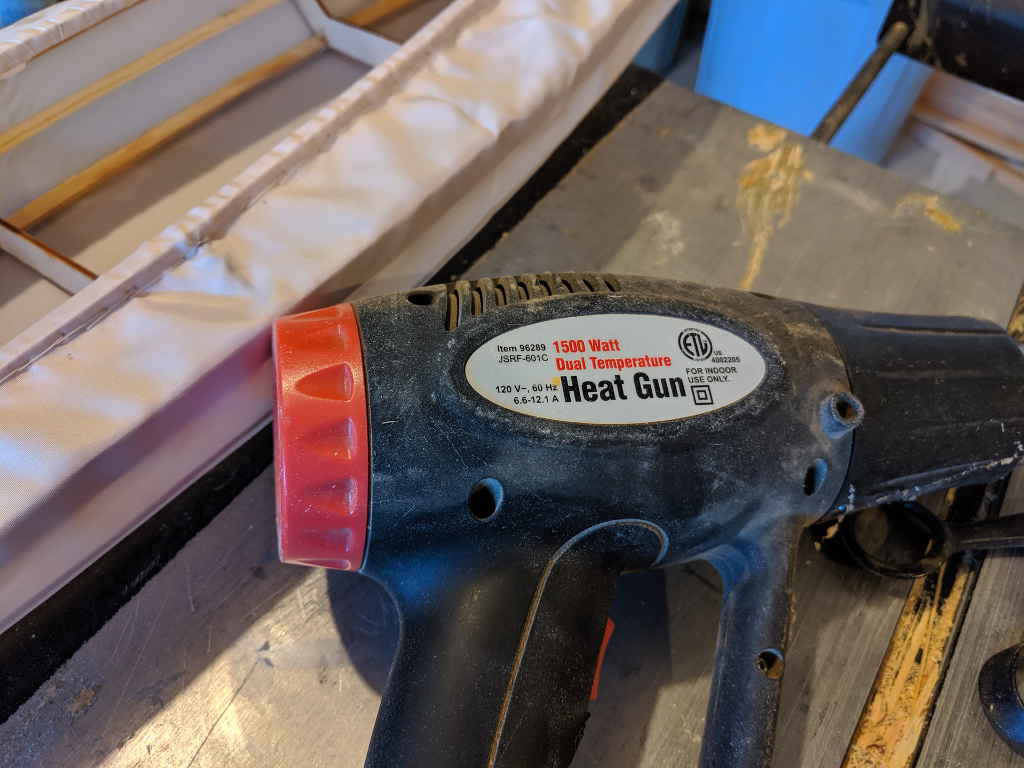 You can pay as much as you want for a heat gun. I use Harbor Freight, mostly because I am the one footing the bill.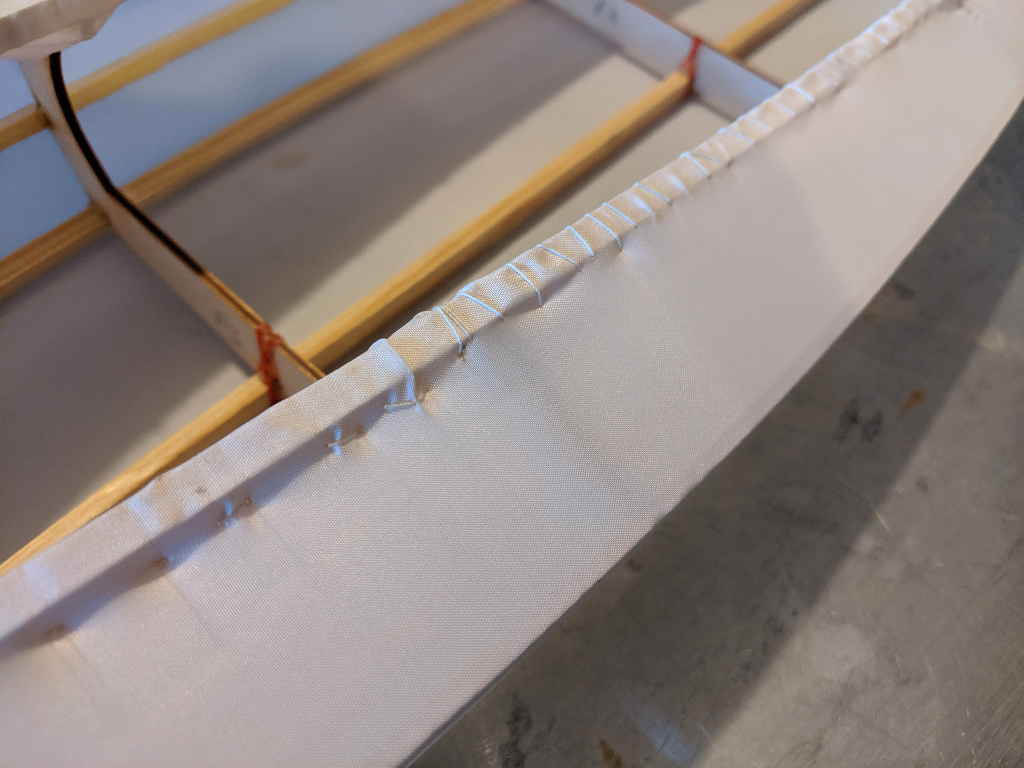 It's tightening right up,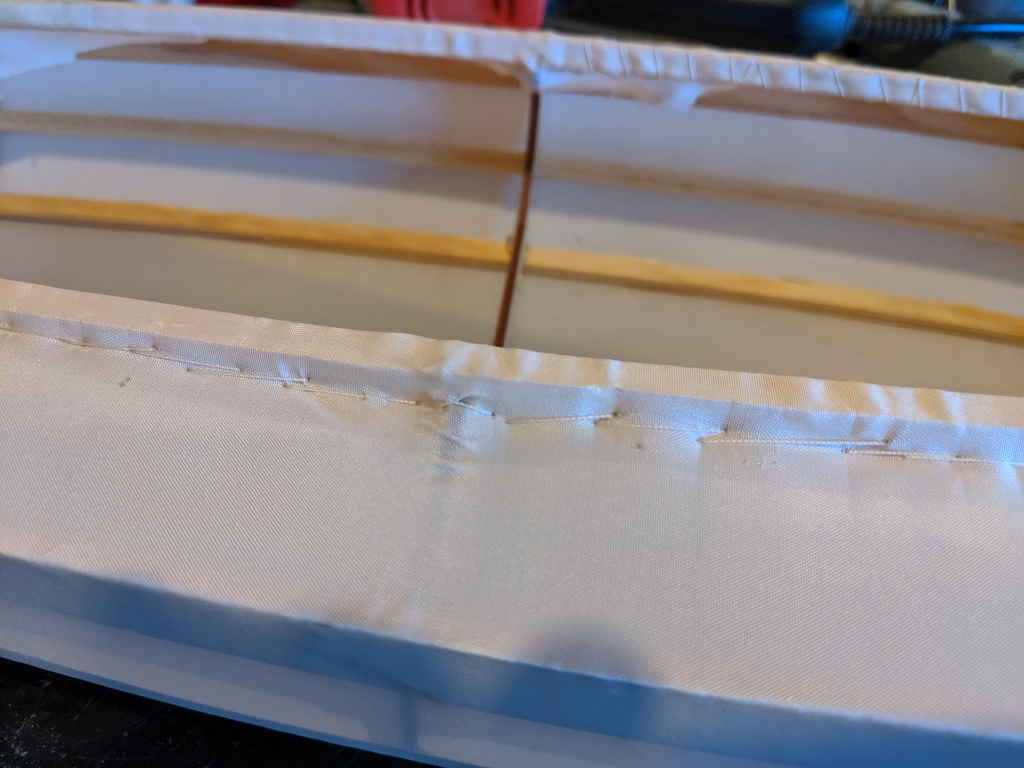 Those aren't very pretty stitches. Good thing I'm not a doctor.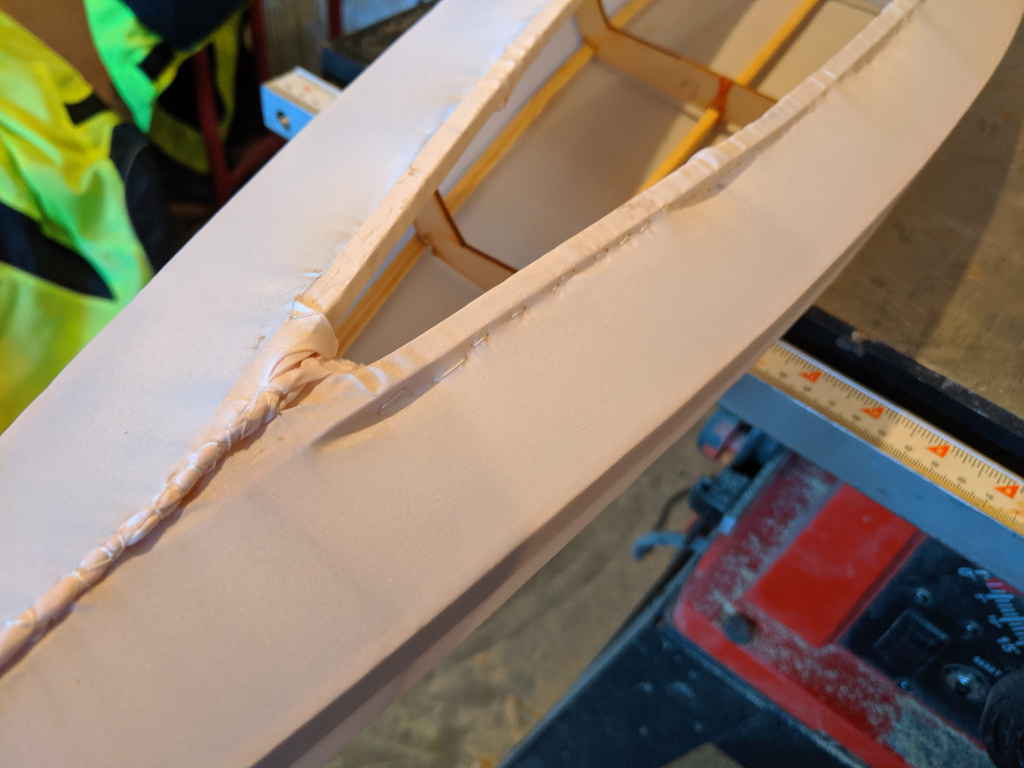 That tightened up nicely! Let's see if I can get it tighter.
D'oh! Good enough is sometimes good enough. I need to make a little moaning chair.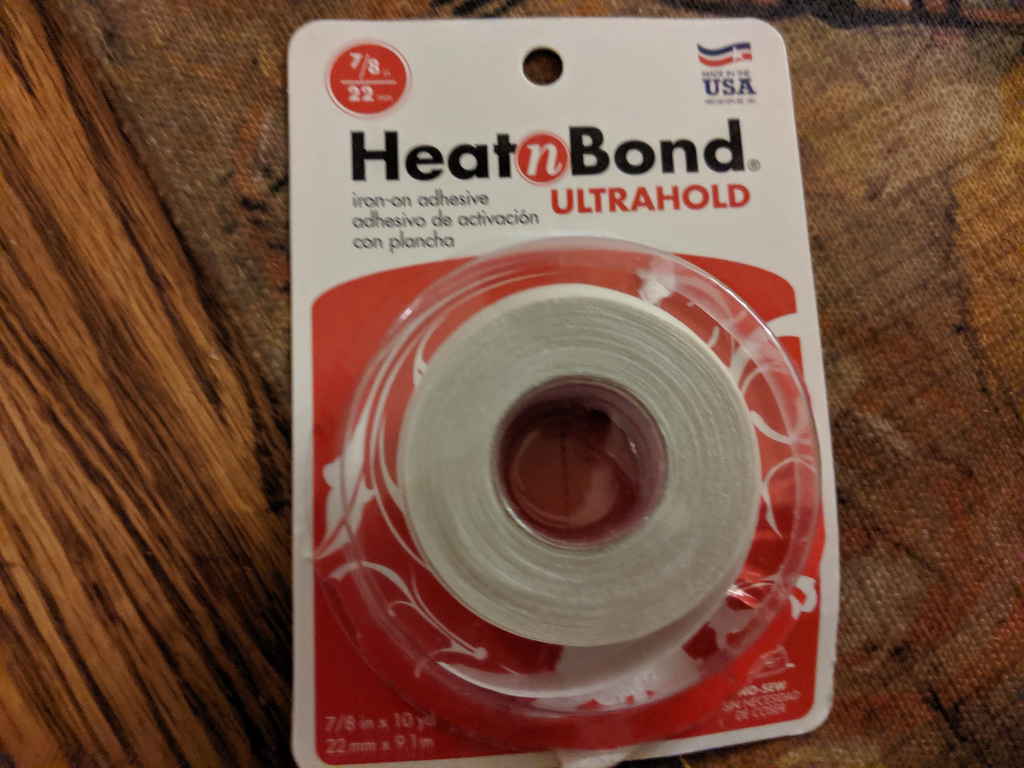 Time to try again. This time I think I'll experiment with this Heat Bond stuff to attach the cloth. I'm not sure how it'll work and I'll probably burn myself at least once, but I have to try.