Tillamook County Courthouse
Sept 29. 2018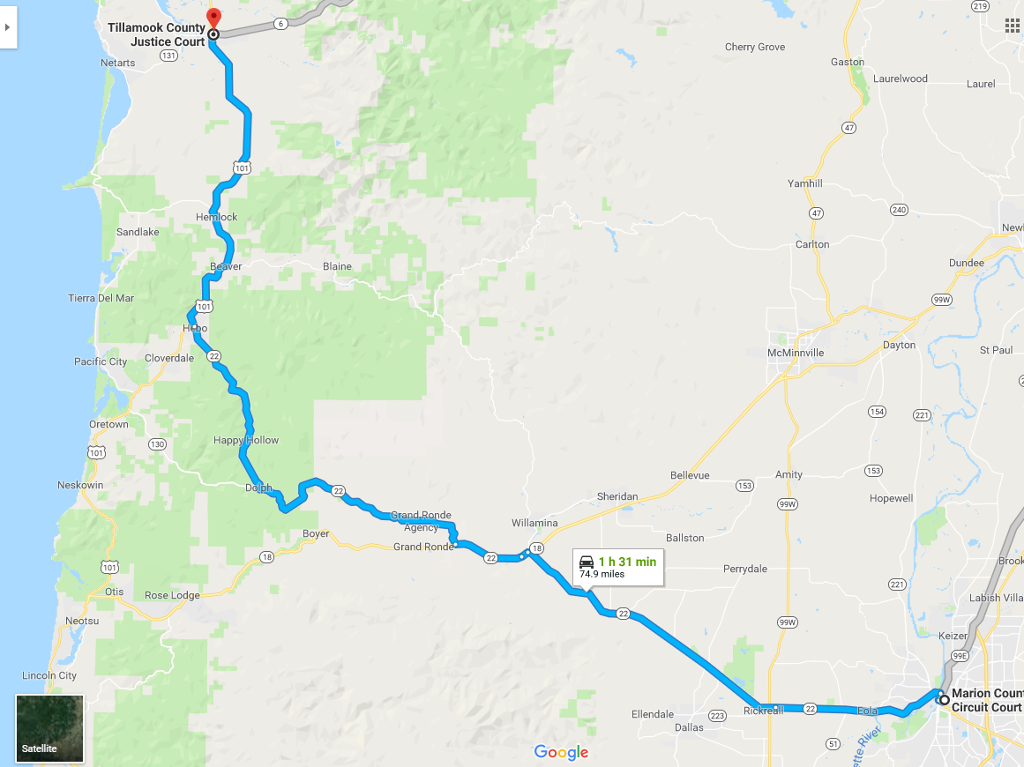 This was my first one. I wanted to make sure it was sufficiently far away (~80 miles) to be a challenge. This will be a lovely trip over the coast range and through some great Oregon country.
Start at dawn. I had my GoPro mounted on my chin, but I need to practice with it more. I'm more of an image guy and it is more of a video product.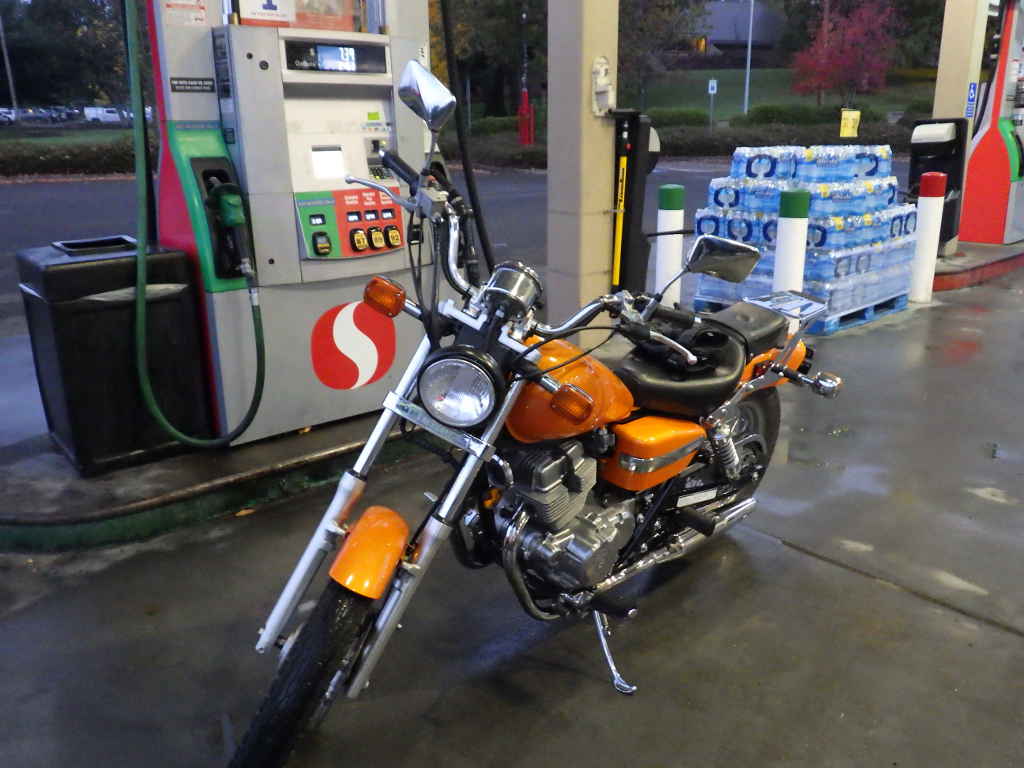 I get about 140 miles before I have to switch to reserve and I am a very poor navigator, so I wanted as much gas as I could carry.
Thought I'd get a picture of Gold Man at the state capitol.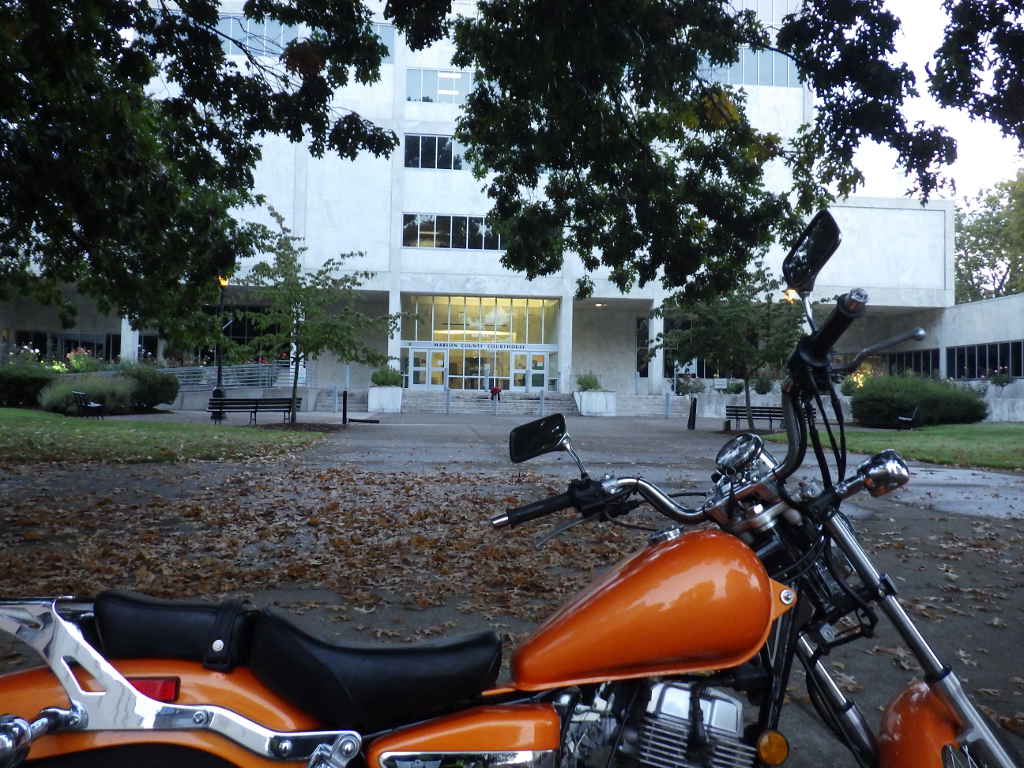 And since it is right there, I took a pic of the Marion County courthouse. I'll do a more in-depth experience here, later.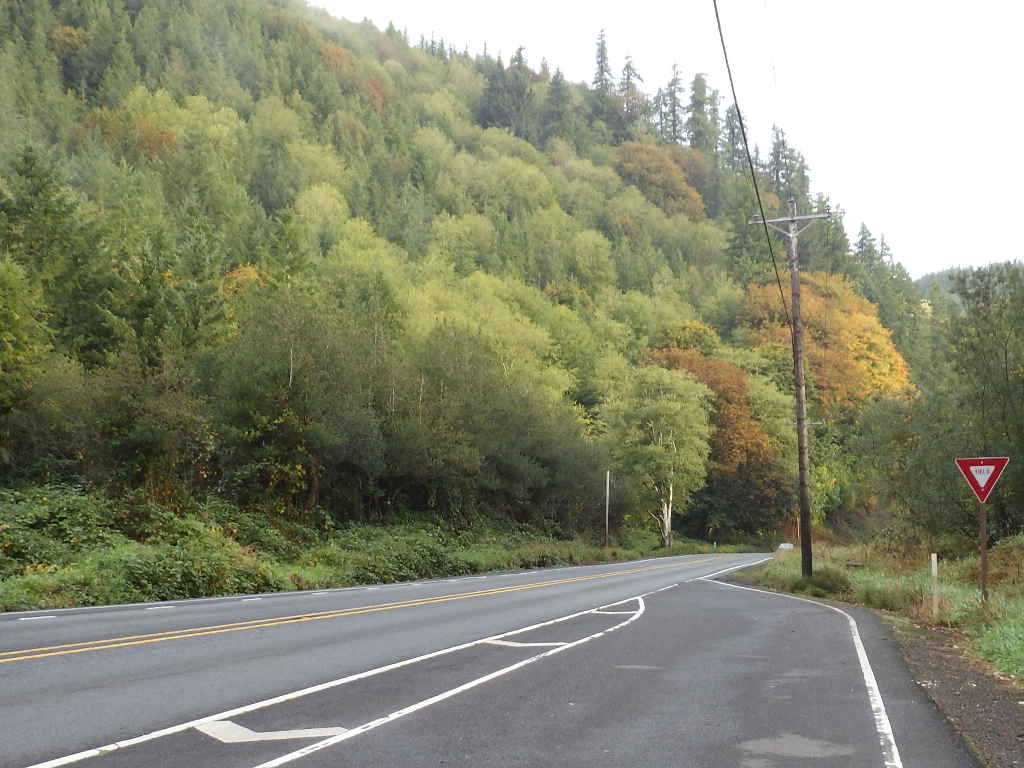 Damn, we live in a beautiful state. This is up on the way to Hebo. The fog was so dense getting down to Valley Junction we all slowed to about 45mph. I was soaked and it was only about 55°. My jacket is great, but my pants were wet.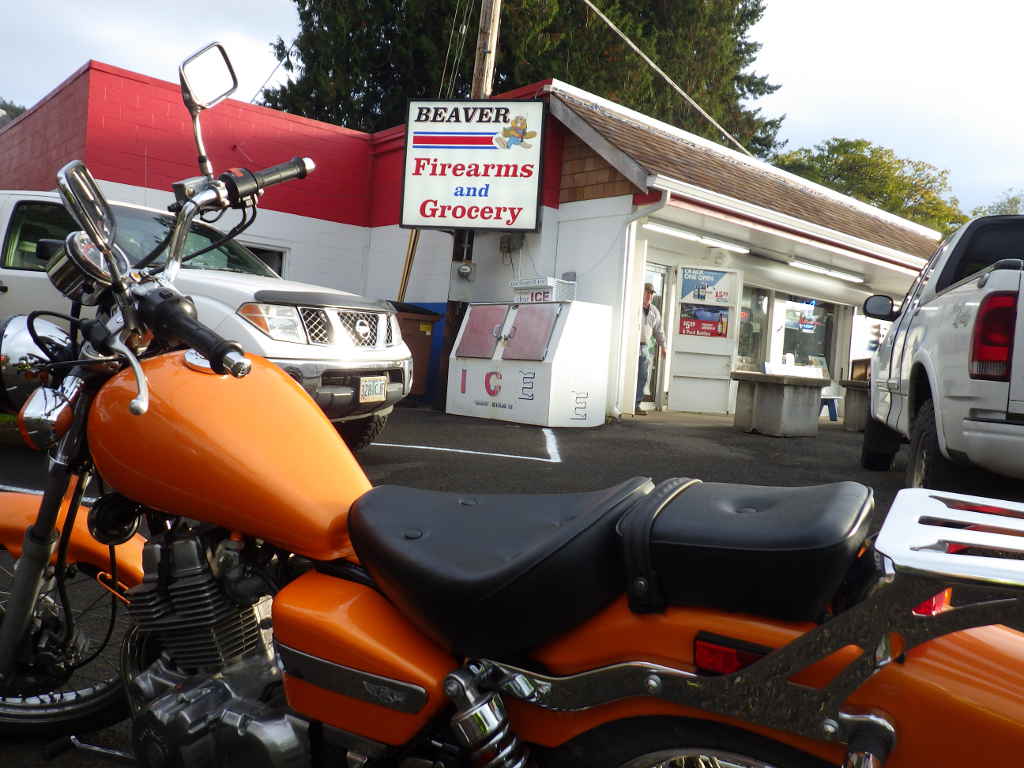 I love living in Oregon.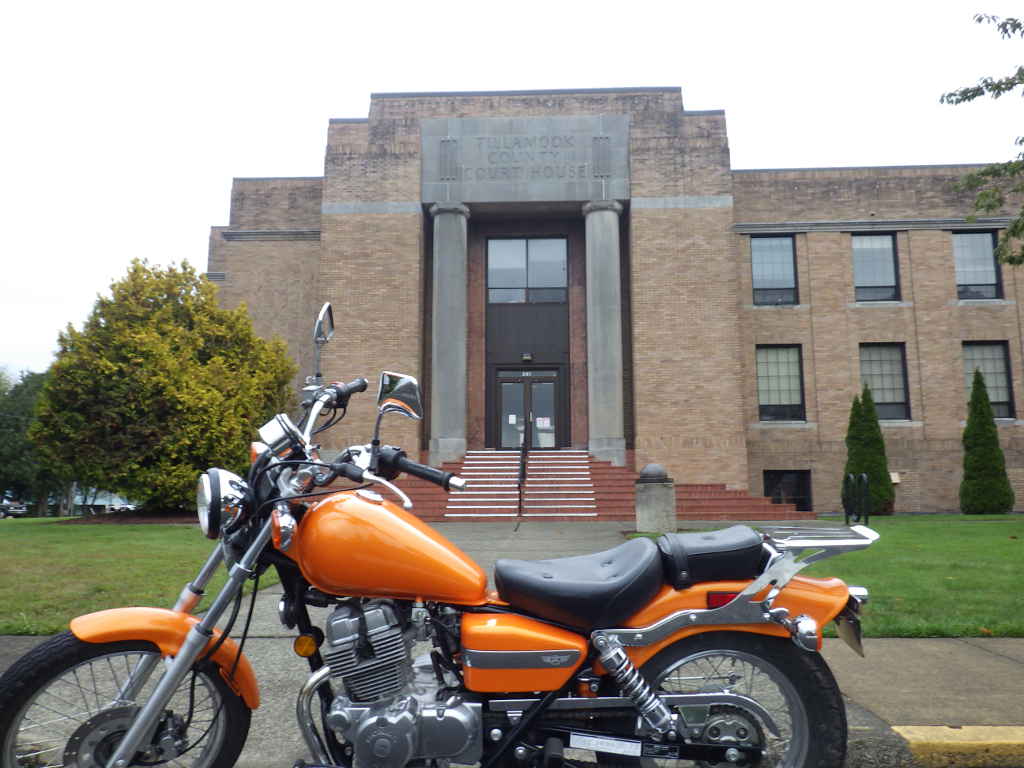 Tillamook County Courthouse. (I really need to do more research so I can tell a better story)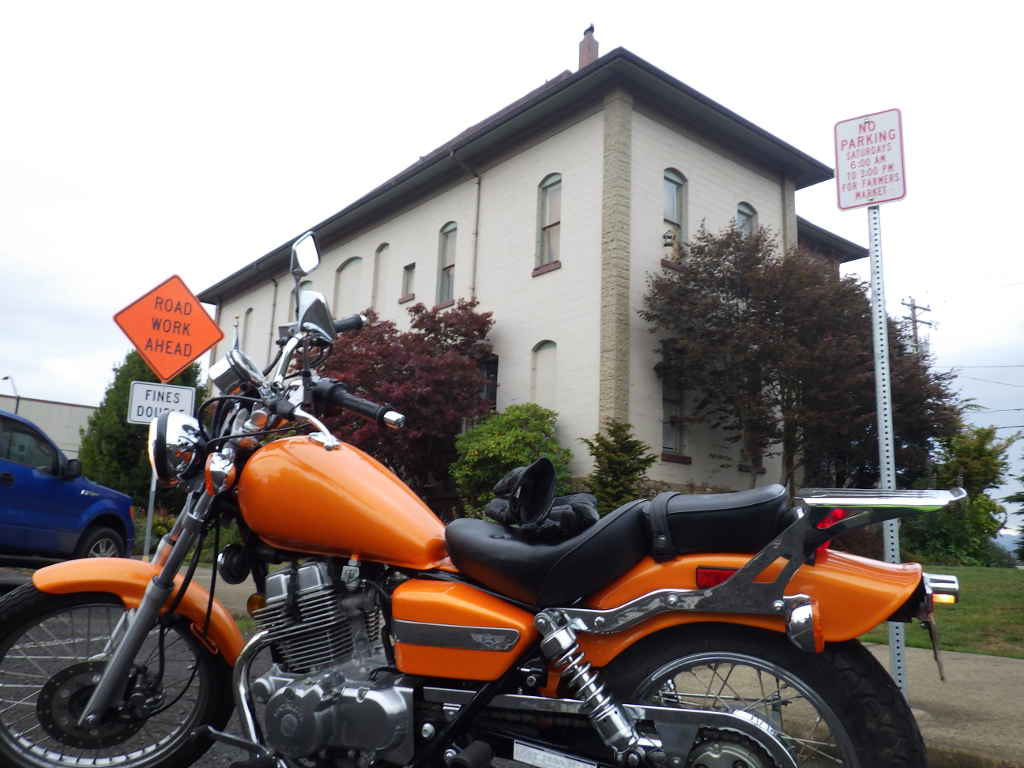 The Pioneer Museum was the original courthouse. This really is a great museum. They even have an elephant foot ashtray upstairs. Across the street was the Rendezvous Bar and Grill, and it looked to be the only place open on a Sunday morning. The make a very nice Chicken Fried Steak.
My GoPro was being uncooperative, so I put it in my pocket while I topped off the tank. 82 miles to this point, 1.28 gallons, 64mpg. Not bad.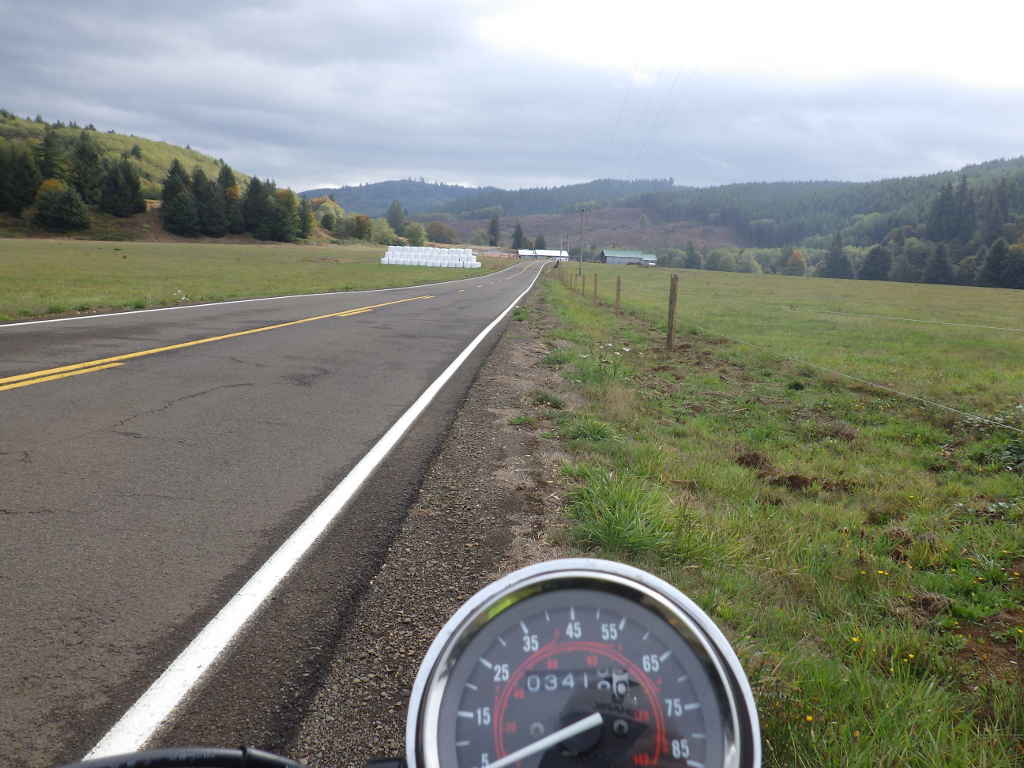 Tillamook County is the land of Bees, Trees, and Mud Up to your Knees. An excellent book about the early days of Tillamook is "To Build a Ship" by Don Berry.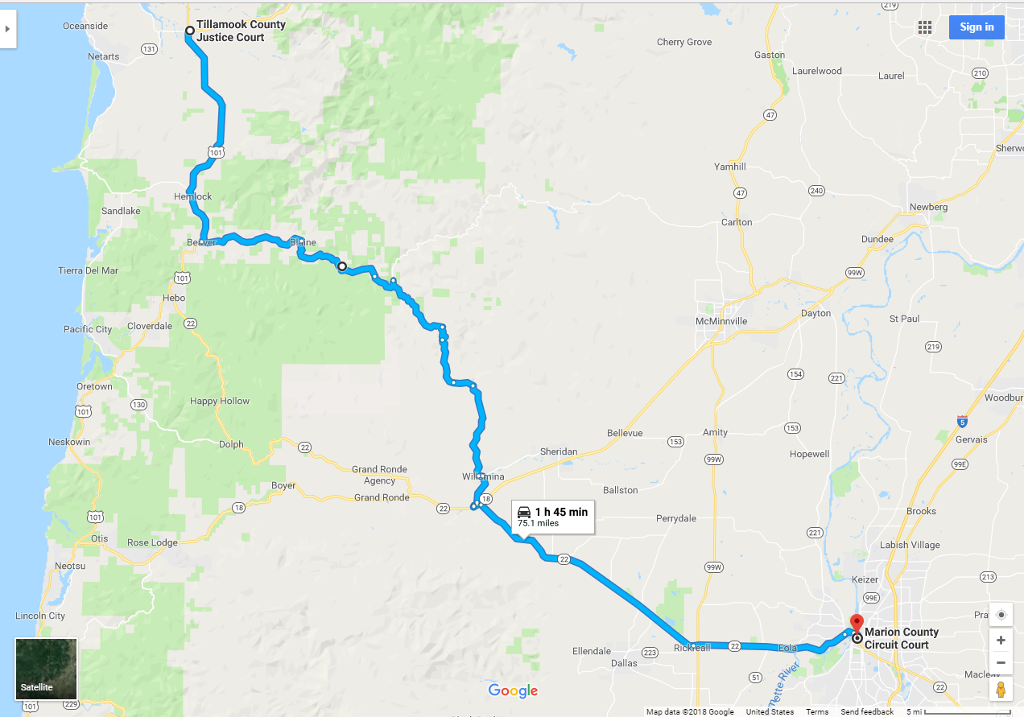 I decided to head home through the big town of Blain. I had to pass through Daggett before I got there. Know the difference between Daggett and Blain? Daggett has the trailer houses on the right side of the road. In Blain, they are on the left.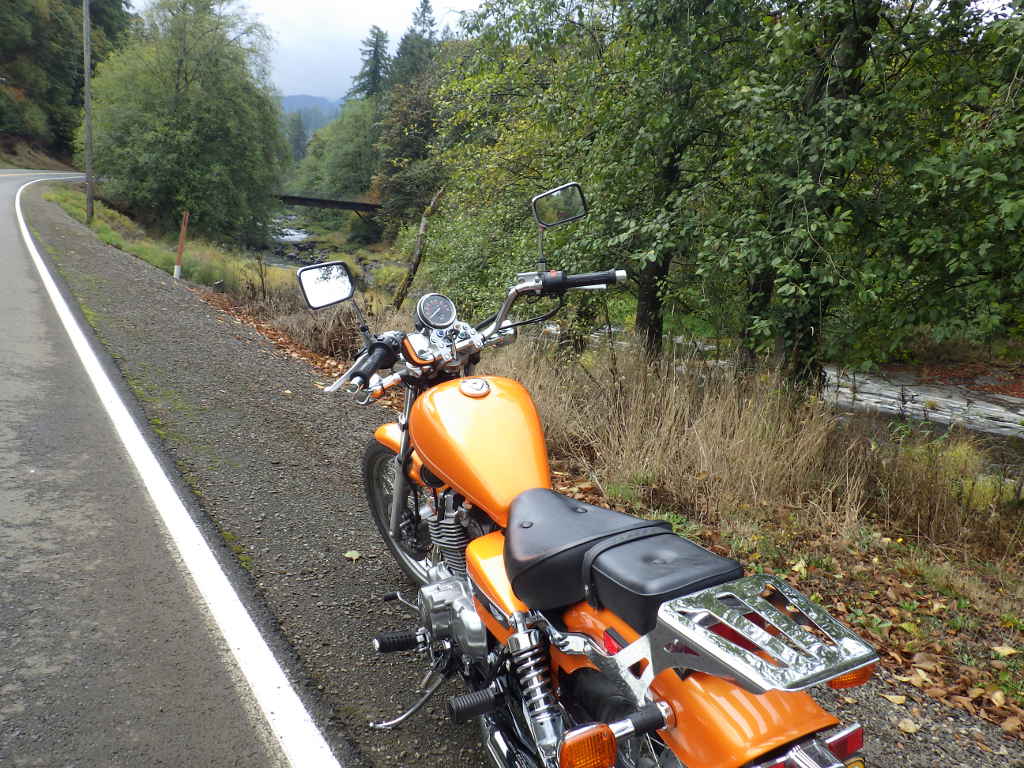 Nestucca river. Beautiful.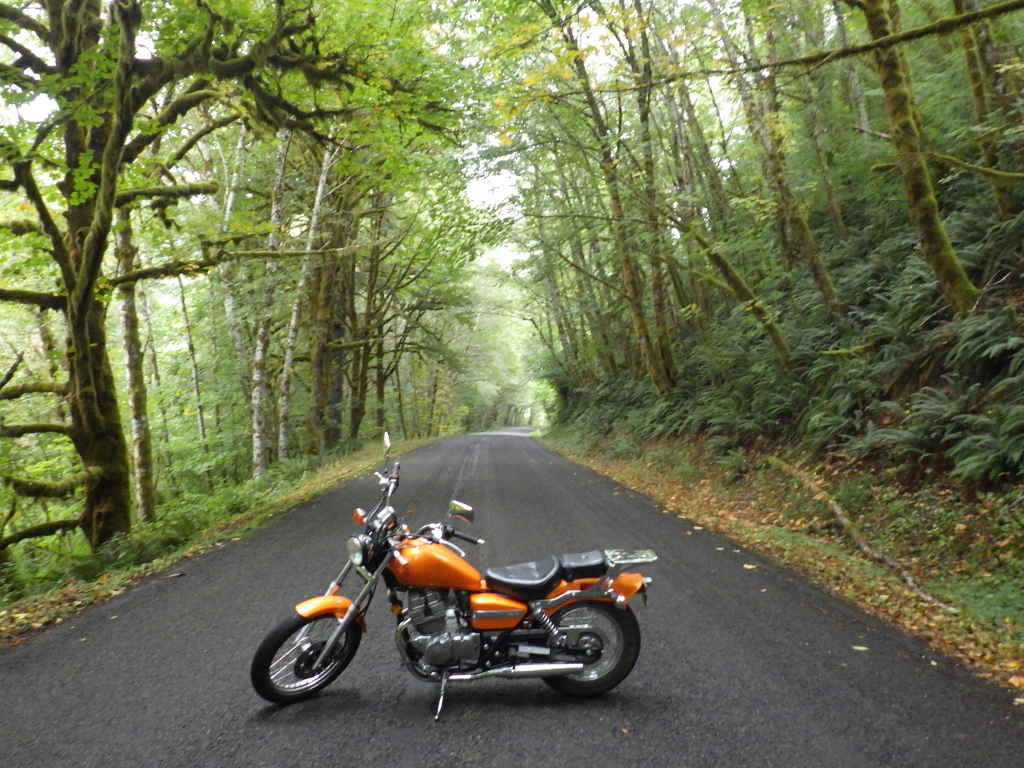 Yeah, baby! There was a sign that said "Road Closed 6 Miles Ahead" so I figured I was safe to take a picture here.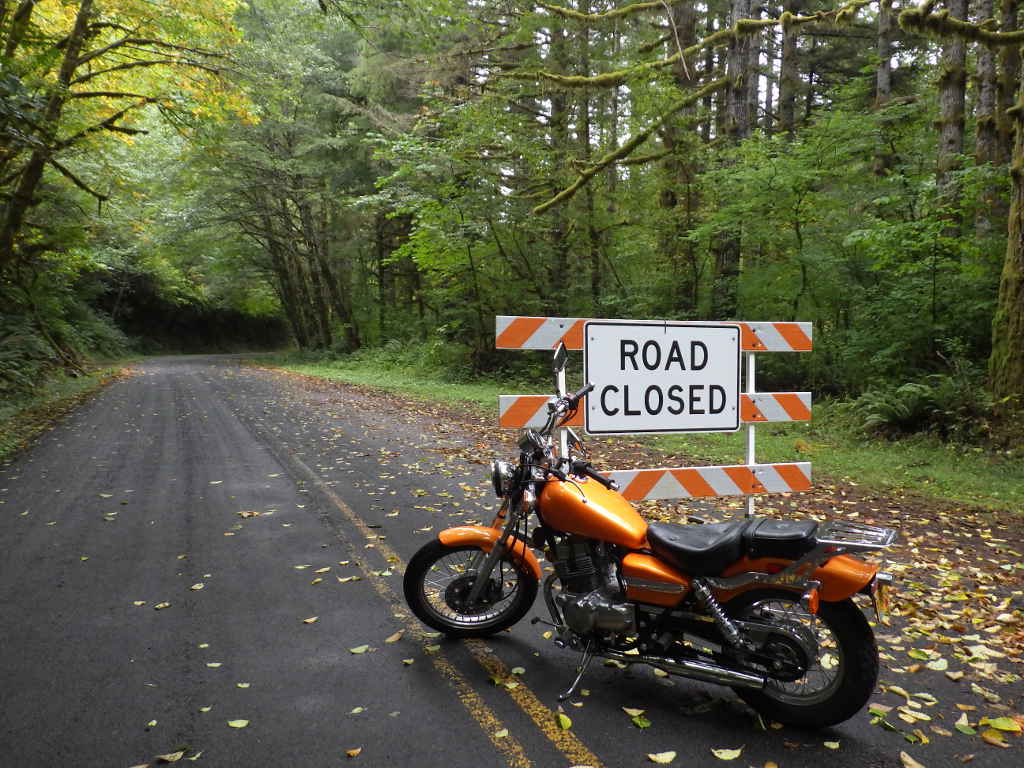 Doesn't look that closed, does it? Maybe just for cars and trucks.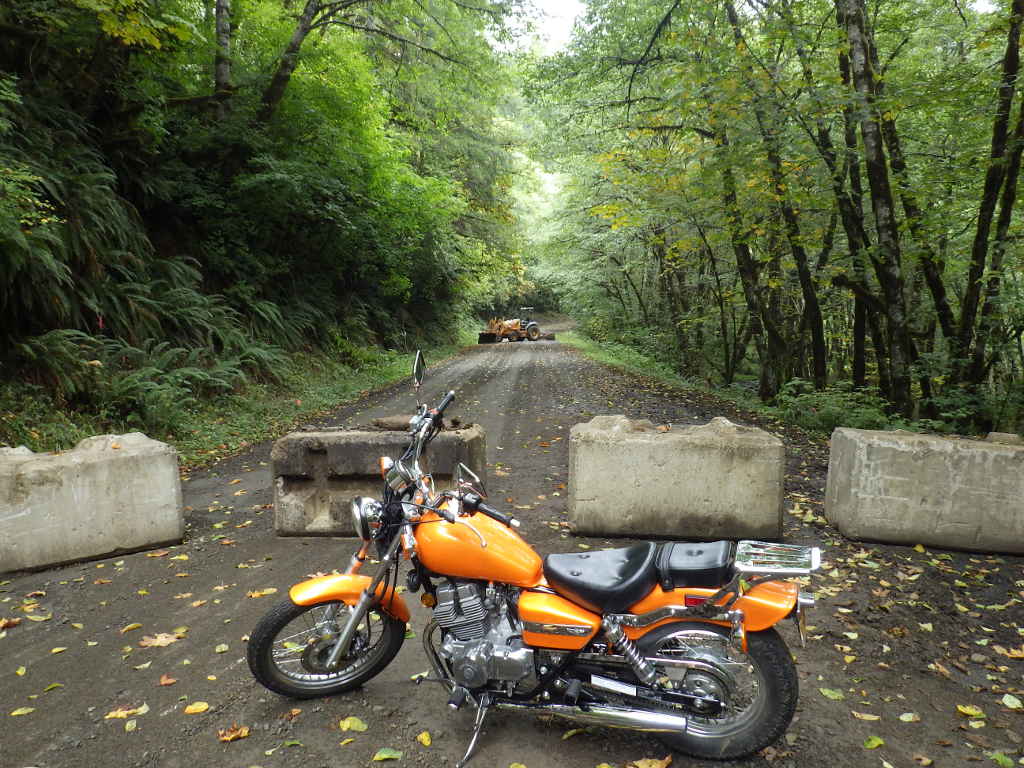 Yeah, just cars and trucks, or they wouldn't have left that gap in the blocks just big enough for my motorcycle to pass through if I folded the pegs up. That grader down there across the road? Yeah, plenty of room for a motorcycle to get past.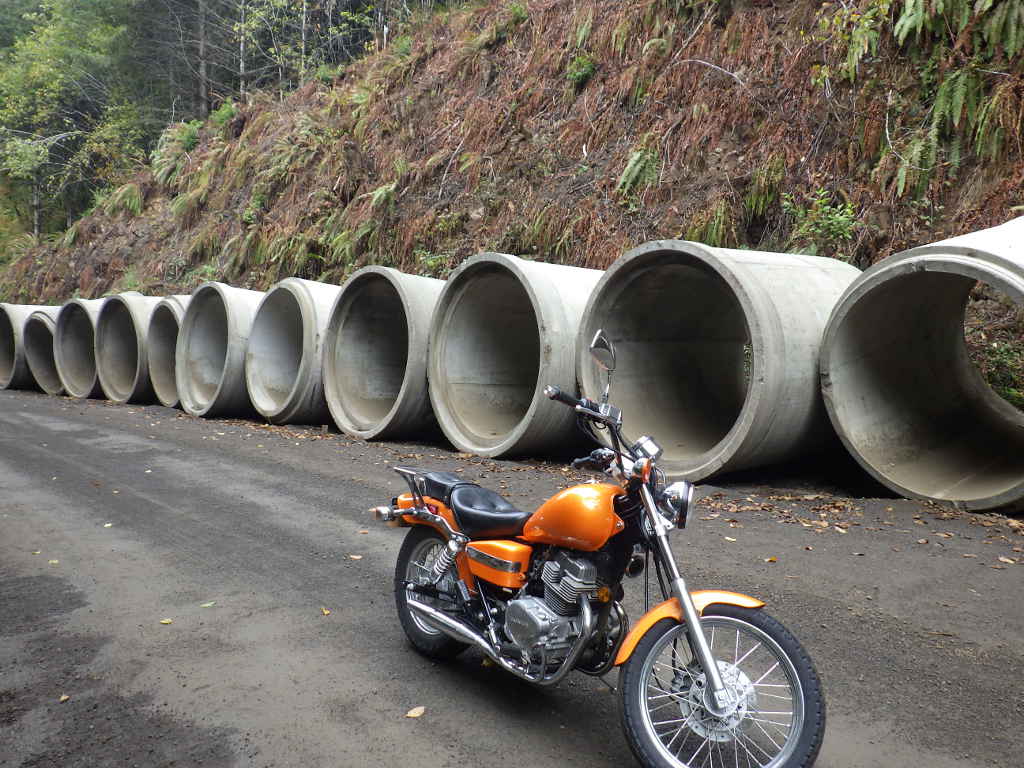 Turned out it was closed for a reason. There was a LOT of construction going on. It's almost like they put those sings up to protect me from . . . me.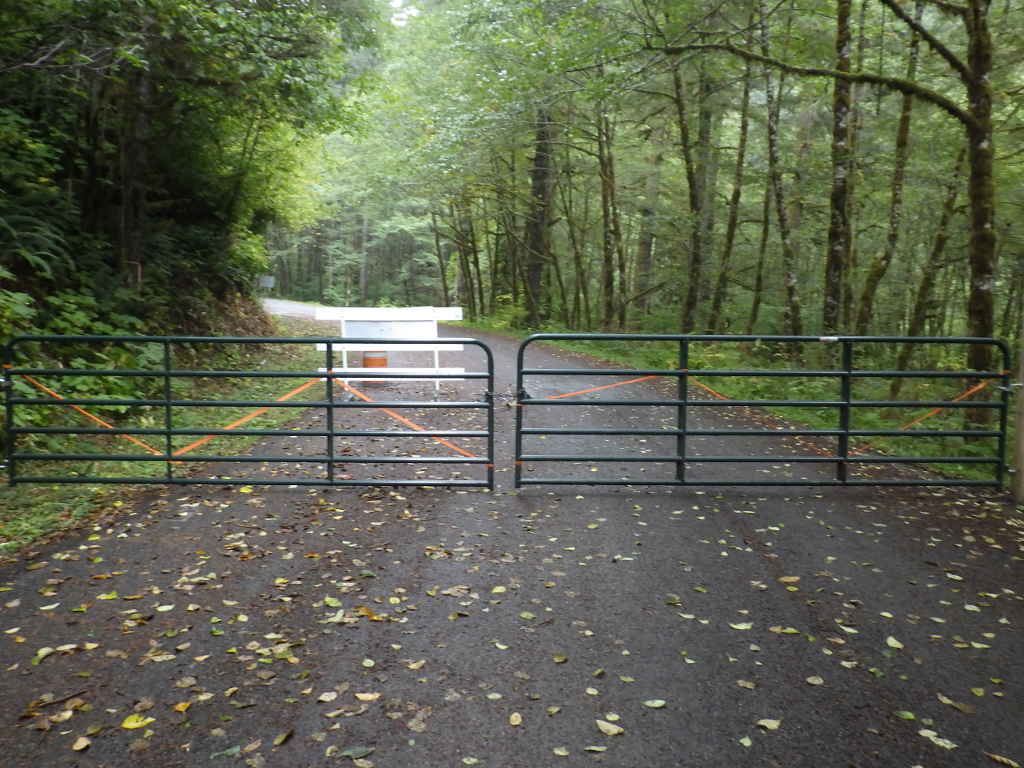 D'oh! Time to get inventive. There was just enough space to squeeze by without getting stuck in the muck and falling into the river. You know what they say: Every bike is an adventure bike! (if you try hard enough)
PS: I don't recommend doing this - it's a really bad idea. I could have hurt myself or damaged property or even been arrested. I might still get in trouble.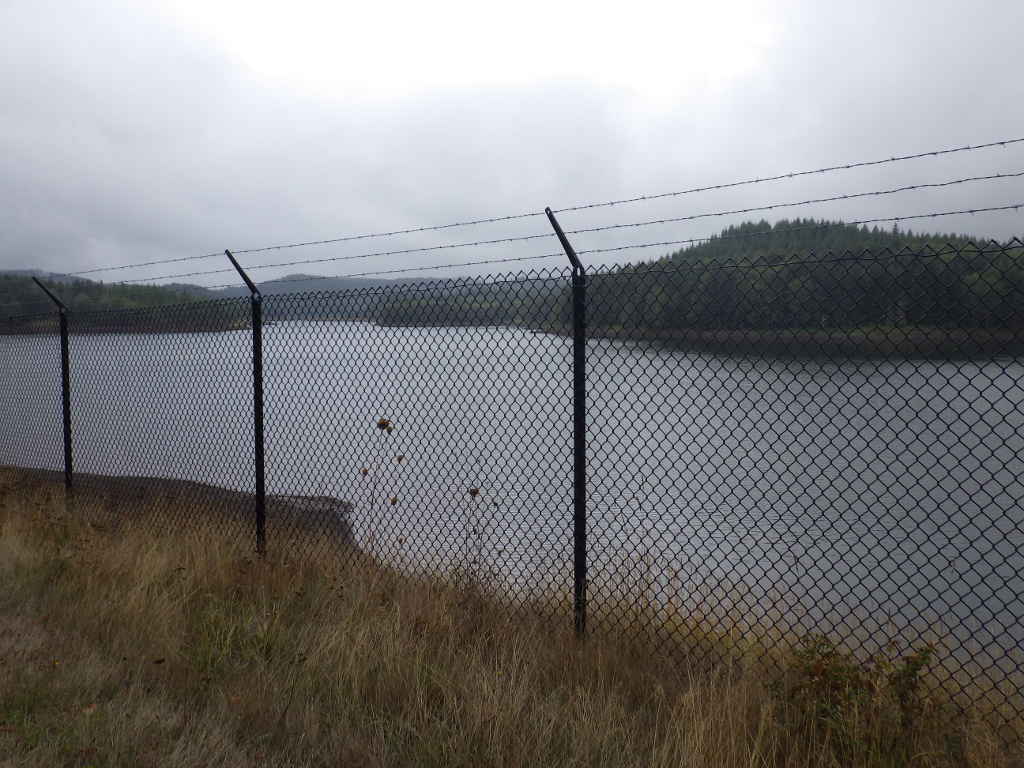 A lake? Where the heck did this lake come from?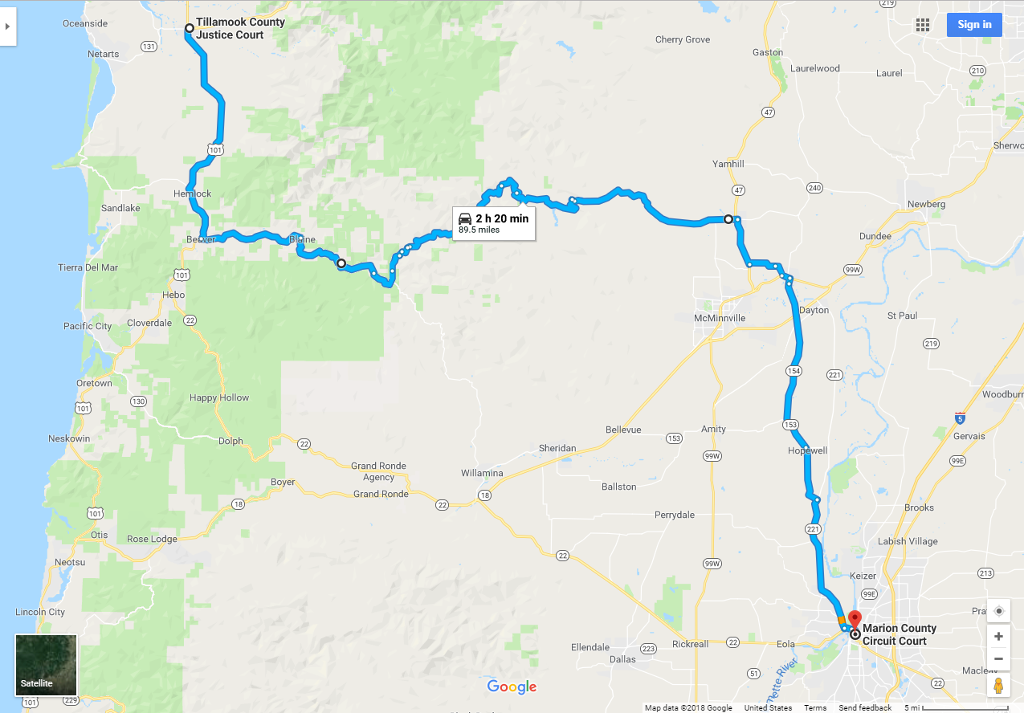 Whoops, this is McGuire Reservoir. I took a wrong turn along the line. I never should have been near the construction area in the first place.
I came out at Carlton, which is a nice little town. I'd have eaten there if I hadn't still been full of chicken fried steak and eggs.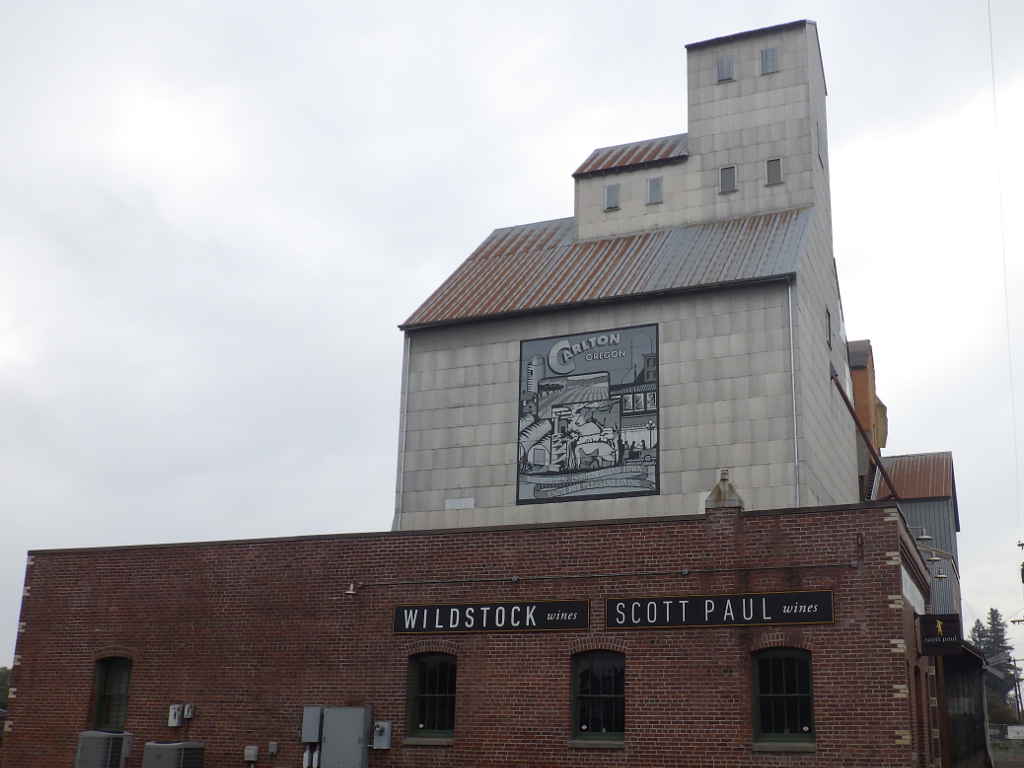 Here's the whole building.
181 miles in all. I learned a few things:
Trips take a LOT longer when you stop to take pictures.
You really need to stop and take pictures
Sundays are great days to travel on a small motorcycle
it gets cold when you are wet and traveling at 55mph.