Andy gets a motorcycle
Oct 06, 2017
When I joined the Marines and lived in California and Hawaii, I had a Honda 450 Nighthawk. Ever since I got rid of it, I have thought about getting back into motorcycles, but never did it. Now that I am all grown up and live 6 miles from work, I've decided it is a good time to get back into it.
My decision tree was very simple: I wanted a small motorcycle for commuting. I want to commute year round. That's what I wanted, but every salesman and co-worker who rides wanted me to get something bigger "because I might want more power." Well, I might, but I am taking this slow.
I scheduled the Motorcycle Safety Foundation course for the end of September (this began in July) because I wanted to learn in the conditions in which I would be riding: Rain. And it did rain on us during the 3-day course, so that worked out. In the meantime, I started looking.
I am, of course, a fan of Hondas, so my first choice was the new Honda Rebel 500. At just under $6,000, it was a little pricey for me, and the internet says "Always buy used for your first bike. You WILL drop it." I started cruising Craigslist. MAN, people want a lot for their motorcycles on Craigslist - most valued 2x or more over Kelley Bluebook. Then she popped up: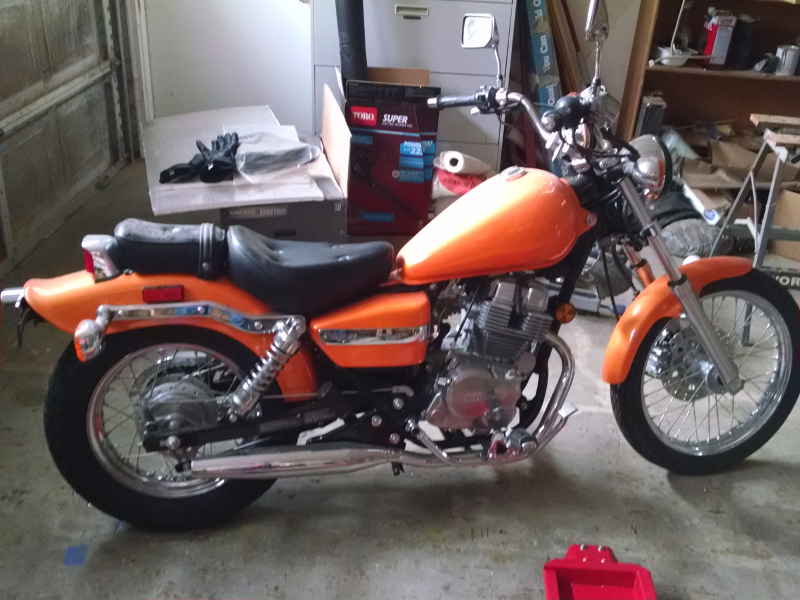 2008 Honda Rebel 250 with 811 miles on her, and a Salvage title because the original owner dropped her on her side and the insurance scrapped her and sold her at auction. A mechanic at a auto-salvage yard thought he wanted a motorcycle, so he bought her, fixed her, and rode her for a total of about 20 miles before he put her away in his garage. Then, in 2017, he bought a new car and needed money, so he put her on Craigslist.
After having been garaged for 8 years, there were little problems with her clutch and the tires are probably not as rubbery as they should be, so I bought a manual and spent a few frustrating days getting her to shift properly while I waited for my helmet to show up.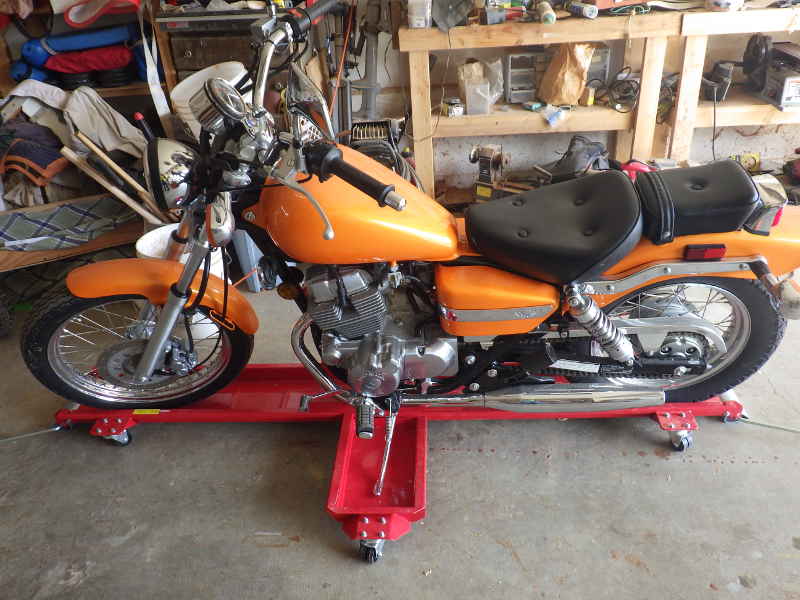 I had an idea of making a "Batman" style turntable in my garage so I wouldn't have to wrestle her around every day. I had it all drawn up and created a Bill of Materials and everything. I was about to go get parts when I looked on Harbor Freight's website and saw they had a motorcycle dolly for $72 (always get the 20% discount code when going to Harbor Freight).
This is perfect - I just lower the chocks on the ends (which keeps the dolly from rolling) and drive up onto it. Raise the chocks and the dolly rolls around on it's 'crazy wheels.'
I am a member of the All the Gear, All the Time club. Boots, gloves, jacket, helmet - ALL the time. Yes, I look like a traffic cone tootling around on my tiny, orange bike, but like someone in my Motorcycle Safety Course said "If I don't notice you in that getup, I shouldn't be driving."