Andy's Great Willamette Paddle, Part I
August 12-14, 2016
I've been wanting to paddle the length of the Willamette for quite a while, but 180+ miles is a long way to go and time is dear. The planets aligned this year and I was able to make it. As this is a big deal, I wanted to do the trip in something special. I researched, planned, and at the Toledo Community Boathouse, we built three kayaks based on the Sugpiaq-Alutiiq design.
I had intended to invite others on this trip, but I let timing and planning get away from me so in the end, I decided to do it by myself.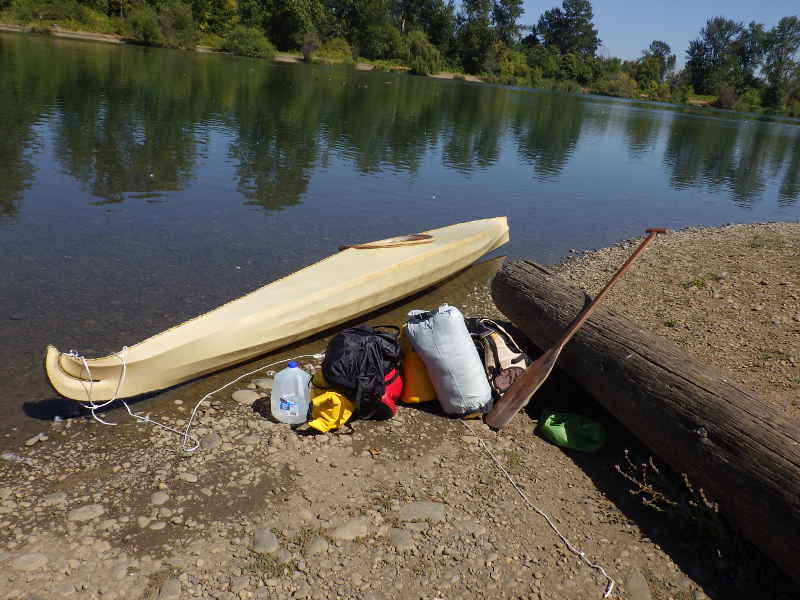 One day prior to the trip, I took the kayak to the local scum pond and filled it with everything I was taking on the trip. I barely overpacked this time. I'm getting better.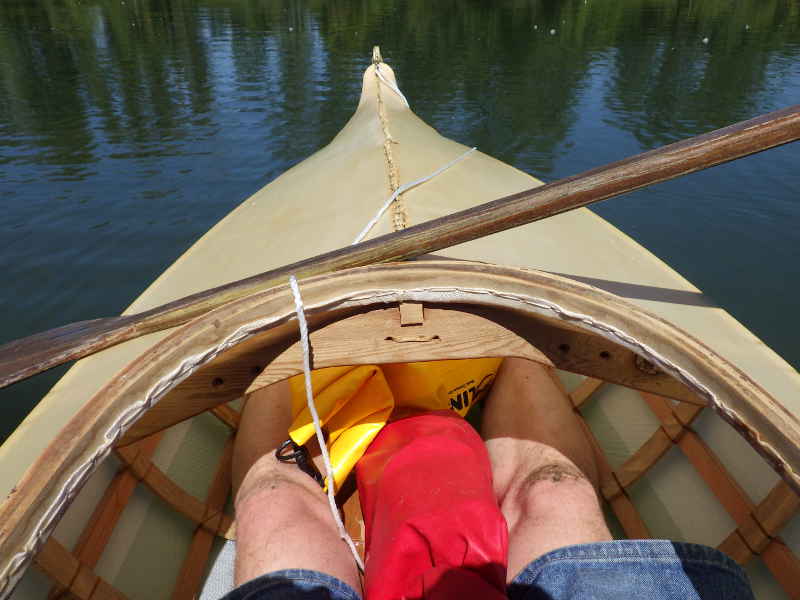 Still a little cramped, but it worked. The boat was 'weeping' a little bit - water seeping through the fabric because of too few coats of varnish. I figured it would be OK. It'd have to be OK.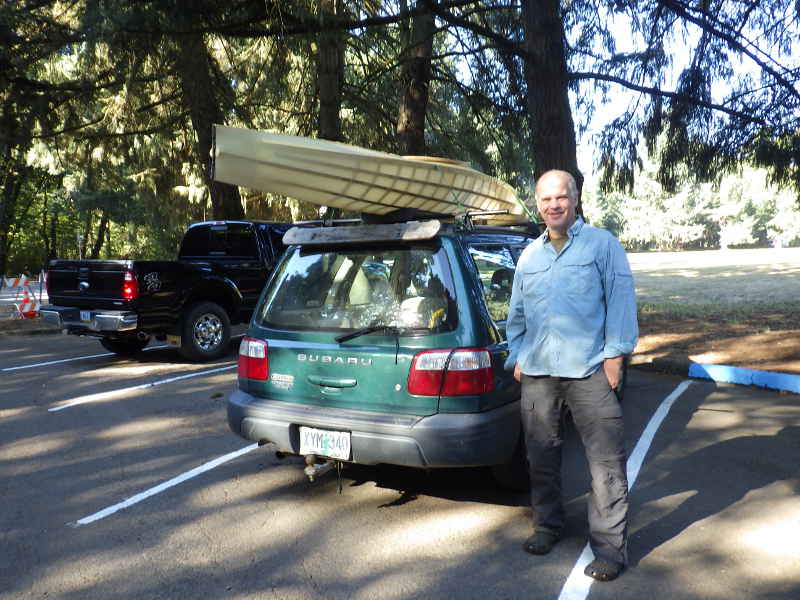 Keely and I loaded up and went down to Armatige Park in Eugene. It's about 3 miles up the McKenzie from where the McKenzie dumps into the Willamette.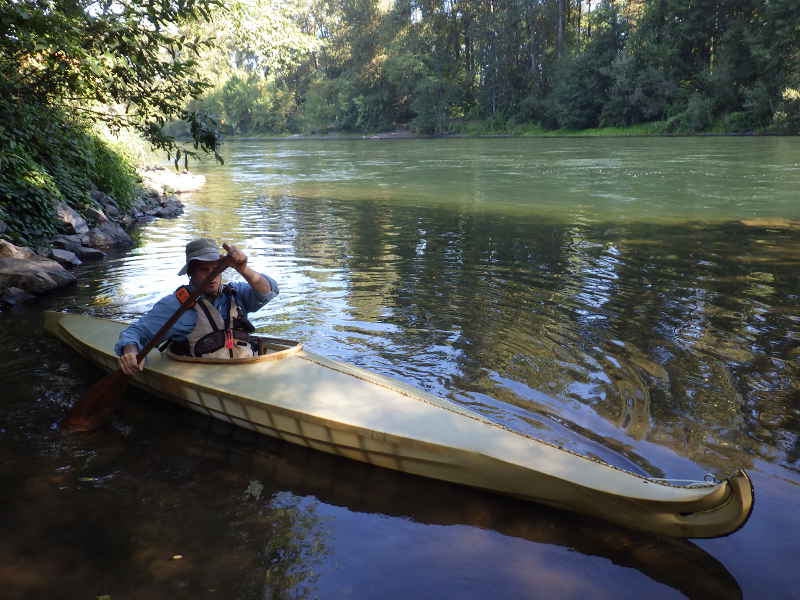 Loaded up and ready to go. It was going to be a hot one, 97°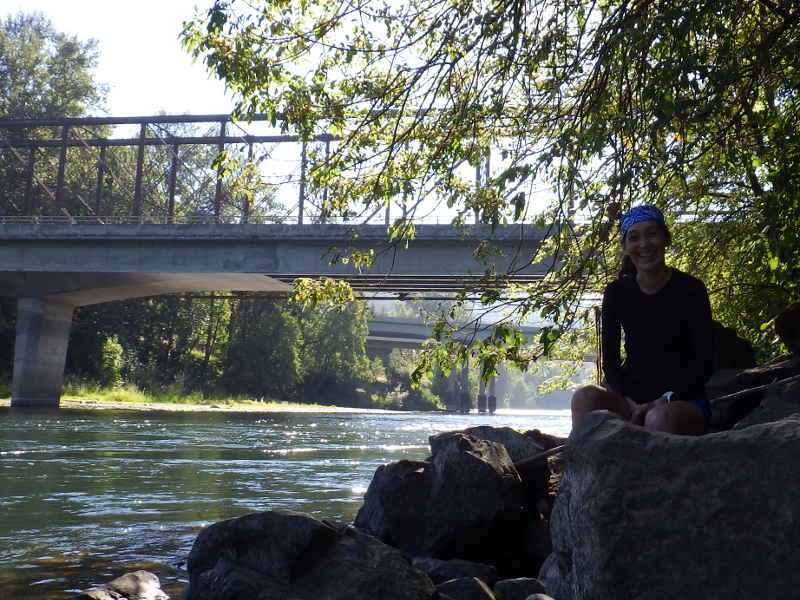 Keely wishing me a fond farewell.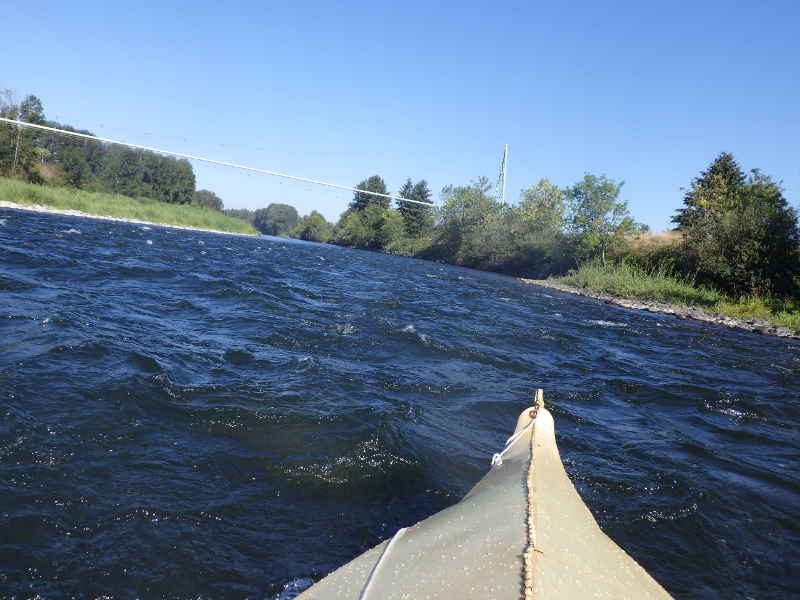 Lots of riffles and I struck bottom more than once. The current was swift enough that striking bottom was pretty scary - the boat really wanted to roll, but never did. Never got to the gunnels, really.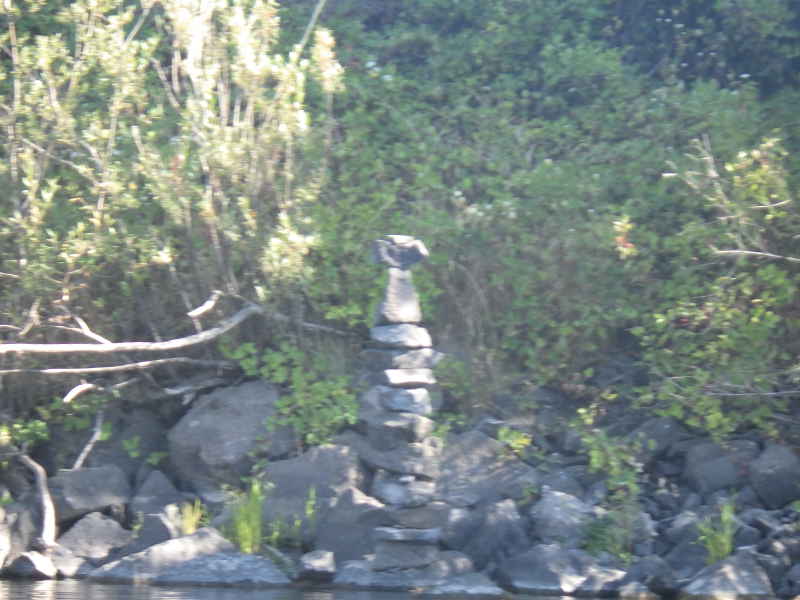 Lots of rock stacking along the river. Eh, so long as it gets the kids outside . . .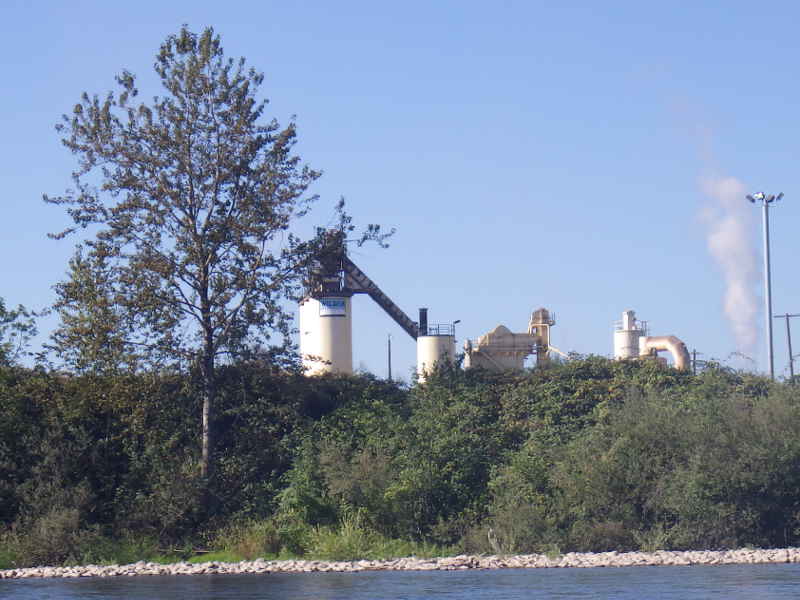 I like the heron down center/right, near the bottom.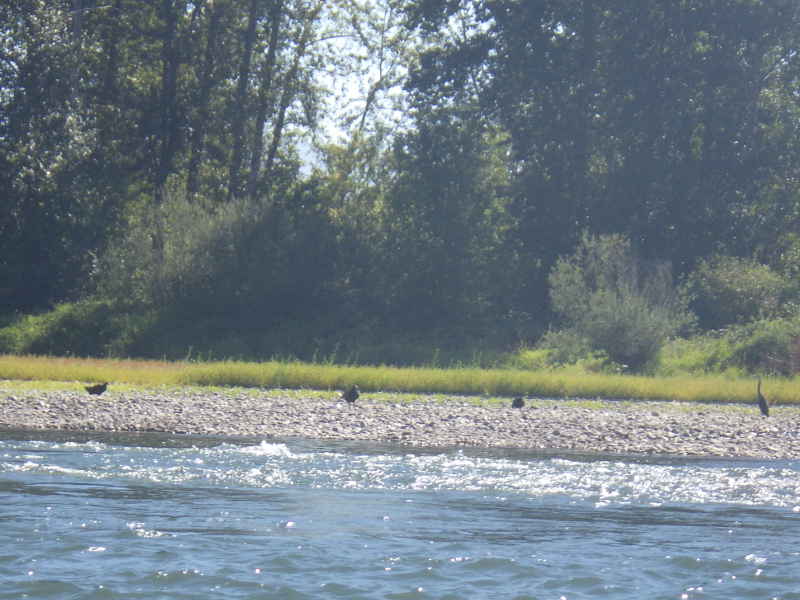 Vultures and a heron, staring each other down. Over what? I don't know, but I bet it was disgusting.
Campers. I saw lots of camps on this trip - not many campers, though.
Somewhere, the McKenzie met with the Willamette. I was watching for it, but missed it. How do you miss the confluence of two rivers when you are in a kayak?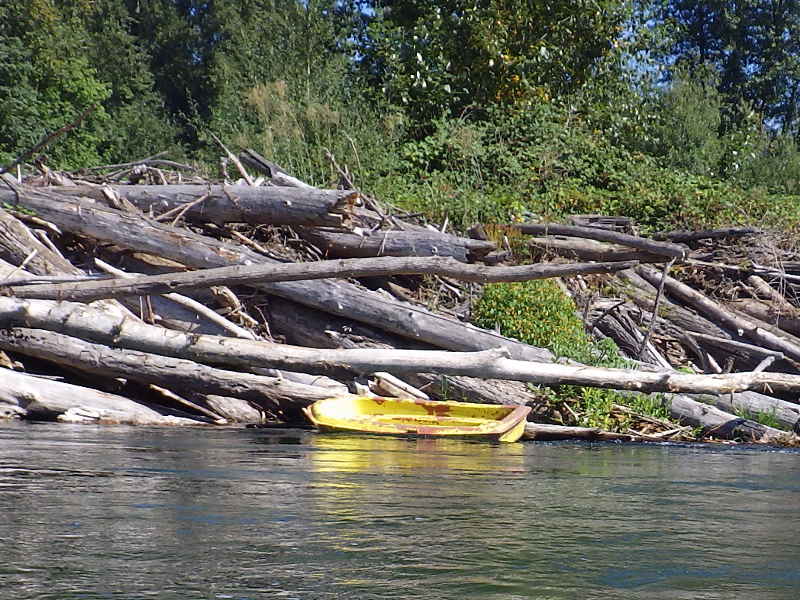 Some kind of plastic boat, about 10' long.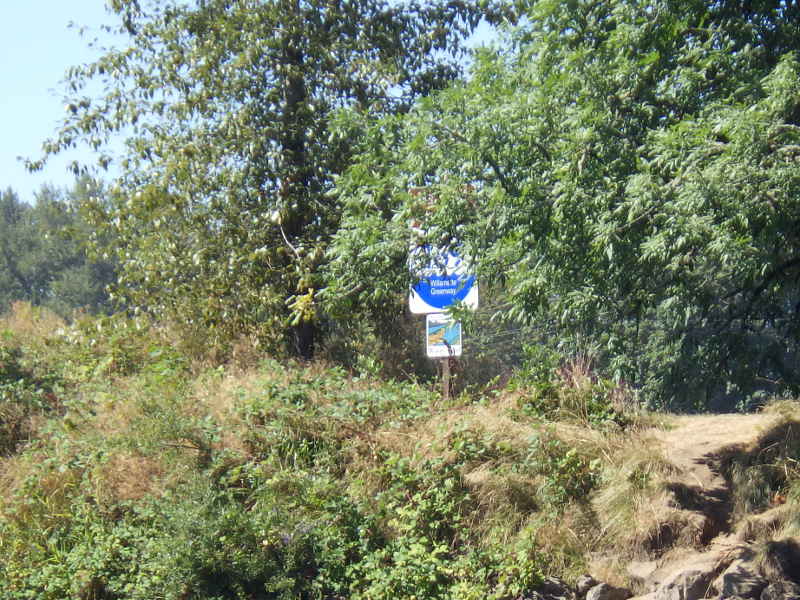 River Mile 169 A little less than 9 miles from Armatige Park.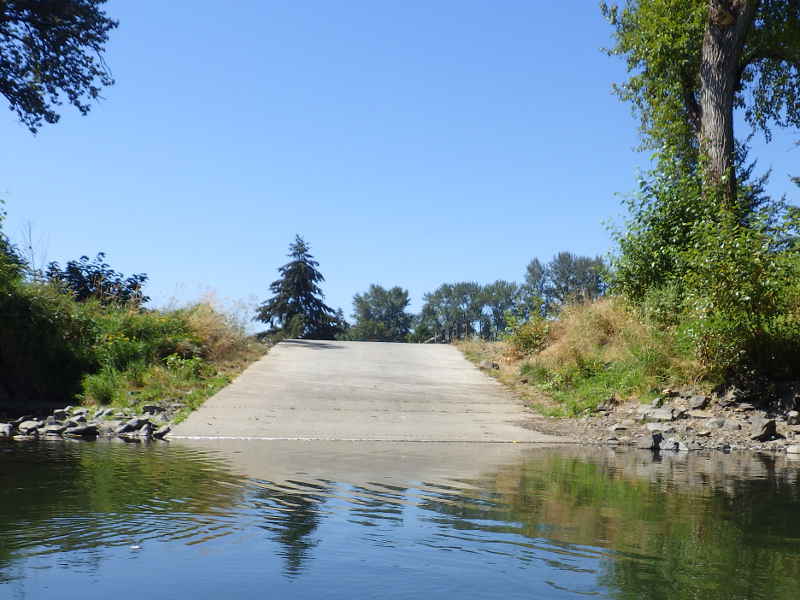 Marshall Island Access, the perfect place for a potty stop. There I met an older woman who was dropping flowers into the water. Her grandson had been inner-tubing on the river 12 years ago. His tube flipped and he didn't come back up. Wear your life jackets, people.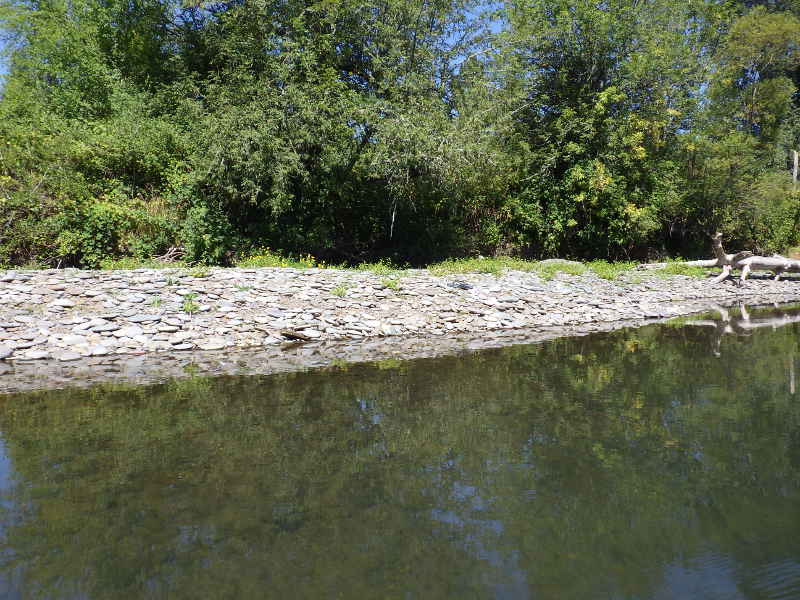 One of at least four little islands made completely of skipping stones.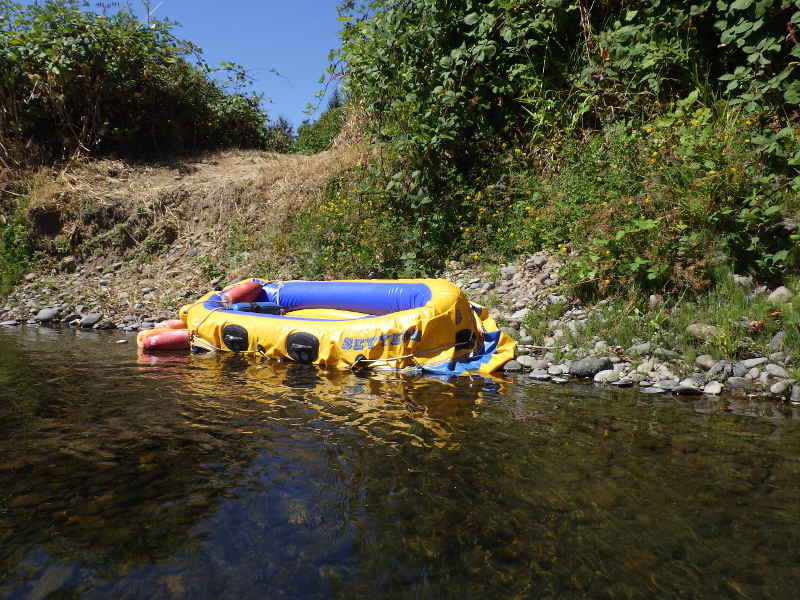 Another wreck - since it is inflated and has floats tied to it, I suspect it blew off someone's dock.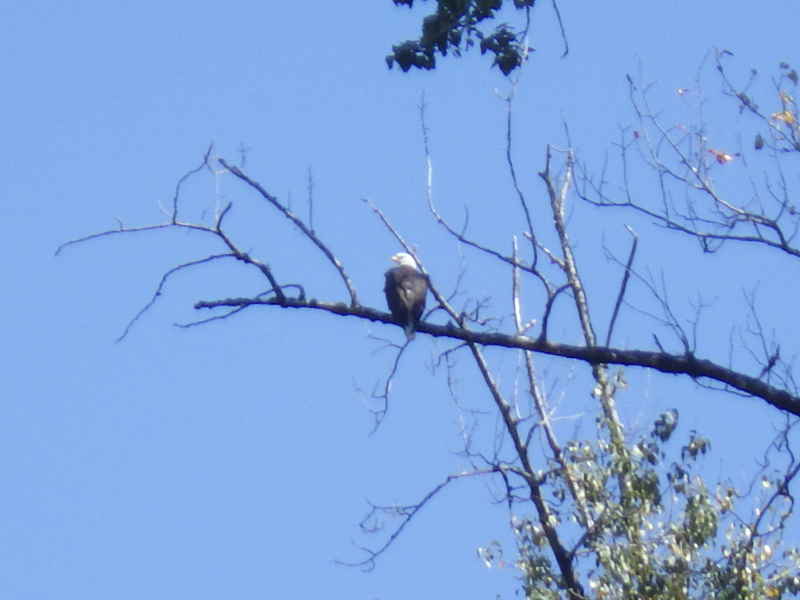 What what? Eagle's butt!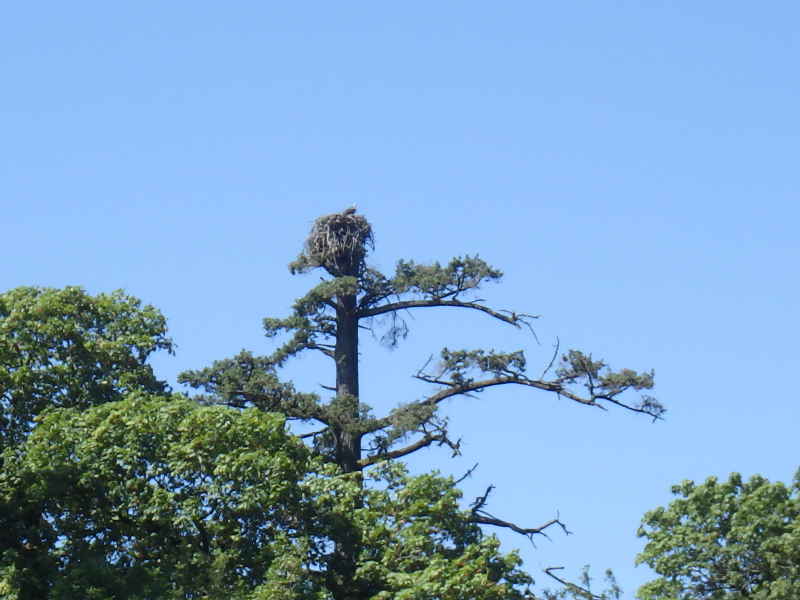 This osprey has the nicest nest set up I've seen.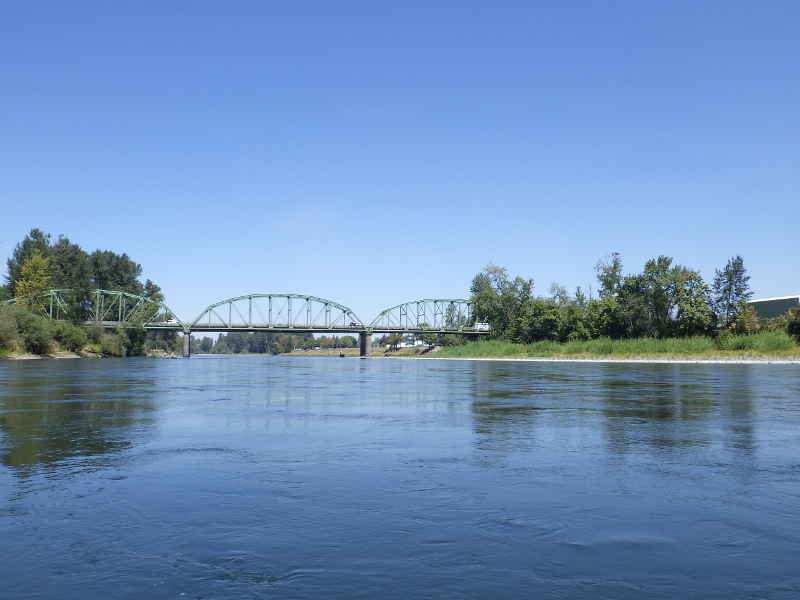 Harrisburg at River Mile 161. While planning this trip, I had no idea how fast I'd be going or how long it would take me, 17 miles by lunch time - about 3 hours - not too bad.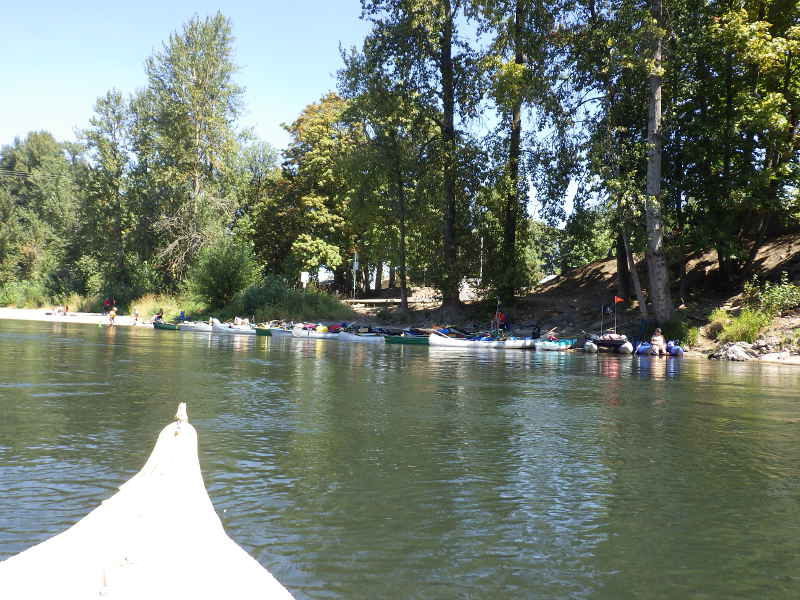 That's quite a flotilla pulled up at Harrisburg Park. I wonder what's going on?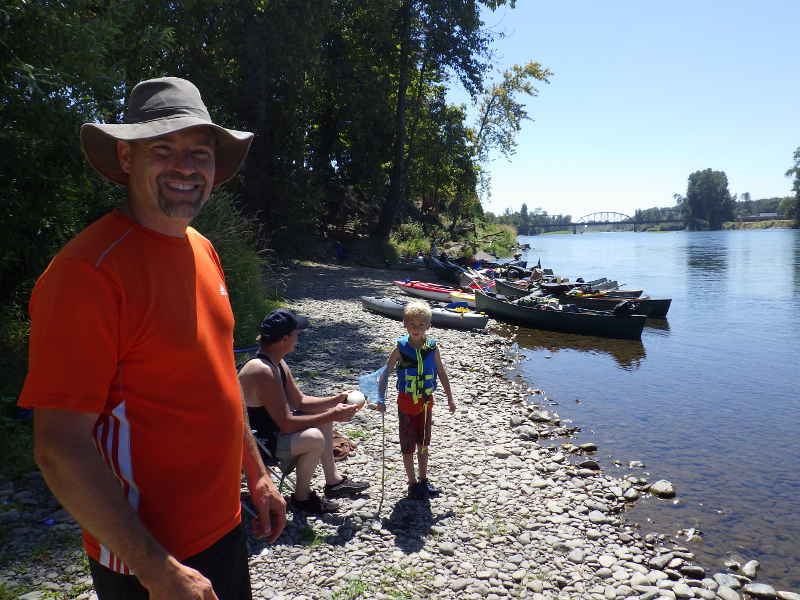 This is Lance, the Scout Master for Boy Scout Troop 344. The are doing one of their "50 miler" events. Good on you, boys!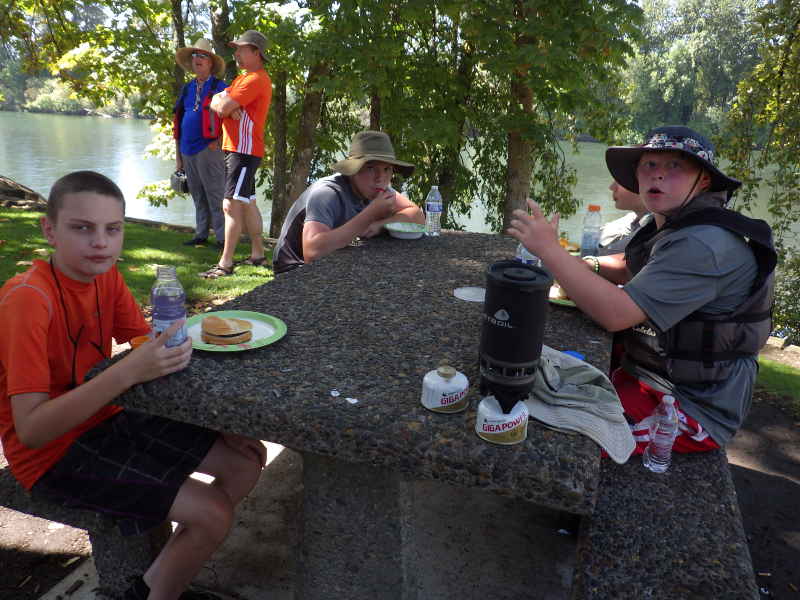 Here's some of the guys. The let me set up my JetBoil on their table, which was nice.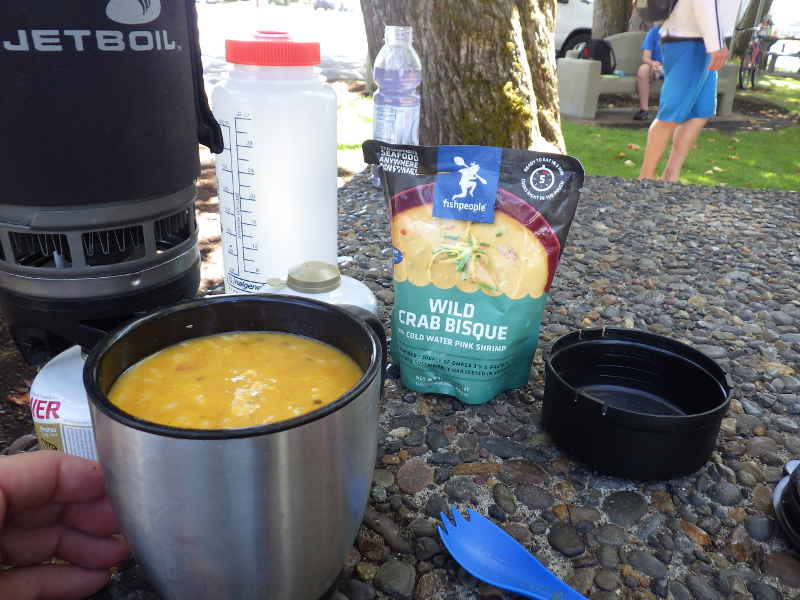 Lunch was FANTASTIC. FishPeople is one of the few companies operating out of Toledo, Oregon. They get their fish and shell fish direct from the fishermen and process it right there. The 10 oz pouch is the perfect serving size and the taste is out of this world. It is a heat-n-serve product - just soak it in hot water. No cans, no can opener, and no mess. So much better than freeze dried "hiking" foods you won't believe it. And better for you, too.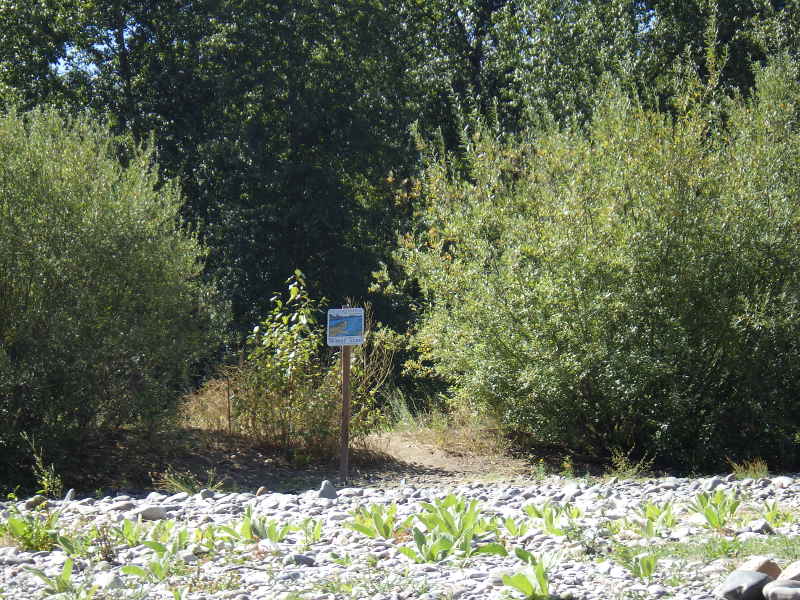 After a nice lunch, I hopped back in the kayak and took off. The Willamette River Water Trail is a wonderful resource for planning your trip - they are the guys responsible for the mileage signs and also designating legal camp sites. Just look for the signs.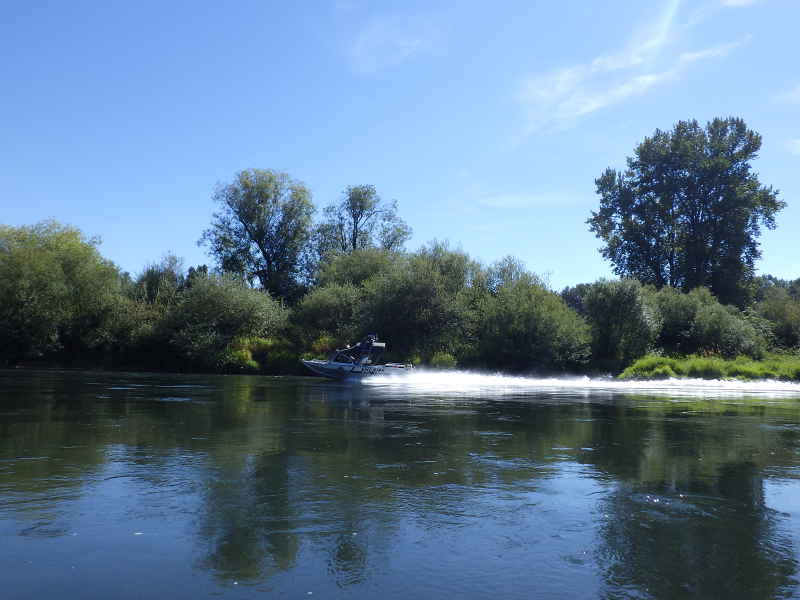 I saw the Linn County Sheriff boat at McMartney Park and waved to them. I'd forgotten my critter sticker and whistle, so I was a little worried about talking to them. As it turns out, I did have an extended conversation with them at. . . wait, wait, I'm getting ahead of myself.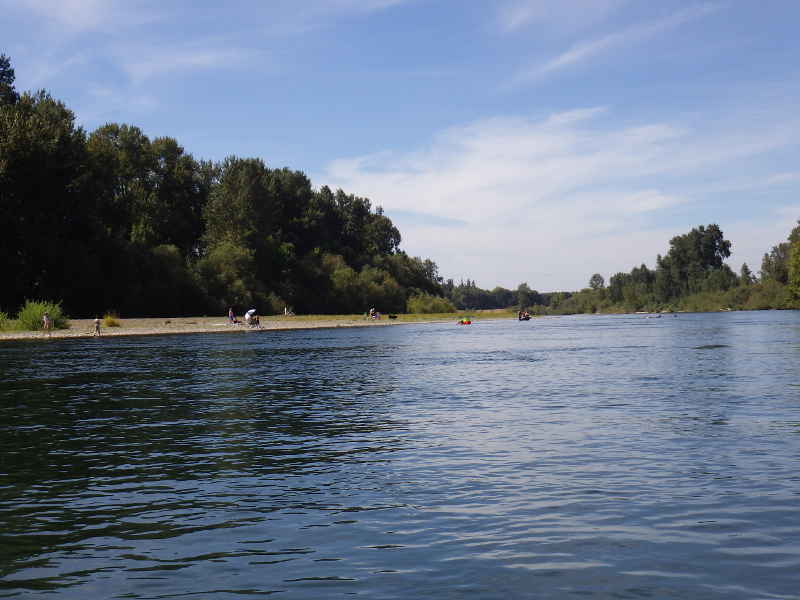 Irish Bend at River Mile 151. When I was speaking to Lance of Scout Troop 344, he said he was not going to camp here because it has road access. He was going on to Sam Daws Landing (RM 145) instead. When I saw the people here, I could understand why.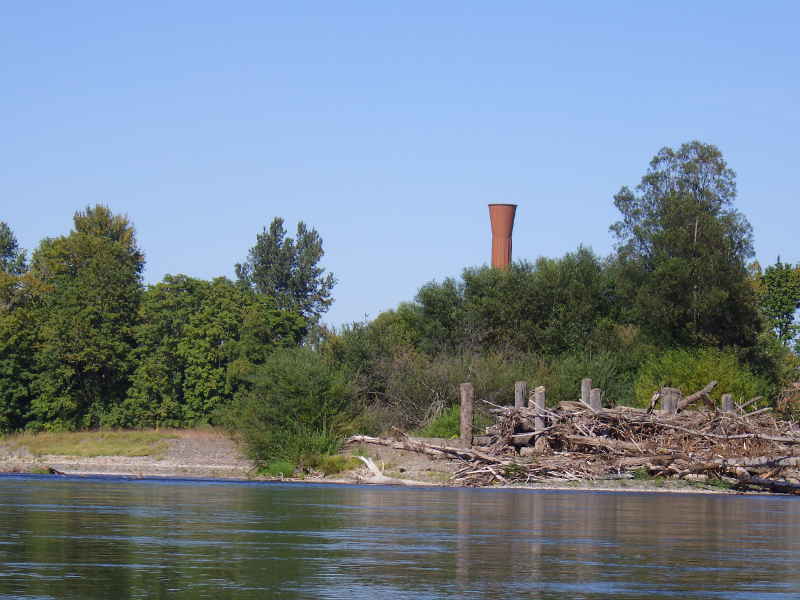 Every once in a while, you see something on the river that makes you say "WTF?!?" So you keep paddling.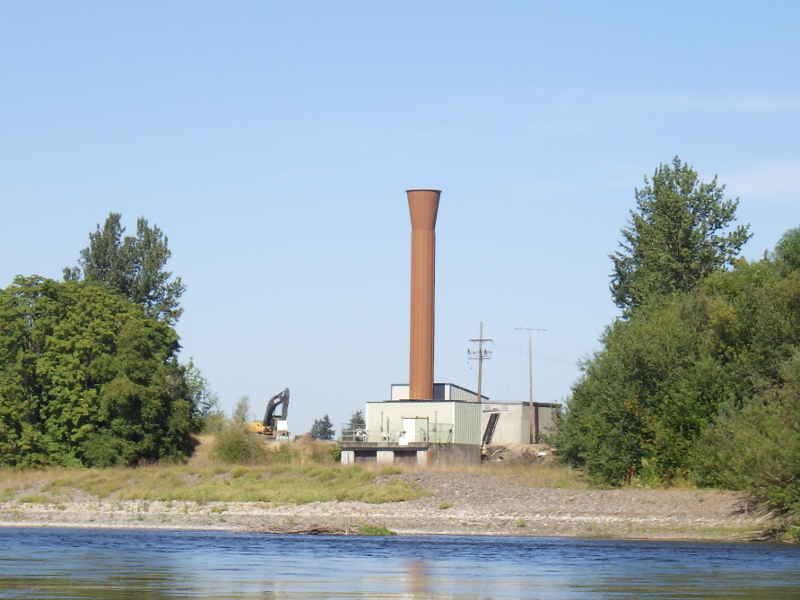 Nope, even now that I've seen the whole thing, I still have no idea what it is or what it's for.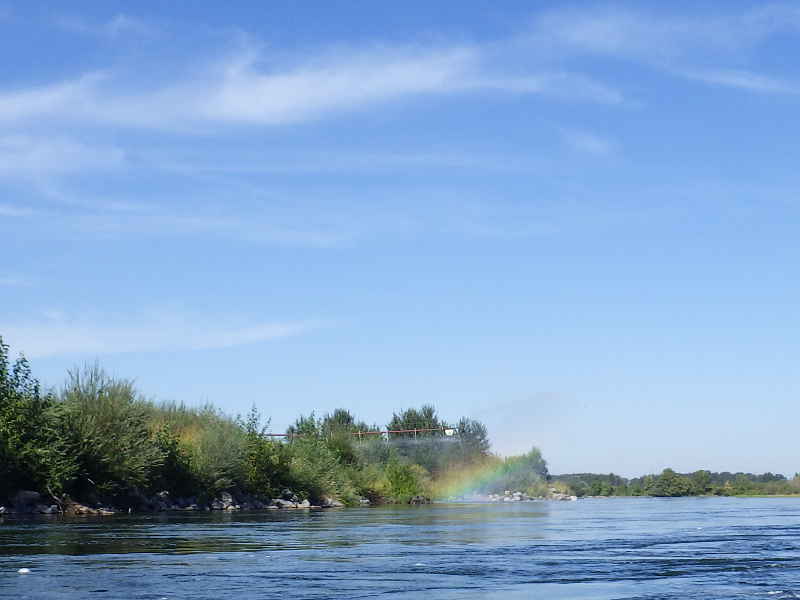 More WTF? Why/what are they spraying out over the river? Suspecting mind-altering drugs like estrogen, I gave it a wide berth.
It was about 5pm now, and my shoulders were killing me. I had hoped to stop at Peoria Park, but I couldn't find anything that looked like a park, so I sat on a gravel bar and ate one of the best dinners I've had in a long time. FishPeople - seriously, check them out.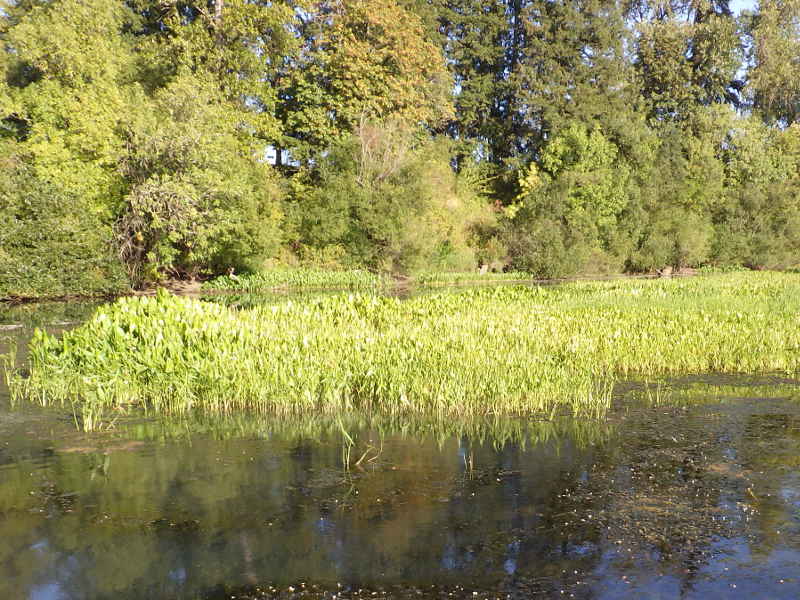 One thing Peoria had was Arrowhead, or as the natives called it, Wapato (Sagittaria). This aquatic plant has a starchy bulb down in the mud that was a primary source of carbohydrates back in the day.
Kiger Island, River Mile 136. My shoulders were in agony and my butt was starting to hurt. This was a good place to stop. A friend tried to visit me here, but could get no closer than a mile away. He asked a local how to get to Kiger Island and was told "You don't want to do that - you might get shot."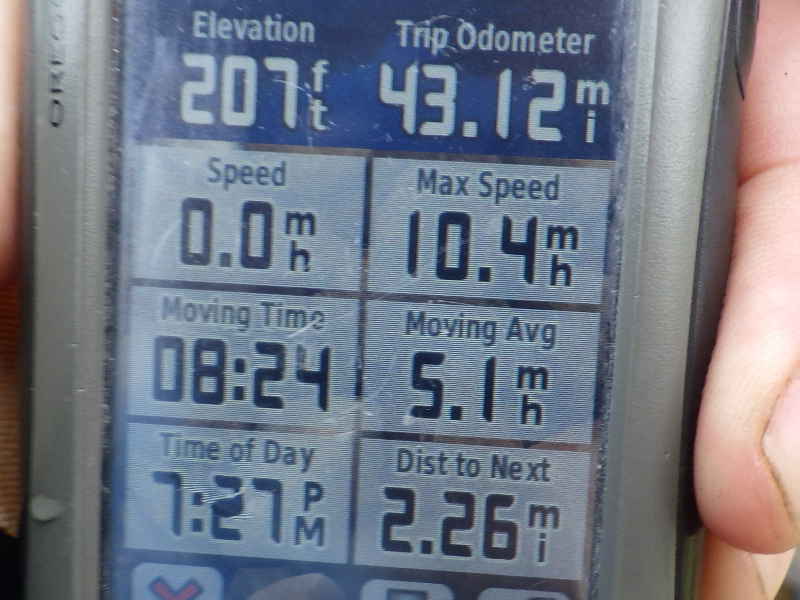 43 miles in eight and a half hours. That'll do, pig. That'll do.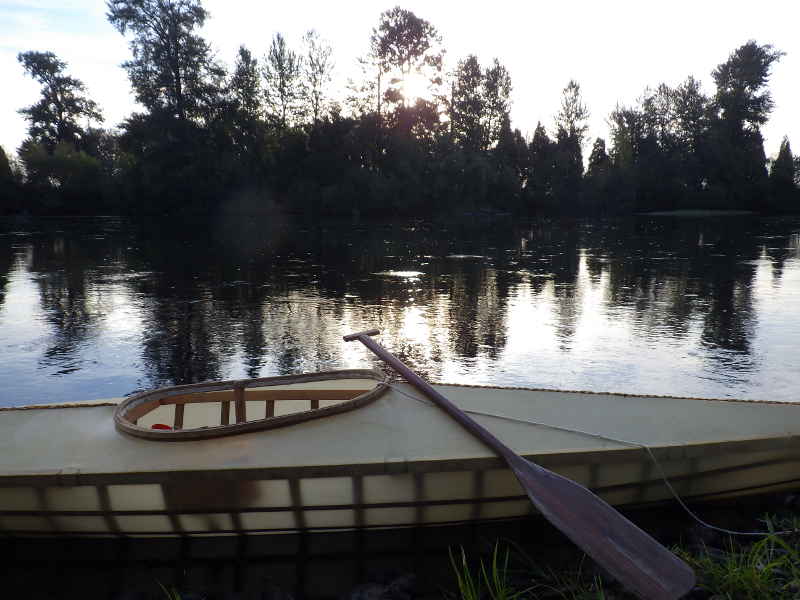 It was a fairly restful night. I'd wanted to stay awake for the Perseid Meteor Shower, but I was asleep before the stars even came out. I had another meal of FishPeople Seafood over rice and got started.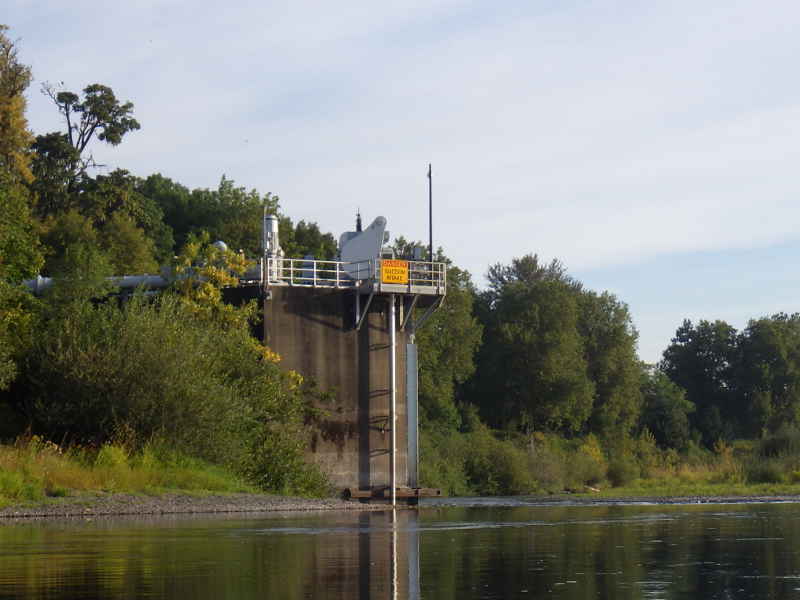 I give pump houses wide berths. As a cause of death, it'd be pretty legendary, but I don't want to be remembered that way.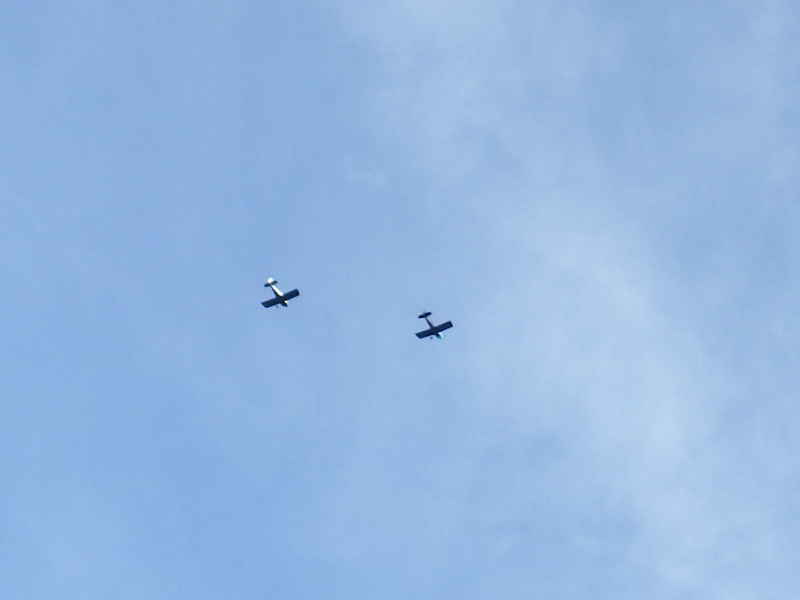 Dawn Patrol. I have a friend who wants to build an airplane. I used to want that - now it just looks like a lot of regulation and maintenance. More power to him, though.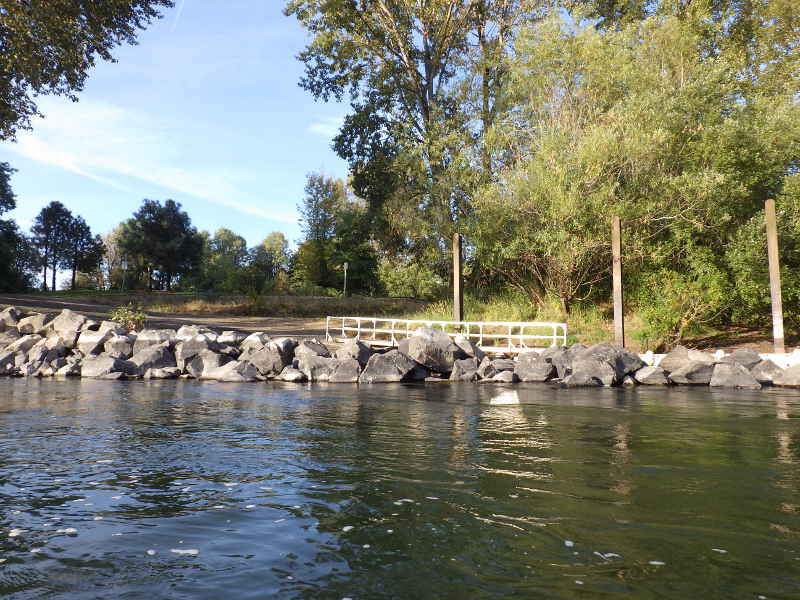 I had considered spending the night at the park around the Crystal River Boat Ramp, but was warned of hobos. Too bad, it looks nice.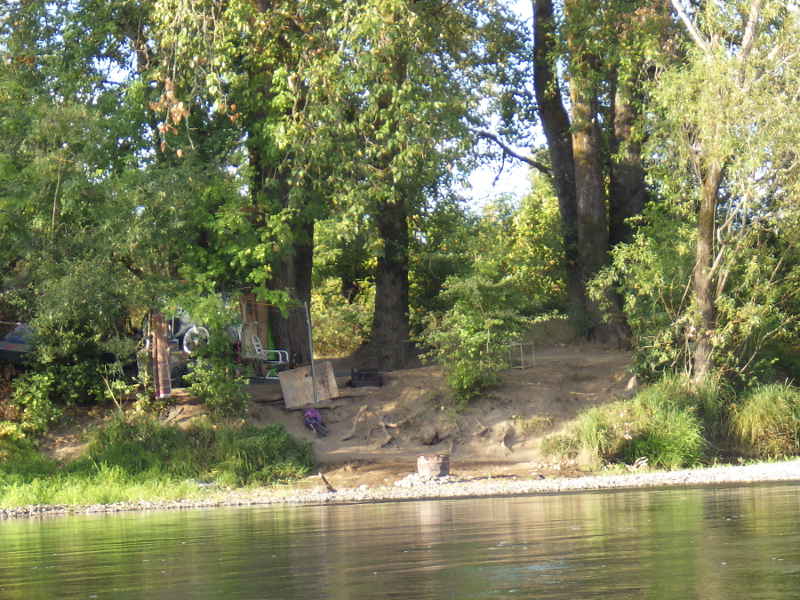 Sure enough, not 300 yards from the boat ramp was a bum camp. Ahh, to live the life of freedom. It must be like living a dream.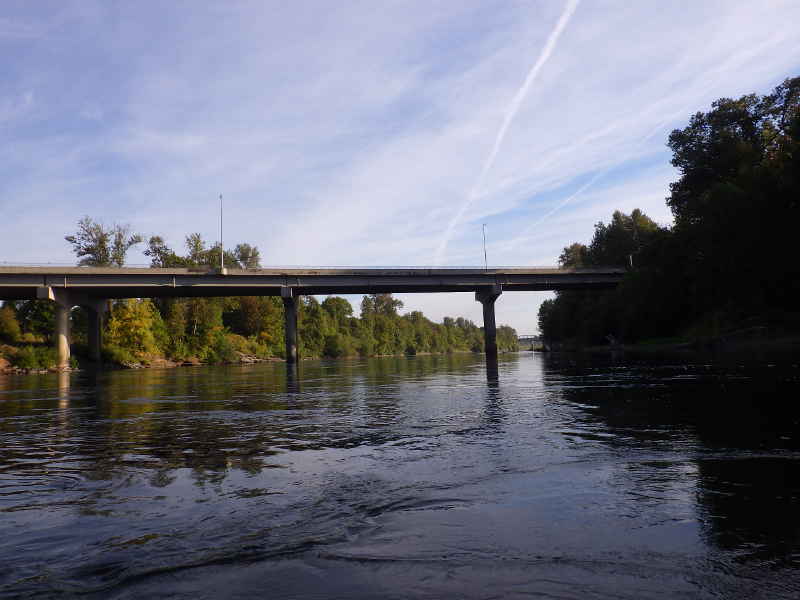 Highway 34 bridge at Corvallis. I've driven over it twice a week for years now, but never gone under it. Today was a day!
I made a point of waving to every house on the river. I never saw anyone wave back, or even anyone inside.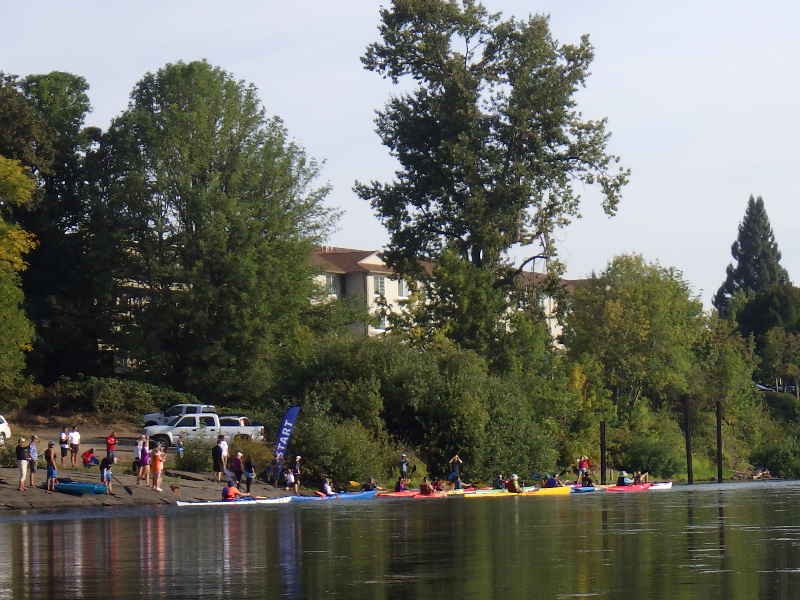 Just north of Corvallis, I stumbled on the Willamette River Relay - they were 30 seconds from the start and I thought of banditing it. Then I remembered my shoulders were sore and my butt was hurting.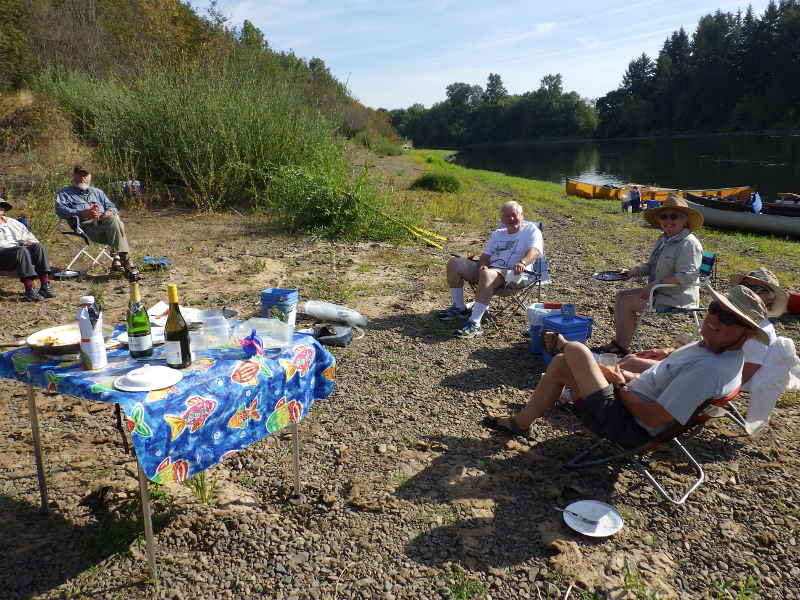 I saw some people camping on shore and waved. They waved back and invited me over for coffee. They were a group of friends who have been doing this for years.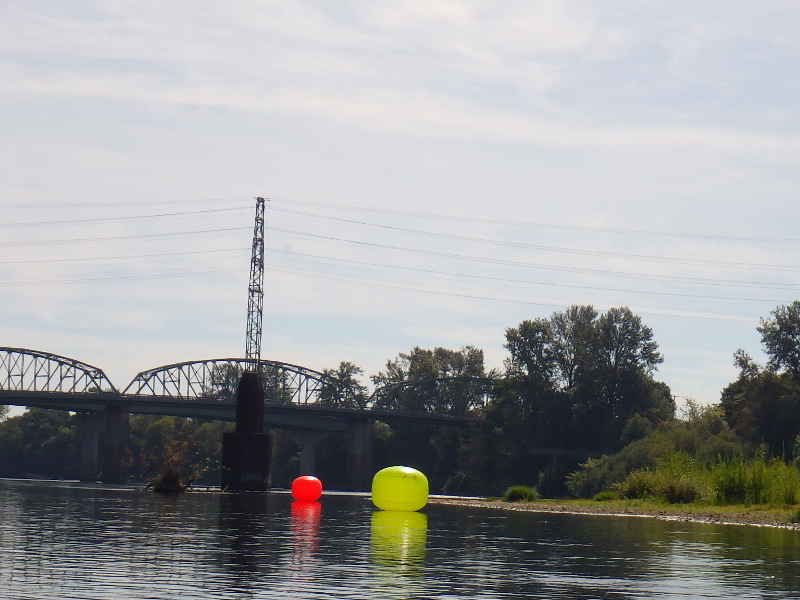 Bryant Park - RM 120 - was the end of the relay. Pretty floats. I'd wanted to take a break there, but there was a whole bunch of people and I was feeling scruffy.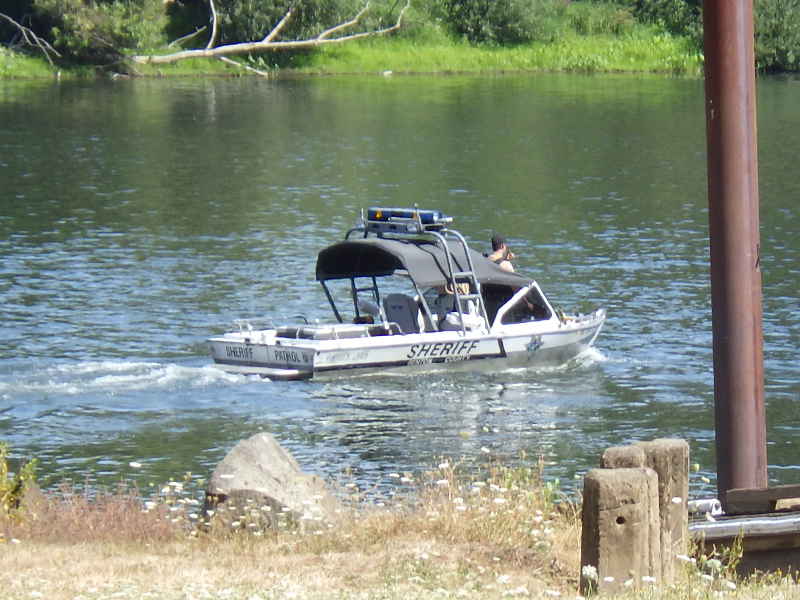 I paddled up to Bowman Park and had lunch. The Sheriff's boat showed up soon afterwards. I tried to be inconspicuous, but then I found a stray dog, a schnauzer, no less, and went to them to ask for help. For over an hour, they called Albany PD and Linn County PD, but there were no available officers and Animal Control was closed for the weekend. I was told to leave the dog. Another park visitor took pictures of the dog and posted them to an Albany Lost Pet page on Facebook. Everyone on the page said to stay with the dog, but, of course, no one would come get it. I finally collared a young couple that had a pair of small dogs, and asked them to take the schnauzer to a shelter. They were reluctant, but eventually took her.
It turns out, no dog shelters are open on the weekend, and the one that is doesn't accept strays. (?) The story ends well when the young couple cared for the dog until Monday when Animal Control opened and she was picked up by her owner soon after.
Plus, I didn't get a ticket for not having a whistle or critter sticker.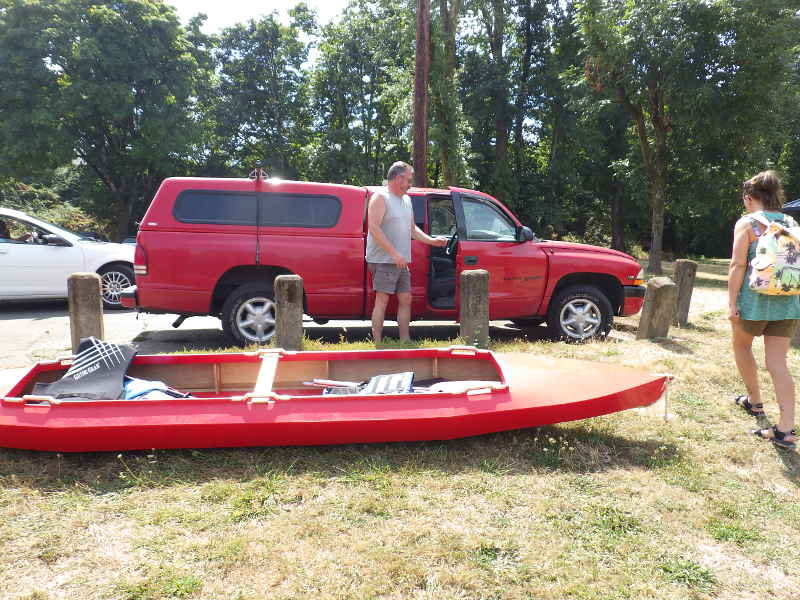 While at Bowman Park, I saw this guy unloading his self-designed kayak-y thing and invited him to come to the Toledo Wooden Boat Show the following weekend.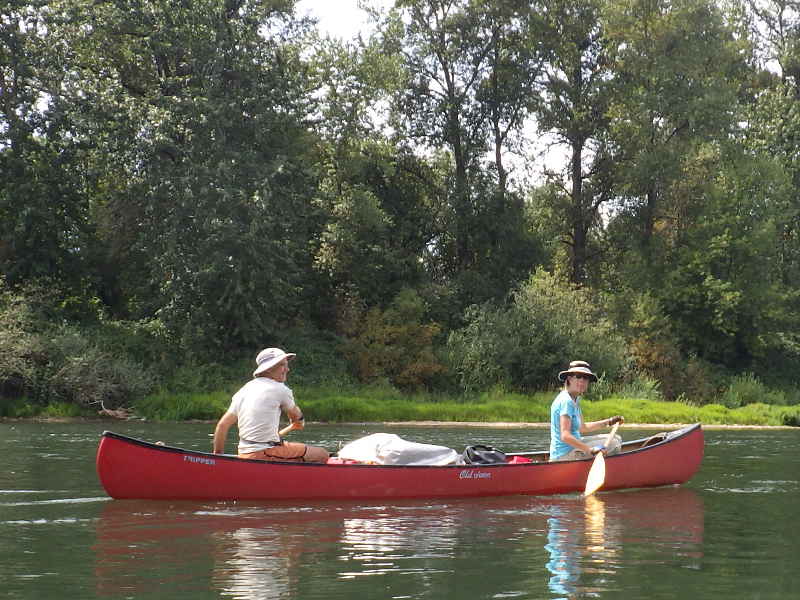 Between Albany and Independence, there were several people on the water. I had a nice chat with this couple, David and Jennette of Eugene. They were out for a weekend of paddling and camping. They asked lots of questions about my boat, which was nice.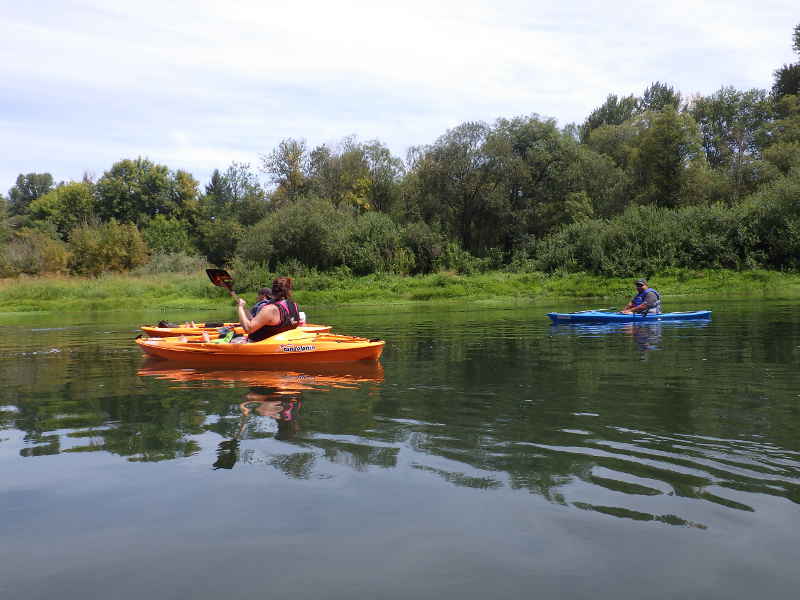 A group of kayakers.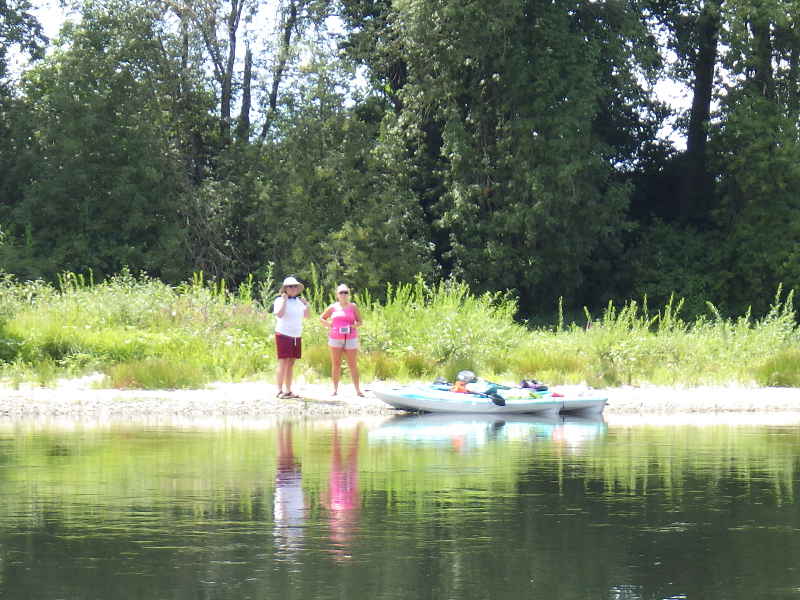 Here's a pair of ladies who said they get out and paddle most weekends. Good for them.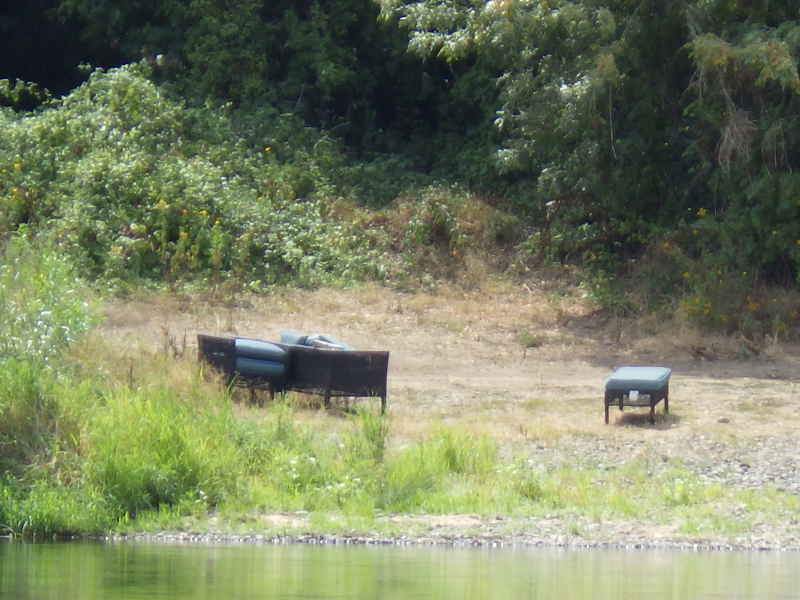 There's something you don't see every day - a bedroom set by the river.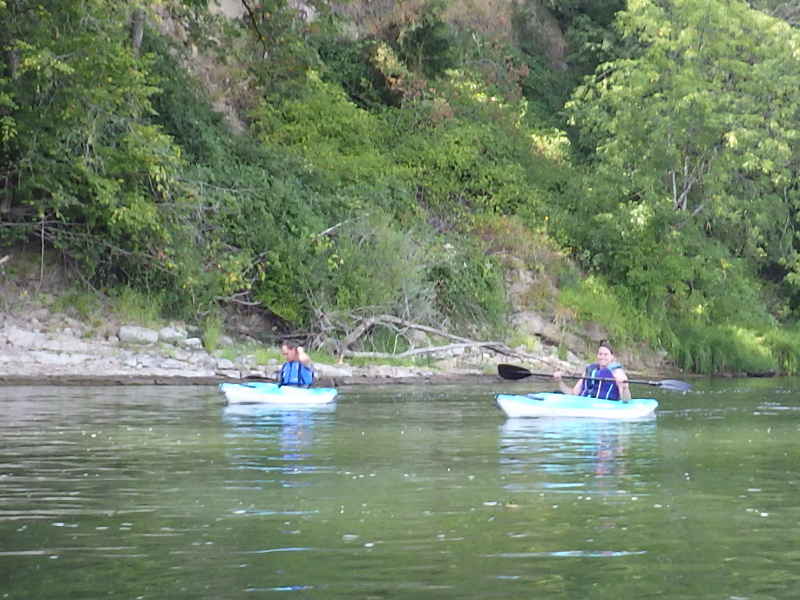 As I got near Lukiamute Landing, there were more people. And a lot more speedboats. Speedboaters are different from me. I don't think I want to be a speedboater.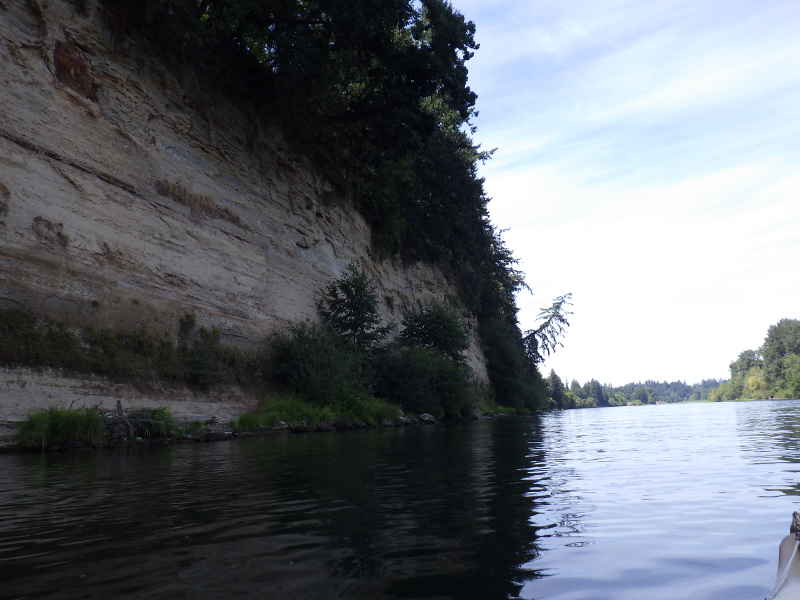 Blessed shade. It was HOT. When you look at the Willamette Valley, you don't think of 30' cliffs, but they are there.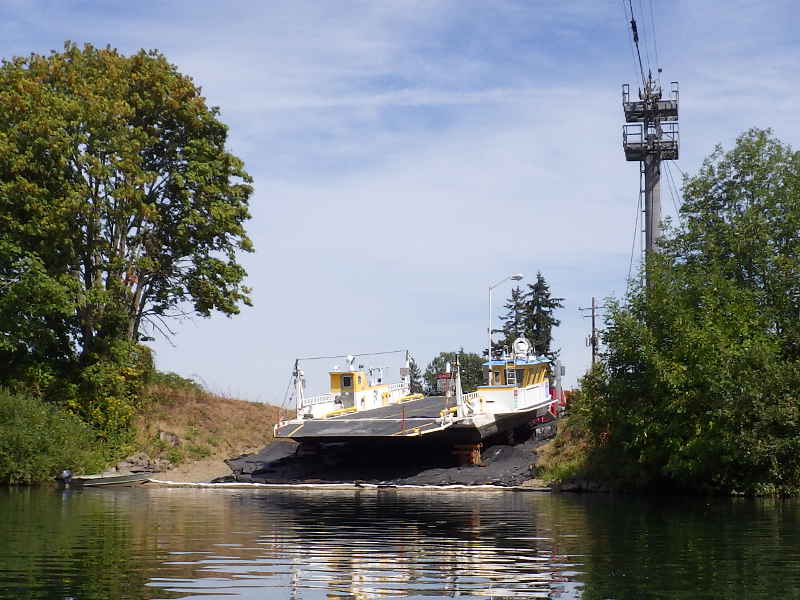 The ferry at Buena Vista was hauled out - that has to really inconvenience the people that rely on it.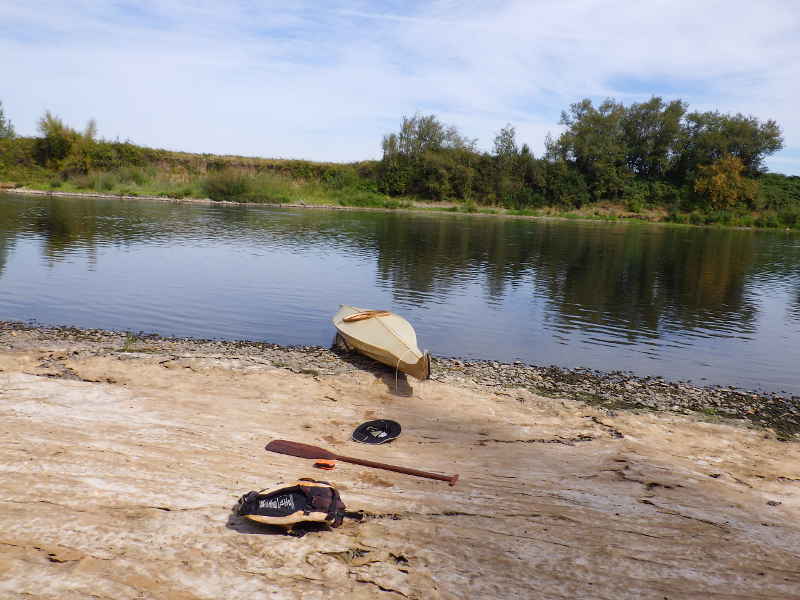 Oh, god, I needed a break. My butt was in agony. I just stumbled out of the boat and shed stuff as I walked ashore. That stuff over the gravel is dried algae - a huge mat of it. It actually makes walking more difficult as you can't see the rocks as well.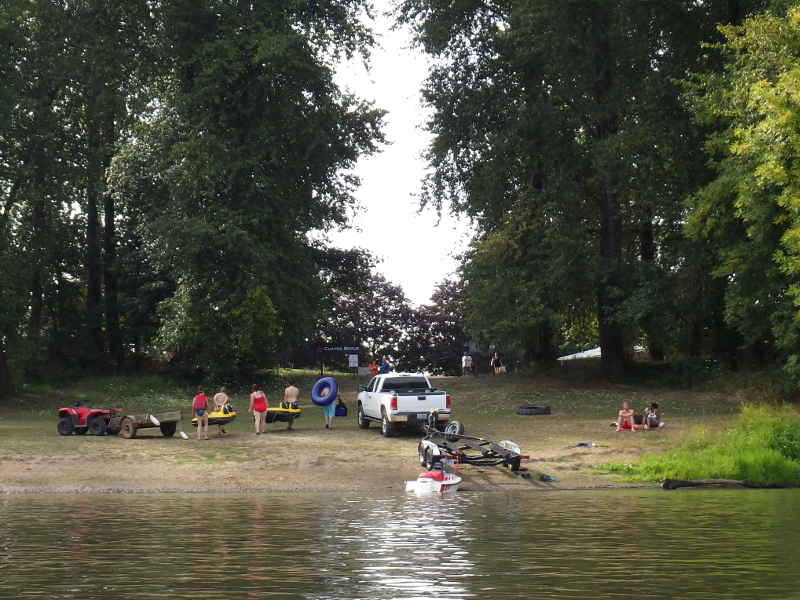 Back on the water I saw more powerboaters. Then I came across Rogue Farms, where the Rogue Brewing Company grows their hops. I never knew such a thing existed. I should have stopped for a beer, but the day was getting on and I had miles to go.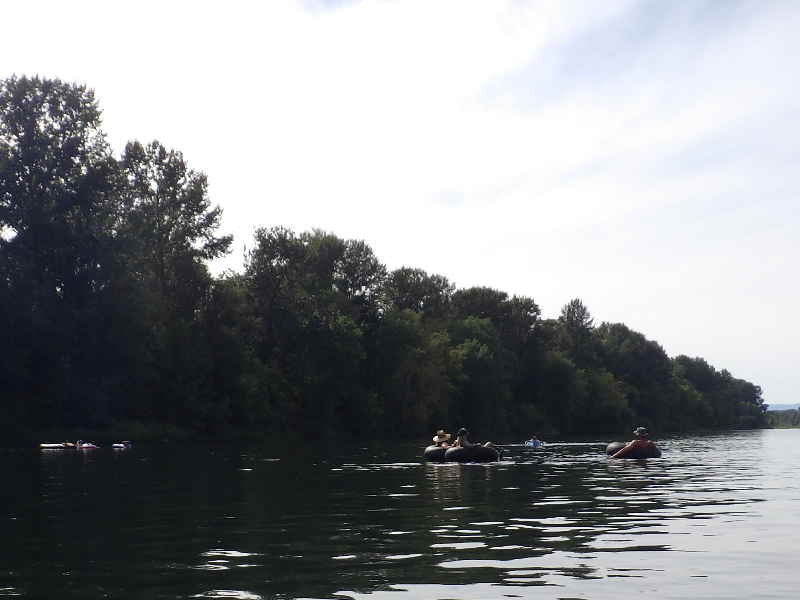 I met some tubers. The river was flowing about 1.5mph and about 6 miles to their destination. This picture was taken at 4pm. I'm not sure these kids were good at math.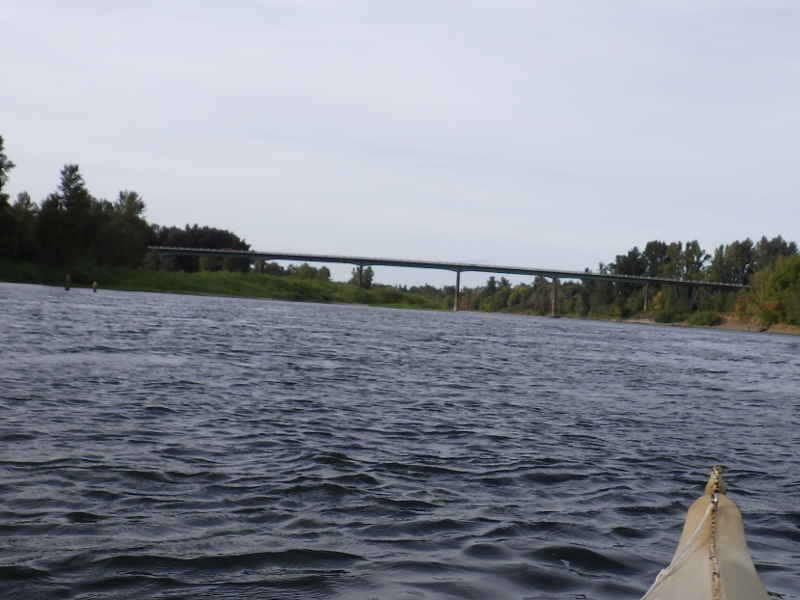 The bridge at Independence! If my @ss could clap, it'd be doing so. (maybe I should learn how to 'twerk'?)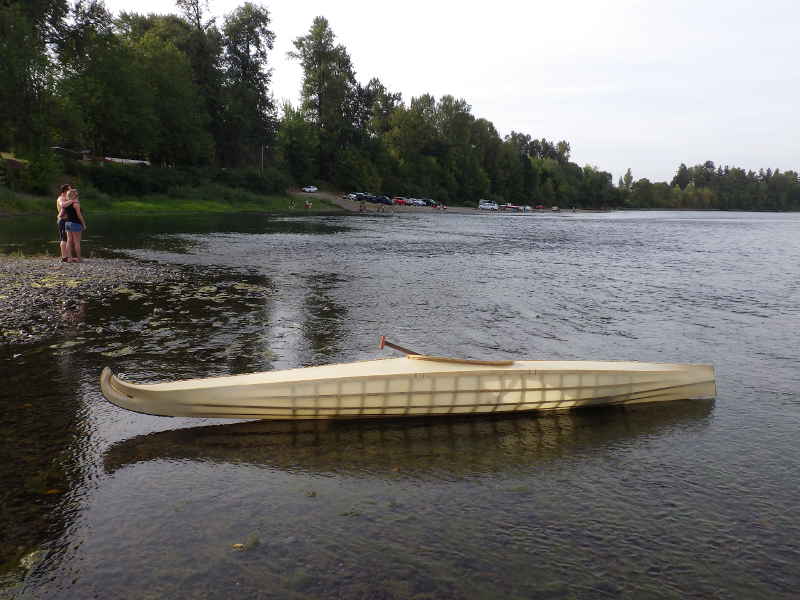 Beach at last! Beach at last! Beach at last! I was close enough to home to have Keely come pick me up so I could spend the night in my Temperpedic instead of my Therm-a-rest.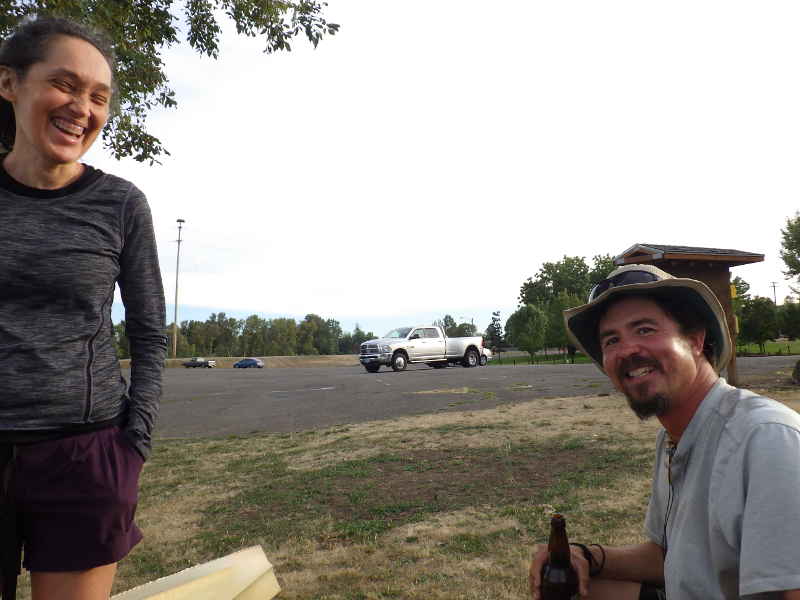 While waiting, I struck up a conversation with Vern (Keely says his name was Travis, but he'll always be Vern to me.) Nice kid - had walked from San Francisco to visit his father. I gave him a packet of FishPeople Seafood (to spread the love) and took off for home.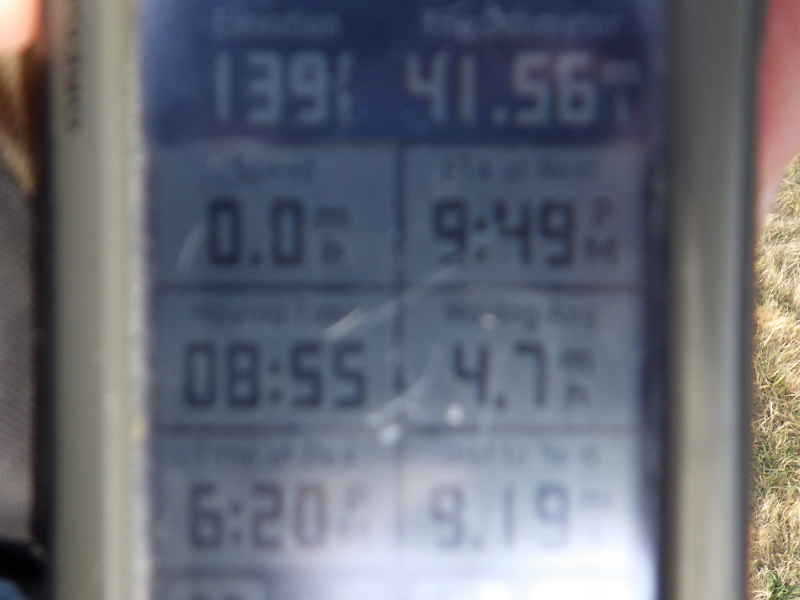 8 hours and 55 minutes of moving time covering 41 miles. That was a long day.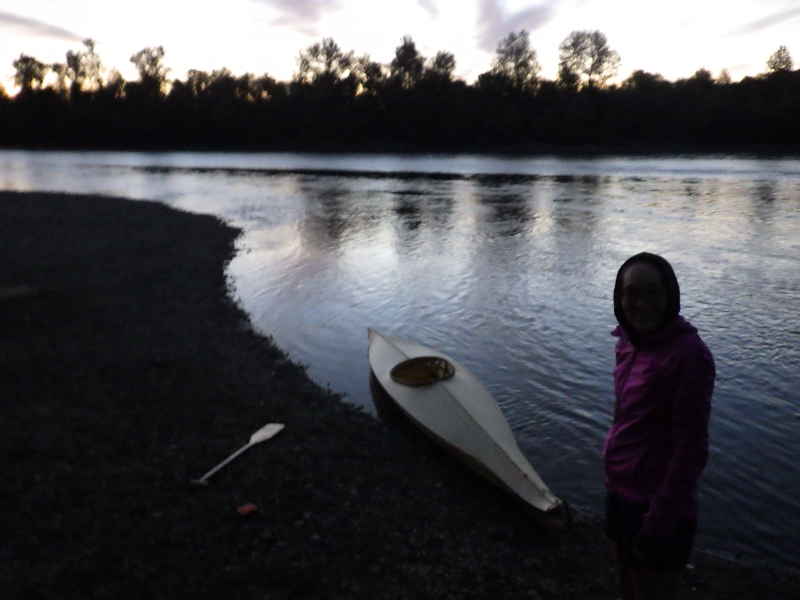 Back to Independence for a dawn launch. Keely is quite the trooper, putting up with my antics.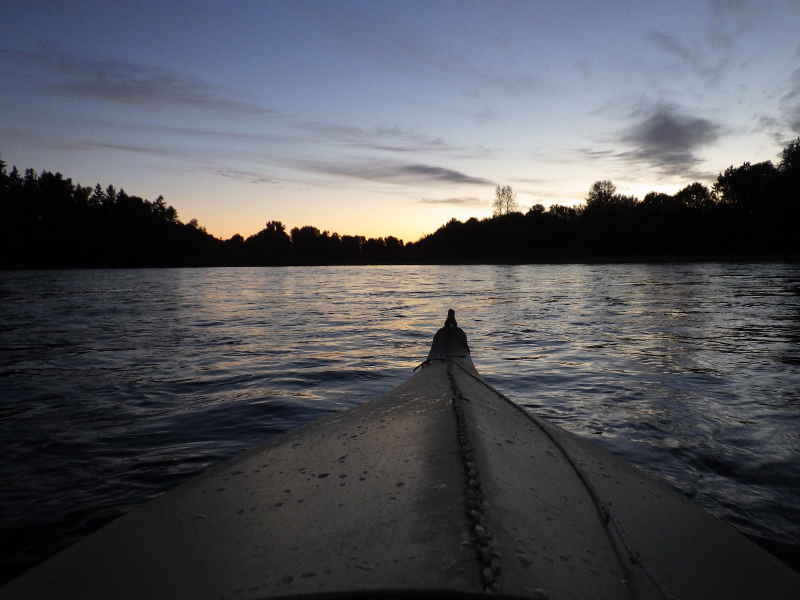 First light. I saw a raccoon not too far from here, but the pic was too blurry to use.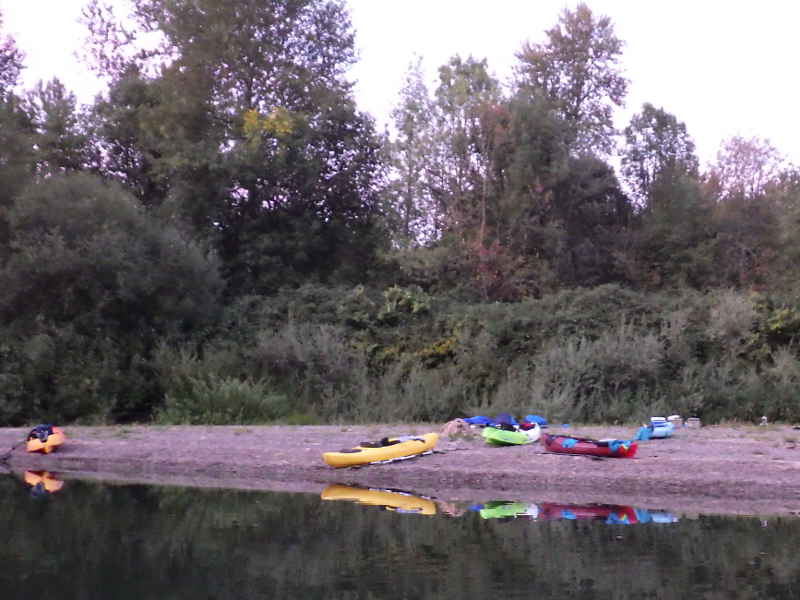 Campers on the beach. I could hear someone snoring before I saw the boats.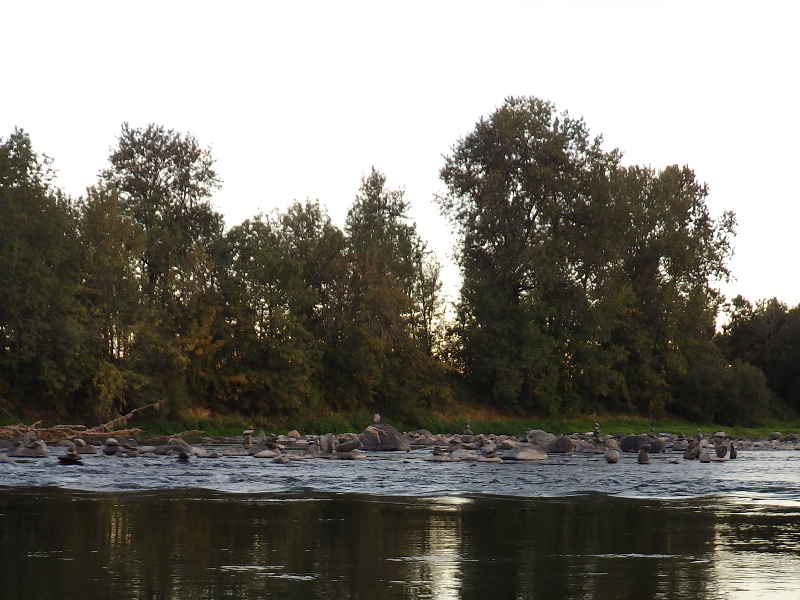 More stacked rocks. These were on both sides of the river.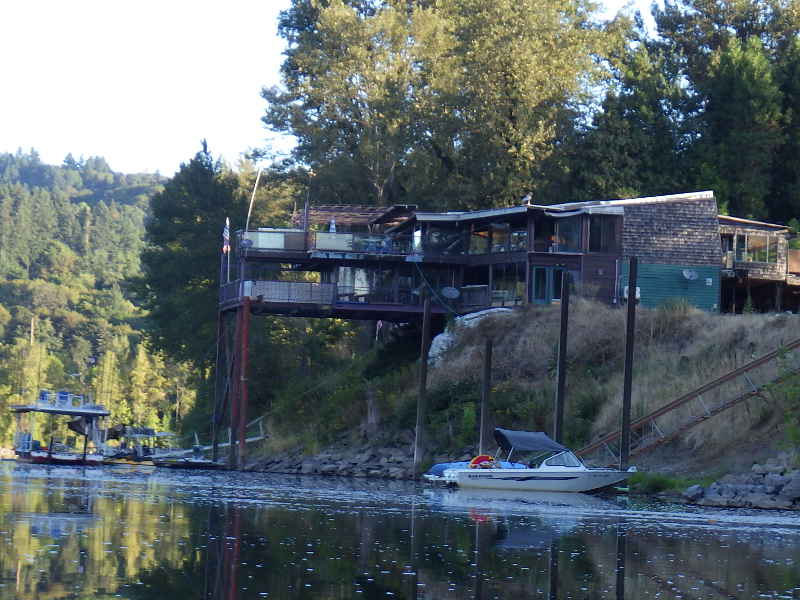 Now THAT guy knows how to have a house on the river!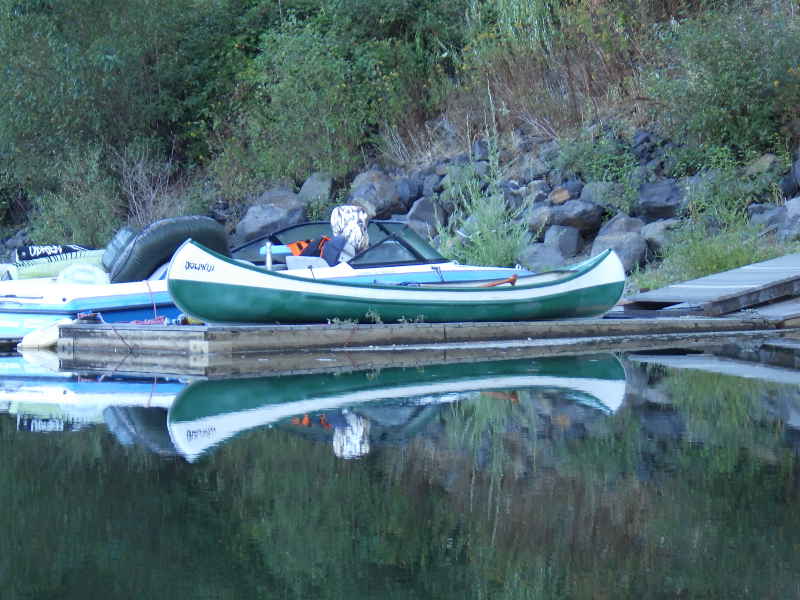 I used to have a Dolphin canoe! Mine was yellow with a green band speckled in gold flake.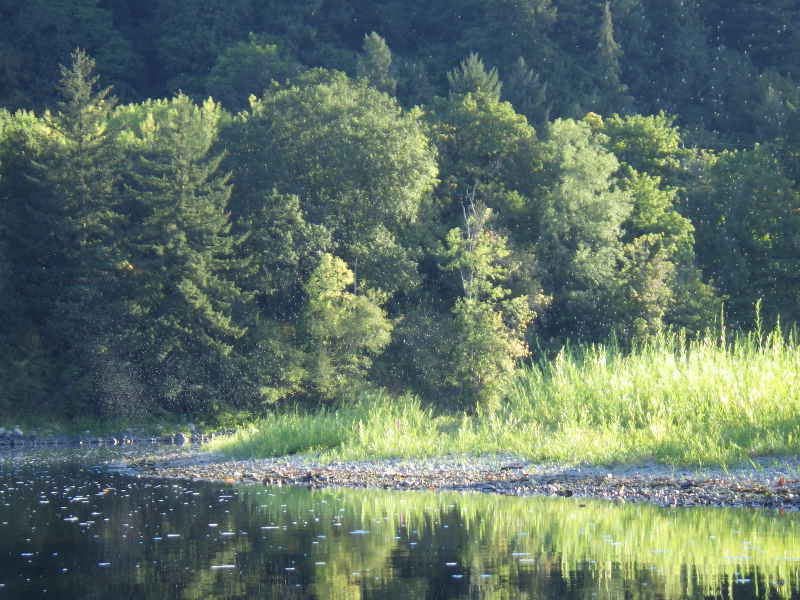 This is a pretty dull picture until you notice all those little specks, then realize those specs are bugs dancing in the sunlight. Clouds of 'em.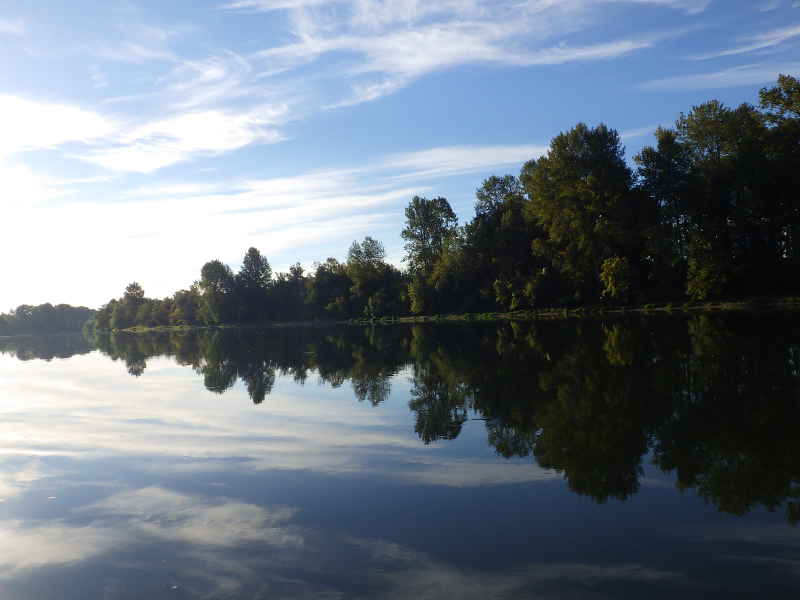 Water like a mirror - moving a little over 1mph. While pretty, it makes for a lot of paddling.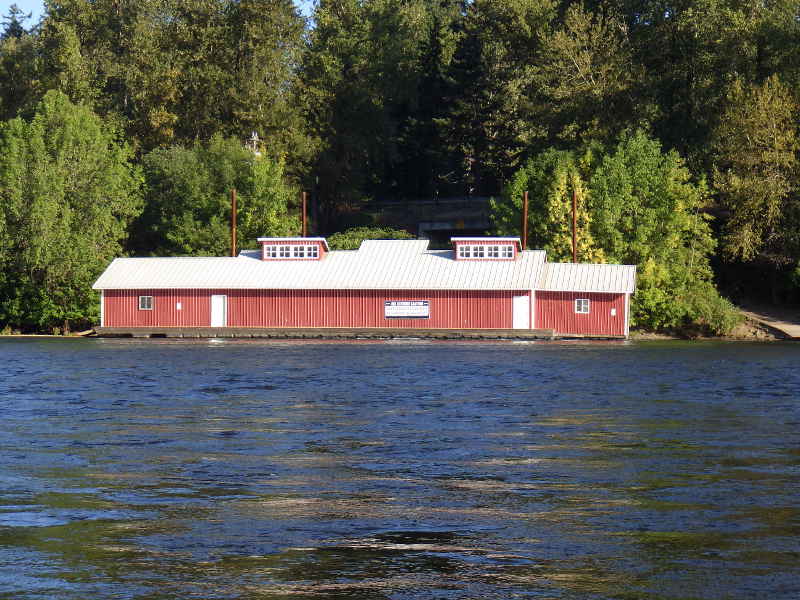 Willamette University Sculling Team's boathouse. I was close to Salem and my butt was already screaming. I called Keely for extraction.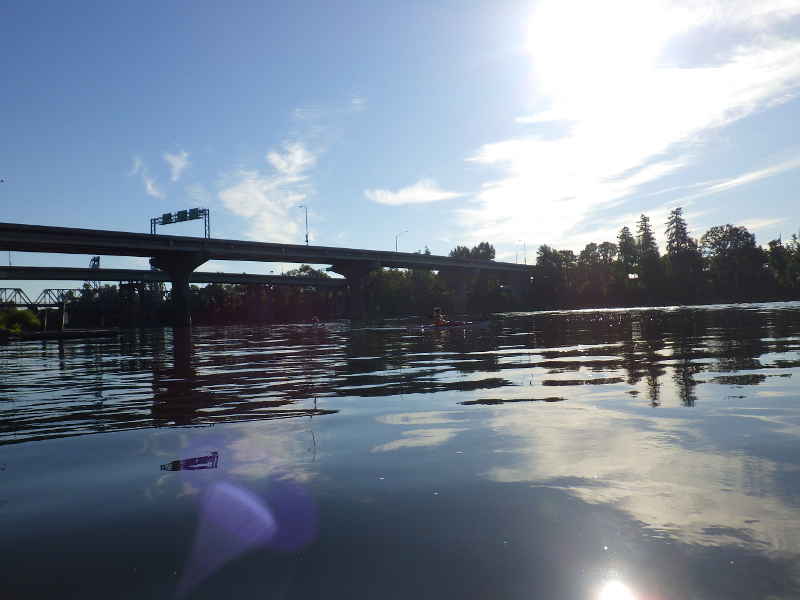 There's the bridges of Salem. I pulled out at Wallace Marine Park, River Mile 84.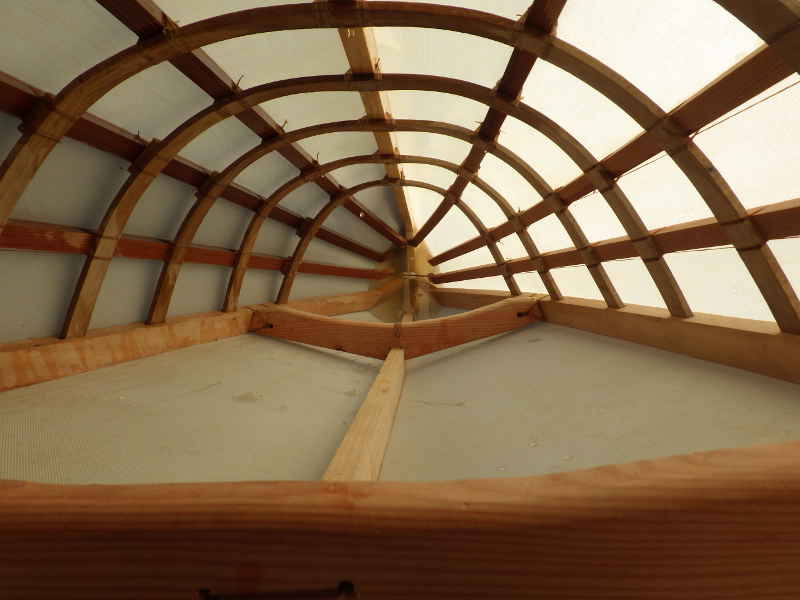 The boat's 'weeping' had gotten worse. I stood her on end to take this picture. There's a little over a gallon in there and my sore butt was soaking in it while paddling.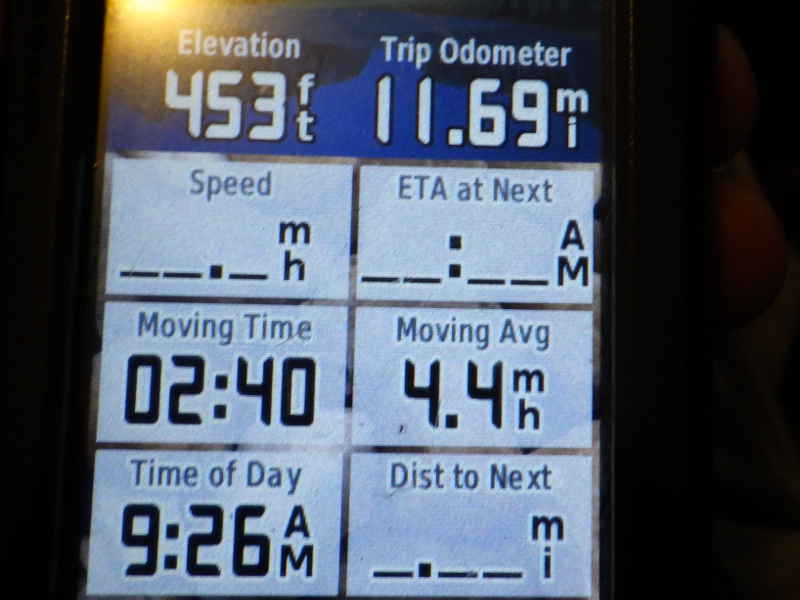 Just under 3 hours to go just under 12 miles. Not too shabby.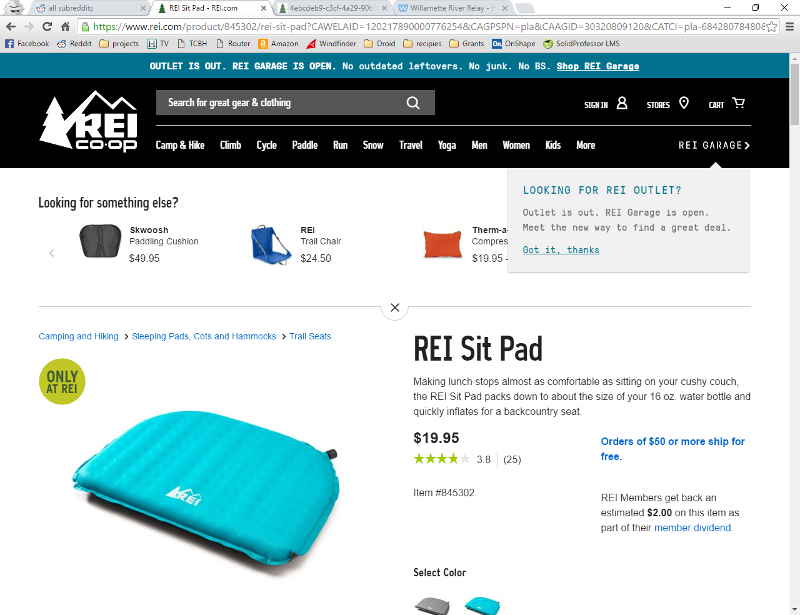 I had to pull out and give my butt a rest. I had two problems to solve: The weeping and the seating. I got one of these to take care of the seating issue and gave the boat 3 more coats of varnish, hoping to solve the weeping problem. We will see if it worked.