Christmas 2015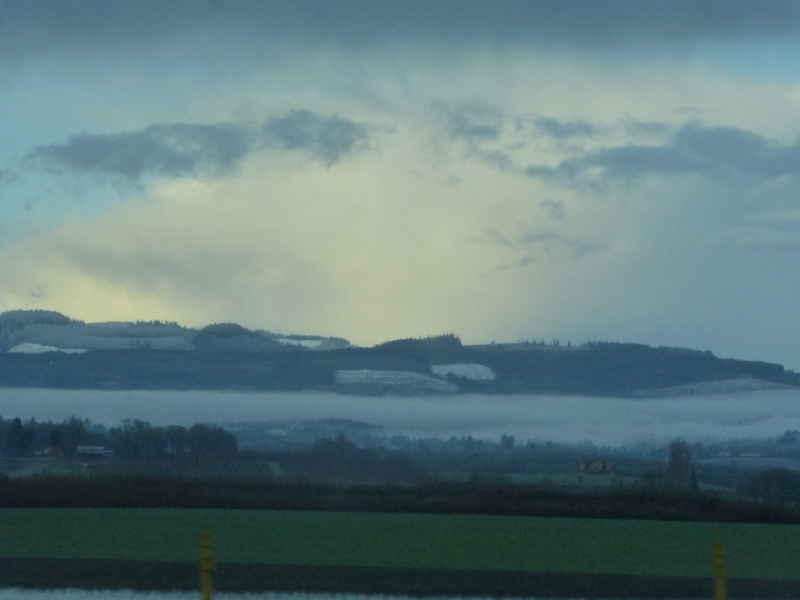 Couldn't convince anyone to come to our house, Mom was in Texas, so it was Off to the Coast! To have Christmas with Keely's parents. It had been raining buckets in Oregon the past couple of weeks and today was the first day there was any kind of break in the clouds. It was 36° and 98% humidity when we left the house, and the Coast Range was shrouded in fog.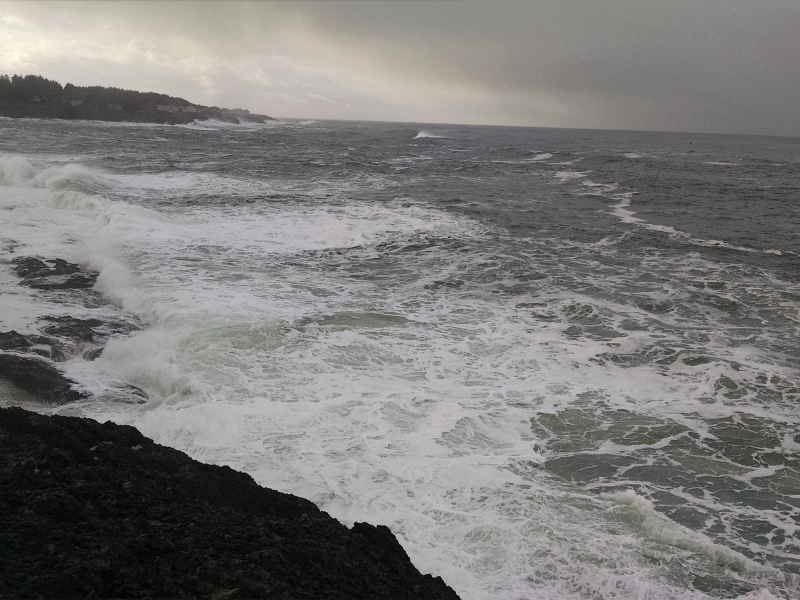 The seas were angry that day. So angry, we had to pull over in Depoe Bay and watch them rage.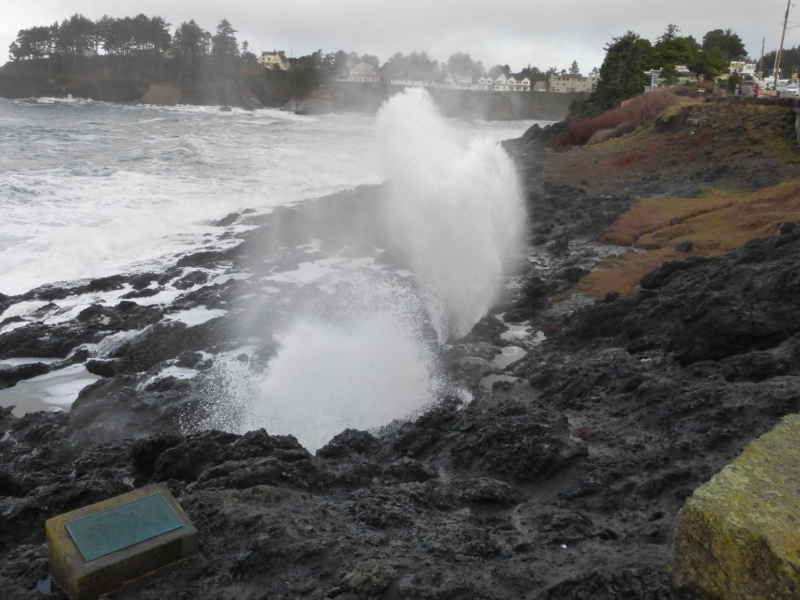 There's a Spouting Horn - a hole in the lava floes where the water shoots out at high tide. Some of the bursts were WAY higher than this.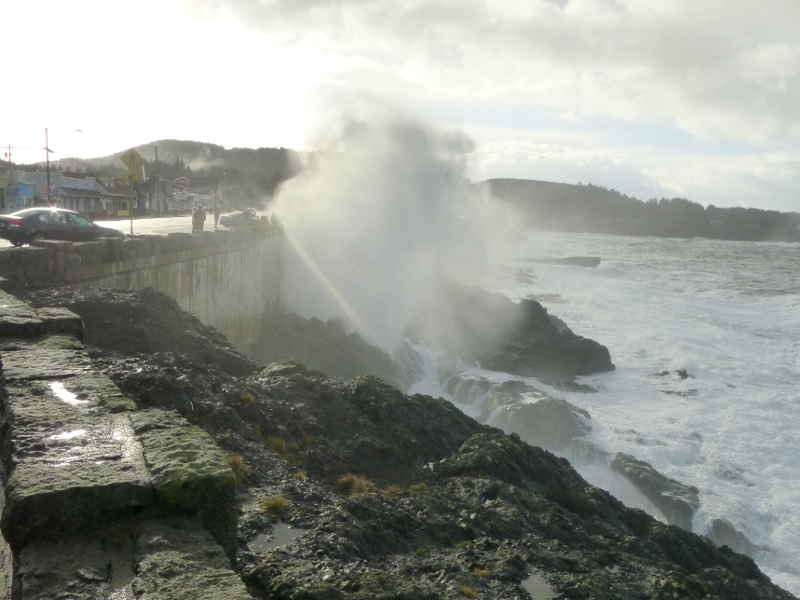 Turn the other way and the wave are smashing right into the seawall.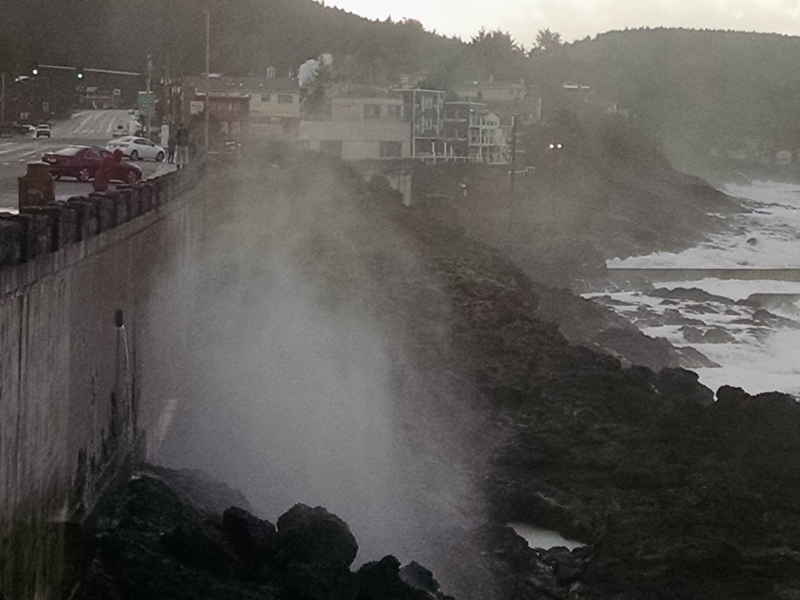 That person you can see peering over the edge is Keely.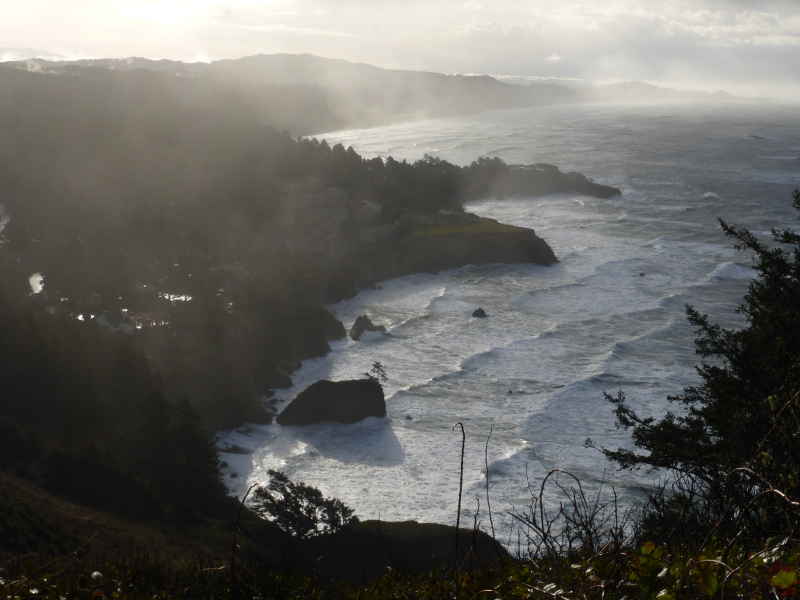 From the peak of Cape Foul Weather (so named by none other than Captain Cook) we looked south over the Oregon Marine Gardens. We were headed to the big city of Otter Rock, kind of on that second finger of land you see.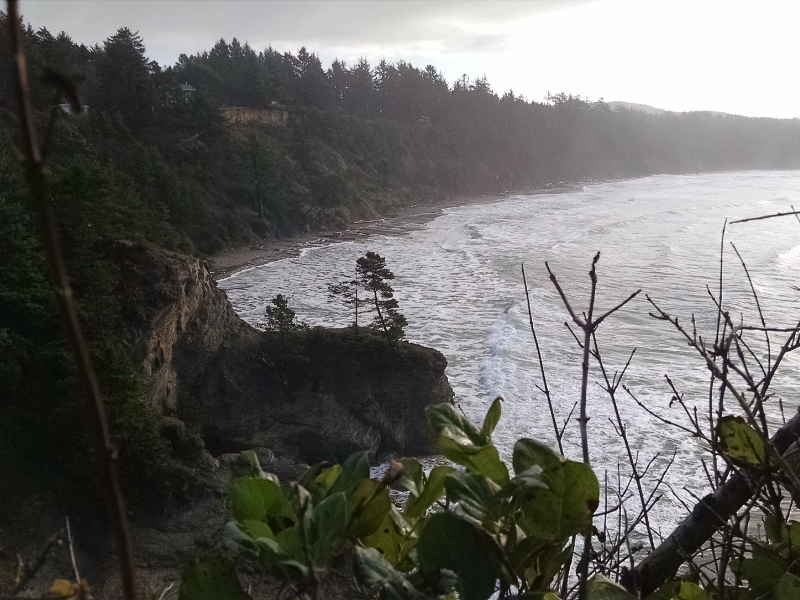 Here's the shot of where we normally walk the dogs: Beverly Beach. As previously mentioned, the seas were angry that day, so we stayed up on top.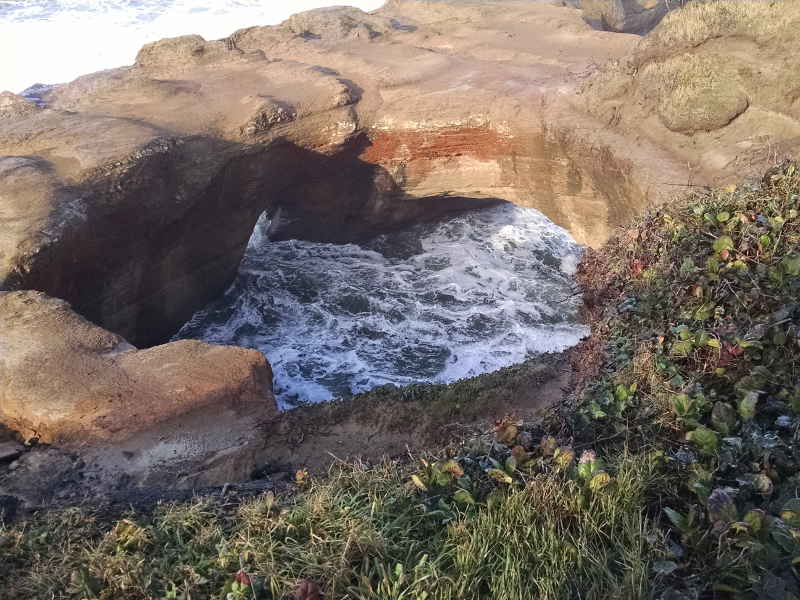 Devil's Punchbowl was a-swirl. I've stood down there in the bottom - at low tide, of course.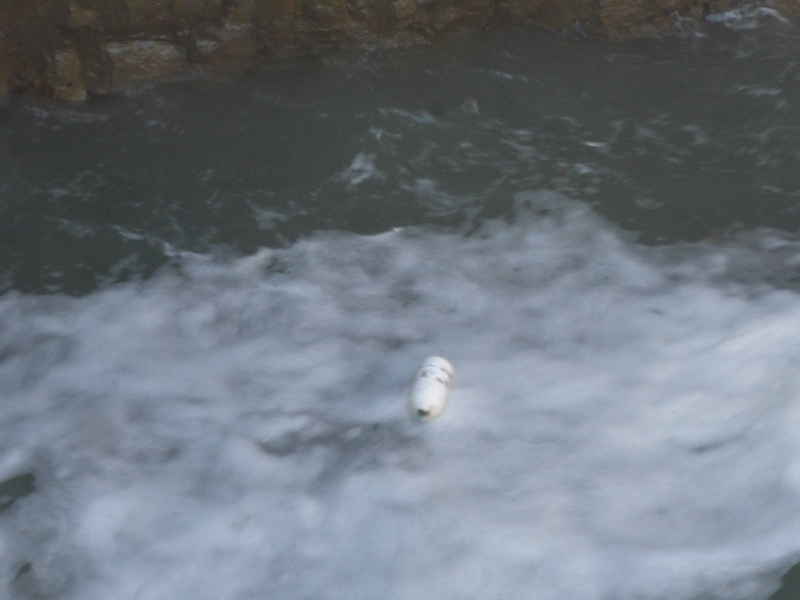 There was a crab float bobbing around in the waves. I wonder if it will make it out or if it will be pounded to tiny bits? I'm betting on the pounding.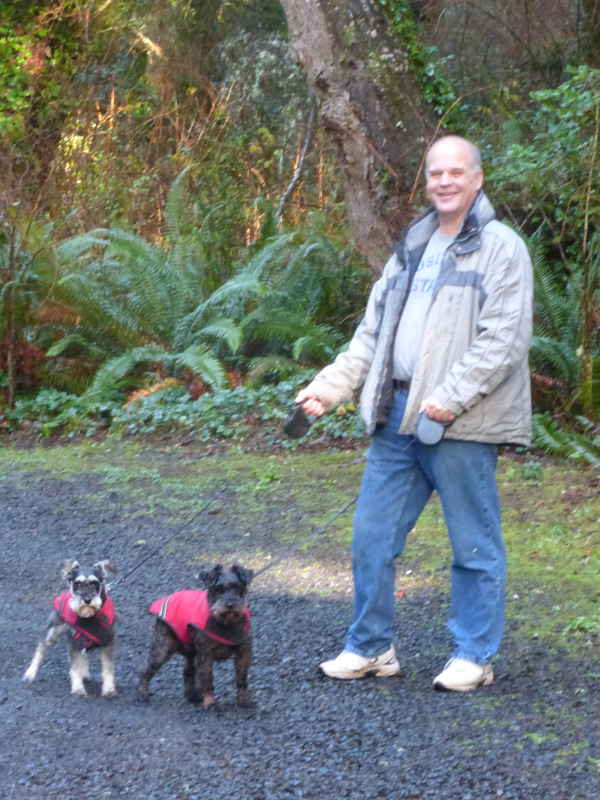 There's plenty of places to walk, even if we can't get down to the beach. The girls were excited.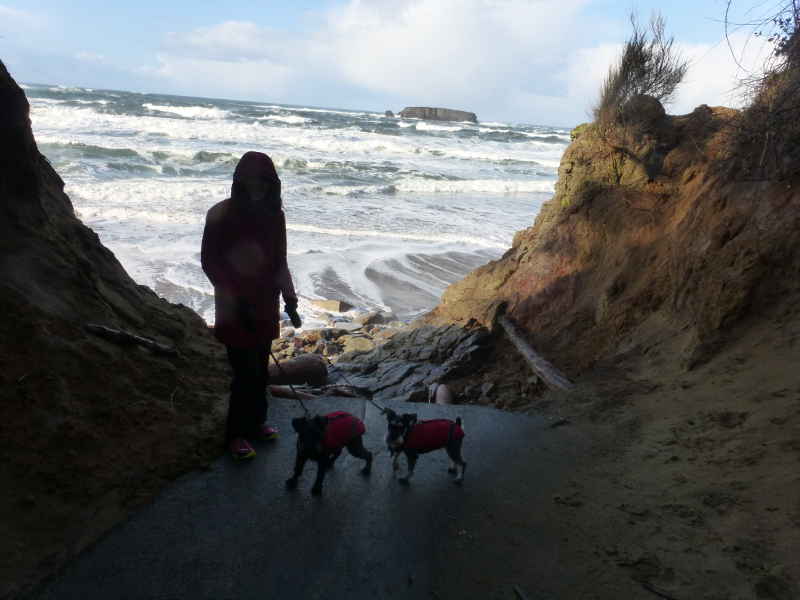 This is the egress to the Oregon Marine Gardens beach - the waves were pounding right against the cliff.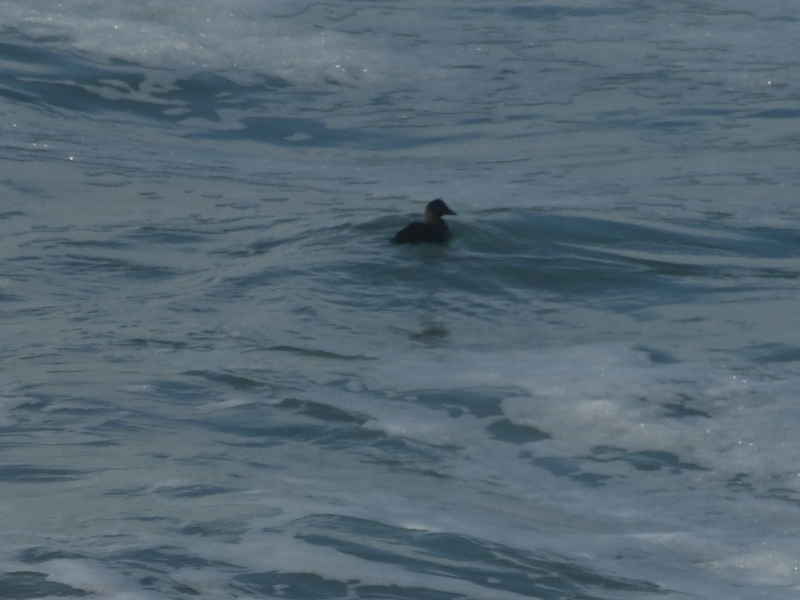 These silly little birds were just bobbing around in the surf. When a big wave came, they'd just tuck and dive under it.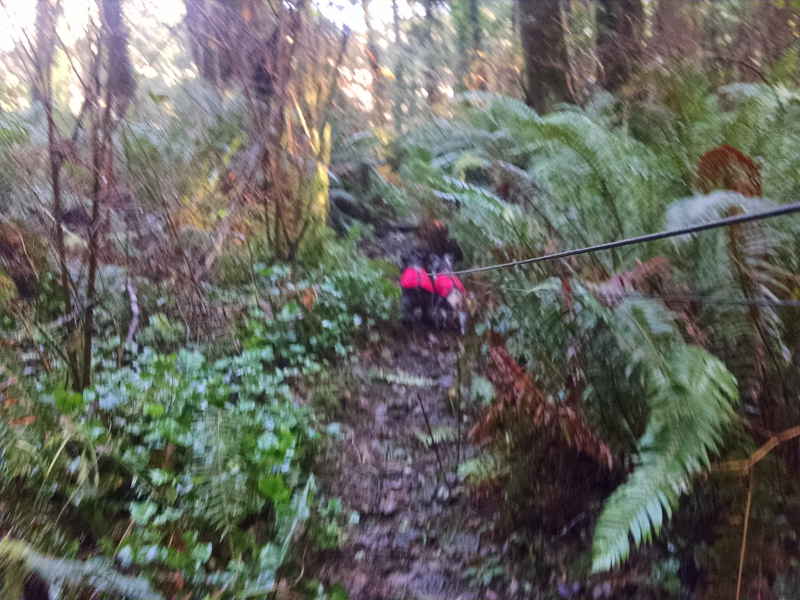 Next was a little trail between Otter Rock and the Inn at the Otter Crest.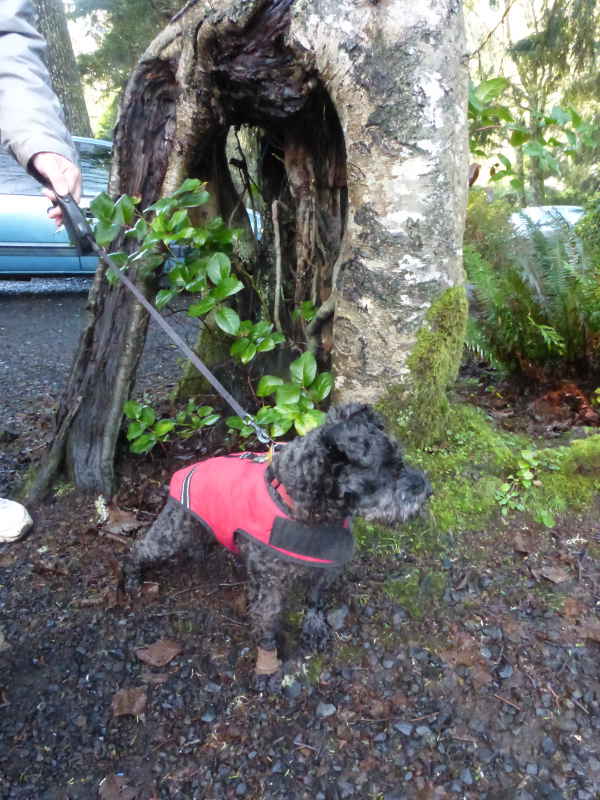 I was trying to get Aurora to pose under the tree, but she was having none of it.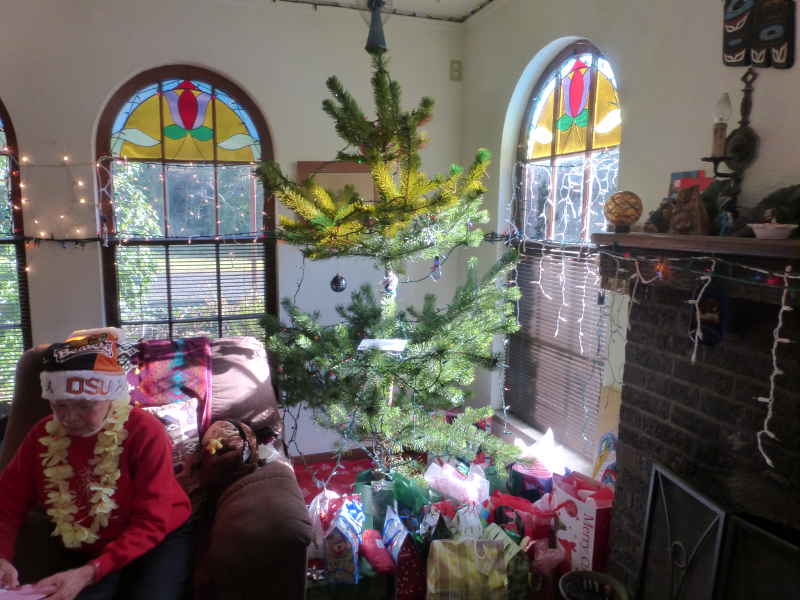 Finally, it was time to return to Otter Rock and start Christmas. Jim had been growing the tree in his back yard for a few years - now it was it's time to shine.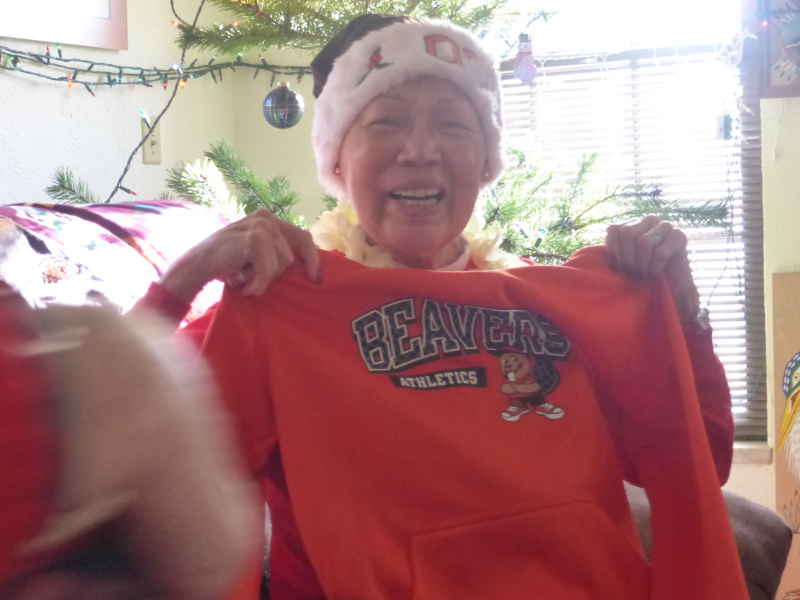 Gloria graduated from Oregon State University, so OSU gifts always fit.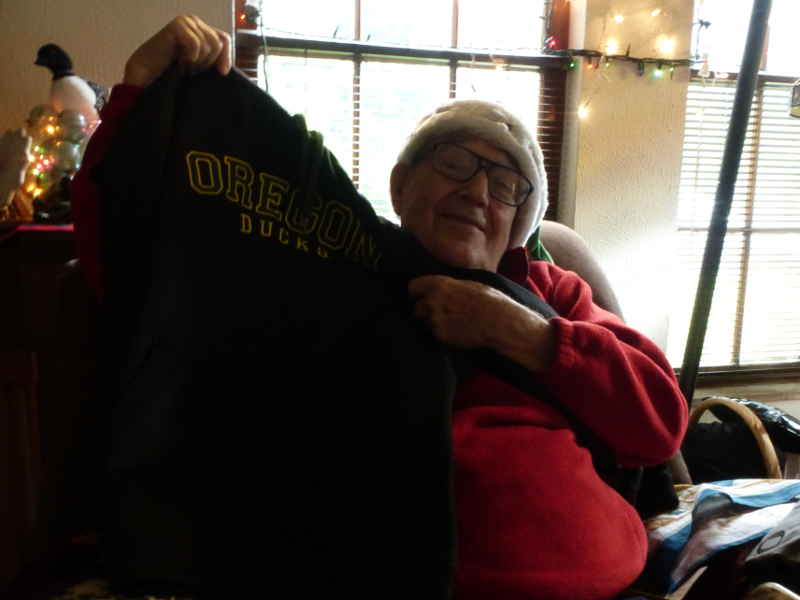 Jim went to the University of Oregon, but that's OK, we love him anyway.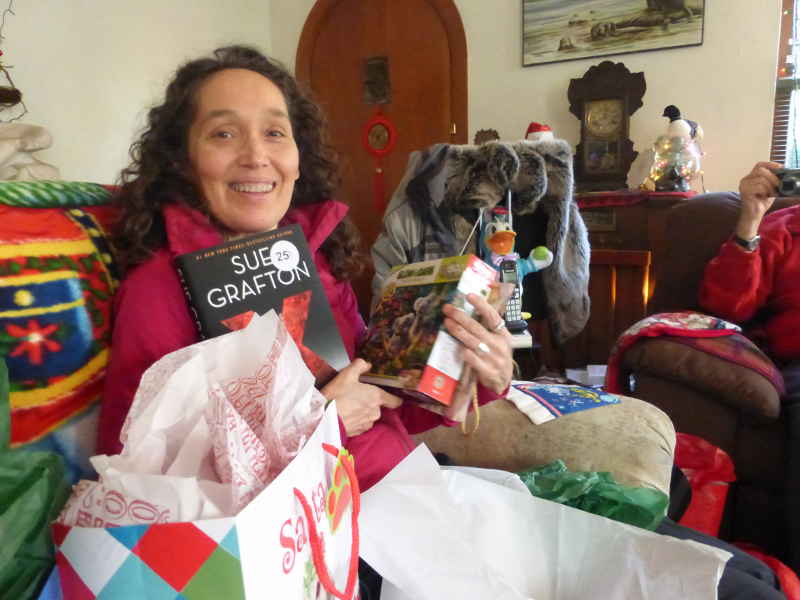 Keely made a haul on books and puzzles.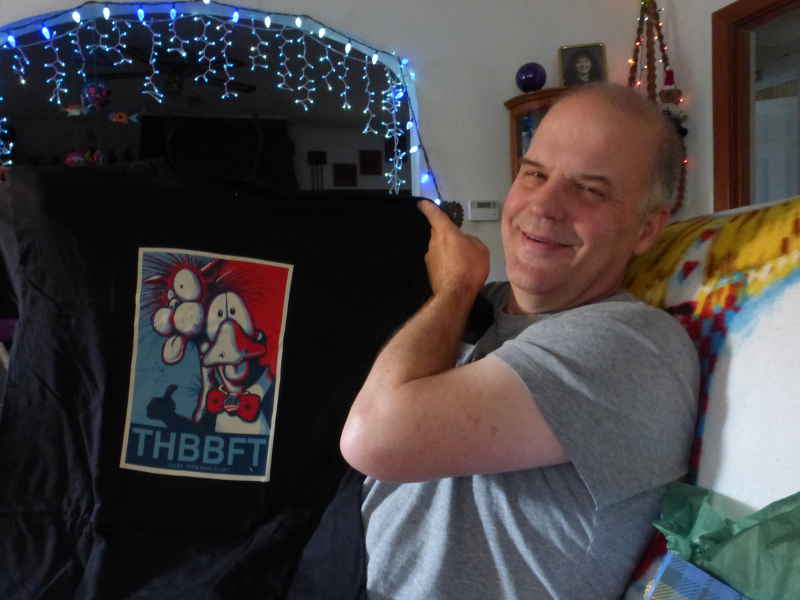 I scored a GREAT Bill the Cat for President T shirt. I voted for Bill the last time he ran, in 1984.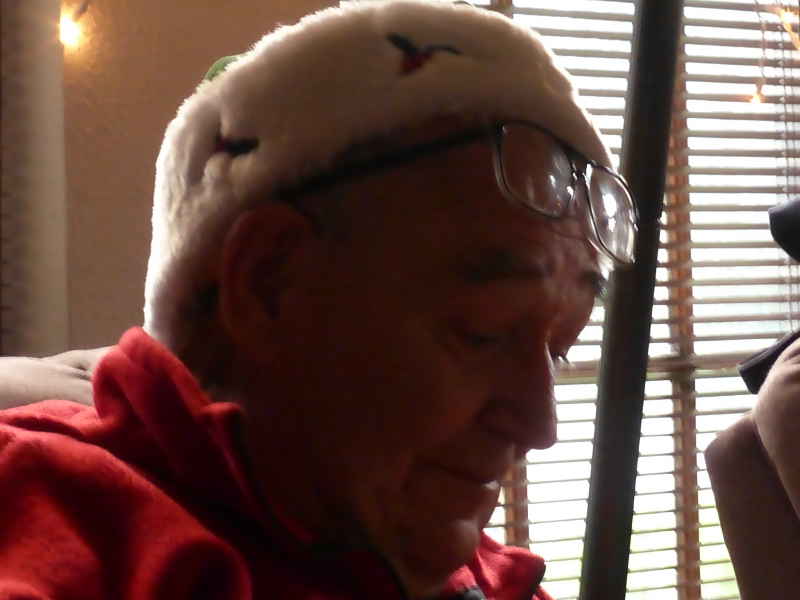 An excellent shot of Jim.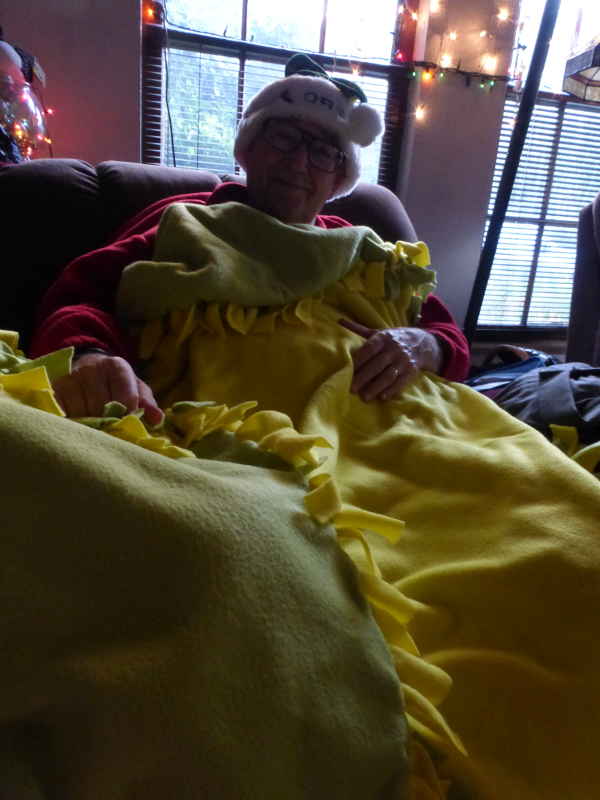 I made blankets for everyone - Green and Yellow for Jim (U of O colors)
Gloria got a cheetah print and fuzzy hot pink.
Keely got one with Minnie Mouse on one side and the Disney Princesses on the other.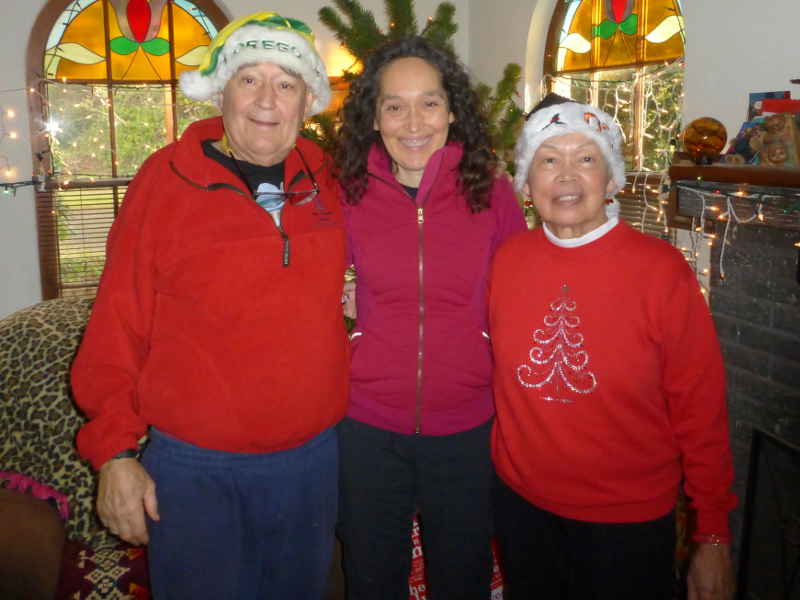 An excellent Christmas was had by all. Now . . .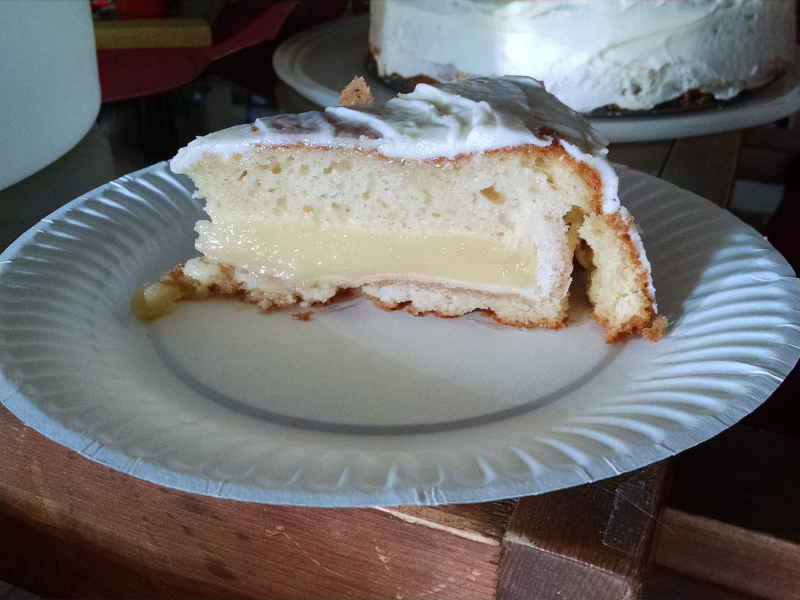 . . . on to the food. Jim had made an enormous ham and everything else, I just brought dessert: Piecaken. It was very, very good.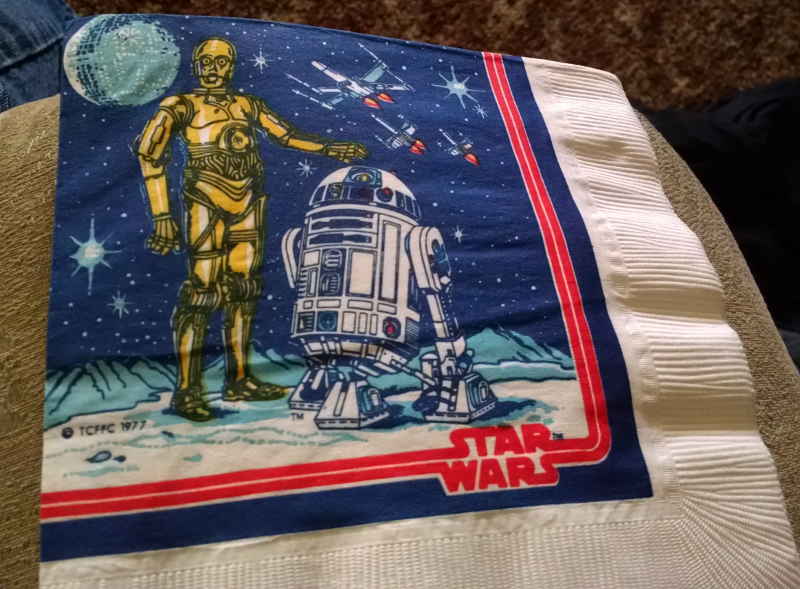 These were the most Christmas-y napkins Gloria had, and at nearly 40 years old, they worked just fine.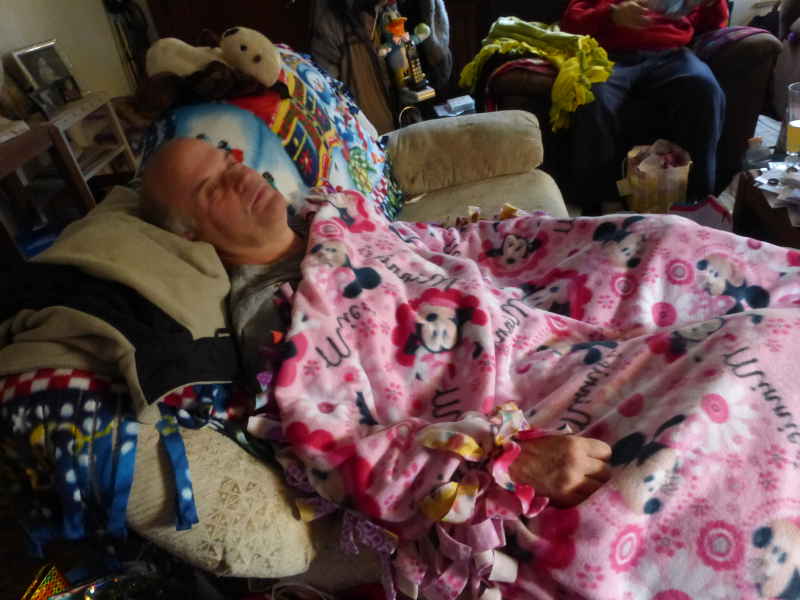 After piecaken, it was time to test out Keely's blanket.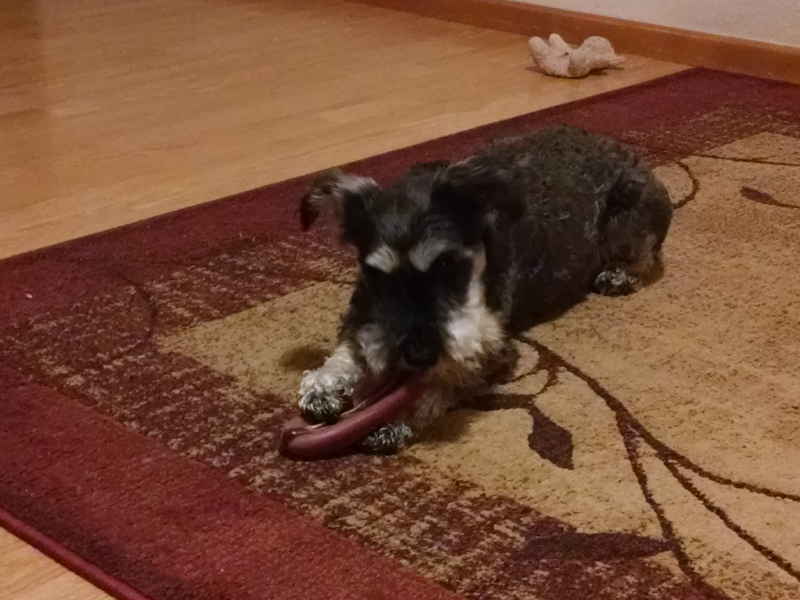 When we got home, we gave the dogs their gifts. Darling took a particular liking to a rubber hotdog. The squeaker was out in less than 5 minutes and the toy was shredded shortly there after. She really liked it.
Merry Christmas, everyone.