Lake Stockton Messabout
October 9-12, 2015
I had planned on going to Sail Oklahoma! this year, but it was canceled, and Gene Berry created the Stockton Lake Messabout to cover for it.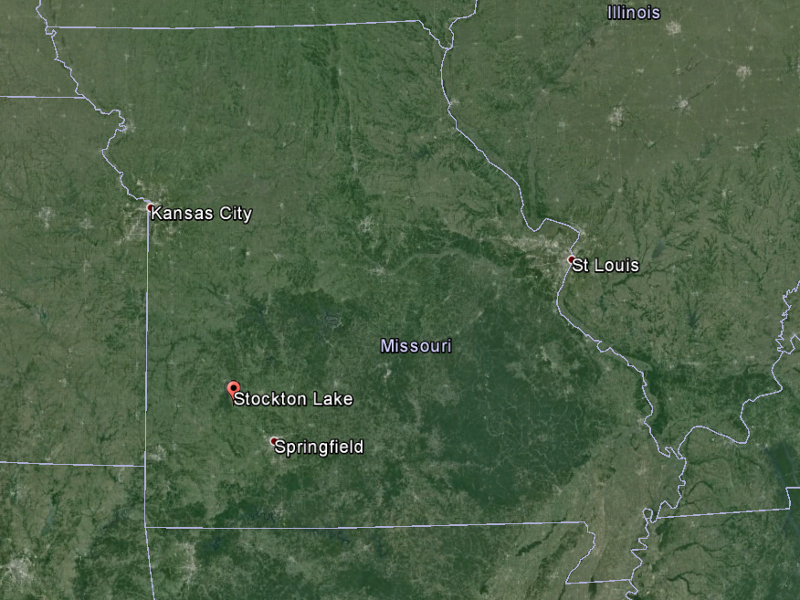 Stockton Lake is in Missouri, and I include this map for people like me, who don't know what Missouri looks like. I swear, I thought it was in the south and had a coast. Upon reflection, I thought Missouri was Louisiana.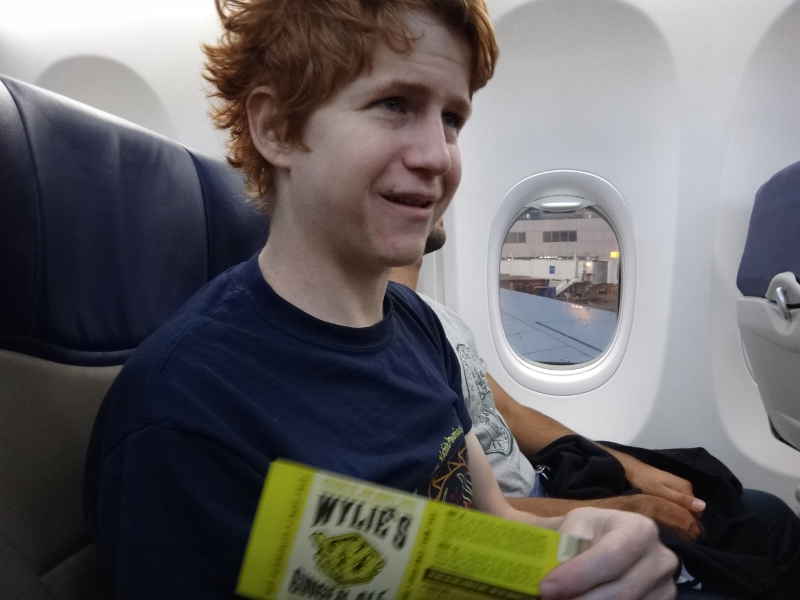 I flew down on Southwest, and the kid sitting next to me turned out to be one of the Hopes for the New America - he is Wylie, owner of Wylie's Honey Brews, based out of Ashland, Oregon. He seems a smart, small businessman with a dream and a plan. Get 'em, Wylie.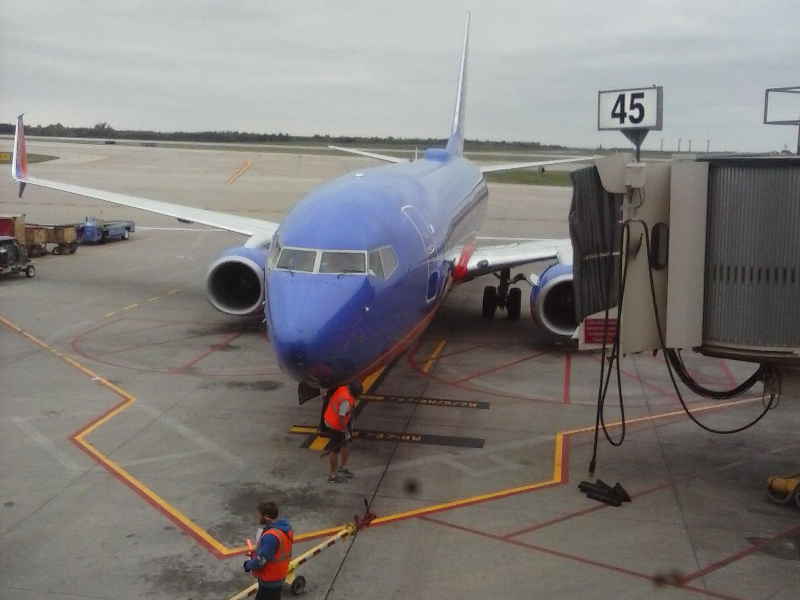 I was flying in - Gene told me he'd take care of everything. He is a great host and was even waiting at the gate - here's the picture he took of my plane as it pulled up to the gate.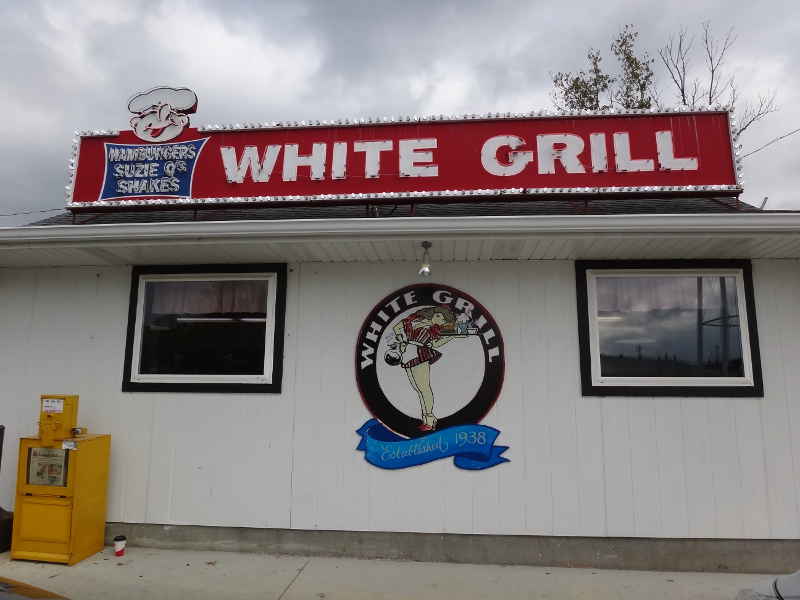 He asked me if I wanted to eat and I told him of my Rules for the Road: No chains and it has to have something I can't get back home. He knew of a spot in Nevada (pronounced NevAYda, don't ask why - they don't know.) While we do have hamburgers in Oregon, we don't have Suzie Qs, which turn out to be something similar to curly fries. Similar in that they are cut from potatoes, are curly, and are deep fried.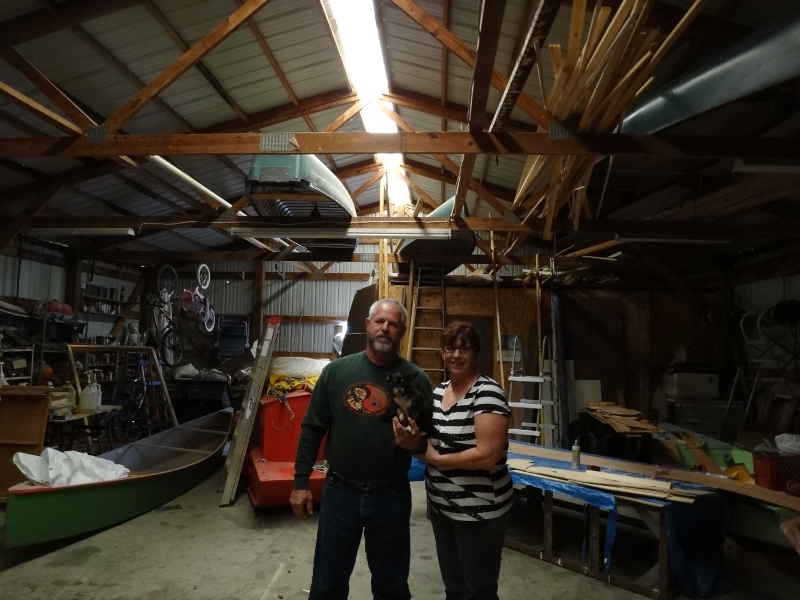 We stopped off at Gene's place, where I got to meet his lovely wife, Lori, and tour his Boat Palace. Gene is a busy, busy, man. Not only does he have several completed boats (there are 4 down at Stockton Lake already) he has at least 5 in various stages of construction.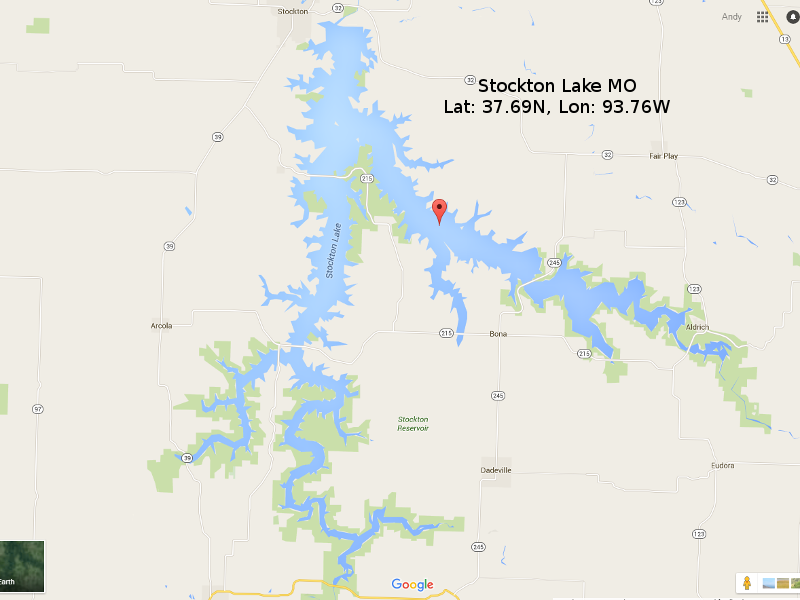 Stockton Lake is a big, big lake. Far bigger than any lake in Oregon. We were going to be at the northern end of it, about 45 min from Gene's house. Specifically . . .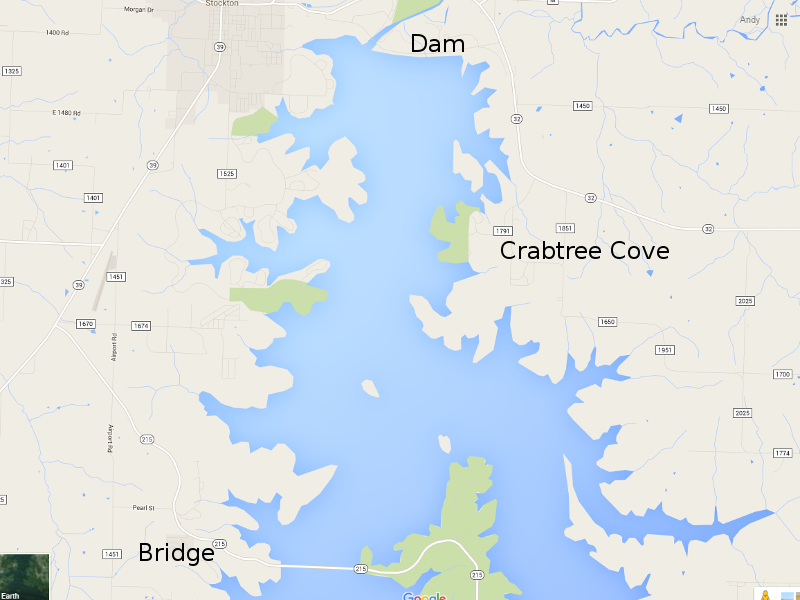 . . . we were at Crabtree Cove, bounded to the north by the dam and 5 miles to the south of that, a bridge (more on both those, later) but open to the southeast. Tom, one of the attendees, said there is over 600 miles of shoreline.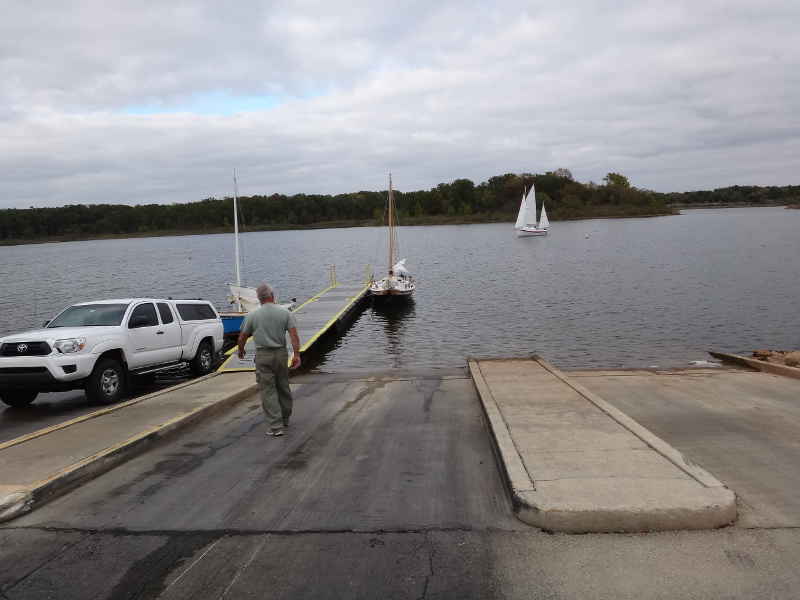 We got there on Friday afternoon, in time to help George launch his Michalak Mayfly 16. Jim Michalak's boats are always in attendance at these messabouts. In the background you can see a Weekender (at the dock) and a Sweet Pea.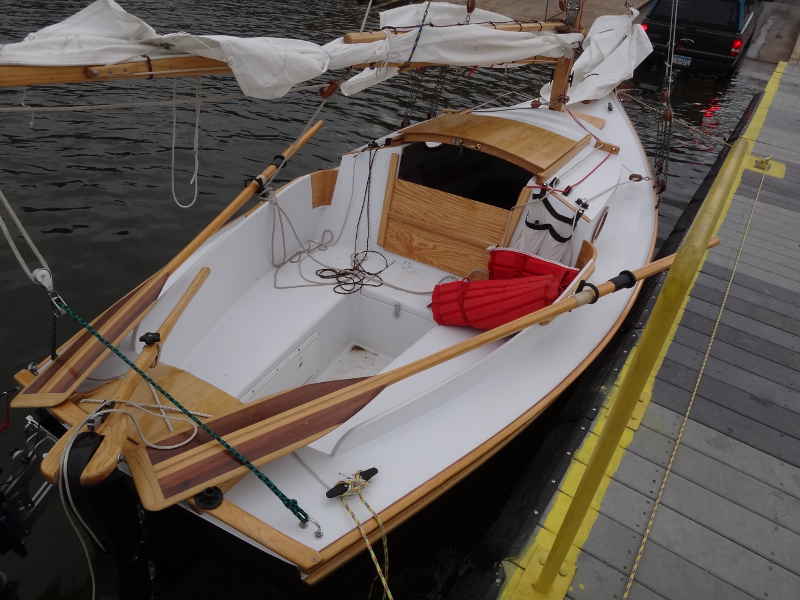 Al, down from Minnesota, is the owner of the Stevenson's Projects Weekender. These boats are simply beautiful - I even owned one for several years.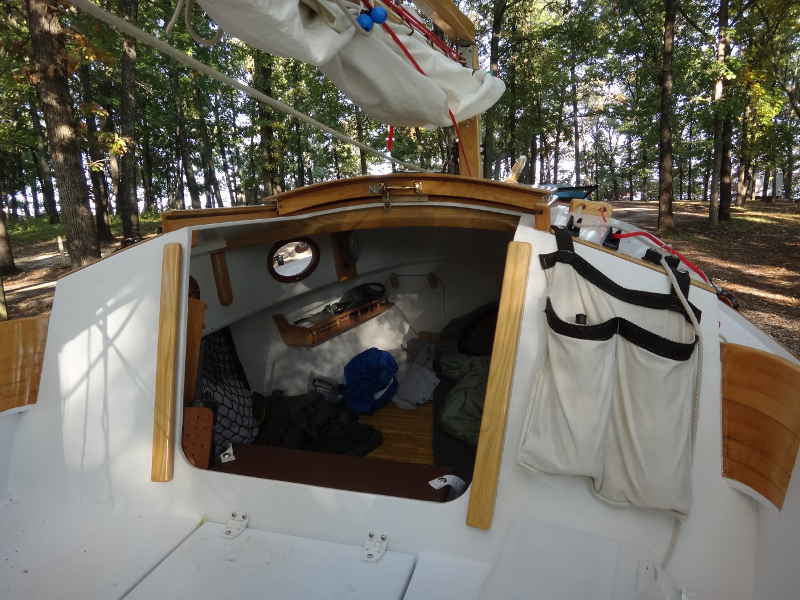 Al has his tricked out to the nines. He has great brightwork throughout, plus really cool features like handmade deadeyes and blocks (I'm stealing your method for building those, by the way) a custom galley and toilet (separate units, of course) the cabin is set up perfectly for one, including reading lights, a padded, insulated floor, and intelligent storage compartments. It's also well set up to survive knockdowns and capsizes. Good job, Al!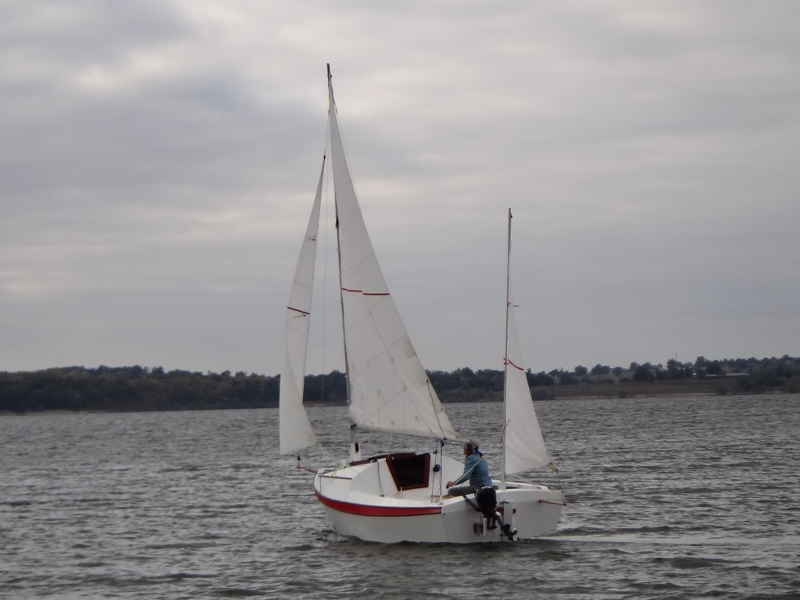 Victor and his son, Cooper, were in from Omaha, Nebraska. They were sailing a John Welsford Sweet Pea. Man, that is one purty boat - like all of John Welsford's designs.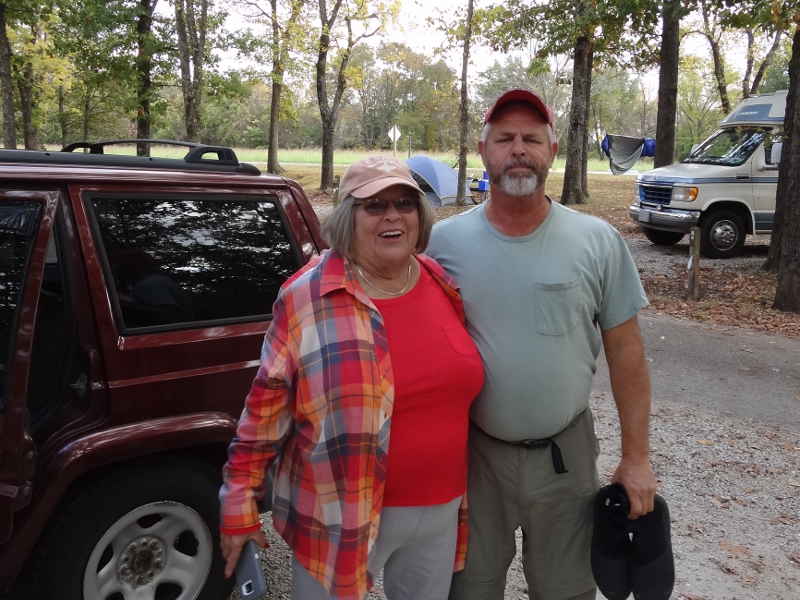 Jackie Monies, standing here with Gene, came up to enjoy the fun. She brought us a lot of supplies, mostly in the form of booze and food.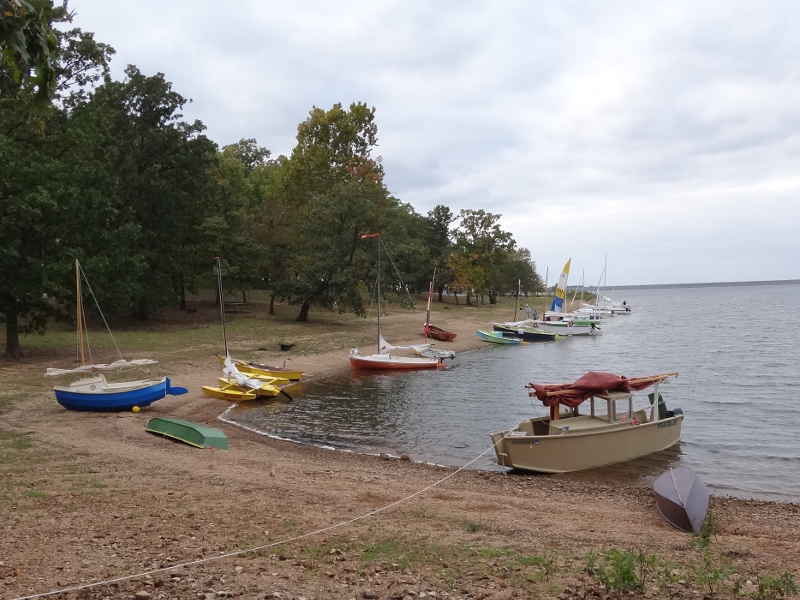 Here's the beach at Crabtree Cove - I'll do my best to cover all the boats present.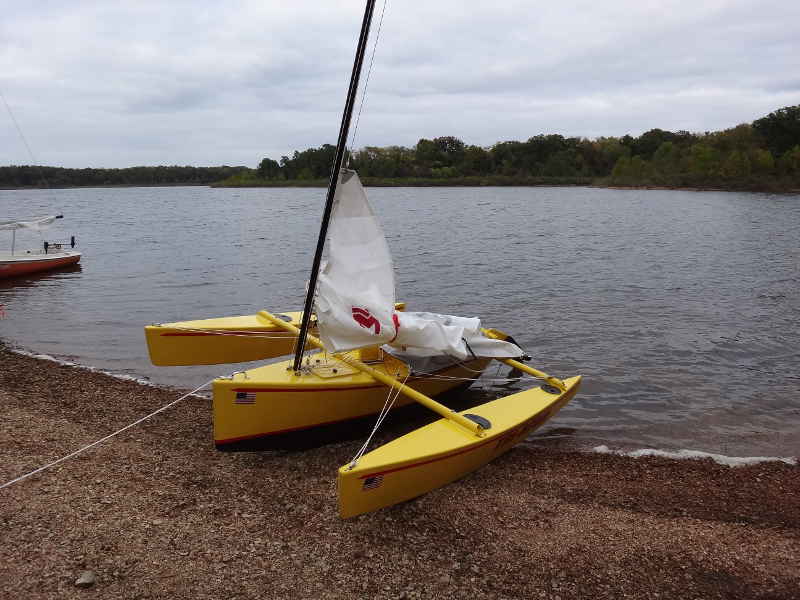 This is a Seaclipper 10, designed by John Marples,. built by Bob Trygg. Bob used to build these for use by handicapped people. When he suffered a stroke a few years ago, he was going to stop building, but his wife, Virgeen, asked "Why not build one for yourself? After all, you are handicapped now." So here you have it, folks, the Tri-Again.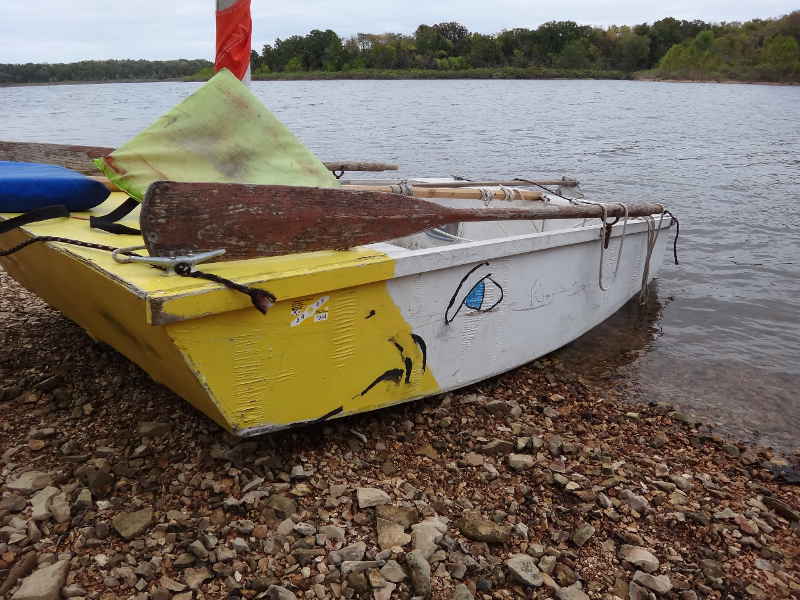 This is Bruce's well used and well loved Puddle Duck Racer.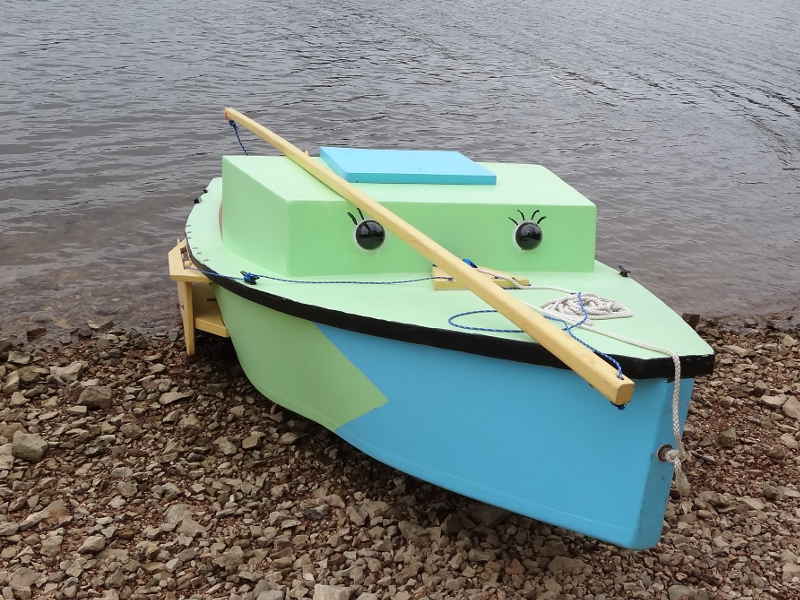 This is one of Gene's boats - a self-designed, 12' long, FatFly, sort of inspired by a Michalak Skat and and a Michalak Mayfly12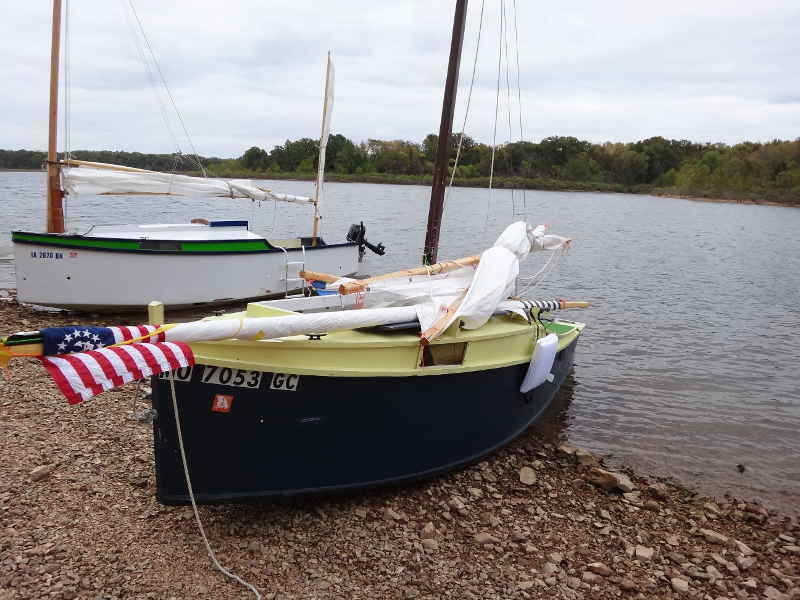 This is the boat Gene had provided for me, a Michalak Normsboat, with a few modifications (like a different main sail and a mizzen.)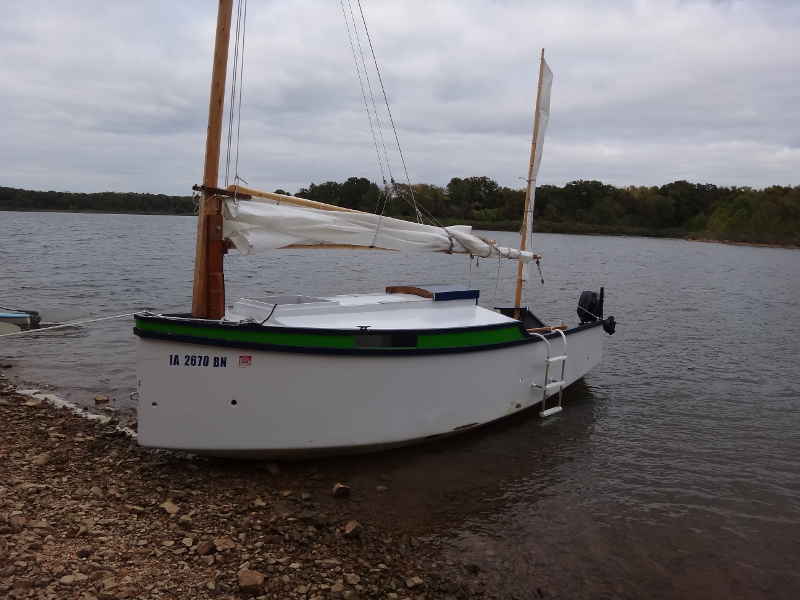 This is Kenny Gile's newest acquisition, a Michalak Picara. Kenny had come in from Council Bluff, Iowa.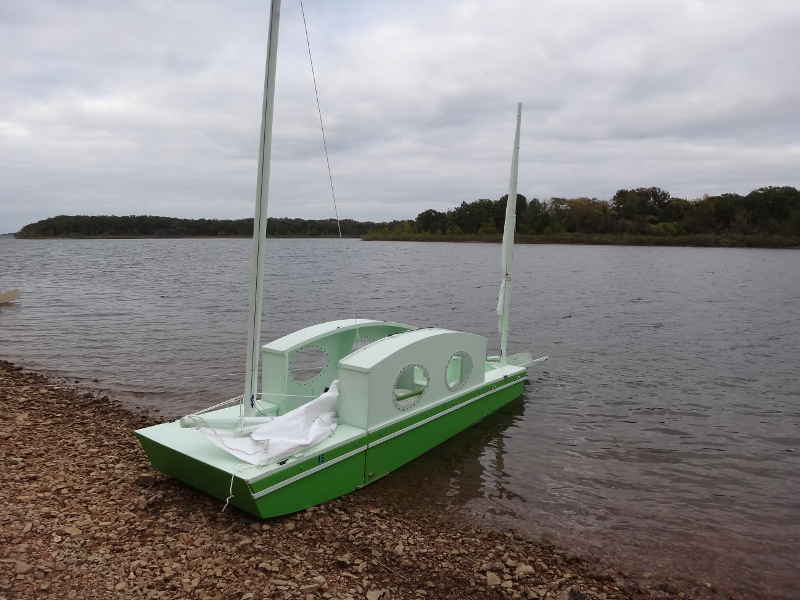 Seth Miller had driven down from Minnetonka, MN, towing his innovative Duck Duck Goose. Take a PDR and cut it in half, put in some bulkheads so you can put it back together again, then attach them to the ends of a cabin. Now you have a 16' boat to sail to your campsite where you take it apart and reassemble into a hard-sided camper and a racing PDR.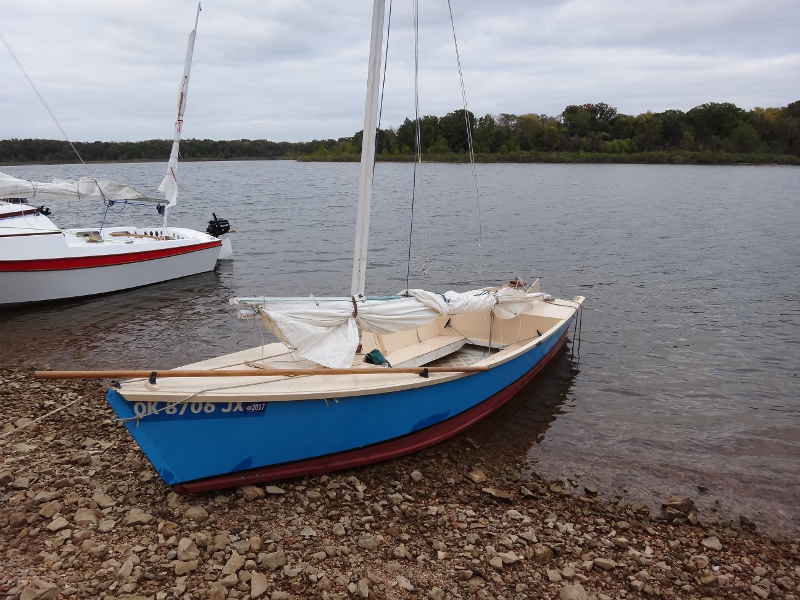 This is George's Mayfly 16 you saw launching from the ramp, earlier.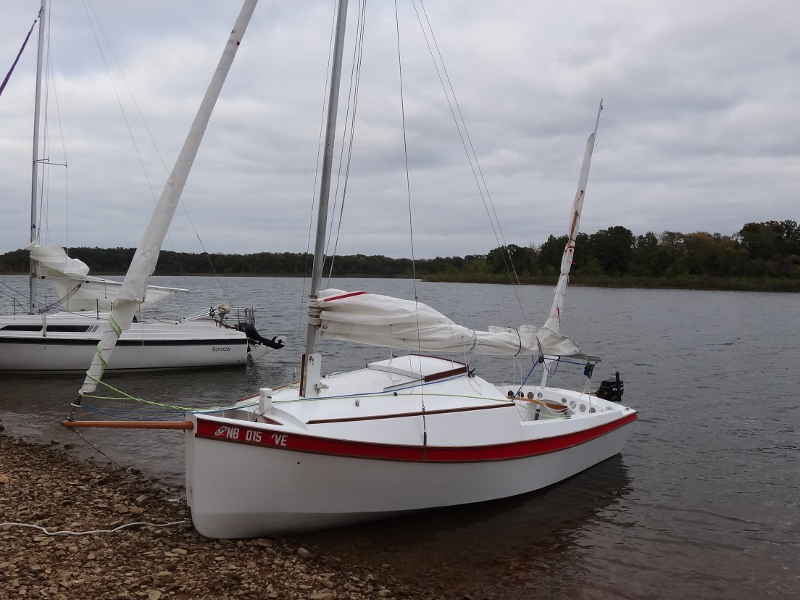 And this is that Welsford Sweet Pea I've already mentioned. I've seen two of these now, and their owners just love them.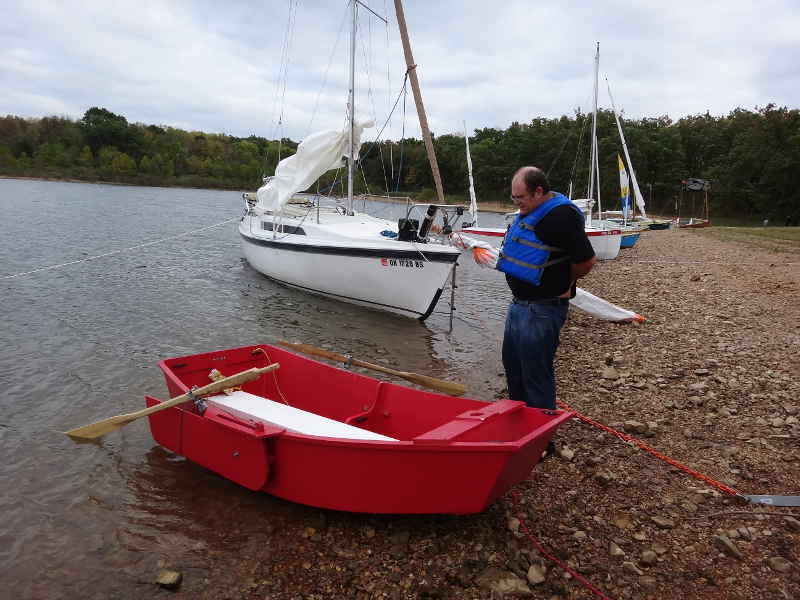 Richard was up from Texas with a very nice production boat (in the background - a restored 1991 Macgregor 26S, the water ballasted version) and he had a sailing version of Phil Bolger's Elegant Punt. (sorry, I can't find a reliable link to plans)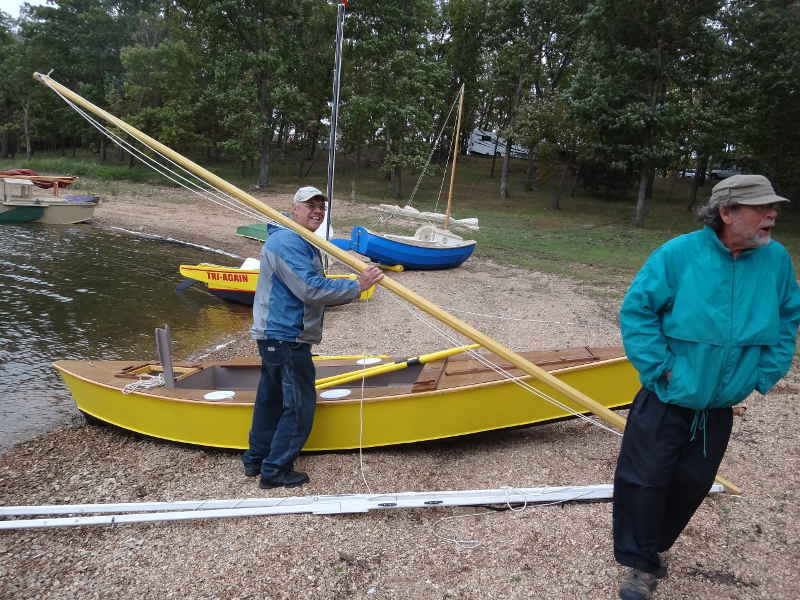 Tom was showing off his modified, Bolger-designed, Windsprint. Since Bolger's plans only show the bare hull and sail plan, the modification was everything else.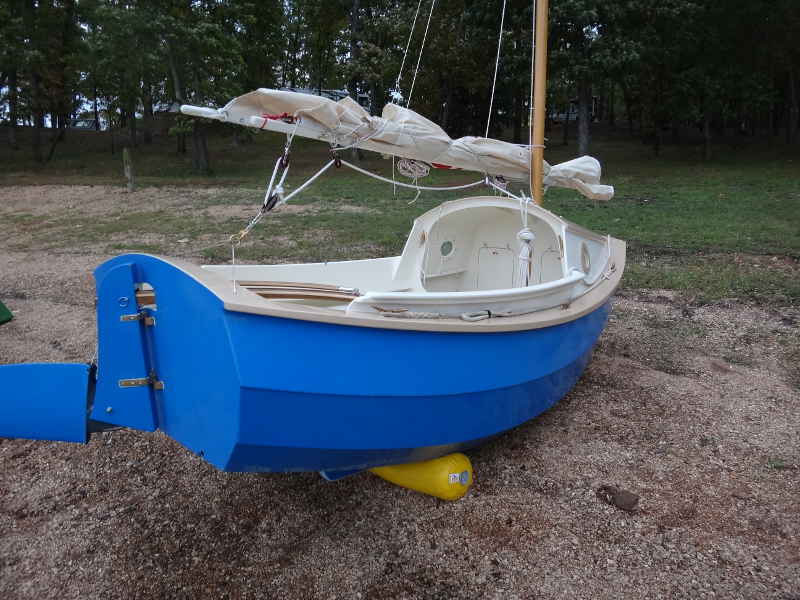 Dave and his wife, Tammy, were down from Peppen, MN, towing an EXCELLENT build of a SCAMP.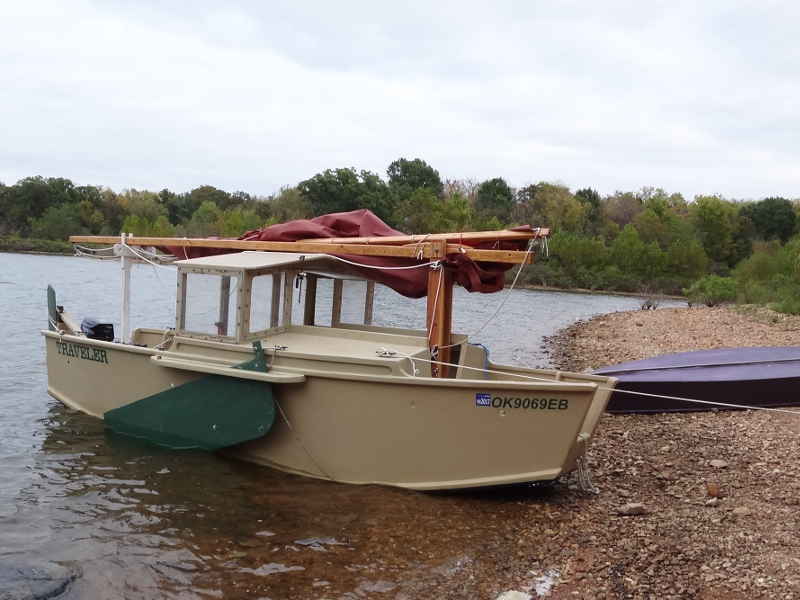 Eugene Dixon has been working on his Michalak Jukebox3 for a while now. His goal is a 450 mile river trip.
Behind the Jukebox3, you can see one of Mik Storer's Quick Canoes. If you've ever wanted to learn about boats and boat building, you should check out Storer Boat Plans in Wood and Plywood.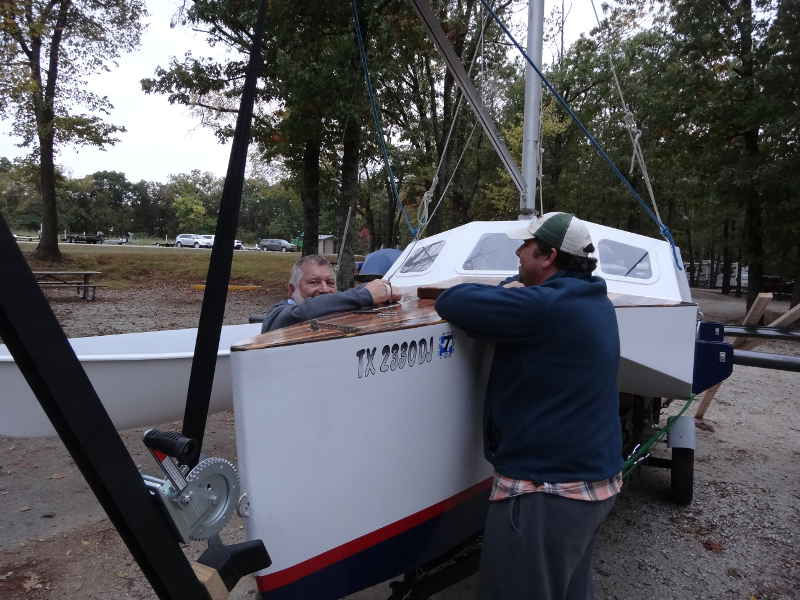 Up on the hard was John Farrell (l) was getting some help from Seth (r) working to get his brand new Richard Woods designed Strike 18 rigged. He was trying to splice Dyneema lines but the fid he had was just a tiny bit too big. Eventually, he'd had enough - or got it done - and came over to visit us at Gene's camp where we were having a talk with Sailor Jerry.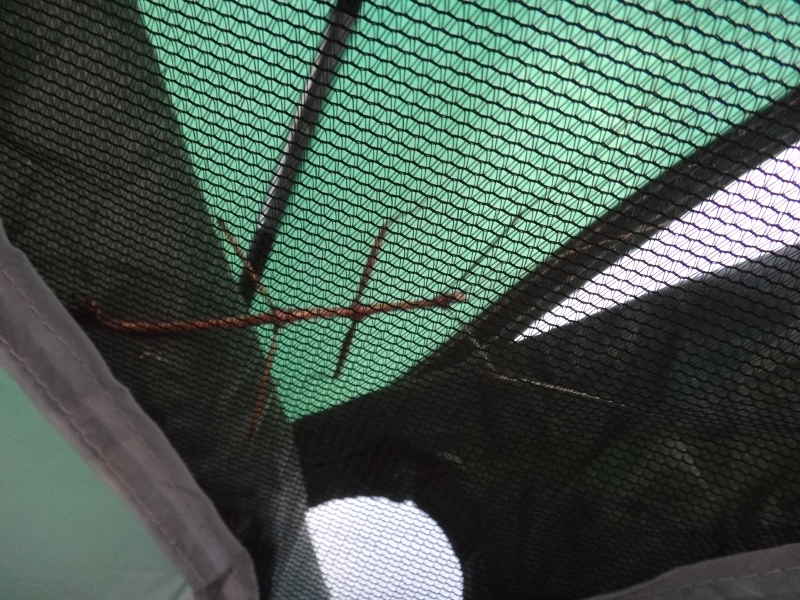 The next morning, I saw this little guy. Missouri has Stick Insects! (Phasmatodea) I'd never seen one in the wild before, and this one was inside our tent. He was about 7" long - very impressive for a bug.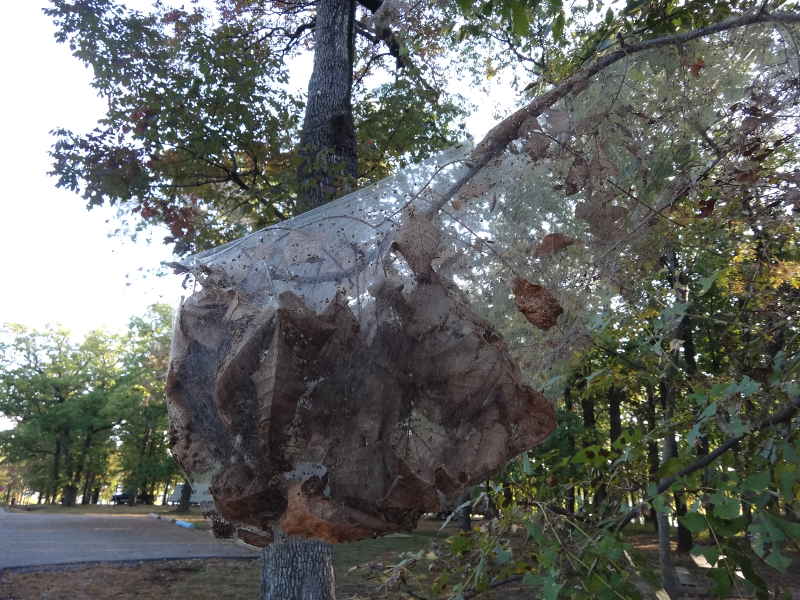 There was an unusually high infestation of Bag Worms, too - all over the deciduous trees.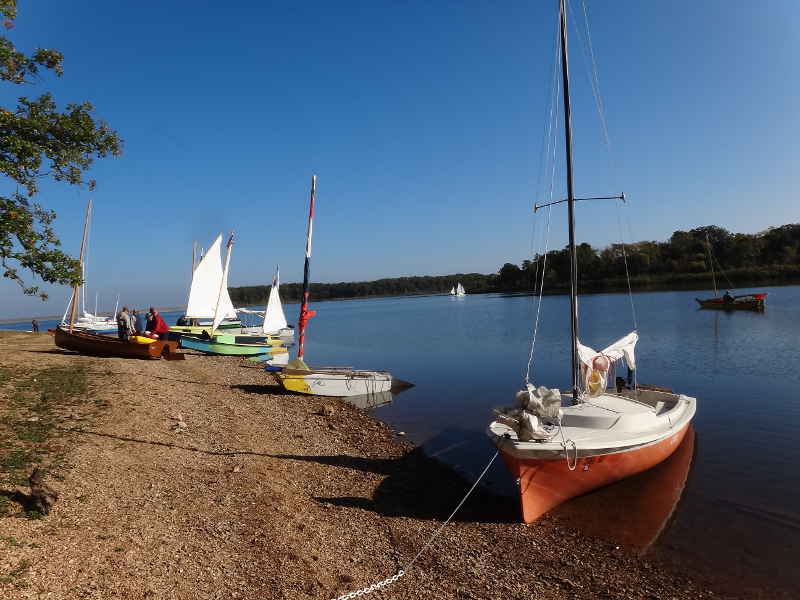 Down on the beach, I noticed Michael's Oday daysailer. It's not a wooden boat, but it is a great expedition boat.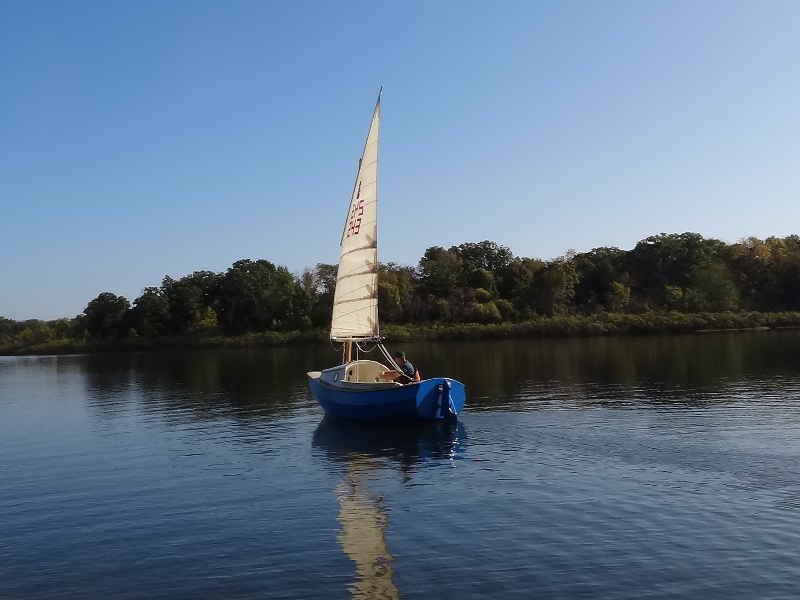 I was a little late getting to the water - I'd gotten caught up talking to Al about his Weekender. Several boats were already out, but I did get this nice shot of Dace in his SCAMP.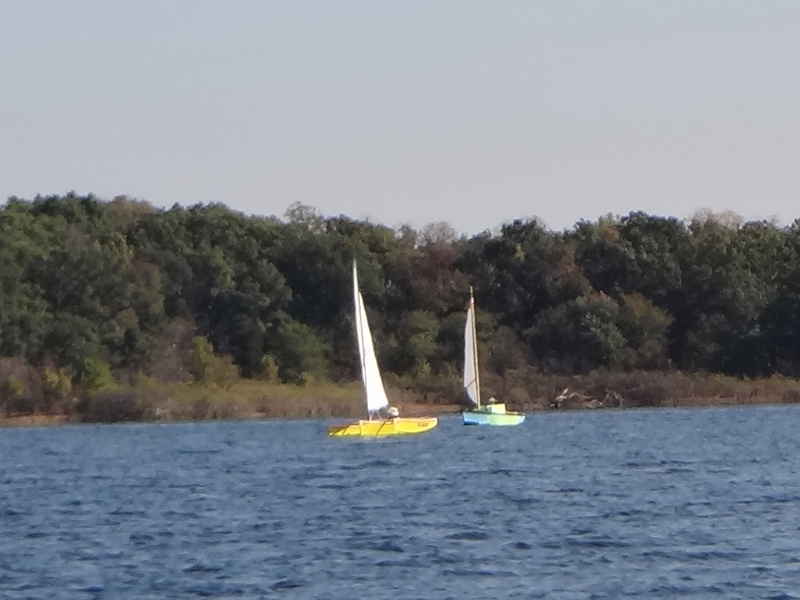 Bob was out there, tearing it up on his Seaclipper 10, and Gene was sailing his FatFly like a champ.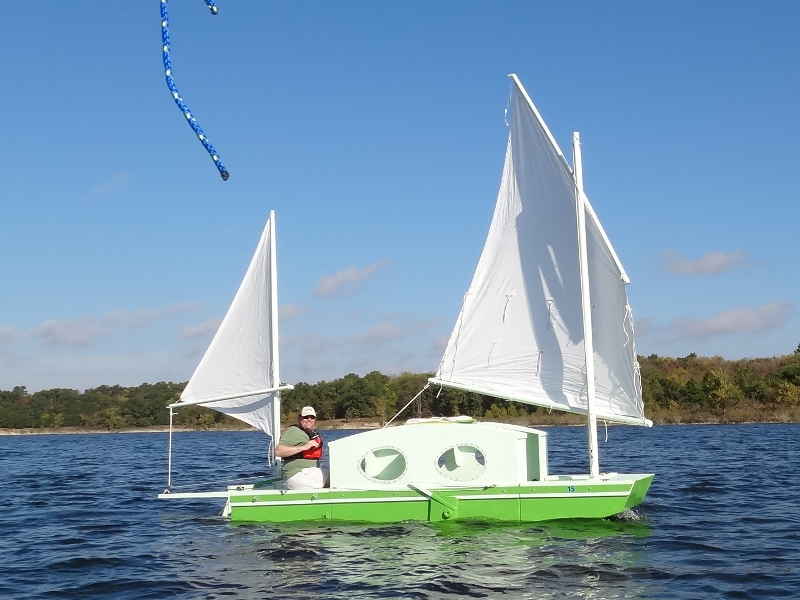 Seth in DuckDuckGoose was having a GREAT day of sail.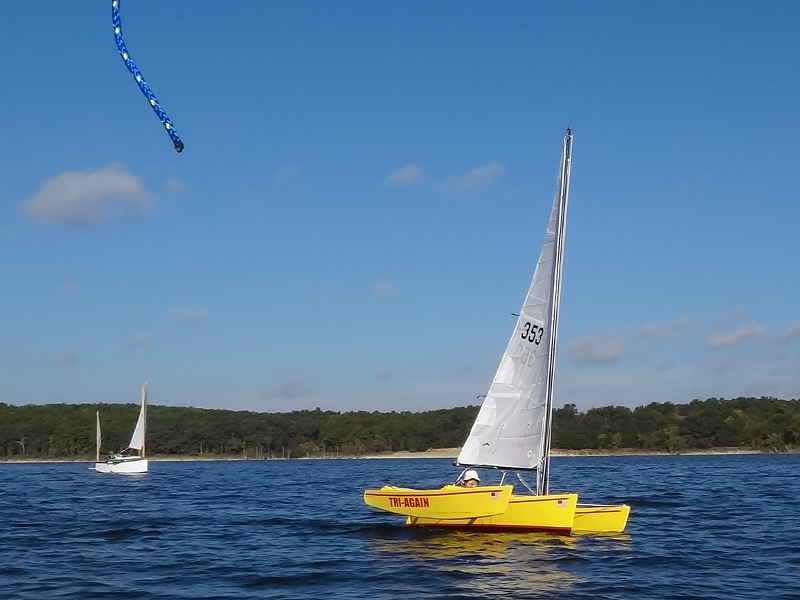 Look at Bob with his ama flying!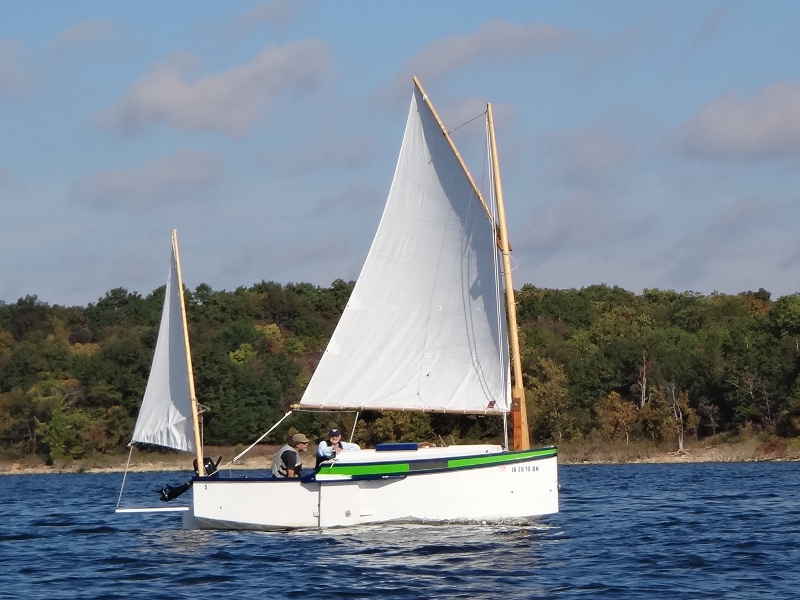 Kenny was taking a passenger in his Piccara and it was looking fine.
A pretty fair fleet shot, starting from the right: Tom in his Windsprint flying a Sunfish lateen, Gene in his FatFly, Seth in DuckDuckGoose, and someone off in the distance.
Another shot of Gene in his FatFly.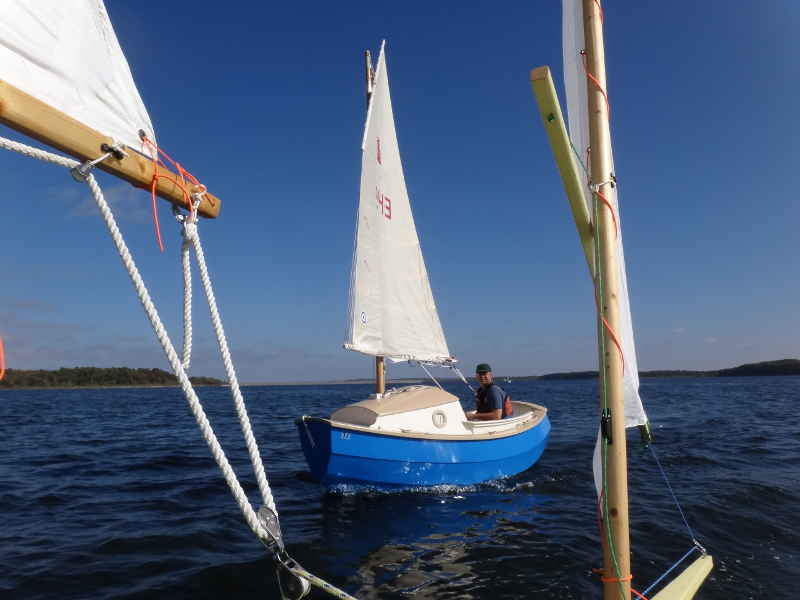 I was sailing the Normsboat and having a good time of it. Some BIG production boats had come out on the lake from a marina on the other side, so I went over to show off. Dave followed me in his SCAMP, and he was moving right along, too.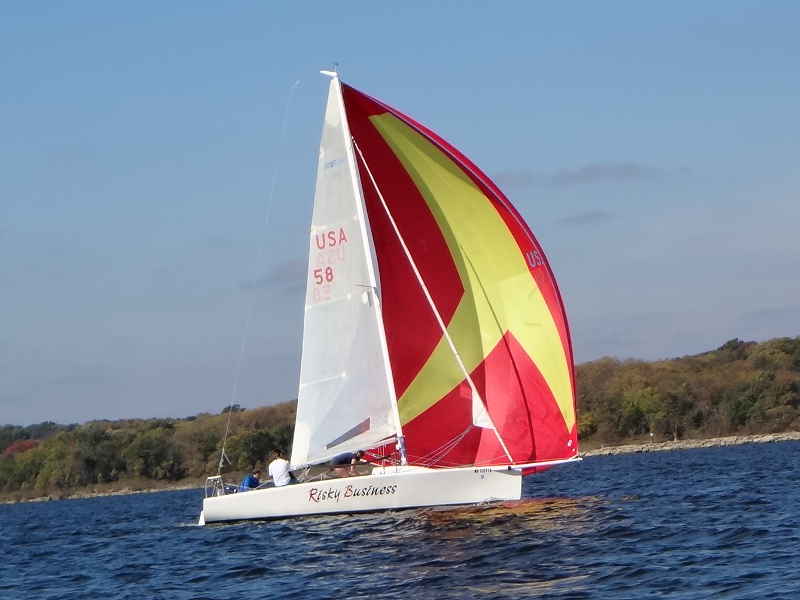 Here's one of the smaller production boats. Gene told me there are very few jetskis and other go-fasts on this lake. It was really nice.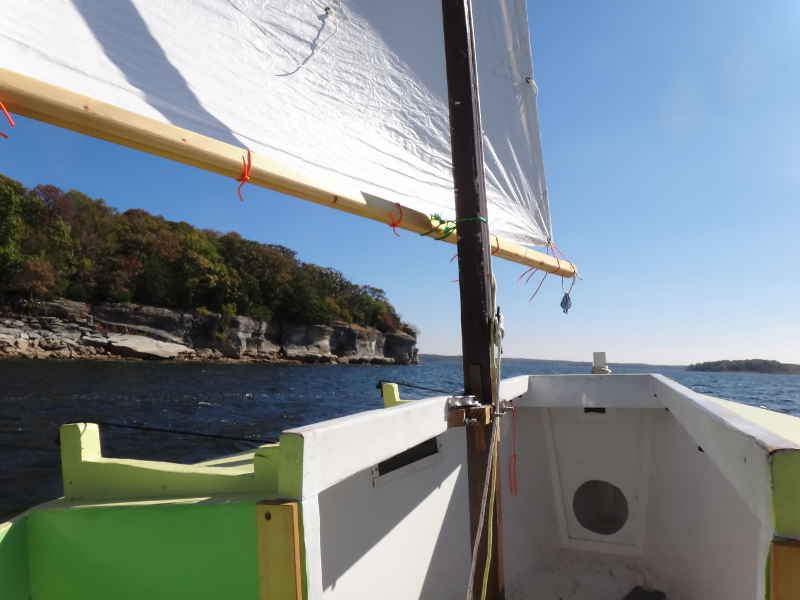 The winds were SSW and I wanted to run down to the bridge. To get there, I had to weather Edge Island. Had I been in my boat, I'd have tried to touch it, but as Gene might take a dim view to me running his Normsboat up on the rocks, I gave the island a bit of space.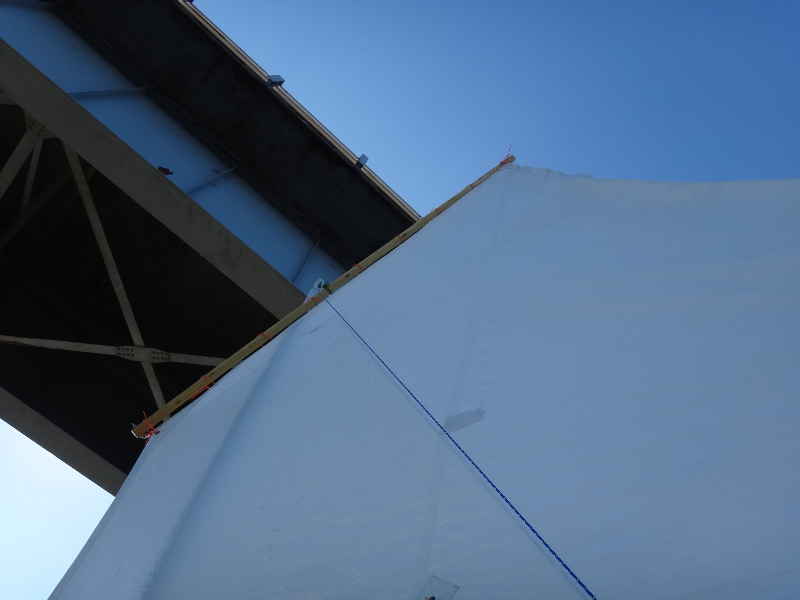 There were no signs warning about bridge height - not on the bridge itself or on the map Gene had give me. I estimated the height of the mast at 16' and guessed the height of the bridge to be somewhat higher than that, so I went for it. I cleared the bridge by a good 6'.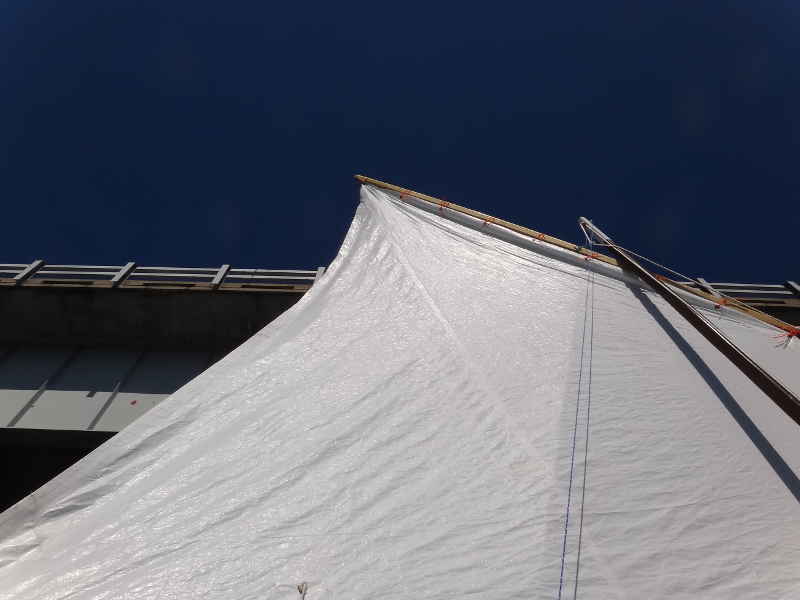 Once on the other side, I went back under- sideways, because anyone can sail a boat fronty-backy, it takes a master sailor to sail one sideways.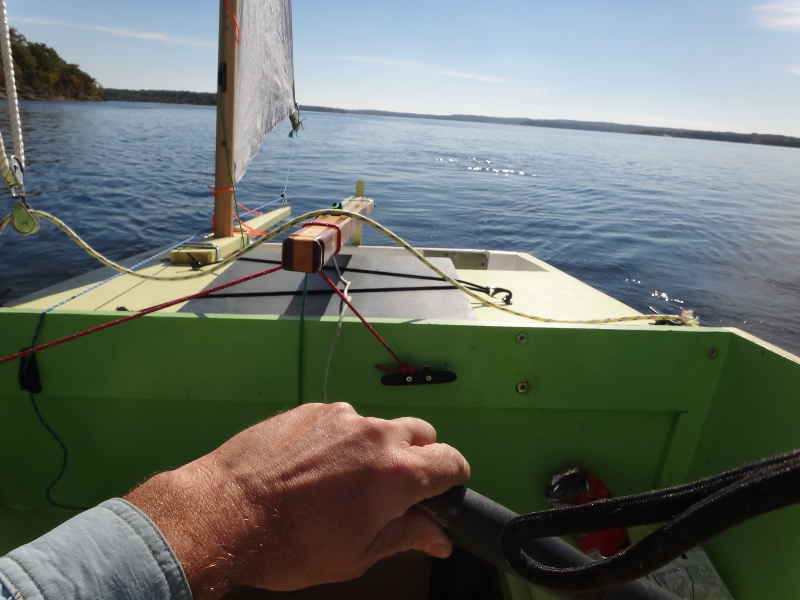 It was a little over 4.5 miles from the bridge back to Crabtree Cove, and the wind died just south of Edge Island, requiring me to (shudder) row for over 2 miles. I made good use of the time - a couple power boaters came up and asked if I wanted a tow - I said "No, but there is a nice gathering of wooden boats you might want to see up ahead." They both went.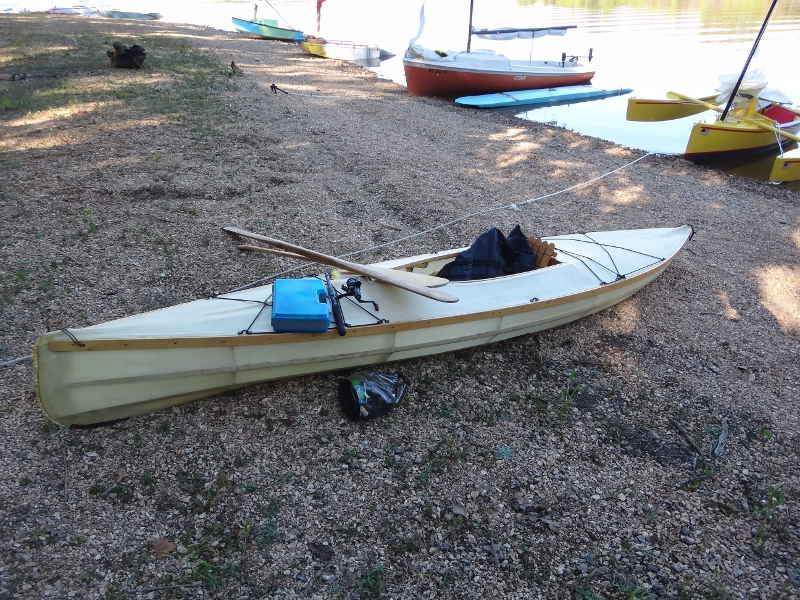 More people. Trevor Akin came with a Gave Gentry designed Chuckanut 12. There are some great Skin-on-Frame designs at Gentry Custom Boats.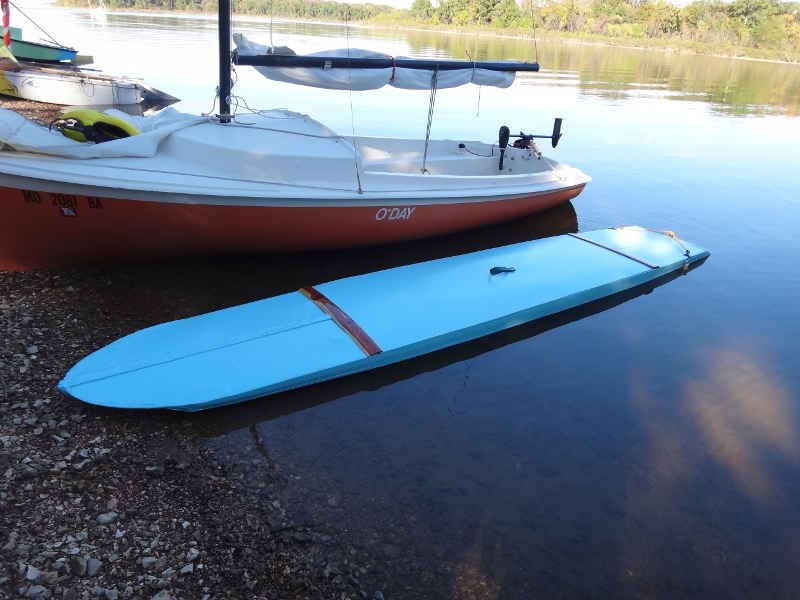 Trevor's friend, Eric, came with one of Gentry's Lanui Stand Up Paddleboards. This one has been stretched by two feet. I found it to be quite stable and nice.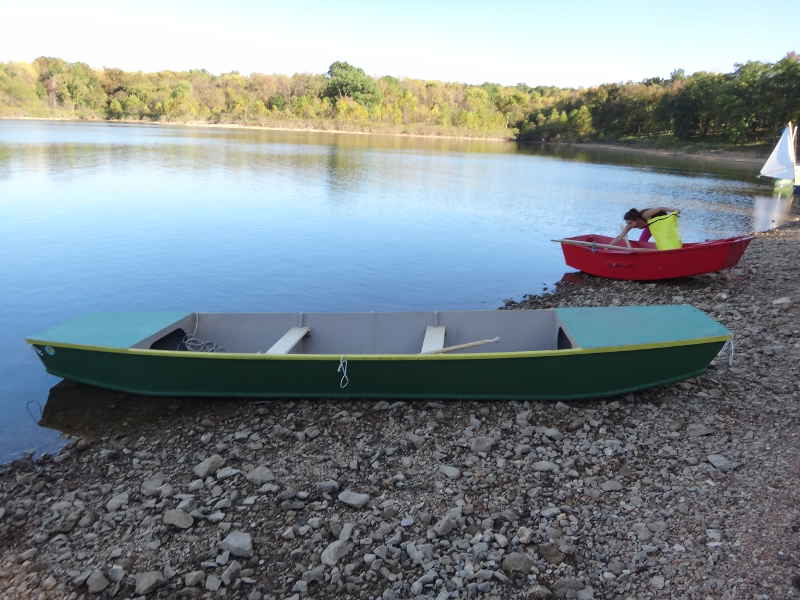 This is another of Gene's boats, a River Runner by Jim Michalak. Gene likes Jim's boats.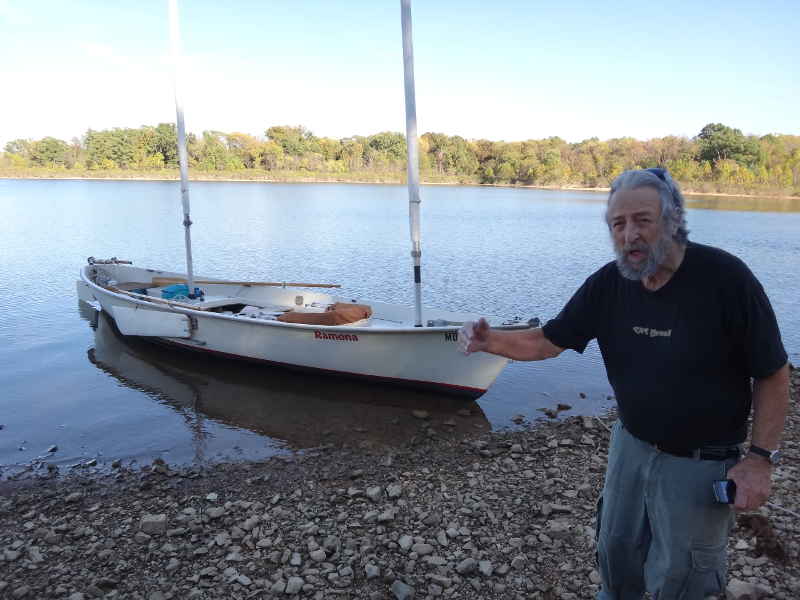 Tom showed up with a very nice Sea Pearl.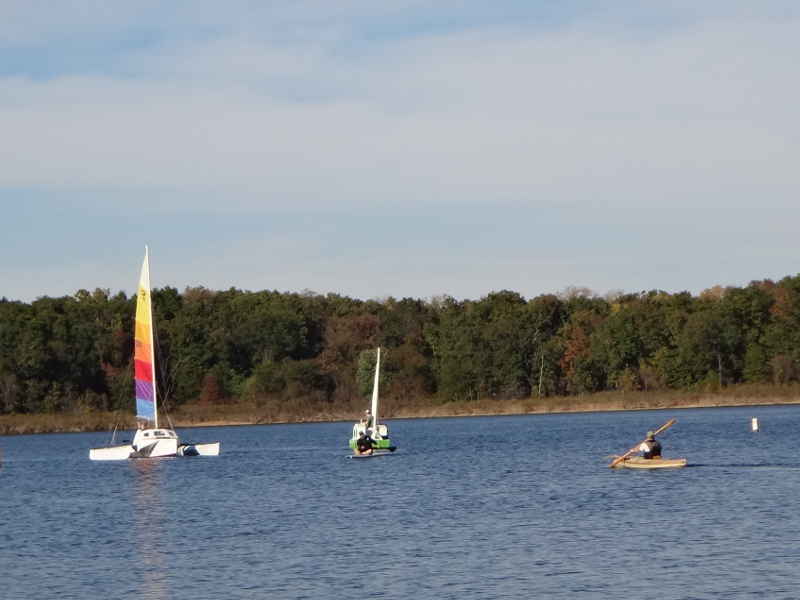 John's Strike 18 takes to the water, accompanied by Seth in Duck Duck Goose and Trevor in his Chuckanut 12.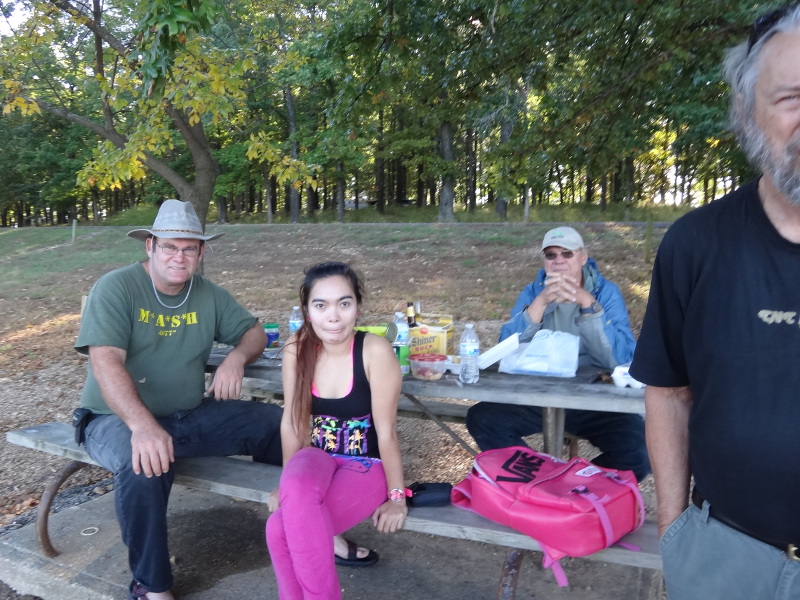 Back on the beach was the Elegant Punt builder, Richard, and his wife, Maricel, along with Tom (Windsprint) and just half of Tom.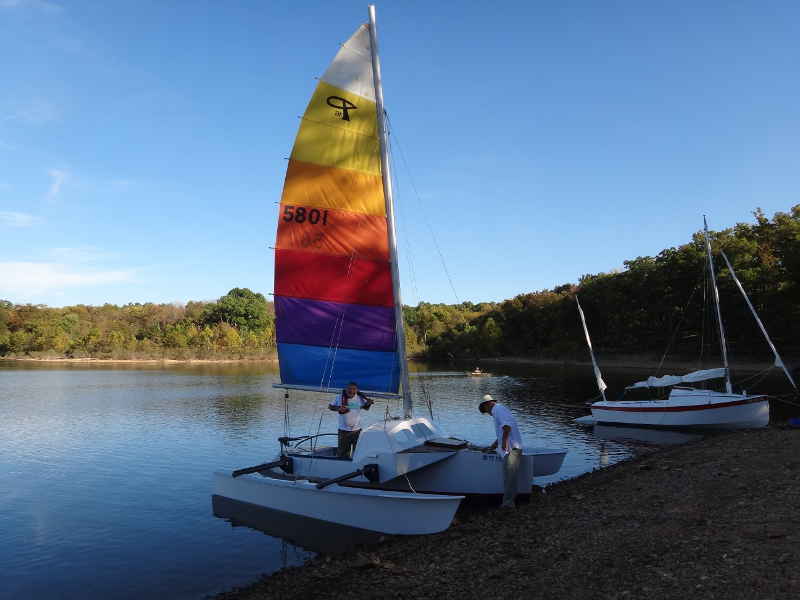 There's the Strike 18 with the Sweet Pea in the background. We all headed up to the campsite to open a discussion with Sailor Jerry.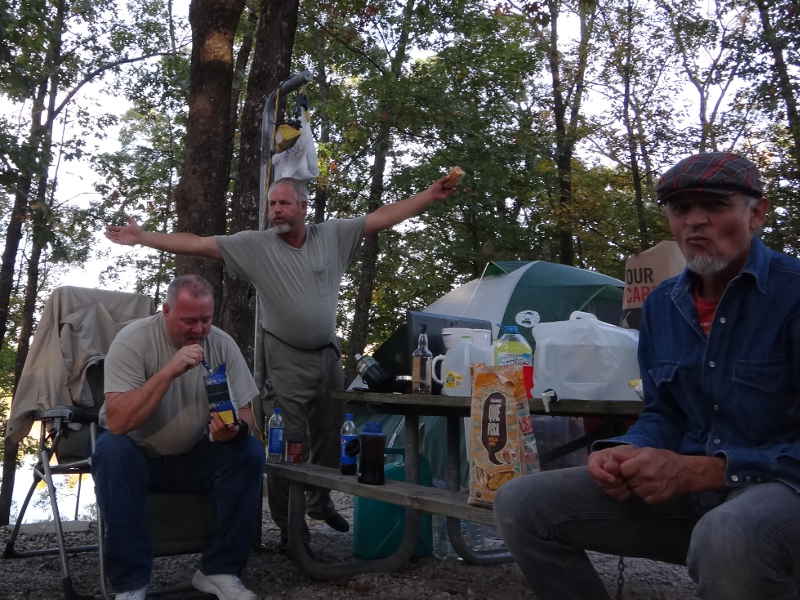 One of the best things about any messabout is story time, and Gene was telling a whopper.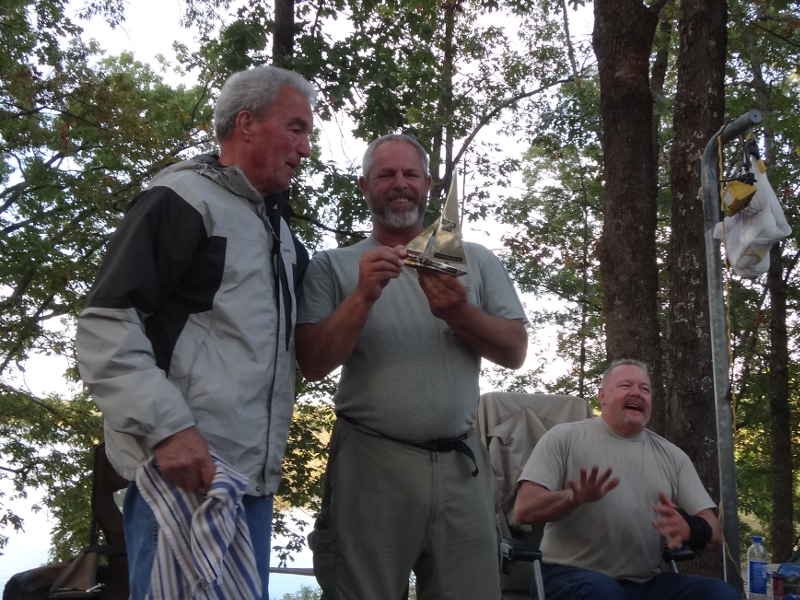 Bob presented Gene with a trophy of appreciation for hosting the messabout. The guy in the background is Doug, Gene's good friend and future boat builder.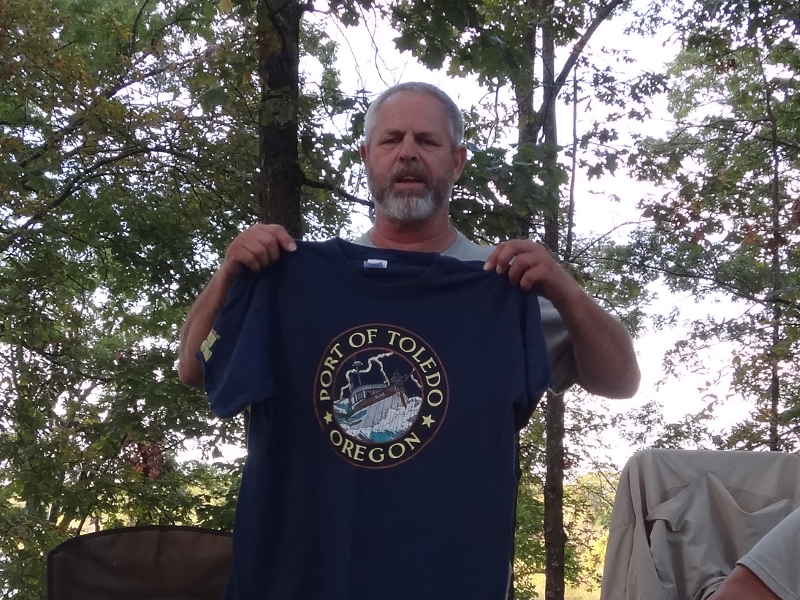 I had to bring him something from the Toledo Community Boathouse.
Then the music started. That's half of Tom again, on the left, then Dave and his wife, Tammy, followed by Bruce on the Ukulele and Kenny on the guitar.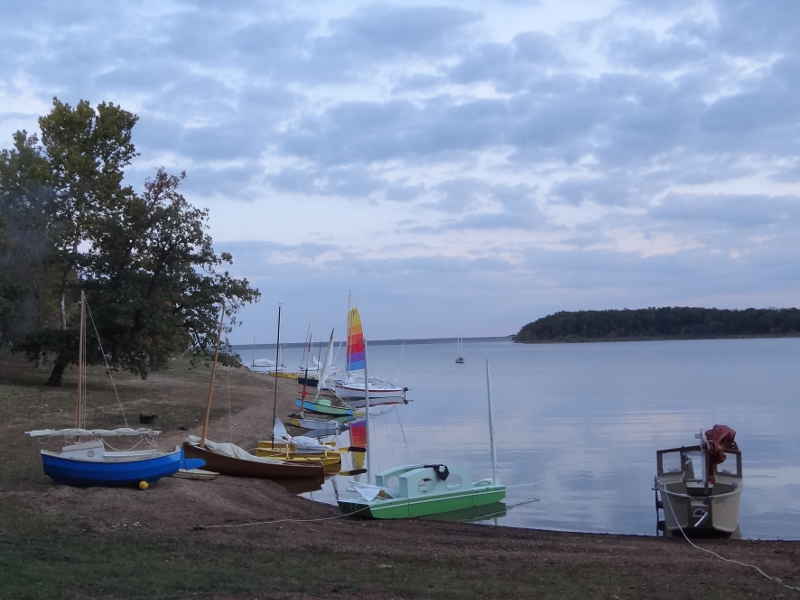 Sunday dawned calm in the cove, but winds in the low teens out on the lake.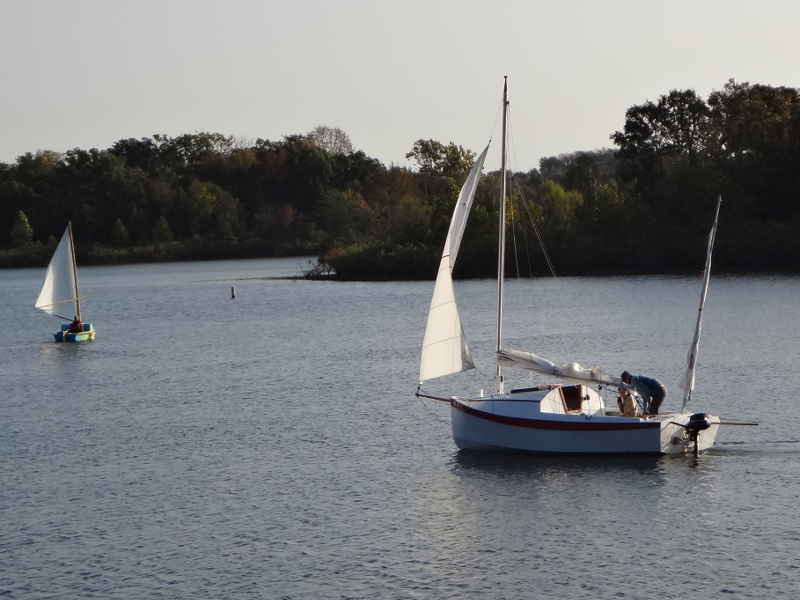 Victor and Cooper needed to get back to civilization, so they shipped out right away. Gene had been trying to inspire people to get out on the water for over an hour.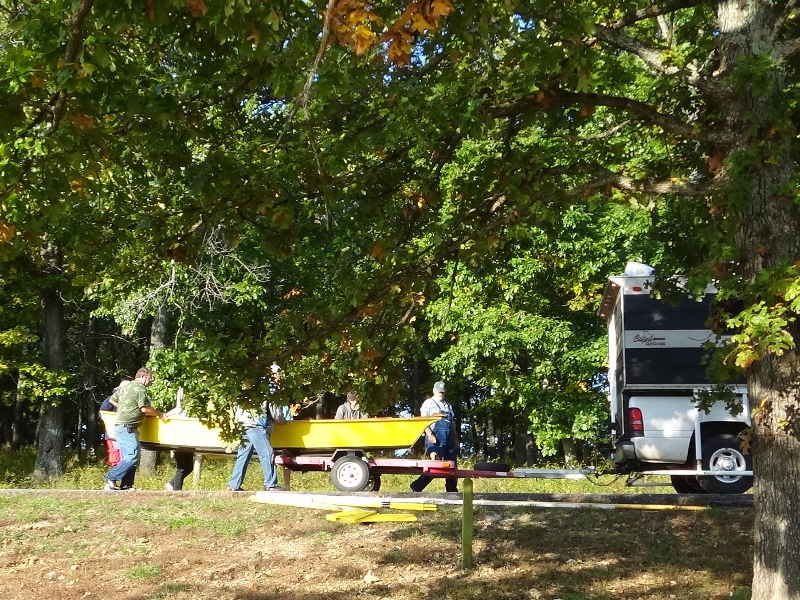 Another benefit of messabouts is help - Tom got a group together to load his Windsprint up on the trailer.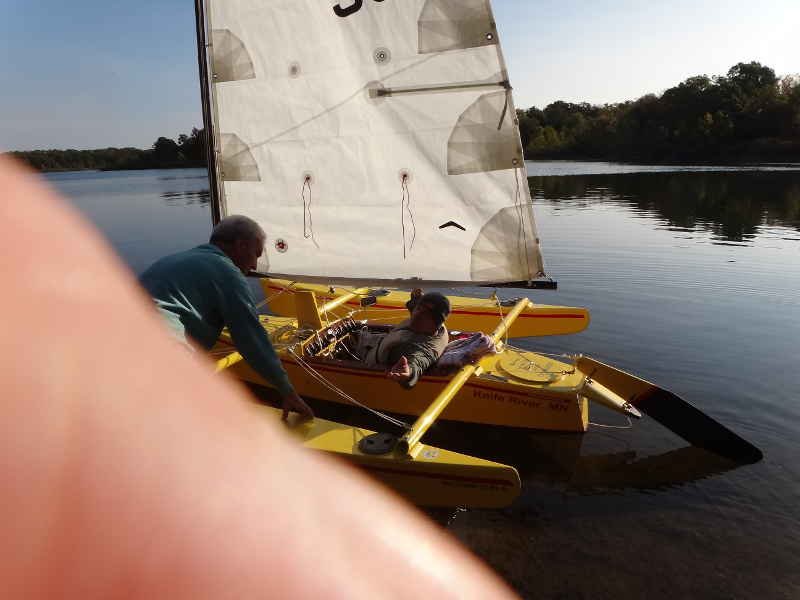 I, on the other hand, was inspired, so I asked Bob to show me the ropes of the Seaclipper 10.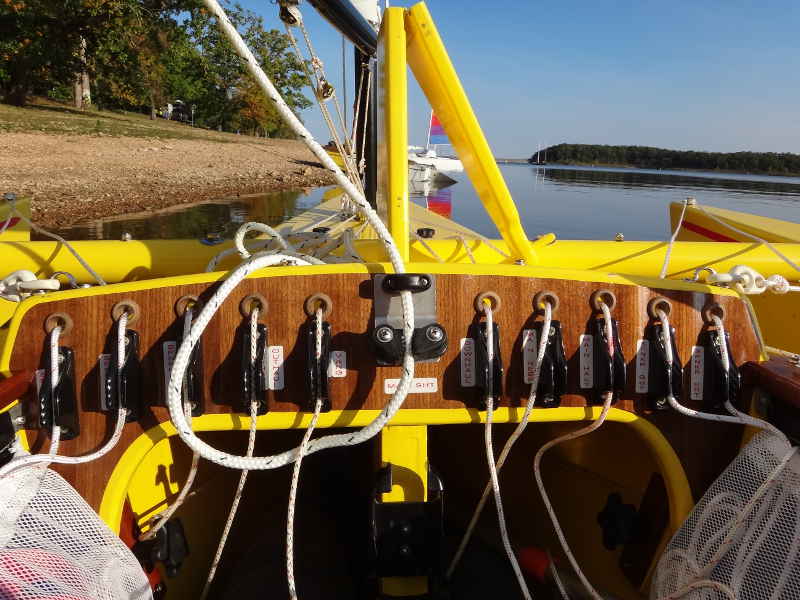 And show the ropes, he did. All run through the 'dashboard' and neatly labeled and secured in clam cleats. Did I mention this boat had been designed for handicapped people?
It even has a rearview mirror - for when I need to back up?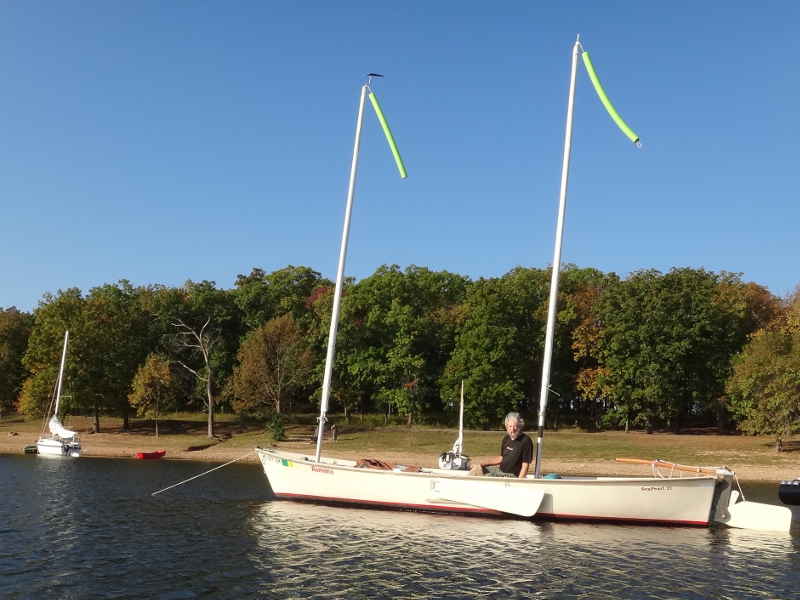 That Sea Pearl is a nice boat - and I was even able to get a full picture of Tom in there.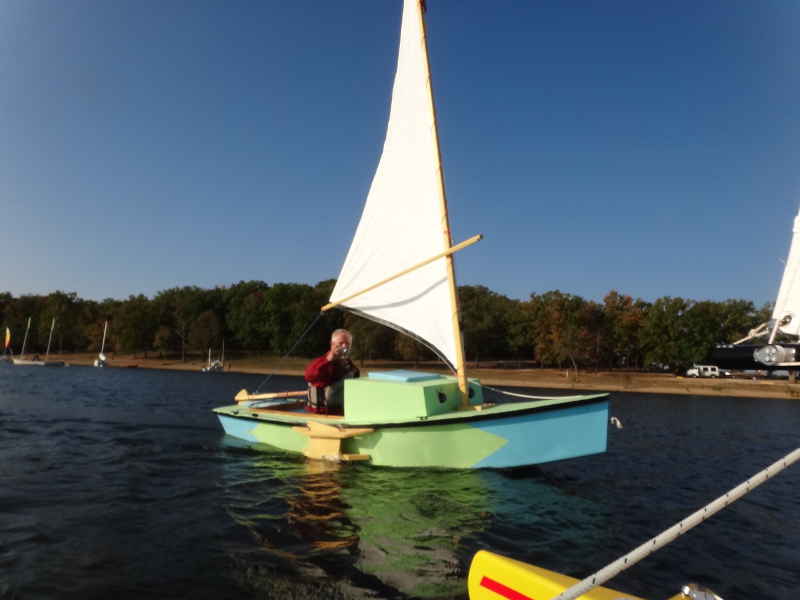 There's a nice shot of Gene in his FatFly.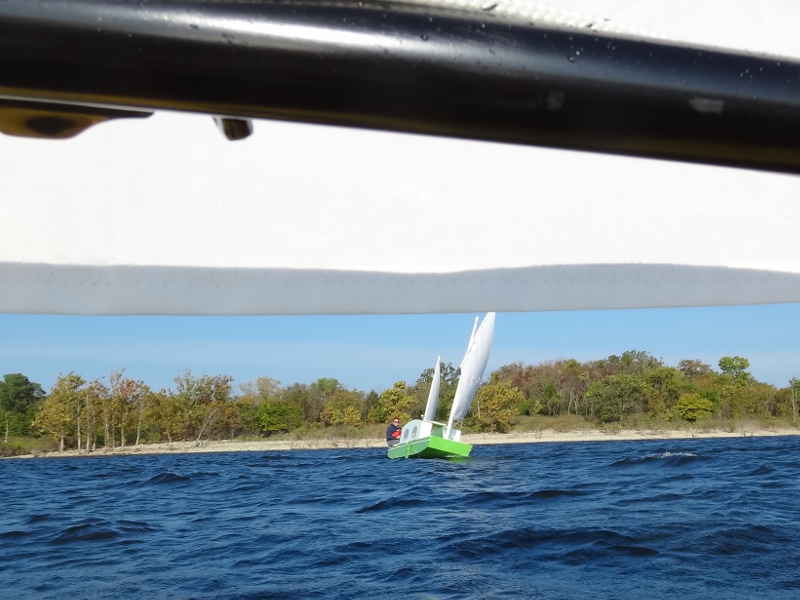 Seth was sailing the heck out of his Duck Duck Goose that weekend.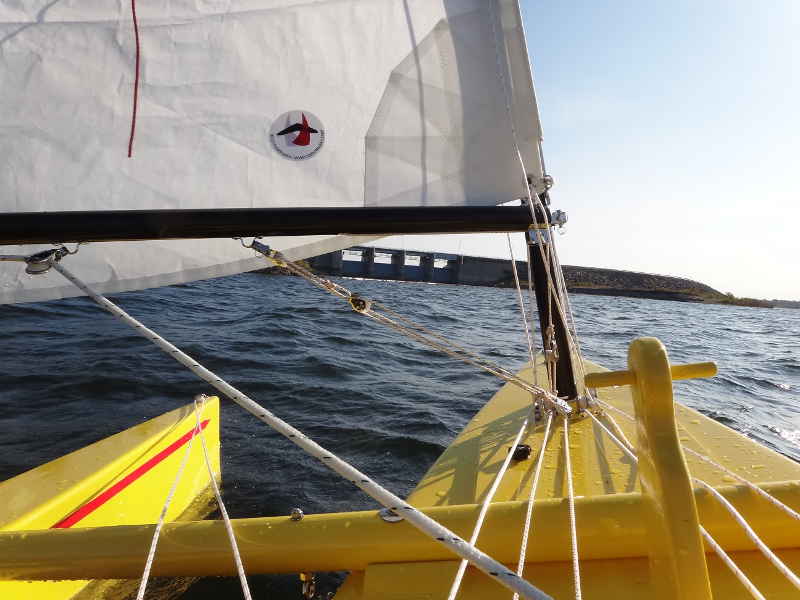 I sailed up to the dam - figured going under the bridge and skirting the dam meant I did a good job on the north end of Stockton Lake.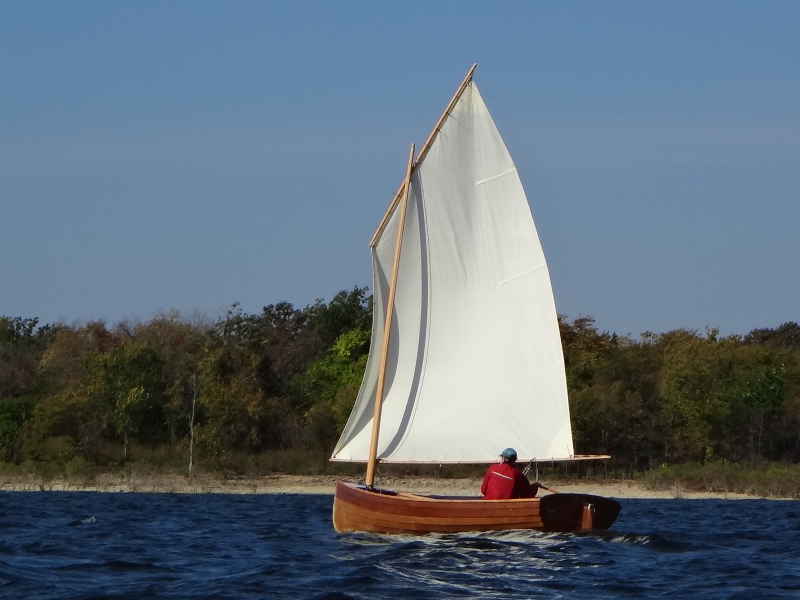 On the way back, I sailed past Peter in his absolutely lovely self-designed, lapstrake, 14.5' x 6' Down East Catboat.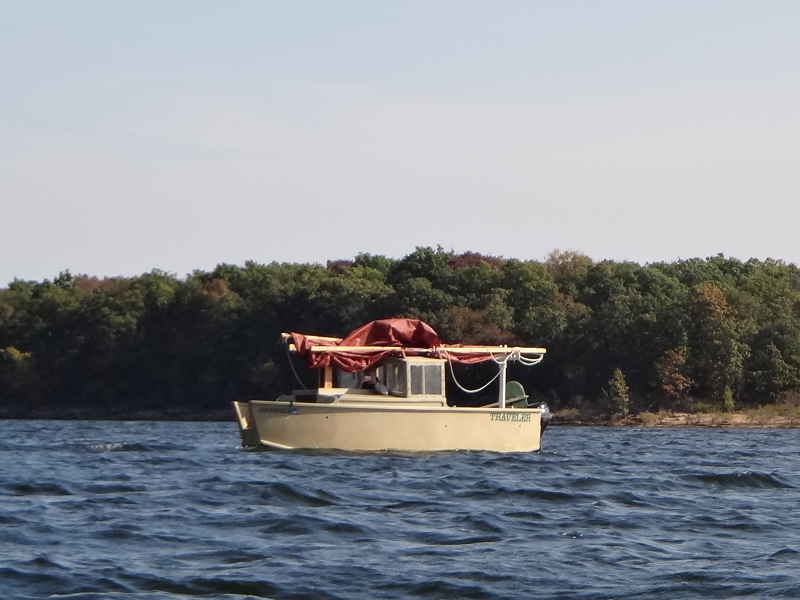 Eugene was taking his Jukebox3 over to the ramp.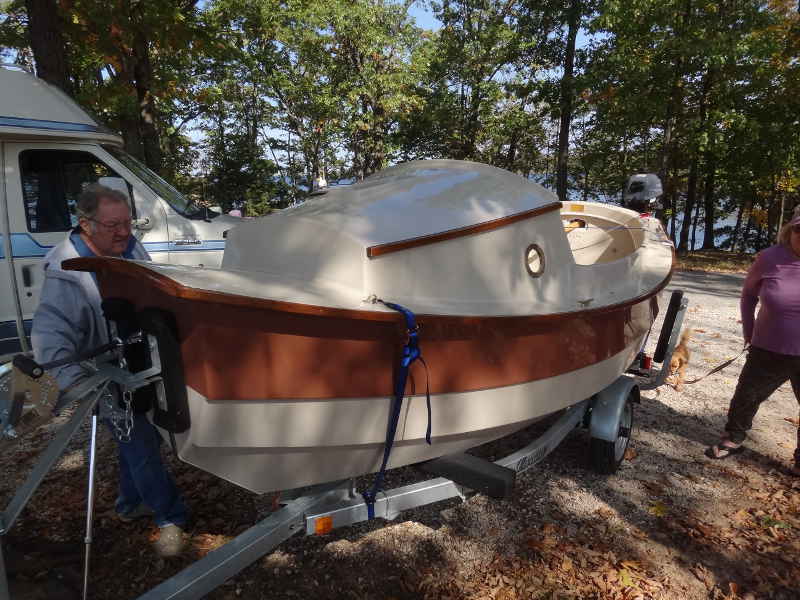 Back at camp, Jackie had brought in Cowboy Cookies, the famed fiberglass SCAMP.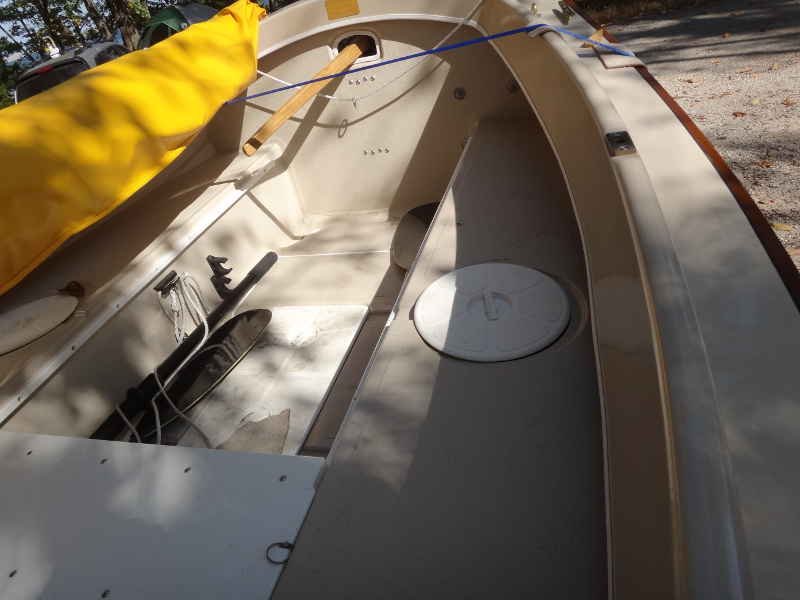 The interior is very well laid out.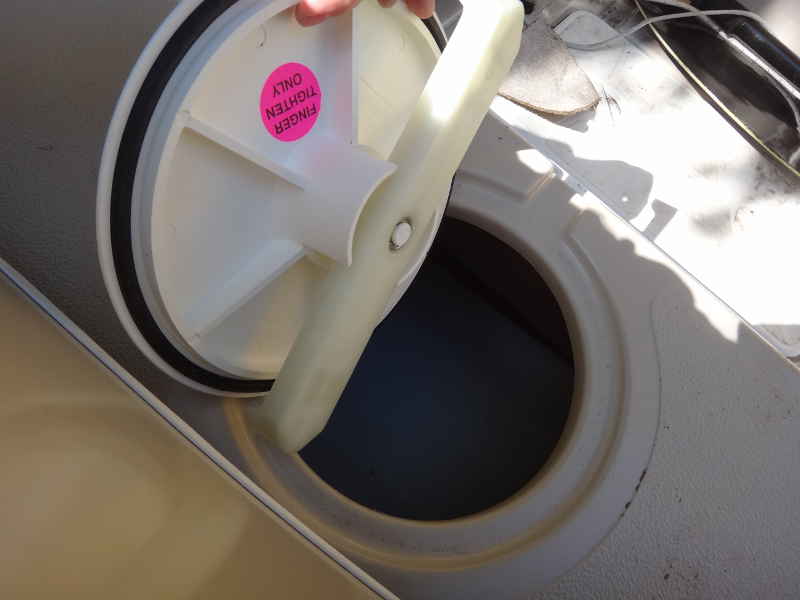 The hatches are airtight - there ain't no way this boat'd sink.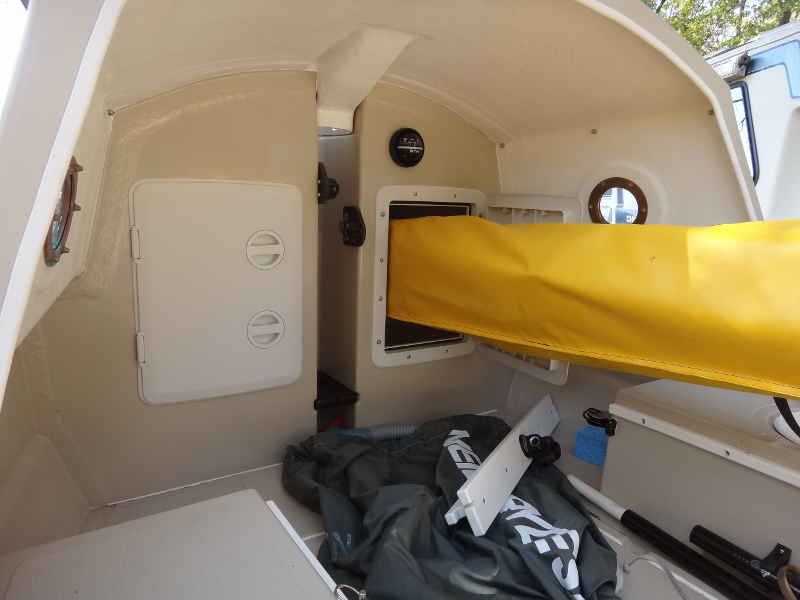 Waterproof includes the cabin area - everything is sealed.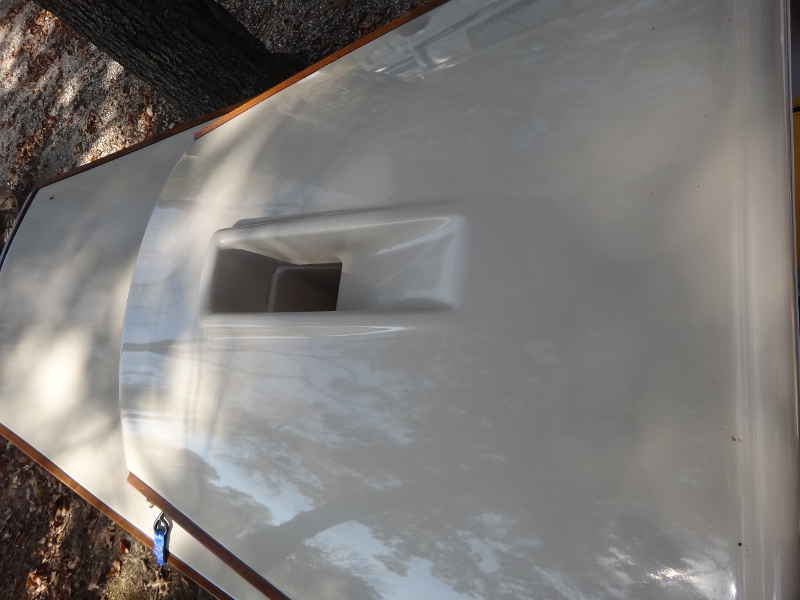 The slot for stepping the mast is well thought out - it should be easy to get it rigged and running by one person.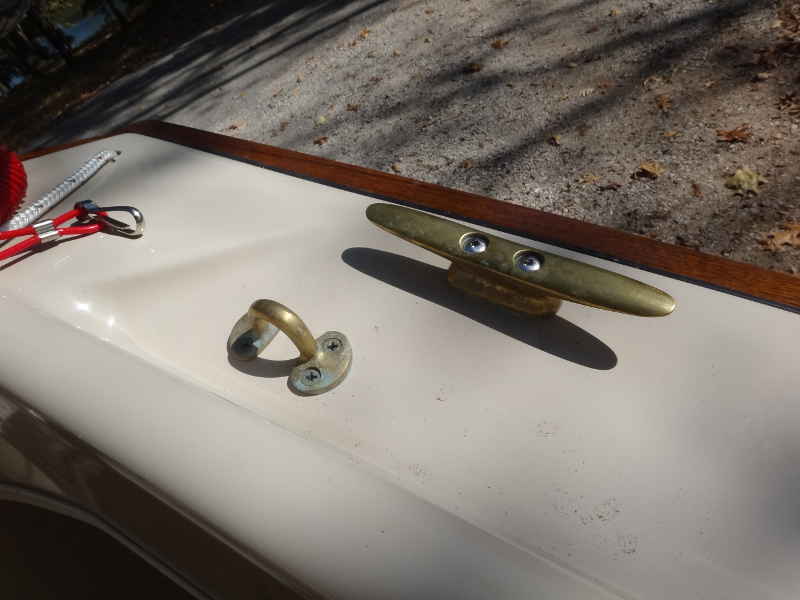 The fiddy bits are nicely done as well - if it ain't bronze, it's stainless.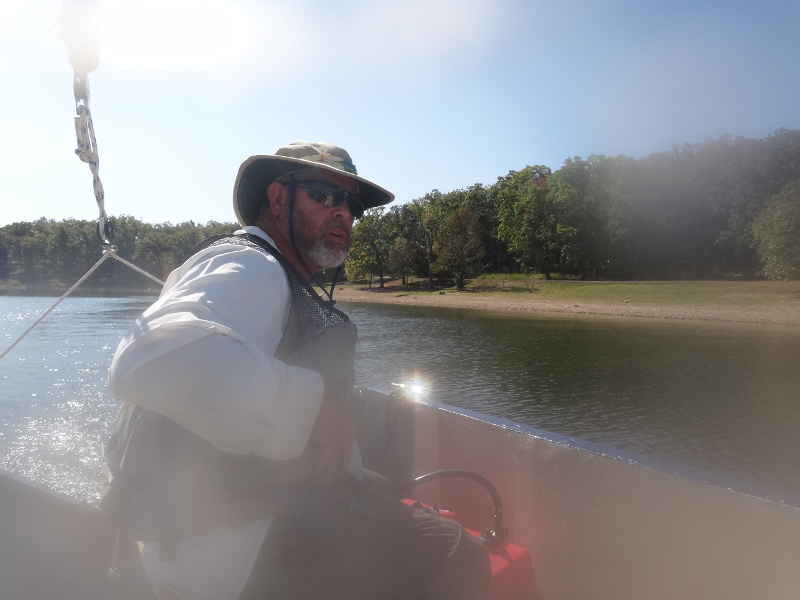 Gene came up and said "Time for a rescue!" We jumped in Kenny's Picara and motored across the lake. The 6hp drove it at hull speed at 1/4 power.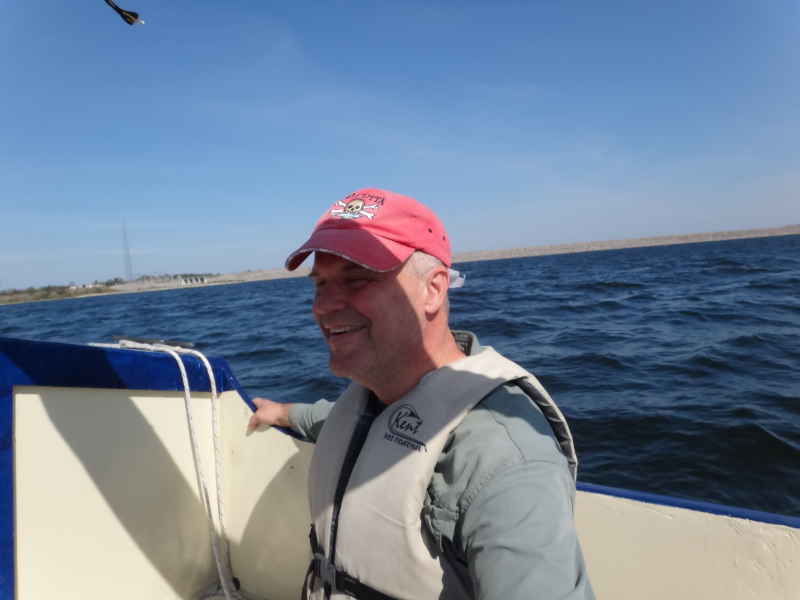 Nothing makes me happier than a a good rescue.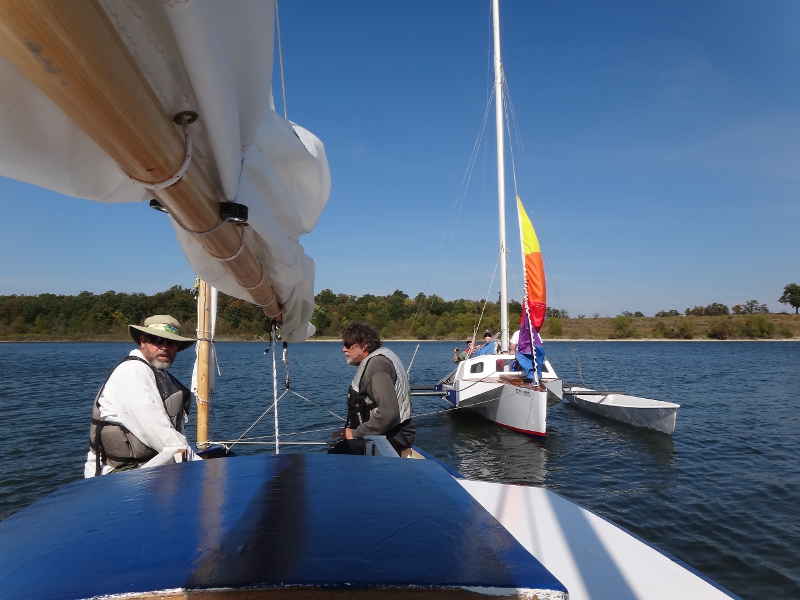 John was having trouble going to windward in his Strike 18 and was getting close to the leeward shore. Rather than ground, they wisely called for an extraction. Kenney took over as captain of his Picara and Gene and I took positions as crew. My job was ballast.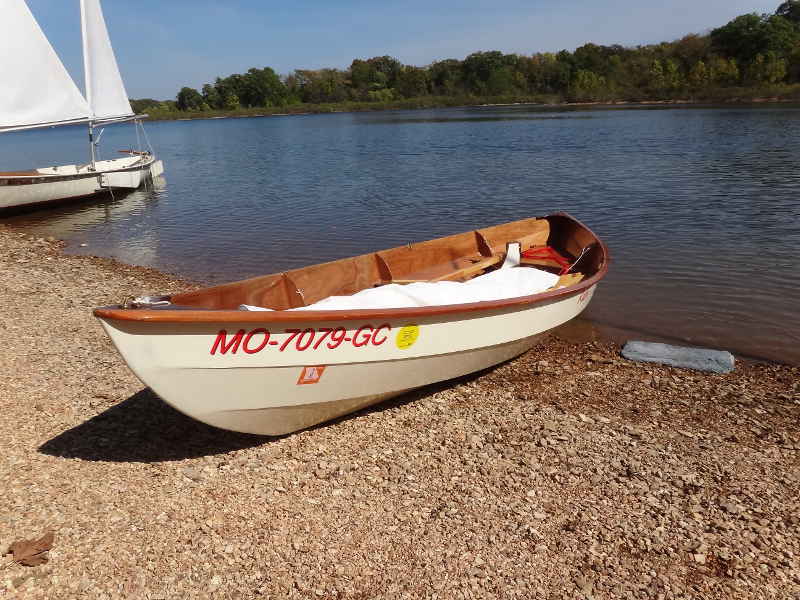 Back at the cove, there was a late arrival - a CLC Skerry.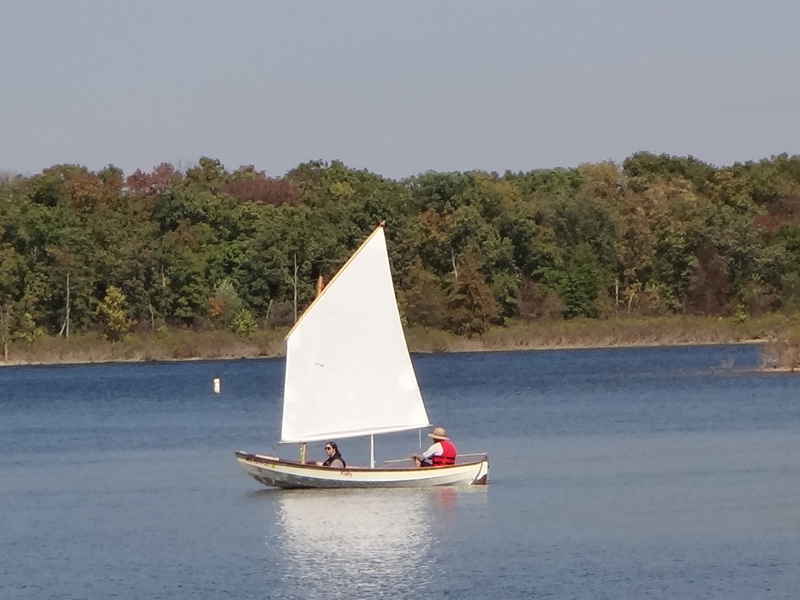 Hmm. The website shows it flying a boom sprit rig while John, from Springfield, Missouri, had his rigged with a balanced lug.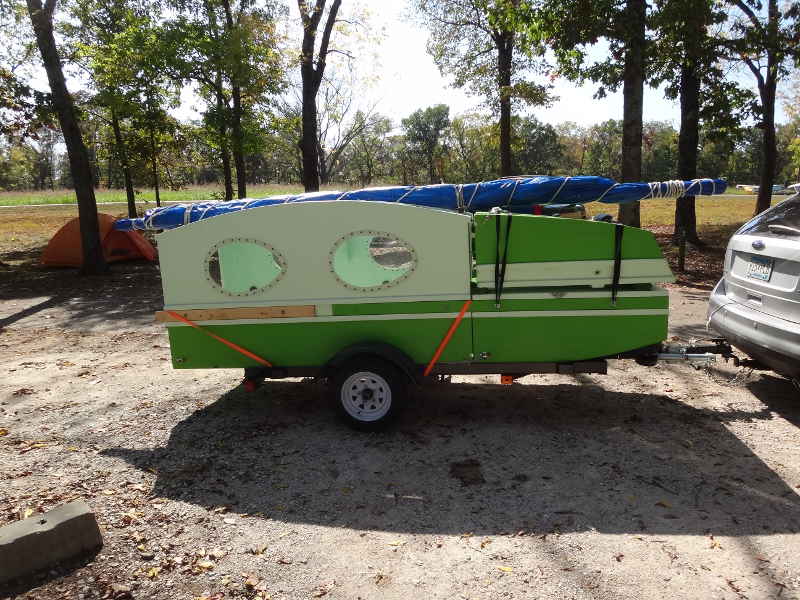 Seth was ready to head back to Minnesota, so he packed up Duck Duck Goose for the trip. That is one cool boat.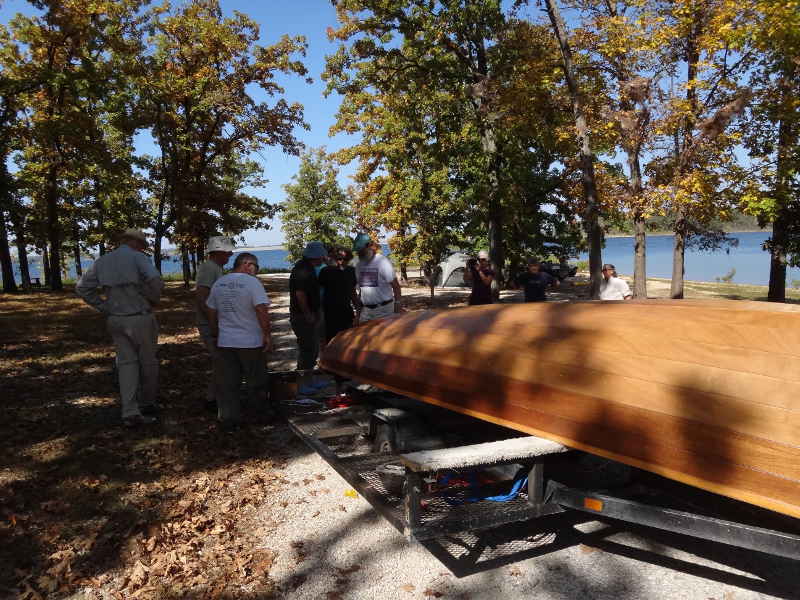 We helped Peter and Roberta load up Peter's boat - it's always good to have help.
And that was it for my adventure in Missouri. Gene took me back to his place for a shower and to pack up for the trip home.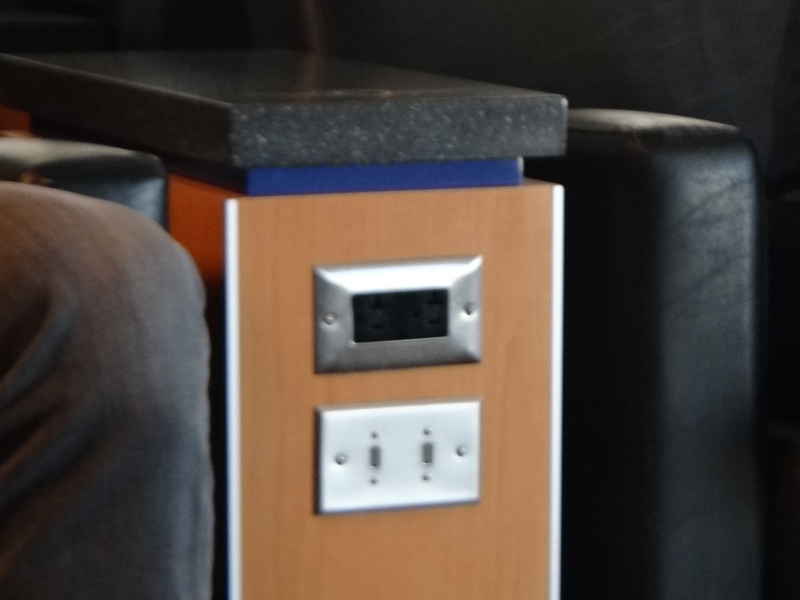 Final notes: Besides Southwest Airlines having the smarts to equip it's waiting area with power outlets and USB rechargers, I ran into that kid, Wylie again. We didn't sit next to each other this time, but he seemed happy with his trip - I hope things went well for him.
As we descended into PDX, I was watching out over the Columbia River - maybe the next Columbia 150 will be above Bonneville Dam.
Also, the couple I sat next to on the plane turned out to be sailors and we even had a common acquaintance. Small world.
Oh, yeah, I lost my wallet, too. So there's that. No good time goes unpunished.