Sail Oklahoma 2013
October 10-14
Sail Oklahoma is a messabout hosted by Mike and Jackie Monies on Lake Eufala, Oklahoma. It is an annual event, happening every Columbus Day weekend.
As October is prime marathoning season, I've never been able to attend. This year, the planets aligned and the rest, as they say, is history.
Things started off poorly - once I landed in Dallas Fort Worth, I discovered I had lost my Driver's License - the only form of photo ID I had. I was at Dollar Car Rental when I found this out. After frantically digging through all my crap 10 or 20 times, I admitted defeat. I notified the airline, DFW, and PDX, hoping they'd find it and somehow get it to me. The last plane back to Oregon had already left, so I was stuck in the terminal. The ladies at the ticket counter took pity on my and let me stay at the Ramada on the corporate account.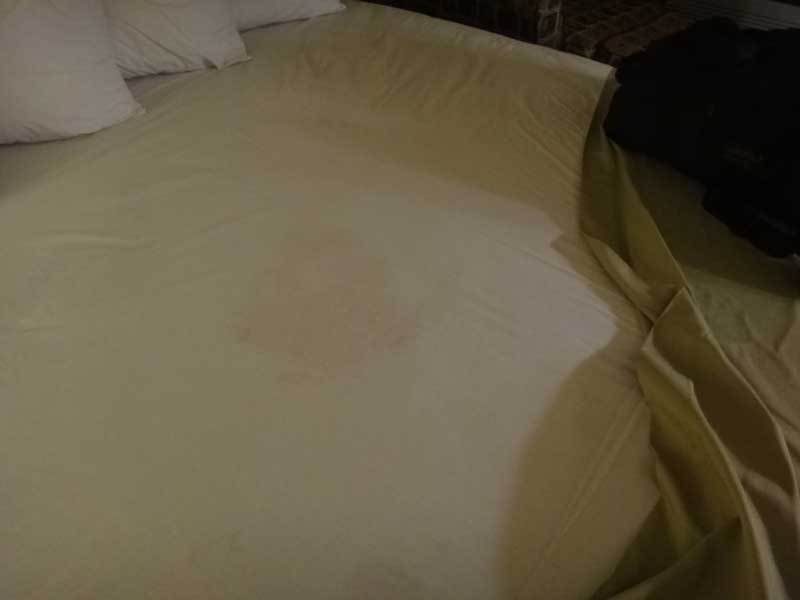 Eww, is that a stain on my sheet? That's what $50 a night gets now days. Keely had the fantastic idea of calling the Oregon DMV and seeing what they could do. They were able to fax me a Certificate of Confirmation - a text sheet saying I was a driver of good standing in the State of Oregon.
In the morning, I headed back to Dollar, showed them my certificate, and pled hardship. They really didn't want to rent me a car without photo ID, but eventually, I was given a little Chevy and was on my way.
On my 200 mile drive to Eufala I nearly poisoned myself on fried Okra and rediscovered I really don't like BBQ Thanks, Dickies.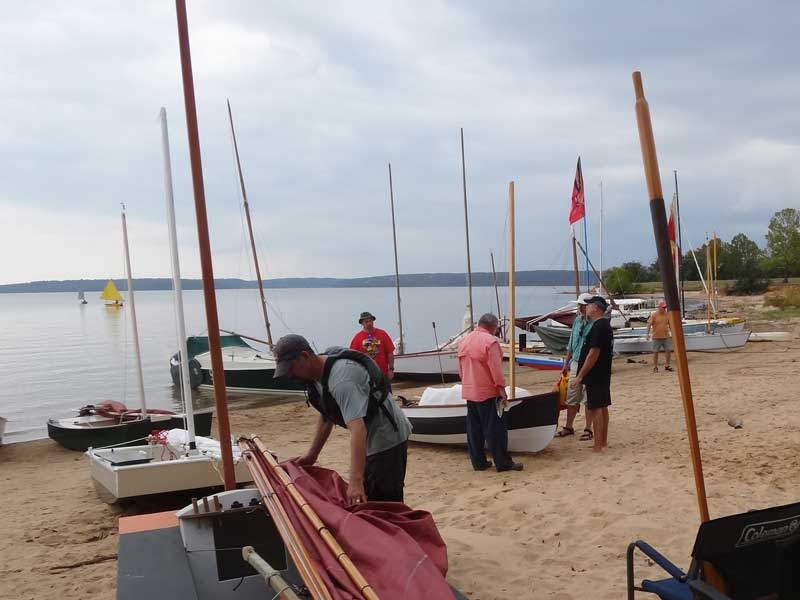 I got to Eufala on Friday afternoon - and the party was in full swing. There were boats everywhere. There are 3 differnt flavors of PDRs on the left, Dave Gentry's Annabelle in the center, and I believe that might be a Bolger Dovekie in the back center. Of course, the 'Ducks are already on the water.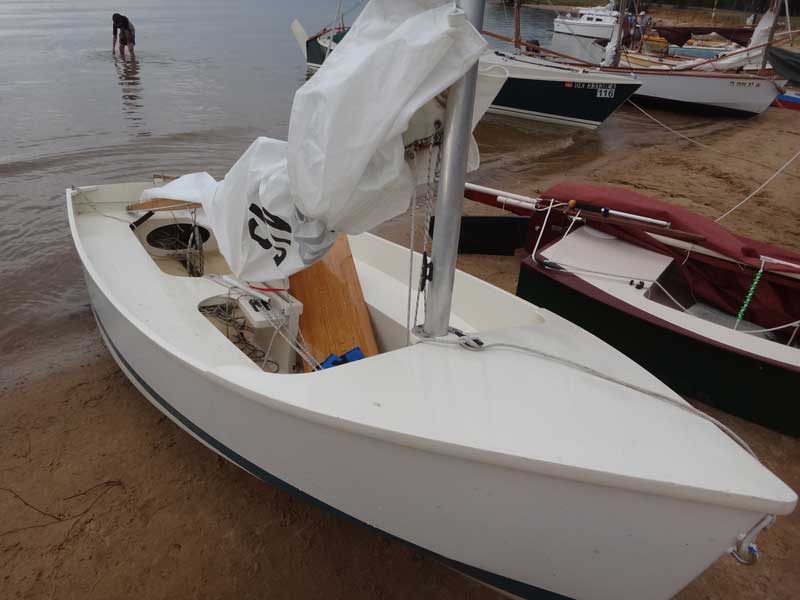 Graham Byrnes of B&B Yacht Design was there with a Spindrift 12. As we are building a Spindrift at the Toledo Community Boathouse, I knew I was going to be sailing her quite a lot.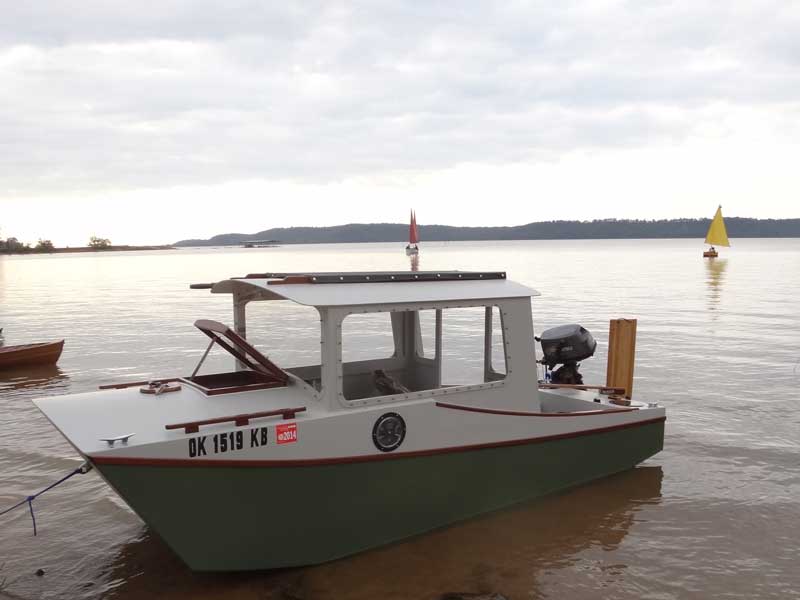 An Ooze Gooze! She'd been crushed by a falling tree branch 3 weeks prior and her owner redid her upper works and made her into primarily a motor boat (the sails still fit.) That boat is HUGE inside.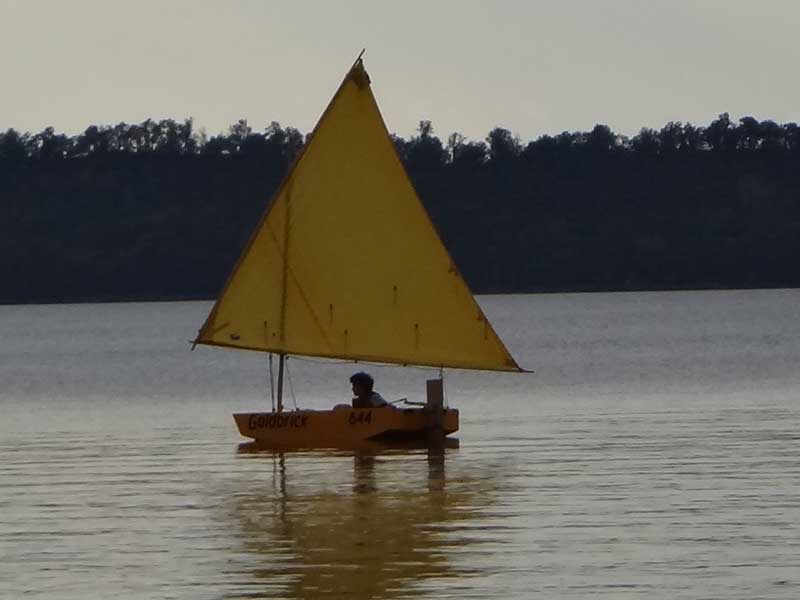 Lots and lots of Ducks at this event. While I am no longer associated with PDRs, I was quite happy to see so many on the water.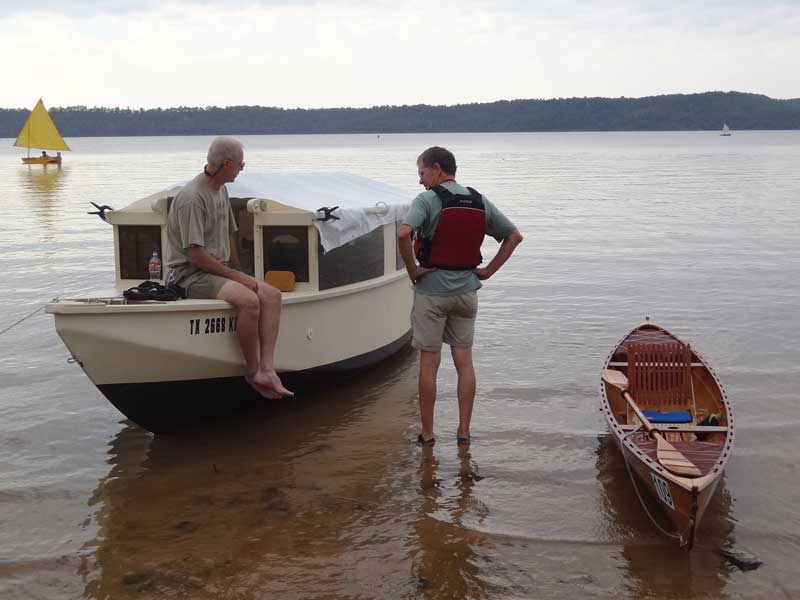 Steve stands as he consults with Stan R, sitting on his recently acquired Caroline, formerly known as Easy Bake when she was owned by famed sailors Chris and Cathy T. Ducks sail off in the distance.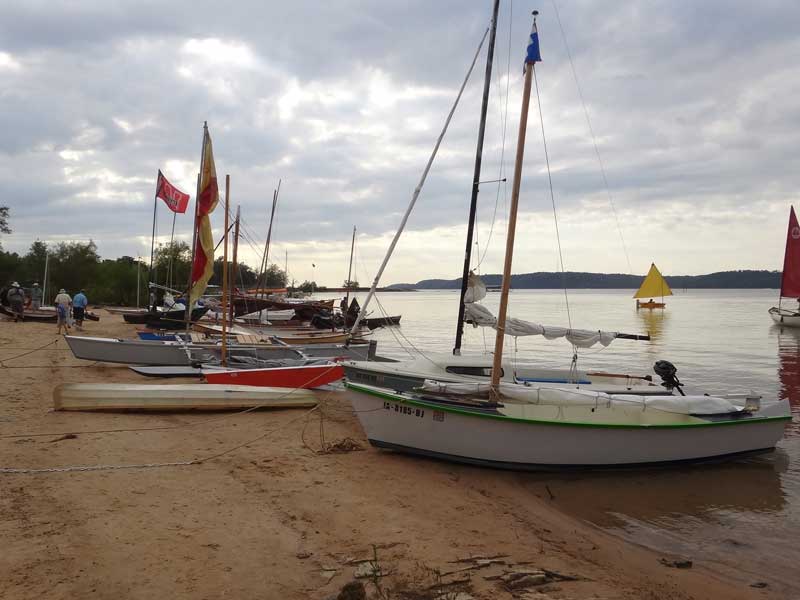 Another shot of the beach. That Skin on Frame a design by Gentry Custom Boats. Dave Gentry was my roommate for this event - hell of a guy, even bought me breakfast! That's a Chuckanut, by the way, same design as the first SoF I ever built.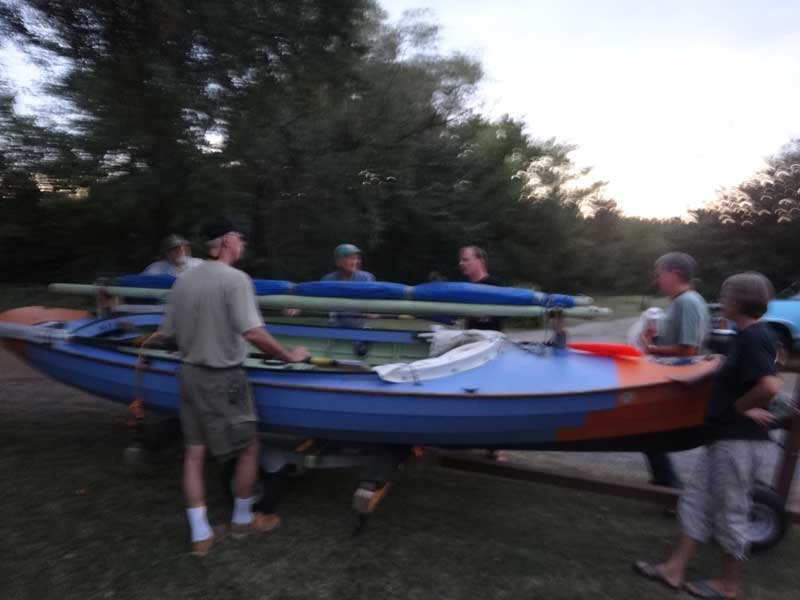 Later that evening, as we all set around the Boat Palace at the Monies' home, Chuck L of Duckworks Boat Building Supply came in Walkabout, a boat designed by New Zealander, John Welsford. Internet friend, Hajo S, had just purchased the boat for his attempt at the Everglades Challenge next spring.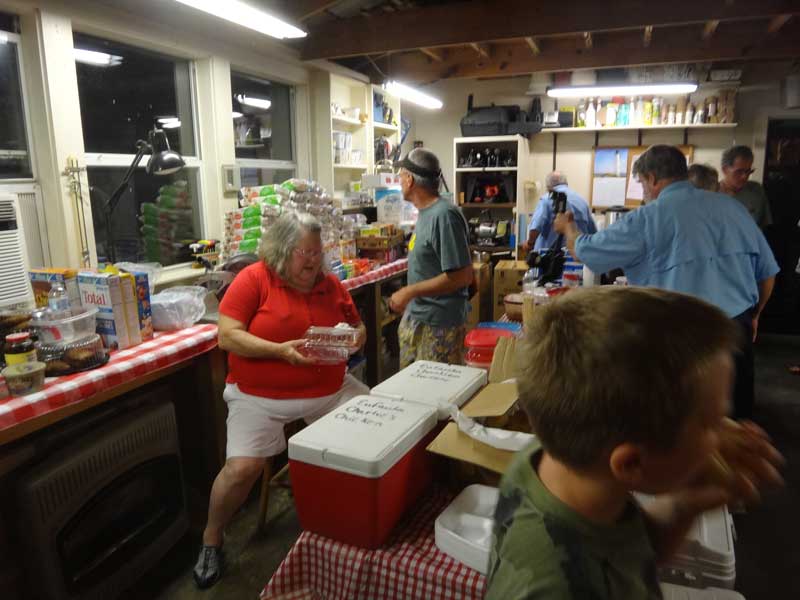 One thing about attending any event with a Monies present, you are going to be fed. So much food - I'm getting hungry just thinking about it.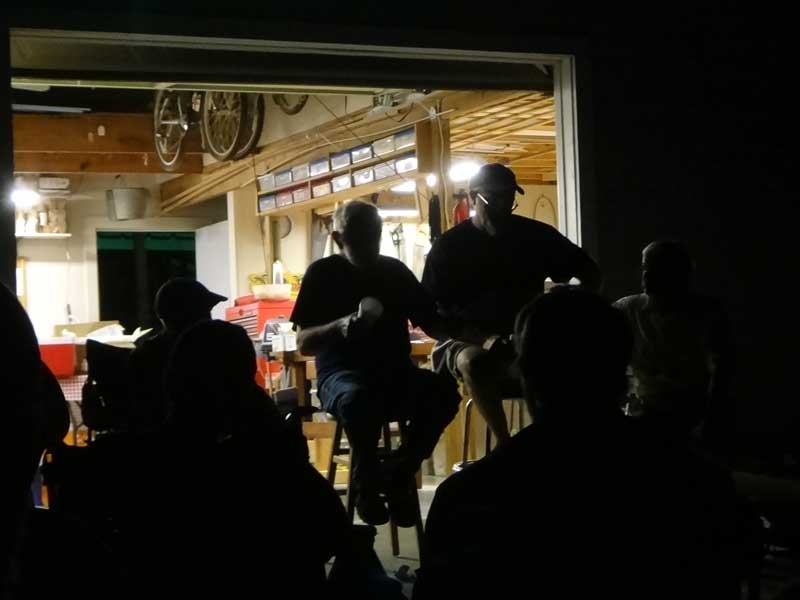 That evening featured an Ask the Designers (and builders) forum where the crowd peppered Chuck, Graham, Dave, and Mike with questions.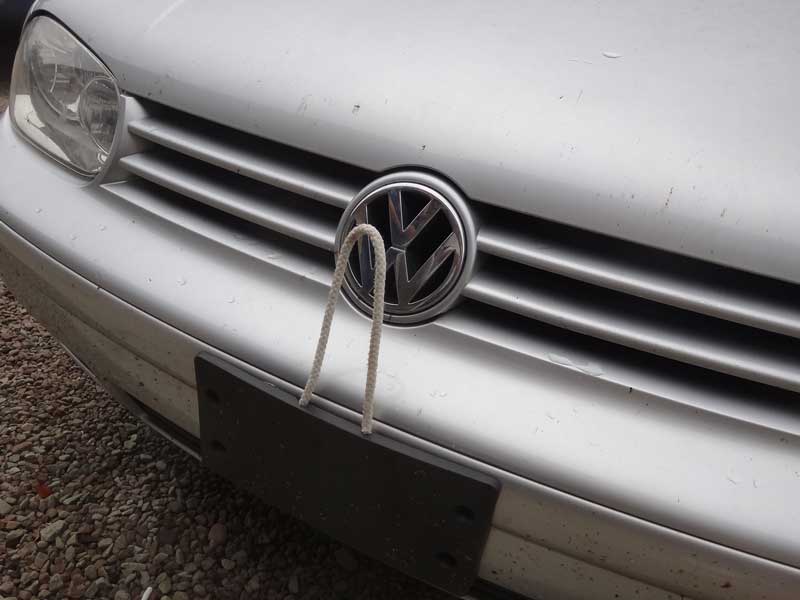 In the motel parking lot the next morning, I noticed Graham's car had a permanent mod specifically for carrying boats. He'd taken a hole saw and rooted around in the bumper around until he found a stanchion to anchor his tie-down loop.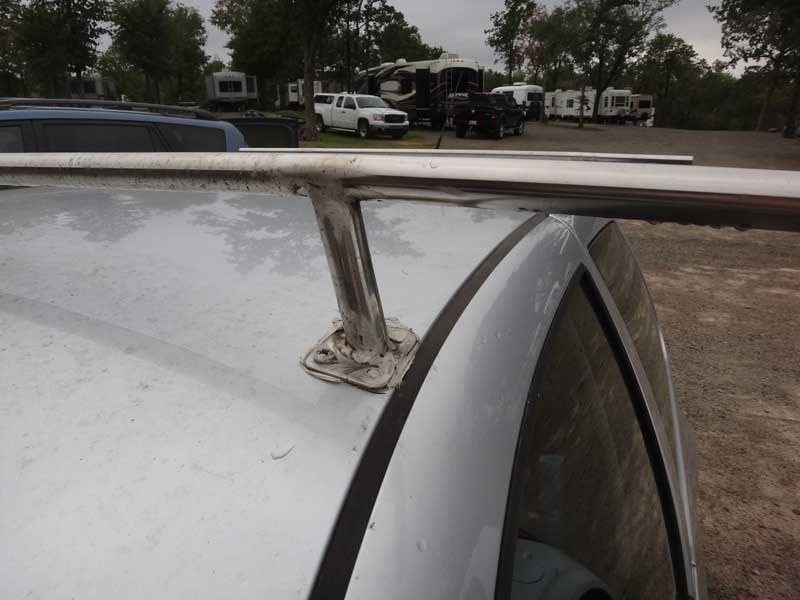 As a professional boat builder, he has access to stainless steel tubing, so he made himself a roof rack and through-bolted it to his roof. That's dedication.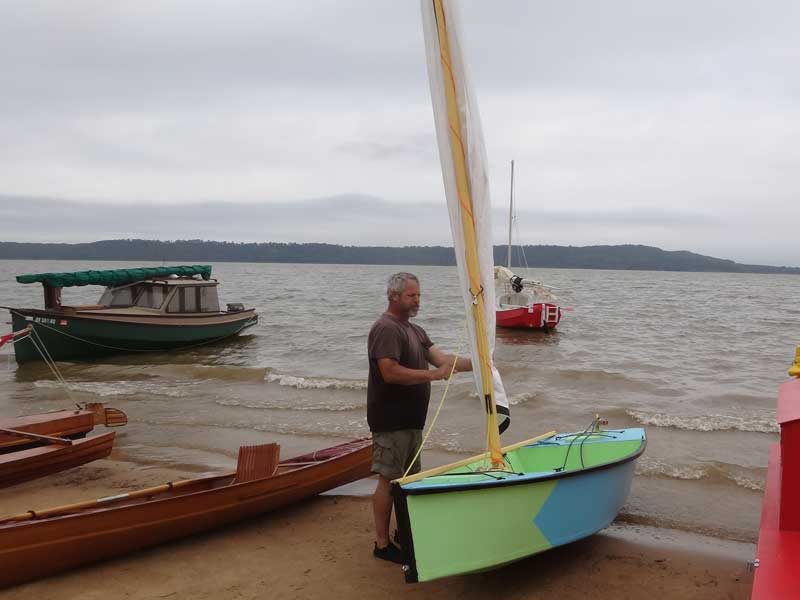 Down at the beach, I met my brother, Gene Berry, as he was rigging his v-bottomed Mayfly 12. I hadn't know Gene was my brother, but that was just an accident of geography and biology. I don't know the design of the stripper behind Gene, but that boat to the left is a Bolger Chebacco with a pilot house and Red S.C.A.M.P. is in attendance, showing herself in the background.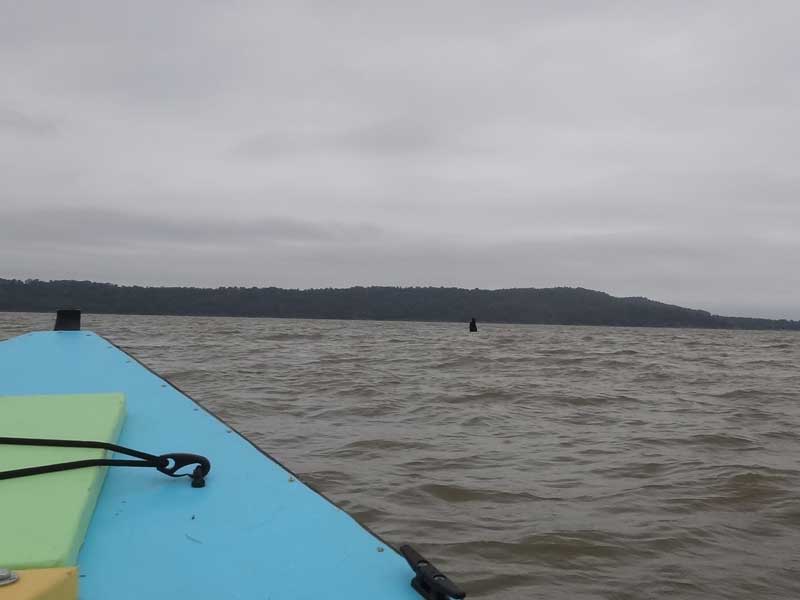 I borrowed Gene's Mayfly and took her out for a sail. The breeze was close to 12mph on the beach, but dropped to below 10 on the water - and the boat still zipped right along. Here is a common feature of sailing on a man-made lake: Stumps in the water. Stumps were to play an important role at the messabout, as we will see later.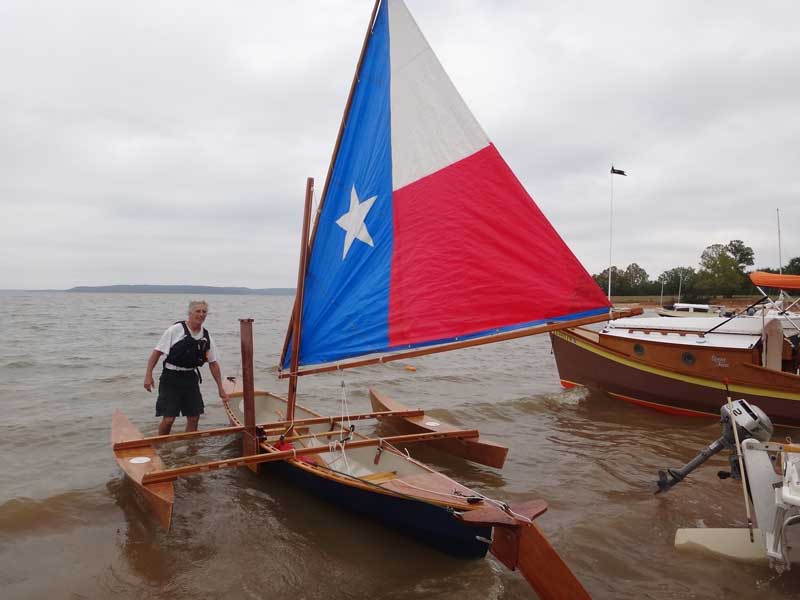 Back on the beach, Hal and I decided to take out a Eureka canoe (one of Mik Storer's designs) that had been modified with amas and a sailing rig.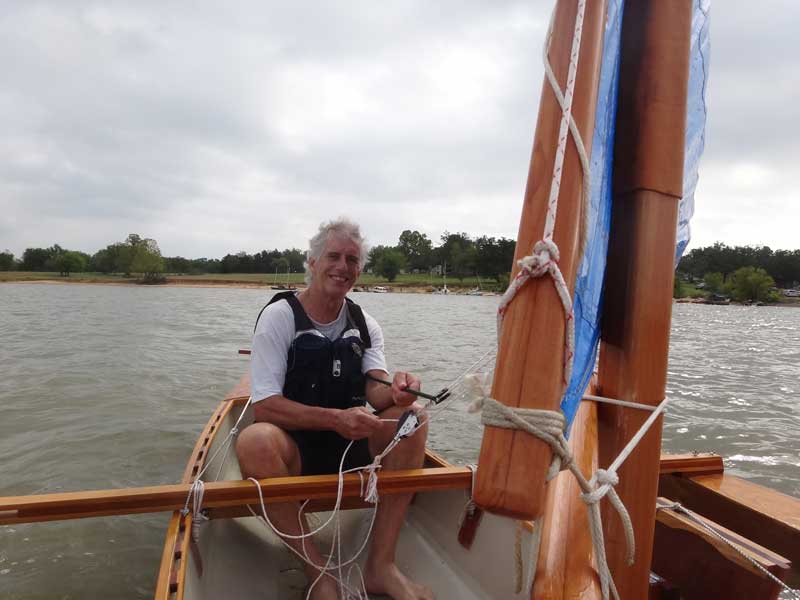 Hal has the look of a happy man.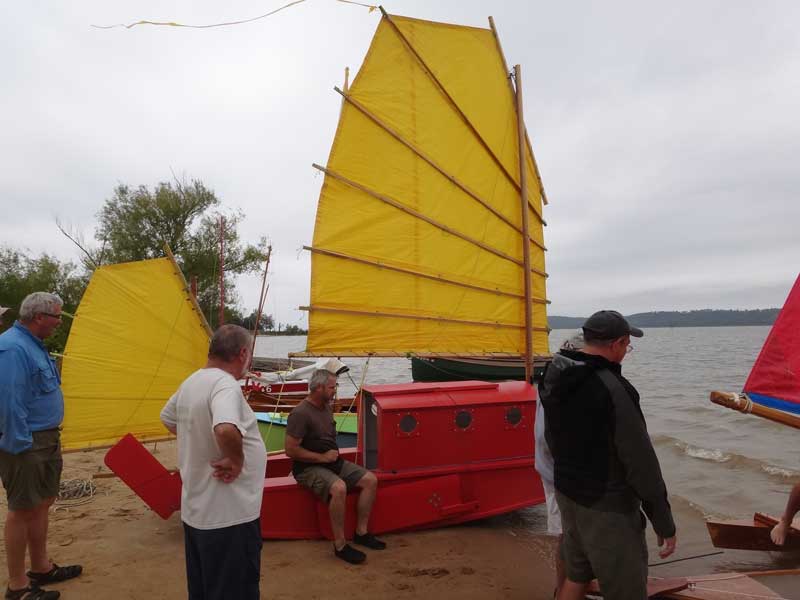 Here's a shot of Gene sitting on his fully rigged Andy's Junk, a boat he built based on some doodling I'd made. The Chinese Lug is my favorite sail and the design was an exercise in getting a camp-cruiser onto a 12 foot Goose body. Gene took the idea and ran with it.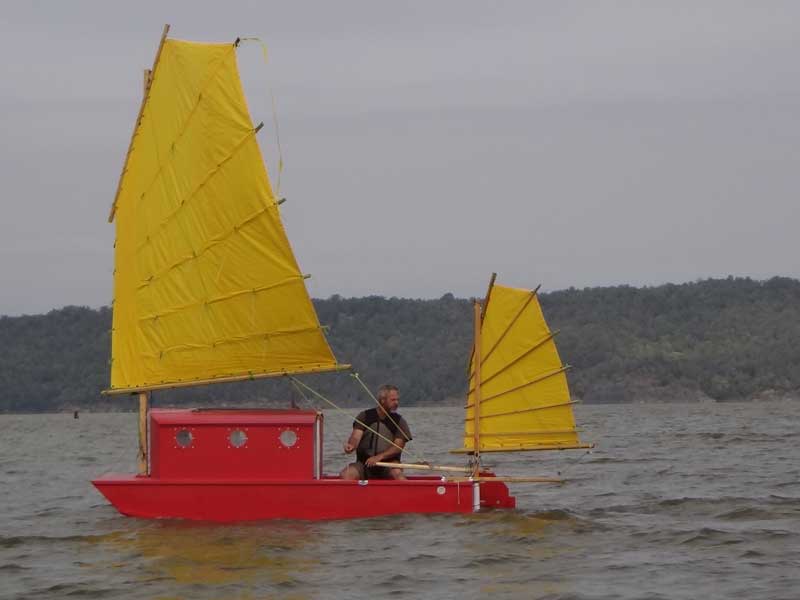 Here's Andy's Junk under sail - my opinion, a thing of beauty.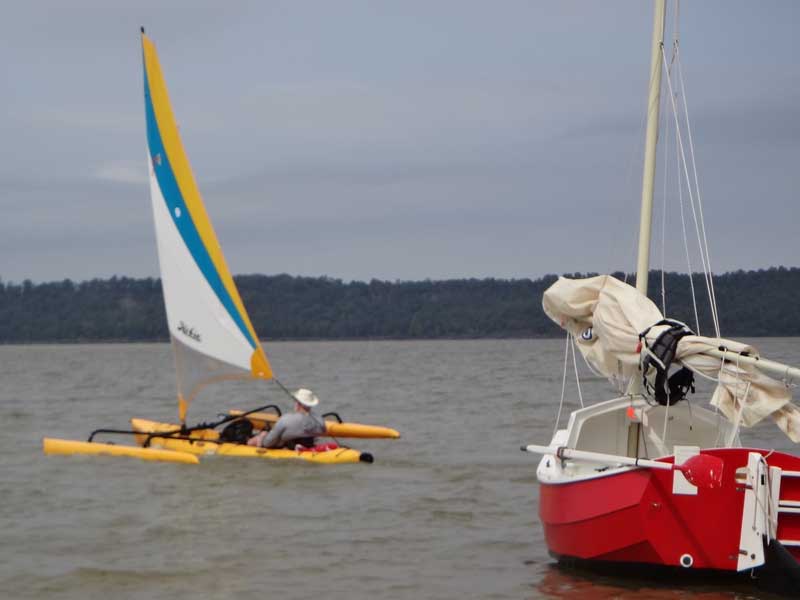 Someone in a Hobie sailing past the famous Red SCAMP.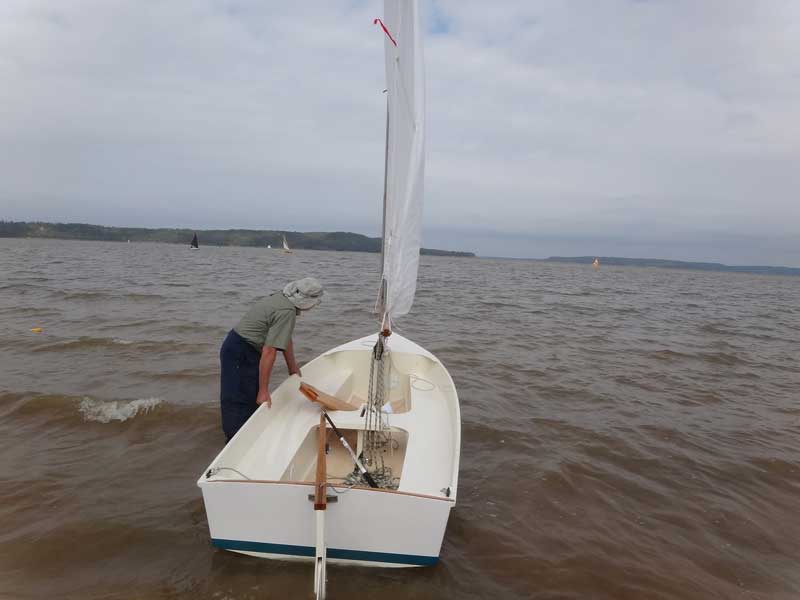 Now it was time for me to test out the Spindrift. Mike helped me prep her and point her out to sea. Holy Crap! That is a fast boat. I made a game of running down other boats to take their pictures.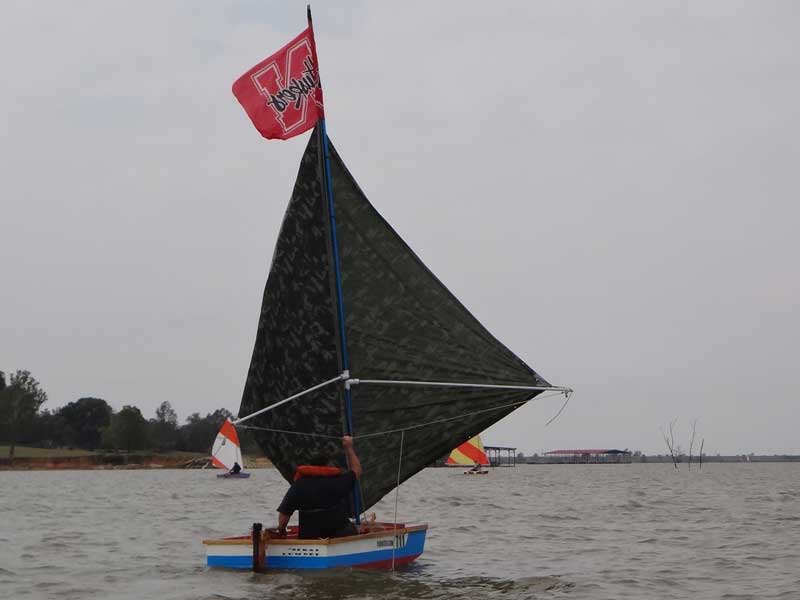 Never did get this guy's name, but he had a very interesting rig on his PDR. When sailing against the wind, the sails fold together; like a Leg-o-Mutton, and when sailing off the wind, they split, doubling the available area.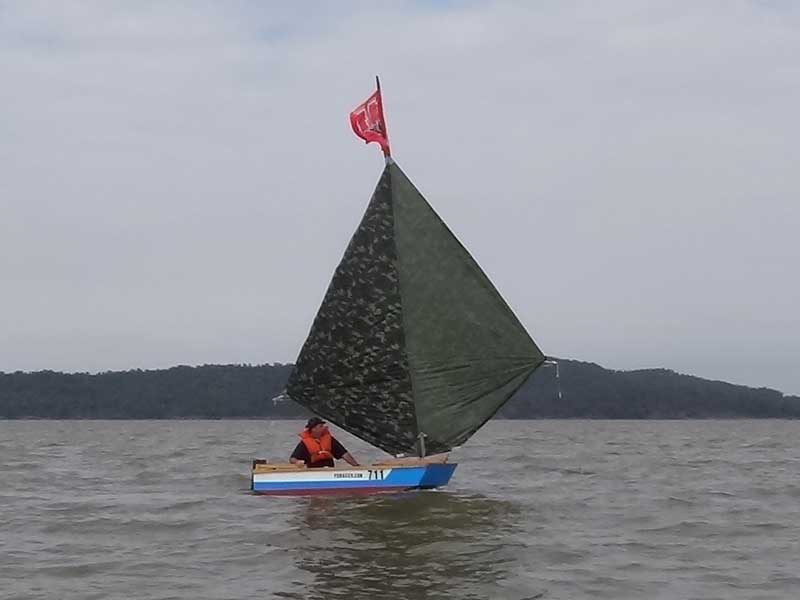 Here's a shot from the forward side.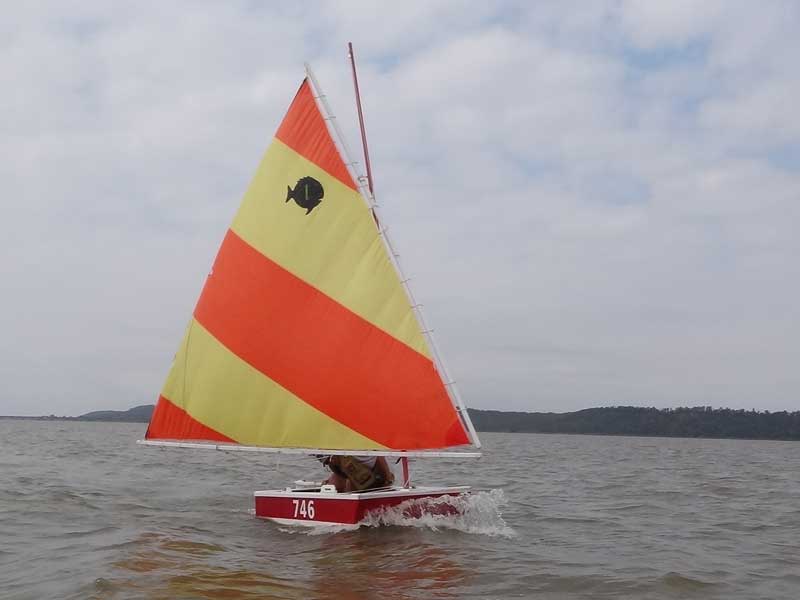 Another Duck running a Sunfish Sail, about 75sqft, which is comparable to the Spindrift's 70sqft. I just flew past the Ducks, no matter what they had in the air.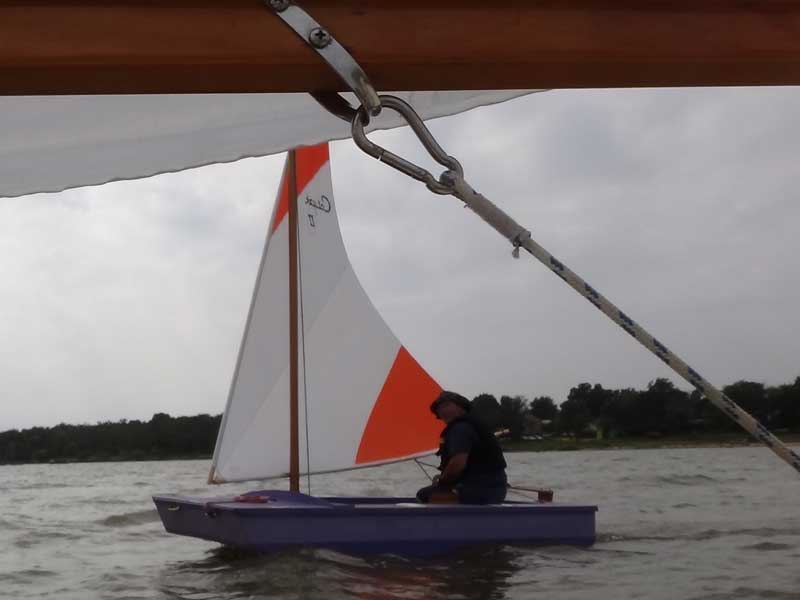 The skipper said he had 70-something sqft on his sail here. I was just enjoying the crap out of that Spindrift.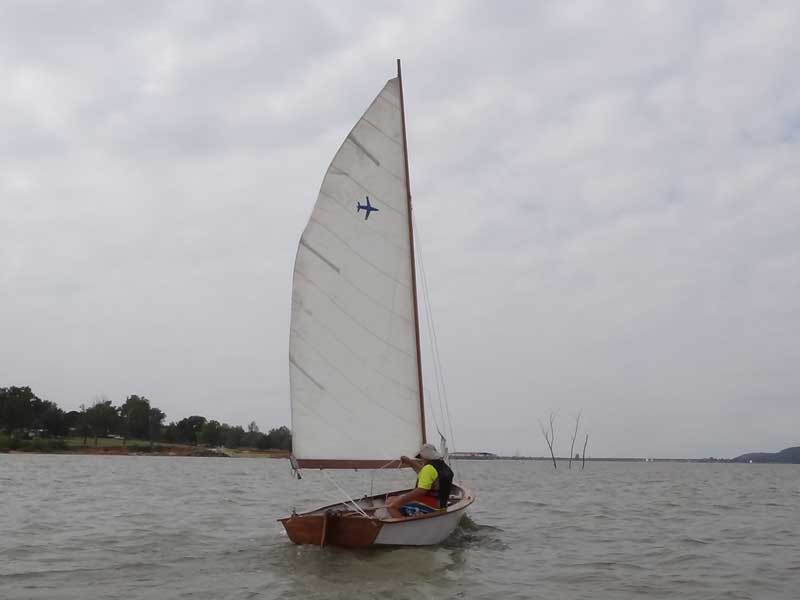 I can't remember the name of this 16' boat, but her captain was running without the jib up. No matter, I don't think many 16' boats can out run a Spindrift 12.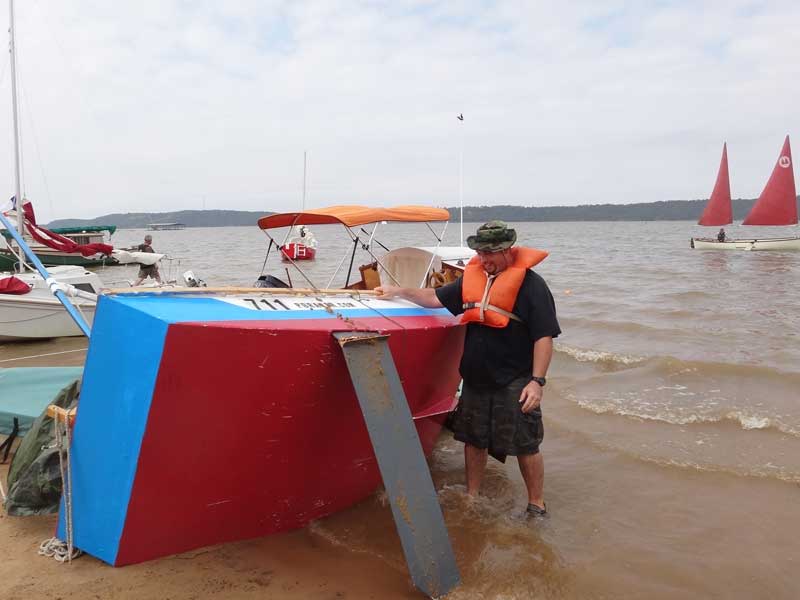 The split-rig Duck suffered a broken leeboard, resulting in the best quote of the while event: " Well, I know what that sounds like, now."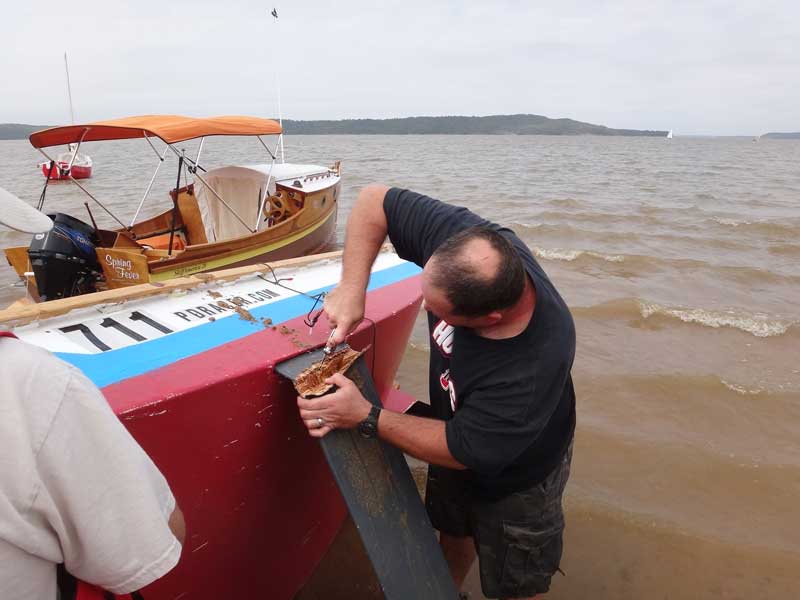 In true PDR fashion, out came the utility knife, the offending parts were amputated, and she was put back into service.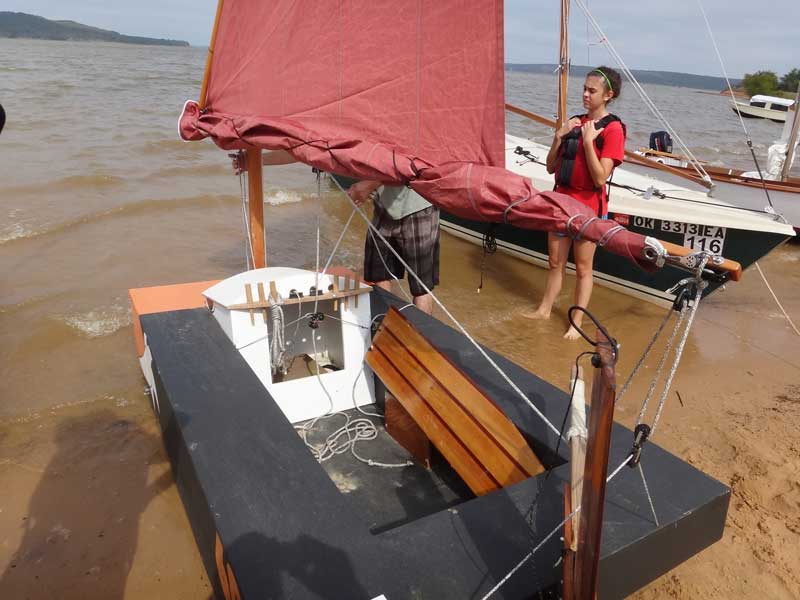 This is Courtney, one of the younger sailors present, about to take out her father's PDR.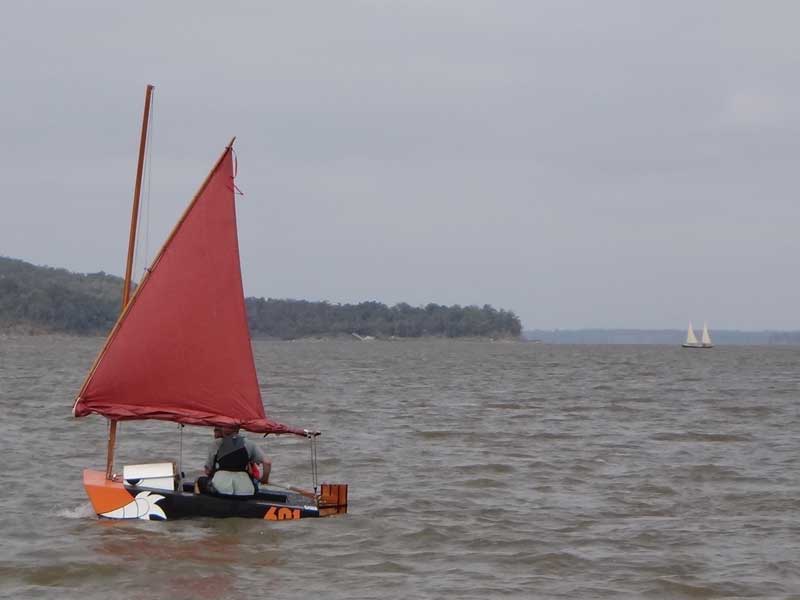 And that's her dad, Brian, who is famous in his own right (well, infamous, really.)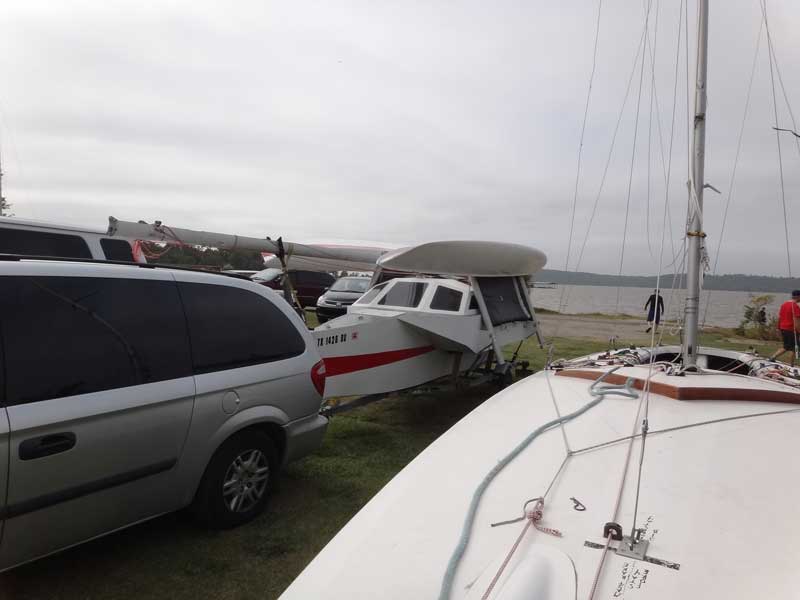 That's a Strike 18! One of Richard Woods' designs. I'm not much of a multi-hull guy, but that boat is interesting. I'd have to leave it alone for a while, though . . .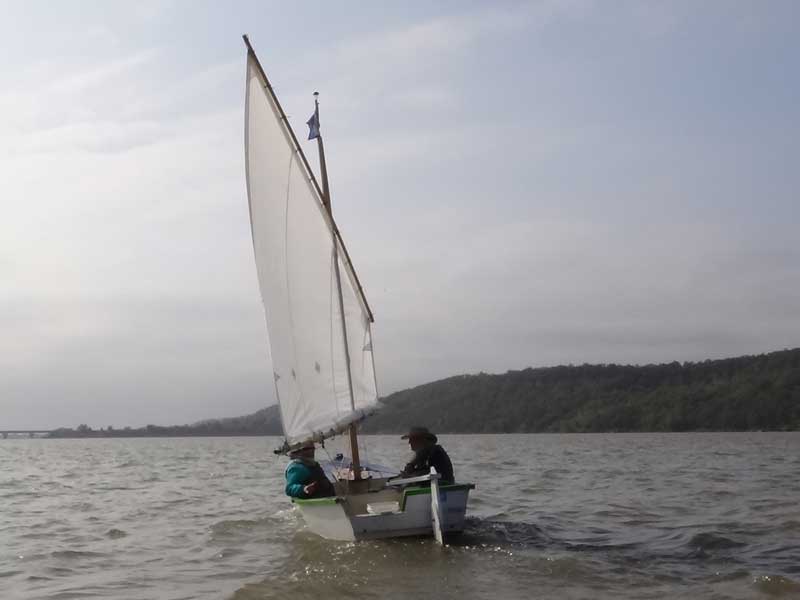 It was time to go sailing in the Spindrift again. This time, I had Gene with me - two full grown men in a 12' boat. What is there to do? Chase down other boats, of course. This is my favorite kind of race, where only one boat knows it is a race. Over a couple miles, we chased down the legendary Kenney Giles in his Mayfly 16, another of Jim Michalak's excellent designs.
Kenny is an esteemed sailor, one of the world record speed holders for PDRs, actually. I'm pretty sure we wouldn't have caught him had he known he was in a race or if he hadn't had a reef in the sail.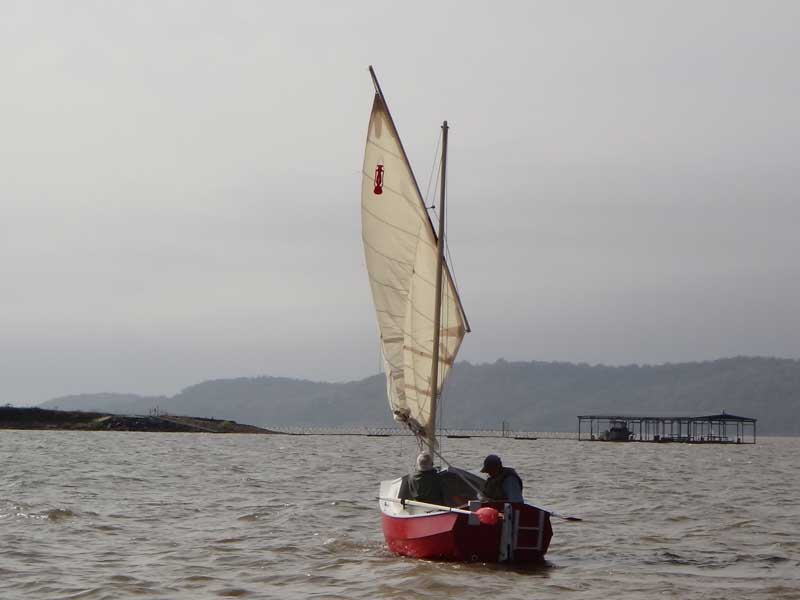 Catching Kenny had taken a while, so we returned to shore where we watched Mike and friend launch the Red SCAMP. They went zooming off to leeward, and a little while later . . .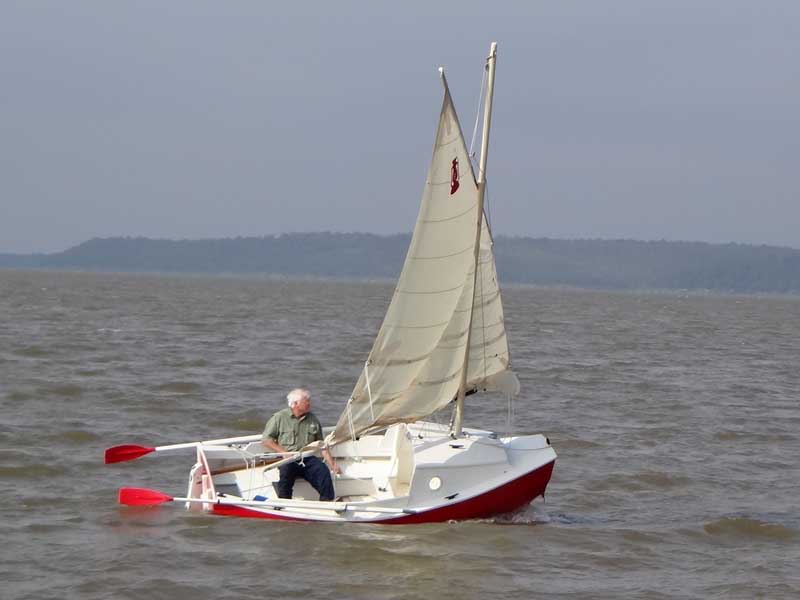 Mike came zooming back, all by himself. We scanned the waters and saw the other guy swimming his way back to shore. Mutiny? Marooning? What was going on here?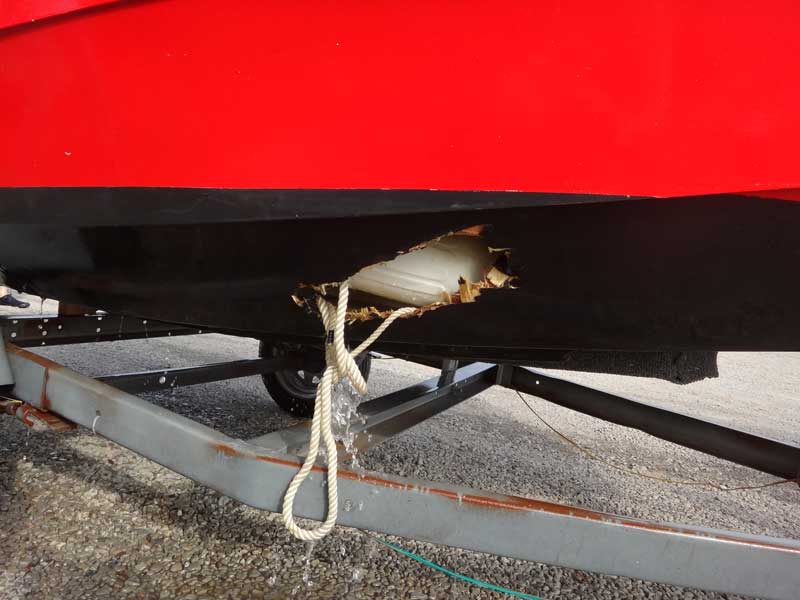 Ahh - that's what was going on - the SCAMP had been holed by one of those stumps. Mike said he had to jettison the crew to lighten the load enough to free themselves from the projection. R.H.I.P.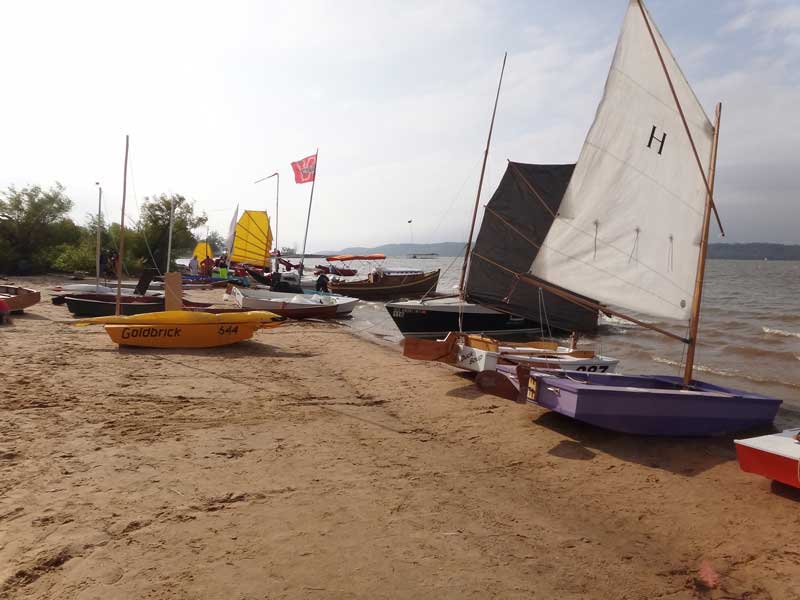 The wind was climbing and the sun was setting - another beautiful day at Sail OK.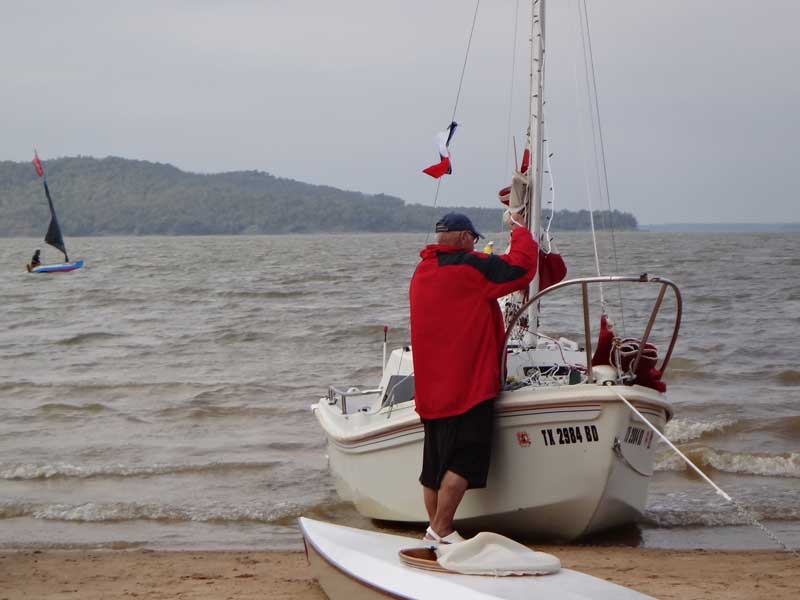 The West Wright Potter guy was packing it in while at least one Duck was still at sea.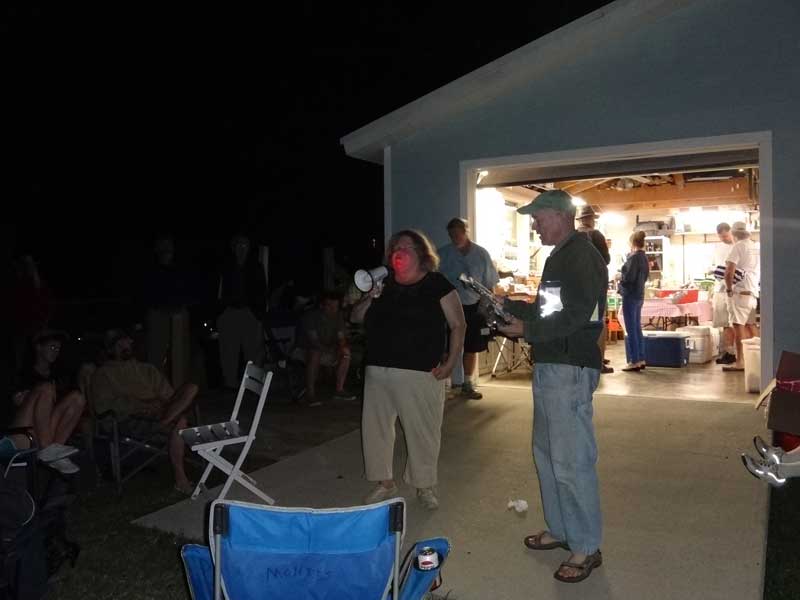 That night, as part of the festivities, was a presentation of door prizes. I won twice - a gift certificate to B&B Yacht Designs and a set of clamps. A kid sitting next to me got called and he went up and got Michalak's outstanding Boatbuilding for Beginners book - an excellent choice if there ever was one.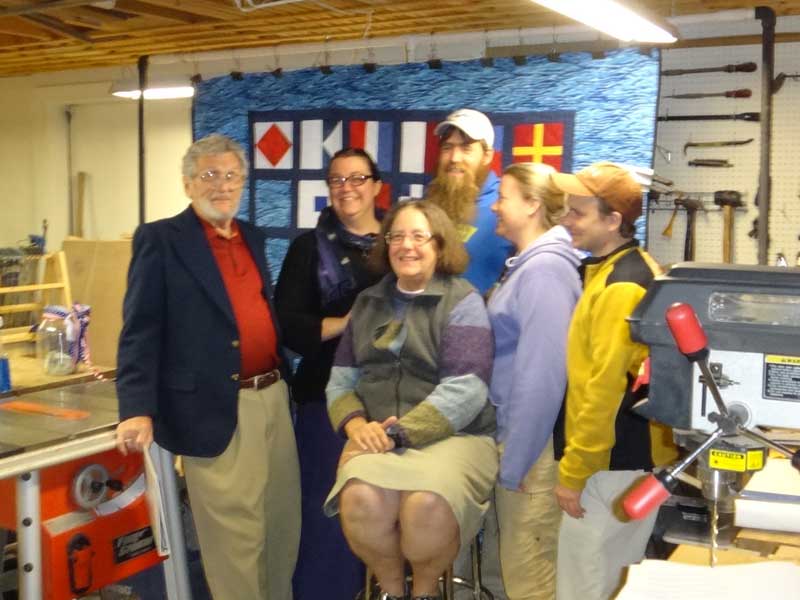 That evening, there was a memorial service for Paul Helbert, a true friend of mine, even though we'd never met - the internet had been our only contact. I have one of his ukuleles he'd customized just for me. It is one of my most valued possessions. The service was performed by Dale L. Also in the picture is Paul's family: his wife Sharon, his daughters Edith and Valerie, and her partner David. The guy with the beard is Paul's son, Eli, aka the Canoe Guru, a 4 time canoeing world record holder.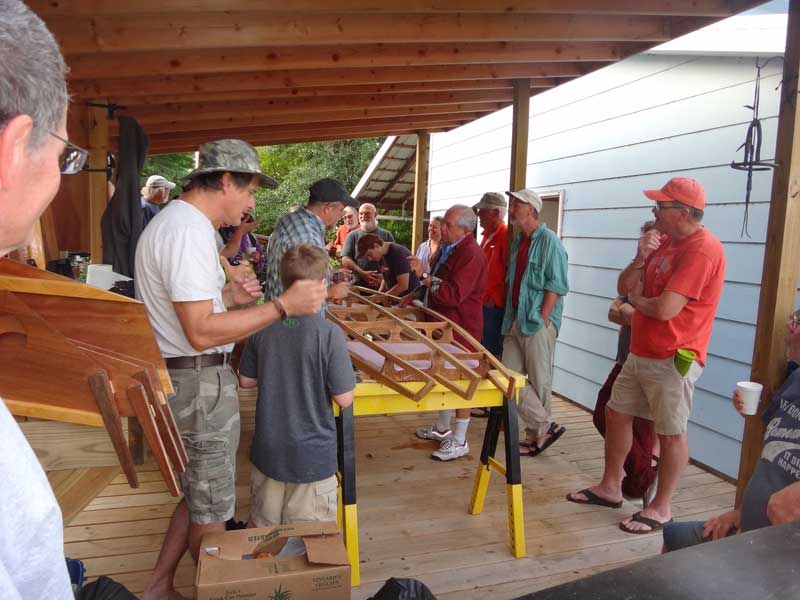 Sunday, my final morning at Sail OK! started with a demonstration of how to skin a sit on top kayak by Dave Gentry.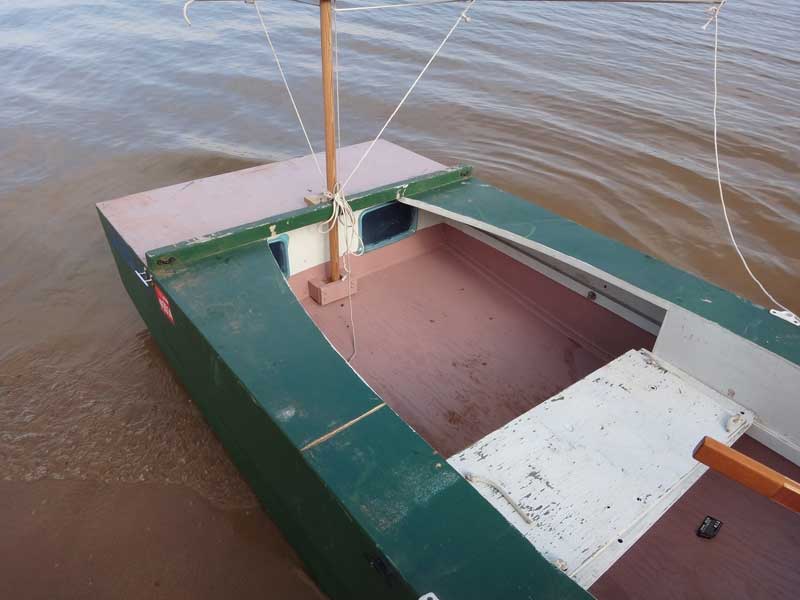 Back at the beach, I was busy looking at boats again. Here is Jay's PDR, using Ziplock storage containers as hatches. Remember, the trick to 'Ducking is being cheap, creative, and having fun.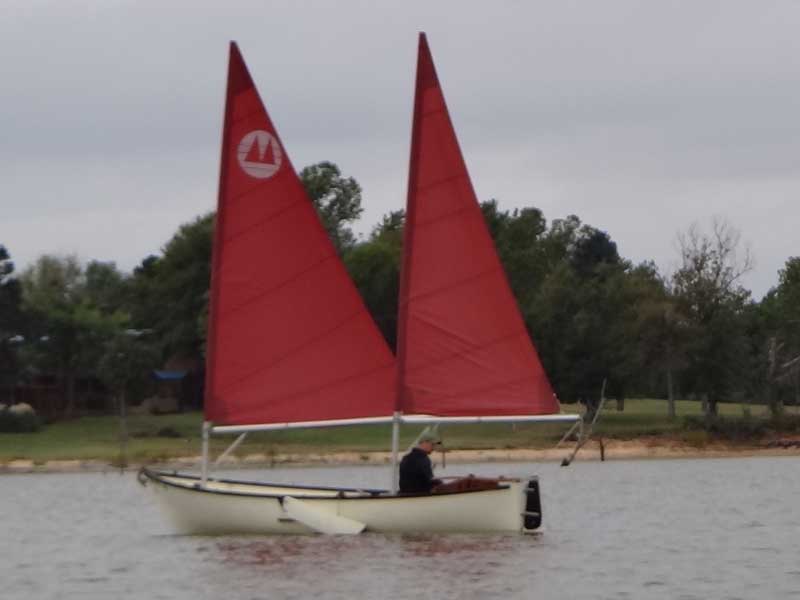 There's a Sea Pearl by Marine Concepts - a very fine adventuring boat. I, myself, prefer a Laguna, but that's because I am cheap.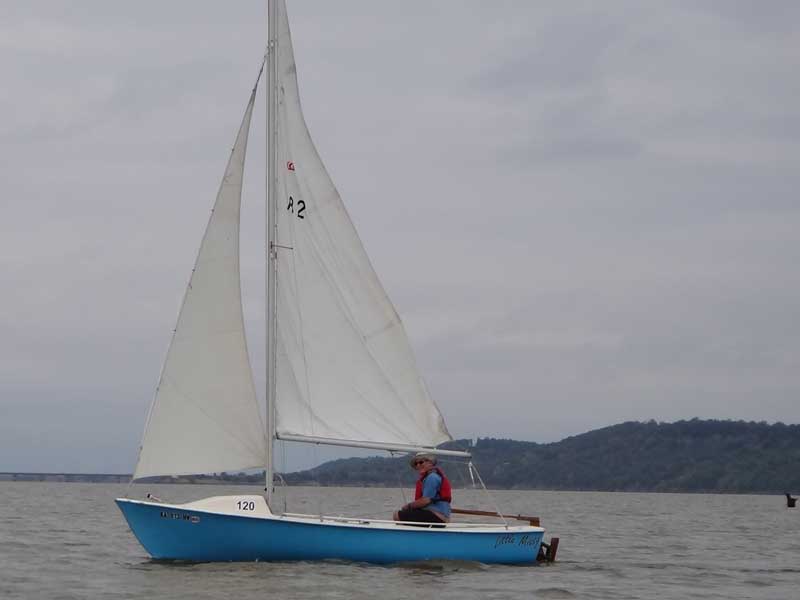 I cannot remember the name of this man with a Sun Bird . . . .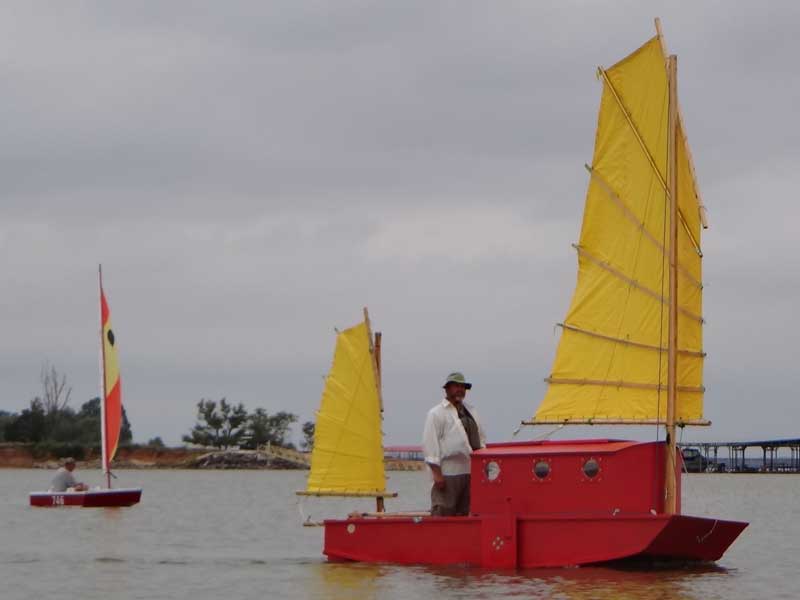 . . . but he did let me take her out and sail her. Here's a fine shot of Gene in Andy's Junk.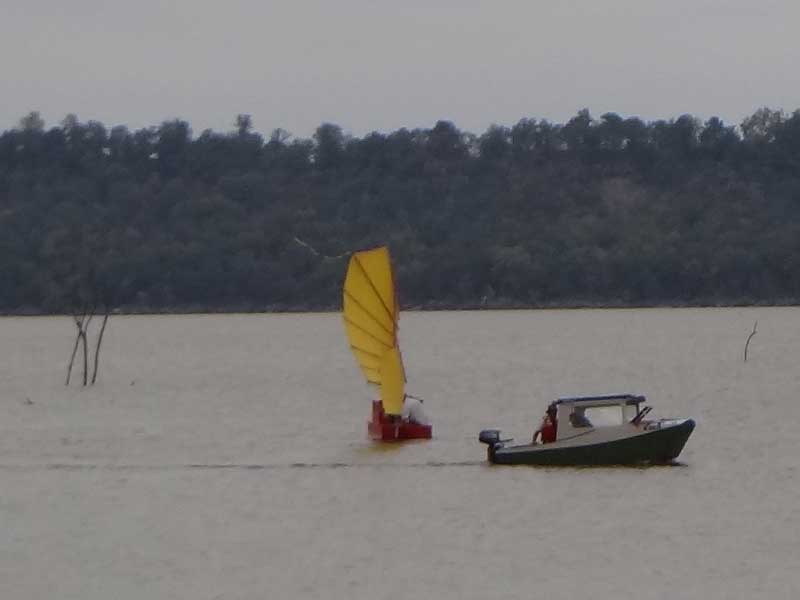 And another great shot of her with that motorized Ooze Goose cabin boat.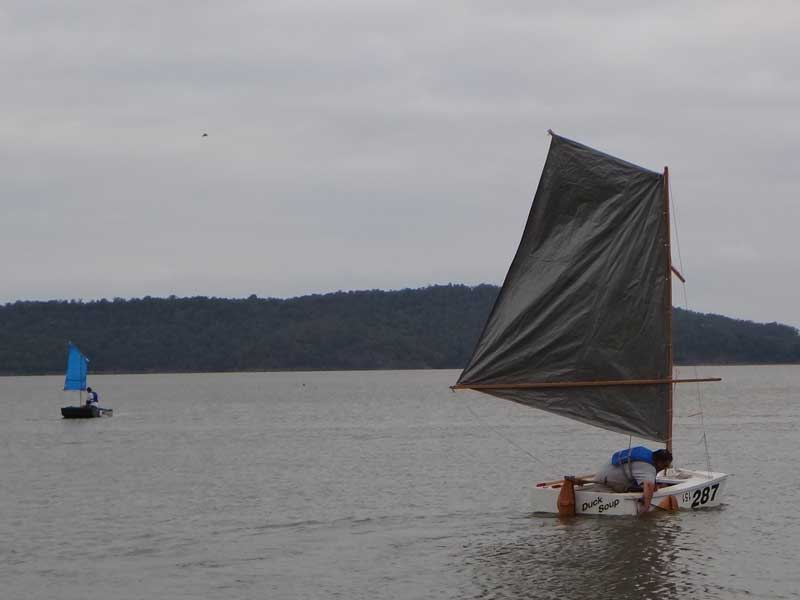 Dave Sanborn was sailing his PDR, Duck Soup, which I first saw on the Texas 200 years ago.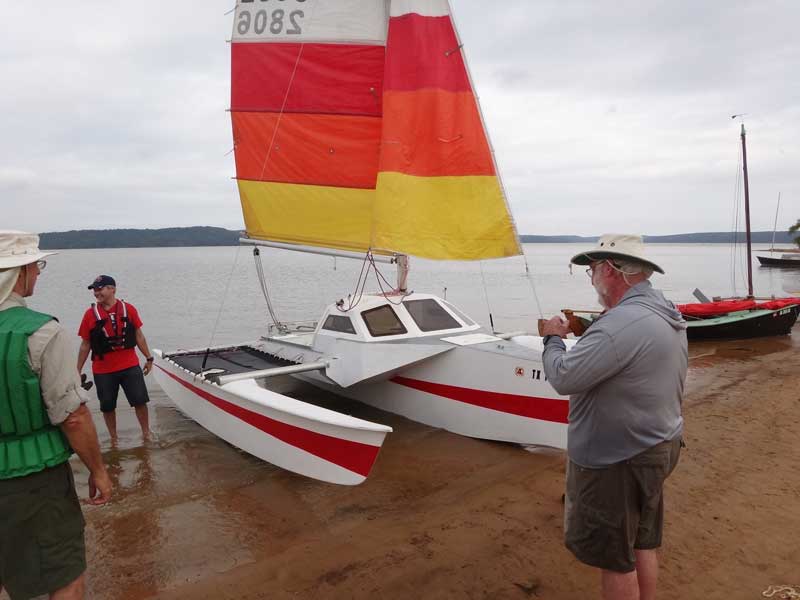 Now it was time to go out on the Strike 18 - which seems to be made from cannibalized Pringle parts.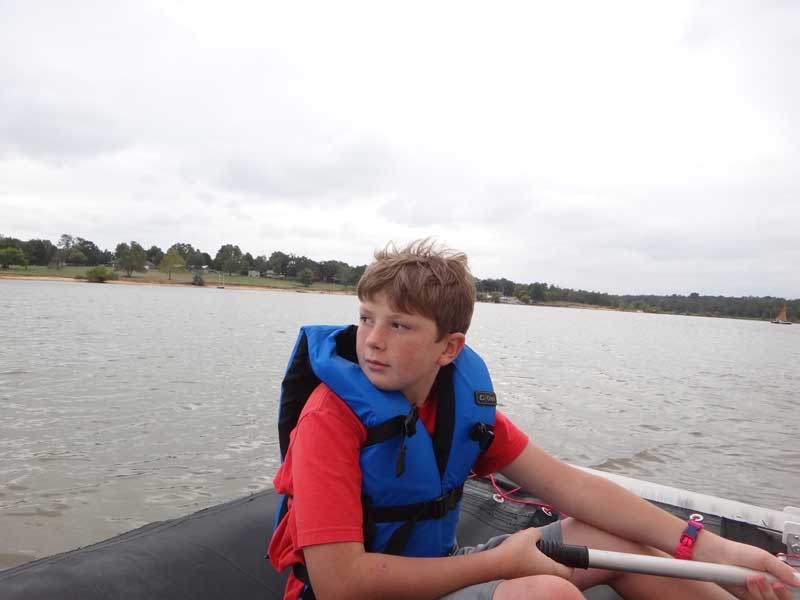 Young Caleb at the helm of the Strike 18 - an easy and fast sailer.
As we came back in, I got a shot of Dale's Dovekie in front of a passel of 'Ducks.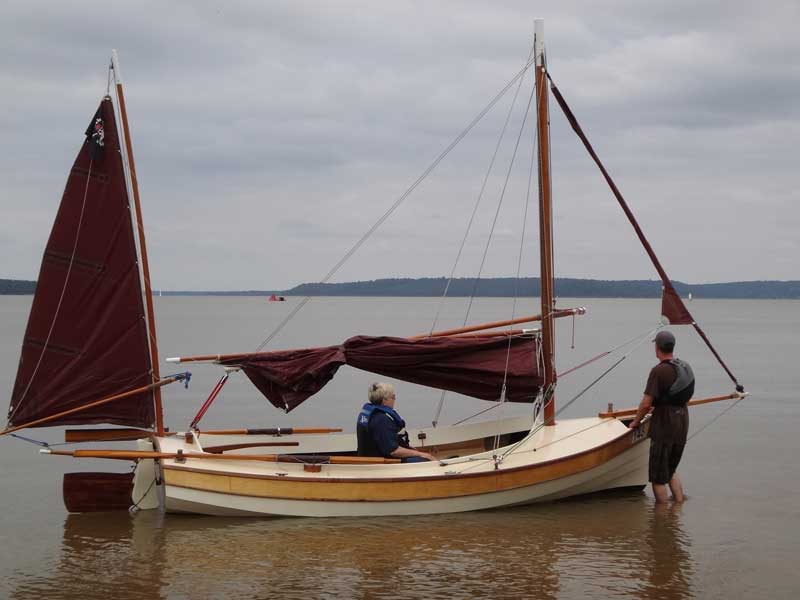 Brian's Navigator, a John Welsford design. Neatly framed between the masts is a PDR laying on it's side, captained by Brian's son, Logan. The kid gets to learn a couple lessons today: What it feels like to capsize, and . . .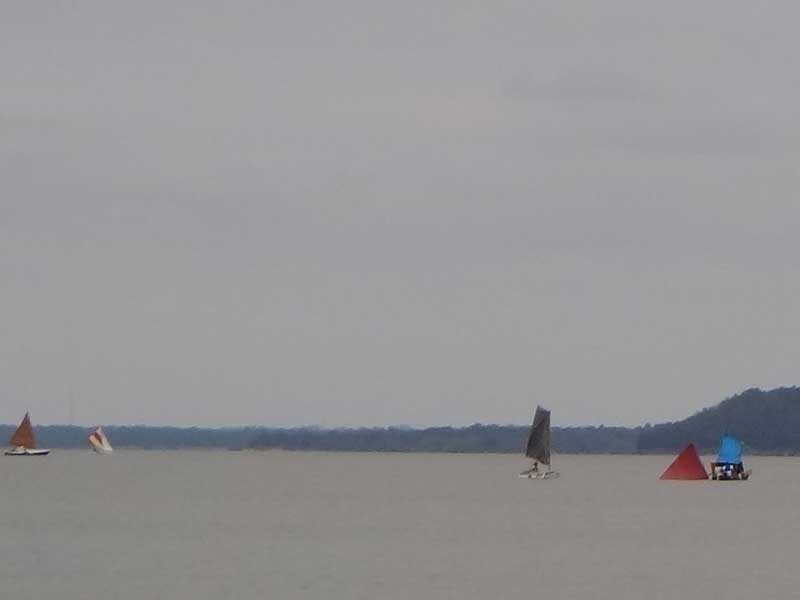 . . . 'Ducks protect their own. Before Brian could even get his boat mobilized, Jay (blue sail) and Dave (green sail) had Logan righted and on his way again.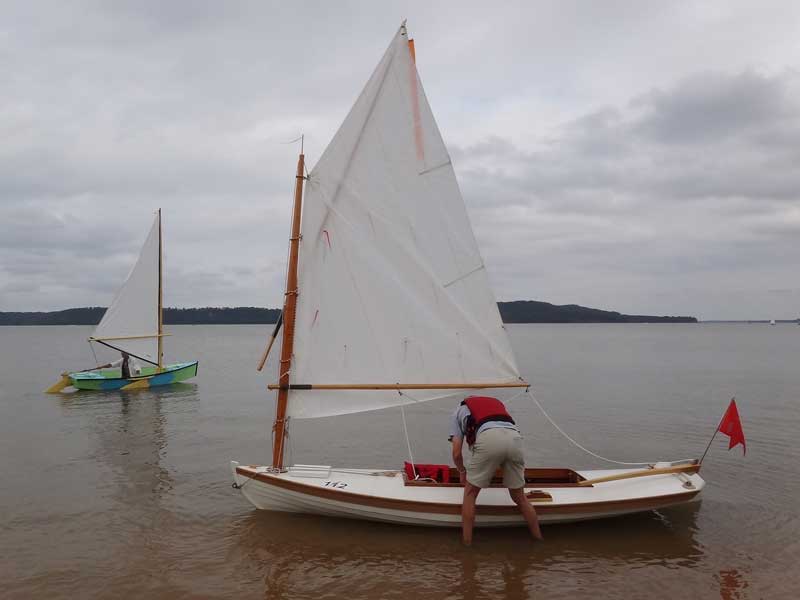 Back on shore, I decided to try out Steve's Melonseed with it's double sprit sail, while Gene sails past in his v-bottom Mayfly 12..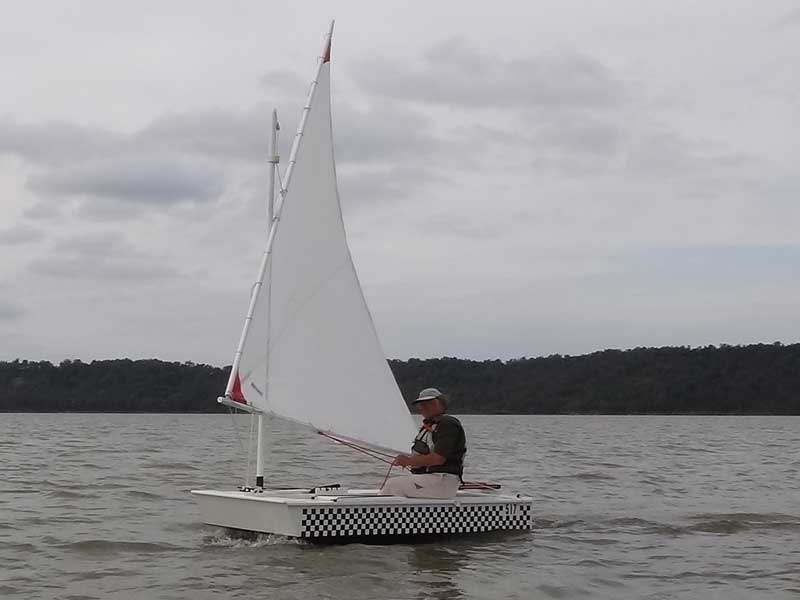 Mike took out the Michalak version of a 'Duck, lovingly called a Catbox.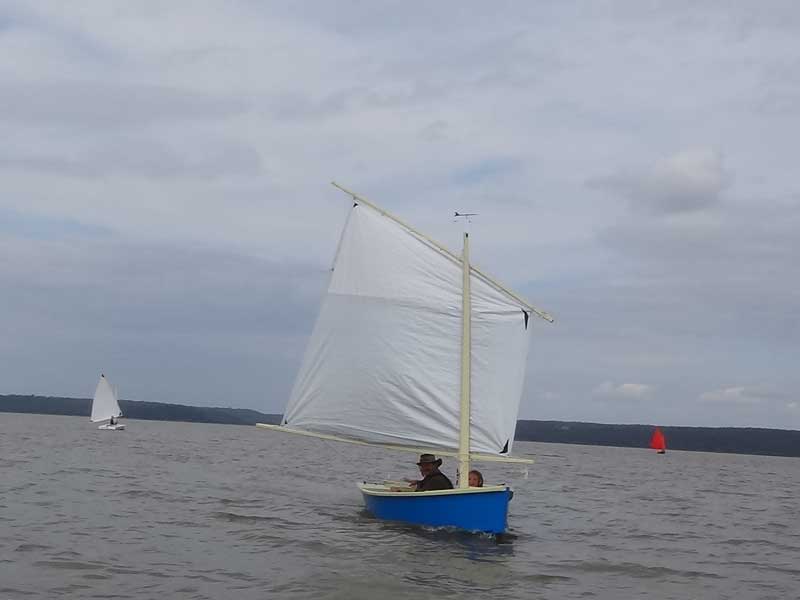 Here's a Mayfly 12 - I know I met the owner, but I cannot remember his name.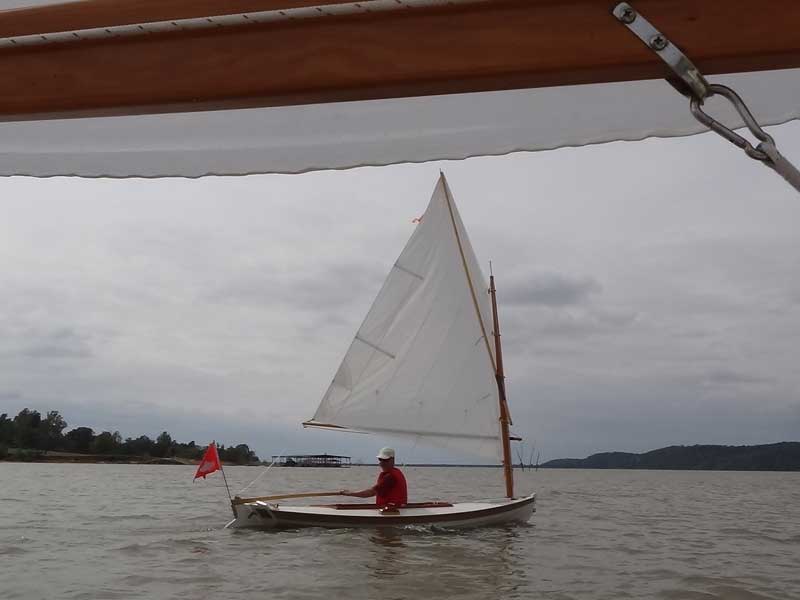 I took out the Spindrift one more time, just because it was such a joy to sail. Here I'm catching up to someone sailing the Mellonseed.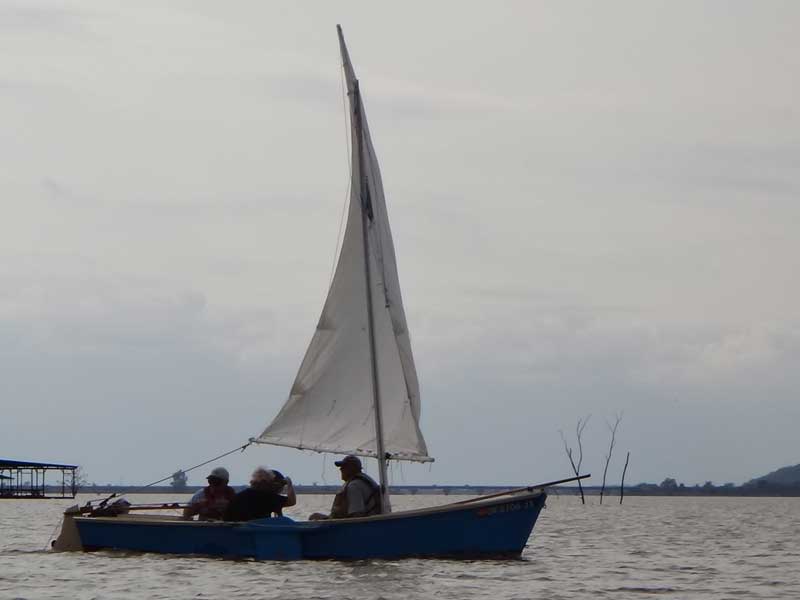 There's Kenny taking out a whole crew in his Mayfly 16. That's just about the neatest all-around-boat I've seen.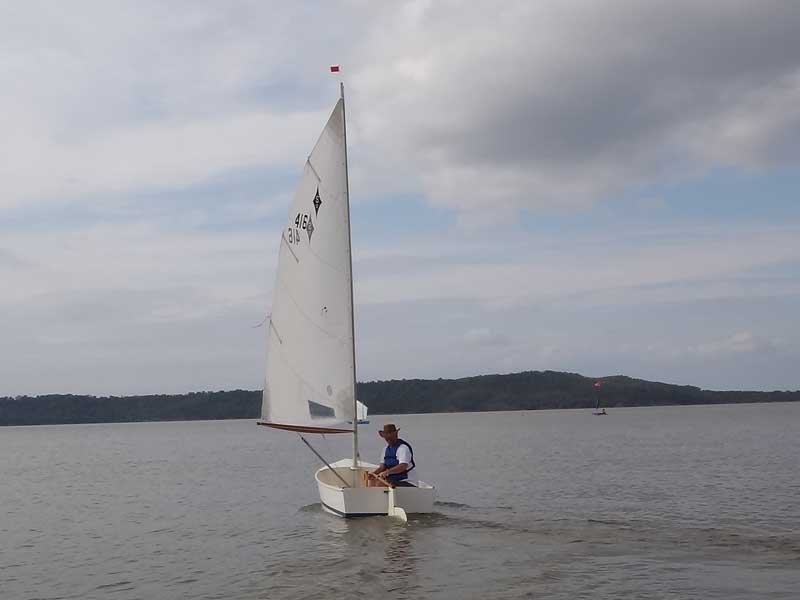 Back on shore, I went up to Jay and said "You know, you might want to try sailing a Spindrift while one is here. It handles a bit differently than your PDR." When he got back, he was all smiles.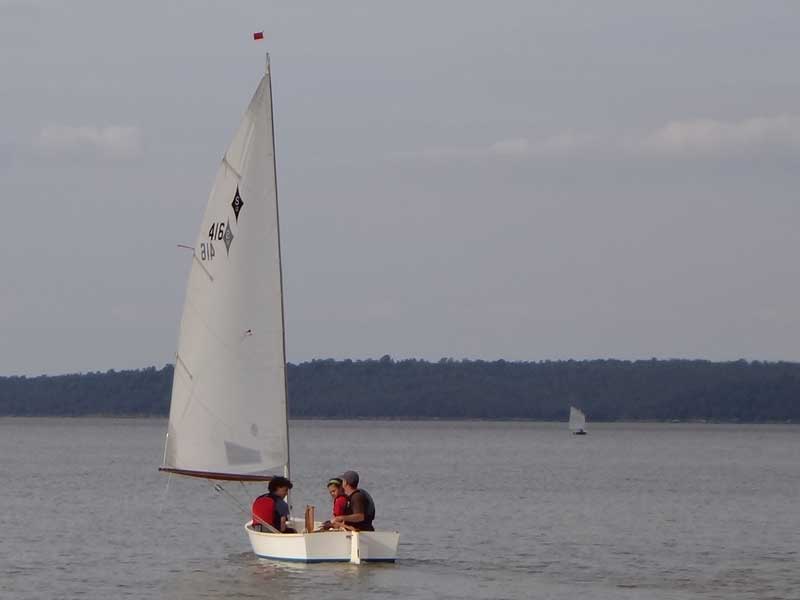 After Jay, Brian took his two kids out in the Spindrift. I'd helped launch them, then went back to where Carla, Graham's wife, was sitting. "What have you been up to?" She asked. "Selling Spindrifts."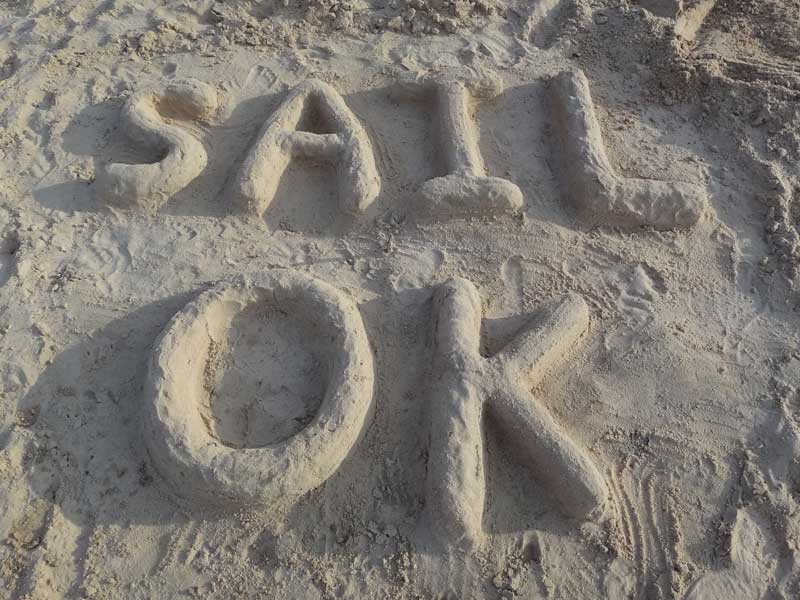 Some delightful little moppets made this sand sculpture to commemorate the occasion.
And that's it - Sail Oklahoma 2013 as seen through the eyes of Andy Linn. The trip home was uneventful, even getting on the plane with no driver's license or photo ID was no big deal, just a little extra fingering by the TSA.