New York City
(was supposed to be the New York Marathon, but . . .)
November 1-5
Keely had been applying to the NY Marathon for years. She finally got accepted. She trained for more than a year. We saved money. Then Hurricane Sandy hit the weekend before the race. News reports were bad, and we waited for any word from the New York Road Runners (NYRR- the guys who host the marathon.) All they said was "We are waiting for news." Our plane was scheduled to leave on Thursday at 6am. Wednesday afternoon, Keely got an email from NYRR effectively saying "The race is ON. We are New York City and we got this. Please come. New York and Mayor Bloomberg welcome all runners."
Taking them at their word, Keely confirmed the flight was still scheduled to fly in to JFK - they said "Business as usual - all flights are leaving and arriving on time." Keely called the hotel to see if they were open - they said "Business as usual - we were unaffected by the storm." Keely called the travel agency that arranged the flight and hotel and they said "The race is not canceled - no refunds if the race is not canceled."
So we packed up our bags, and like hillbillies trusting Big City Folk were just like the folk back home, we took them at their word.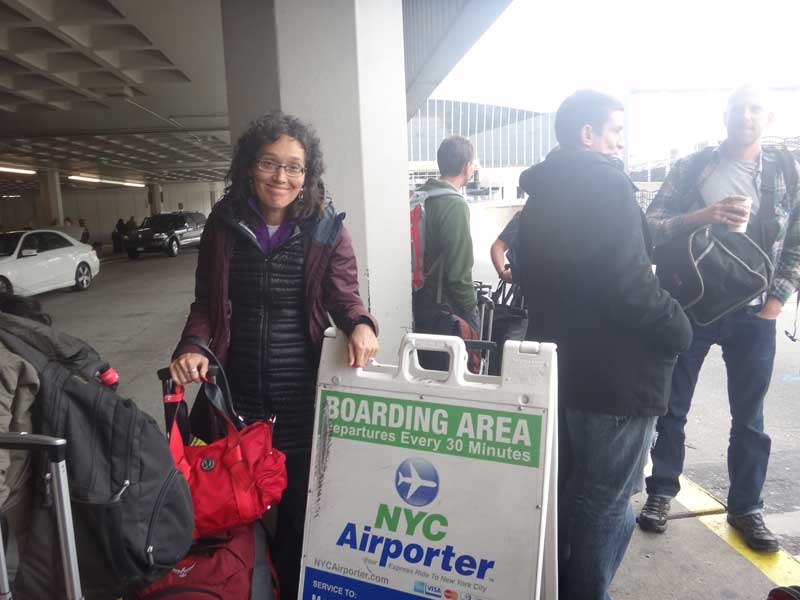 Thursday afternoon at JFK, the only thing of interest was the ground transport was running slow. There were travel restrictions into Manhattan and the checkpoint was causing delays. We waited over an hour for the bus, but everyone was taking it in stride. The only evidence of storm damage we saw on the way in was some downed trees and lots of garbage bags lines up neatly alongside the road. For all we knew, that's how New York always looks.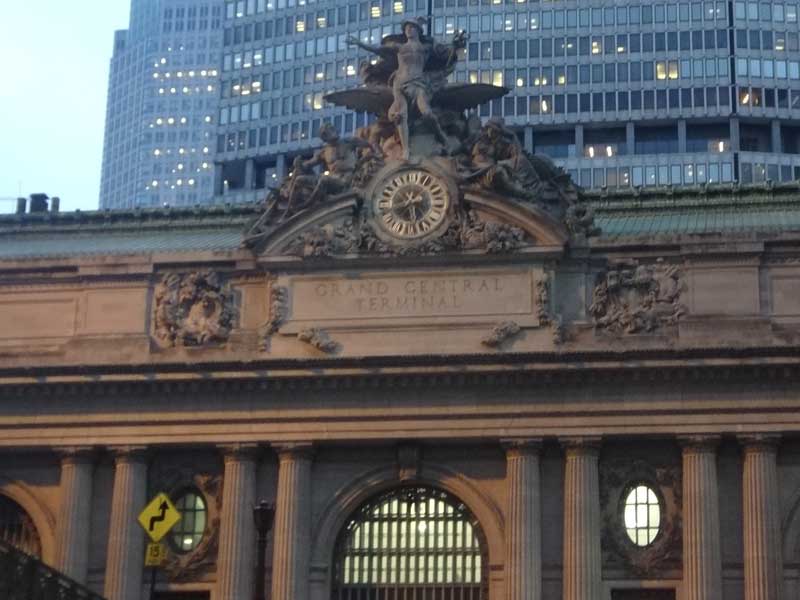 The bus dropped us off at 42nd street - Grand Central Station. Our hotel was on 52nd, so we decided to walk. It was remarkably easy to walk the 10 blocks - we did it in no time at all.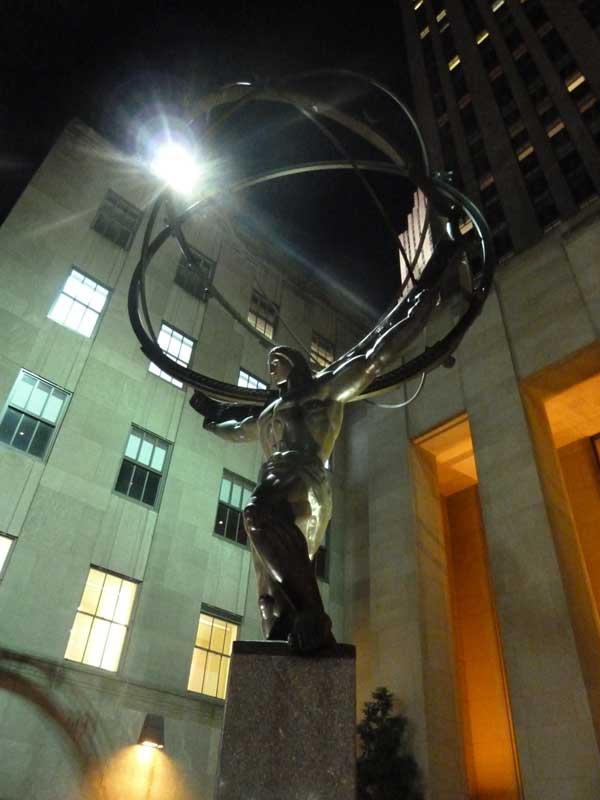 Check in, freshen up, and let's walk down to Times Square. Hey, we have to pass that place they show on TV - 30 Rock.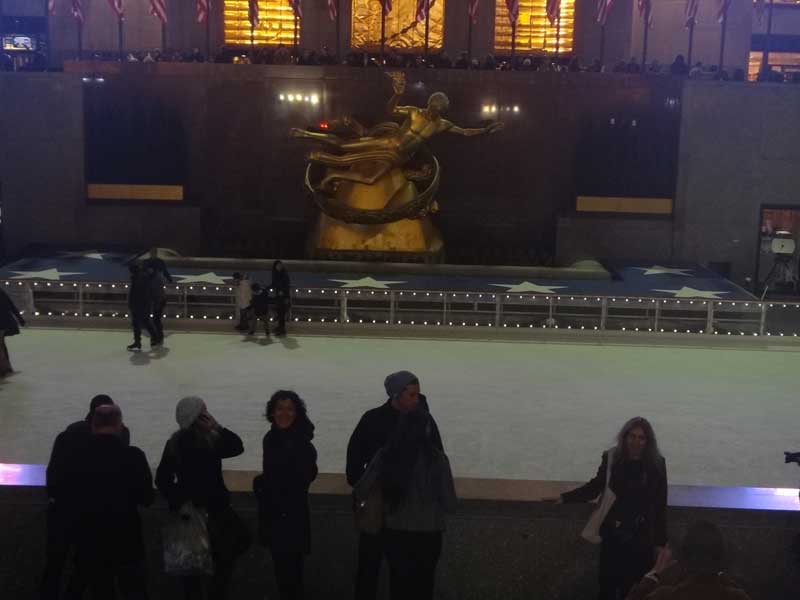 Leaping Louie! Just like in the movies. See Keely down here at the railing?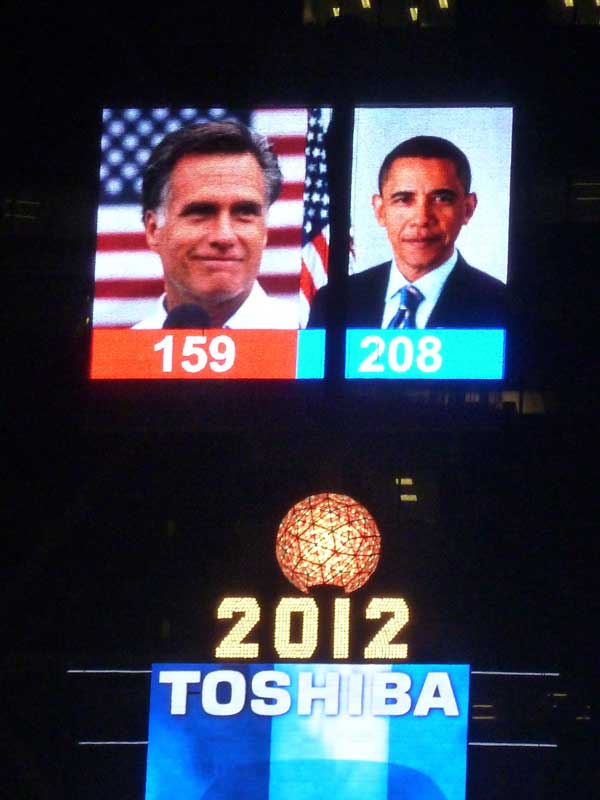 The election was days away, so they were converting Rockefeller Plaza into Democracy Plaza, and they had this display board up by the New Year's Eve ball at Times Square. Remember, this was Thursday, Nov. 1, 5 days before the election.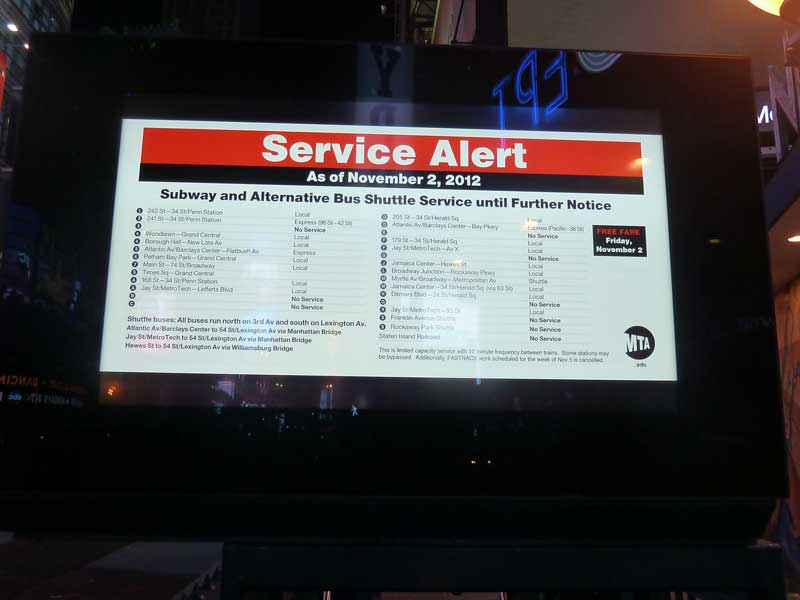 Hey, look! The first thing we had seen that indicated there was any trouble from the hurricane. But that's fine, we weren't gong to use the subway.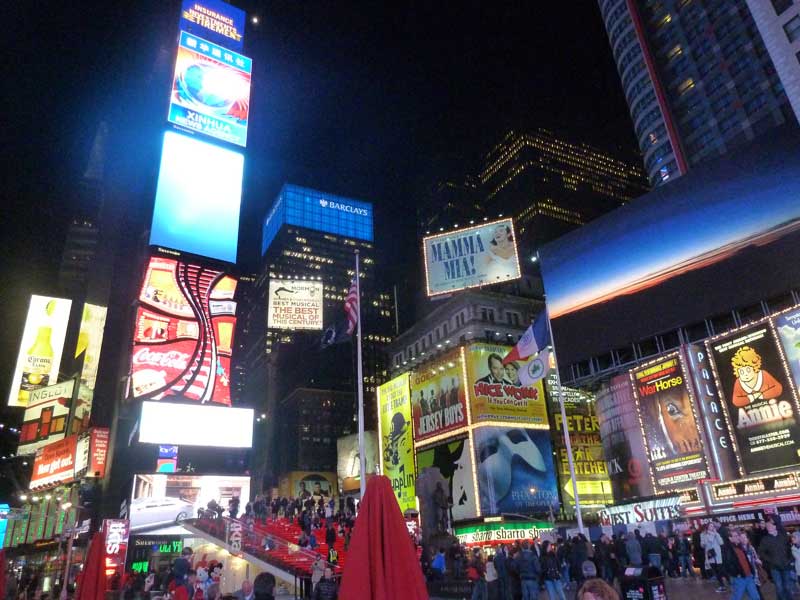 Oh, man, Times Square was HOPPING. More people there than in the whole town I grew up in. Kinda gives me the heebie-jeebies.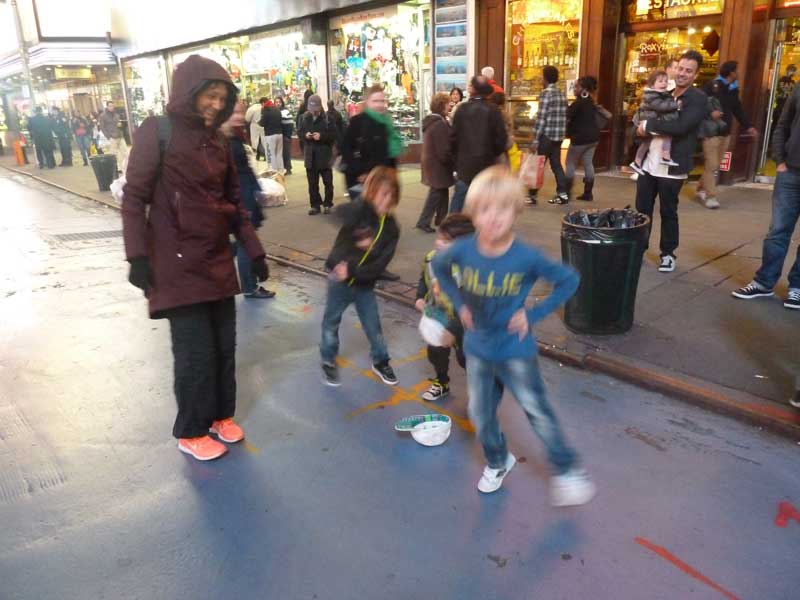 We aren't much on street performers, but these little kids were obviously tourists as well, so we gave them a buck. Dance, munchkin, dance!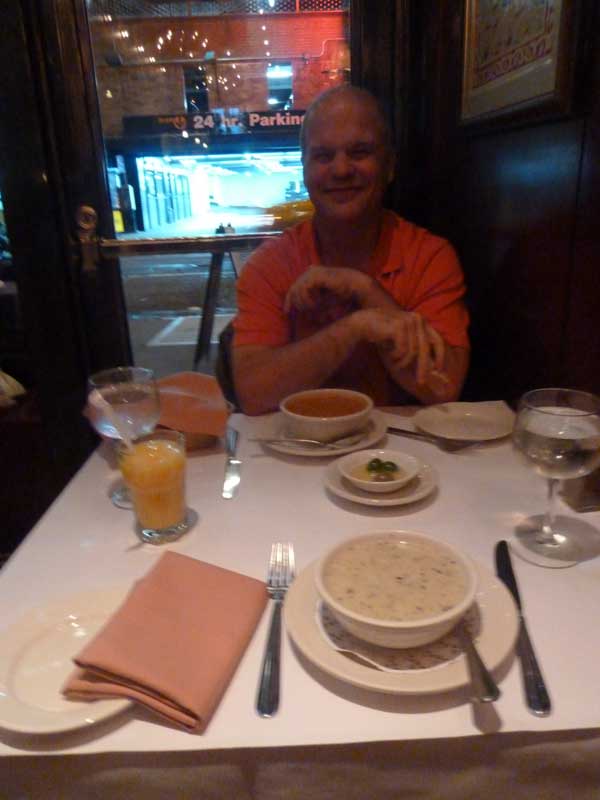 We rounded it out with dinner at a Mediterranean place - very nice.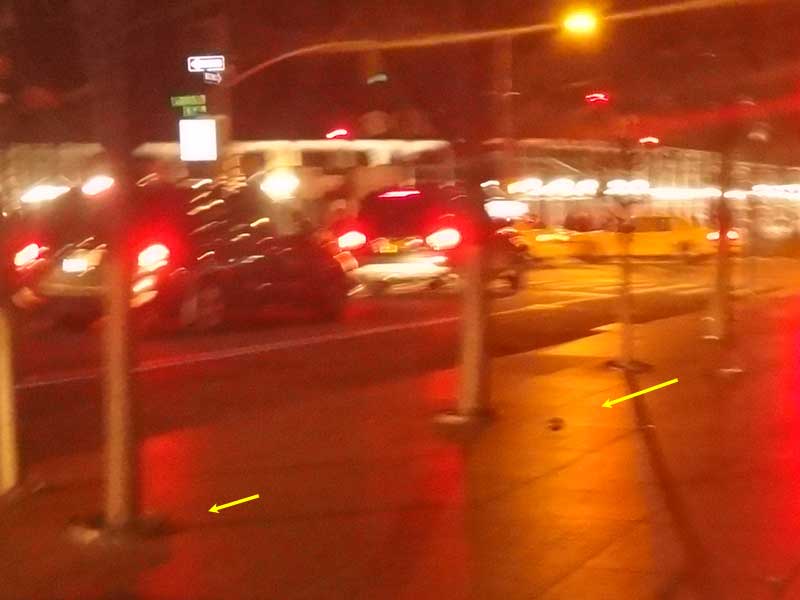 You always hear about these things, but you never really believe it: Those are rats running around on the sidewalk. They come up out of those holes near the trees - we counted 8 in one go.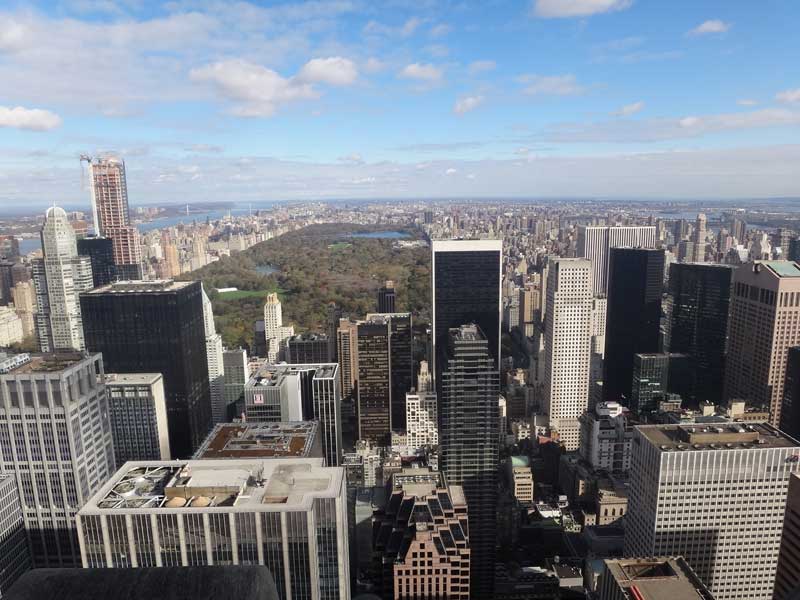 Friday started out with a tour of The Top of the Rock - it really does have better views than the Empire State Building (we did that one the last time we were there in 1999.) The marathon is going to end at that white building down there in the lower left corner of Central Park. Hey, what's that on the top of that skyscraper?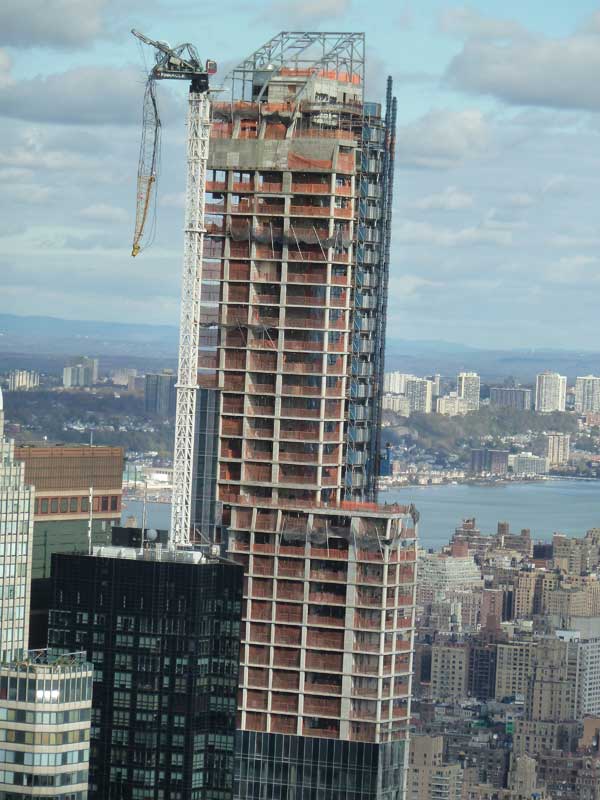 Now THERE'S some storm damage. That crane got flipped by Hurricane Sandy. Pretty impressive.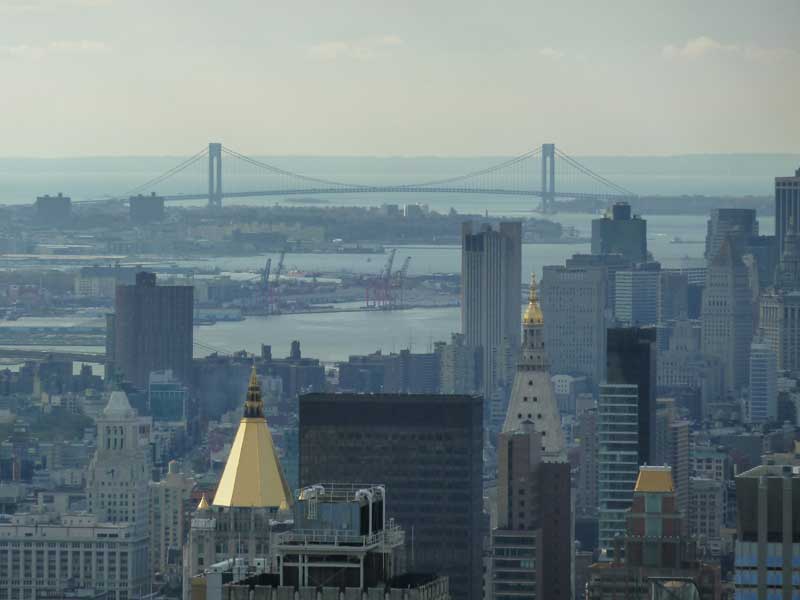 That's the bridge Keely was to run across - the race was to have started in Staten Island.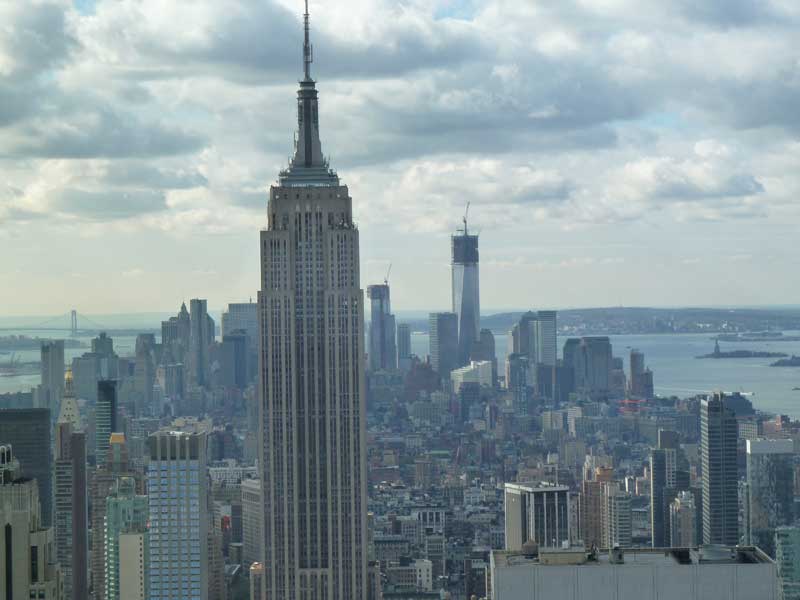 That's the view the other way - Empire State, new World Trade Center in the distance, and the Statue of Liberty off to the middle right.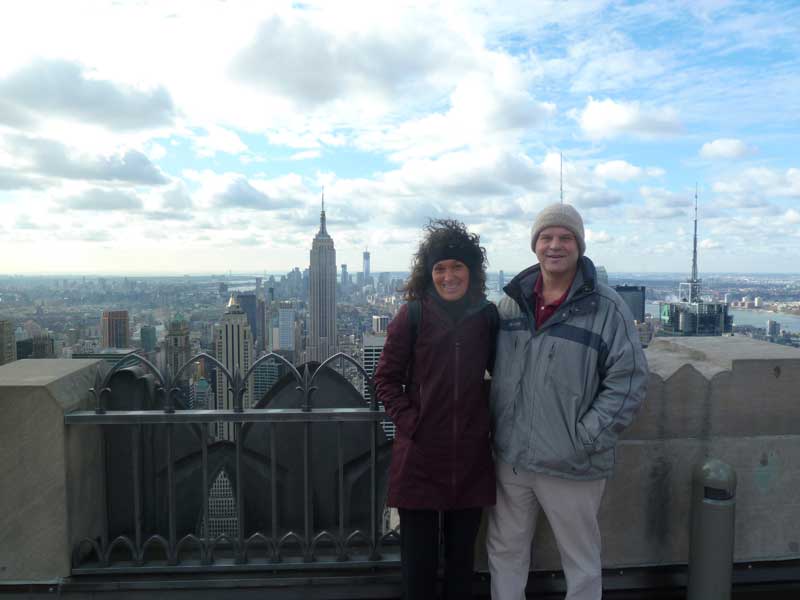 There we are!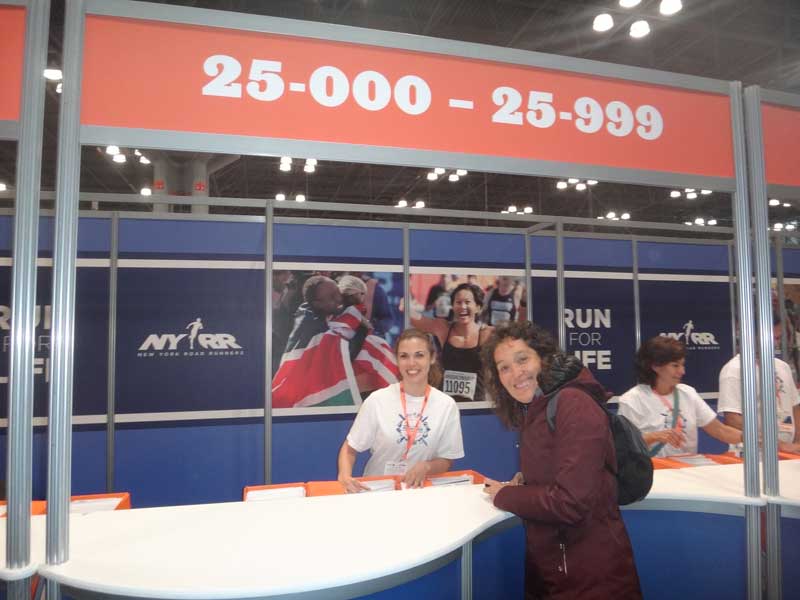 Then it was a NYRR-provided bus ride over to the expo where Keely picked up her race packet. Everyone at registration was all smiles and welcoming. There were thousands of runners, but some of the booths were pretty sparse - the guy working the Run Disney booth told me his display material was stuck in a warehouse in the Bronx.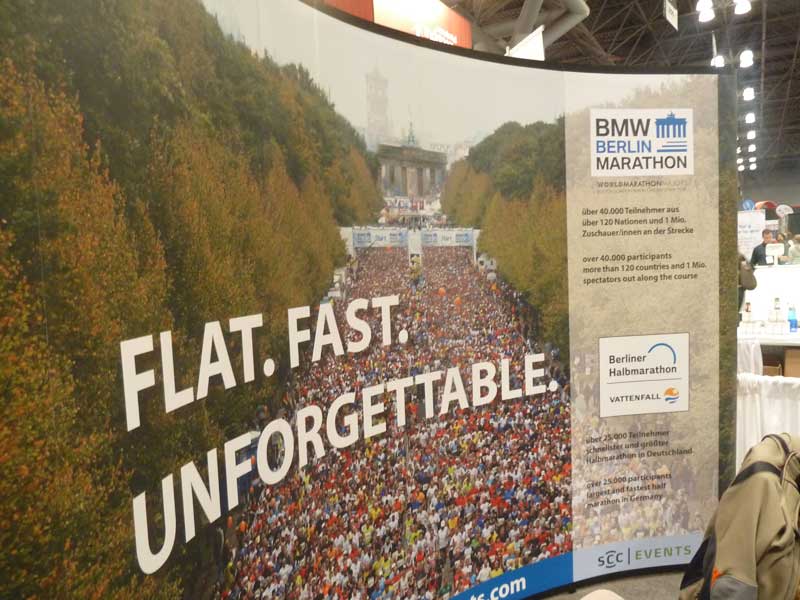 Keely's next big run: Berlin! There are 5 (now 6) "Majors" in the marathon world: Boston, Chicago, New York, Berlin, and London (Tokyo was just added this year.) This New York race would have been Keely's 3rd Major.
After the expo, we went back to Times Square and had a late lunch at a Thai fusion place. We sat next to a Brit who was also a runner, he was very excited to be part of the event this year. He said he deeply regretted not being able to bring his wife and kid along with him. While we were talking, I glanced at a TV screen and the news reader at the bottom was scrolling "New York Marathon has been CANCELED."
Just hours before, it was all smiles and "Here, let me run that credit card for you." Now it was canceled, supposedly due to the conditions after Sandy. Tuesday they'd said "Come! We've got this." Then they waited until everyone from out of town had arrived arrived and checked into their hotels. It was a blatant money grab, organized by Mayor Bloomberg and executed by the New York Road Runners.
Know what? Eff 'em. We're in New York.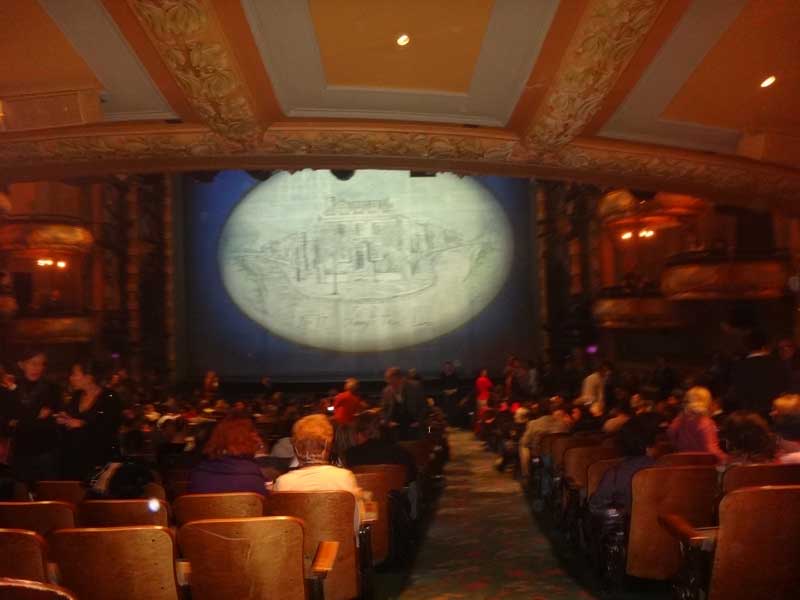 That night, we had excellent seats for Mary Poppins. Man, that was fun. You can't believe the technology they use in their stages.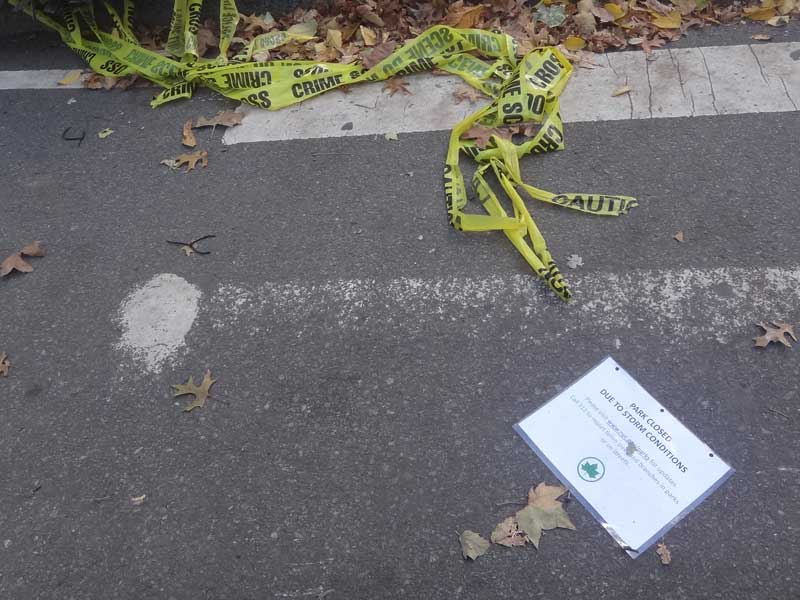 The next morning we went to Central Park to see what all the conditions were. Other than a down tree or two and some neglected Crime Scene tape and signs, you couldn't tell it wasn't Business as Usual.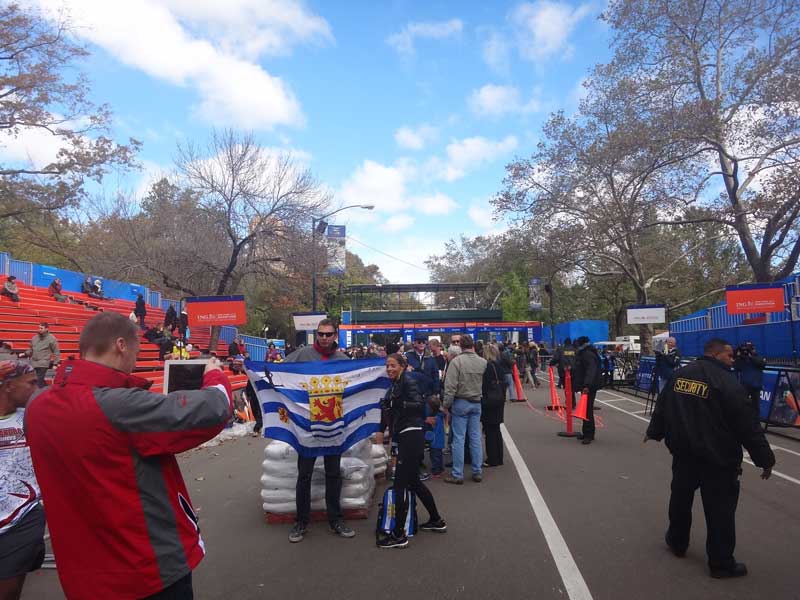 Keely and I were upset at how much money it had cost us to get this canceled race, but ours was a drop in the bucket compared to the people who had been suckered in from Europe, Asia, Africa, Australia, and South America. The finish lines were still up, pallets of water and food were still stored inside the finisher's tent, there were still dozens (hundreds?) of security guards, and there were thousands of runners, trying to make the best of it.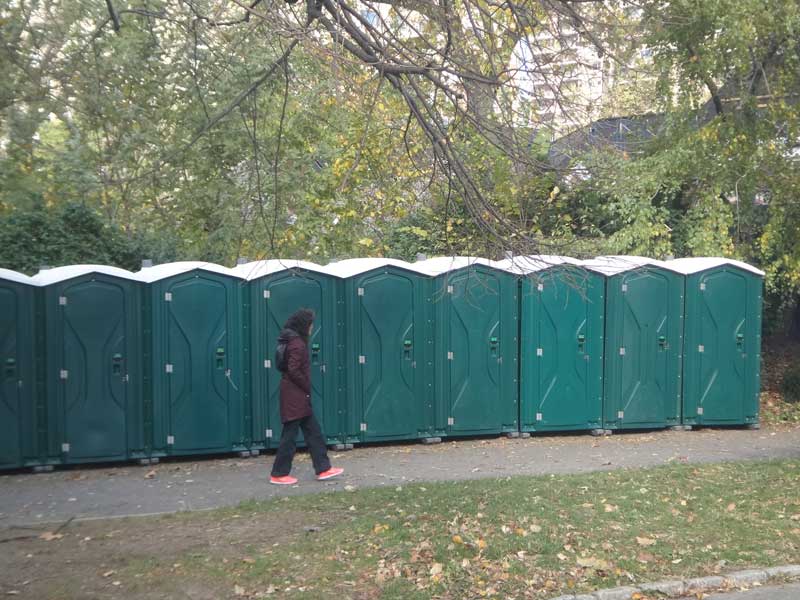 Keely spotted the Porta-Potties that were still in place and said "I'm going to go take the most expensive pee of my life." And she did.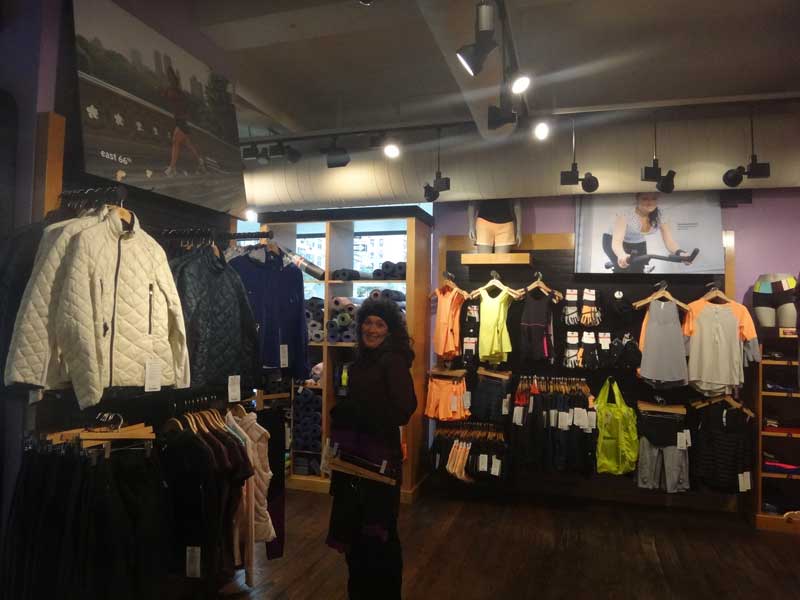 After a rip through the park, watching runners and street performers, we dropped by lululemon where Keely didn't want me to introduce her as the store ambassador from Lulu in the Bridgport mall.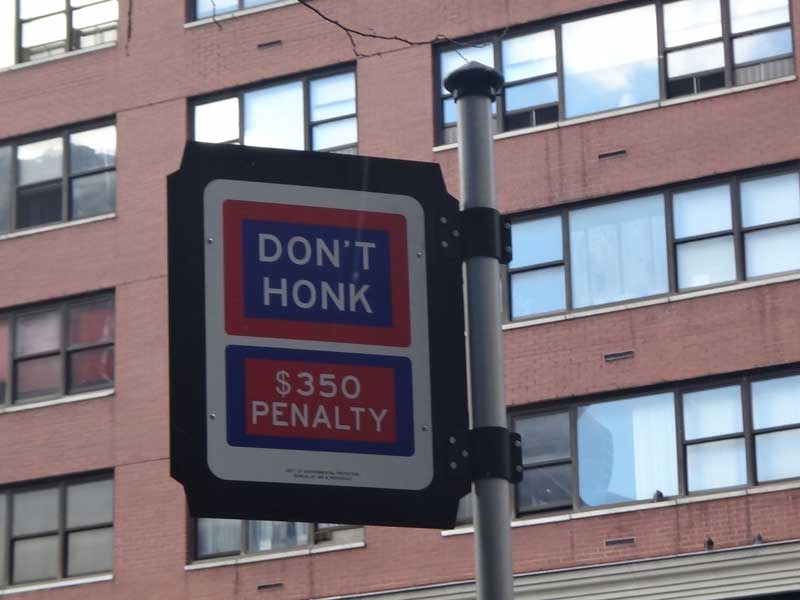 At lunch, I saw this sign. From what I'd seen of NY drivers, I don't see how traffic could move at all. I thought their horn was attached to their gas pedal.
It was such a nice day, we went back through the park and took a peek at the rowboats on the lake.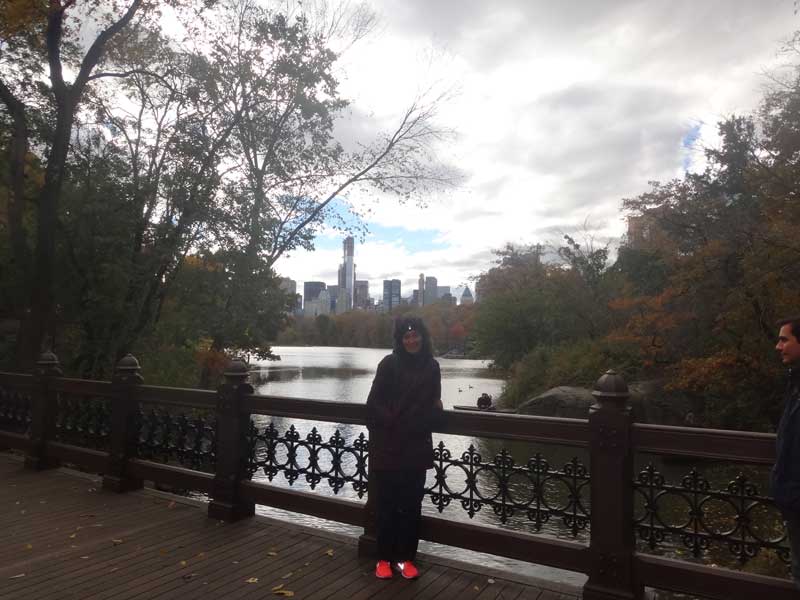 Another nice shot of Keely.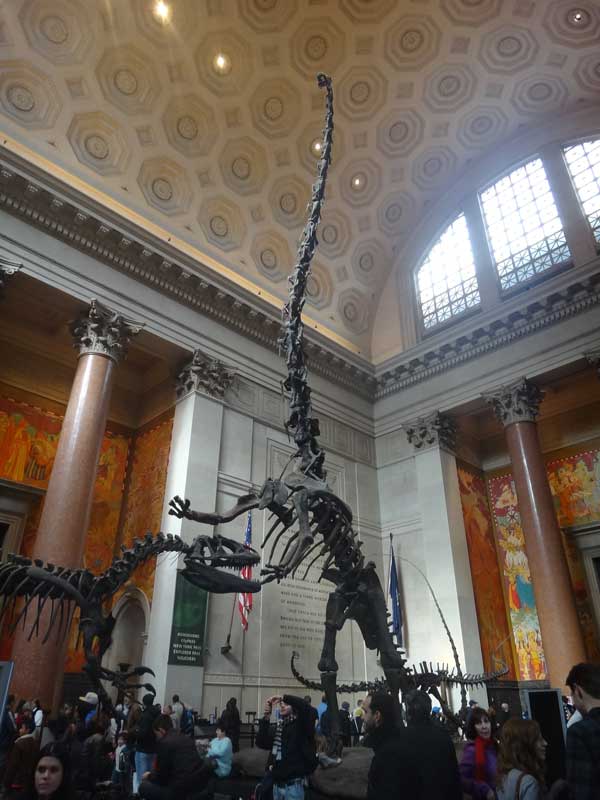 The Natural History Museum is waaaaaay cool.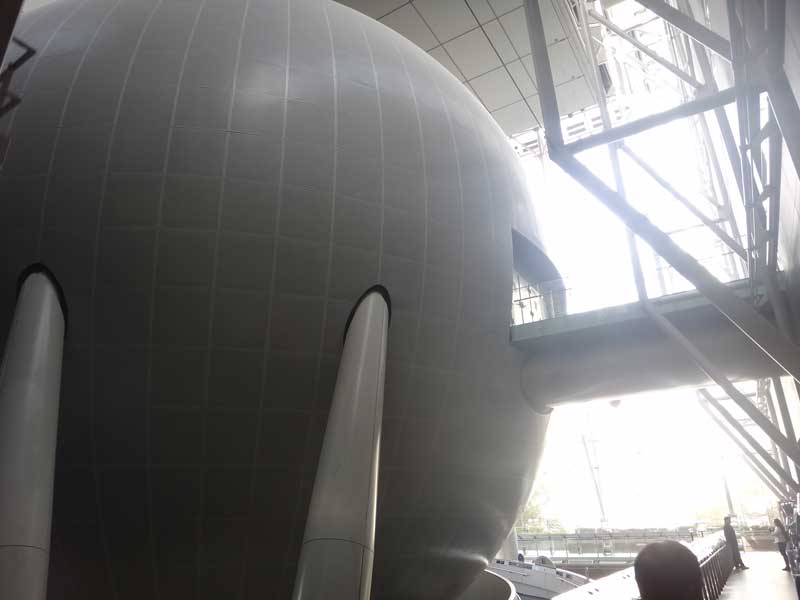 We did not go in the planetarium, but it looked really neat - even from the outside.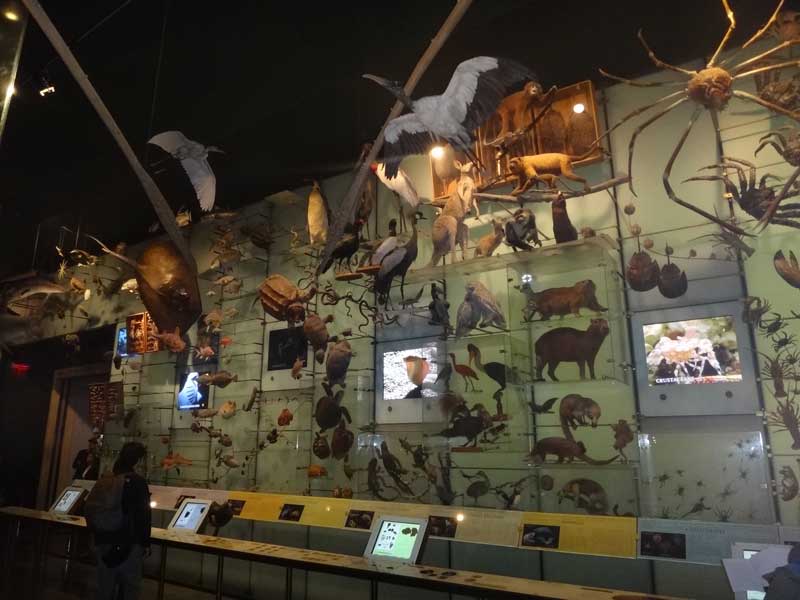 Bio Diversity Hall - man, a lot of animals gave their all for this place. That friggin' King Crab haunts my dreams.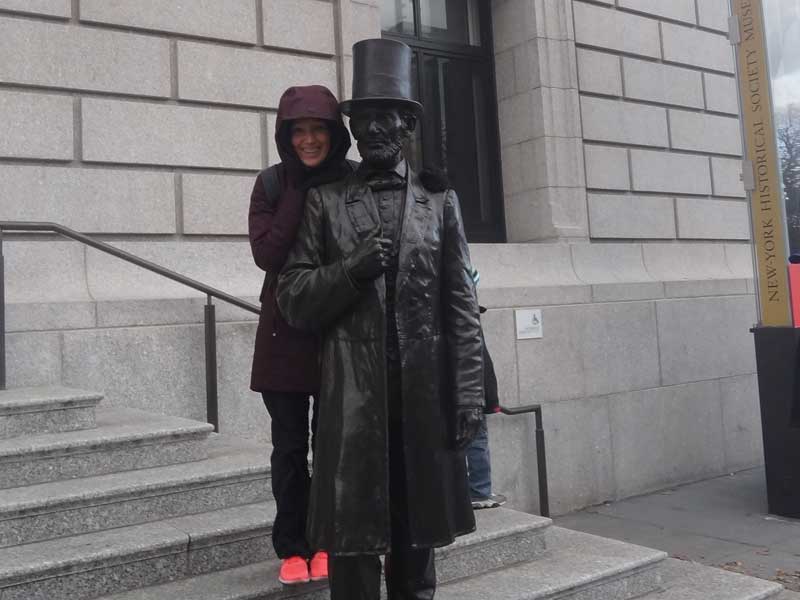 Outside, Keely met this handsome gentleman. Did Lincoln do a lot in New York? It always seemed a Teddy Roosevelt kind of place to me.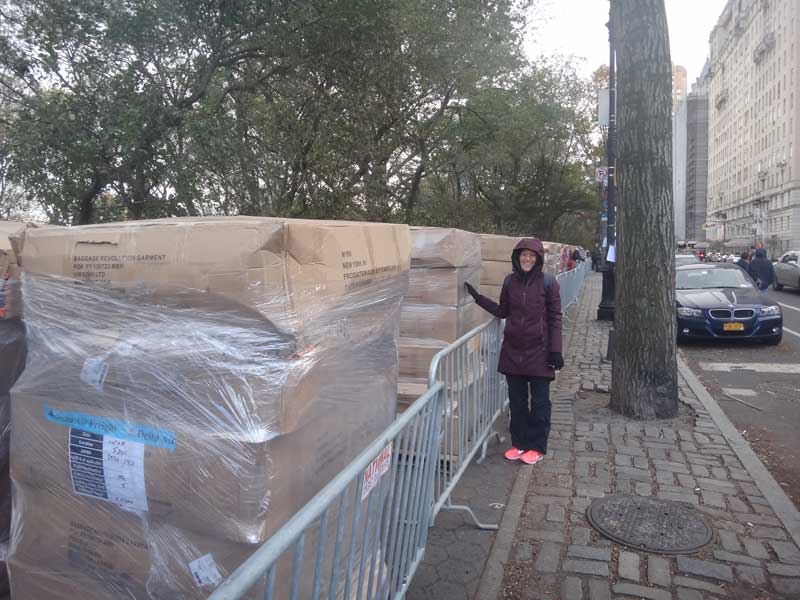 We made our way back to the hotel, passing by the Finish Line for the now canceled marathon. We met several security guards, some of whom were guarding these pallets of ponchos which were to have been given to finishers. These ponchos were at the center of a controversy during the planning stages of the marathon (too long to go in to here) and now, after the race had been canceled due to people howling about how the materials and resources used by the runners should be diverted to Sandy victims, they just sit there, all 50,000 of them, wrapped in plastic and guarded through the night by a team of six - SIX! security guards.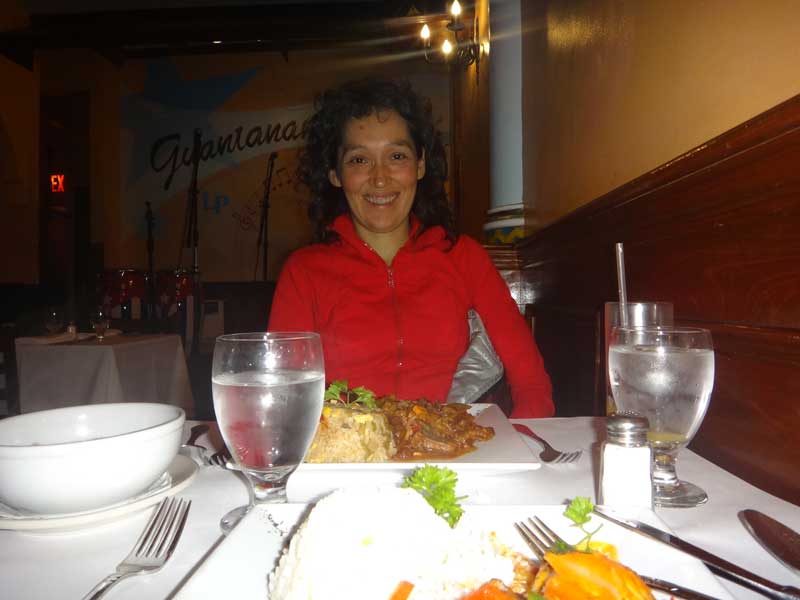 We ended the day with dinner at a great Cuban place - truly delicious food.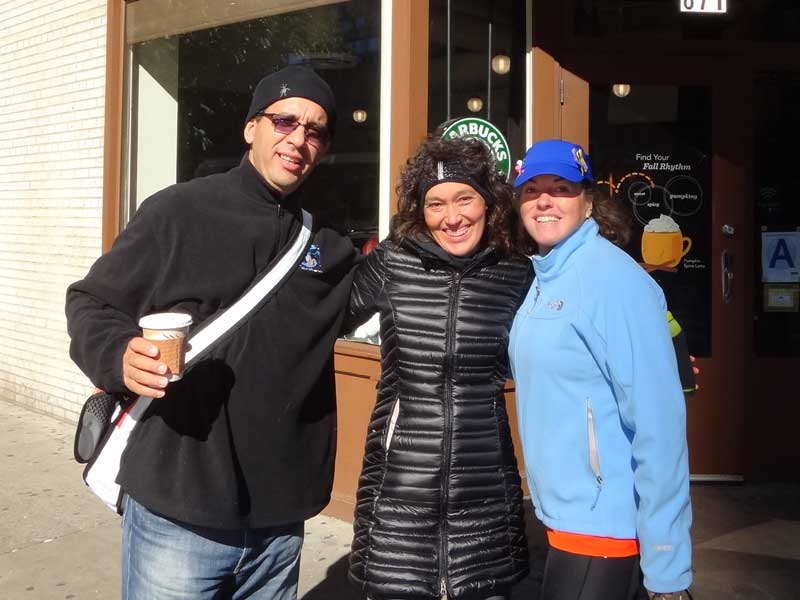 Sunday was to have been Race Day, so Keely met some of her friends at Central Park and they all went for a run, anyhow - along with about 30,000 other people. This pic was taken after the run, but it fits the continuity of the story better - Keely with her friends, Erica and Mustapha.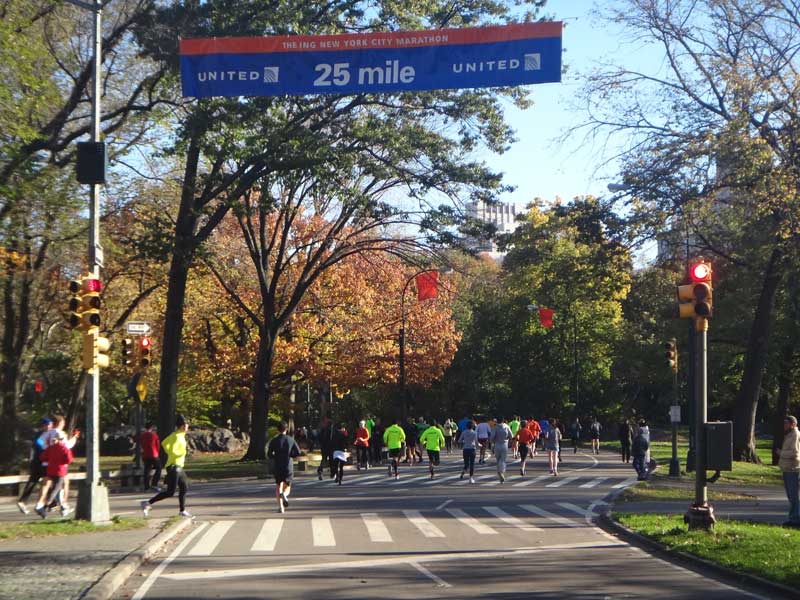 While Keely and her friends were running I walked around, taking in the sights. Everything was still in place - they just weren't holding the event. Thousands of runners, out enjoying themselves on a fine Fall day. Where was NYRR, the organizers of the marathon? Were they organizing an alternate event? Were they mobilizing the runners to show up at some place to help with hurricane recovery efforts? Were they even putting any information on their website? No. They abandoned the entire event - just took our money and walked away.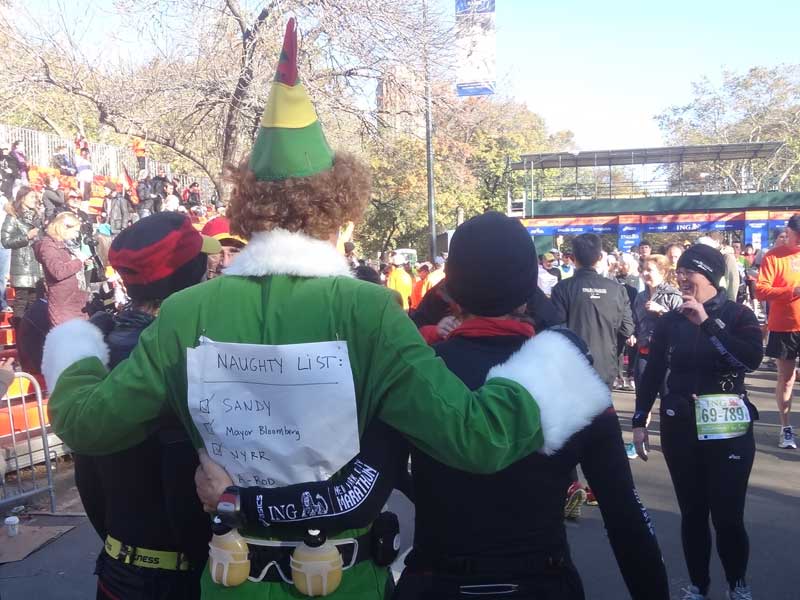 This guy in the Elf costume had the right idea: Naughty List - Sandy, Mayor Bloomberg, NYRR, and for some reason, A-Rod.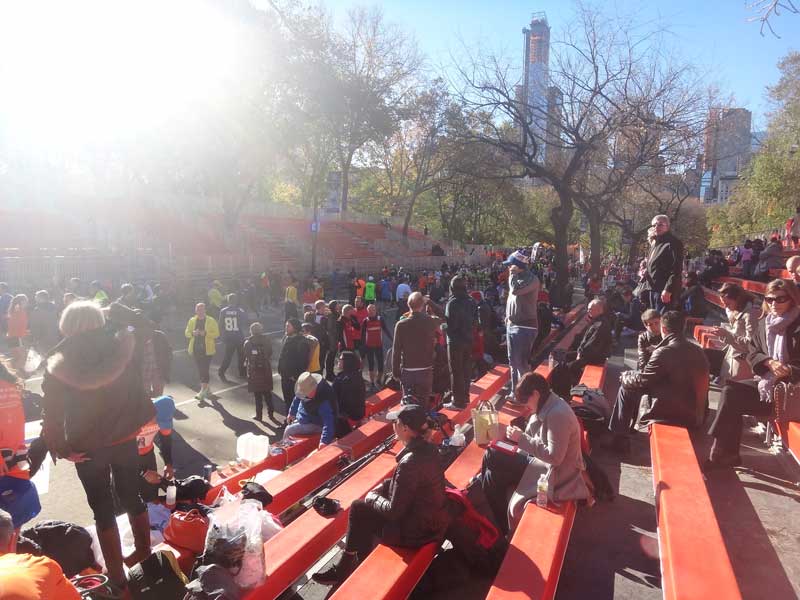 All through the day, people were coming - with their families - and running around Central Park. Thousands and thousands of people from all over the world.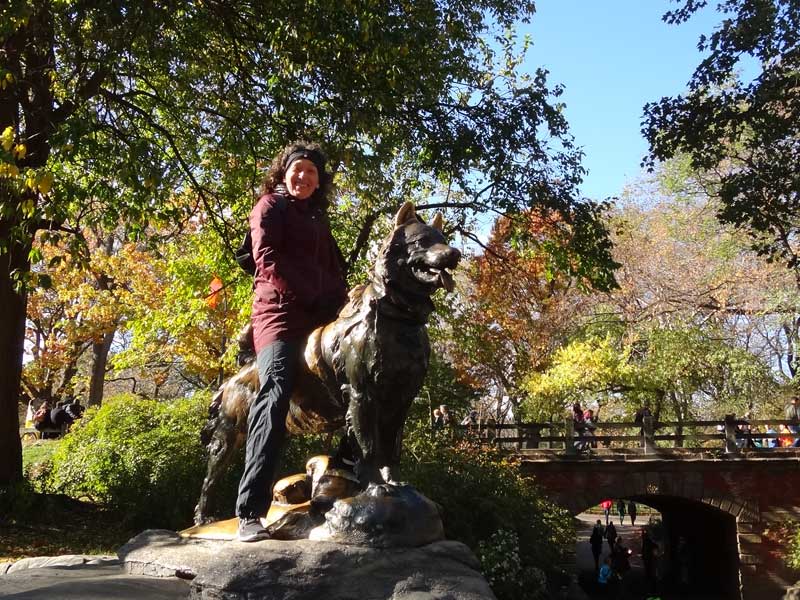 After we left Erica and Mustapha, we went back into the park to enjoy the vibe - it was like a carnival. Keely found this bronze dog to pose with (Balto?)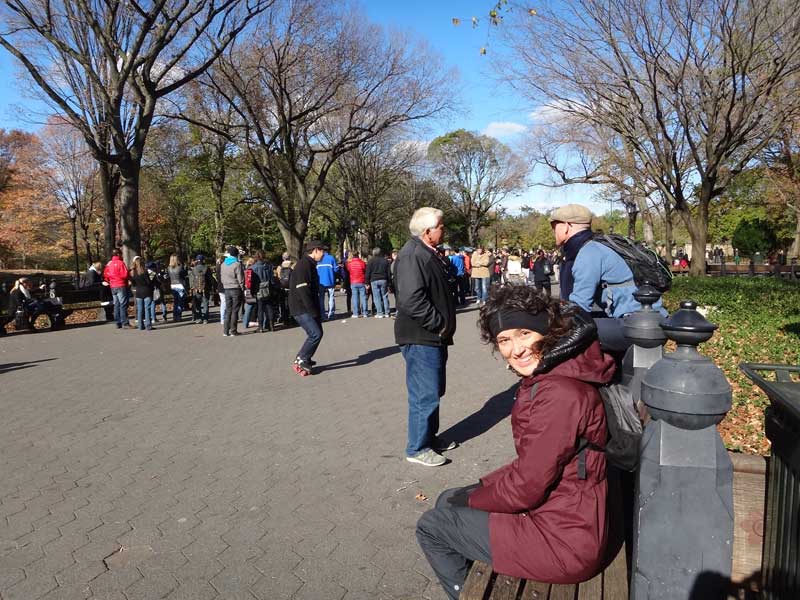 and there were street performers and old men talking.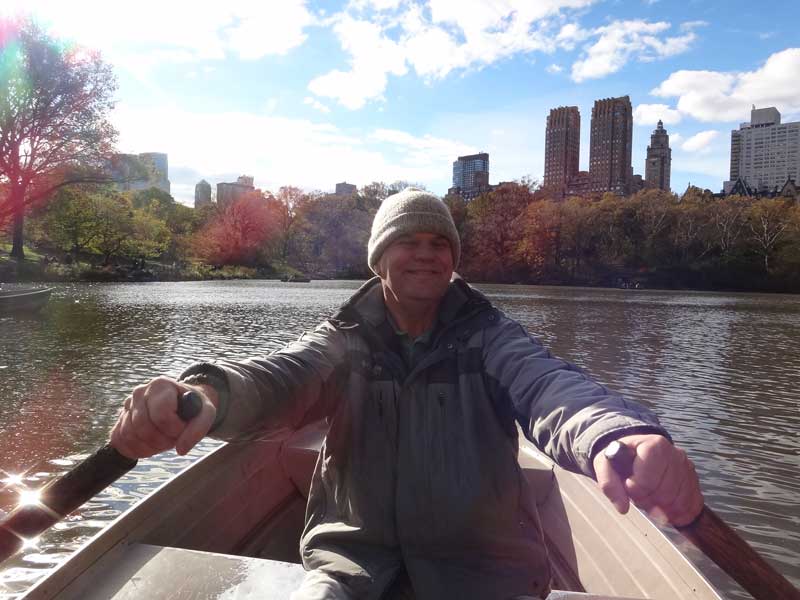 We ended up renting a rowboat and going out on the lake - $12 for an hour and $3 for each additional 15 minutes - cheapest thing we did in New York.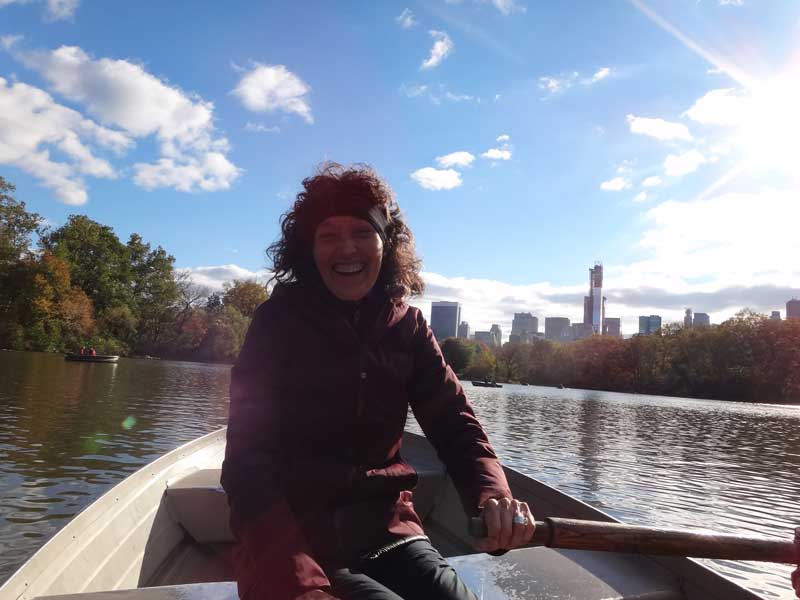 I get to row all the time - for Keely, it's a special occasion.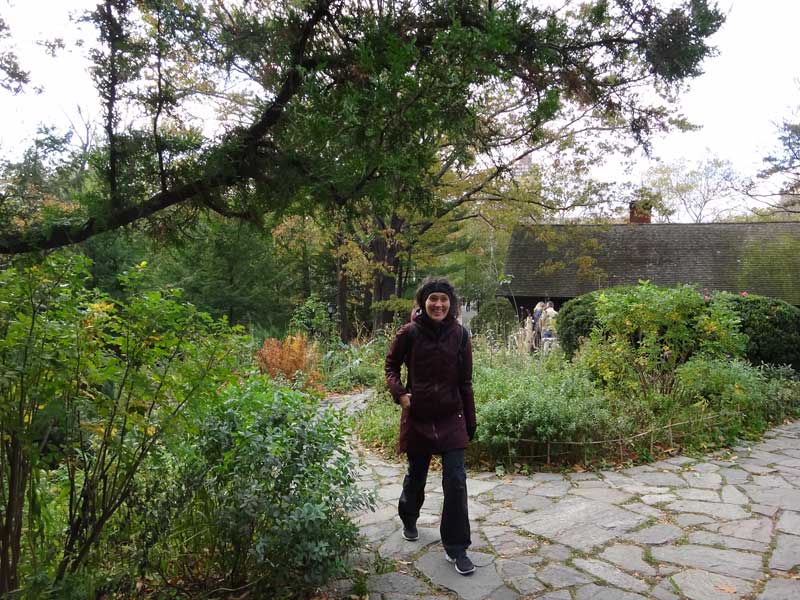 We walked up the park to the Castle - now operated by NOAA as a weather station.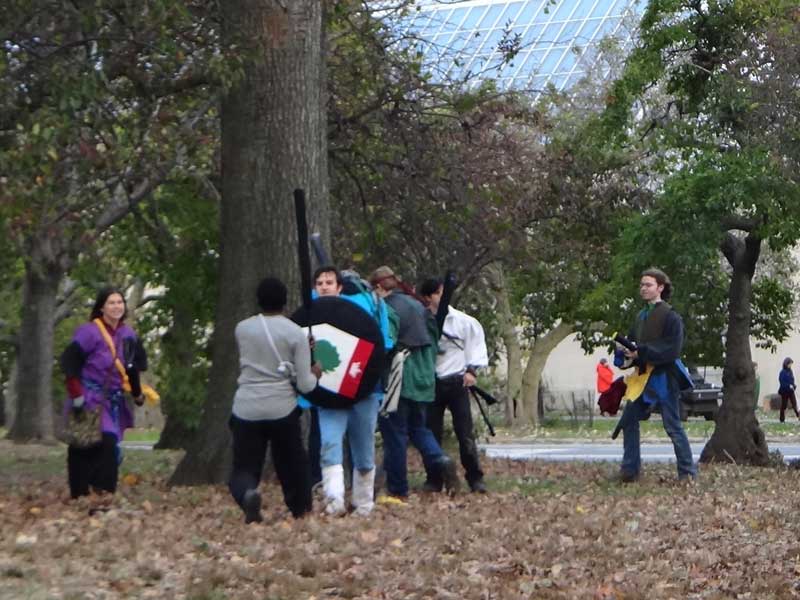 and kept going. We saw a bunch of people whacking on each other with styrofoam swords - I wonder if that is that Belgarth stuff a friend of mine in Montana likes so much?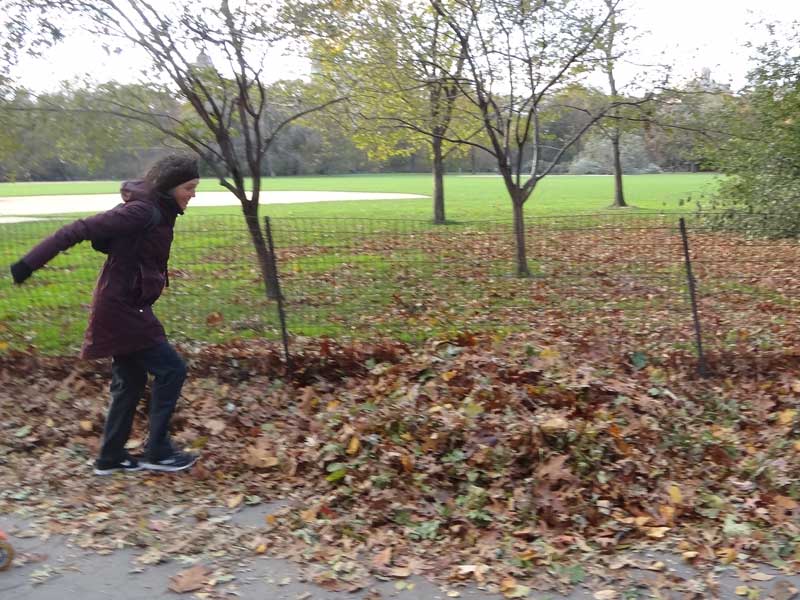 A father scraped a bunch of leaves into a pile for his little girl to play in, but she wasn't interested, so Keely asked if it'd be OK for her to jump in them, instead.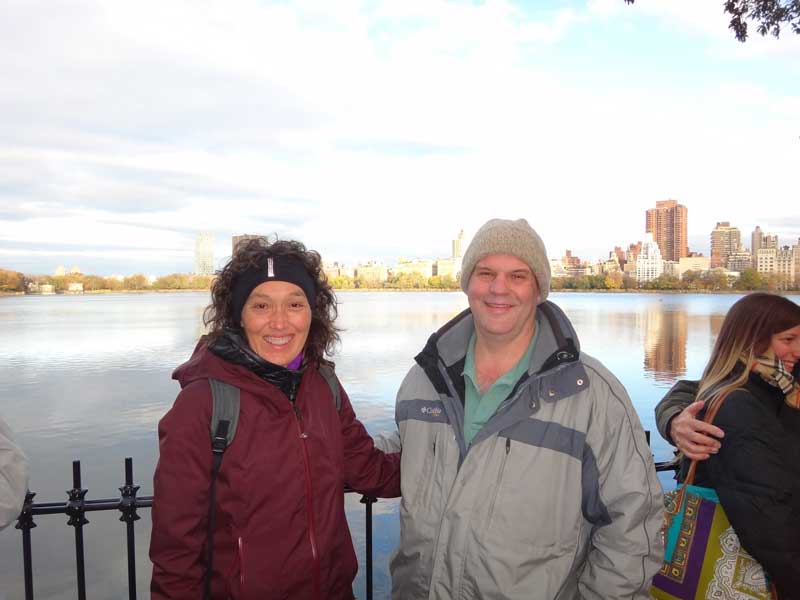 By the reservoir.
Dinner at a Tapas place - cactus chips and fried yucca root were big hits with me.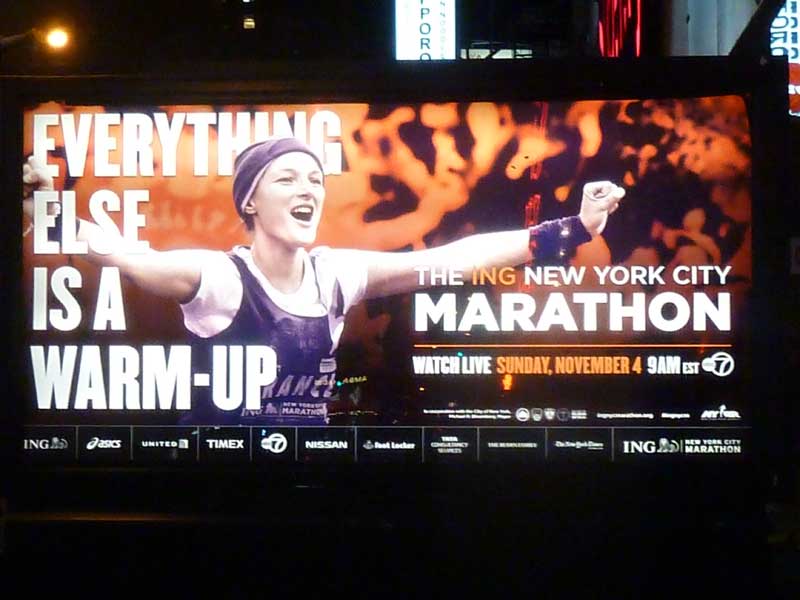 Yeah, sure it is.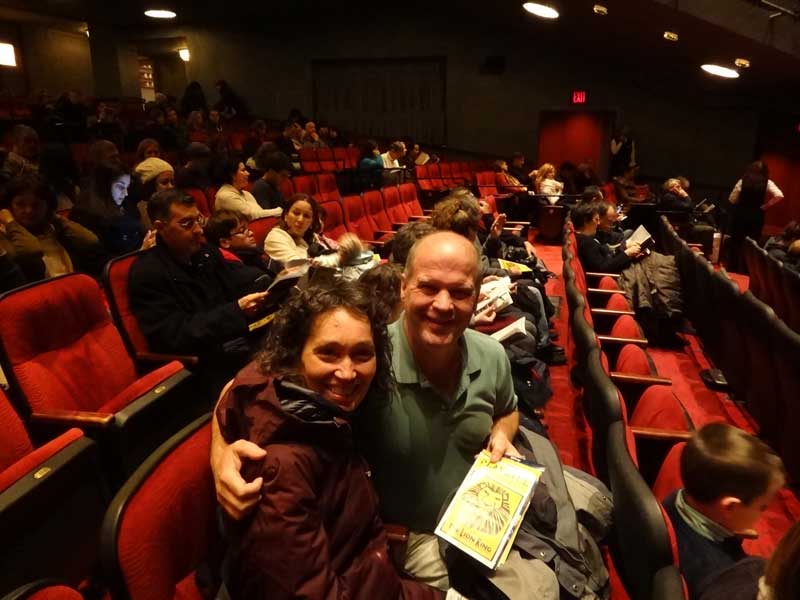 Lion King that evening - man, they do a fine job.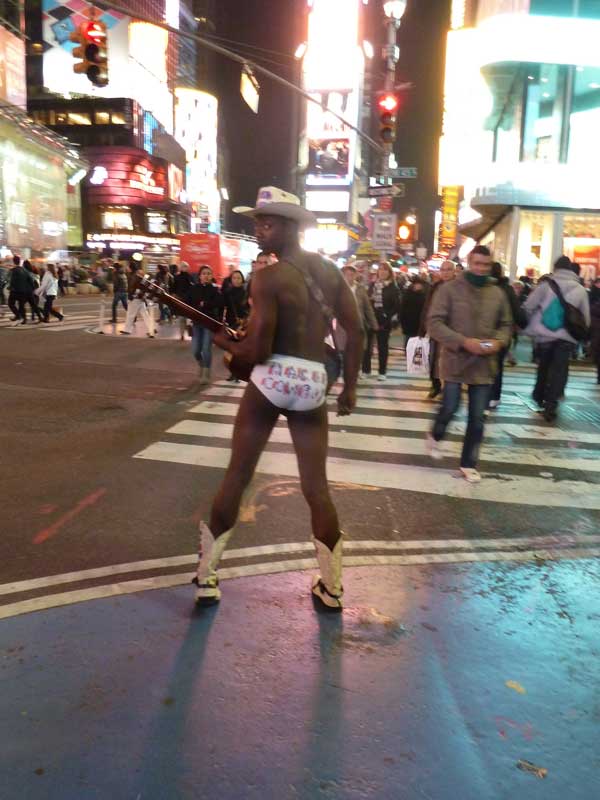 Now there's something you don't see in Salem: a Naked Cowboy. You have to admire his dedication - it was damn cold.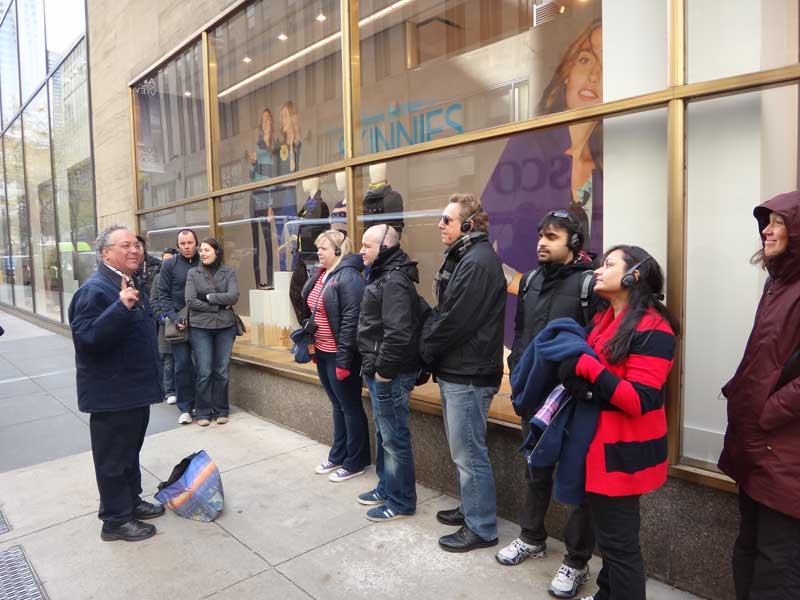 Monday was our last day, so we decided to make the most of it. We'd already taken the NBC tour of Rockefeller Center, so we took the Art and Architecture tour next. Kim is a fantastic guide - as for him if you can.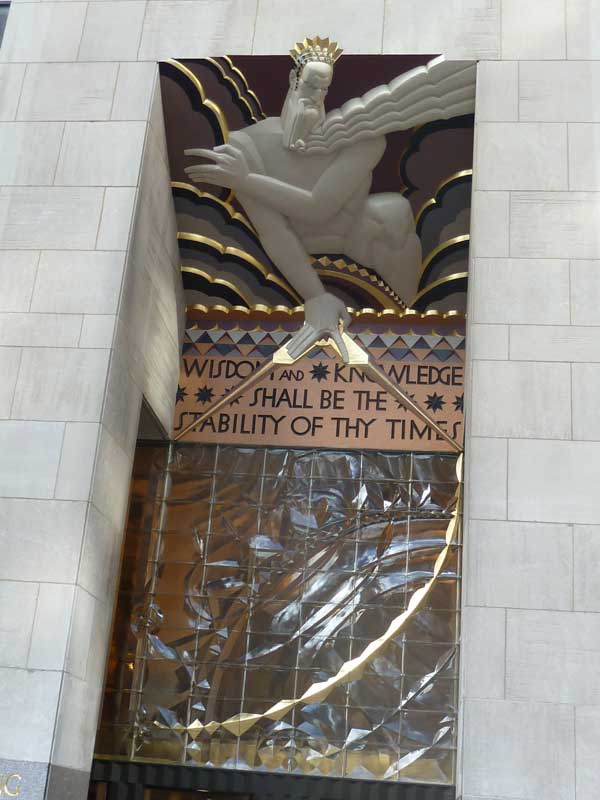 There really is some fantastic art on those buildings.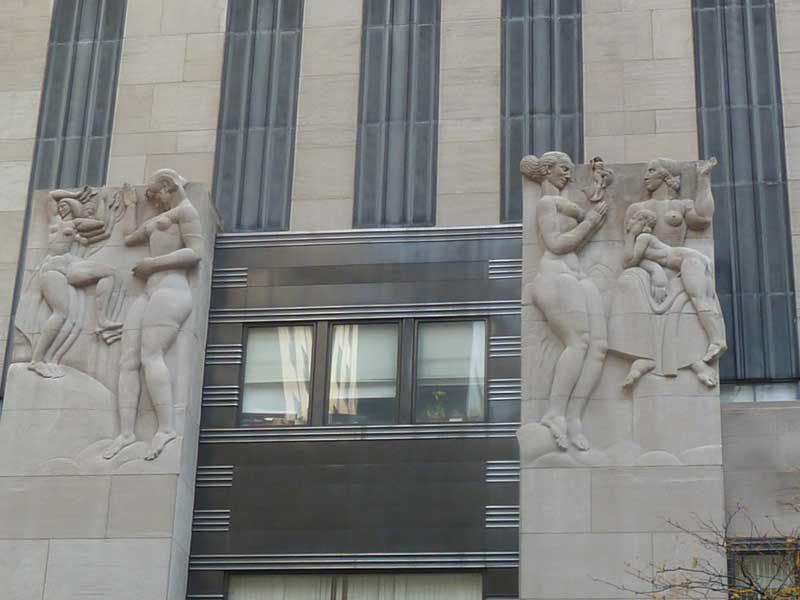 This is supposed to be Television - but it hadn't really been invented with the artist was commissioned to do it. The people on the left are creating the show, it's beamed to the watchers on the right.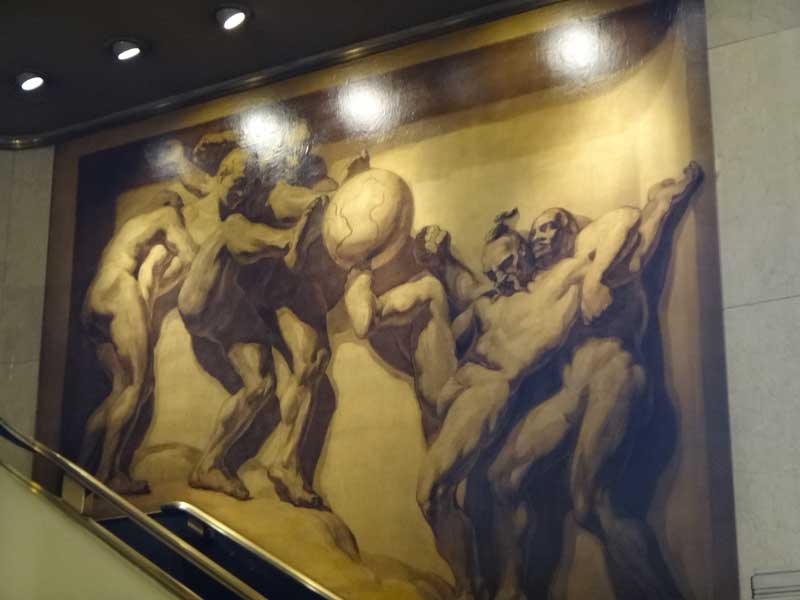 The paintings inside are pretty great, too. This was all done right around the start of WWII.
This picture does not do this room justice - it is truly majestic. Pillars of marble supporting a ceiling of gold with bright windows casting light on everything. It's really cool.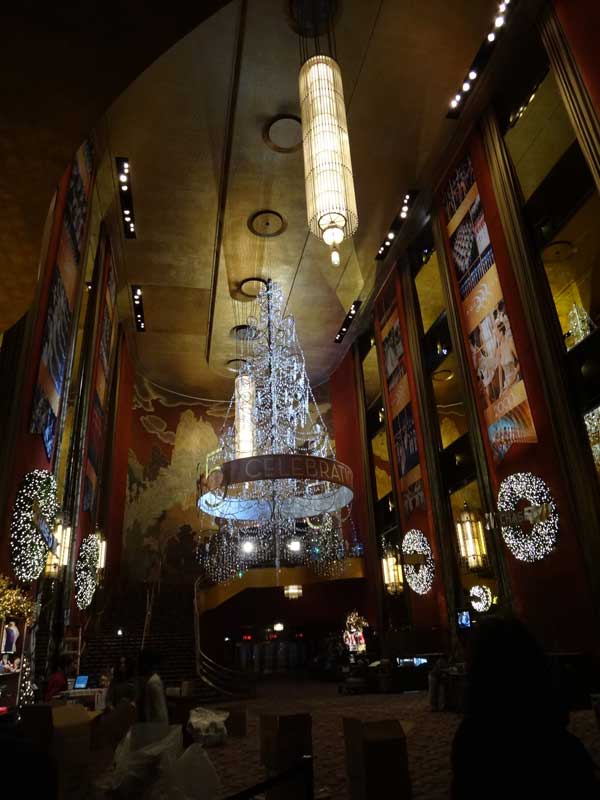 We were having so much fun on tours, we decided to do the Radio City tour next - this is the lobby.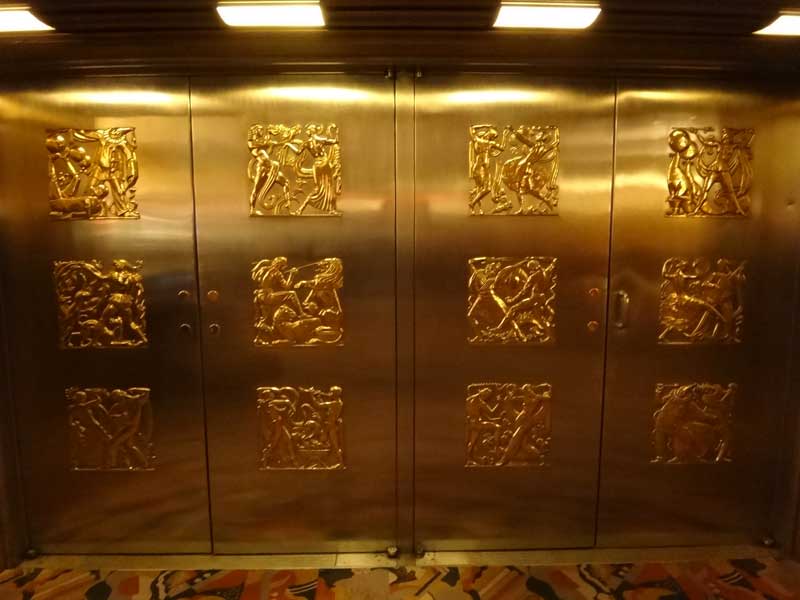 Everything in this place is over the top - these are the doors into the theater.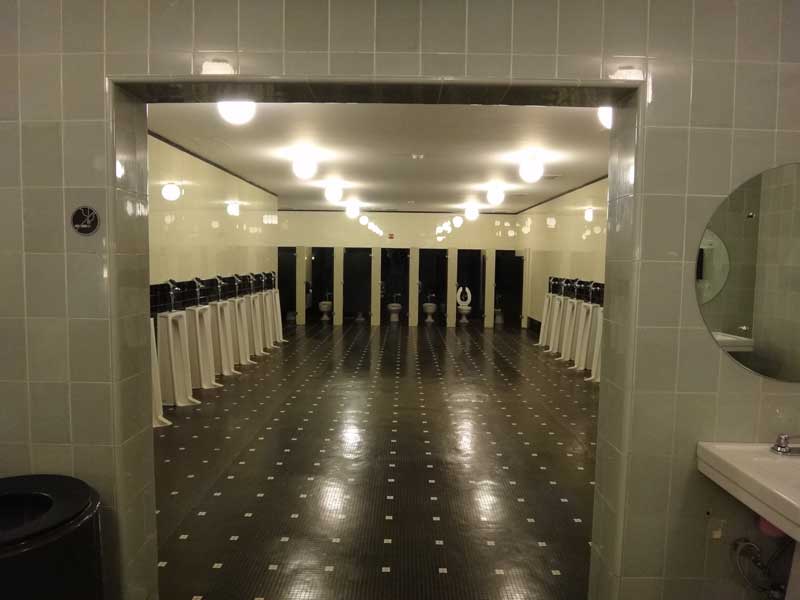 Heck, even the bathrooms are majestic. (with 24 urinals, why would someone pee in a stall? At least he lifted the seat.)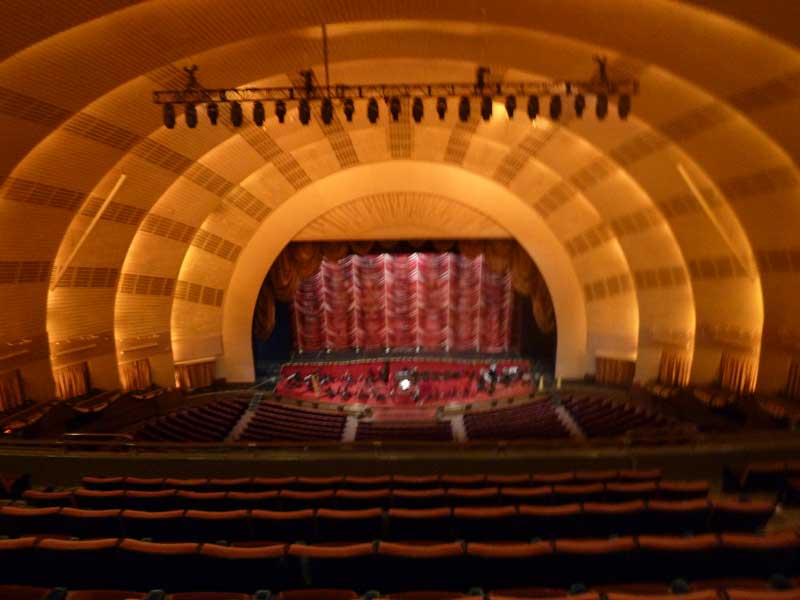 The theater itself is something to behold. Sorry for the crappy picture, but photography was forbidden.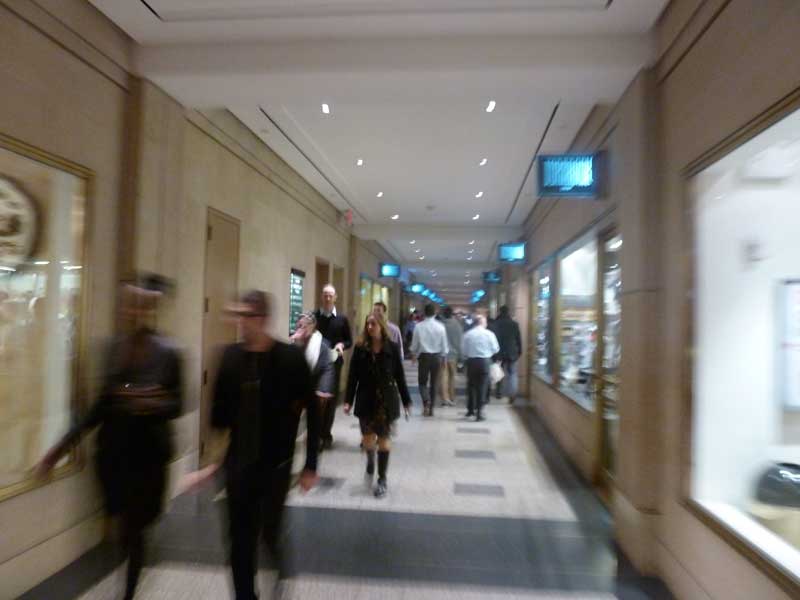 We ate in a burger joint inside Rockefeller Center - it's like a whole city in there. (I just liked how this picture reflected the 'not a second to lose' atmosphere of the place on a Monday.) What you can't see is the quality of the building materials and cleanliness of everything. They polish the brass (and there is a lot of brass) twice a week and clean the bathrooms every 20 minutes.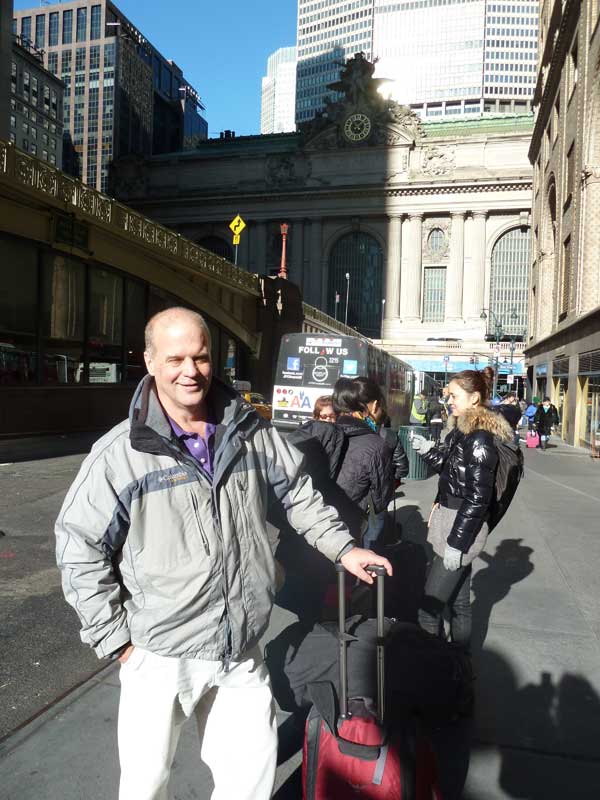 And then it was back to Grand Central for the bus to JFK.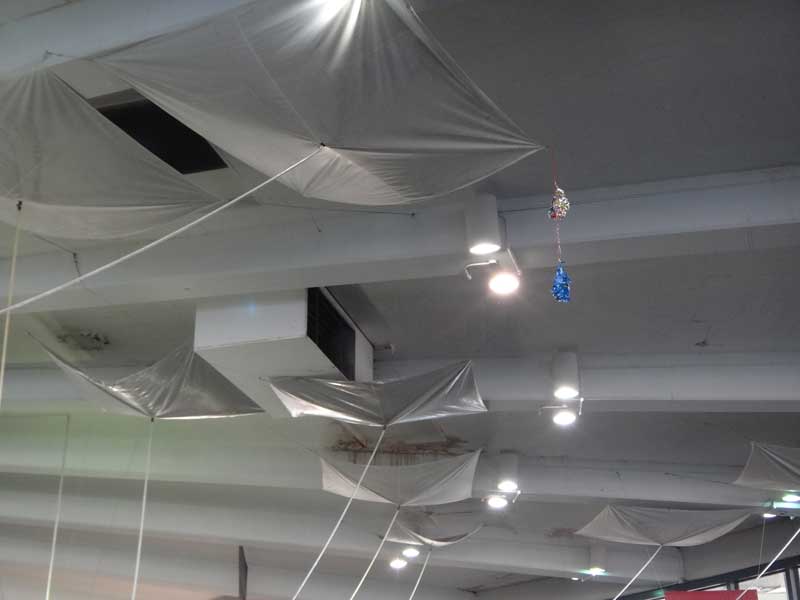 In line for security groping, I happened to look up and at first I thought this was some new form of art. Then I saw they are catch-tarps and drains for controlling roof leakage I wonder if they were up before Hurricane Sandy? In the security line, we got to watch a TSA agent have a meltdown on the couple in front of us - she felt they were crowding her. She got very upset, but to her credit, she didn't taze them or single them out for extra-special groping.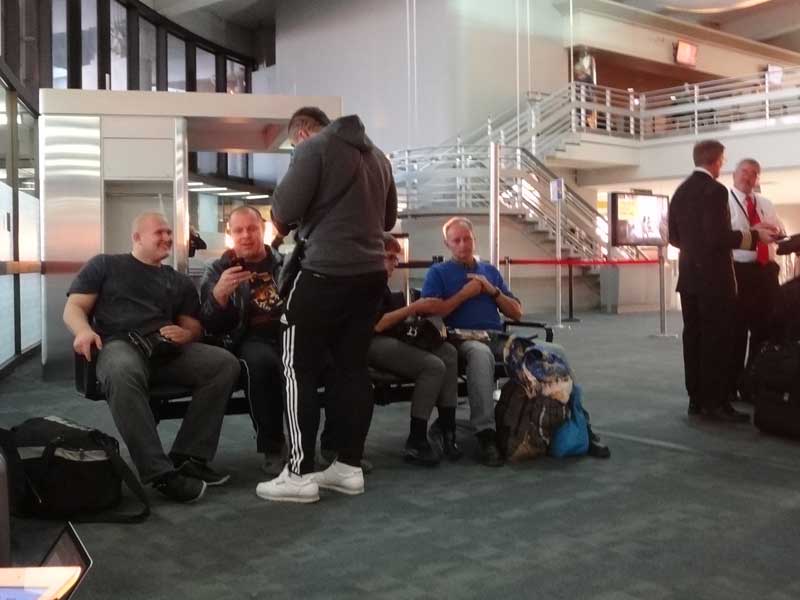 And out last little adventure involved these guys. They were HUGE - that guy in the blue shirt is taller than I am. That kid on the left must have weighed 300lbs. AND they were speaking Russian (or what I think Russian sounds like.) I leaned over to Keely and whispered "I think I've seen this in a movie before. We are all going to get on the plane, they are going to start something, and Bruce Willis is going to come out of the luggage rack. Maybe we should change our flight." Then they boarded their flight - it was the next gate over - and it was going to Orlando - home of Disney World.
So that's our New York adventure. It's been nearly three weeks since the day the marathon was to have been held. There has been no communication with New York Road Runners - they even went on vacation the week after the (non) race. As many as 30,000 people were tricked into coming to New York, most bringing their families. Collectively, they probably constituted the largest influx of private money into the city after the hurricane. Mayor Bloomberg and NYRR did this because they knew they could get our money and suffer no consequences - we can't vote for mayor and all we can do is bitch at NYRR.
New York, you are like a crazy ex-girlfriend. You invited me over, I had a great time, but you lied to me and stole my money. I'm blocking your number and un-friending you.