Introducing Darling, our newest family member
July 8, 2012
We'd lost Boadicea in February of last year and BeBop in January this year. While life is easier with just one dog, it's not as rich. After some long talks, we decided to go back out to the same breeder where we'd gotten Boadicea, Bebop, and Aurora: Daree Miniature Schnauzers. Gwen, and now her daughter, Cynthia, run a world class operation - Daree Miniature Schnauzers is #1 in my book for excellent puppies.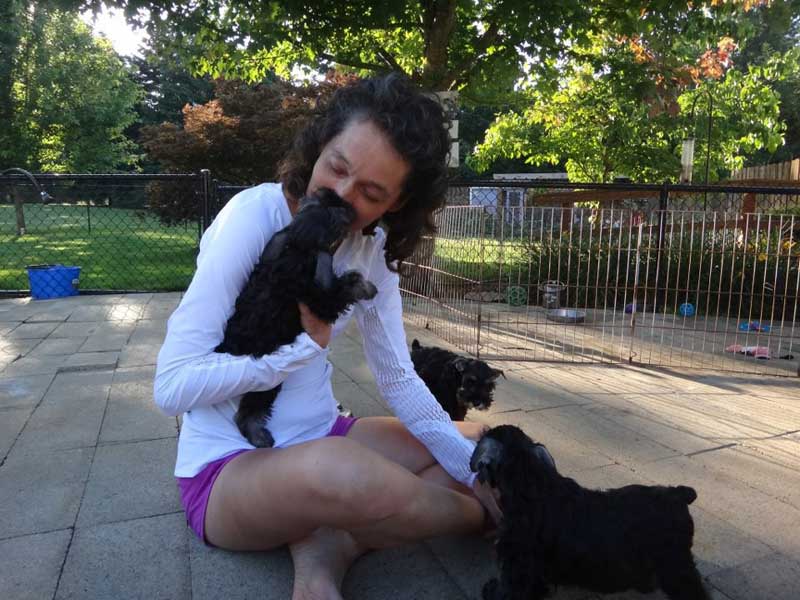 It's just a few miles down the road, so we went out on a "Just Looking" mission last night. Cynthia had four 9-week old puppies (2m, 2f) and one 13-week puppy she was saving for show. Keely is probably not the most objective person when it comes to interviewing puppies.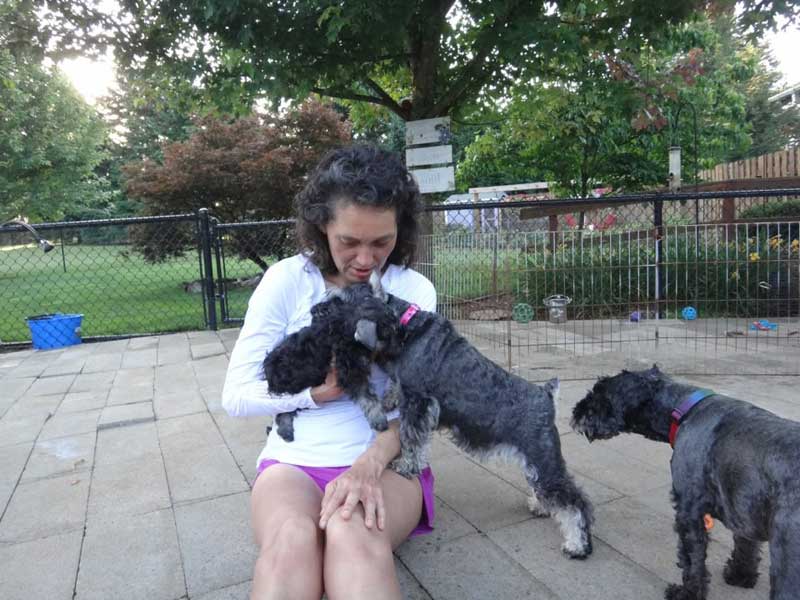 The puppy's mother, Blossom, came out to interview us, as well. We'd hoped that Aurora would take a liking to a particular dog, but she pretty much ignored all the puppies, preferring to pay her attention to the older dogs and a pair of chickens that would cluck by in the background every once in a while.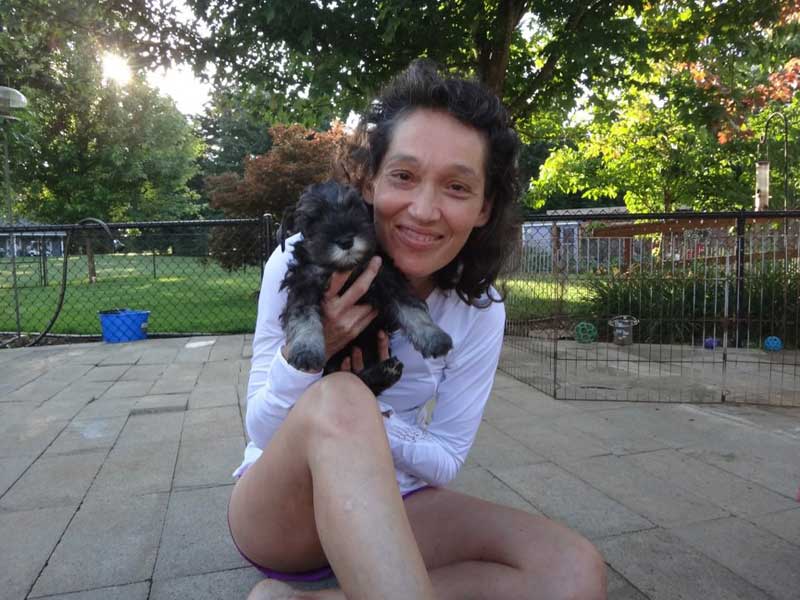 The trouble was, out of three were perfect - the other male just liked to run around and around. We couldn't come to a decision, so we packed up to sleep on it.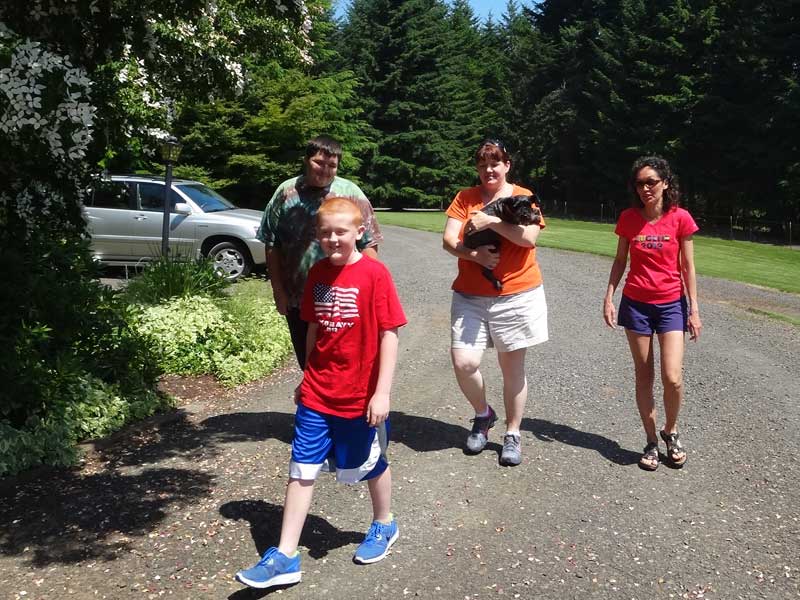 Next day, we had a discussion and decided both us and Aurora had been without another dog for long enough. Darcie, a friend of ours, who also has a schnauzer and had recently lost her other dog, wanted to come along, too. I invited her to bring her two boys, Brodie and Hunter - just to look at the puppies, you understand.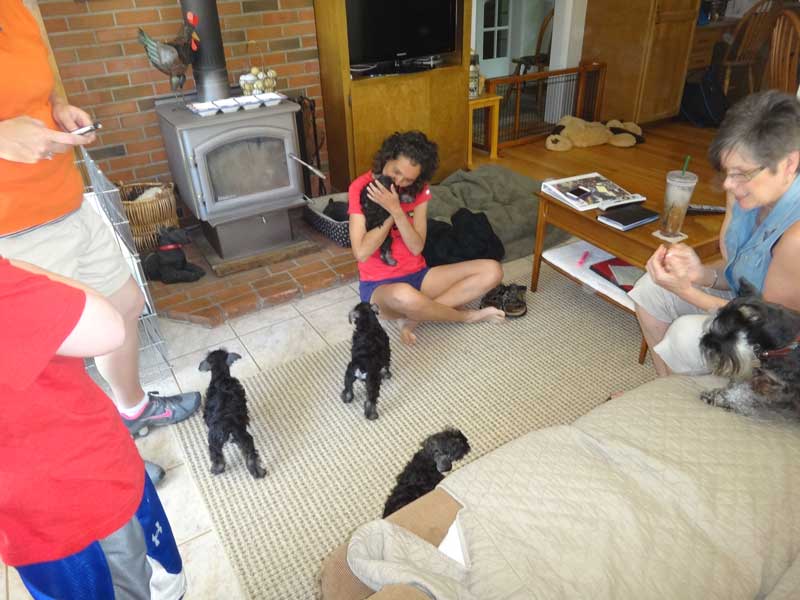 We'd pretty much decided that out of the three perfect puppies, one was a little more perfect than all the others. She was just the sweetest little darling you could ever hope to meet. All the dogs were wonderfully behaved, but she was something special.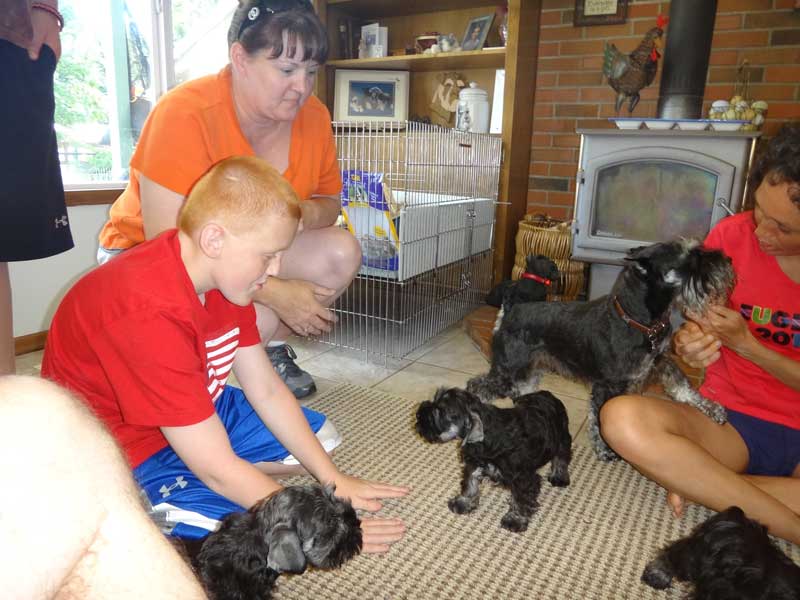 Cynthia would bring out some adult dogs while we played with the puppies - the one talking to Keely is a fine looking male named Damien. Brodie was starting to enjoy playing with the pups.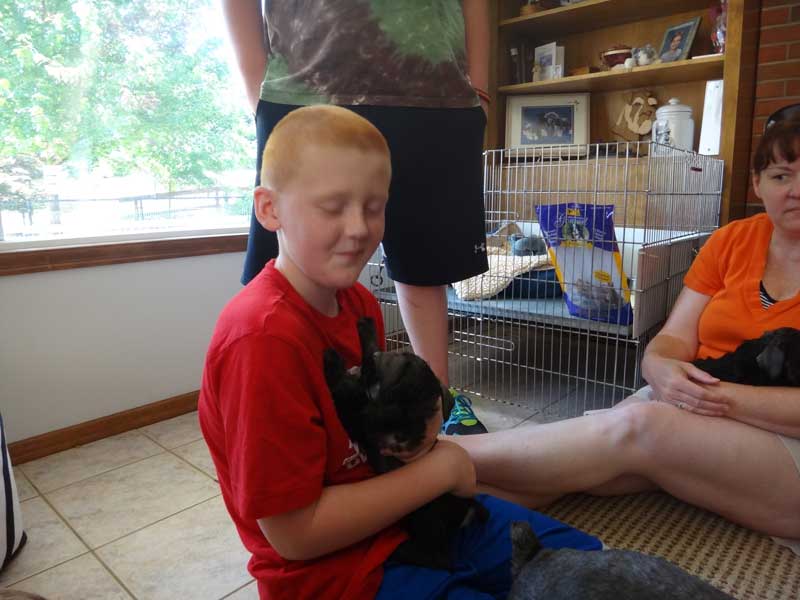 Brodie took a special liking to the 'perfect' male, and started calling him "Tony." You can see Darcie was starting to show some concern.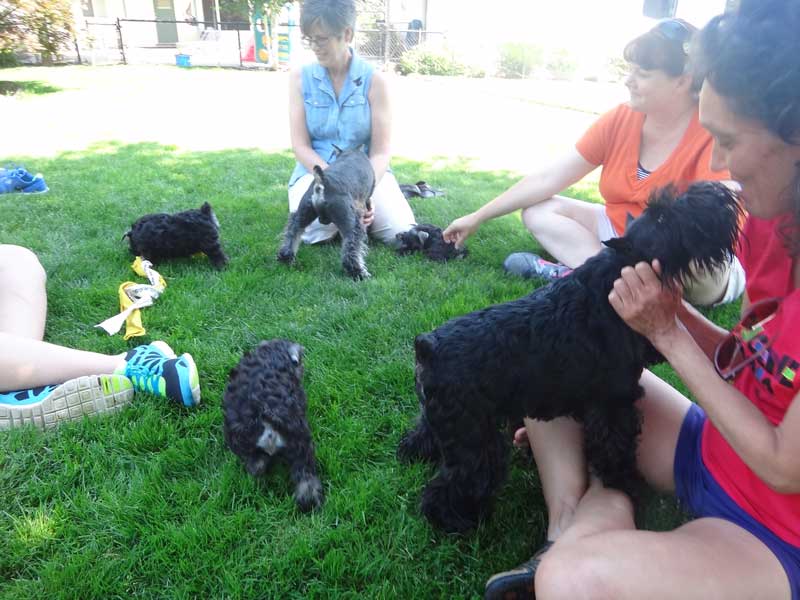 We moved the party outside and Mia, an exquisite black female came out to join us. She is a real neat dog.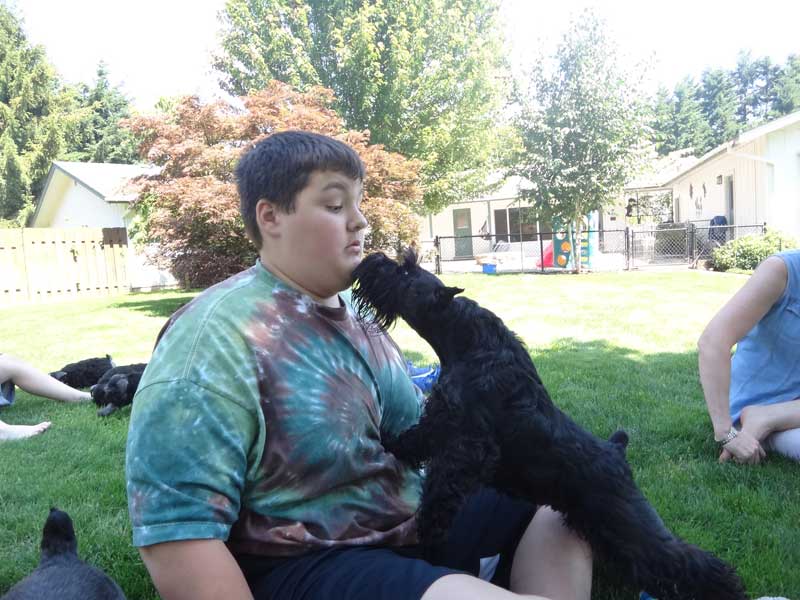 MIA made sure she'd go get a big drink of water, then give someone a kiss. It was like her super power or something.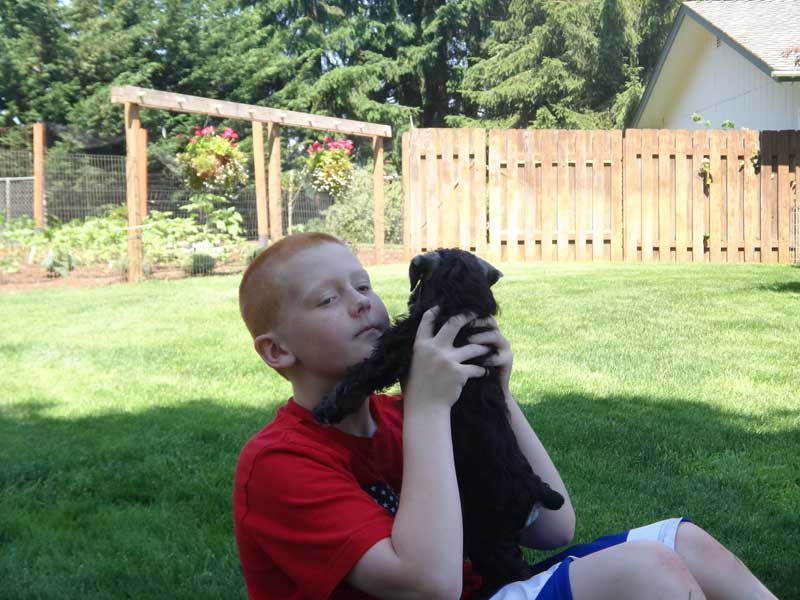 Brodie was growing increasingly attached to Tony.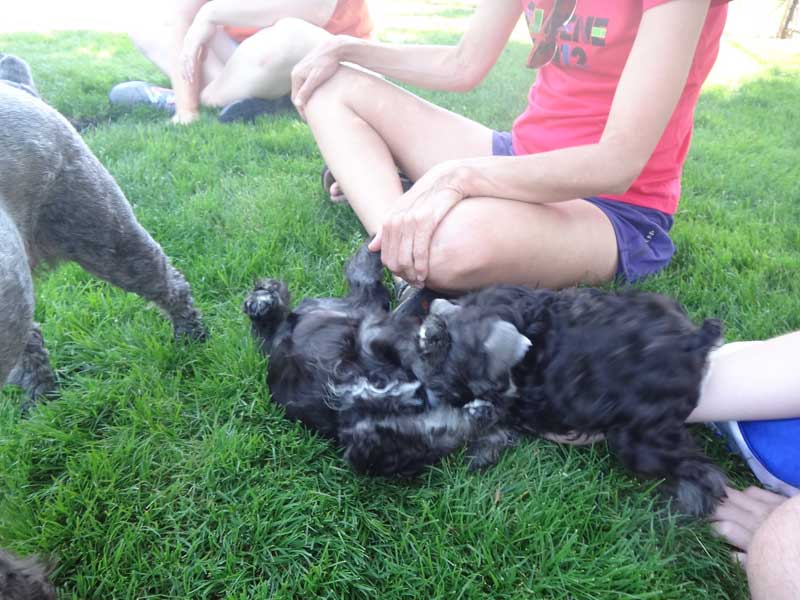 Puppies being puppies - the cutest Battle Royal you've ever seen.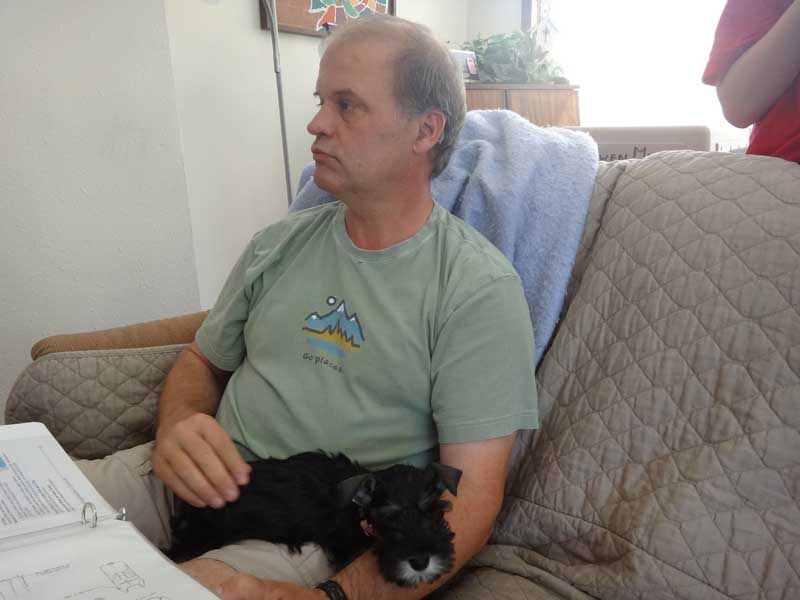 We finalized our choice and filled out the paperwork. "Have you thought of a name yet?" Cynthia asked. "Her name is Darling, it has to be, because that's what she is."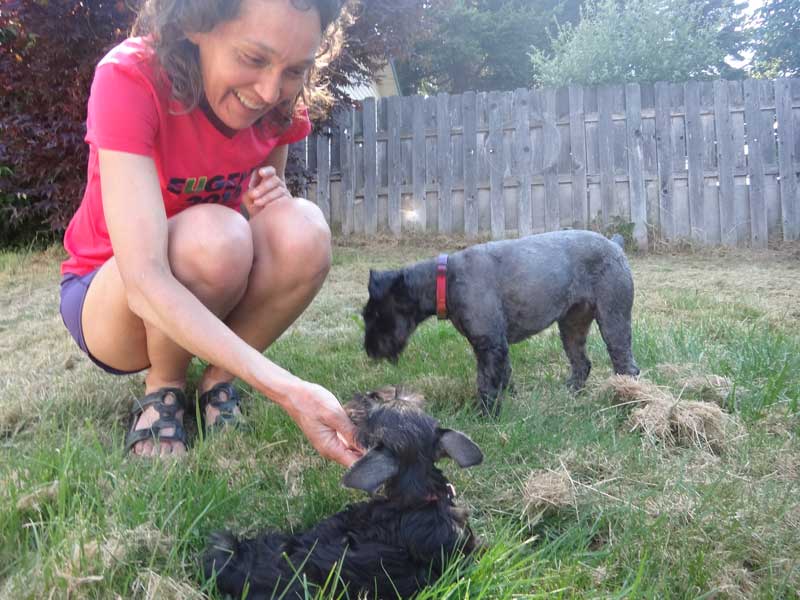 Back at home, Darling is a little unsure of her new surroundings. We have to puppy-proof the house and make sure everything is ready for her.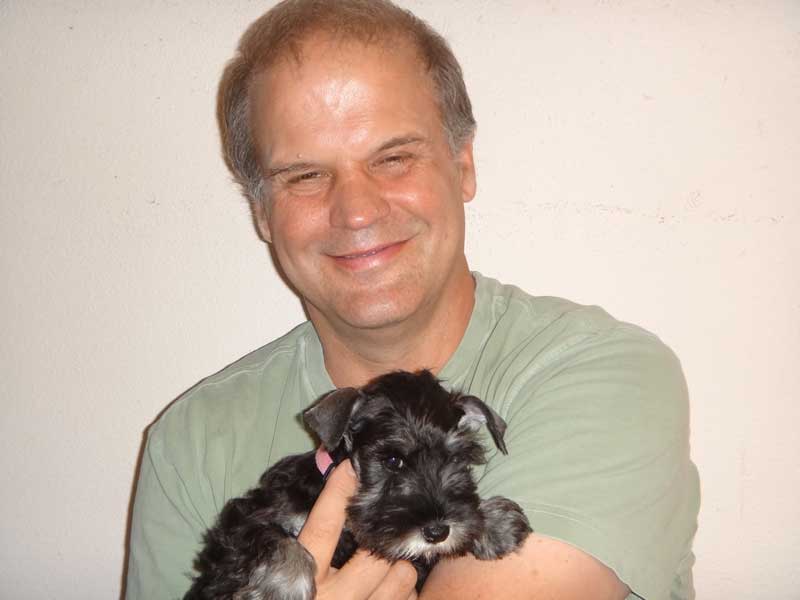 That is one cute little dog.