Goosin' Around
27 May,2012
I picked up the Goose from Rick on Thursday. I did my thing at the Toledo Community Boathouse on Friday and Saturday, and spent Sunday just painting the spars. Memorial Day was my first chance to really get in and do some work.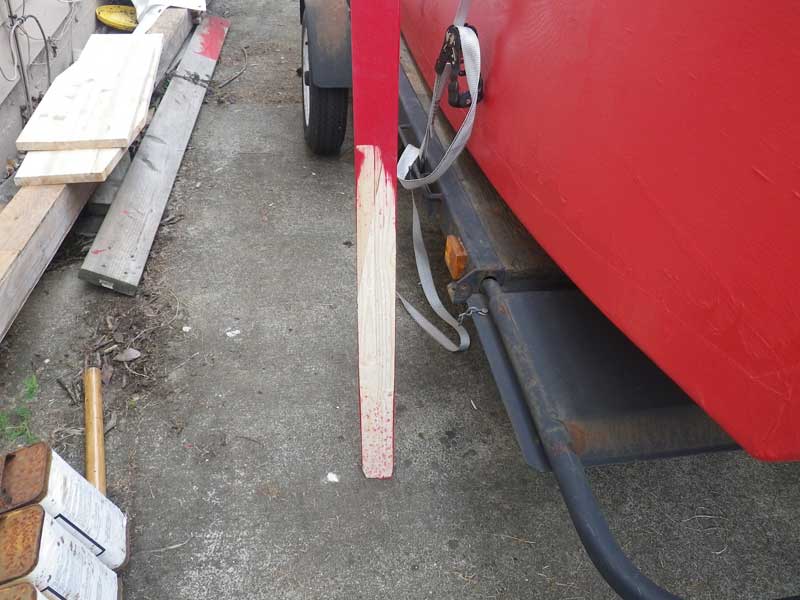 The mast is over 15' tall, and after painting, it wouldn't fit down through the partner. My first order of business was trimming the mast just a bit. Of course, once trimmed, the fit was a little sloppy. I did some work on the mast step as well. I needed to notch out the mast and then trim it to width so it fit in properly.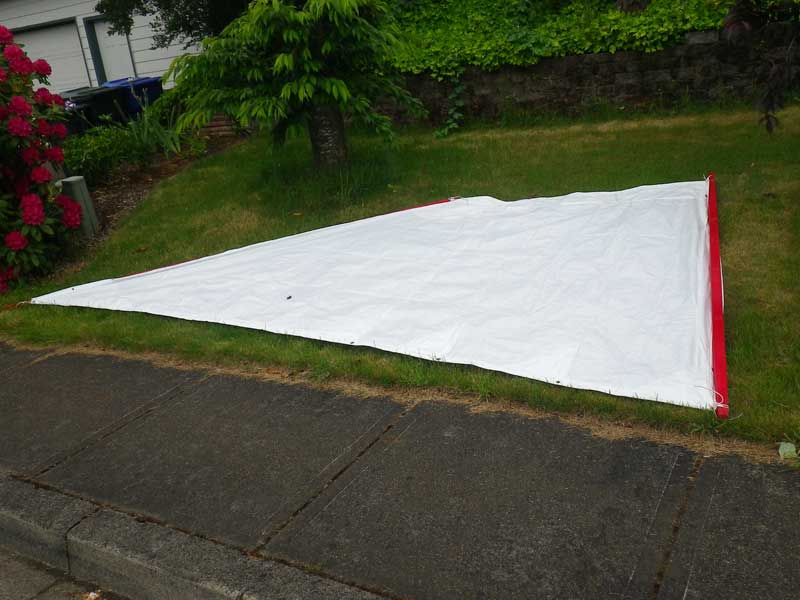 Next was attaching the main sail to the yard and boom. Normally, I'd set up some kind of outhaul so I could adjust the tension of the sail to fit the winds (loose sail for loose wind, tight sail for tight wind) but since I am going to the TX200, I just pulled the sail as tight as I could and called it good.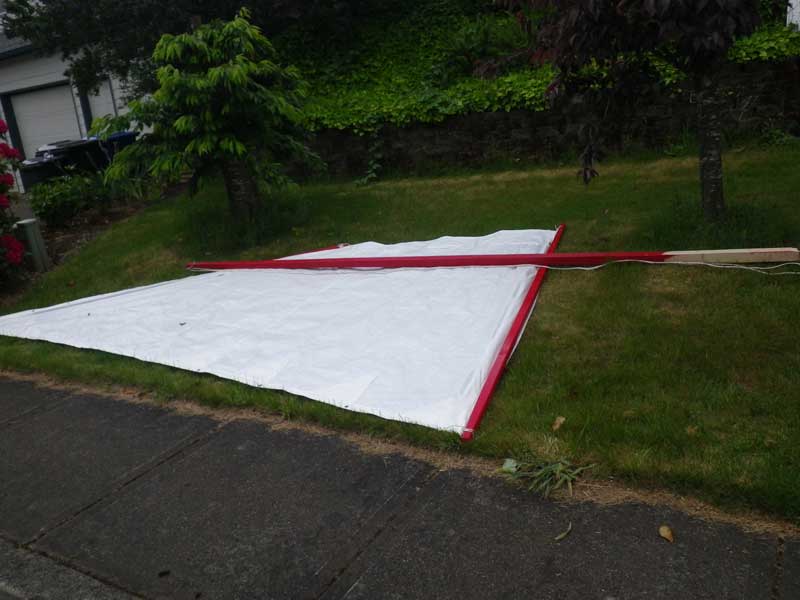 Hmmm, that mast might be a bit tall for the sail. I emailed boh Rick and Mik and asked them if it was supposed to be that tall, they said yes.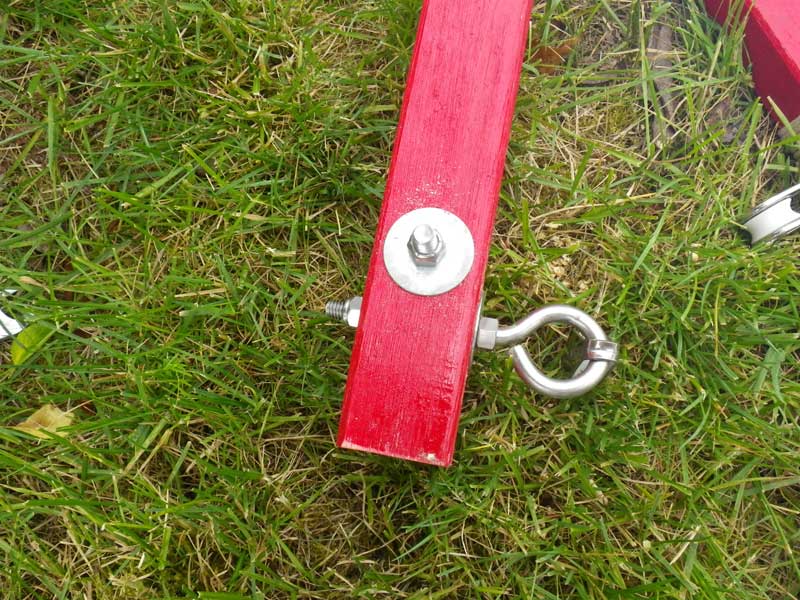 The mast is hollow. The seam at the top of Rick's mast went fore-and-aft - in-line with how I wanted to run the block for the yard. I had another 3/8 bolt, so I ran that crossways to the eyebolt for the halyard block to prevent the mast from splitting along the seam.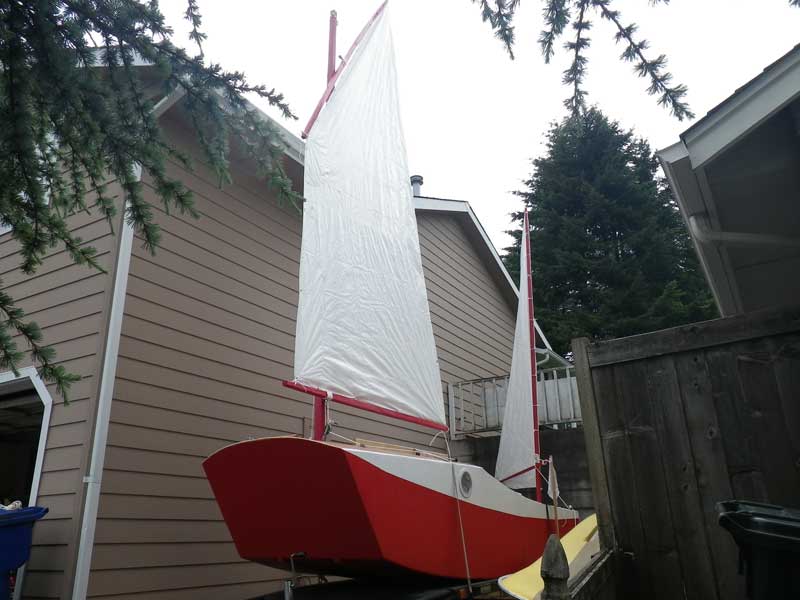 There she is with her preliminary rigging. The wind will be coming over the starboard quarter, so I am hanging the sail on the port side. If I run it 'normally' the sail won't press against the mast. If I run it like Mik does in this article, it'll press against tthe mast. Shifting stuff around wouldn't be that big a deal - it's just interesting to think of different scenarios.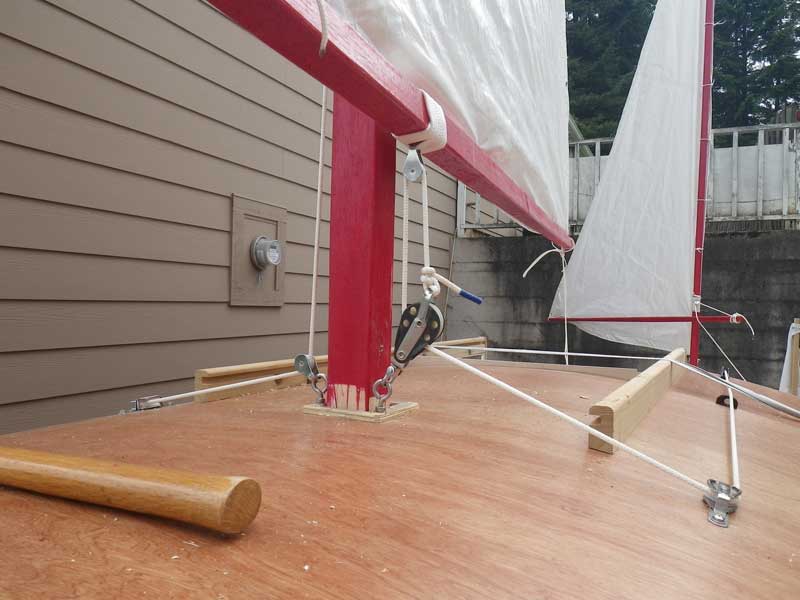 Here's the detail on halyard and downhaul setup Rick gave me that becket block for the downhaul - real racers use more blocks. I do like those cheek blocks on the deck - they work great for running the lines. They are, of course, from Duckworks.
I have to redo my sprit on the mizzen - it needs to be moved up about 8"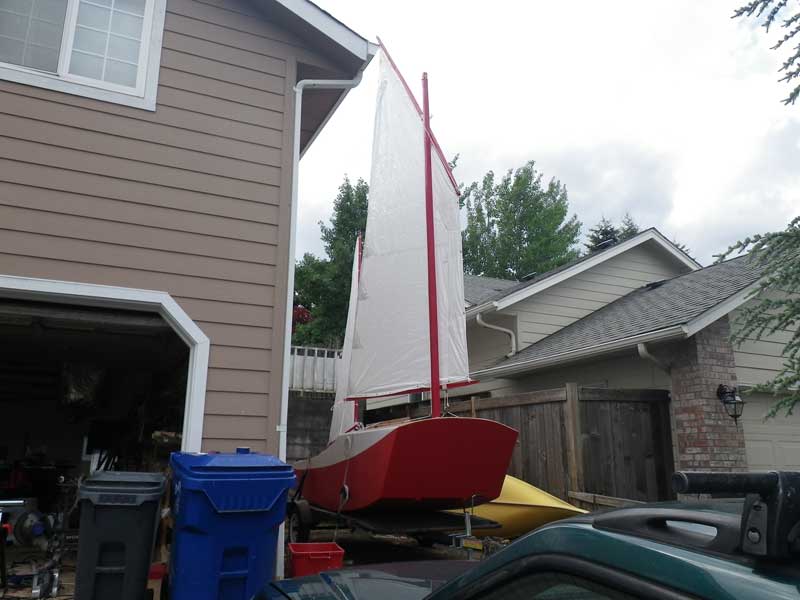 Like Catherine the Great said "Man, that's big." The OozeGoose is the biggest 12' boat I've ever seen.
I got quite a bit done, but there's still a lot to do. I need to shape the foils, for one. I need to get the jiffy reefing set up, too. And I need to finish lashing the main to the boom and yard.