2012 Disney World 1/2 Marathon and Marathon Relay
January 5-9, 2012
Way back in the spring of 2011, Keely asked if I wanted to run the Disney World 1/2 again. She loves Disney, so I said "Sure." Then she said they had a new race, a Marathon Relay, in which one runner runs the first half of the marathon and the second runner takes the second half. Because I am an idiot, I said I'd do that two: (2) 1/2 marathons in 2 days. That's not something someone of my BMI typically does.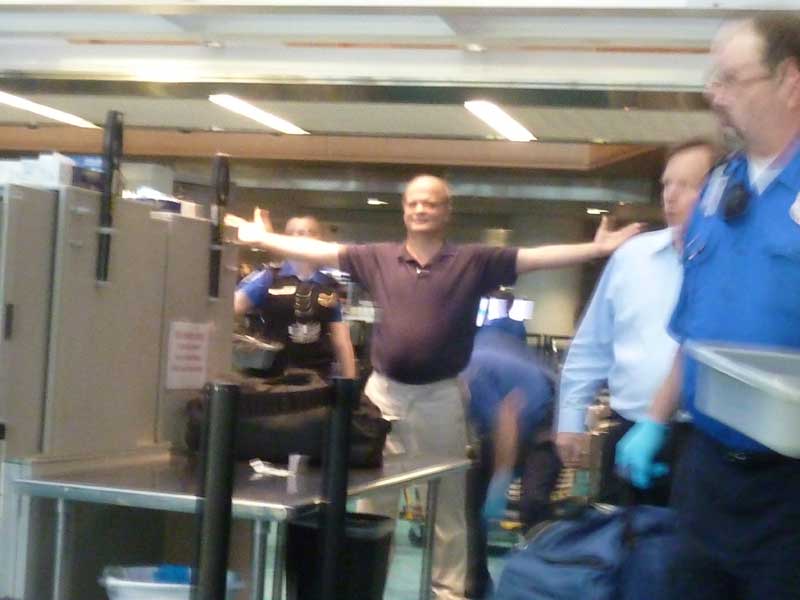 To get things off right, I opted for the Molestation Search rather than the Nudie Scanner at the airport.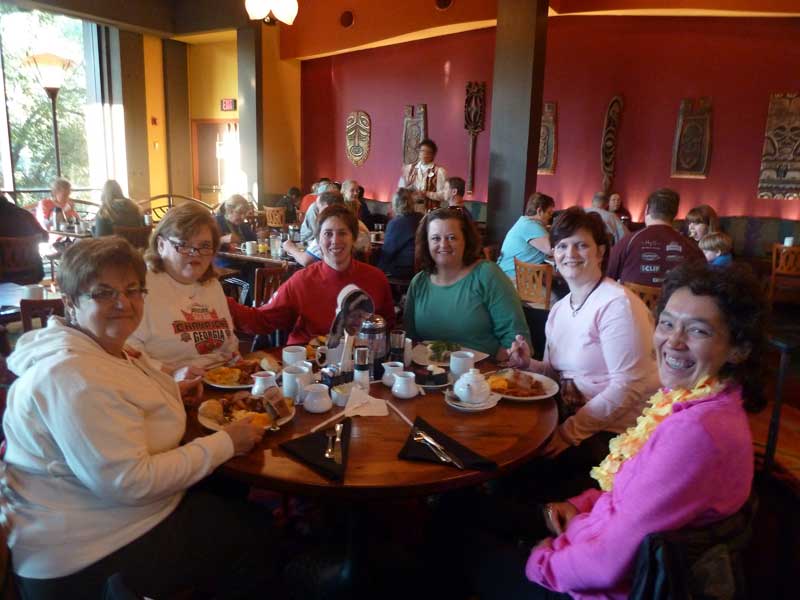 We were staying at the Polynesian (a GREAT place - very easy access to the monorail) and met with Keely's friends at the Kona Cafe, where she had Tonga Toast. Starting on the left: Rosemary, Peggy, Kelly, Tara, Chris, and, of course, Keely.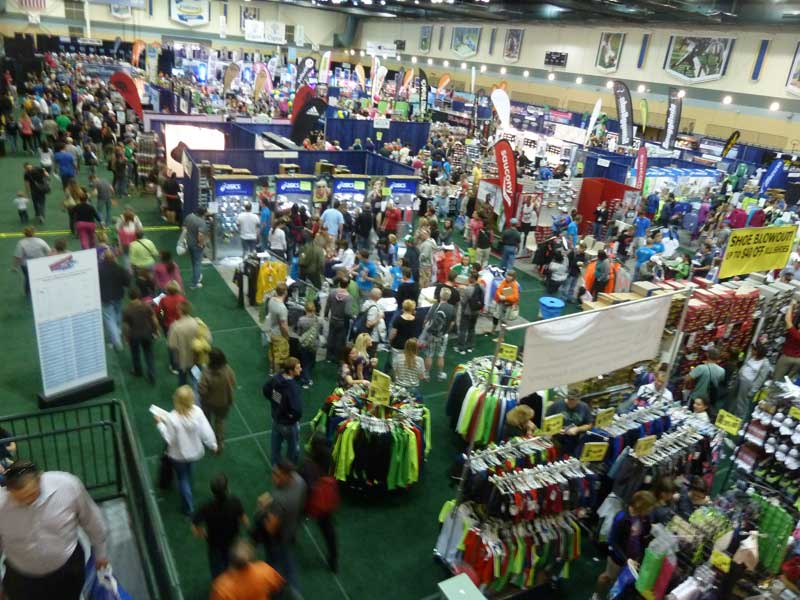 Then it was off to the nuthouse that is any race expo.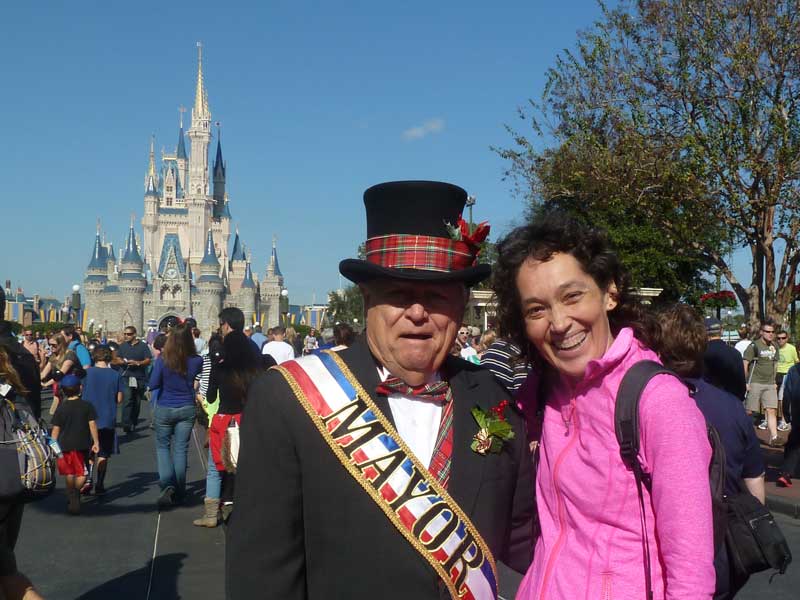 After the expo it was off to the Magic Kingdom, where we immediately ran into the mayor.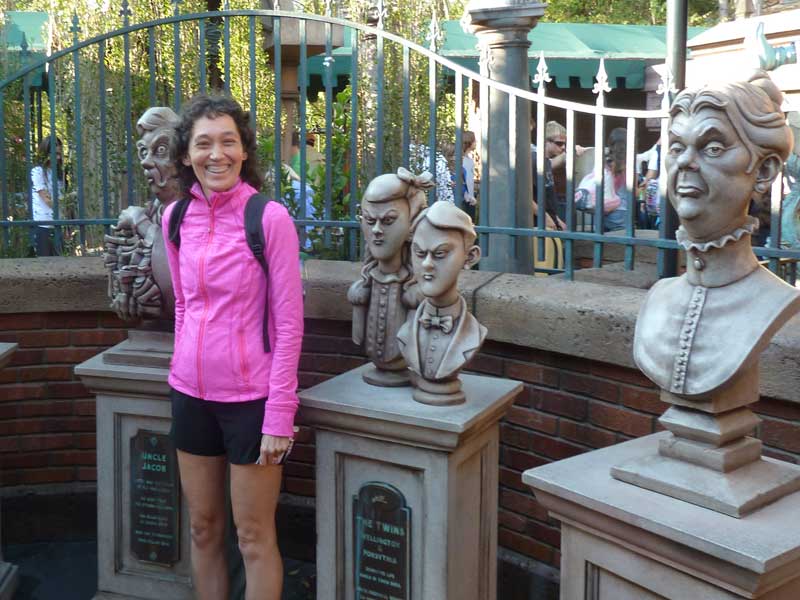 We did the Jungle Cruise first, then Haunted Mansion. Disney World has a lot more room than Disney Land, so they have additions to the attractions, like this interactive cemetery outside the mansion.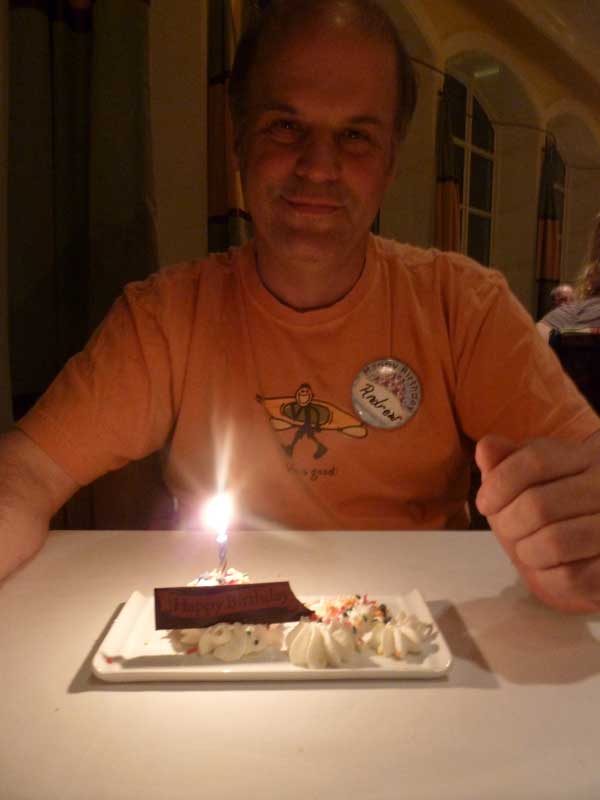 That evening, it was off to the Grand Floridian for a VERY nice meal at the Citricos. Jan 6 is close enough to my birthday that I called it and got a nice little treat from the chef.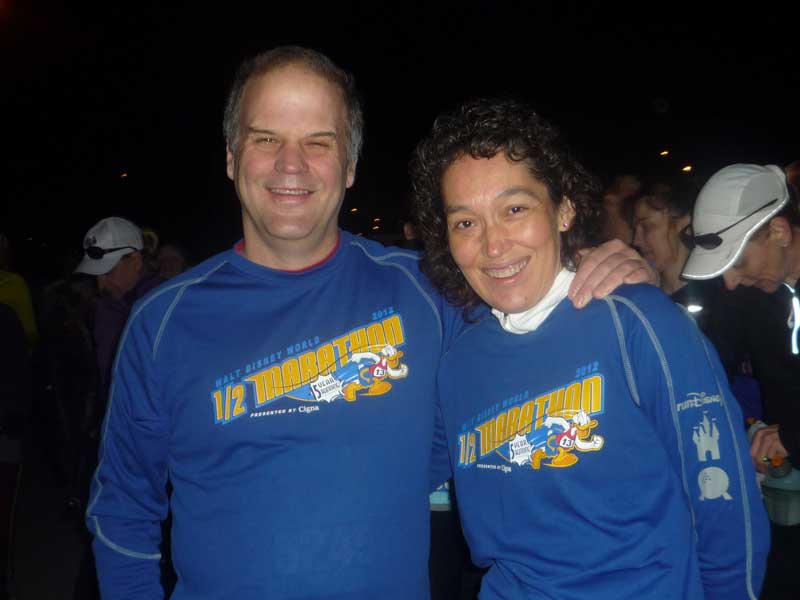 The next morning, we were up at 3am and in place to start the Disney World 1/2 at 5:30.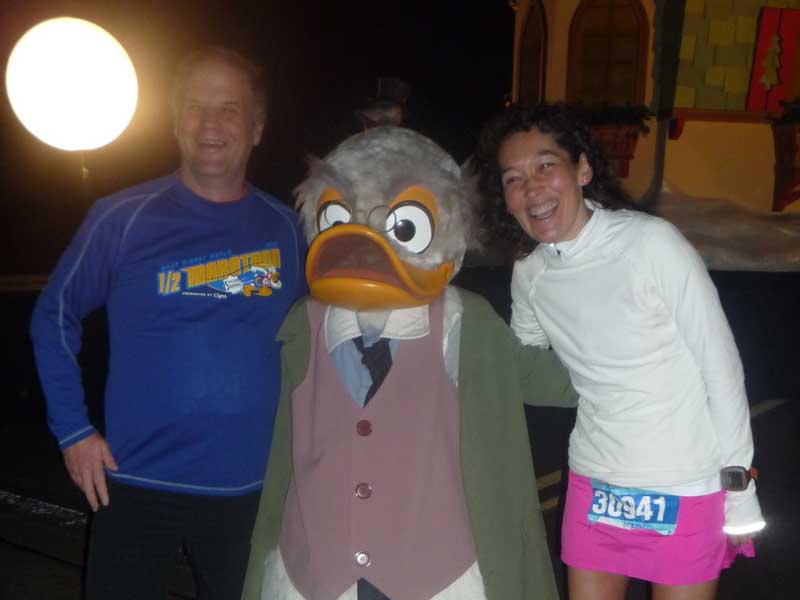 Off went the fireworks and we slowly trotted out onto the course. Our first character was Prof. Ludwig von Duck.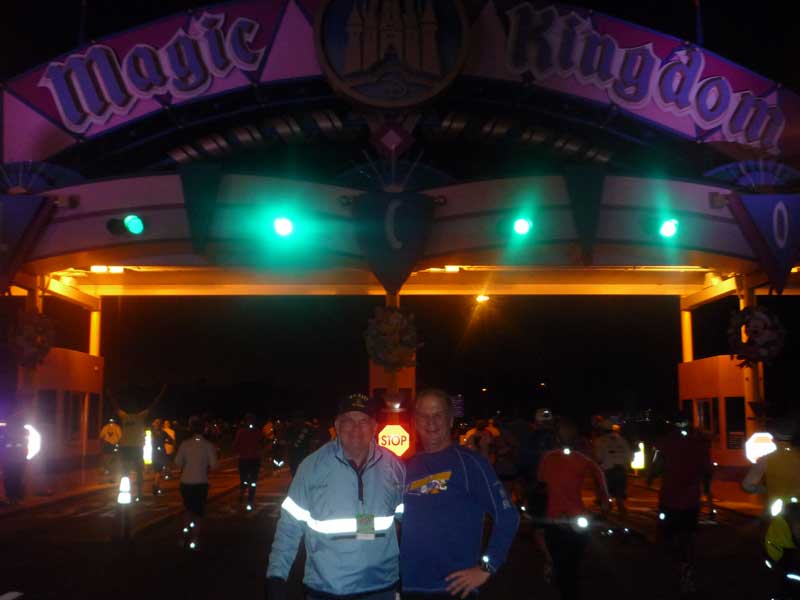 Just some random volunteer - this doesn't happen without them.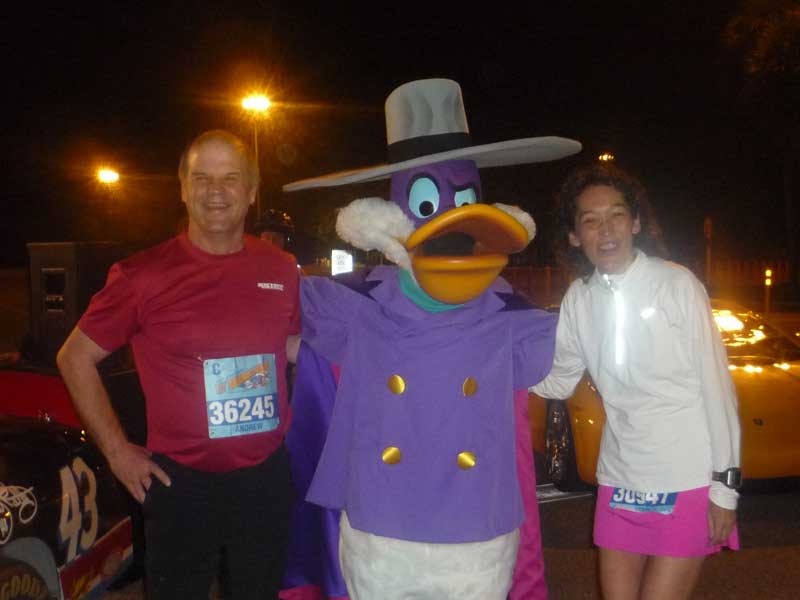 Darkwing Duck! Let's get dangerous!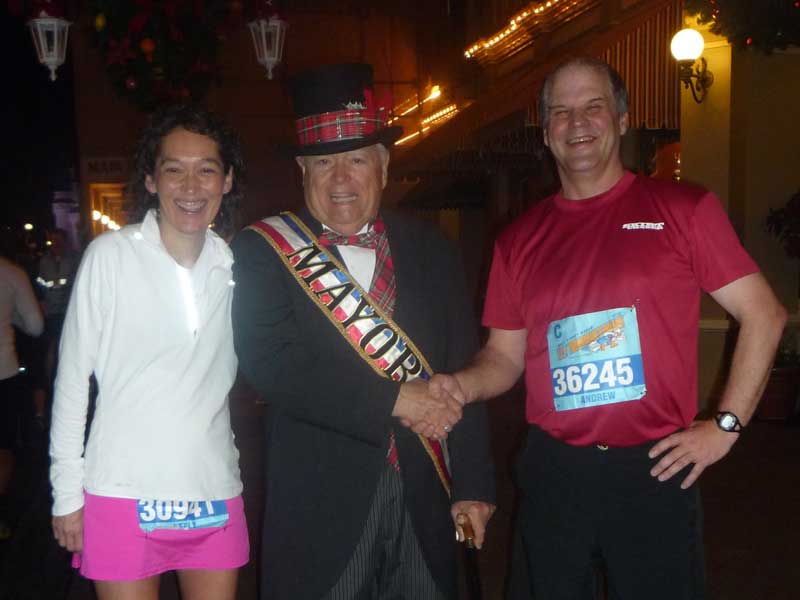 It was the mayor of Main Street again.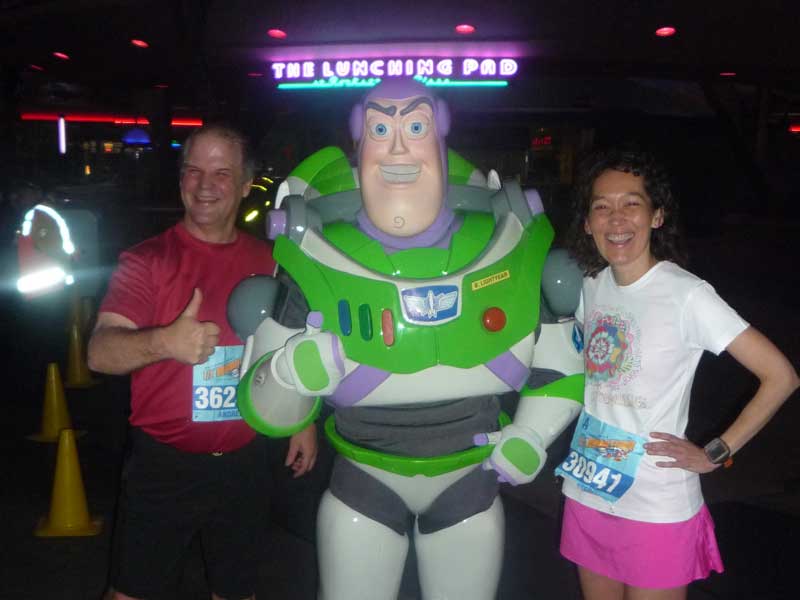 Buzz was looking good.
Alice and the Queen were getting along.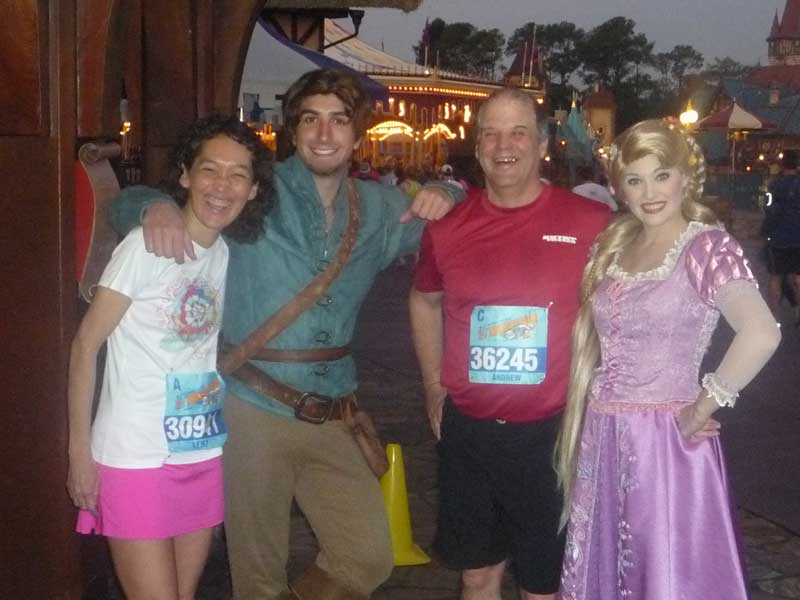 Rapunzel and Ryder (Rapunzel has crazy eyes, don't she?)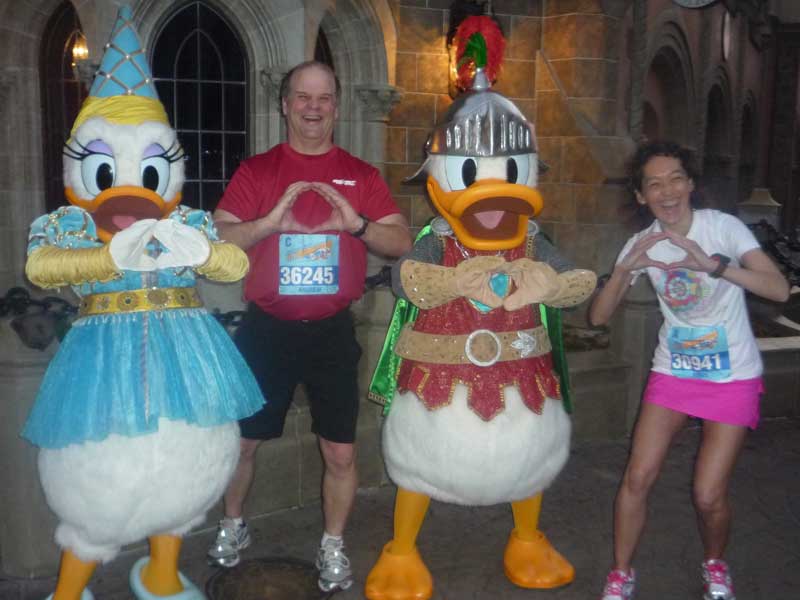 Donald and Daisy do the U of O "O" Donald though this was great and gave Keely an extra hug.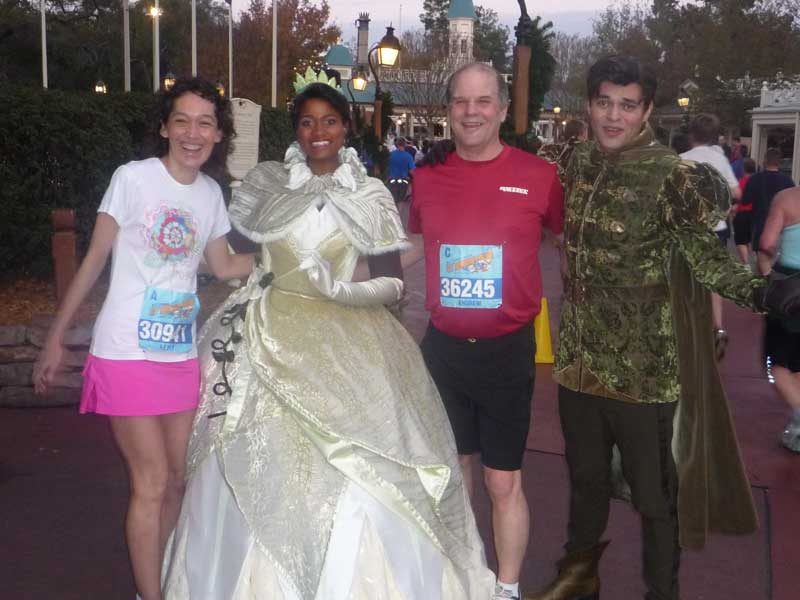 Tiana and Naveen were lookin' fine.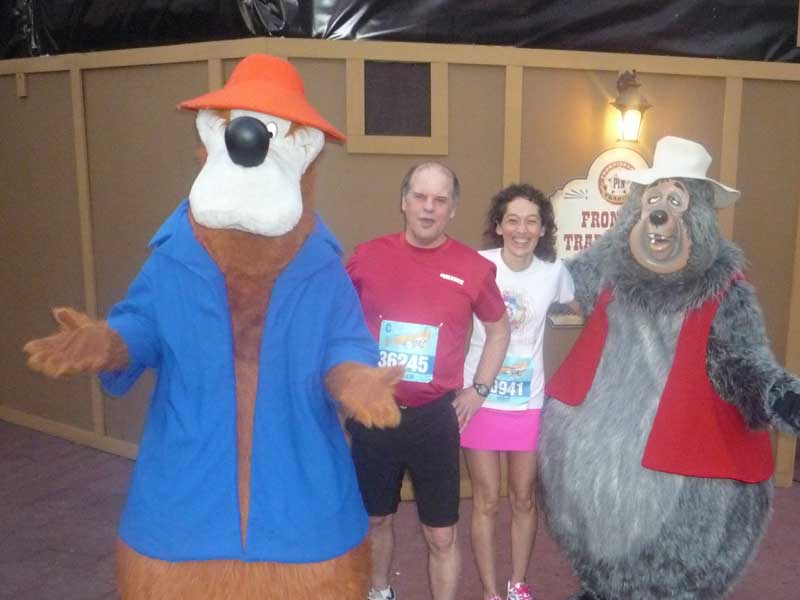 There was no love for the Country Bears - we typically had to wait in line to get a pic with a character, but no line for the bears. :(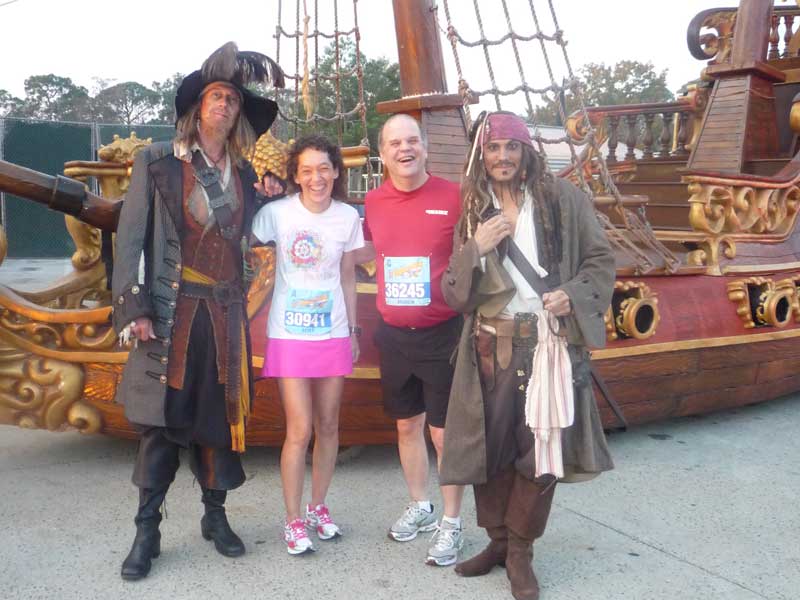 Long line for Captains Barbosa and Sparrow.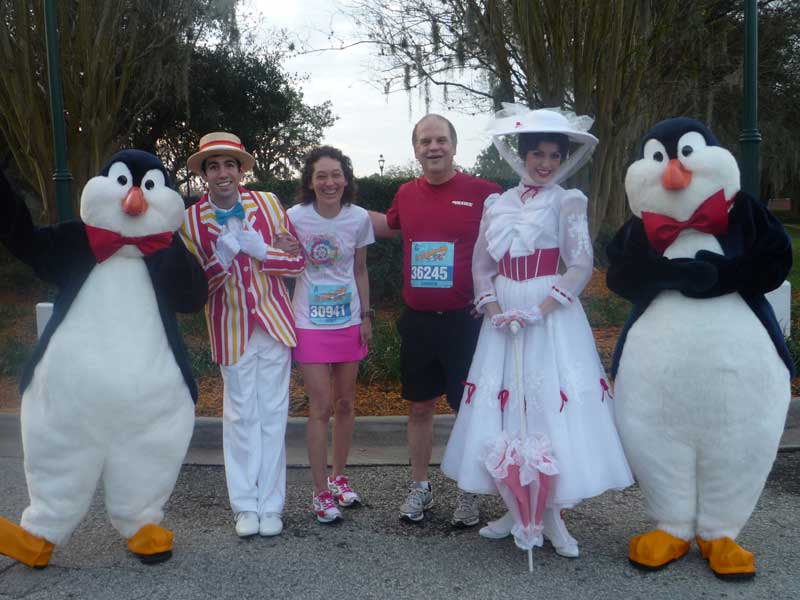 Mary Poppins still brings 'em in.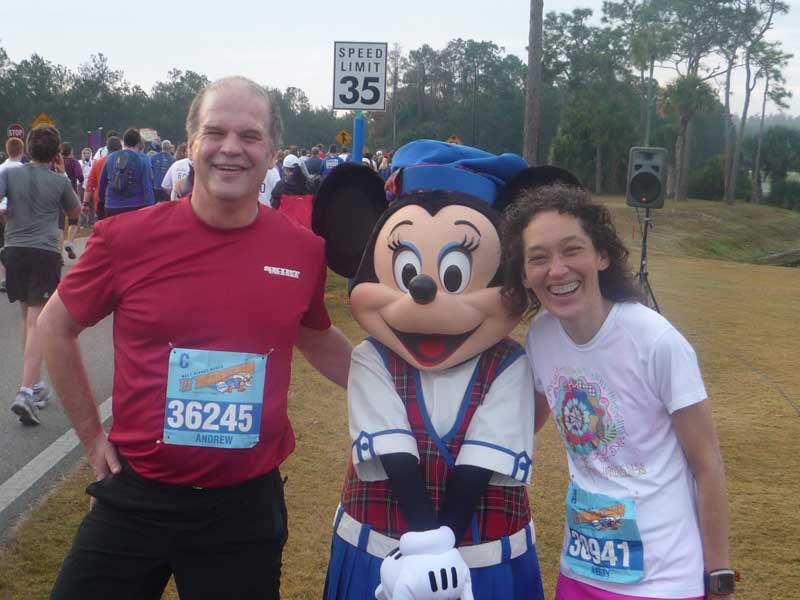 Minnie.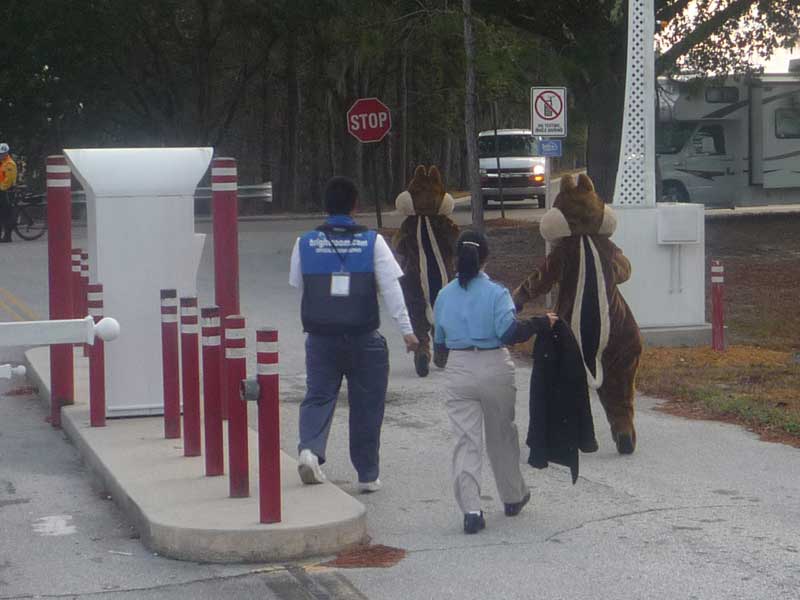 We were in line for Chip and Dale when the handler stuck her hand out and said "Last pictures. We'll be back in a few minutes."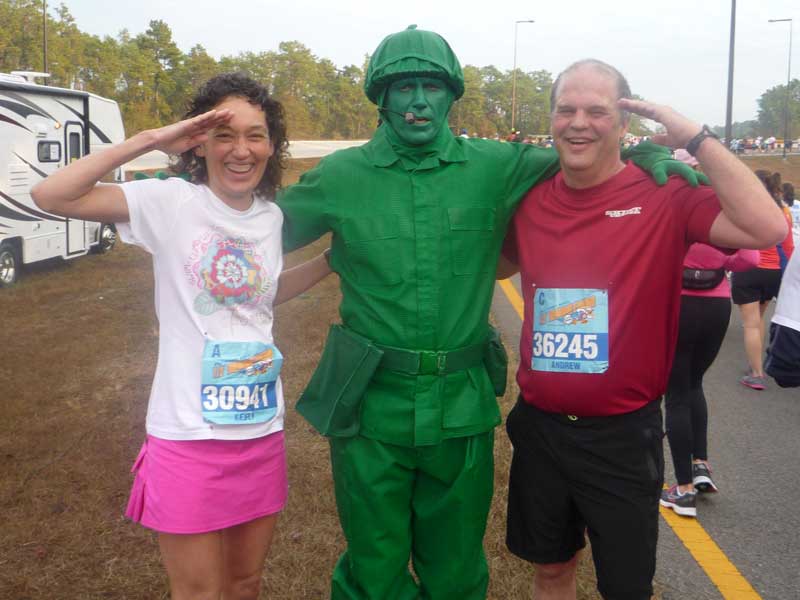 The army guy was at an overpass, the Heartbreak Hill in the flat wilderness of Disney World.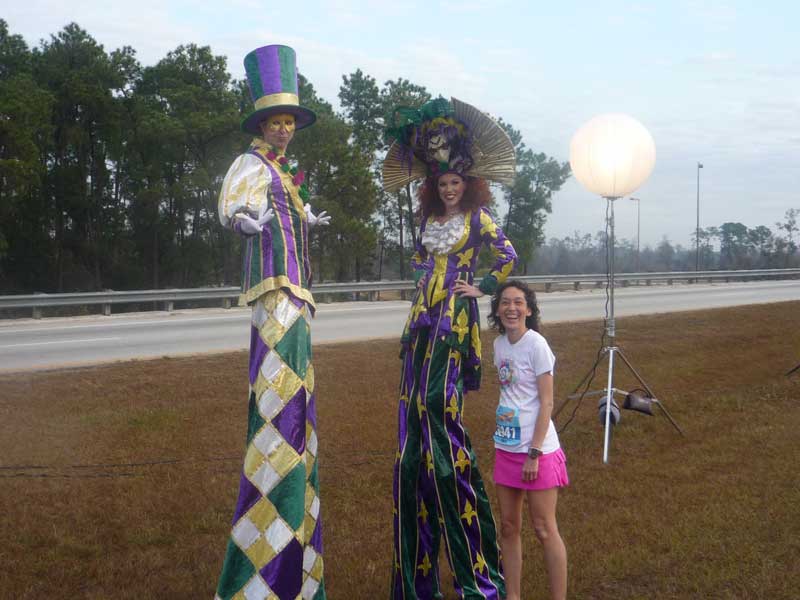 Stilt walkers from the Circ program they have.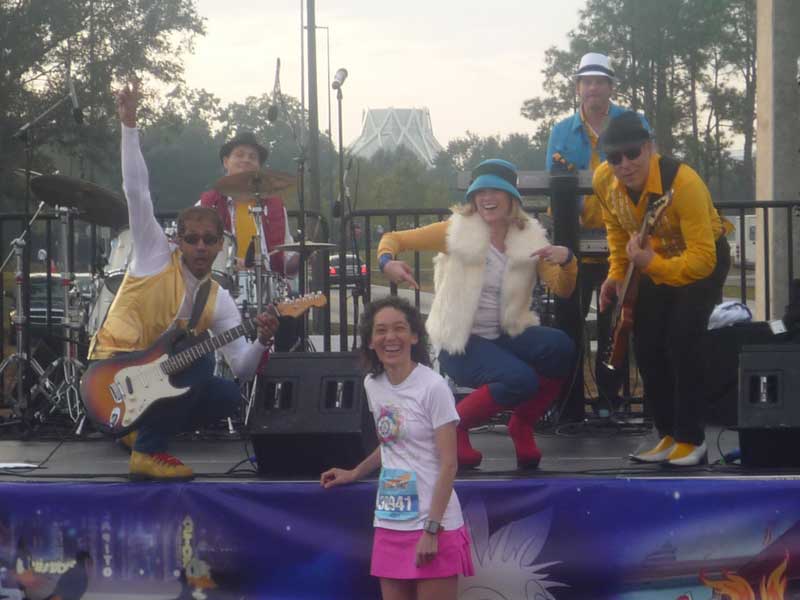 There were several bands along the way to keep us motivated.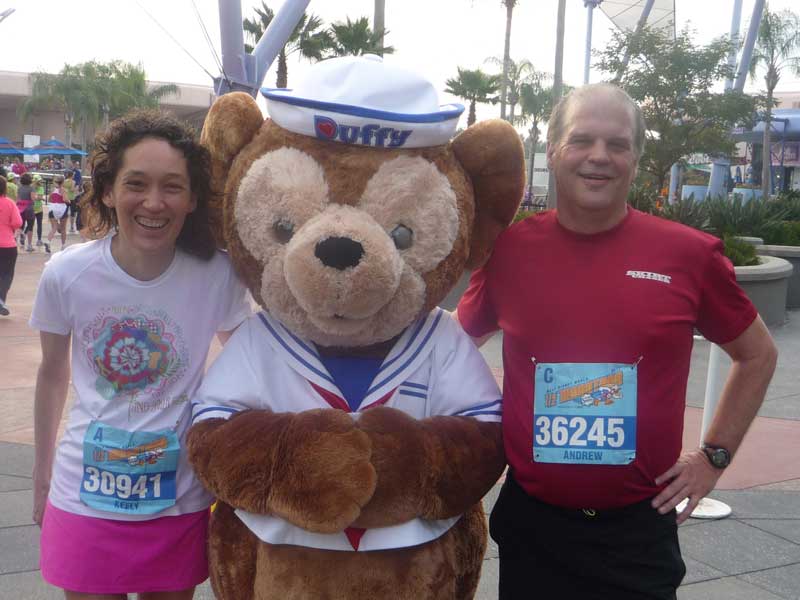 Duffy is a new Disney character used to promote their cruise line. Somehow, Keely has become enamored with Duffy.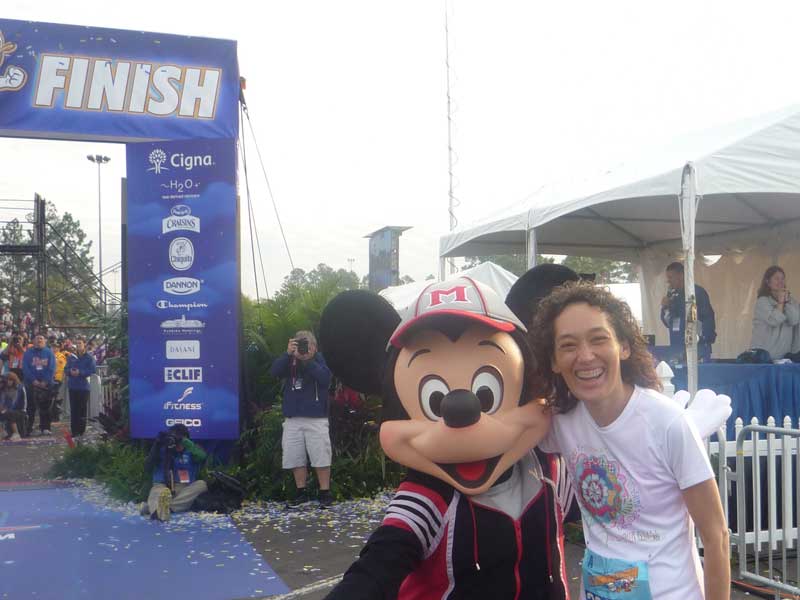 Yay! It was about frigging time to get to the finish line. A personal worst time for me: 3 hours and 10 minutes. Even worse than the Helvetia Half, where I walked the final 6.6 miles. I blame it on waiting in line to get our picture taken with the characters.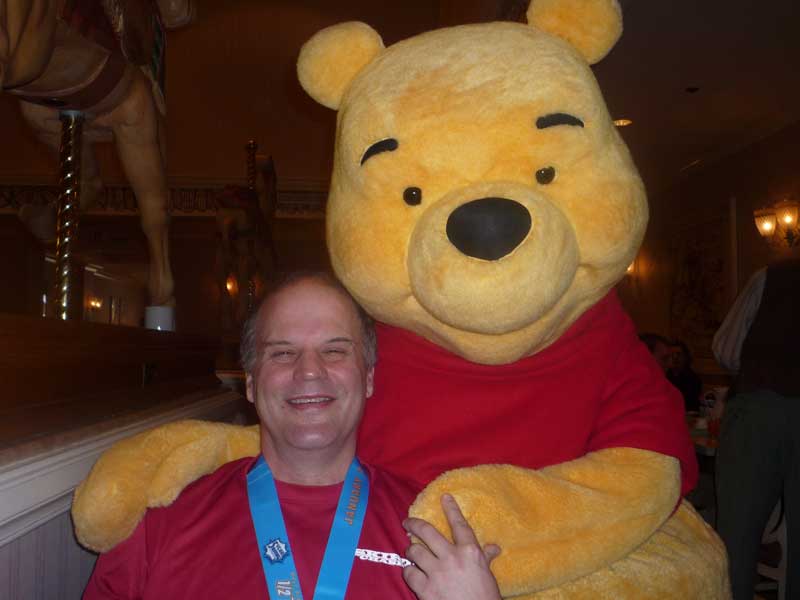 After that, it was back to the Grand Floridian for a character breakfast in the 1900 Park Fare.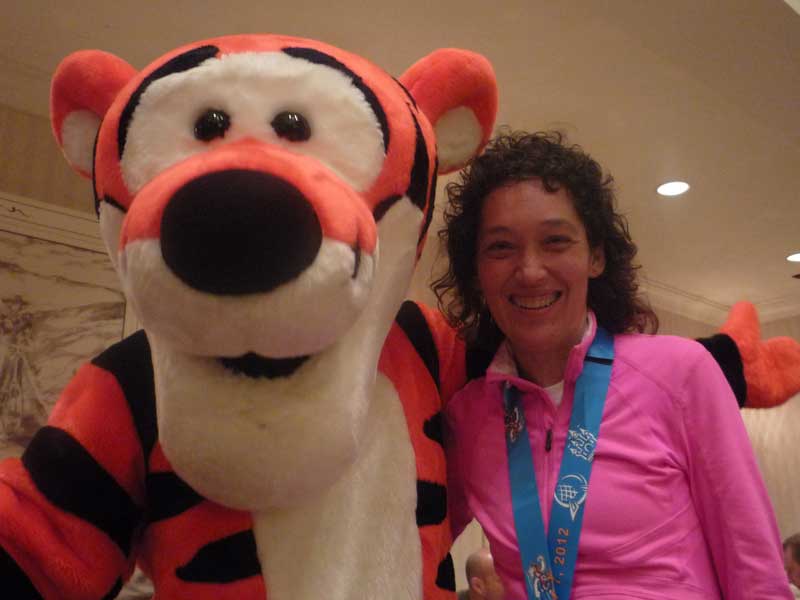 Tigger had a good time with us: he'd mime running and being exhausted and just generally seemed impressed that we had run.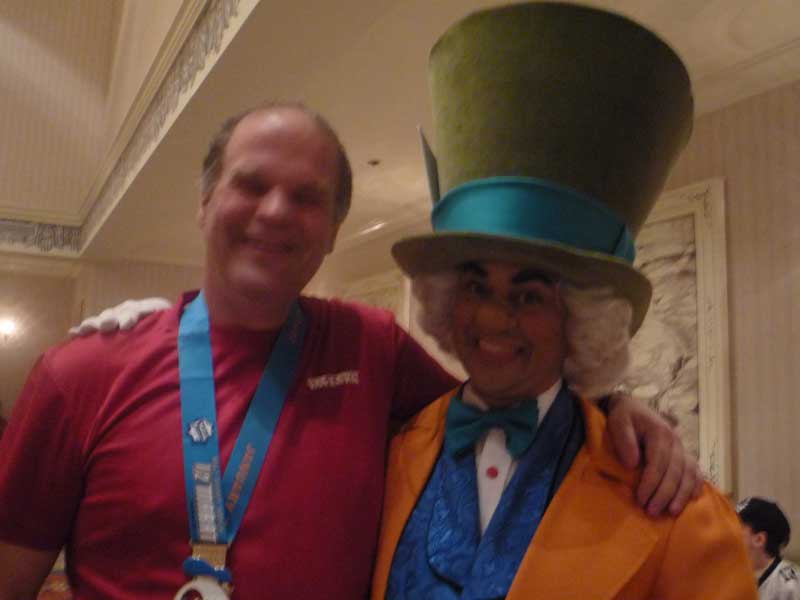 The Mad Hatter was having a blast that morning, really getting into his role.
Alice has dead eyes.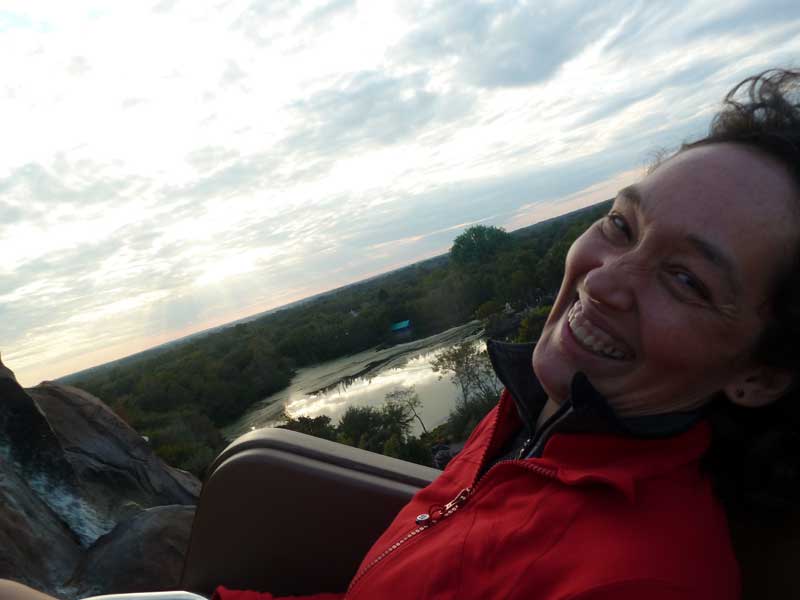 Run 13 miles, stuff yourself at an all-you-can-eat breakfast, then Off to Animal Kingdom to ride Expedition Everest (this is a damn fine picture.)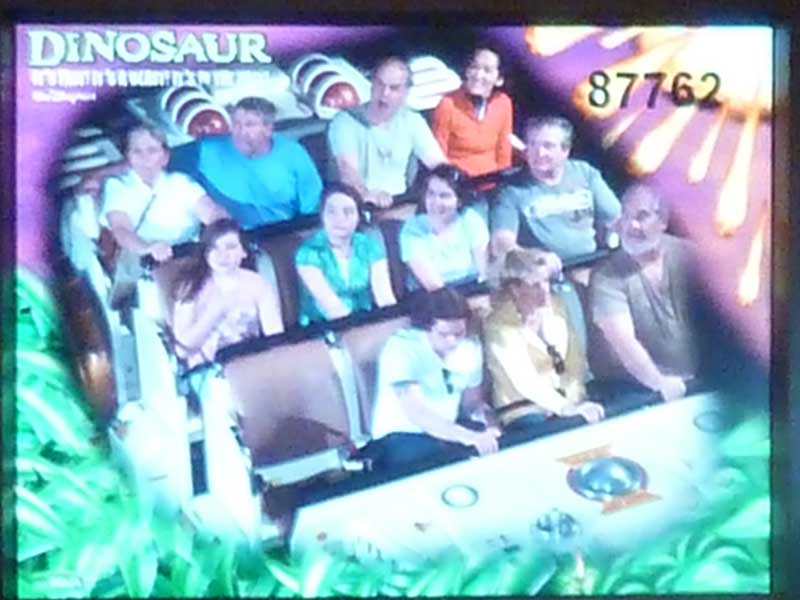 The Dinosaur ride was pretty cool. It broke down about halfway through and I tortured the poor girls in the seats in front of me. "Get out and see what's wrong." and "I bet you could get out and climb that ladder over there before anyone noticed you." PS: This is the best ride picture ever taken of me.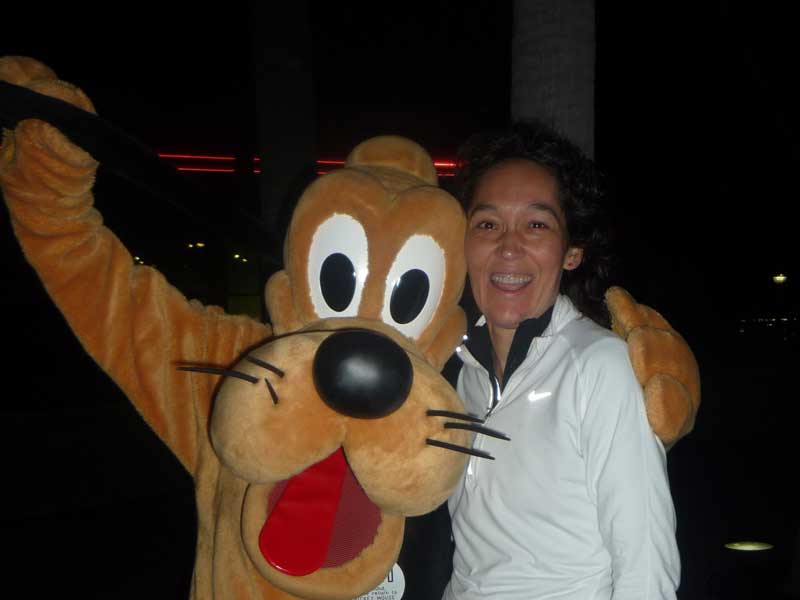 Another 3am start while Keely and I went to the start of the Disney Marathon Relay. I dropped Keely so she could run the first half off and went back to bed.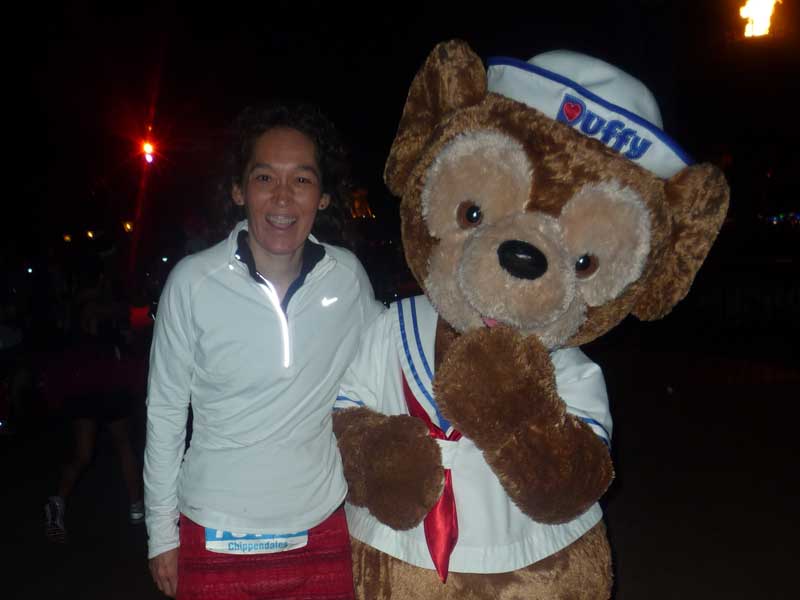 She really is a Duffy fan. I think it's the sailor suit.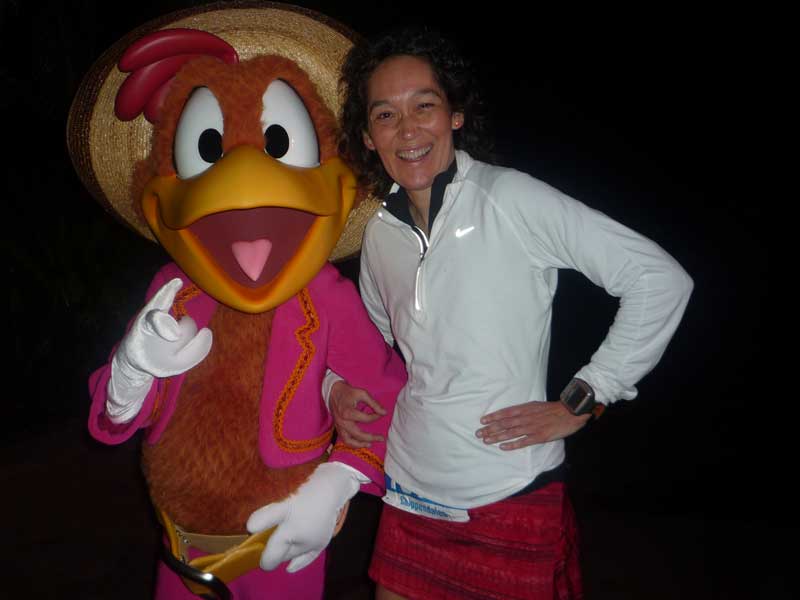 The parrot from 3 Amigos. You really get to see some of the obscure characters at the running events.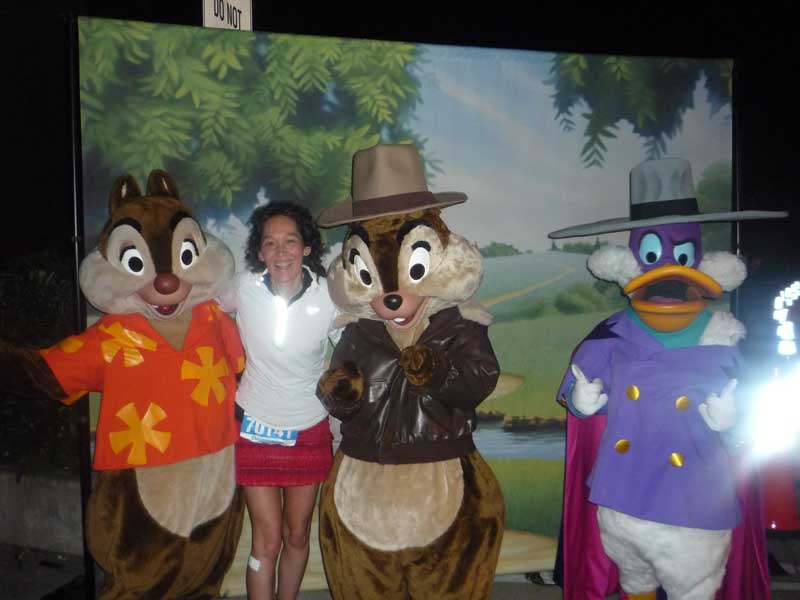 There Keely got a picture with Chip and Dale.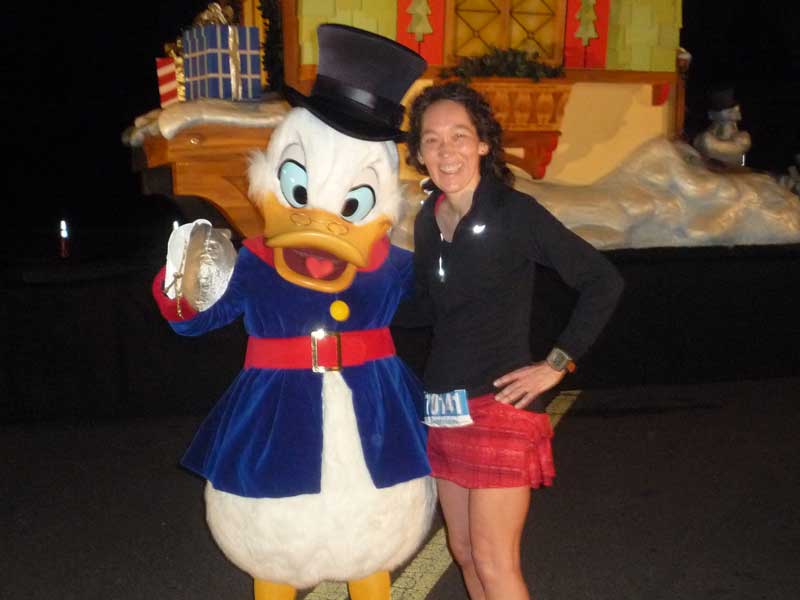 Even Scrooge is struggling in this economy - he had to go back to work at Disney.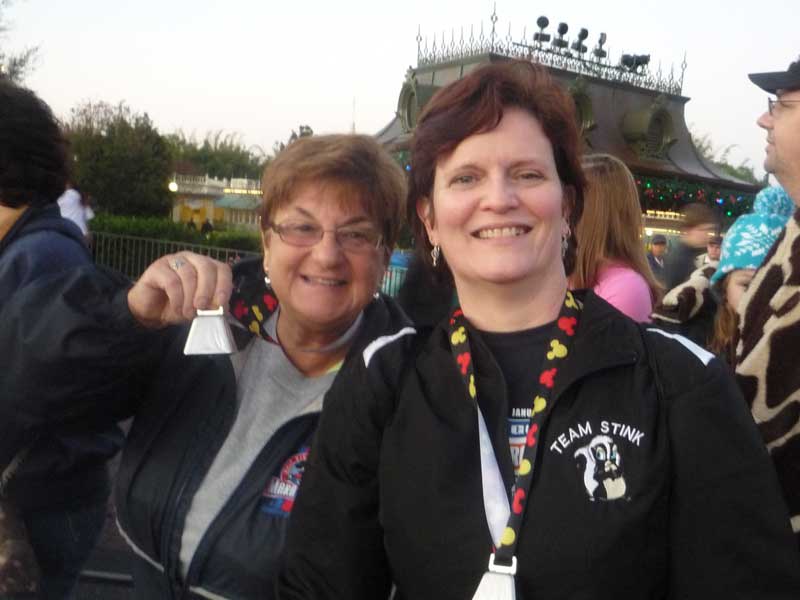 As Keely went through the Magic Kingdom, she ran into some of her friends, Rosemary and Chris. "More Cowbell!"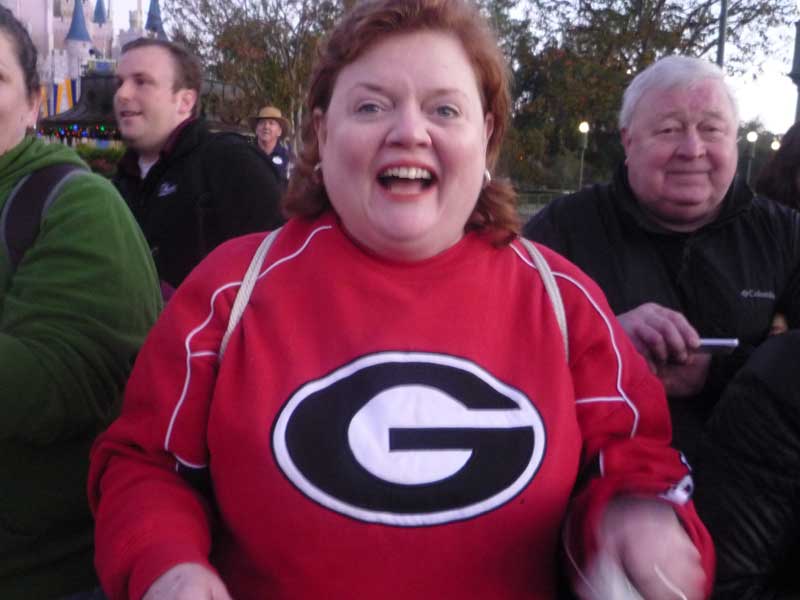 Peggy was there. Peggy played a big part in our plans. She was supposed to be running the relay, but her partner dropped out. Since Peggy wasn't running, she gave Keely her bib. (more later)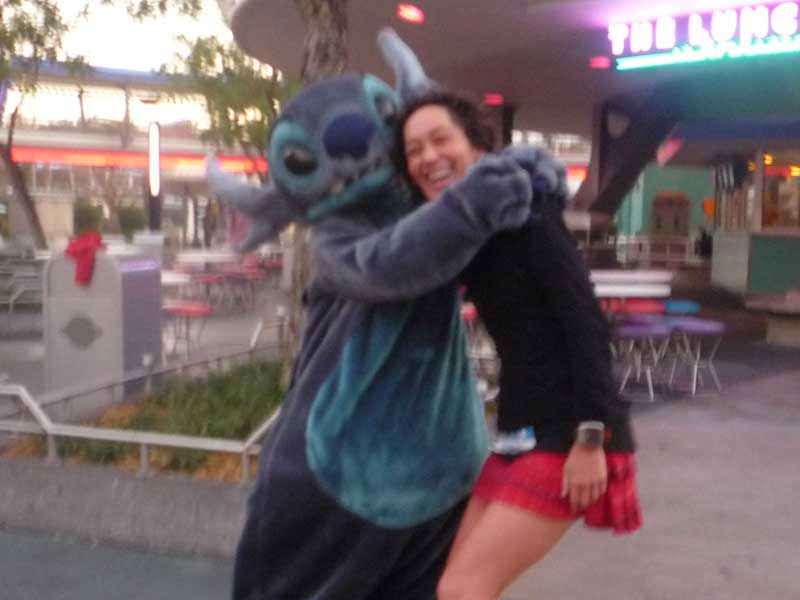 Keely said Stitch bit her right after giving her a hug. Bad Stitch!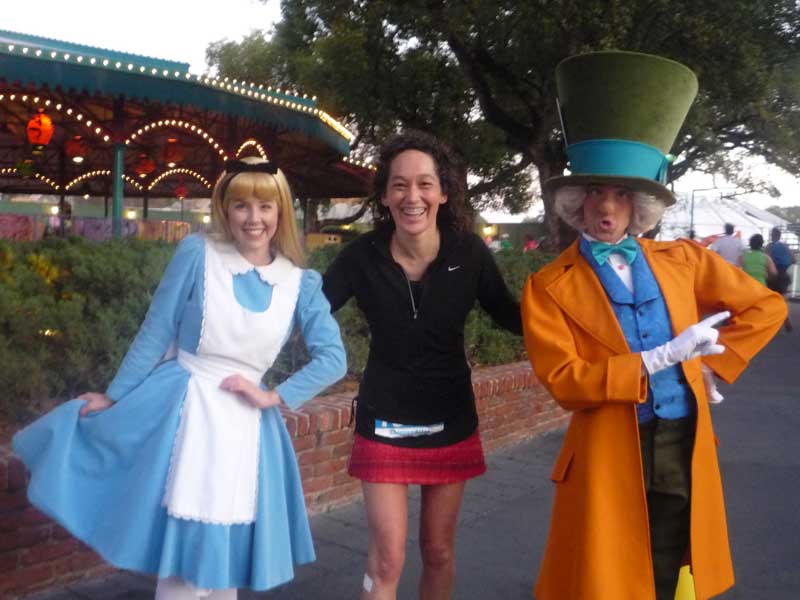 This was a new Alice and Hatter.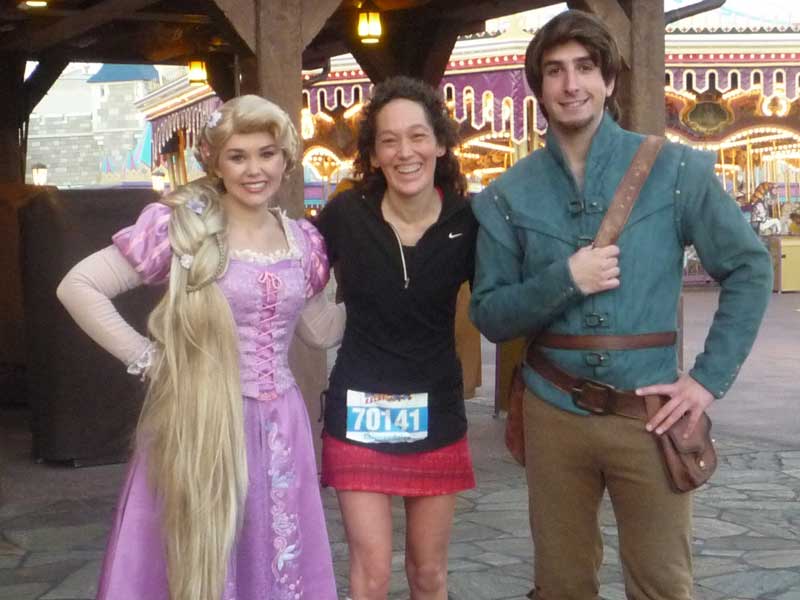 A new Rapunzel, too, but you can tell her smiling muscles are getting tired. Ryder is Ryder, he always looks like that.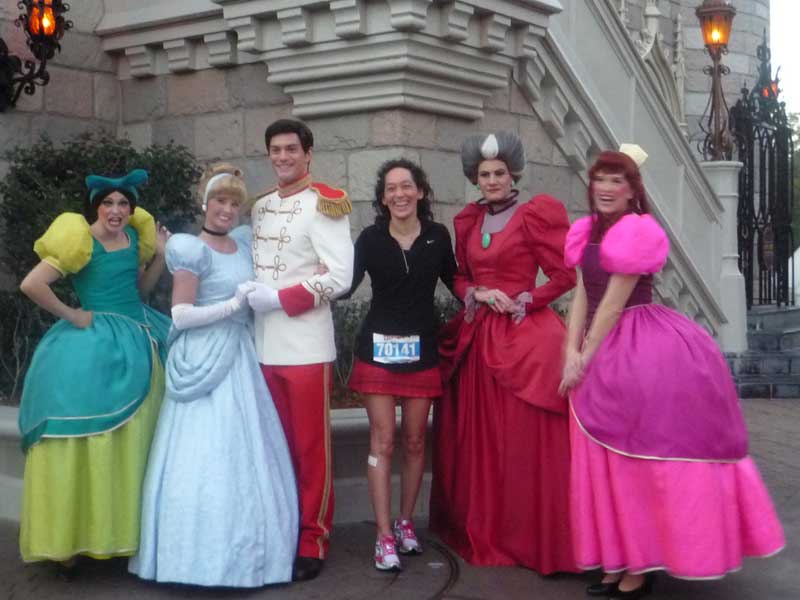 Cinderella and her step-family.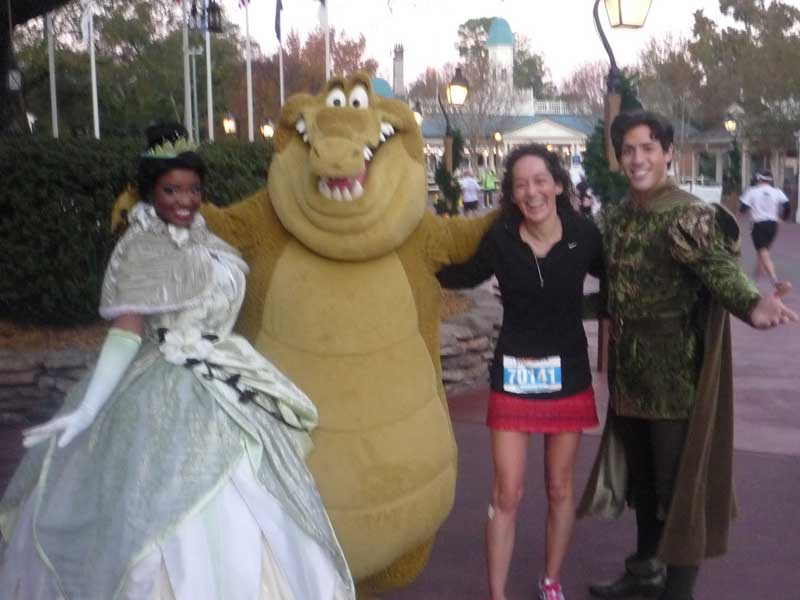 Tiana, Naveen, and even Louis came out today.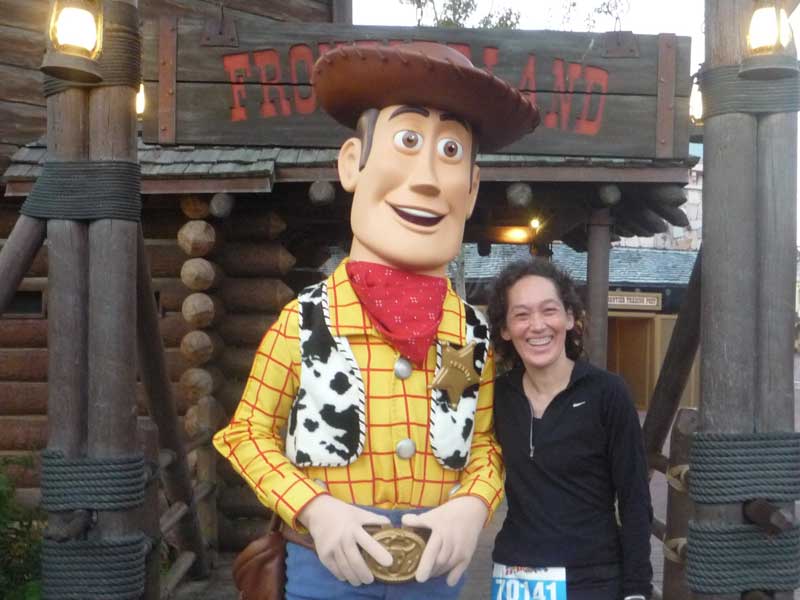 I don't mean to spoil it for anyone, but that's actually a real person inside a Woody suit. His name is Matt. We met his cousin while waiting in one of the lines and she told us about him.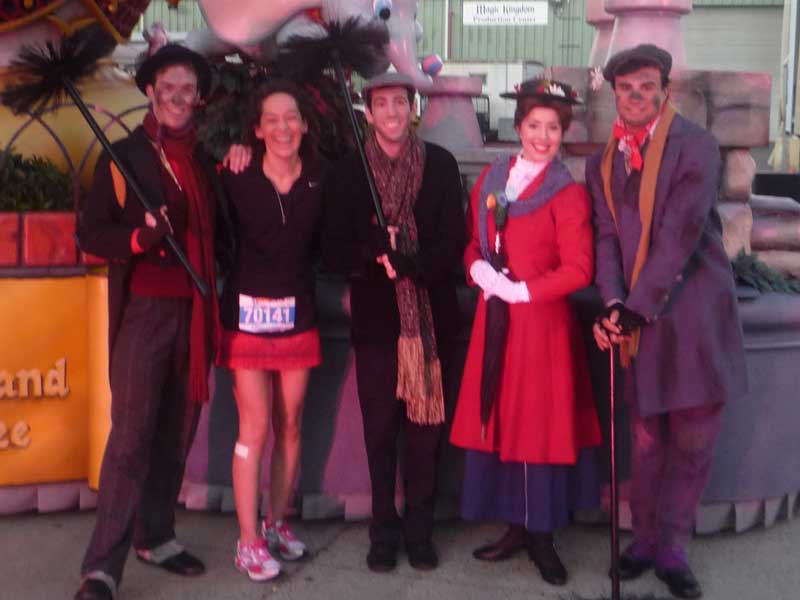 Mary and the Chimney Sweeps. Keely was doing the Step in Time dance while waiting in line and they really enjoyed it.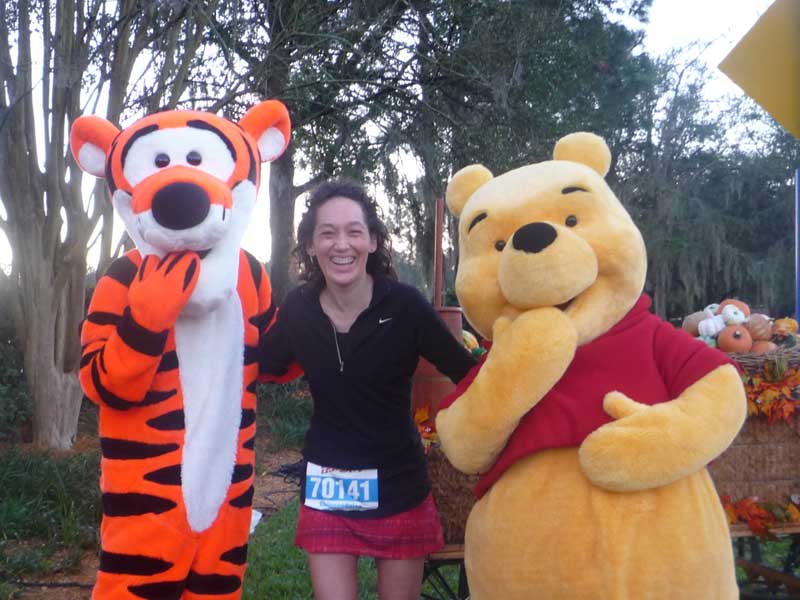 Pooh and Tigger again (they didn't remember Keely from breakfast the day before.)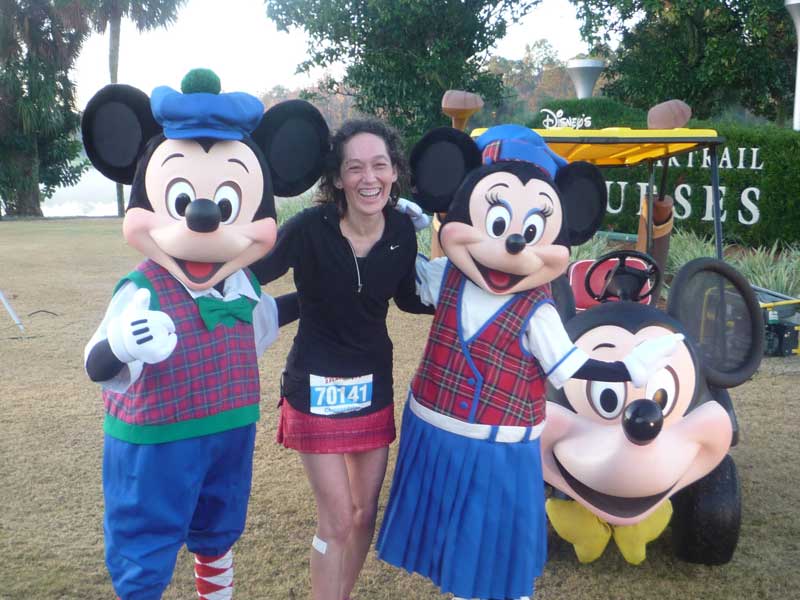 Mickey and Minnie. Take particular notice of Keely's bib - white on blue, indicating she was to run the first half of the Marathon Relay.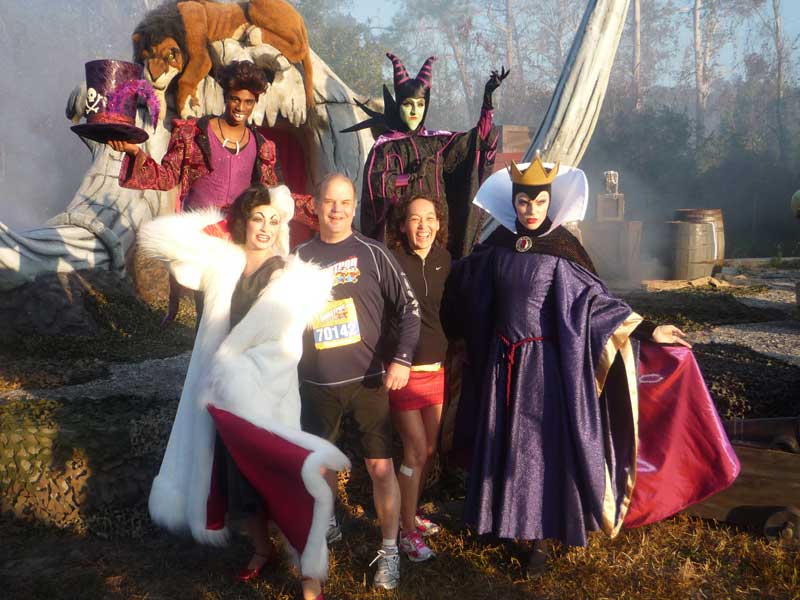 She met up with me at the exchange and I slipped her Peggy's bib (Peggy if you remember, Peggy was to run the second half but her partner dropped out.) We craftily evaded Disney Security and got Keely back on the course, where we continued together.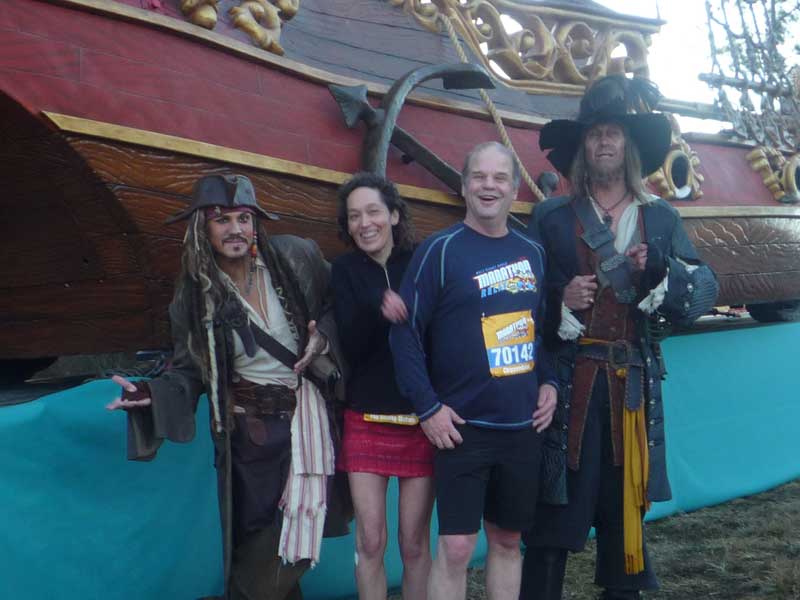 More pirates.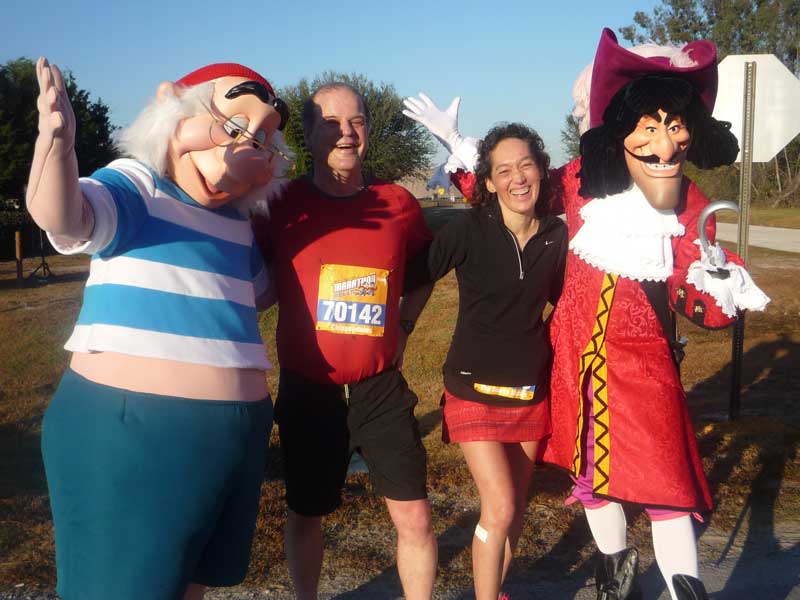 I told Hook he was robbed by that snot-nosed little brat and he became my best friend.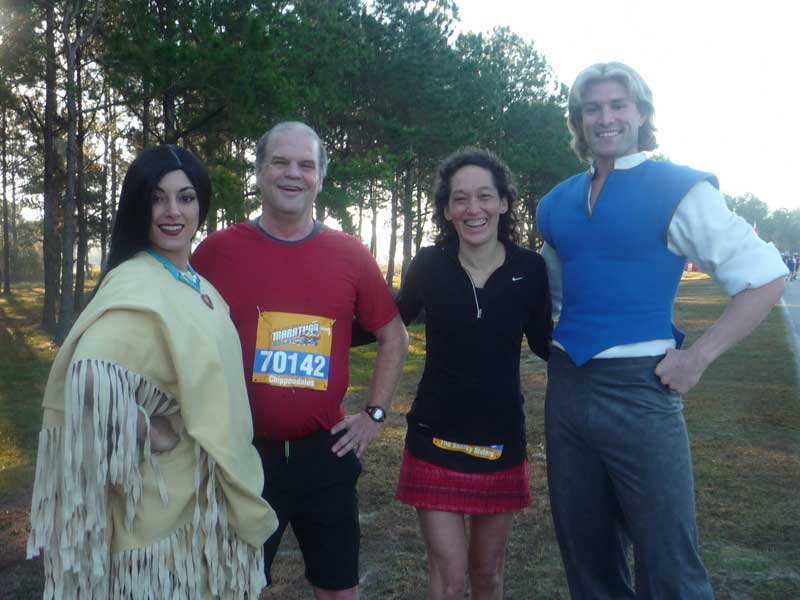 Pocahantas, it's cold out, but not nearly that cold. (she looked more Italian than Potawatame to me, anyhow.)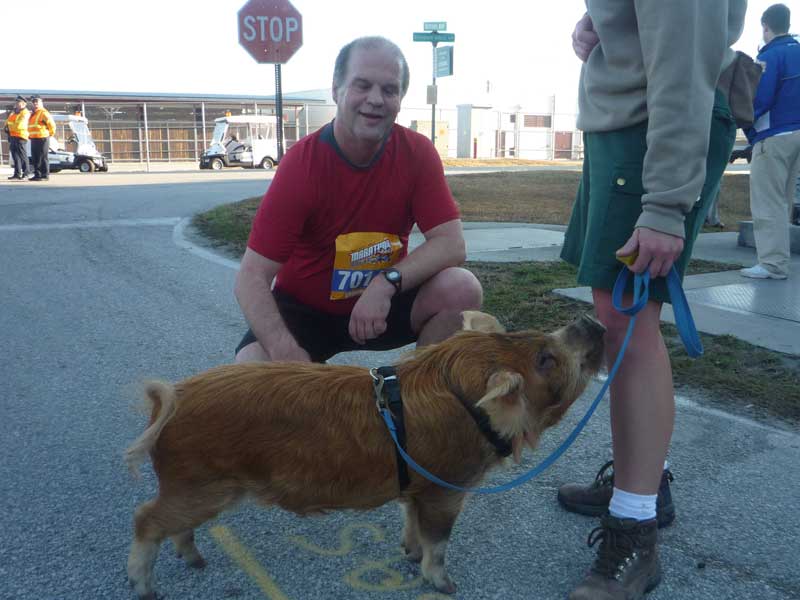 At the back entrance to Animal Kingdom, they had animals instead of characters. This is a New Zealand Kunekune pig.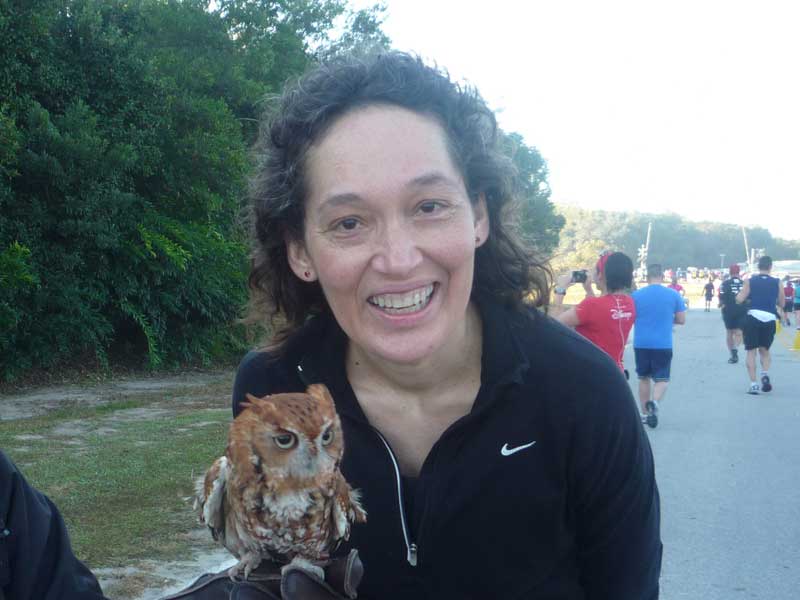 Keely got to pose with a curiously silent screech owl.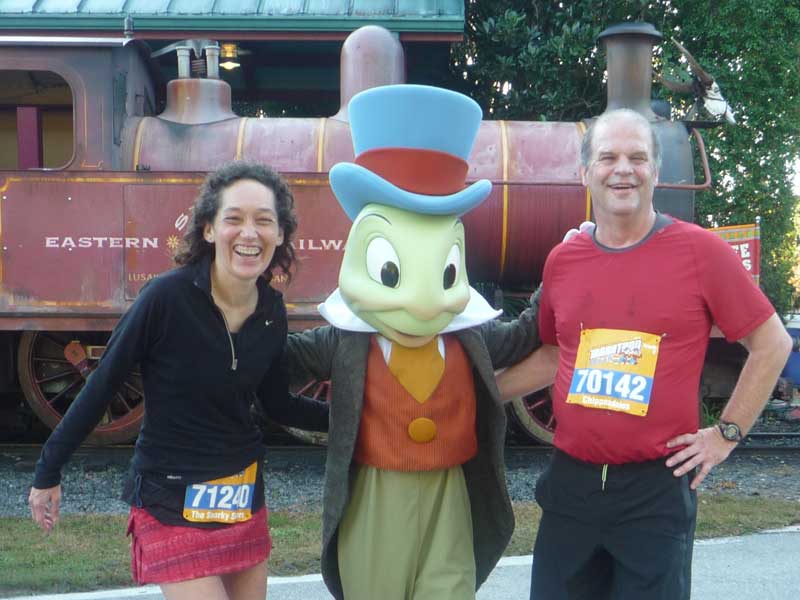 Jimminey Cricket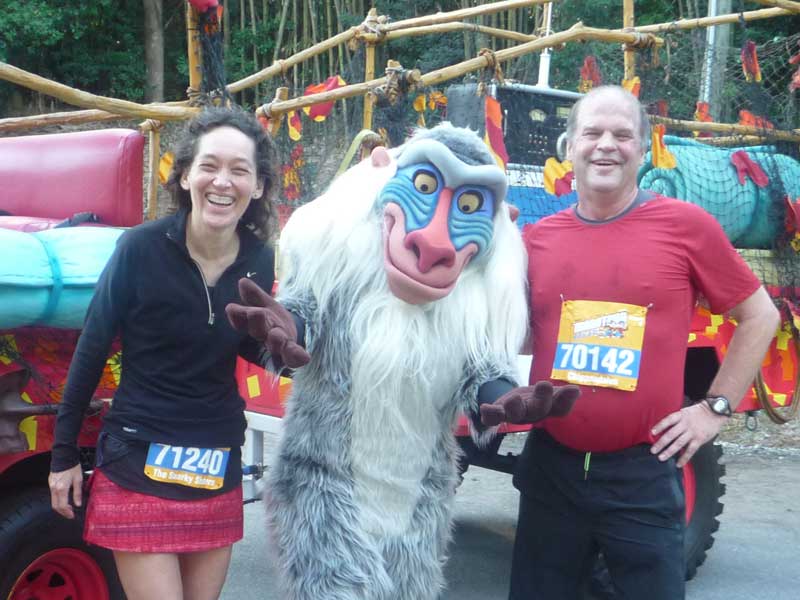 I'd been calling Rafiki "Musafa" all day. Boy, did I feel silly when I figured it out. (he couldn't be Musafa - Musafa's dead.)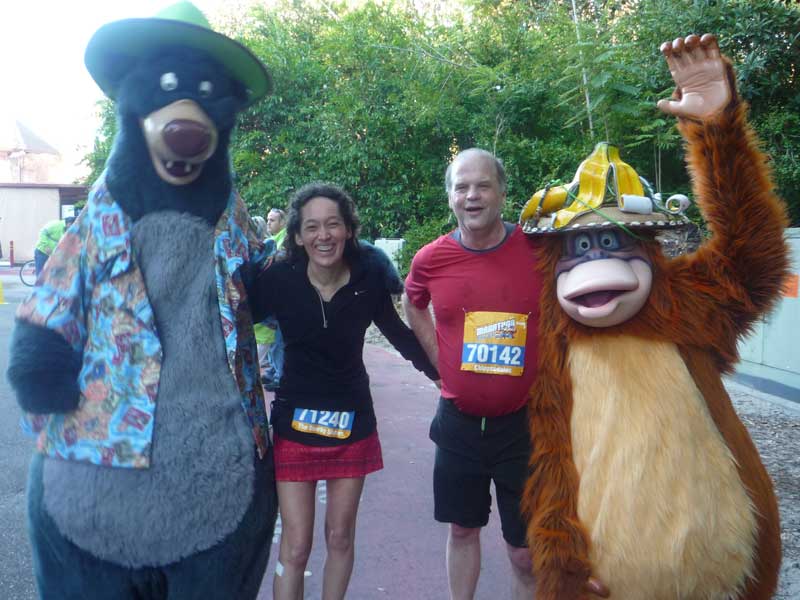 I've been to Disney properties a half a dozen times and never saw King Louie before.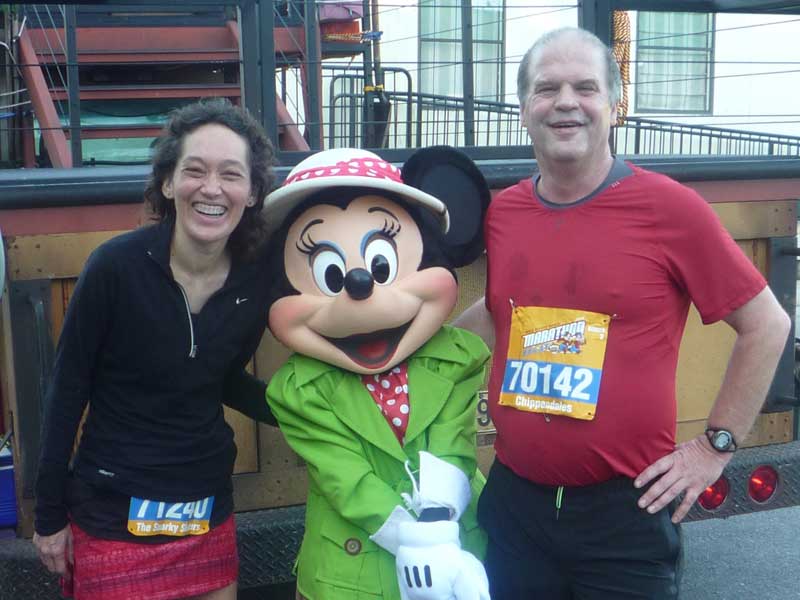 Minnie was out and about,all over the place.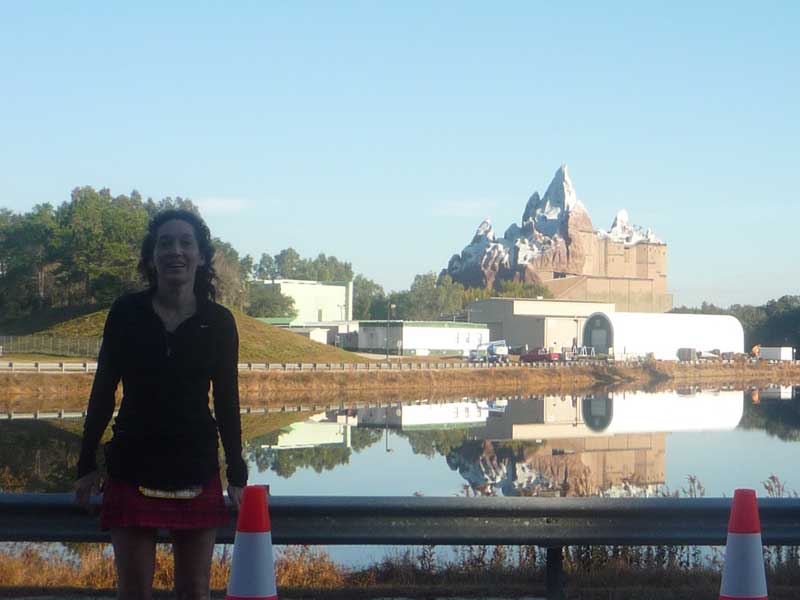 One of the neat things about doing the runs is that you get to see parts of Disney no one but employees see - like the backside of Everest.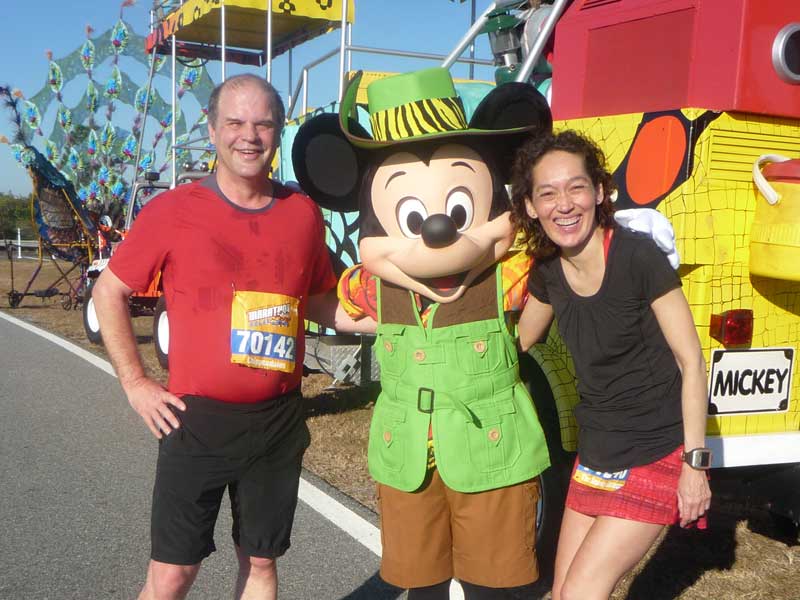 There's Mickey as we got ready to leave the Animal Kingdom.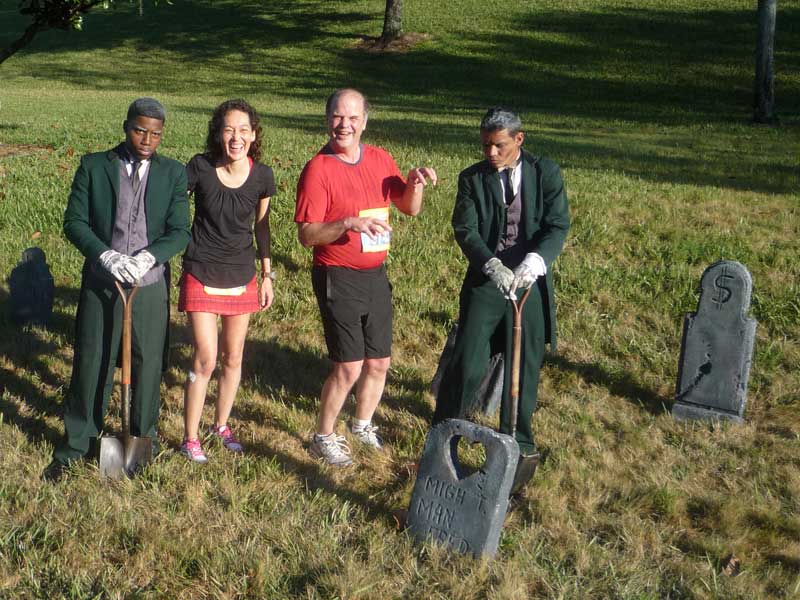 For some reason, there was a graveyard out here. I tried to get the Thriller going, but no one followed along.
Army guy at the overpass again.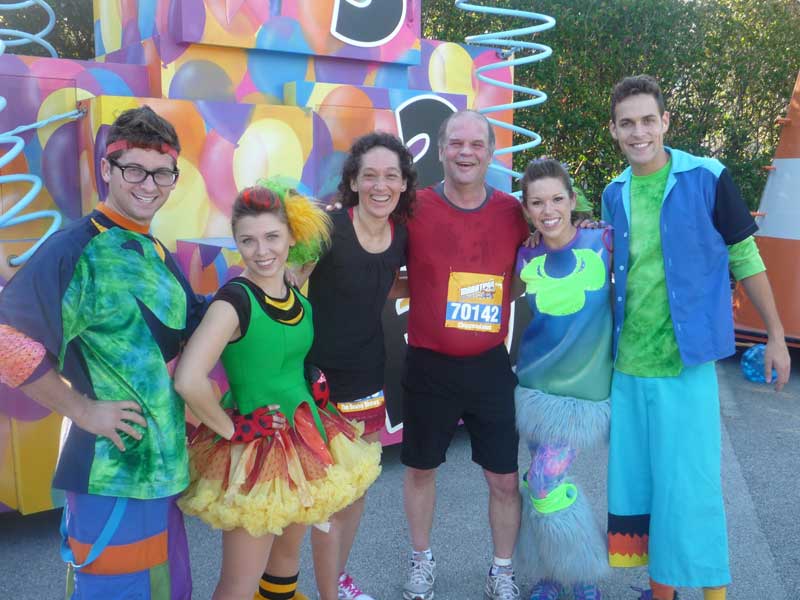 Random youth band.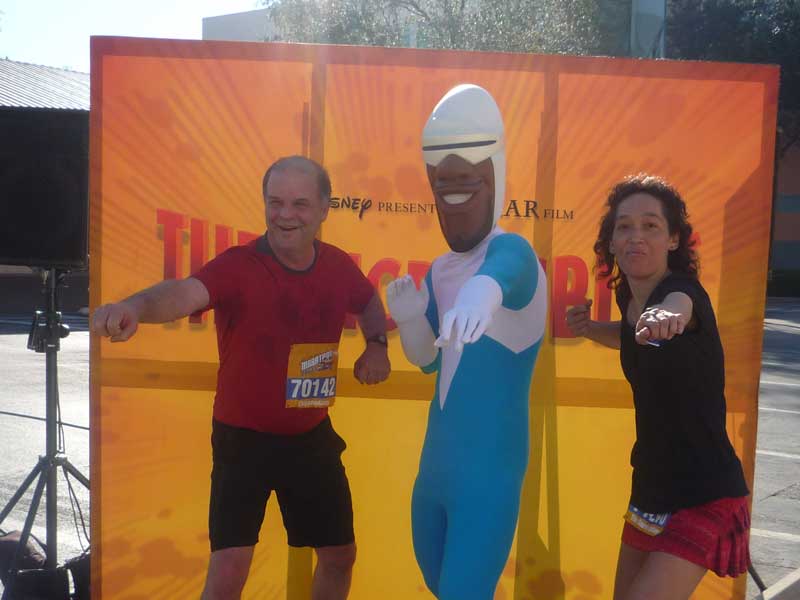 Poor Frozone, everybody does the same pose with him.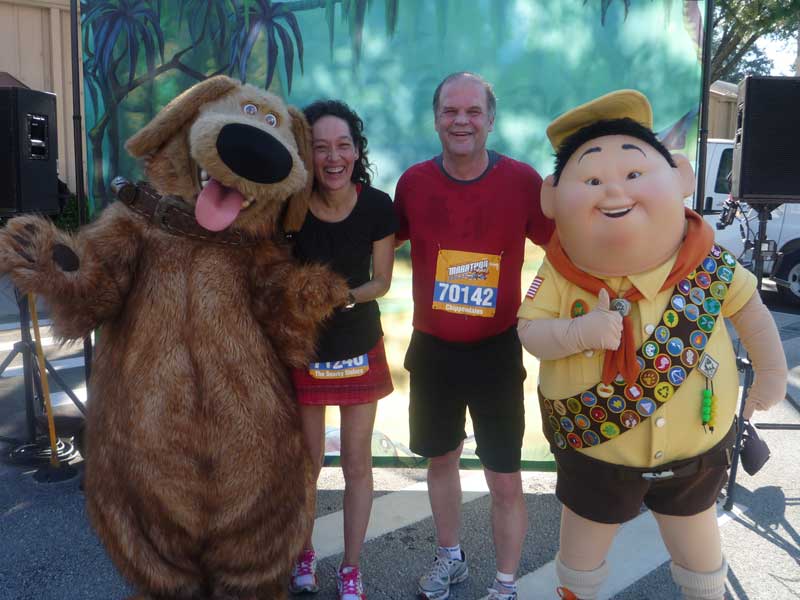 Dug and Russell. You might be able to tell my ass has started to drag.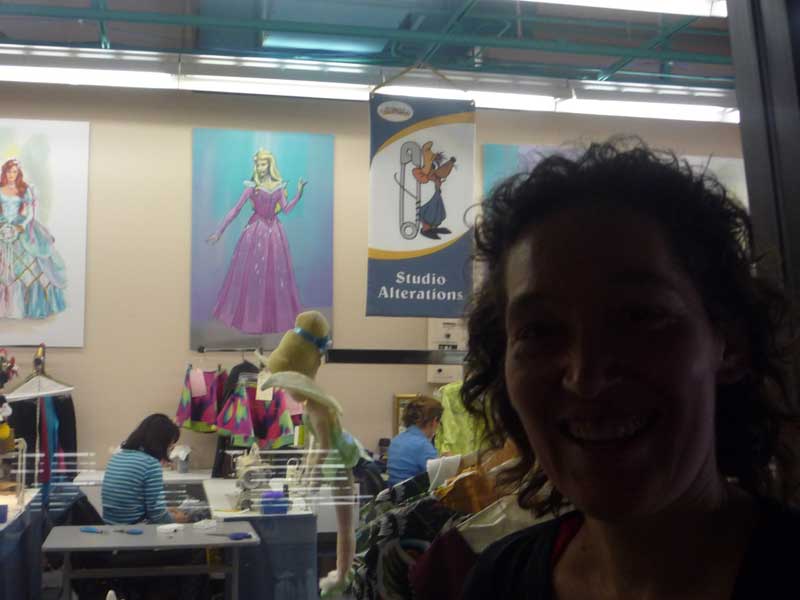 One of the backlots you run through is where they make the character costumes. Keely wanted her picture taken with Aurora.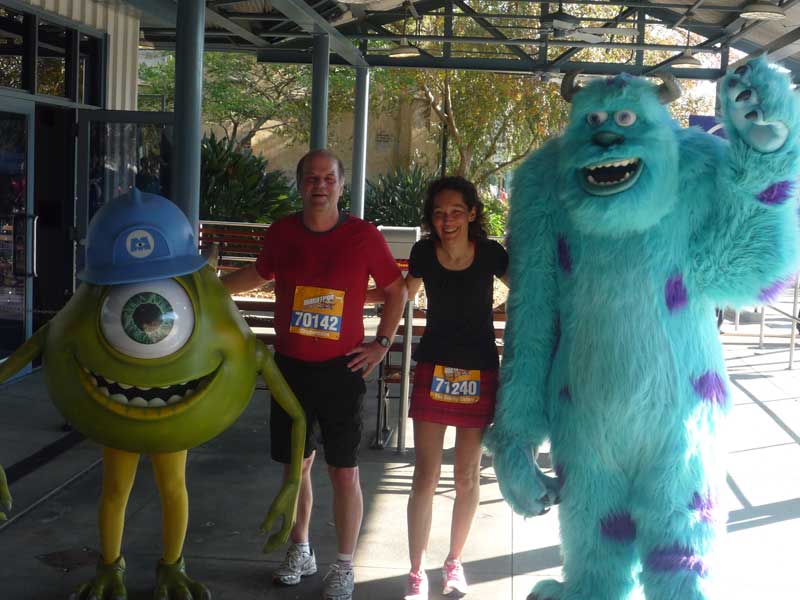 Mike and Sully had *just* walked out to pose for pics. We timed it perfectly.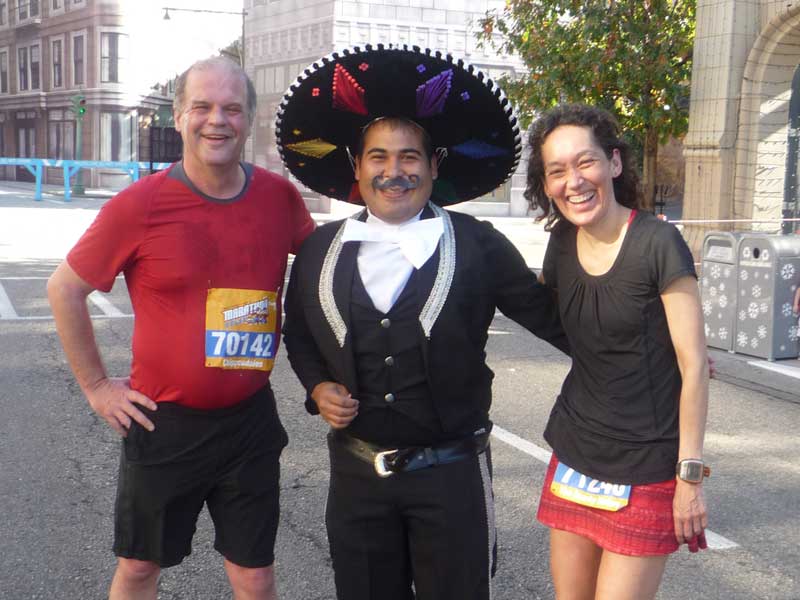 This was just some random guy who had dressed up and come out to cheer on the runners. He was delighted when people stopped for pictures.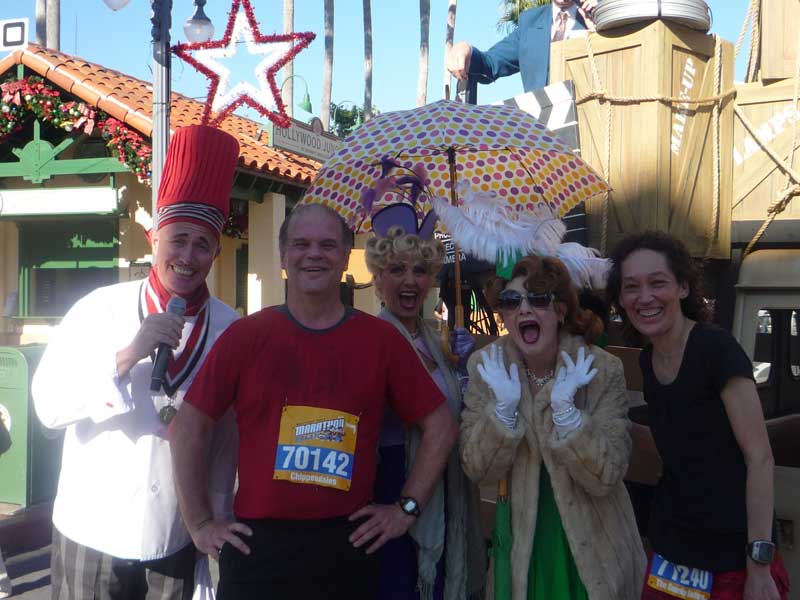 Not movie characters, but extras on the Hollywood lot.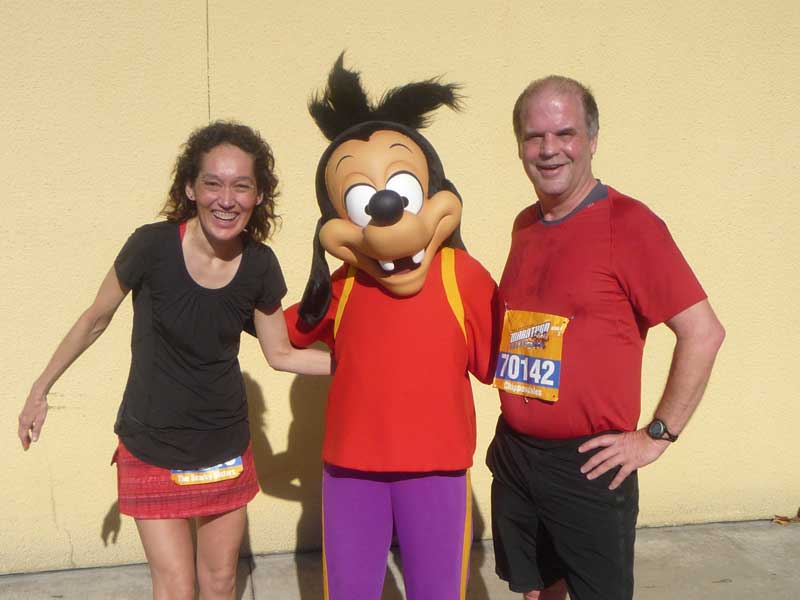 Max Goofy - when to do you get to get your picture took with Max?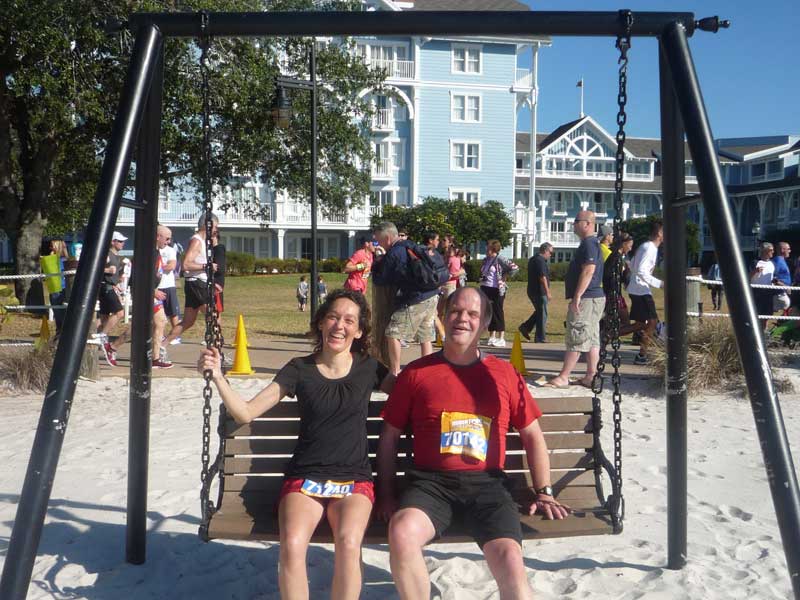 After Mile 20 (mile 7 for me) I was struggling. At mile 23, we took a short break on the swingset along the boardwalk.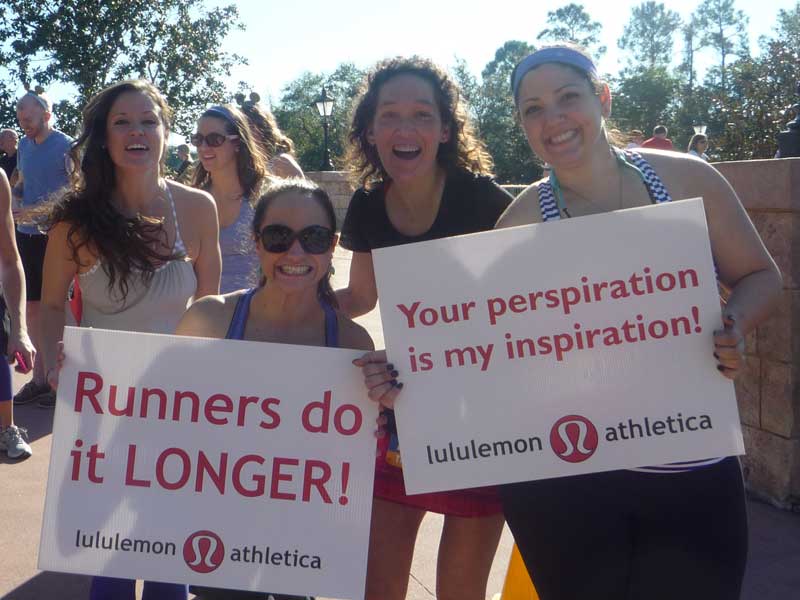 There is a Lulu store in Orlando and and they came out to cheer everyone on. I told them Keely is the Store Ambassador for the Tualitin location, and they got all excited.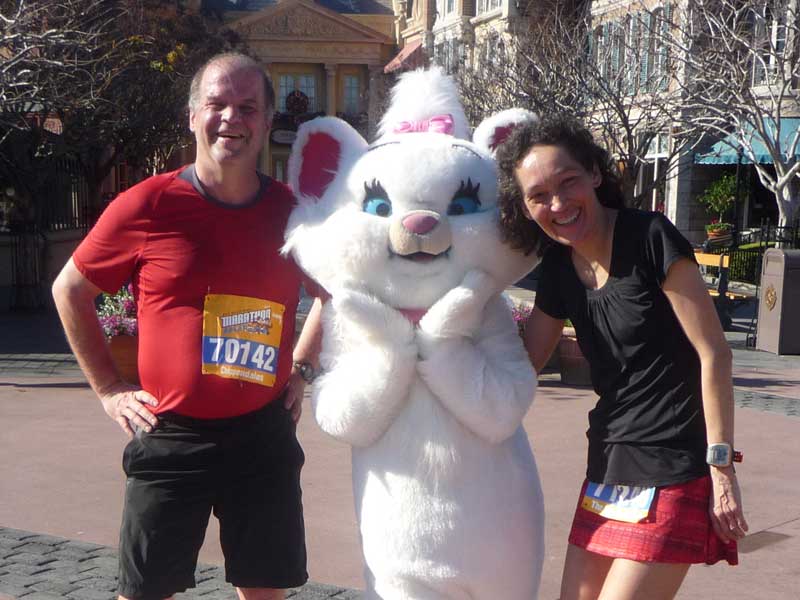 Finally, we were getting close. The end was at the Epcot parking lot. Is this an Aristocat? How long has it been since anyone has seen an Aristocat?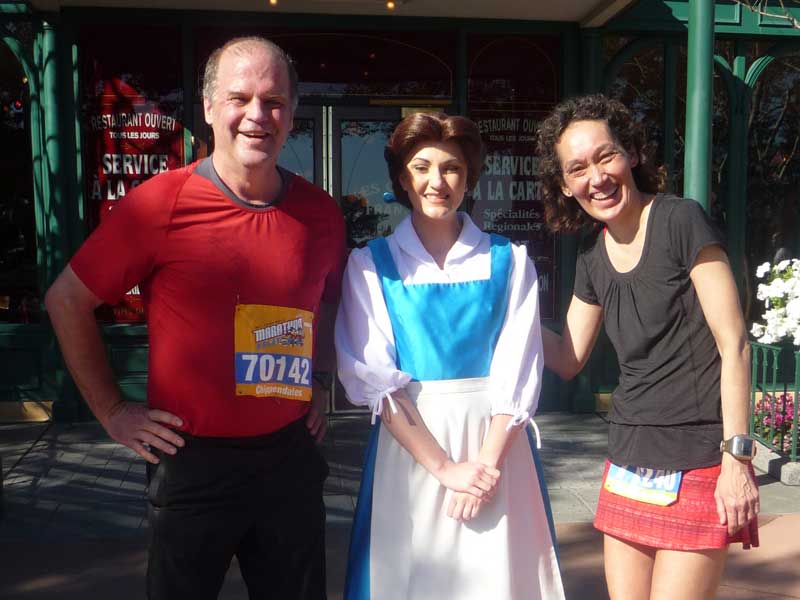 Belle looked just a tad uncomfortable with my sweatiness.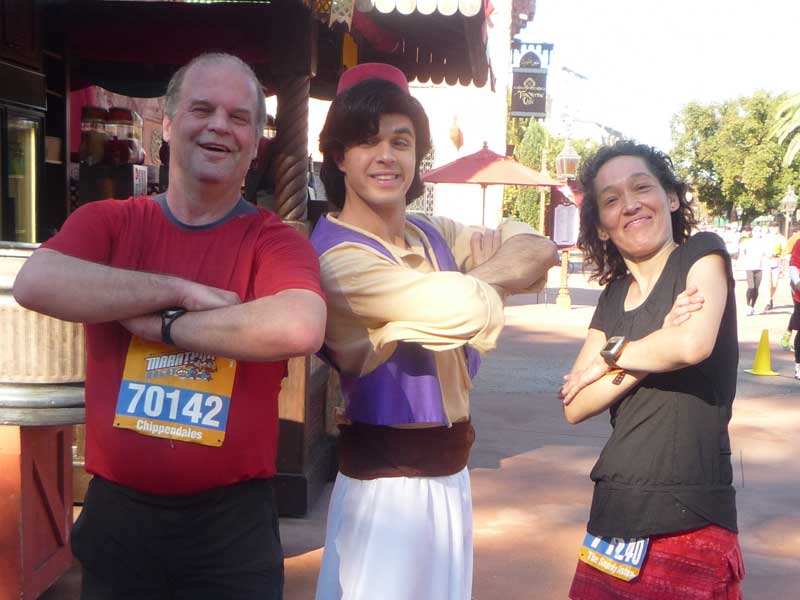 Aladdin and I hit it off. I confessed I kinda liked have a thing for Jasmine and he said "Me, too!"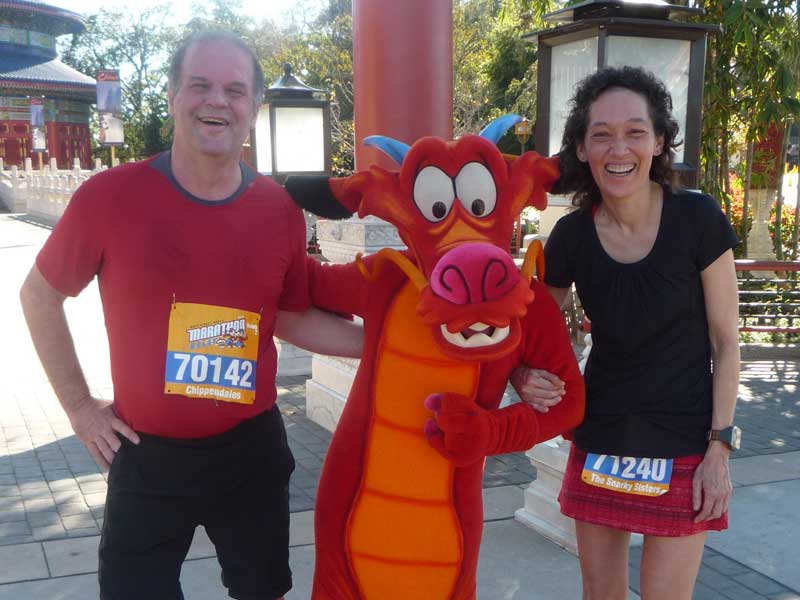 Mushu!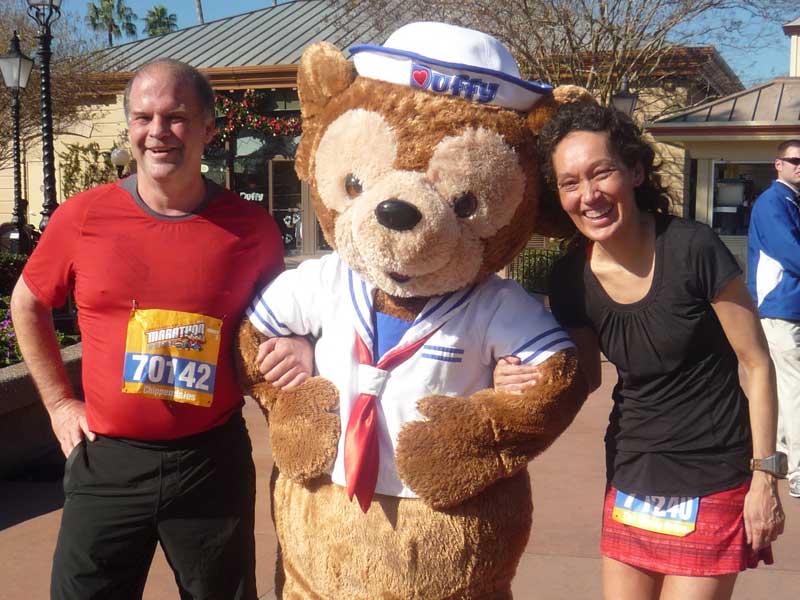 Duffy again. I could see the end from here, so I was quite happy.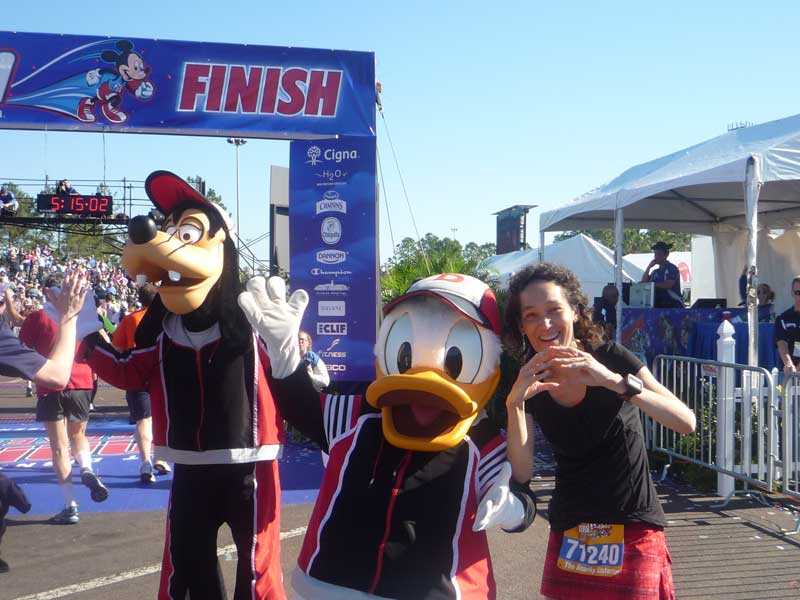 Goofy and Donald, but this Donald wasn't up on the whole O for Oregon thing.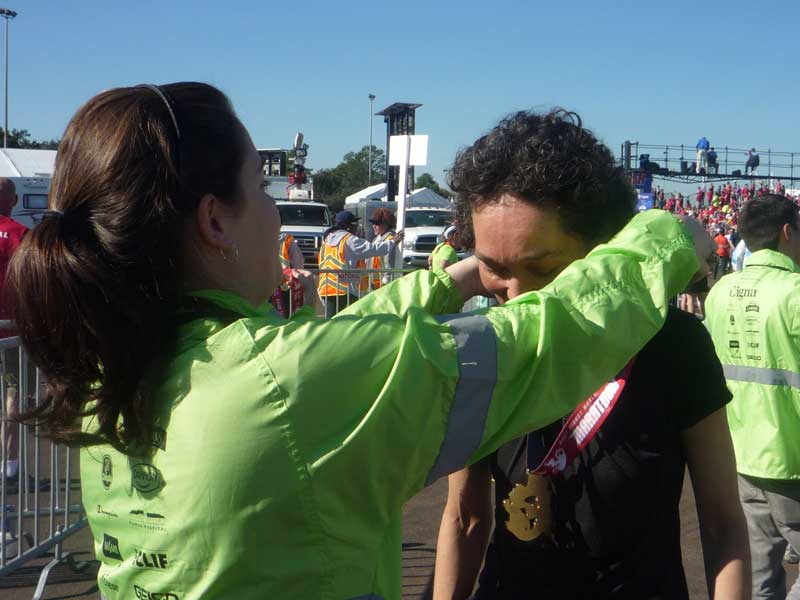 Keely getting her medal.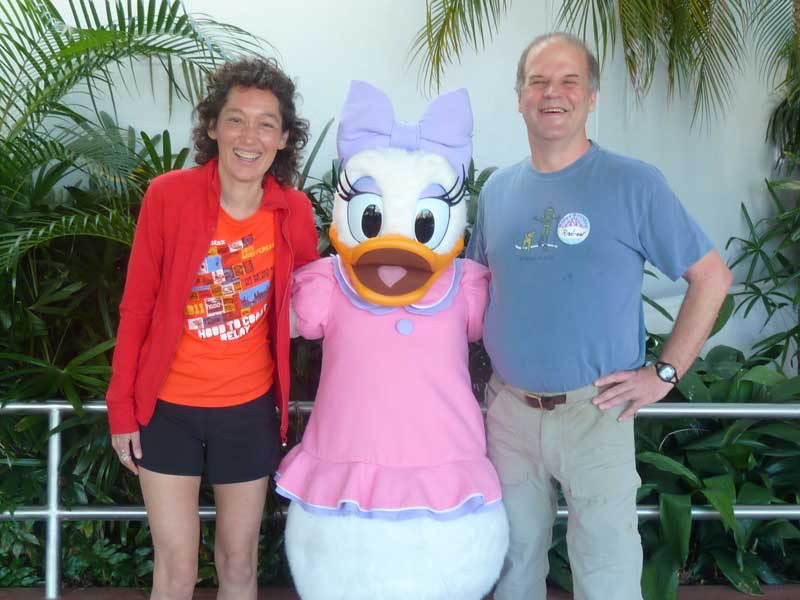 A quick shower and change and it was back to Epcot, where we foind Daisy again.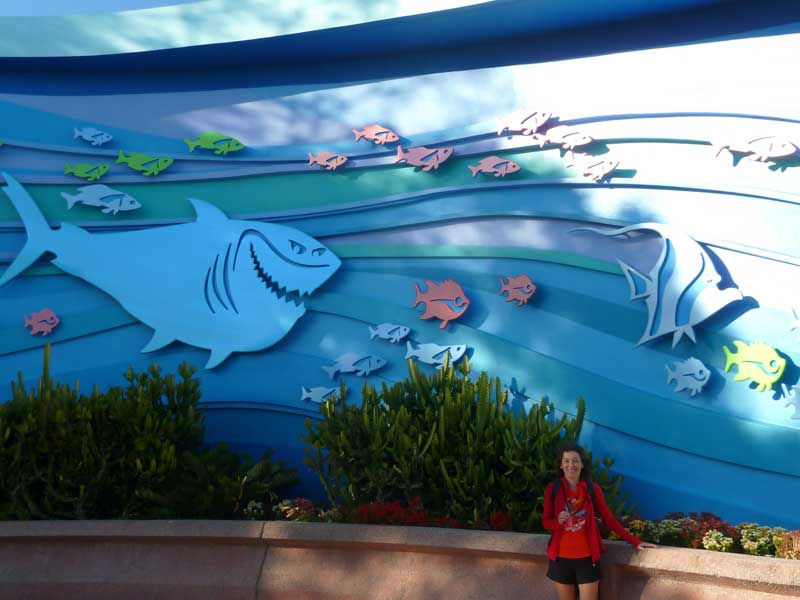 I don't think Brice gets enough love in the Disney pantheon.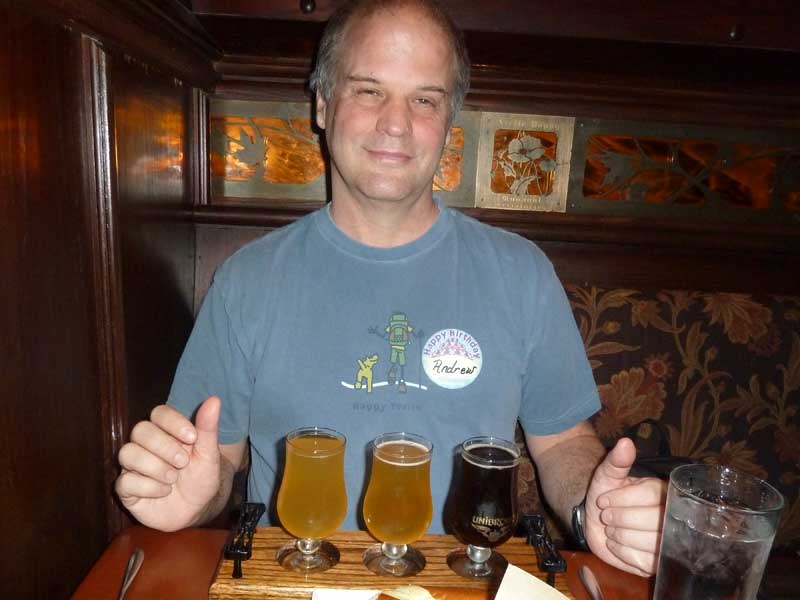 We had dinner at Le Cellier and I got a triple taste of Canadian beers. The food there is effing FANTASTIC. Among the best I have eaten.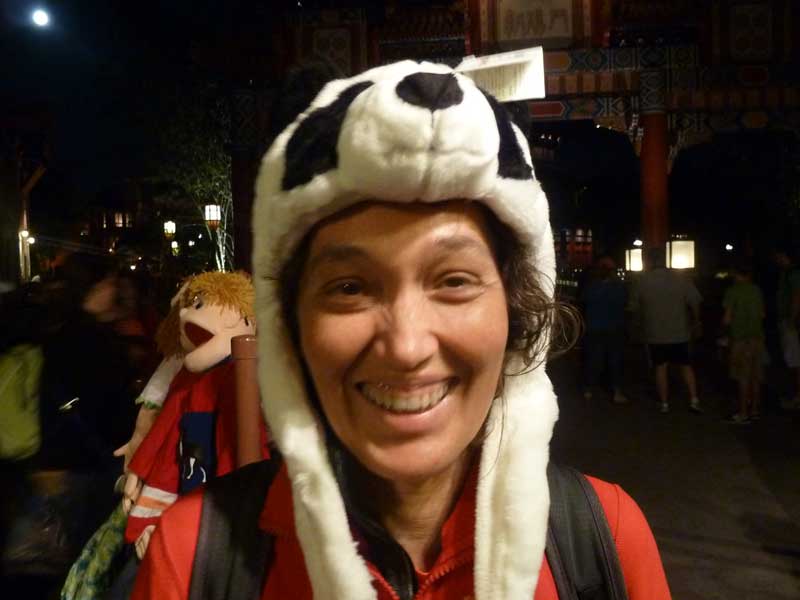 Nice panda hat. We were hoping to find a Chip hat, but there were none to be had. :(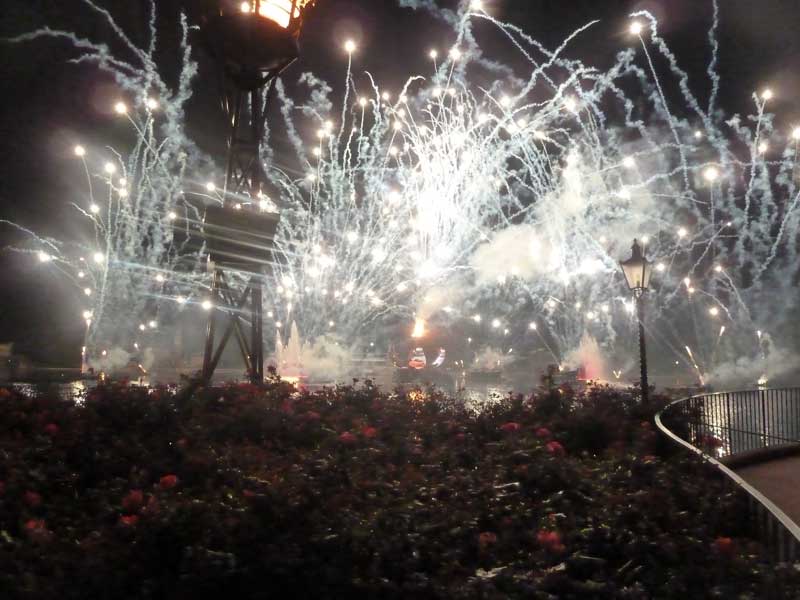 Illumination and time for bed.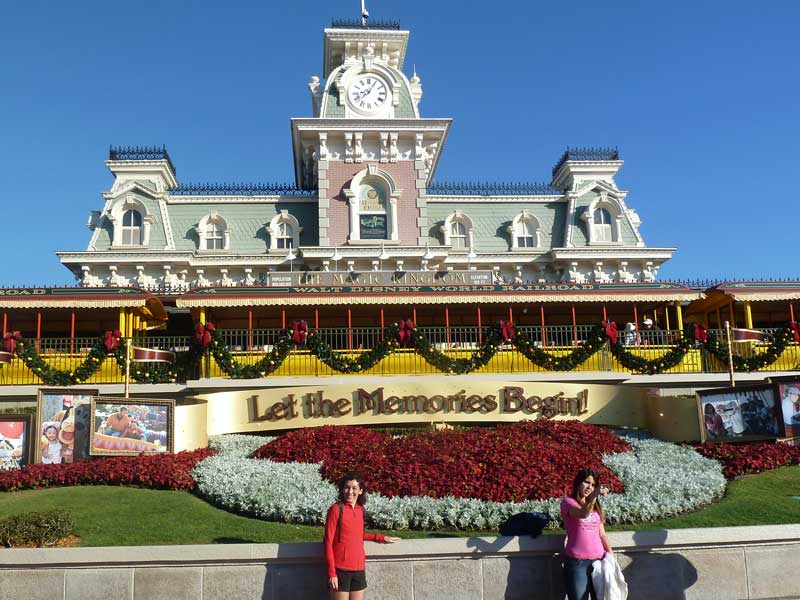 Up in the morning for our final day.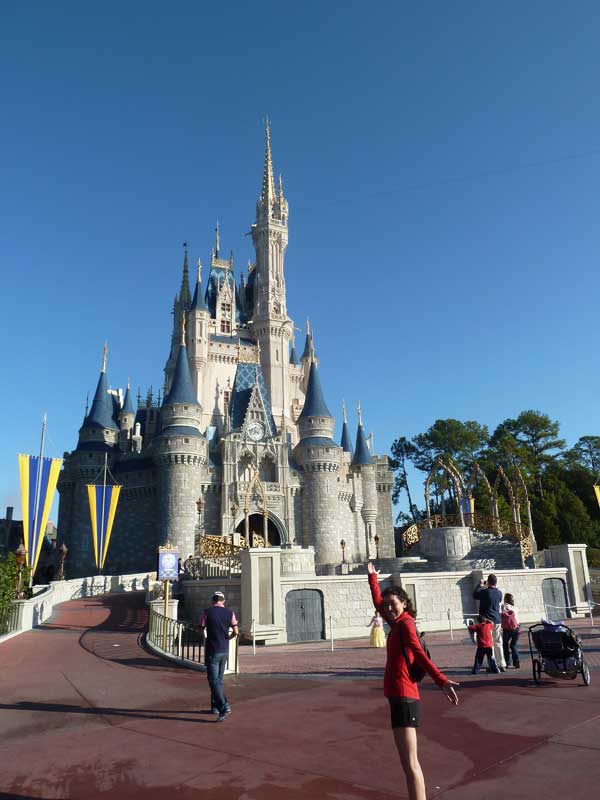 Yes, my darling love Disney.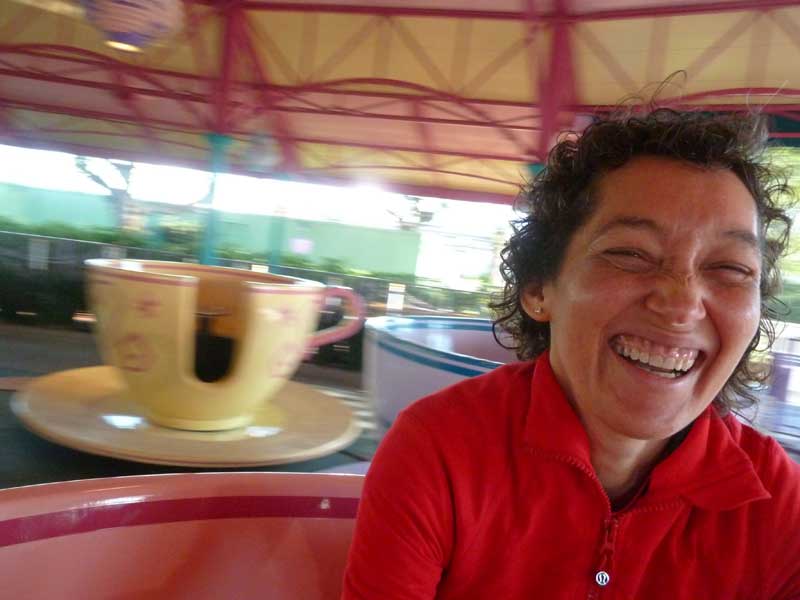 Teacups is, hands down, the best ride in the park. If you are gonna puke, it'll be on Teacups.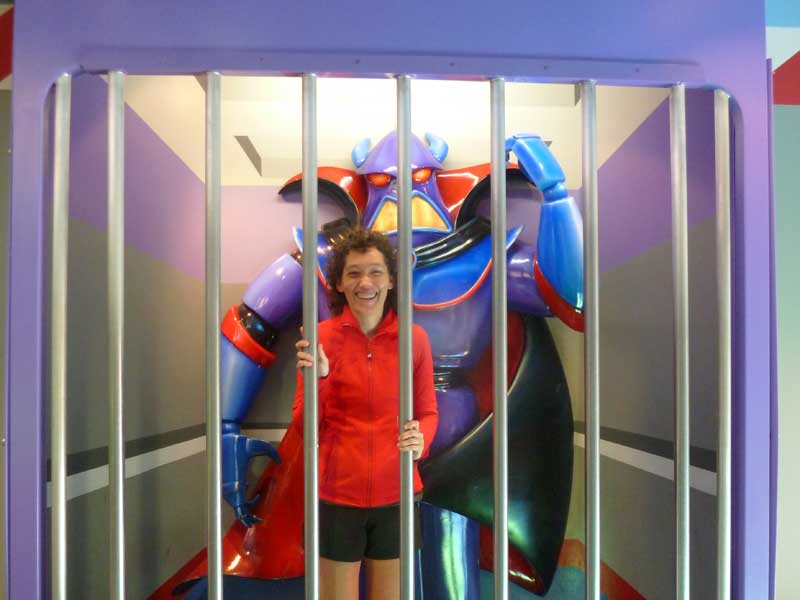 I tried to get in there, but I couldn't fit.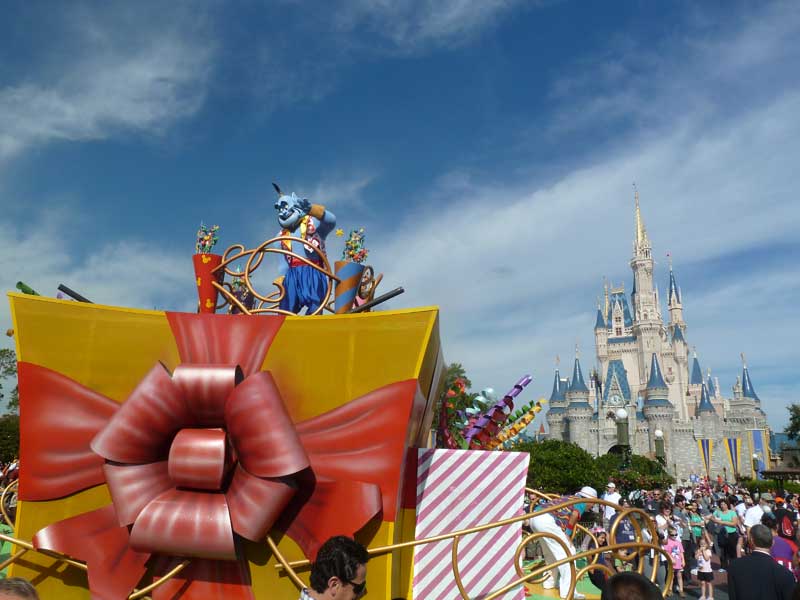 Keely took this shot as we were getting ready to leave the park and go home - it is a fantastic pic.
That's it, that's out Disney Adventure for 2012. After running back-to-back half marathons, I think it's time for me to hang up my shoes and take my place on the couch. Keely can run all she wants. Go, Baby, go!