Viva Las Vegas - and the Full Moon Extraterrestrial 10K, Half, Full, and Ultra Marathon
August 12, 2011
Keely and I went to Las Vegas in 1997 and had a blast. I've been hoping to get a chance to go back, so when Keely found Calico Racing was putting on a run in the infamous Area 51, we just had to go.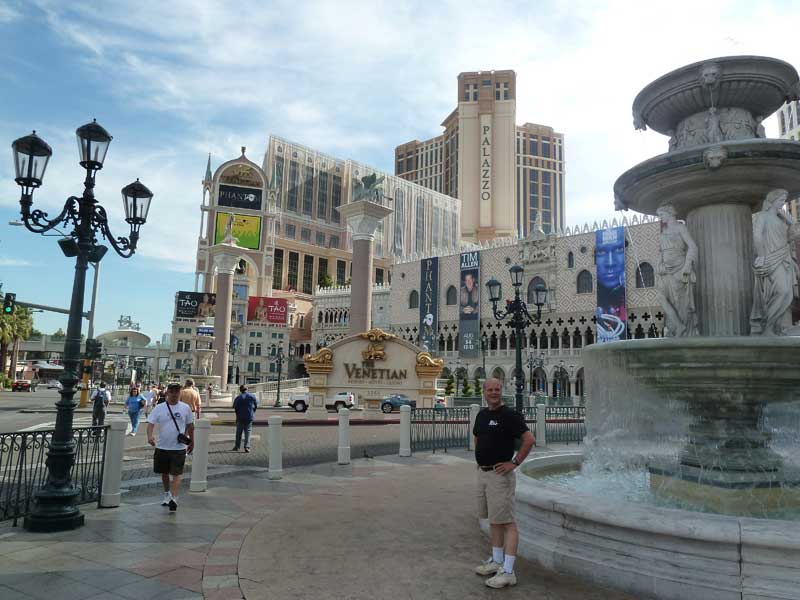 We stayed in Harrah's but immediately headed out on the strip. My, Las Vegas had changed.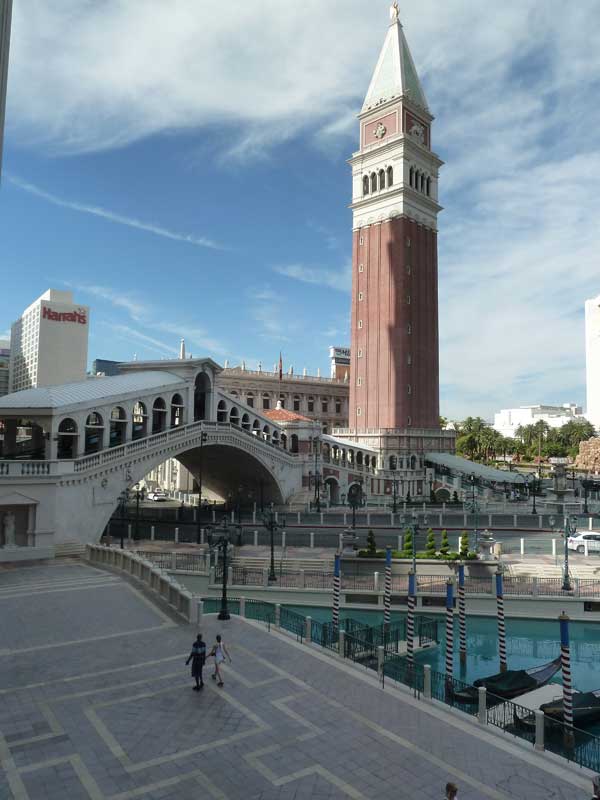 The Venetian looked great - their version of the Bridge of Sighs is much bigger than the one in Venice, while the bell tower is smaller.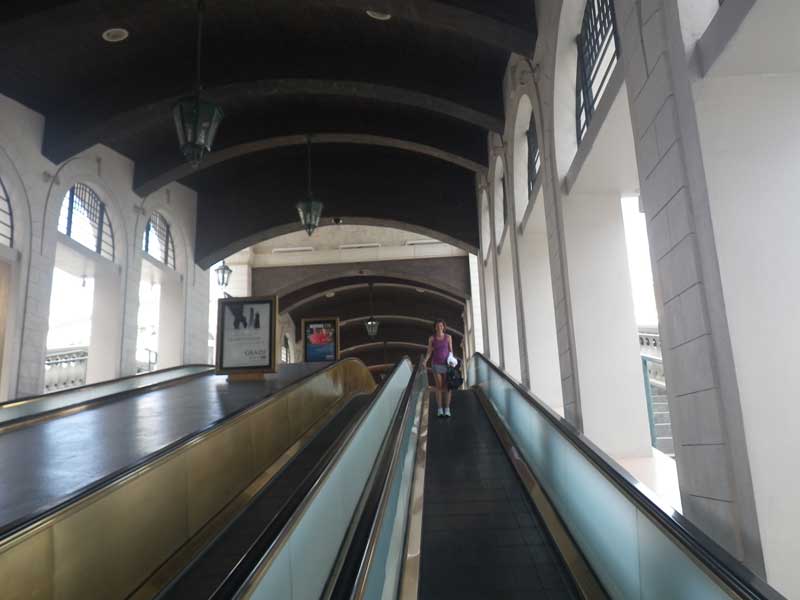 Plus, their Bridge of Sighs has moving walkways. Not something you see in Italy.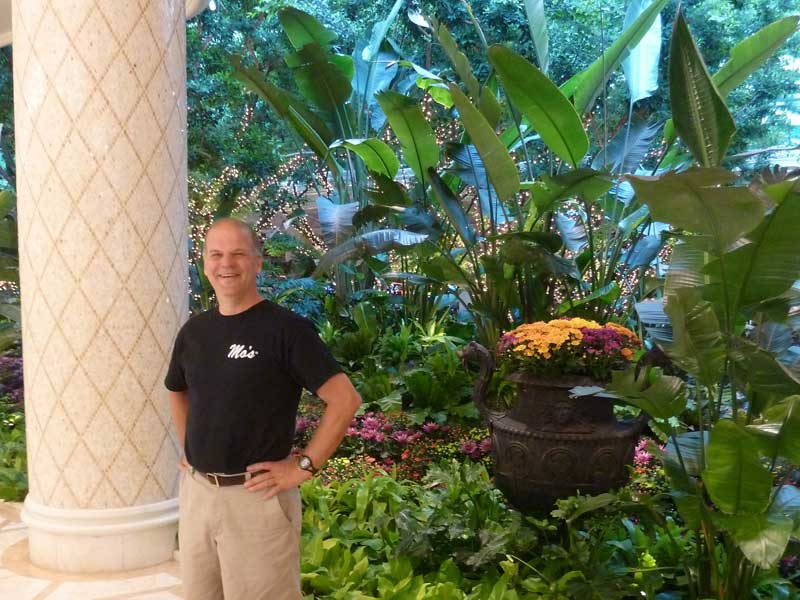 Oof, the opulence inside these casinos is obscene. And we have people going hungry in America (not that you could tell by looking at the crowds.)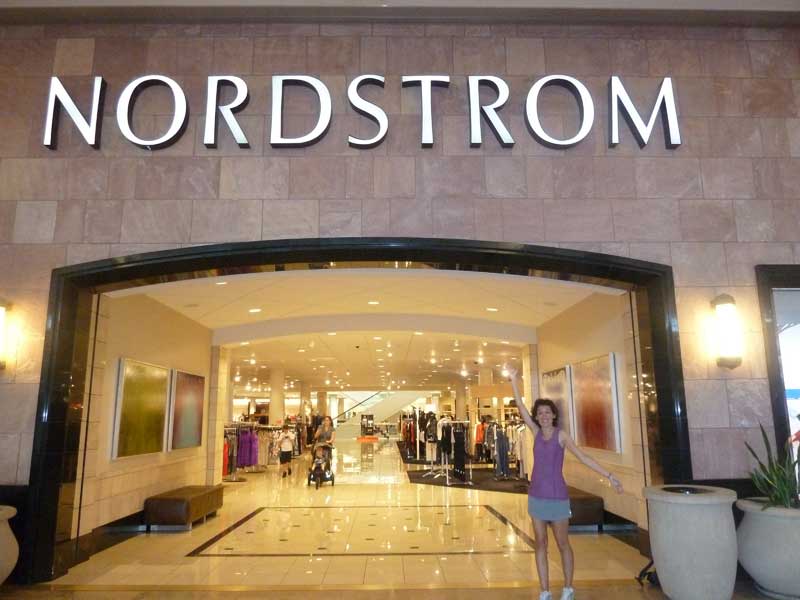 Keely was in heaven.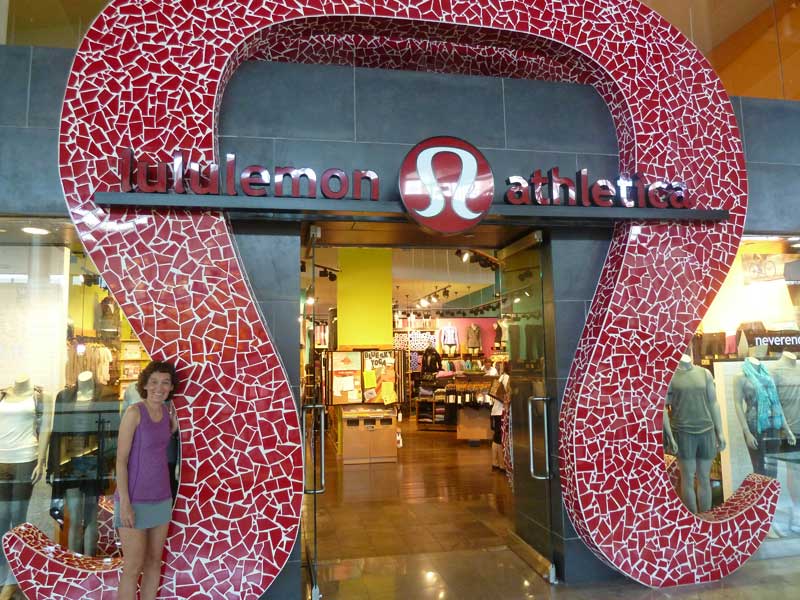 Super-duper heaven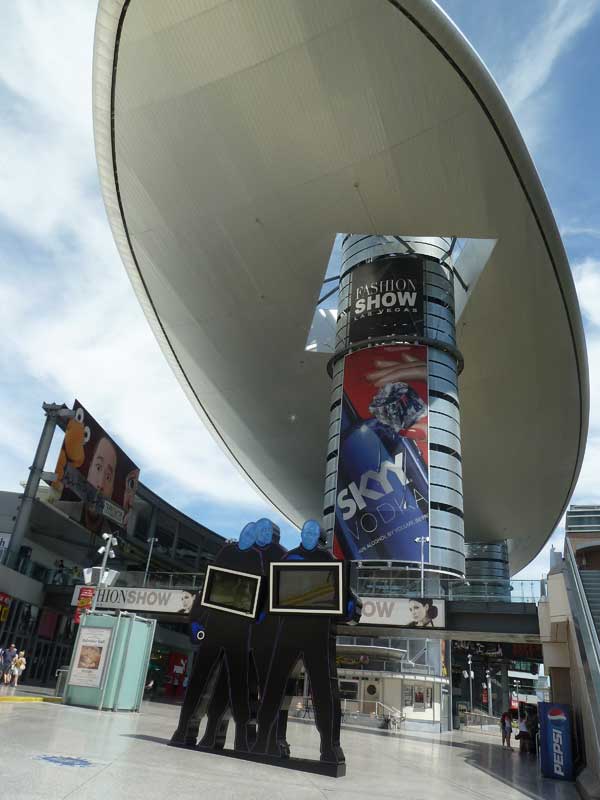 We headed on down the strip to a place called Fashion Show.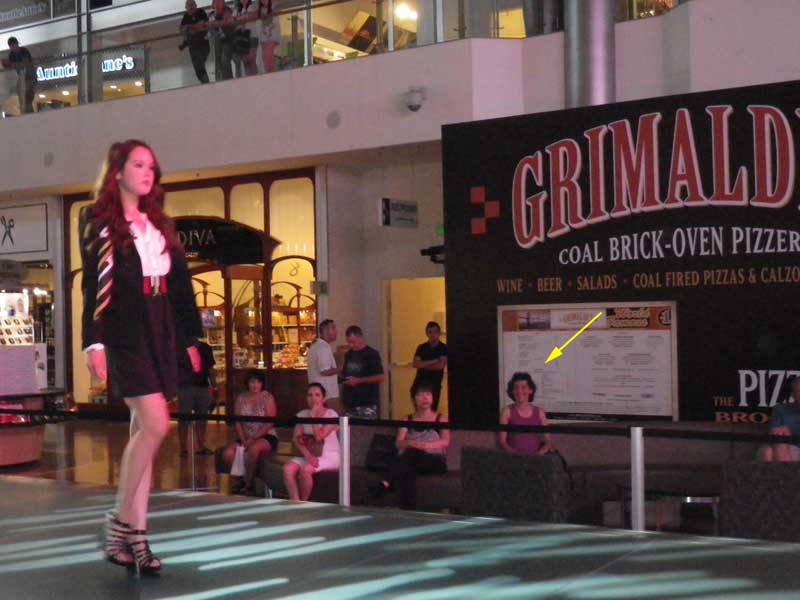 And they had a fashion show going on while we were there. Flat-affect people with dead eyes moving like clockwork animatronics and standing unnaturally to show off clothes that were . . . meh, at best.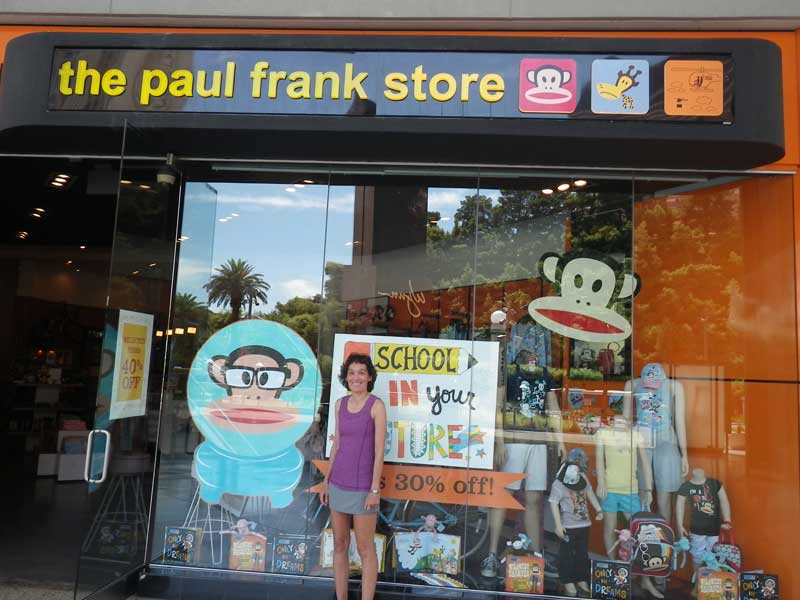 A pic for Dave Mari, one of Keely's running friends (he likes Paul Frank.)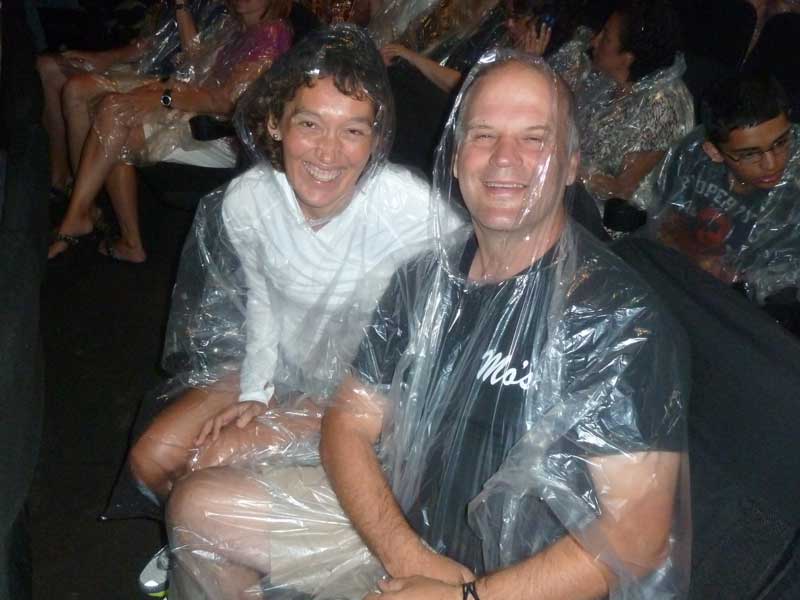 That evening, we went to see the Blue Man Group. If I'm gonna pay for tickets, I want to be in the poncho section. And there we were, center stage, second row.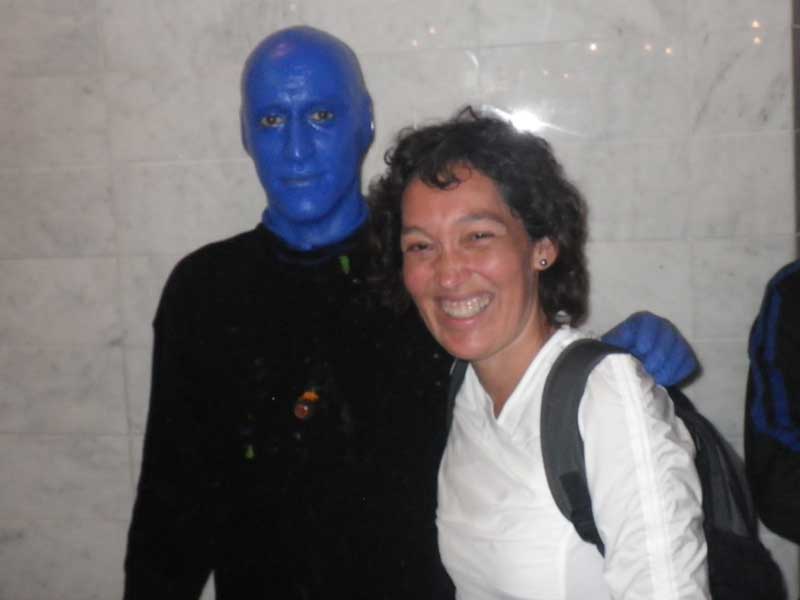 The show was really good - we had a blast. Afterwards, Keely got to pose with one of the Blue Men. Notice how his hand is just slightly above her shoulder? That's called "Hover Hands."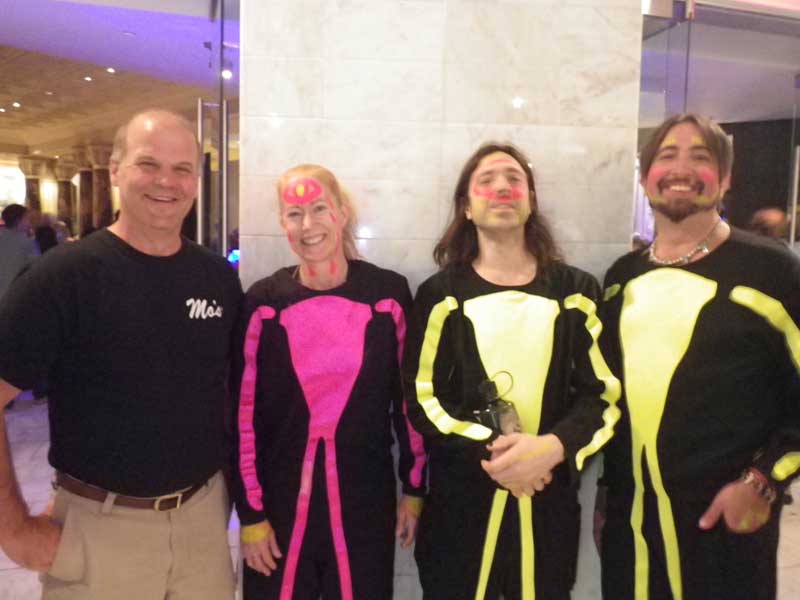 I posed with the band - I think they really enjoyed being appreciated.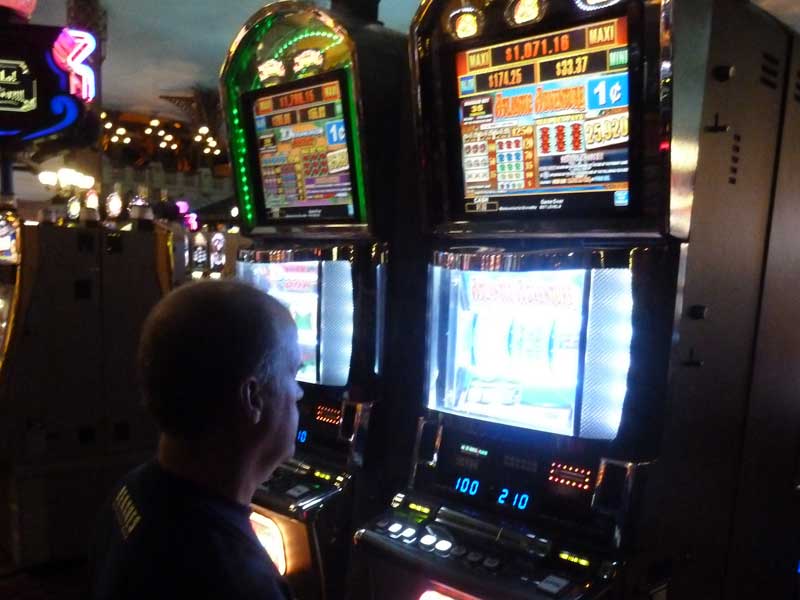 We spent a total of $4 on gambling. The minimum bet on a 1 cent machine was 20 cents. I was not amused.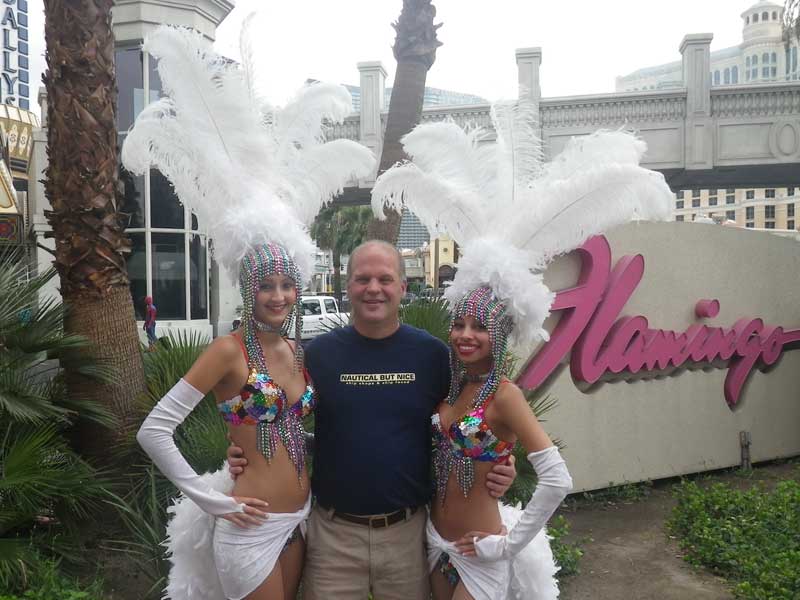 The next morning, we headed out onto the heat again. These showgirls were posing for tips. You'll notice I don't suffer from Hover Hand.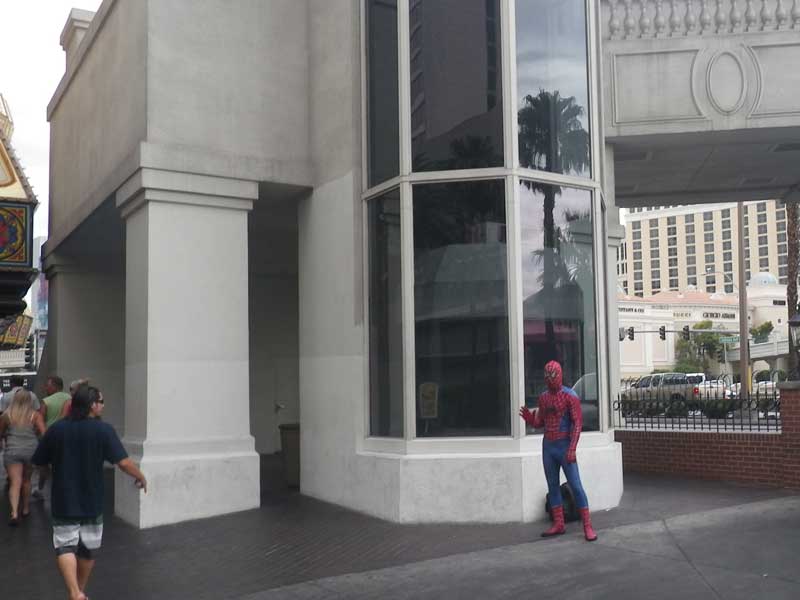 Poor Spiderman. Perhaps he'd get more tips if he had a skimpier costume (or bigger tits)?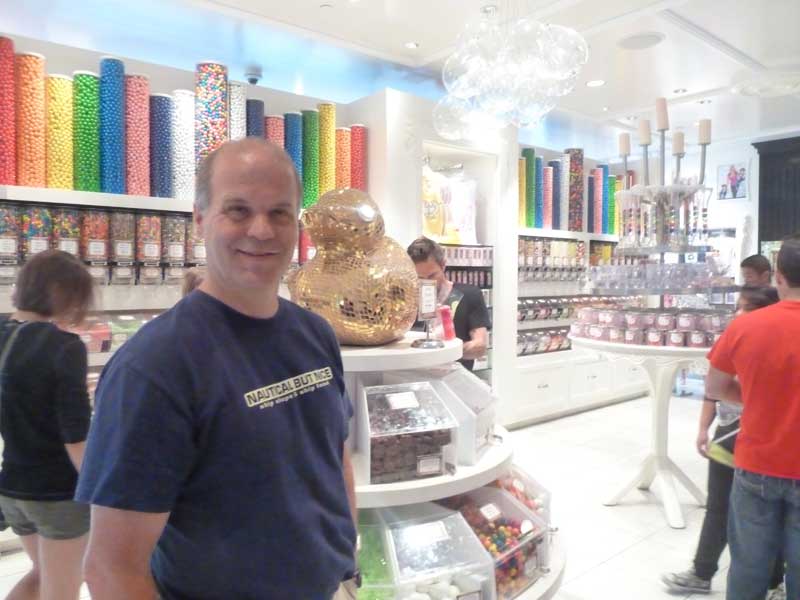 Some high-end candy store, specializing in designer lollipops with jeweled, reusable sticks.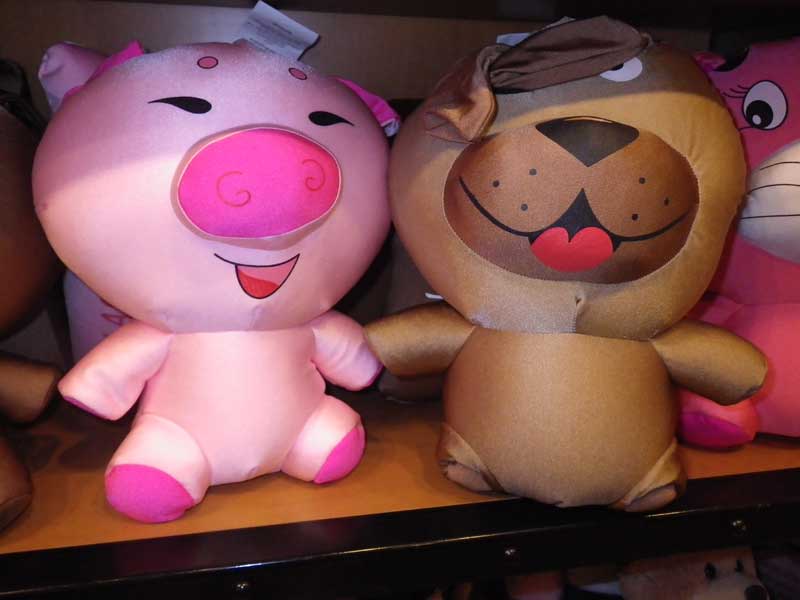 Do . . . do those stuffed animals have vaginas?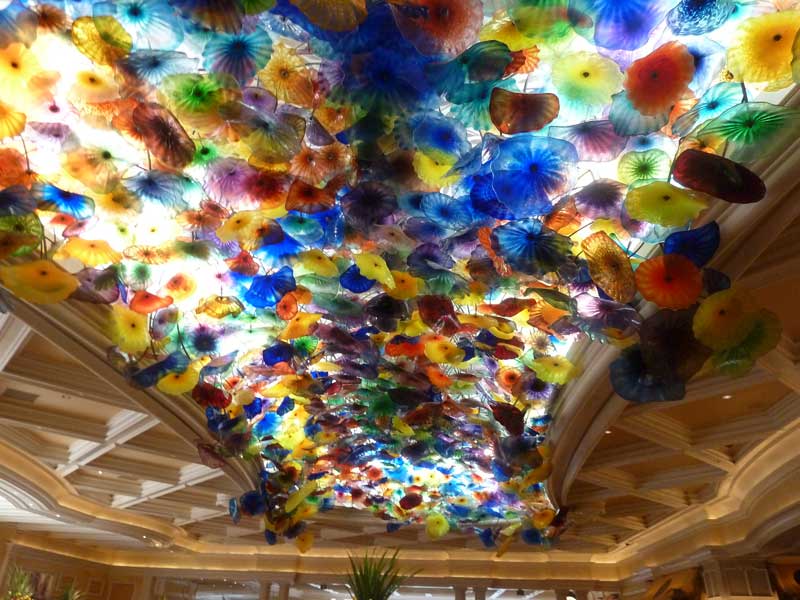 In the Bellagio, next. This ceiling was done by Dave Chihuly, a glass artist from the Northwest. It is VERY expensive, and to tell you the truth, while I can appreciate the grandeur a little bit, my single word description would be "cloying."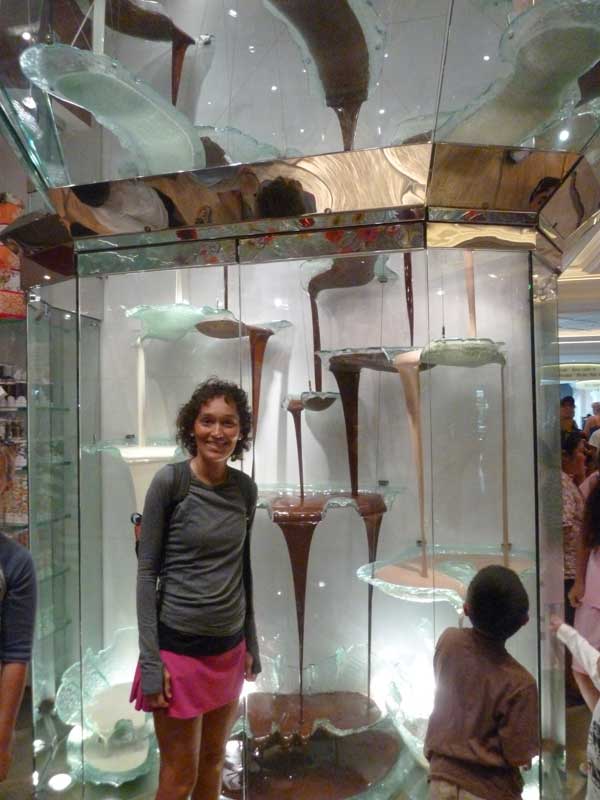 They do have a functioning chocolate fountain, though - walled off from questing fingers, of course.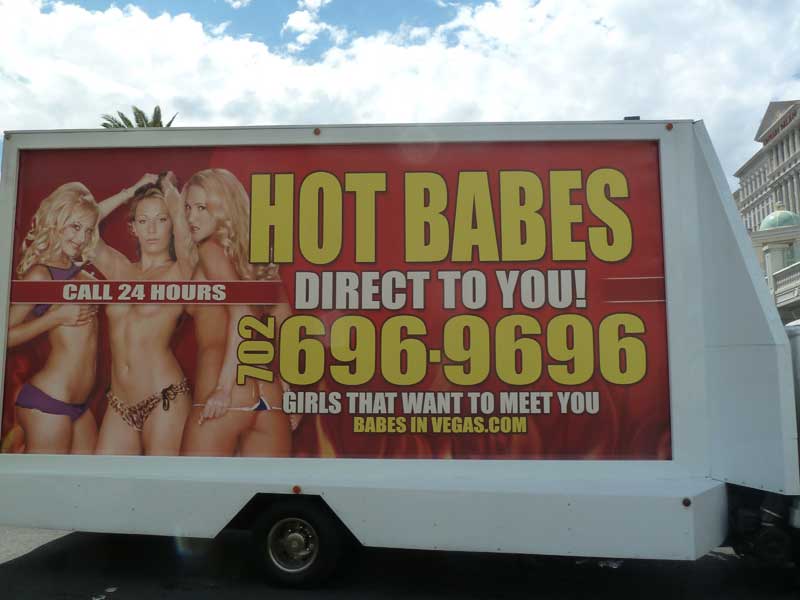 Here's something else that was new to us this time: Mobile billboards advertising hookers (I am sure they are serious performance artists - but it looks like hooker advertising to me.)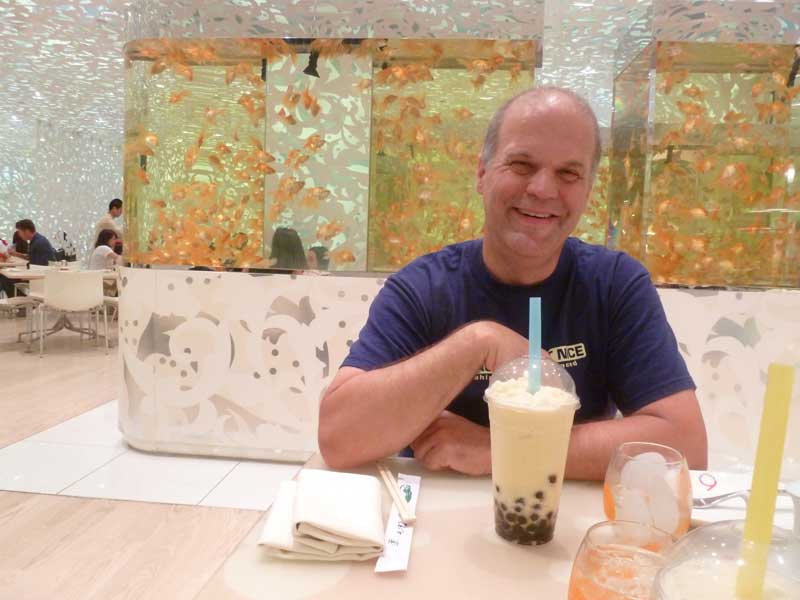 Time for lunch - food is outrageously expensive now. We stopped in an Asian cafe and had some Bubble Tea while we looked at the menu. The 'bubbles' are actually little round blobs of tapioca and they sort of machine-gun into your mouth when you suck on the straw.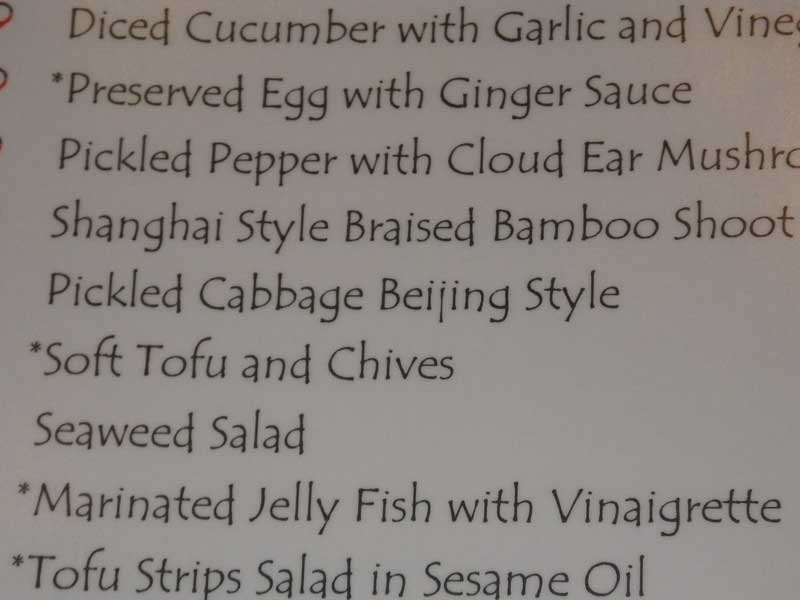 Marinated Jellyfish? Man, I am all over that. And it was tasty, too (cold and gelatinous, but tasty.)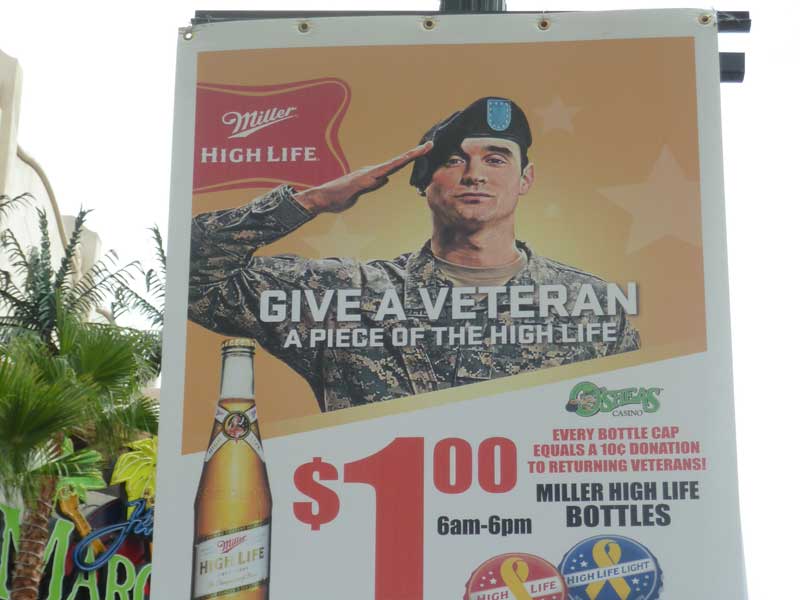 Well, I had to honor their service, didn't I?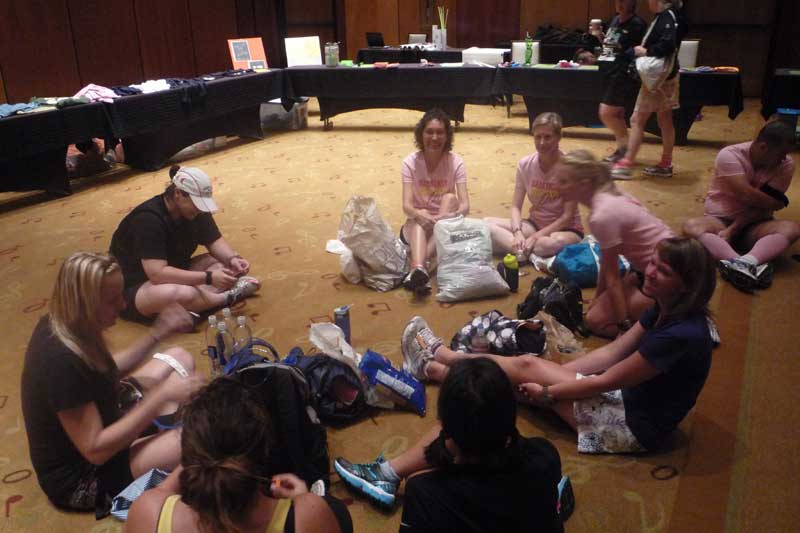 That evening, we headed over to the Hard Rock to meet the people participating in the run.
Lulu reflective shorts for the run - those stripes are a subtle, light gray when not in direct light.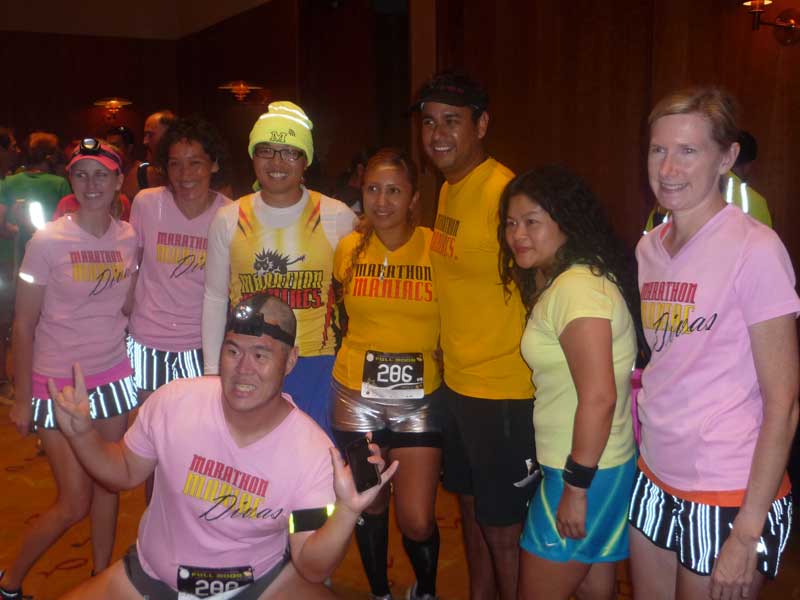 They are called Marathon Maniacs for a reason.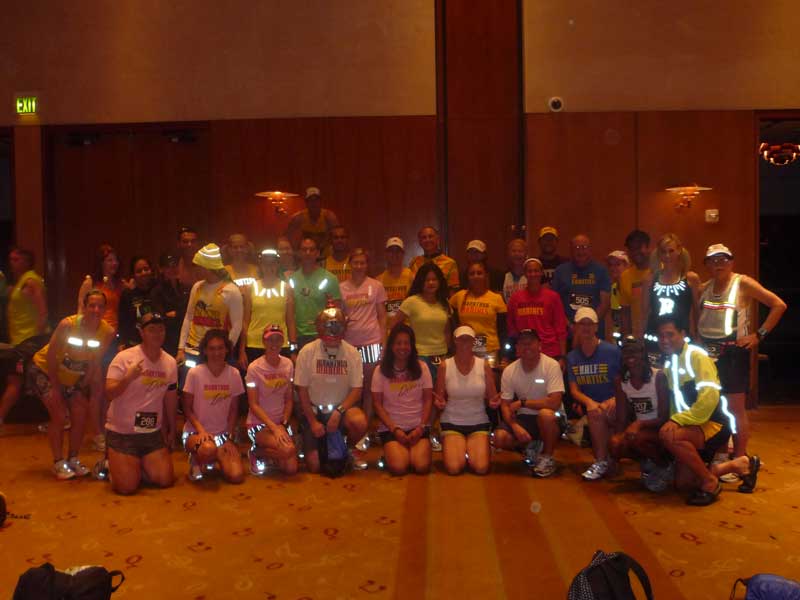 Flashy group shot.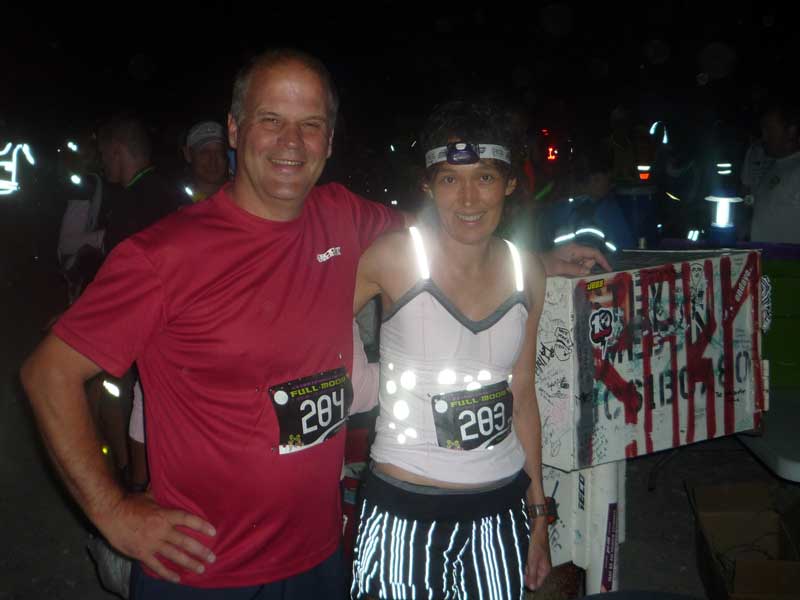 2 1/2 hours in the bus (longer, actually, the bus driver got lost leaving Las Vegas) to get to the "black" mailbox at the entrance to Area 51.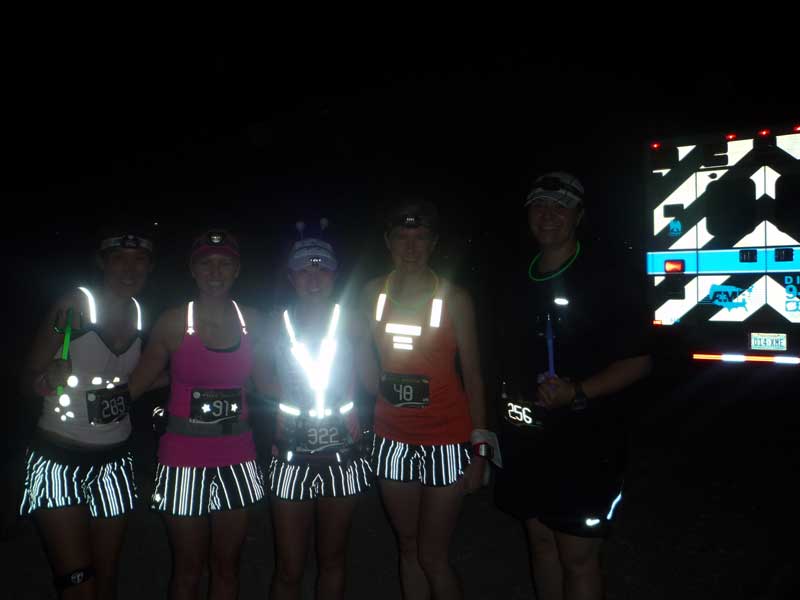 Keely and her friends at the start of the marathon. Safety first, ladies.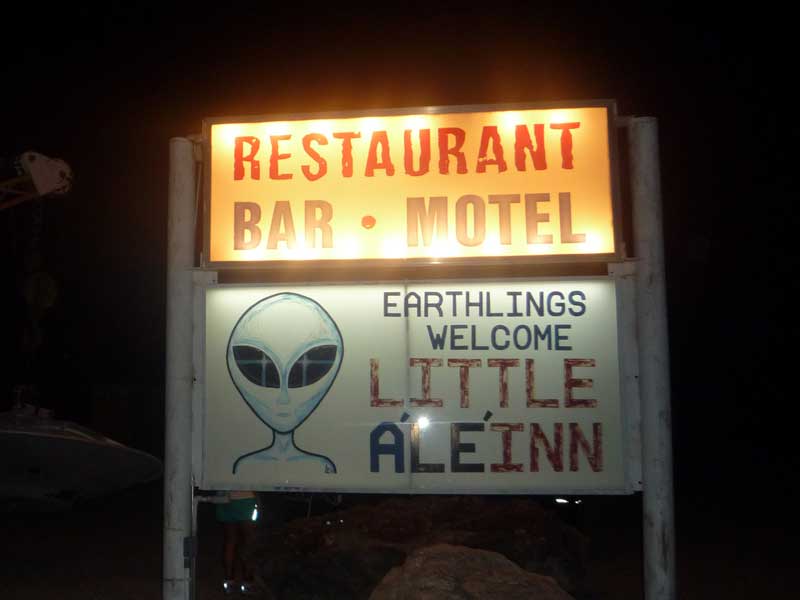 I was bussed 20 miles further on, then ran a 10K which ended at the Little Aleinn, right smack dab in the middle of no where.
I occupied my time volunteering while Keely ran her 51K. That's right - 31.62 MILES. Piffling little Ultra Marathons are only 50K - 31 miles. Keely kicked ass on an extended ultra.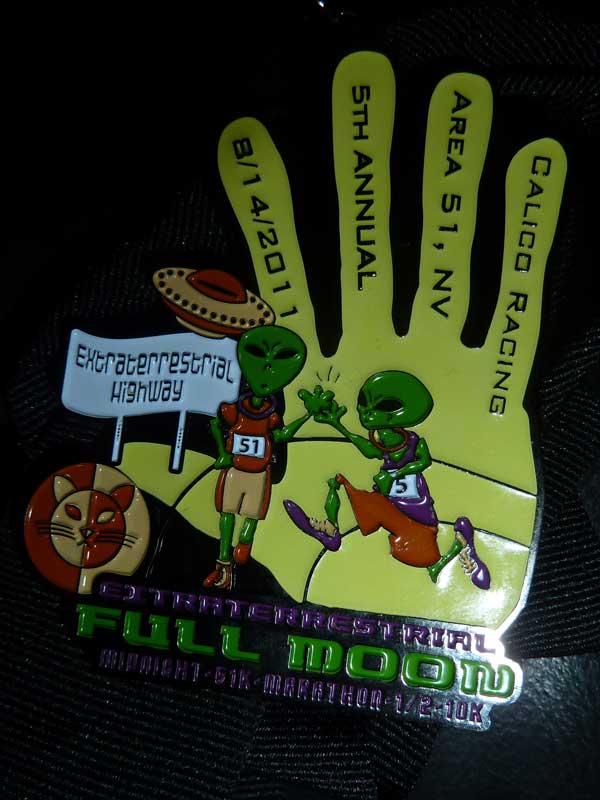 and this is what it was all for - the medal even glows in the dark. (mine looks exactly the same - hee hee hee)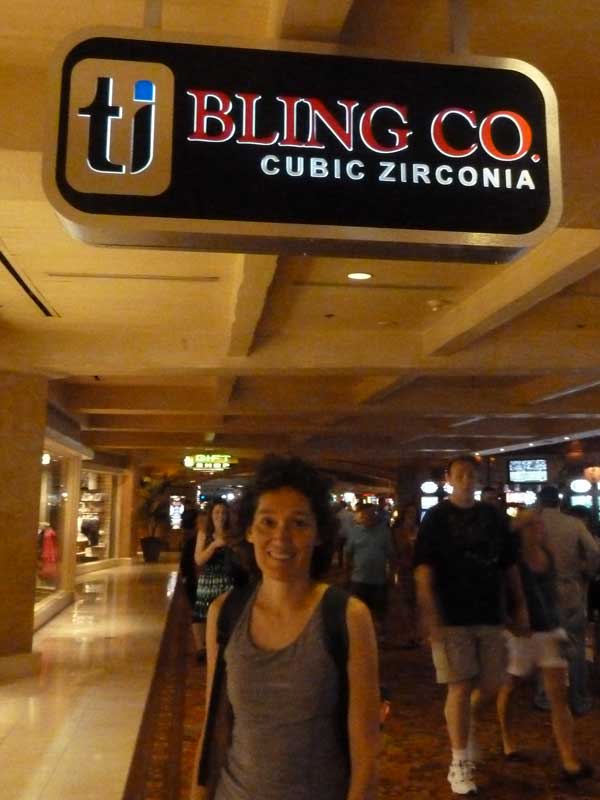 After a few hours, it was back to the strip, where the Queen of Bling was in her element.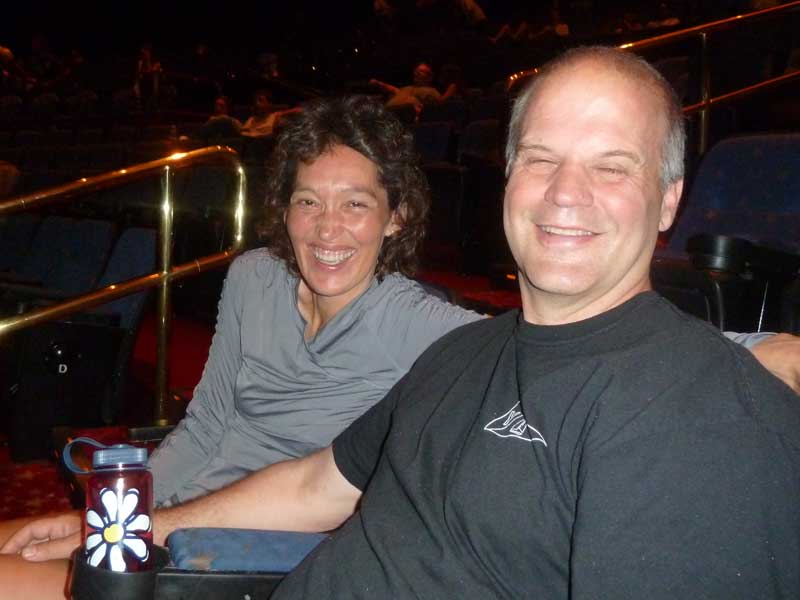 That night we went to Circ de Solie, sat in front, and had a blast.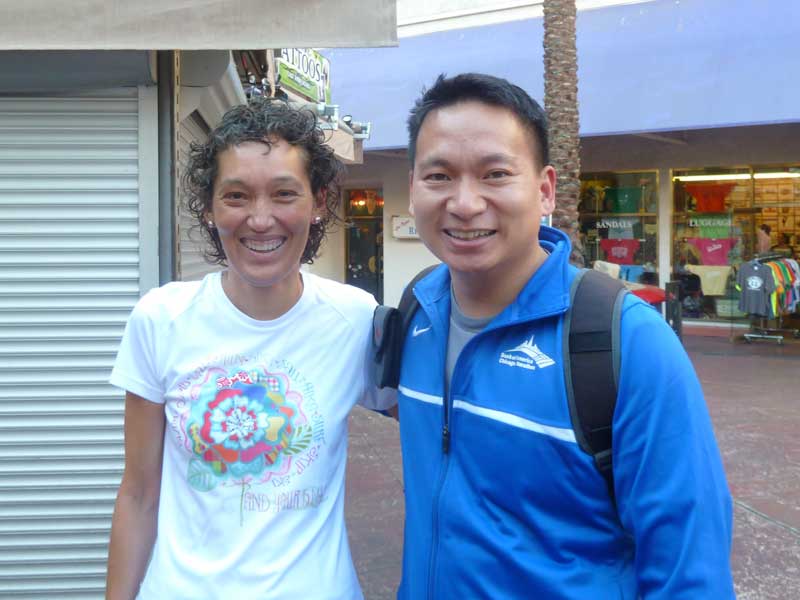 The next morning, we were walking along and Keely ran into a running friend, Toby, the Panda Photographer. He wears a panda hat when he is photographing race events.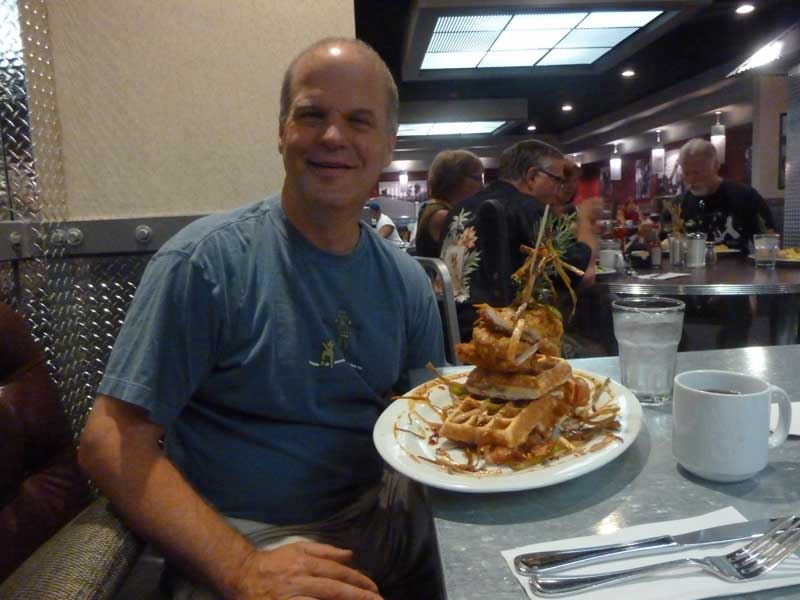 We went to the Hash House a Go Go for breakfast. I had their signature Bacon stuffed Waffles.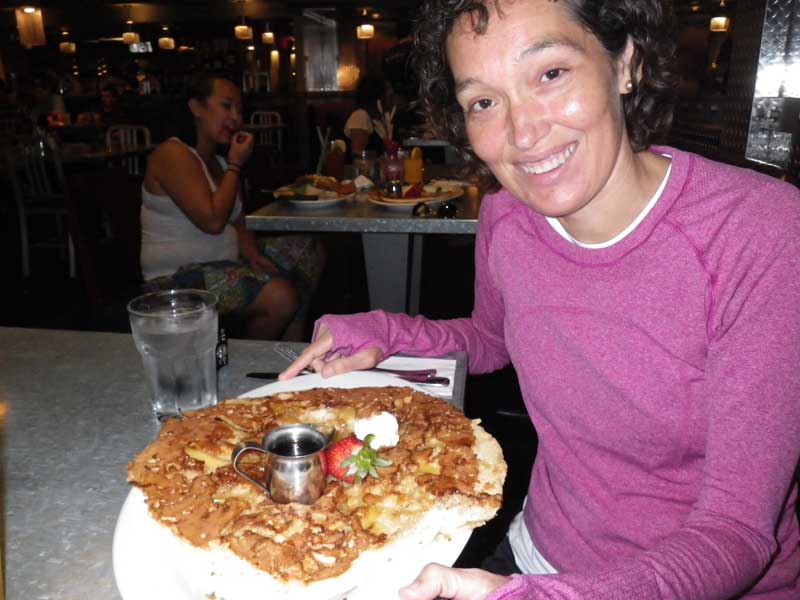 Keely had a banana pancake. No, we could not finish the meals.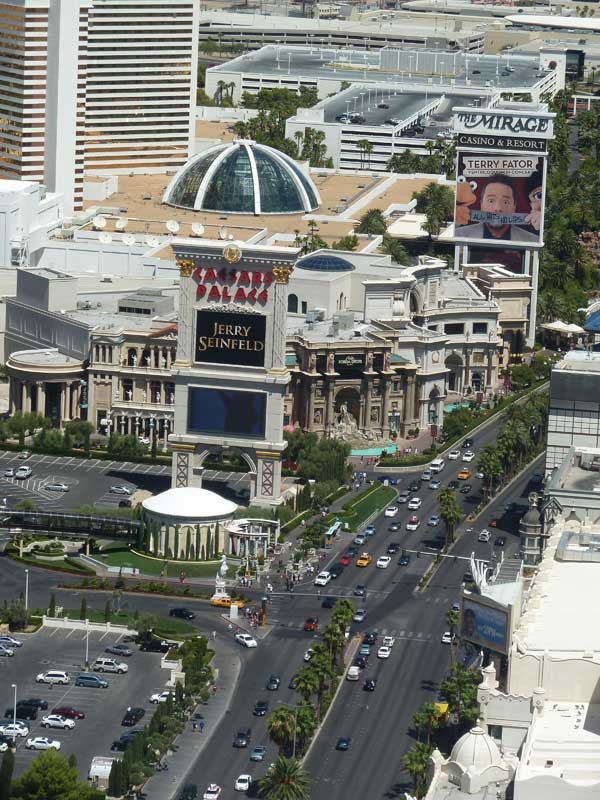 Next stop: Paris, where we went up the Eiffel Tower and got some great views of the strip.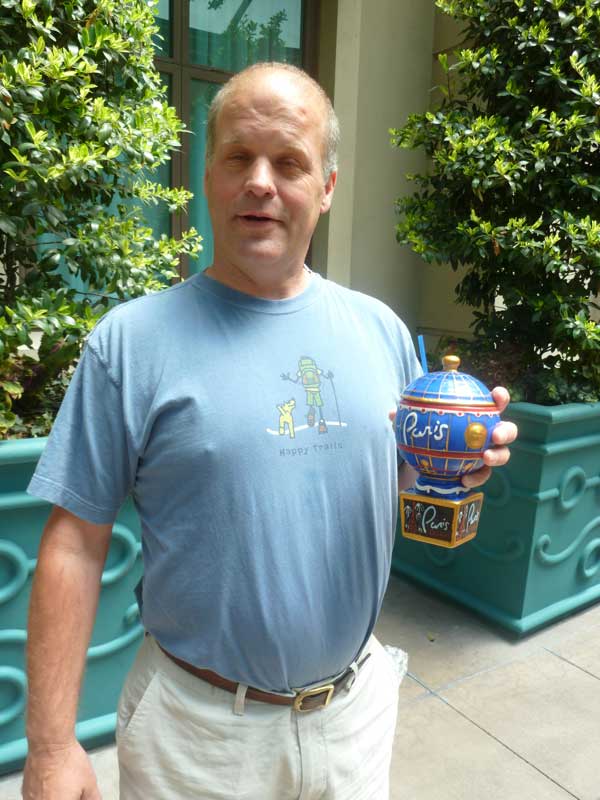 and I picked up a new sippy cup. This is not my most flattering picture.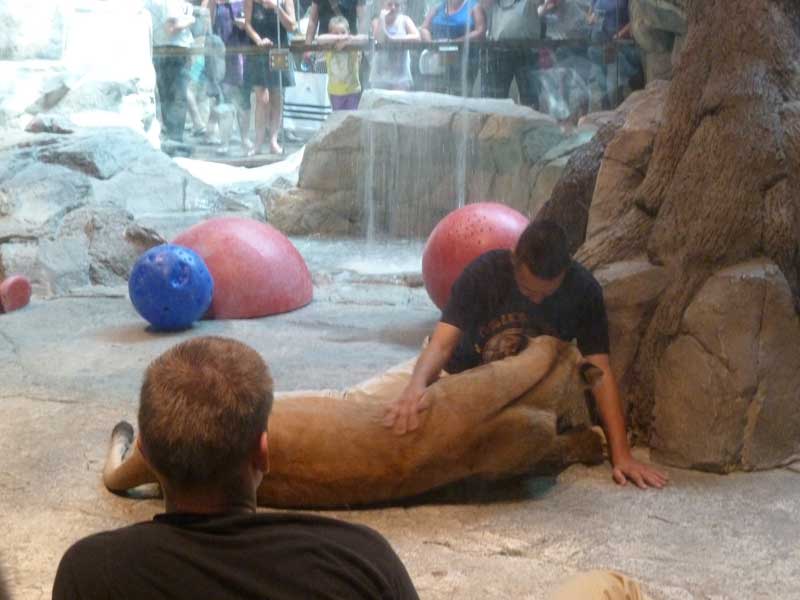 Next stop was the MGM, where we looked in on the lion sanctuary. This guy has a pretty good job, don't he? Sitting around, petting lions all day.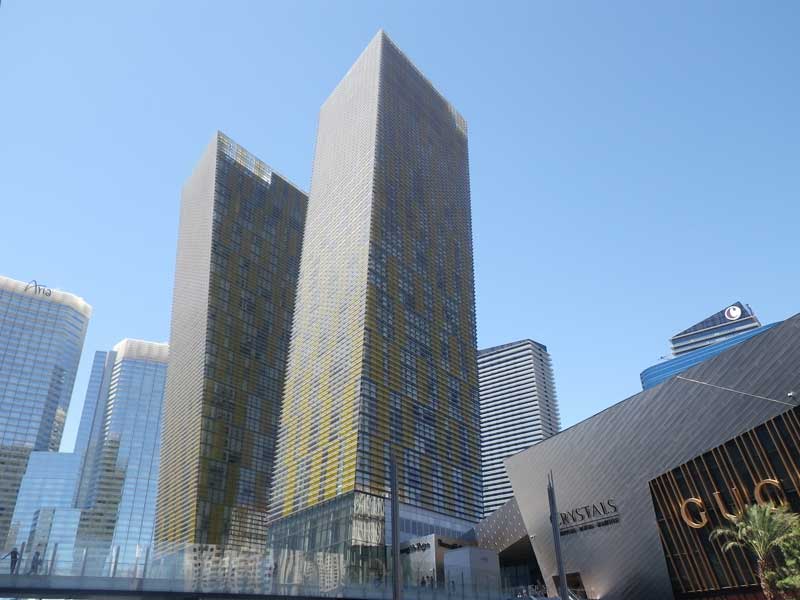 On the way back, we passed this monstrosity - CityCenter - billed as one of the most expensive real estate development in the world. I do like the angled buildings, but other than that? Meh.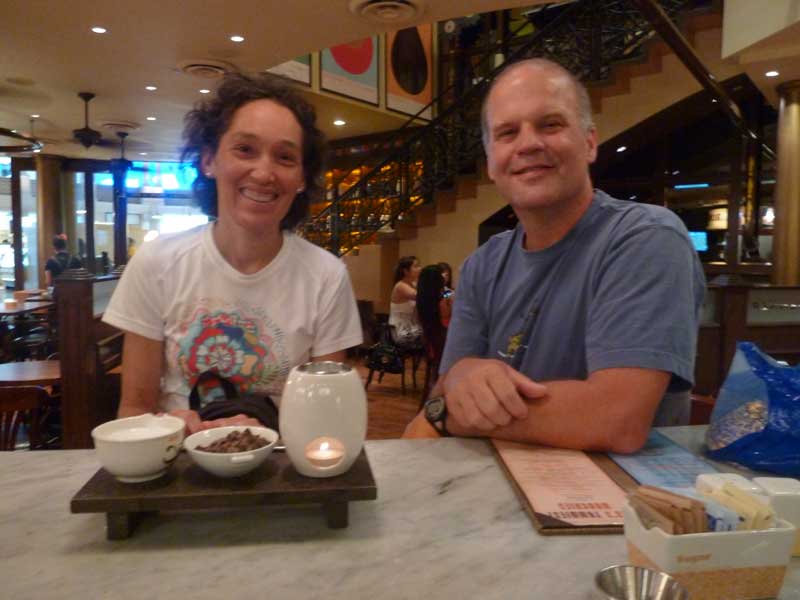 For our last adventure, we went to a chocolate bar. The bartender was very nice and introduced Keely to a new way of drinking chocolate: The egg-looking thing is a heater with a candle as the heat source. It heats a small bowl of milk, to which you add nibs of dark chocolate. Pretty good.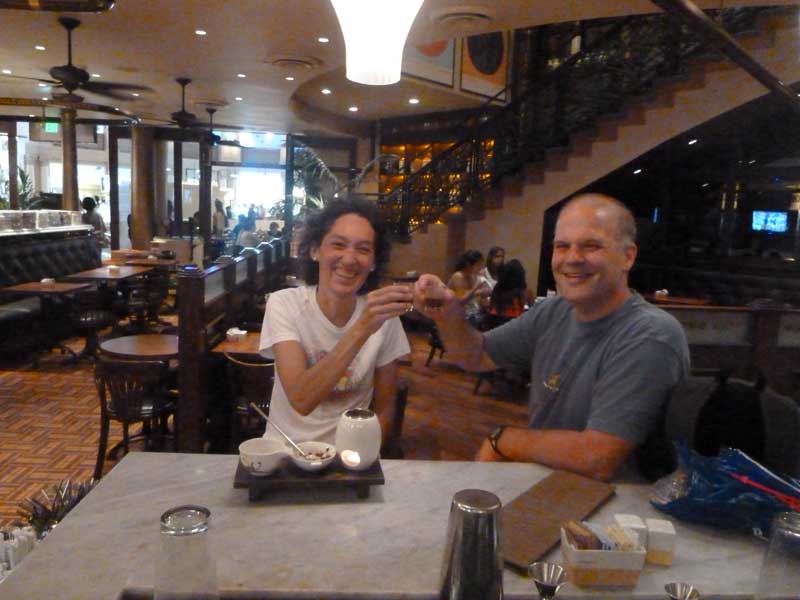 He also gave us shots of liquid grenache, with which we toasted ourselves and closed our Las Vegas adventure.
That's probably my last time on the Strip. Las Vegas just ain't fun any more. The run was great and the shows were fantastic, but the overall environment has gone from 'money grubbing' to flat out greedy.