At the Toledo Community Boathouse
July 14, 2011
Another Thursday at the Boathouse with kids from the Toledo School District Summer Program. This week: Get 'em in boats by themselves.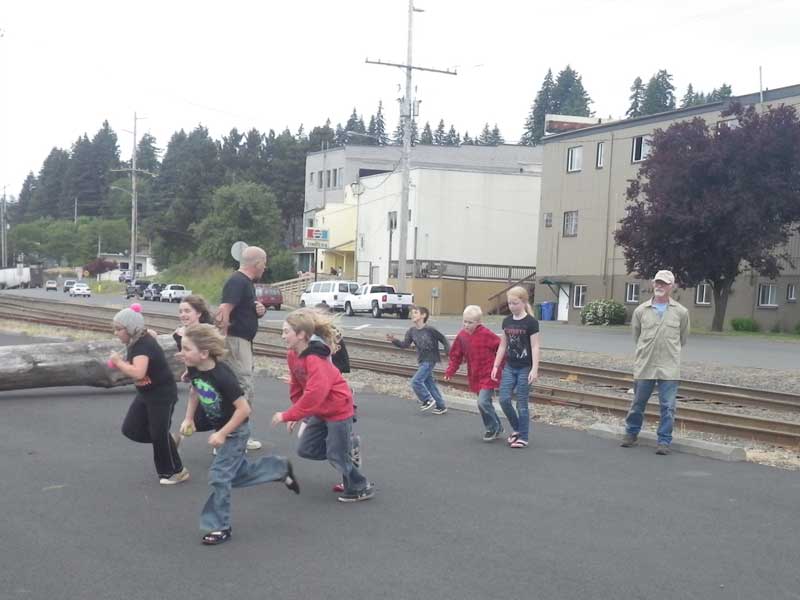 We started with a little physical activity - playing Port and Starboard where I have the kids run to port, starboard, bow, stern, etc.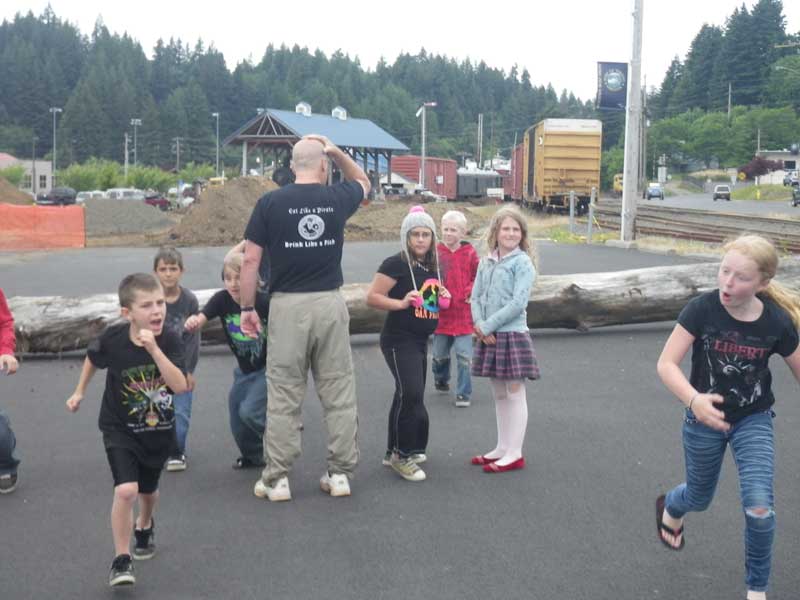 That's how I spend most of my time on Thursday - scratching my head and wondering why kids do what they do.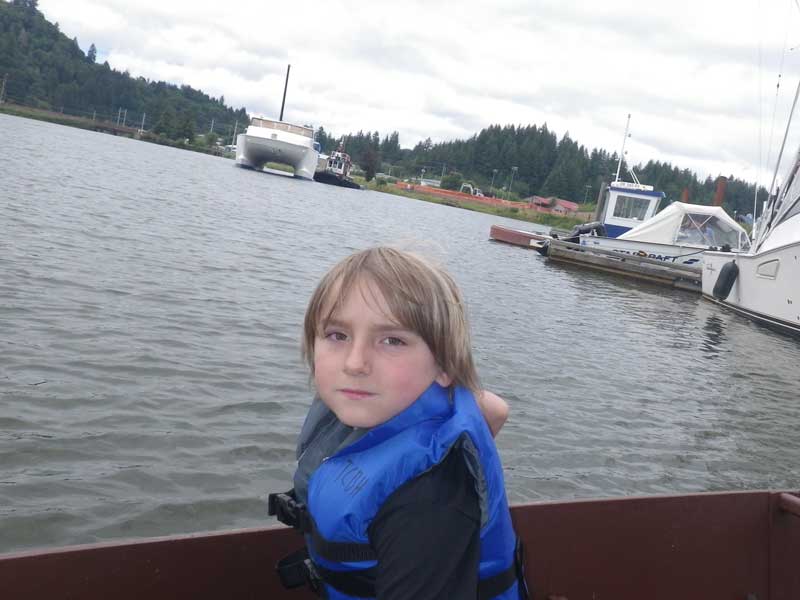 This picture is neat because it captures the essence of Bruce while in the background, it shows a giant catamaran being launched for the first time. The Port of Toledo is a working port and that ship was built here.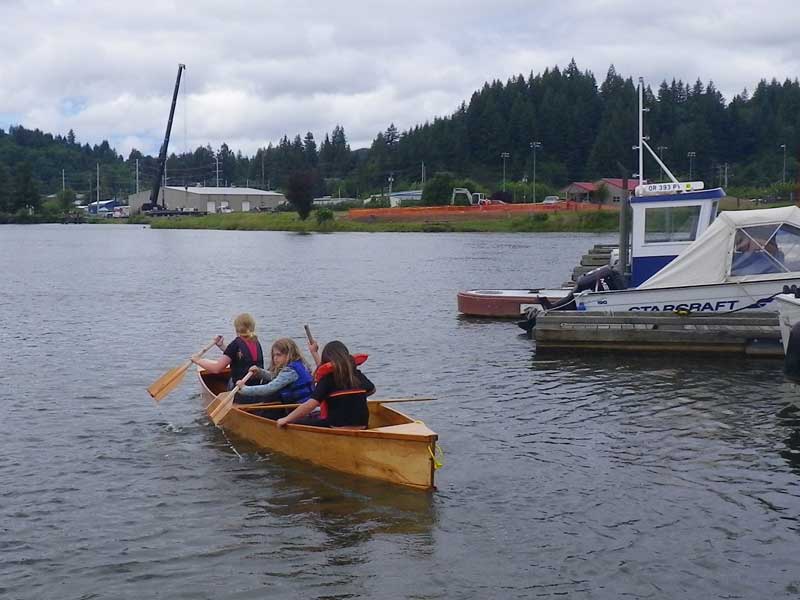 Last week, I'd gotten a canoe of just kids to get in the water. This week, I wanted all the kids to be in just kid-crewed boats. The girls set off nicely, but team-paddling a canoe is a complex activity.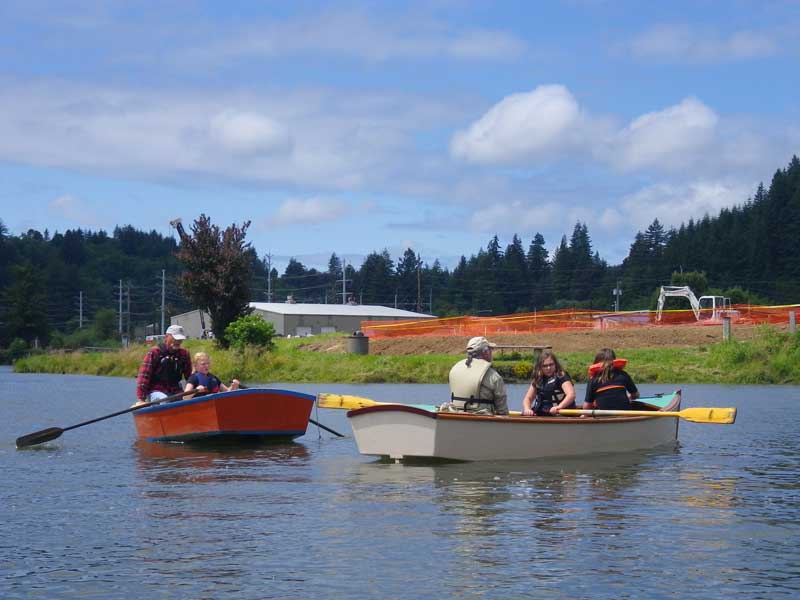 There was a bit of wind up and the tide was going out. I didn't want to risk having the kids float downstream while they figured out the oars, so we had adults get in the rowboats - just in case.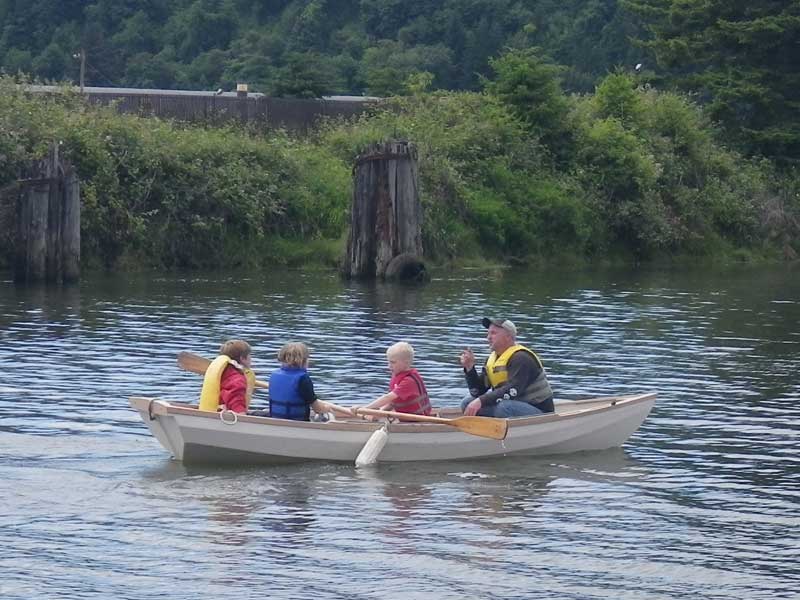 (l-r) Cade, Bruce, and Chase at the sweeps, with Aaron giving counsel.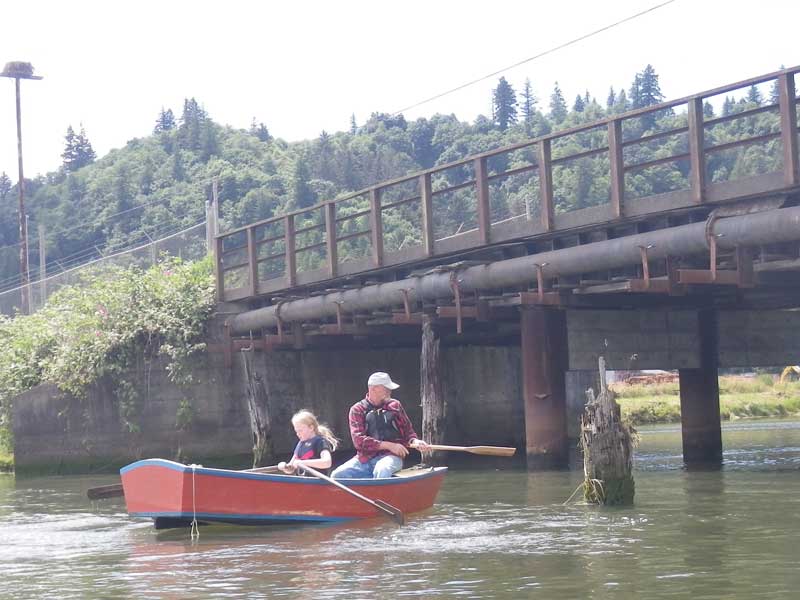 A few hundred yards up the slough from the boathouse is a railroad bridge. We've been using that bridge as a goal, encouraging the kids to see passing under the bridge on their own power as a triumph. Rowing between the supports can be tricky - especially when the tide is running, so Curt is doing exactly what a good crewman is supposed to do: Fend off pylons while Brina concentrates on rowing.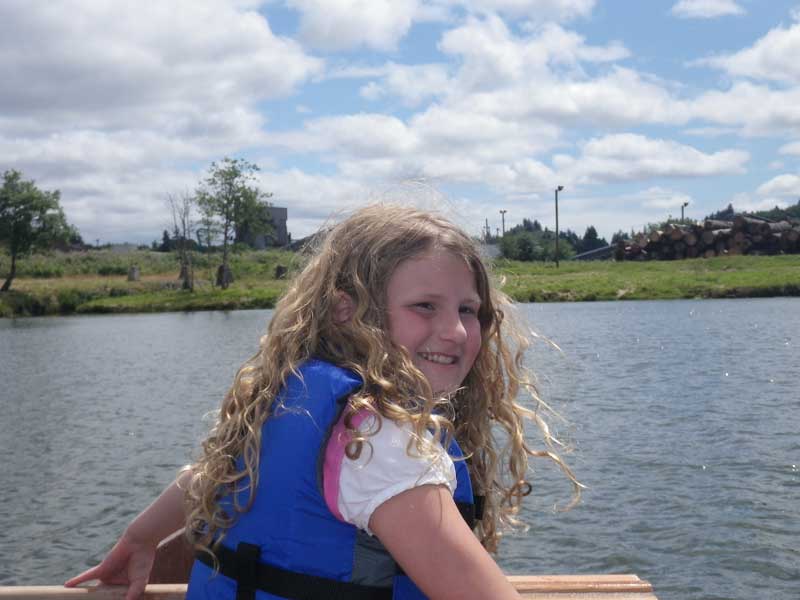 Eve was having a good day.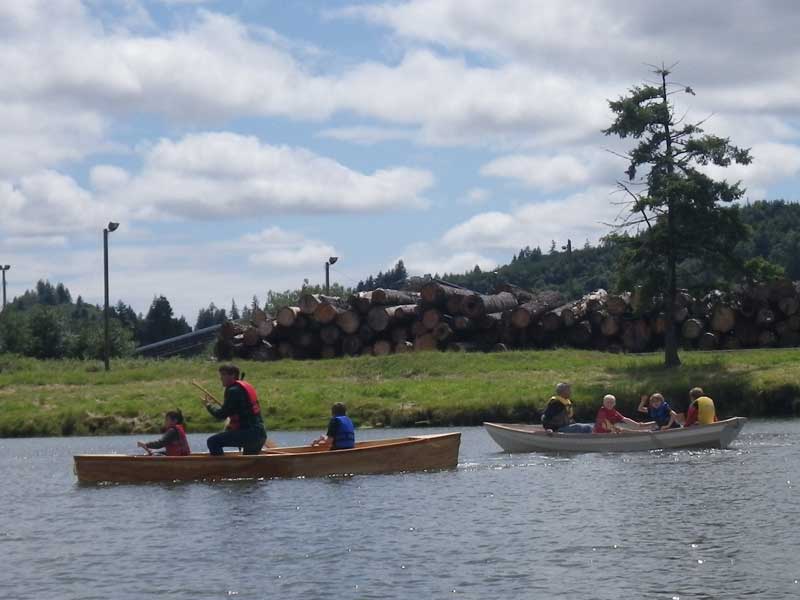 Tanner (center in the canoe) is an adult volunteer from the school program - not the Boathouse. He comes down to help supervise and provide some "continuity of instruction" for the kids.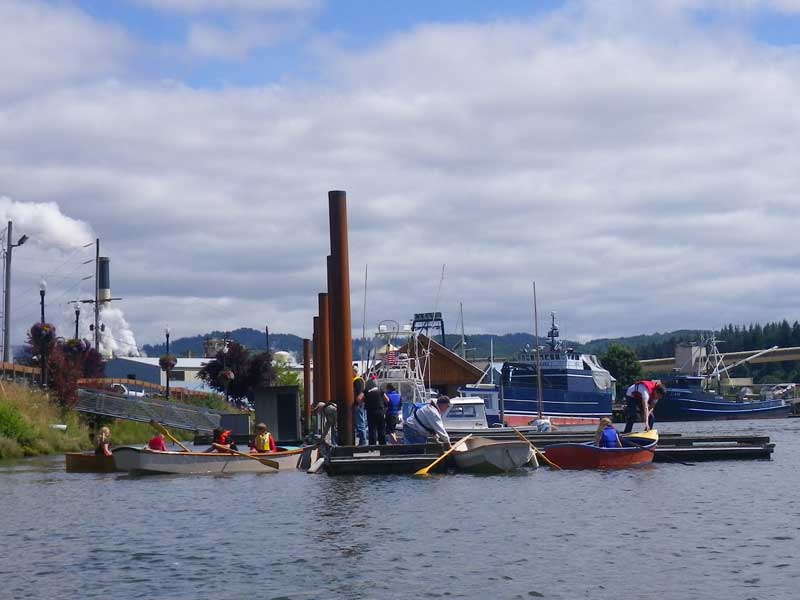 After the snack break, we set out a buoy and had the kids get into boats in pairs. Under their own power, they needed to paddle/row out, then back, then switch from rowboat to canoe (or vice versa.) This got them used to controlling their own boats and got them used to both paddling and rowing.
Videos: (just hit you browser's BACK button after viewing the video)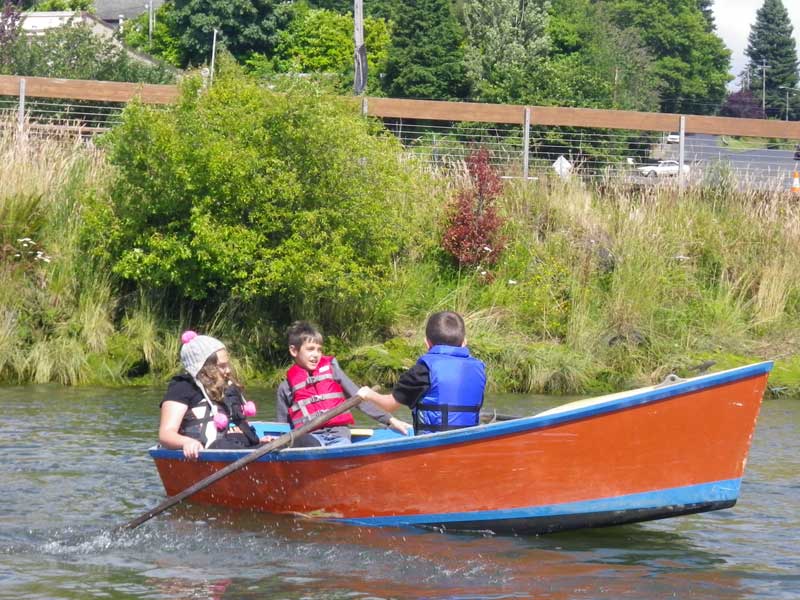 Ethan got pretty good at controlling his oars while Lewis and Heather practiced on being good ballast.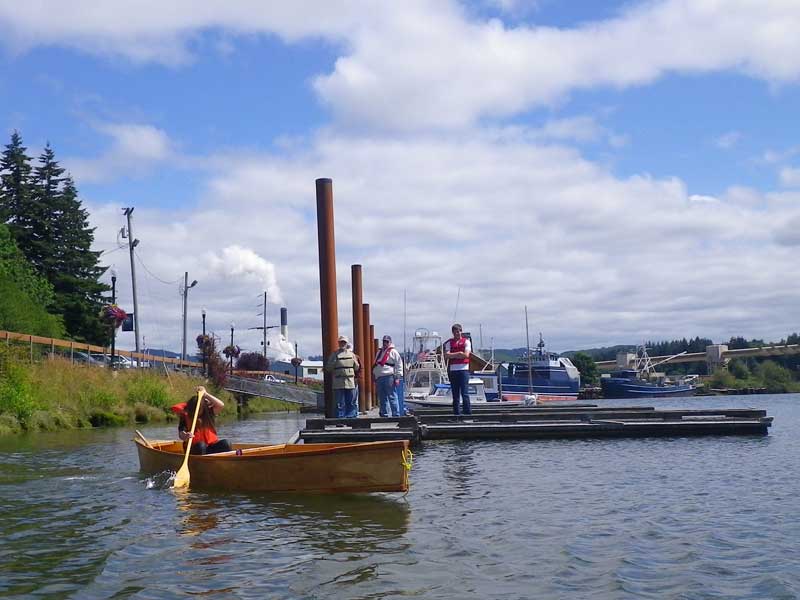 I probably made an instructional error by letting Chelsea take out a canoe on her own. She discovered it is much easier to control a canoe when no one else is paddling. That's not the lesson I am trying to teach - I'd really like these guys to get into working together as teams.
Whoo hoo hoo! The kids are getting better. And we had another week without anyone falling in the water or overturning a canoe. It amazes me just how responsible the kids can be when you let them have responsibility.