Washington DC and the Marine Corps Marathon - Nov 28 - Oct 1, 2010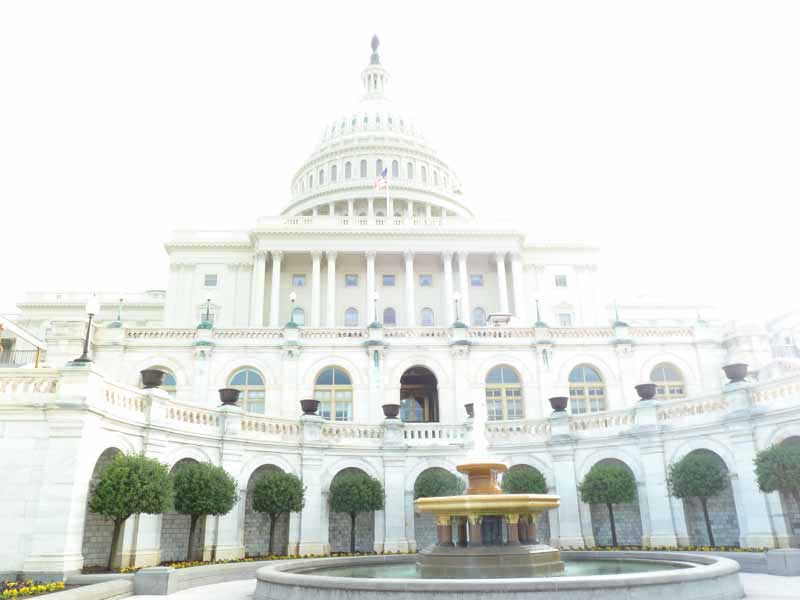 Keely likes to run, and the Marine Corps Marathon is one of the big ones. She is doing the marathon (26.2 miles) and I am doing the 10K (6.2 miles.) Our hotel was the George, a couple blocks from Union Station and up by the Capitol building. We took the red-eye in, stashed our bags, and went sight seeing. This is the first sight we saw.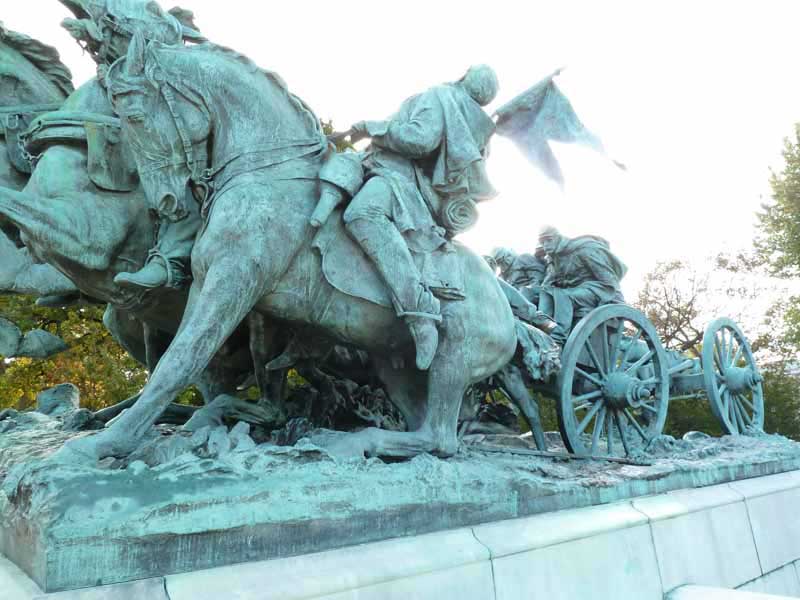 They have some very impressive statuary up there by the Capitol - most of it having to do with the Civil War (those are two words that don't really go together.)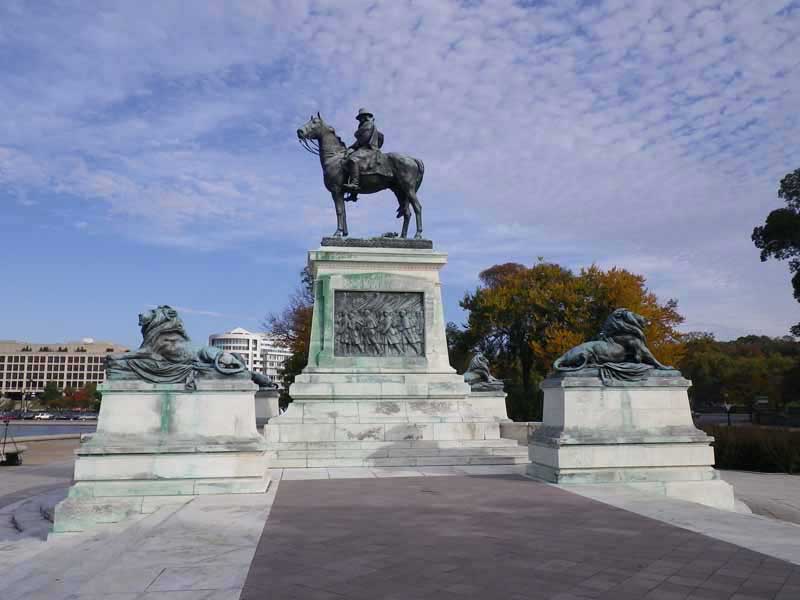 Grant's tomb? Maybe just a statue. Looks impressive, though.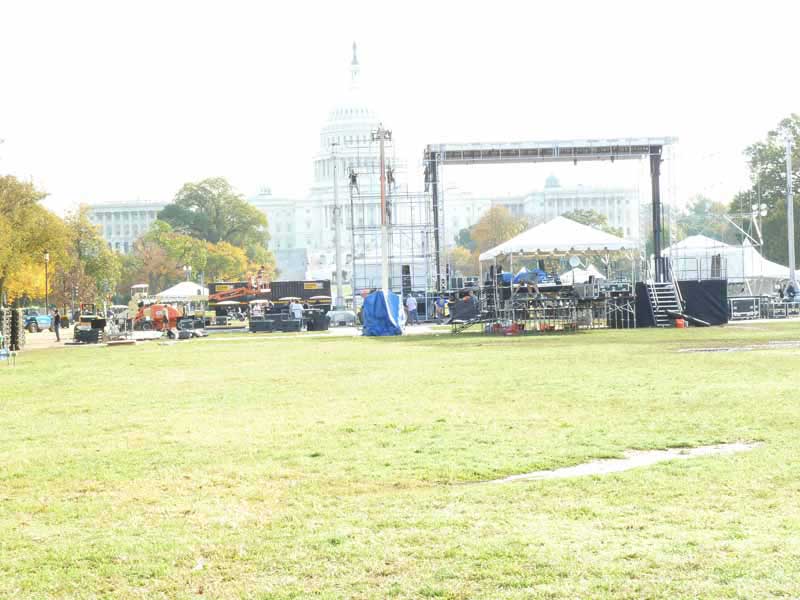 The Mall was getting ready for the big Stewart/Colbert Restore the Sanity/Keep Fear Alive rally on Saturday, Oct 30 (this was Thursday.)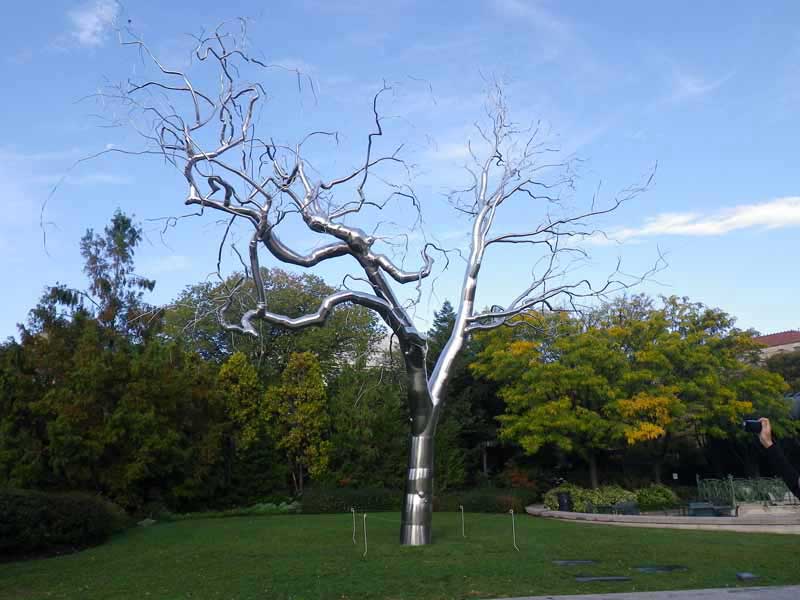 All along the mall are things of wonder. Ya gotta like a life-sized, stainless steel tree.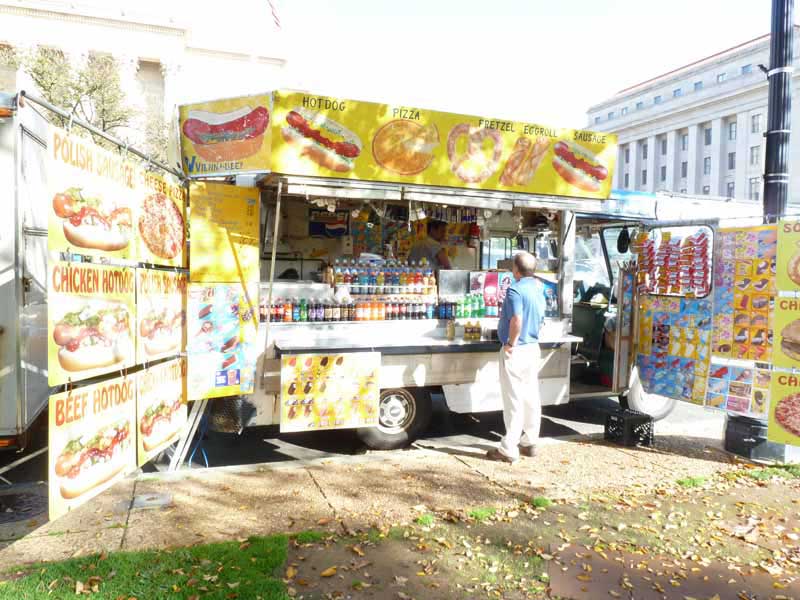 I am a sucker for street food. I bought one of the worst hotdogs I have ever eaten here. The proprietor was a nice guy, a Vietnamese immigrant with a speech impediment who likes Indian movies and has a flipper for one arm due to polio as a child. You can learn a lot about people by just saying "Hello."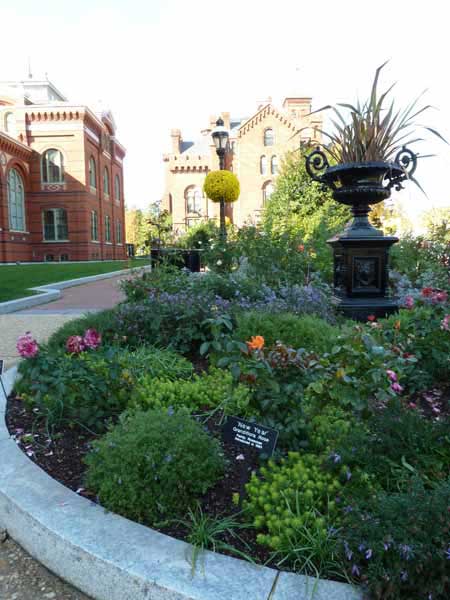 This is a really cool garden by the Castle - the original Smithsonian building. It shows how the mall would have looked (pathways, fountains, roundabouts) had the government chosen the alternate plan. The 'winning' design of the mall is from a Frenchman - and it looks awfully similar to the layout in Paris.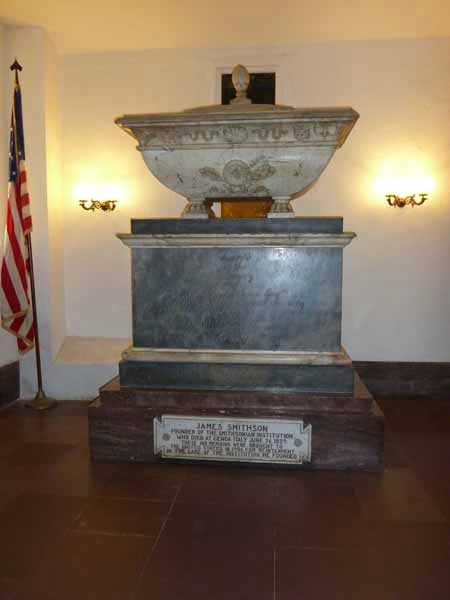 Born a bastard Frenchman, this naturalized Englishman made a pretty big splash in the world. Good for you, James Smithson, and thank you for the Smithsonian.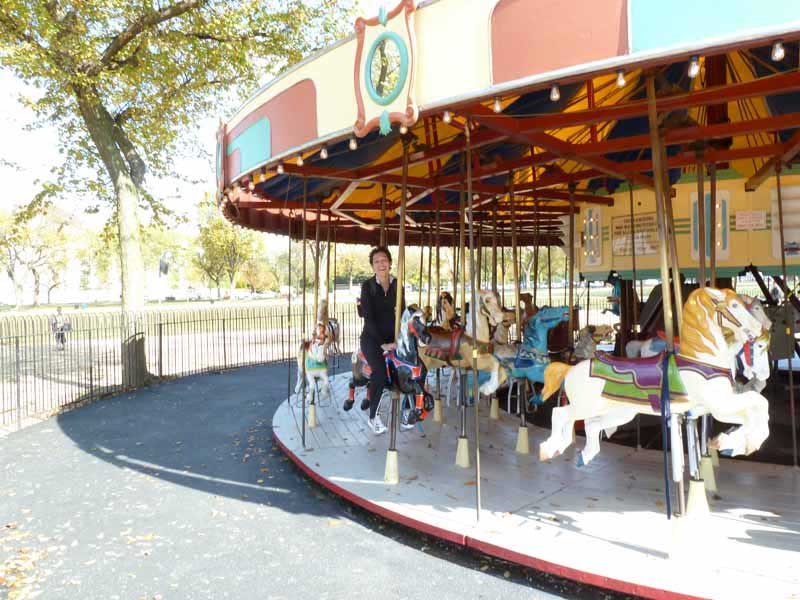 As carousels go, this one is pretty . . . average. But it is on the Capitol mall, so that makes it worth a ride.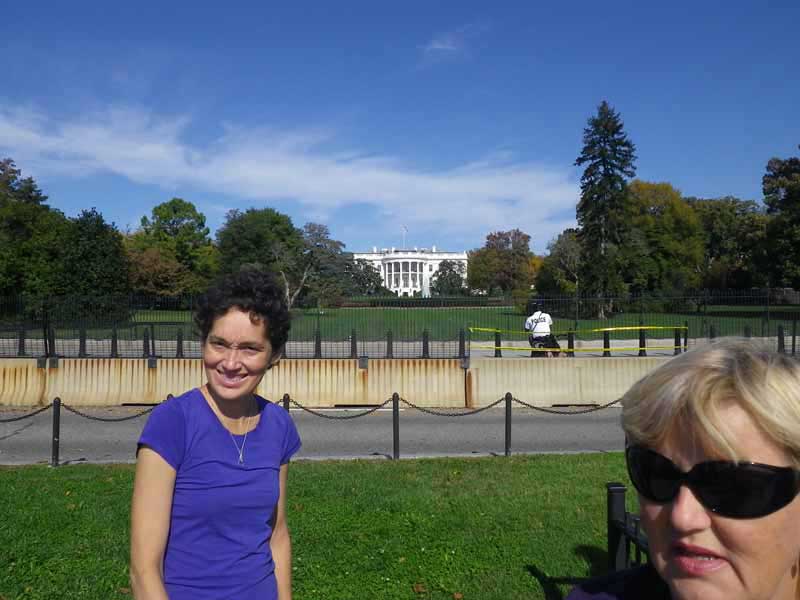 Outside the White House. They have a lot of police in DC.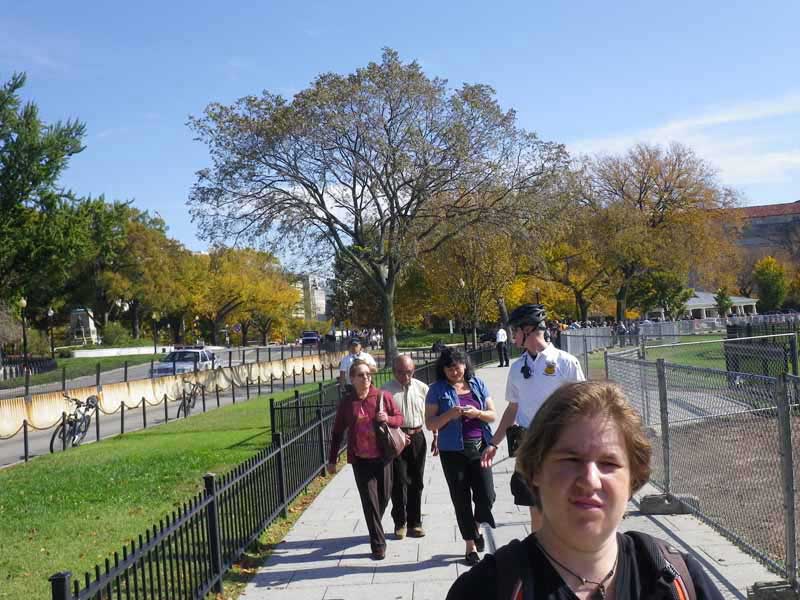 While we were there, admiring the White House., the cops came up and told everyone we'd have to move - backup, get out of the way. Thinking something was going to happen (maybe the President was coming out on the porch for a smoke?) we waited and watched. Nothing. Just cops telling people what to do, like normal.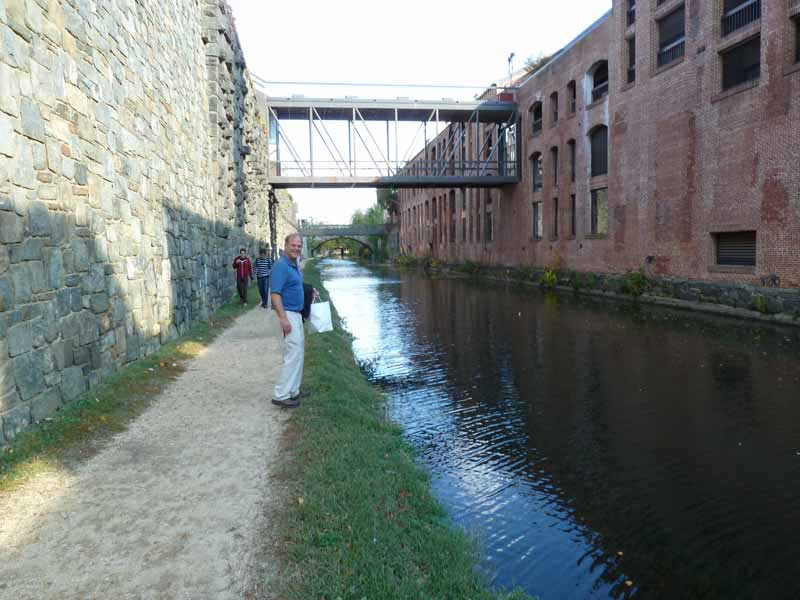 We wandered up to Georgetown, where they have 135 miles of canal (that's what a dude in a kayak told us, anyhow.) It was pretty neat.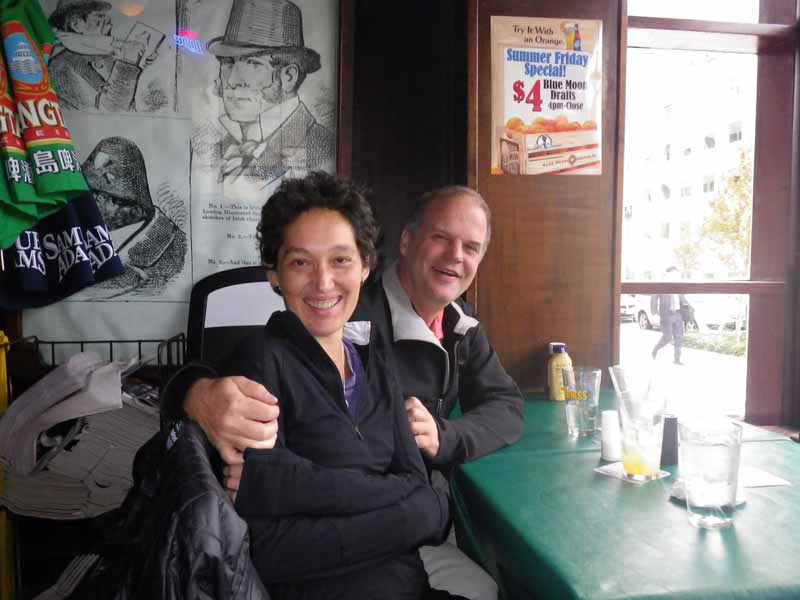 We had lunch at a seafood place called the Tacklebox. Very good food, reasonable prices.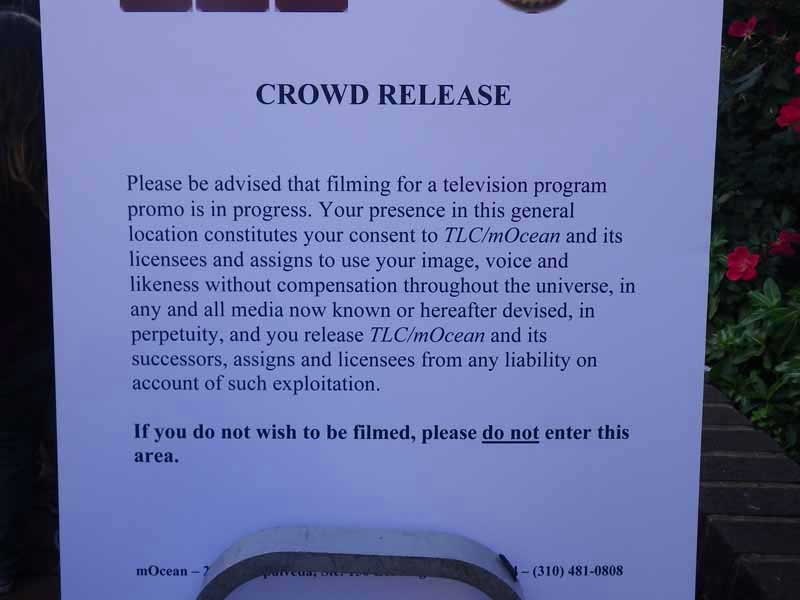 Then we went to Georgetown Cupcakes - where there was filming for some food show. I had to give up rights to my image and wait in line for 20 minutes all for the privilege of paying $3 for a cupcake. Sure, they were good - but they were cupcakes! All cupcakes are good.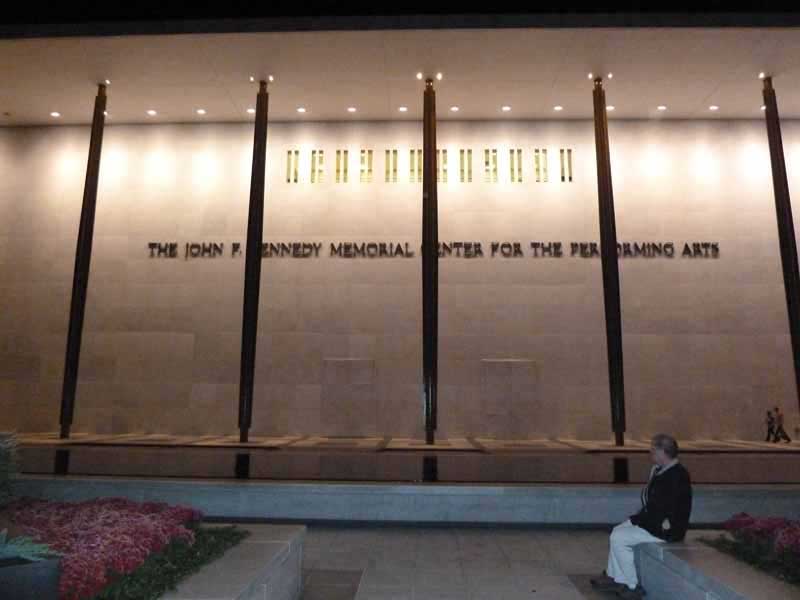 Back to the hotel to get organized, then a quick subway ride back to (near) Georgetown and a show at the Kennedy Center. Since it was a holiday weekend, pickings were slim. We watched Shear Madness and it was great.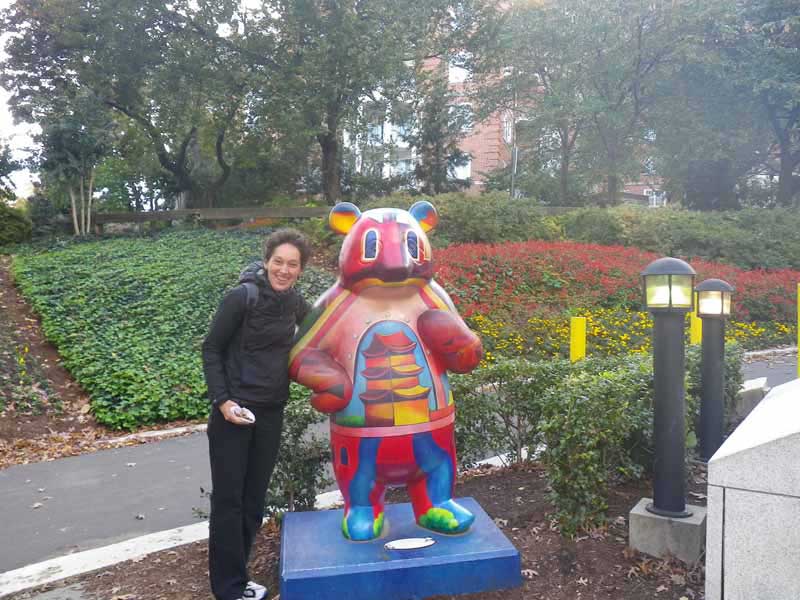 Friday was up at to the National Zoo. A quick subway ride and short walk (past colorful pandas) . . .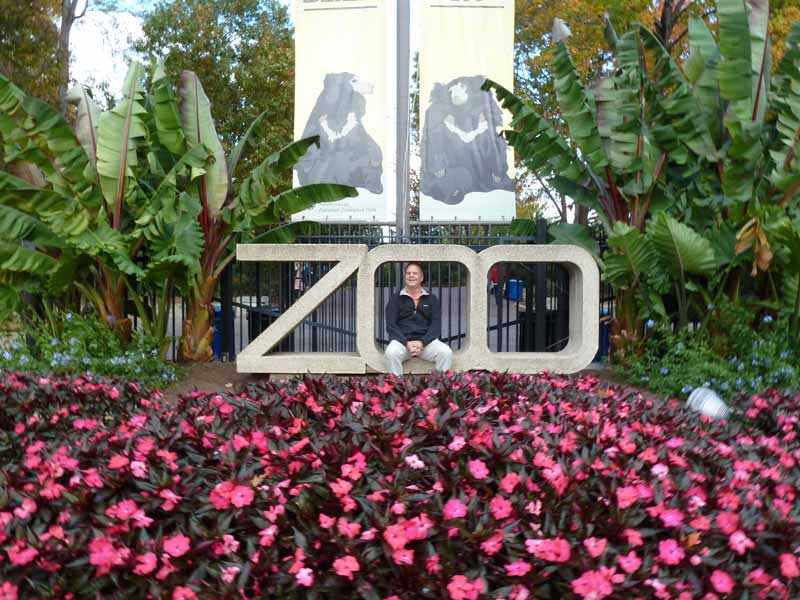 . . . and we were there. I am a big fan of zoos. My darling wife knows how to get me enthused about a trip.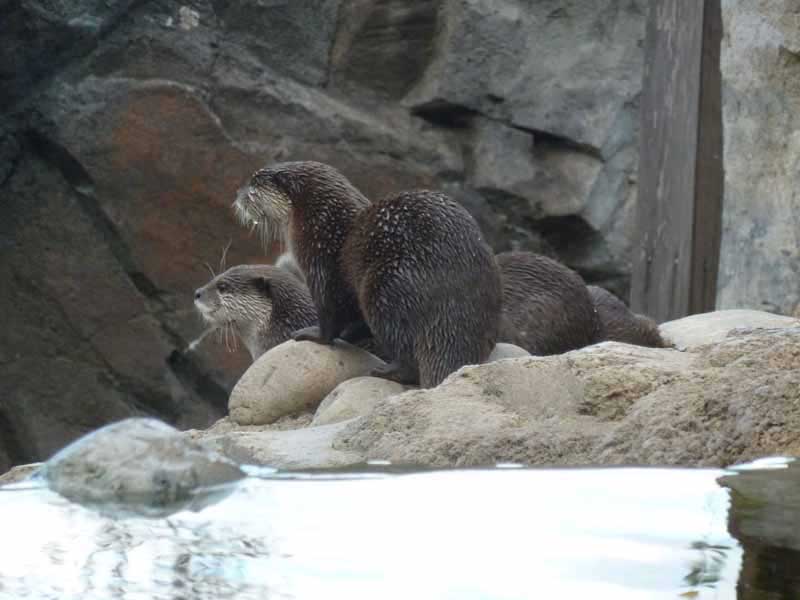 I'm also a big fan of otters. Nice display.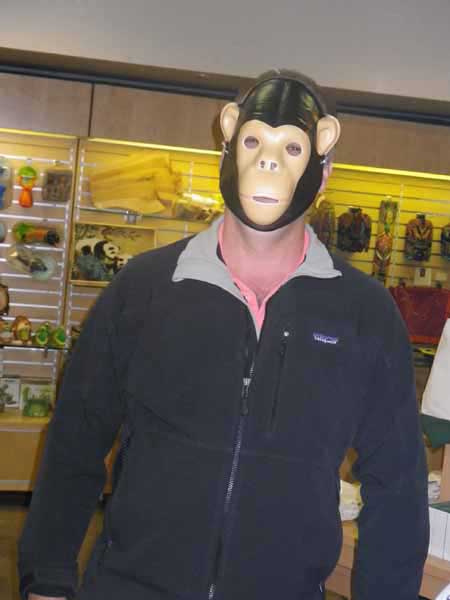 There was a costume party at the zoo that night - I briefly thought about going a GW Bush, but changed my mind.- I couldn't find the right accessories, like an economy to destroy or a country invade.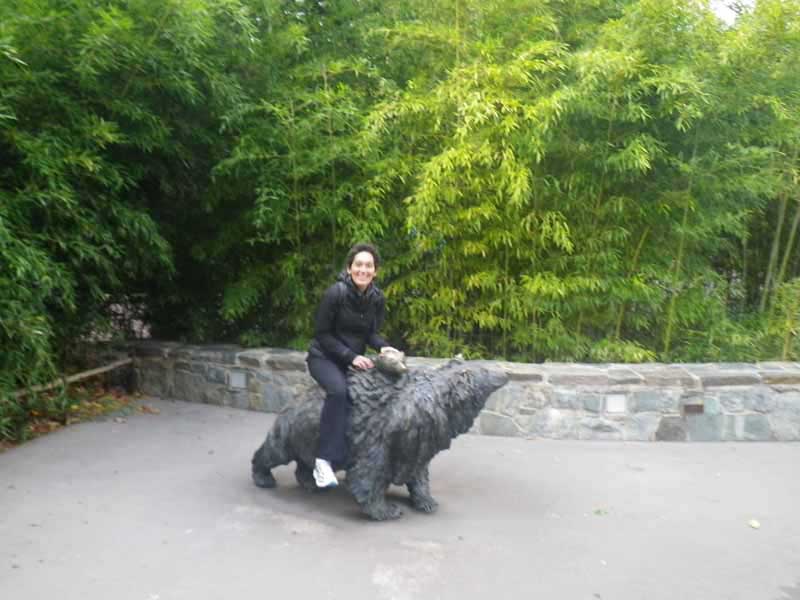 If you've read my other picture essays, you know I like to take pictures of Keely sitting on bronze statues. The National Zoo has a lot of statues. How many times do you get to ride a sloth bear?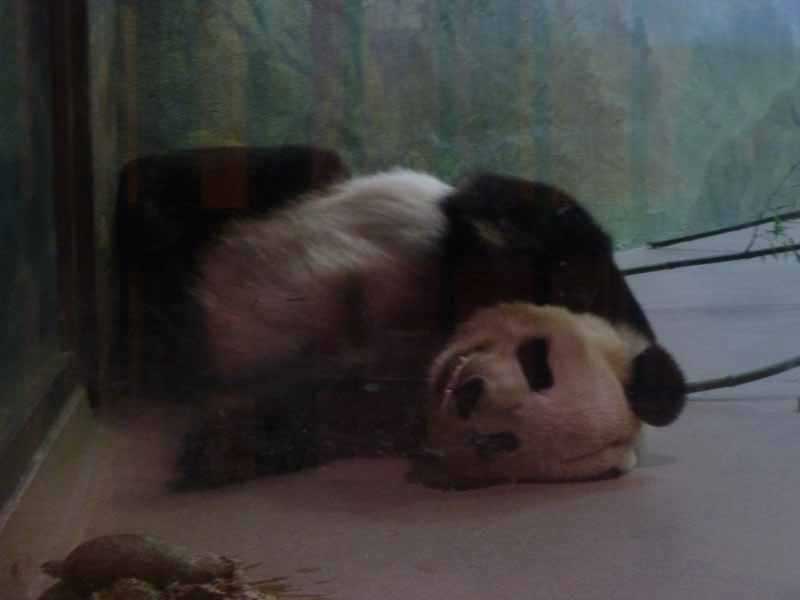 This is why you come to the National Zoo - to see pandas. They had just been fed and were now sleeping off their bamboo juice induced coma. That blob on the lower left is processed bamboo, aka Panda poop.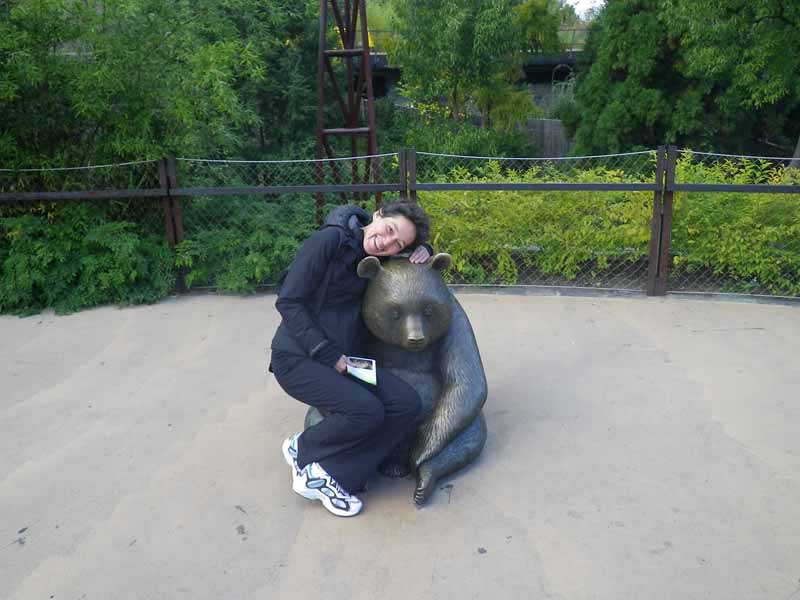 Not quite a cuddly panda, but a panda all the same.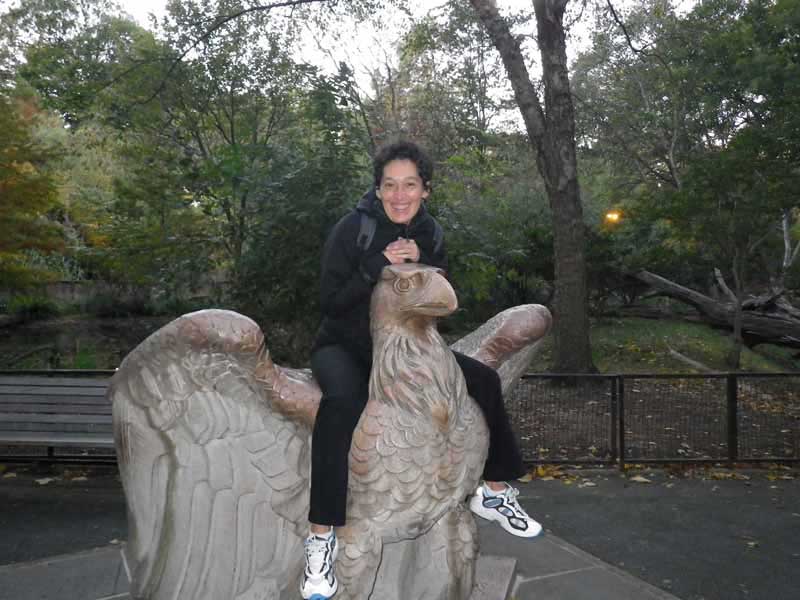 OK, now this is just getting silly.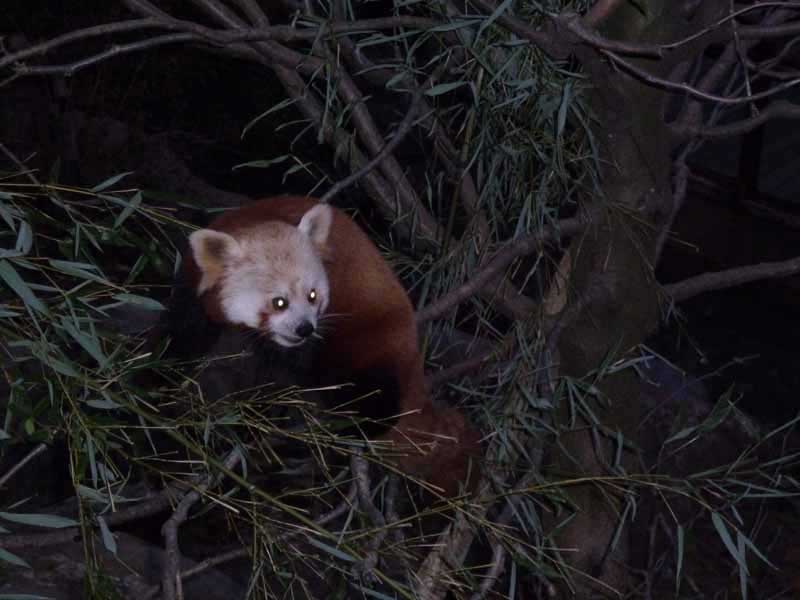 Red pandas are really cute. I think if they just made these animals available for sale as pets, they wouldn't be quite so endangered.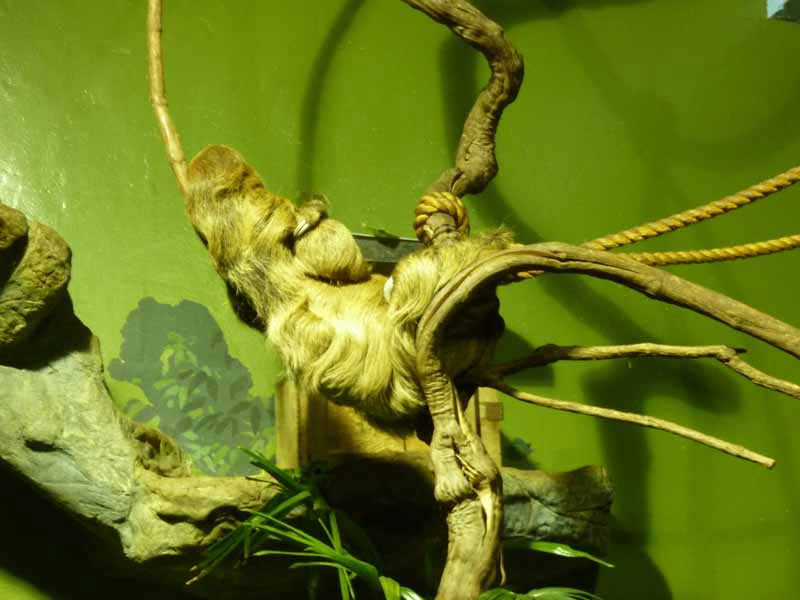 I think I want to be a sloth in my next life. I'm a bit of an insomniac in this life. I wonder if I'd be an insomniac sloth?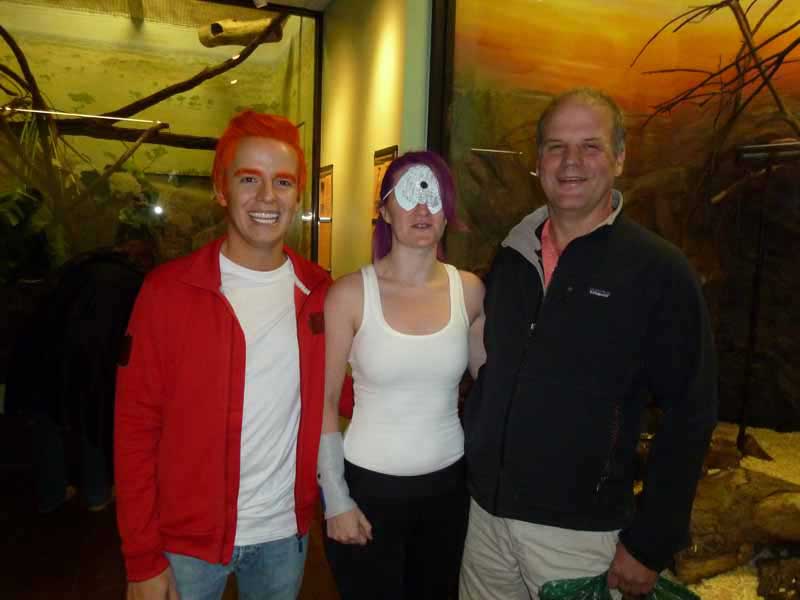 There was a costume party at the zoo - this couple was very happy I recognized them as Leela and Fry from Futurama. I am always amazed a the creativity of some people.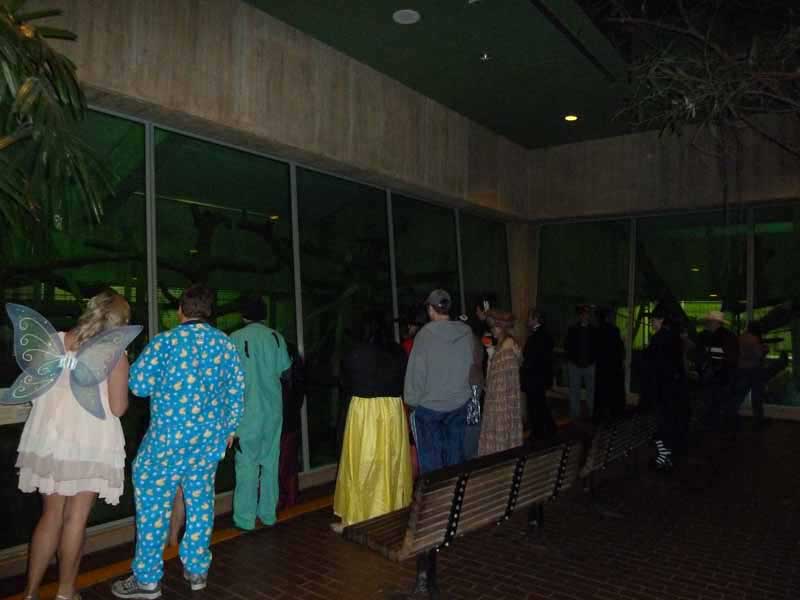 I wonder what the animals thought of this? One of the gorillas didn't take kindly to it and flung himself against the glass. The zoo lady says he does that all the time, though.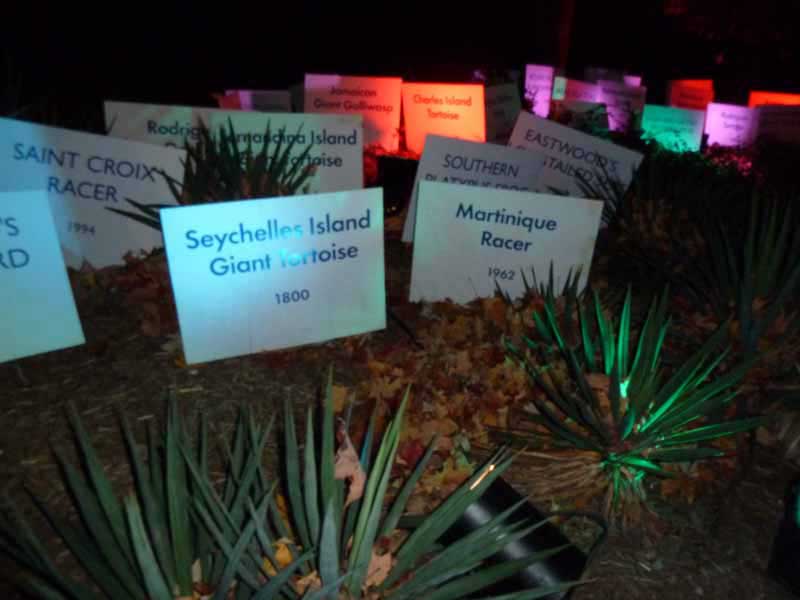 Wanna scary Halloween party? Hold it in a species graveyard.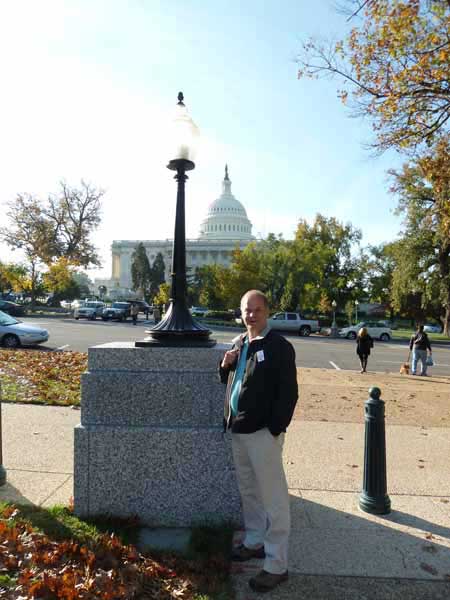 Saturday - the day of the Rally to Restore Sanity/Keep Fear Alive.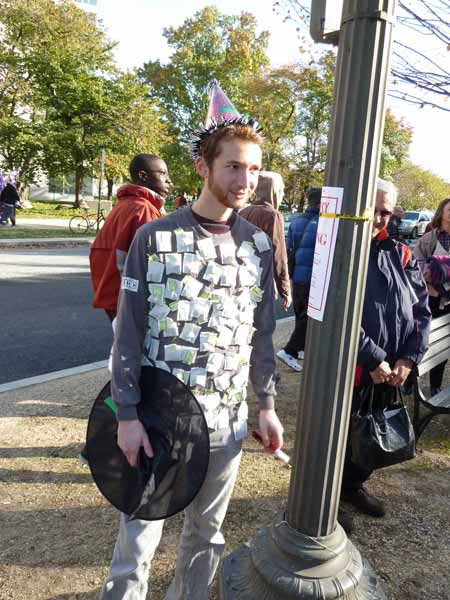 If the people at the zoo were creative, the people at the rally were unhinged. Nice tea-bagger suit.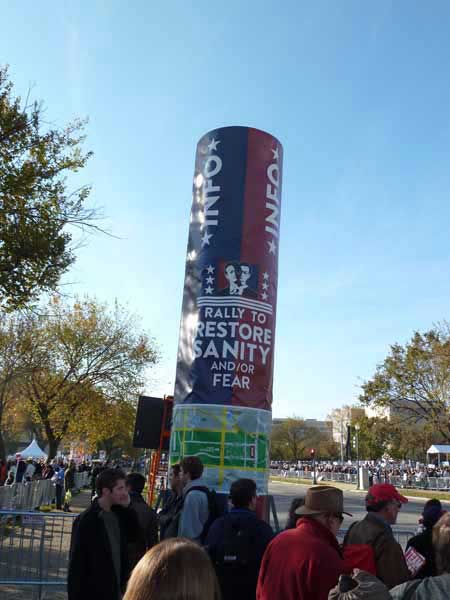 It was only like 9:30am, and the 'official' rally wasn't starting until noon, but already it was filling up.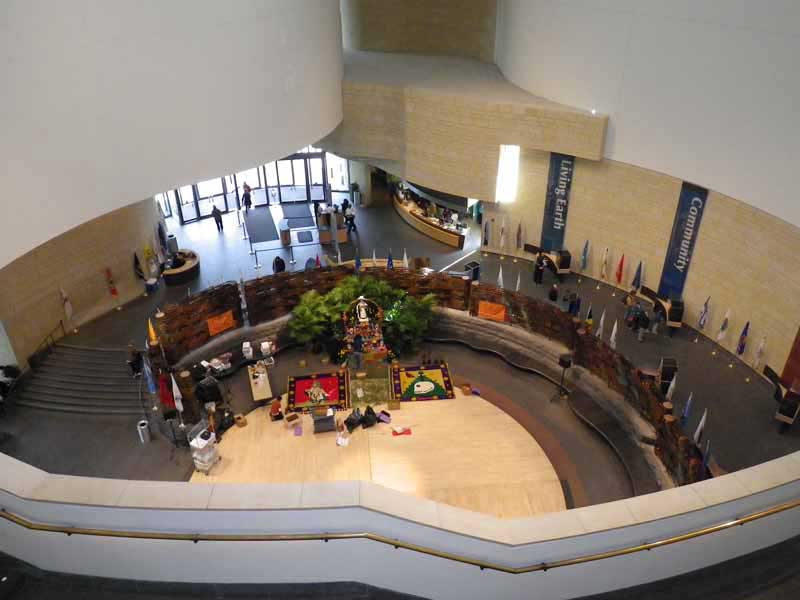 We spent some time at the Smithsonian Native American Museum.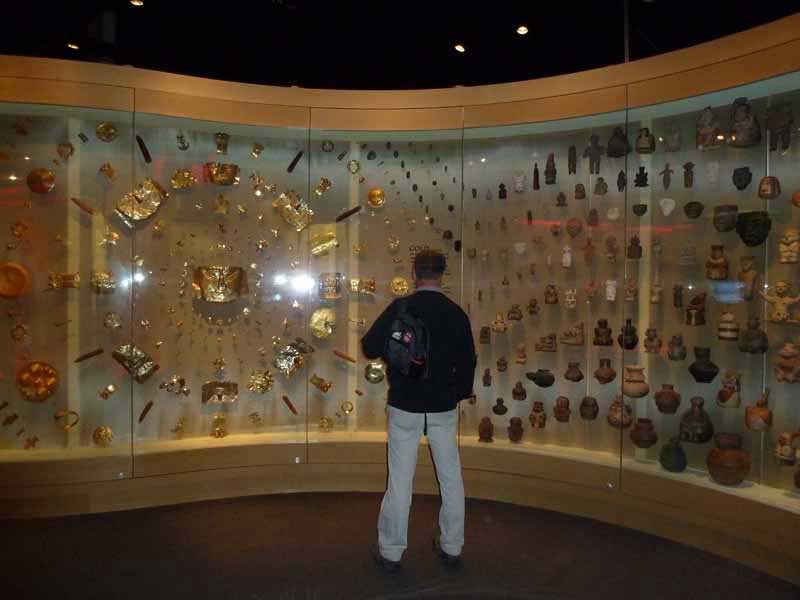 In true Smithsonian style, they have outstanding exhibits.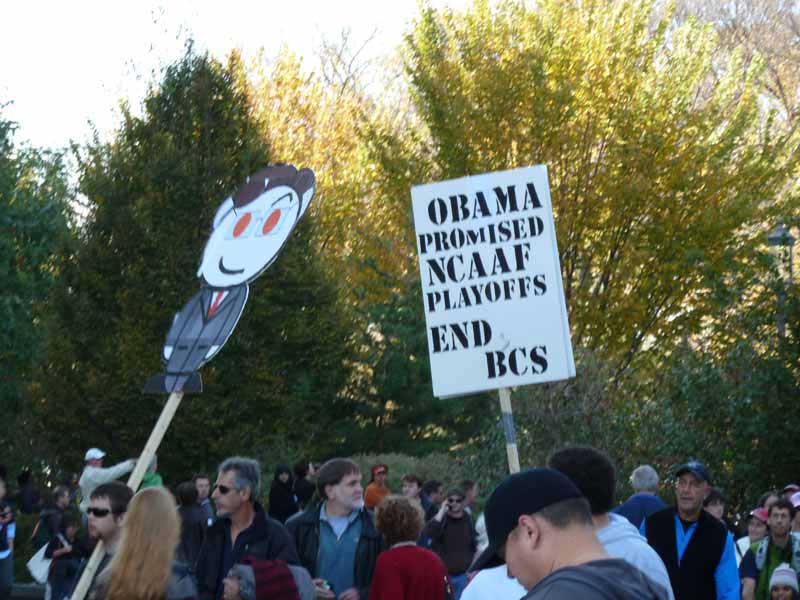 I had arranged to meet an old friend at the rally. She called and said "Where are you?" I said "Hold up your hand, I'll come find you." Ha ha. The rally was nuts.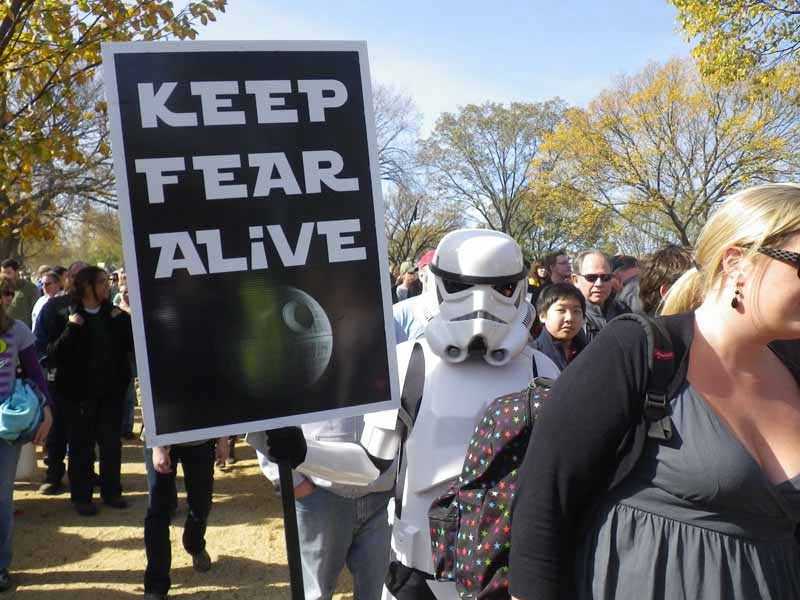 That's . . just great. Like I said: People always amaze me.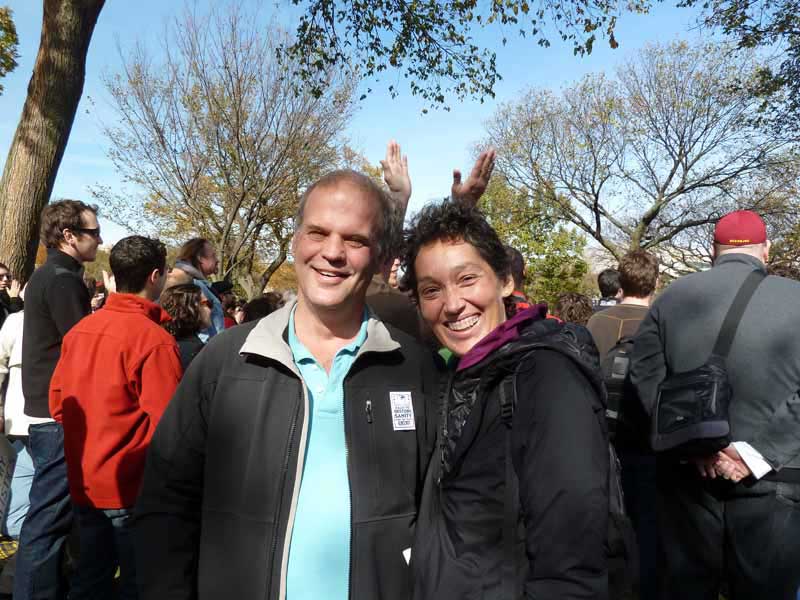 What a beautiful day for a rally on the Capitol mall.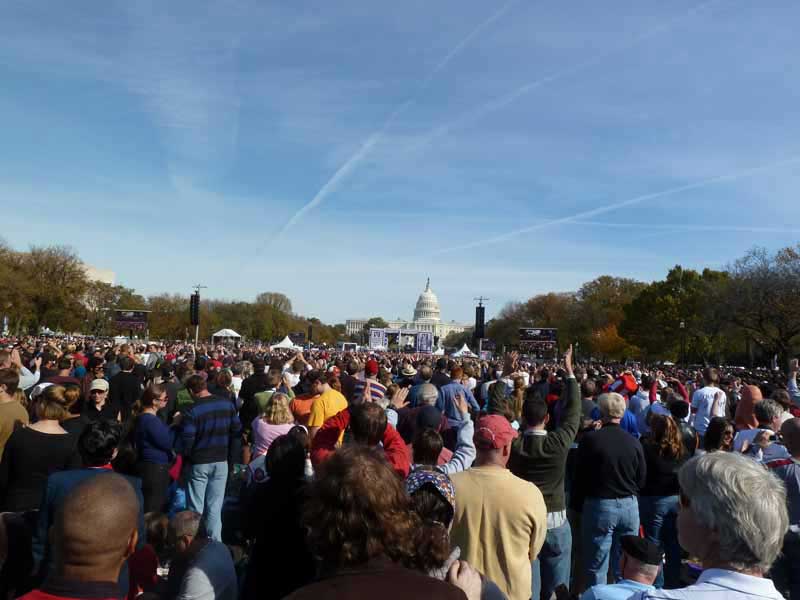 Oh, man, there were a lot of people. The official count ended up being 215,000 or something. Everybody was really cool and it was truly a fantastic experience.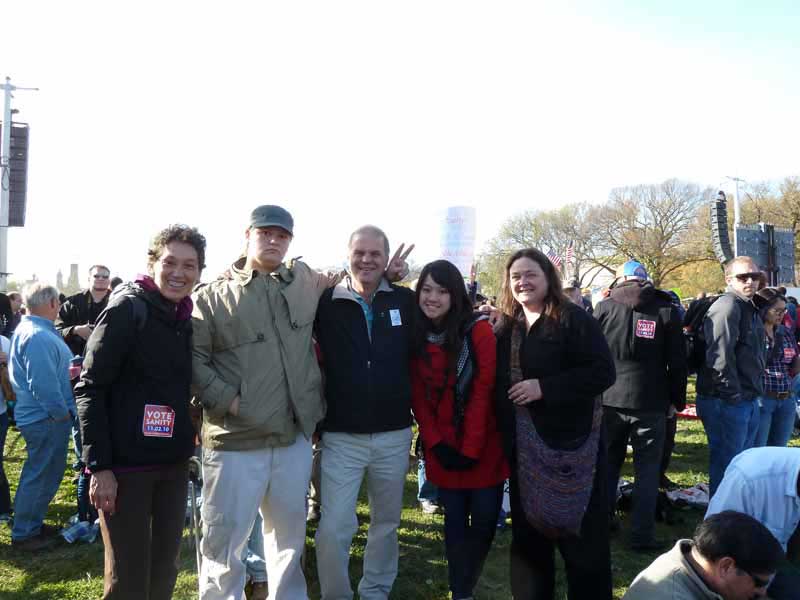 30 years ago, I went to Thailand as an exchange student. One of the other people with me was Amy, over on the far right. One of her kids, Charles, is between Keely and I (neat kid, too.) and the girl next to me is Nahm, an exchange student from Thailand staying with Amy this year. The circle is complete.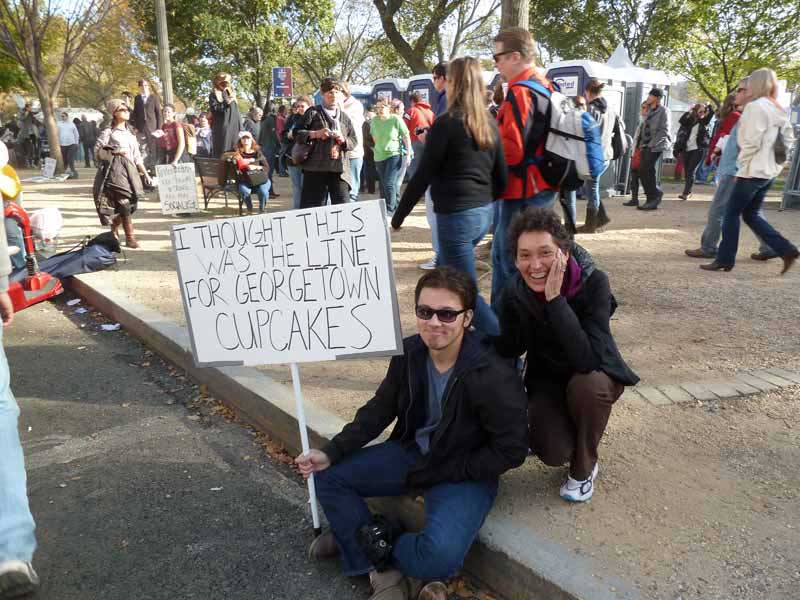 We actually got stuck in the middle of the crowd and had to wait until it was all over before there was enough room to move again. On our way back to the subway, we ran into this guy, with a very appropriate sign.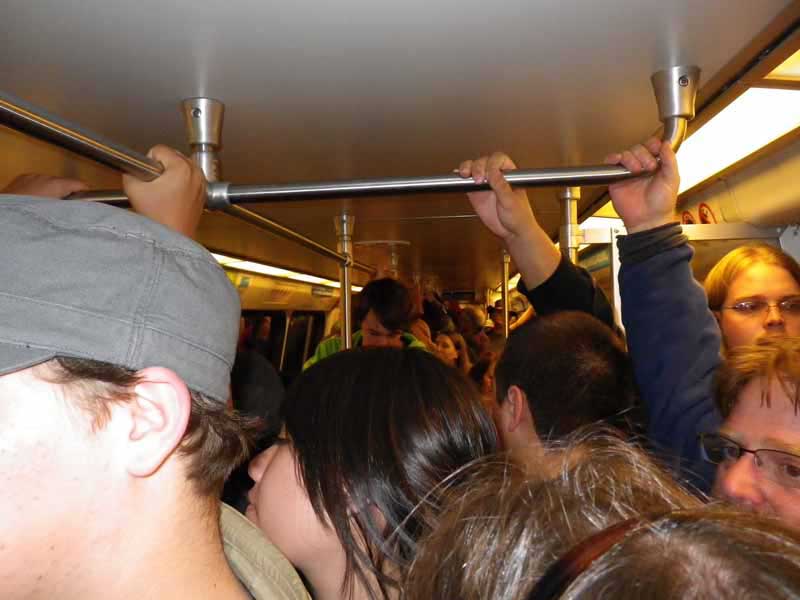 The subway was a nightmare. The train eventually crapped out and we had to abandon plans for dinner. Keely and I waved good-bye to Amy and her brood and headed back to the hotel in prep for the race the next day.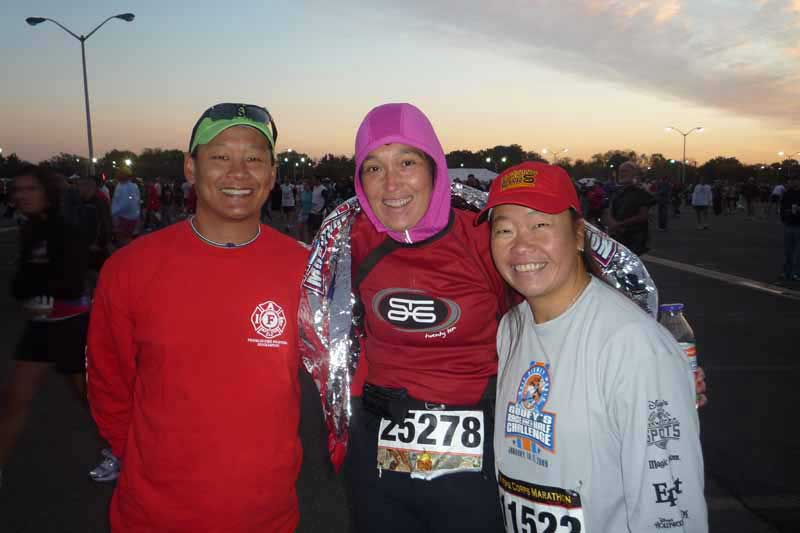 Sunday morning Race Day - Keely found some friends: Jeff and Marcia (photo credit to Paul)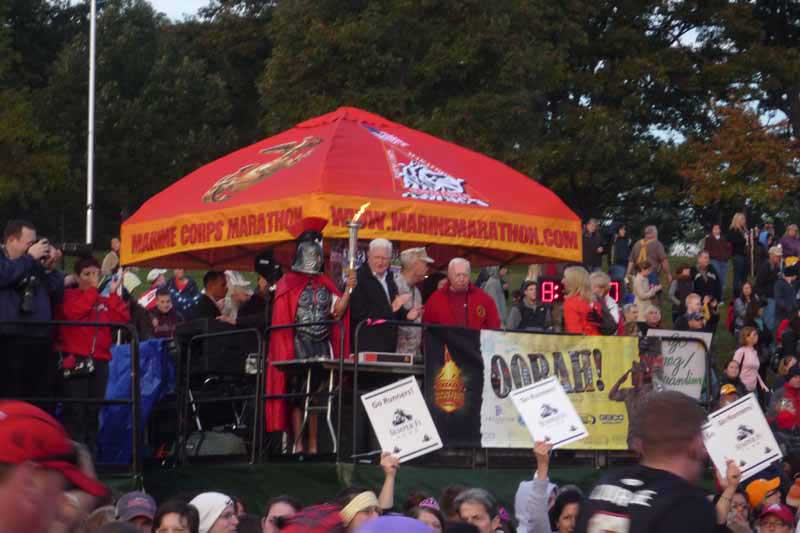 Mrs. Biden gave the opening speech for the Marine Corps Marathon (don't seem to see here in this shot) - looks like they had a Spartan there to light to torch..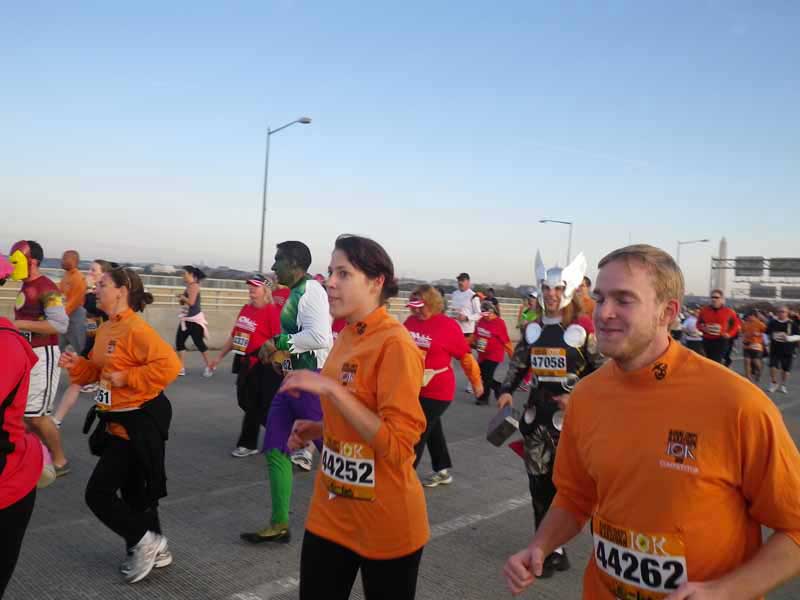 While Keely was out doing real running, I was trotting along in the 10K Healthy Kids Run. You get a lot more goofballs in the shorter runs - if you look closely, you'll see Iron Man, the Incredible Hulk, and Thor.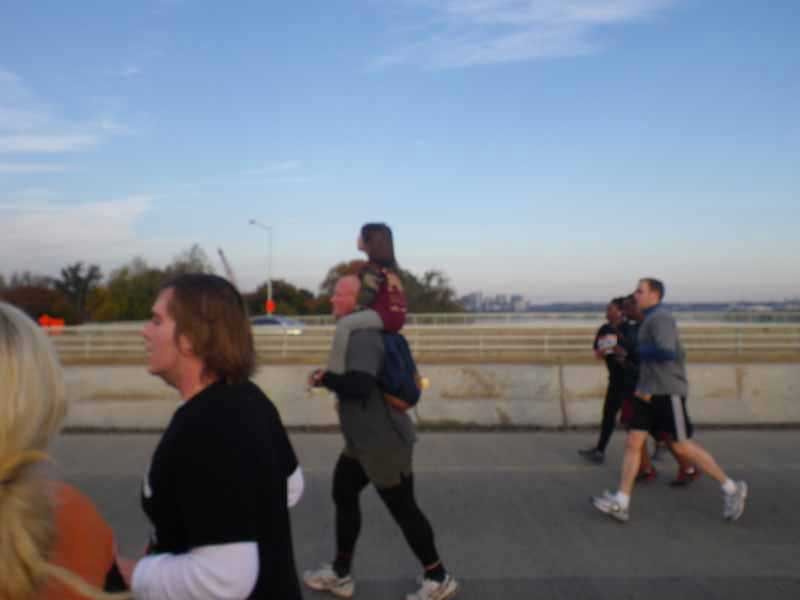 Then there's this guy, carrying his kid on his shoulders. 15 years from now, maybe she can push him around in his wheelchair (maybe hoverchairs by then?)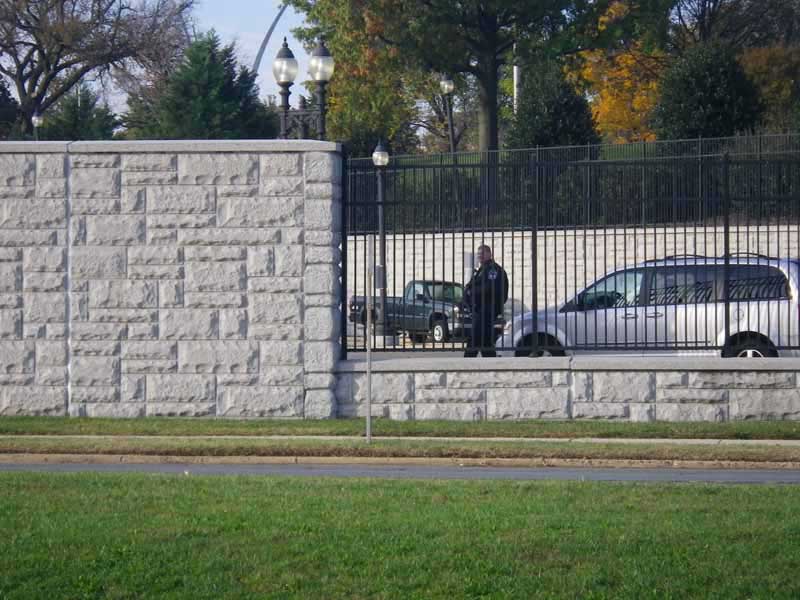 Man, they got a lot of cops in DC. Most of 'em packing serious hardware, too. This guy had an M4, and even the Park Police had rifles, body armor, and pistols in quick-draw rigs. Funny - I didn't feel any safer.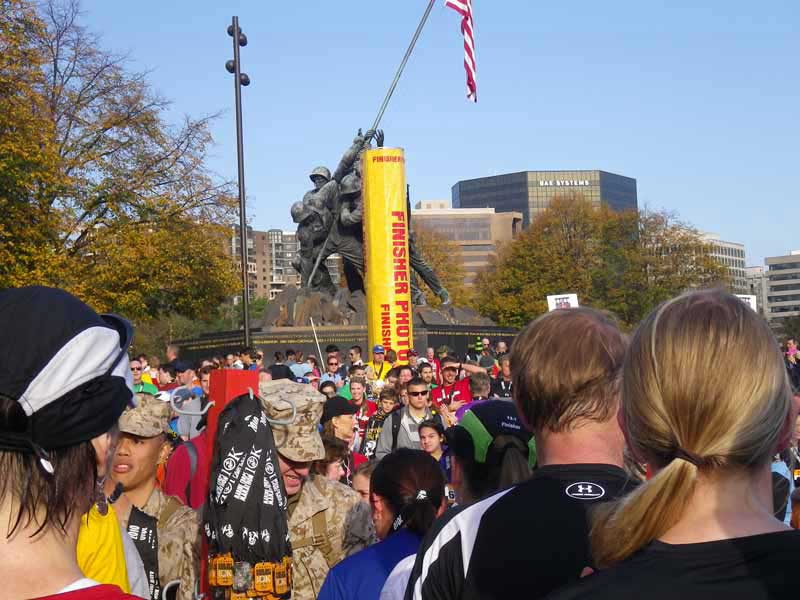 There the finish for the 10K. Only took me an hour and 9 minutes.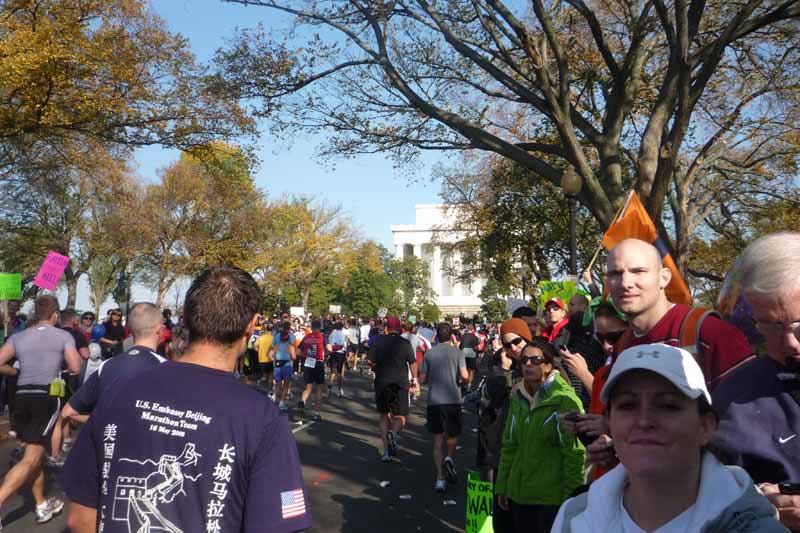 Keely was still running. She had a better course - all around the mall.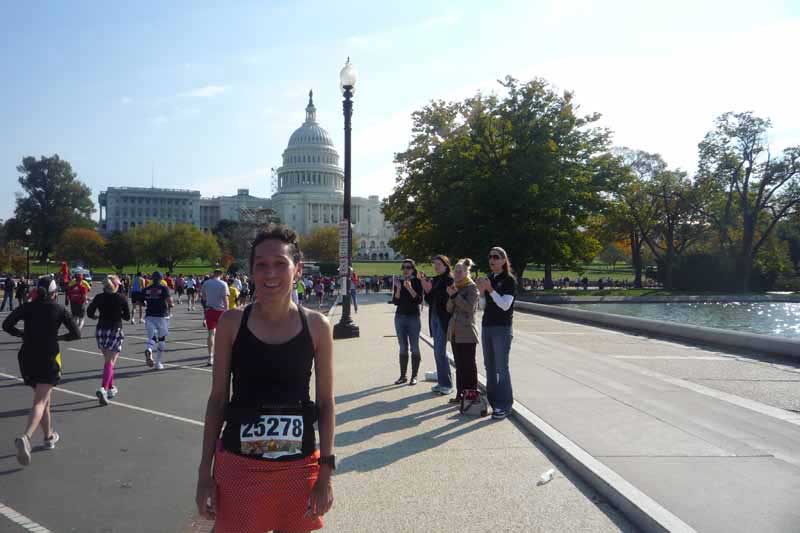 She took time to have her picture taken in front of various sights.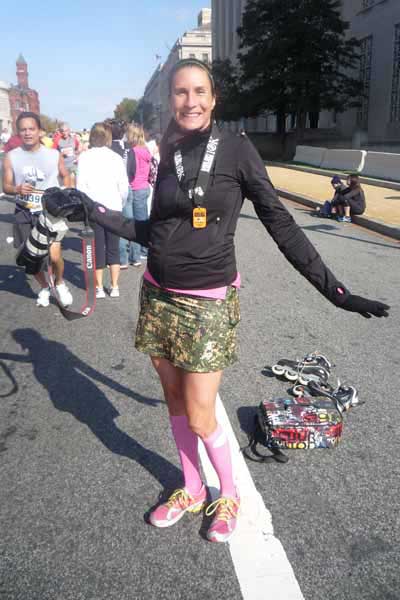 This is Cindy, 1/2 of the twins that own and operate Running Skirts. They like Keely, she provides about a quarter of their income.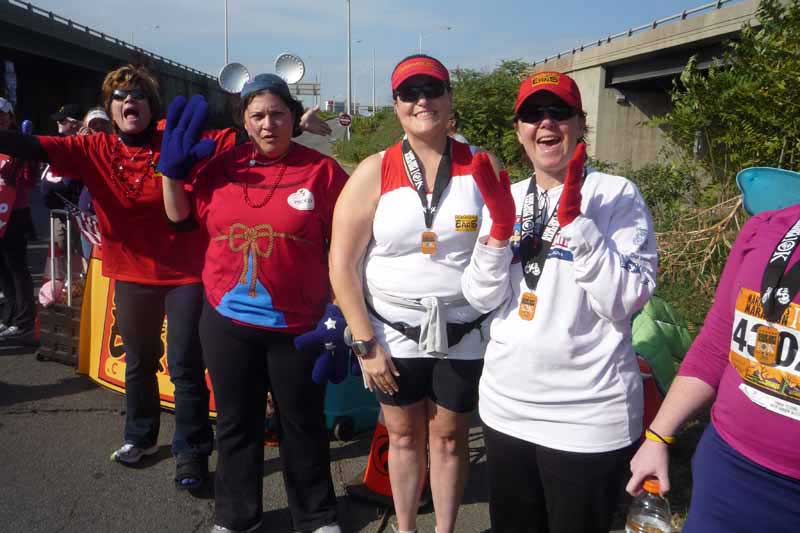 These are Keely's imaginary friends from Running of the Ears - they are Disney fanatics. Every time I tell Keely she's too much into Disney, she lets me read Running of the Ears for a while.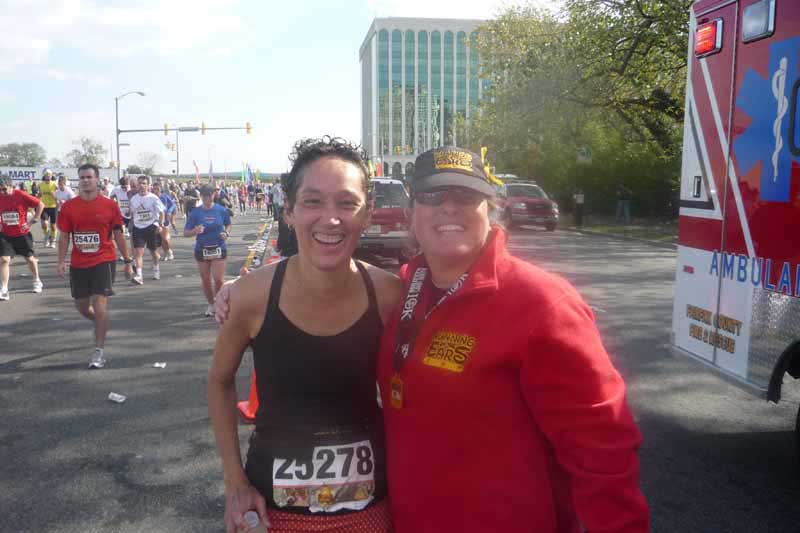 This is another of Keely's imaginary Running of the Ears friends - Erica, who has a dream of being featured in one of my pictorials. Well, Erica, that overpriced rodent isn't the only one who can make dreams come true. Congratulations.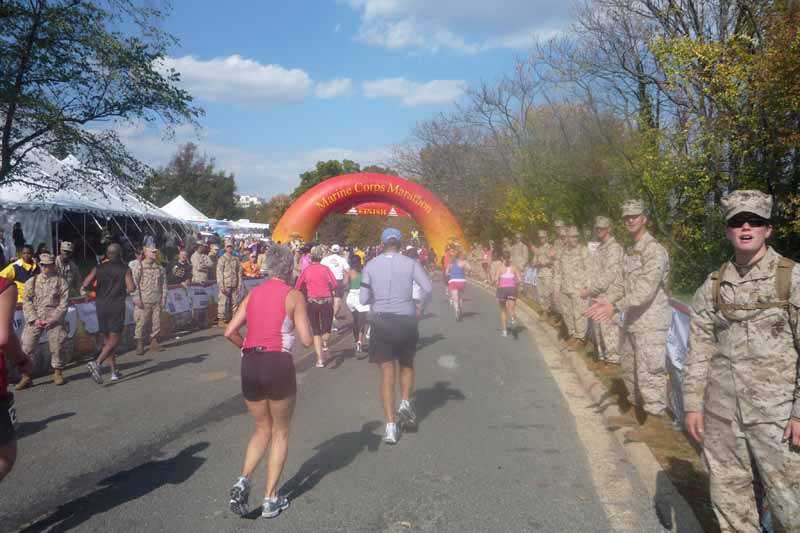 And there's the finish for Keely - same place as my finish, now we just had to find each other in the 35,000 runners and their 70,000 family members milling around the expo.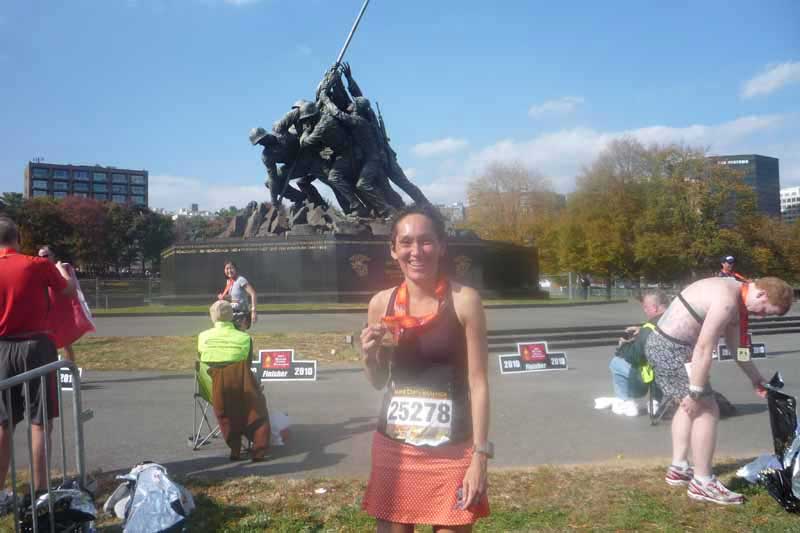 There she is with her medal. 4:20:xx this time. Good for you, baby!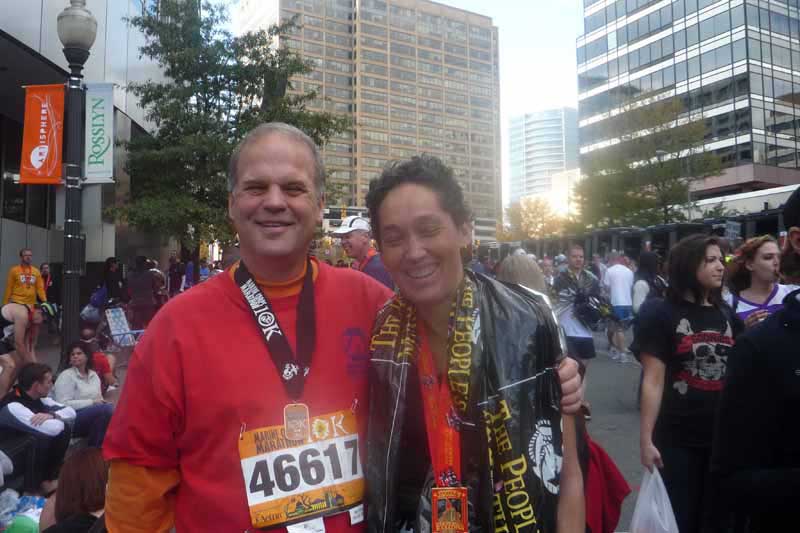 Even in a madhouse like the end of the Marine Corps Marathon, two halves of the same soul will find each other. While true love always prevails, it helps to have a plan, too, like "Let's meet at UPS truck #25."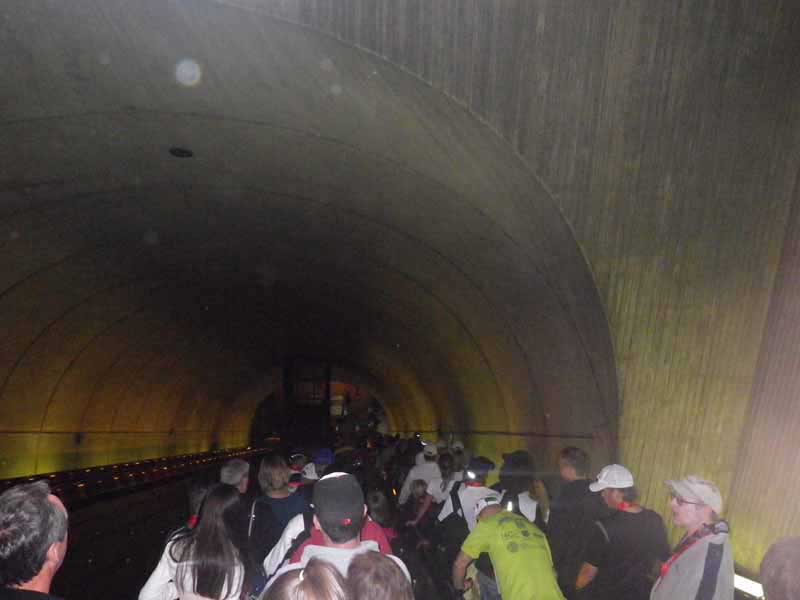 The subway back to the hotel was bad, but nothing like after the Restore Sanity/Keep Fear Alive rally. Man, there are a lot of people living on the east coast.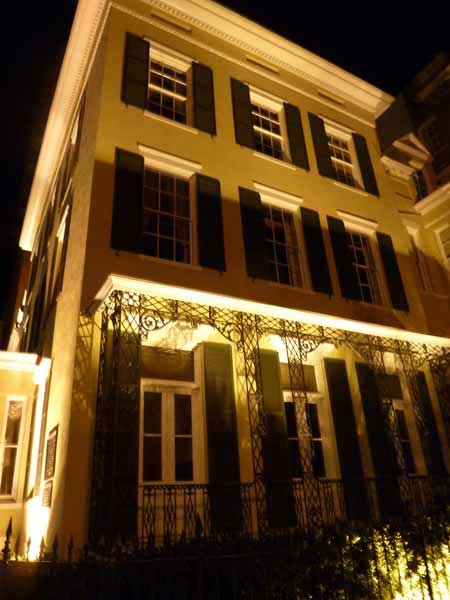 What do you do after your wife has run a marathon? Make her go on a walking tour, of course. That evening, we took a Ghost Tour - meeting at the Dolly Madison house - to hear creepy tales from our nation's capitol (it was Halloween, after all.)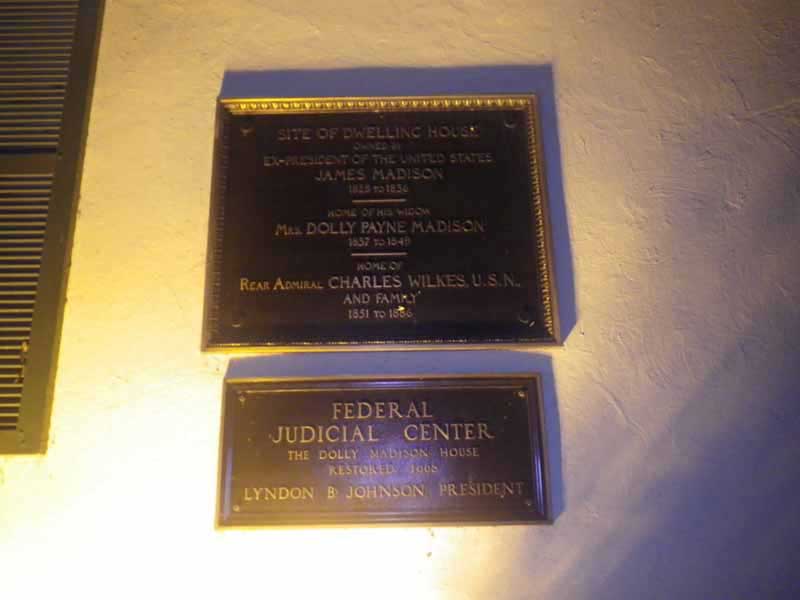 That last line on the top plaque is important to me: Way back in the long long ago, when Wilkes was just a lieutenant, he was leading America's first great scientific expedition, part of which was exploring the Oregon Territories. As events played out, Wilkes commissioned the first ship to be built in Oregon.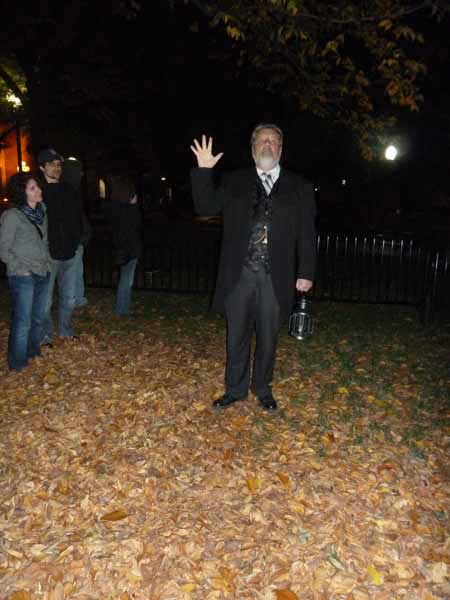 Our Ghost Tourguide was great - a 4th grade history teacher by day, he earns money for food and medicine by leading tours at night.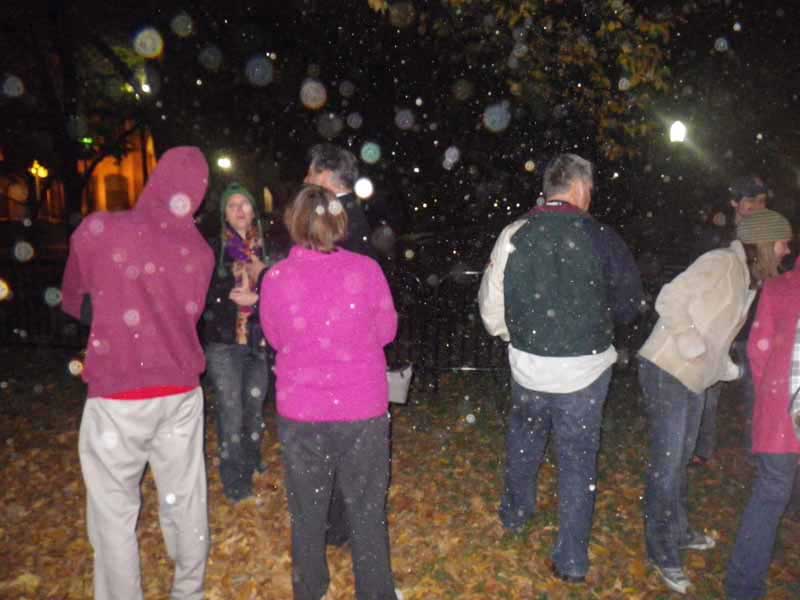 You can tell the area is saturated with ghosts - just look at the ectoplasmic orbs that only show up in photographs. Nay-sayers think these are just dust or moisture caught in the flash, but real ghost hunters know they are spirits from the other side.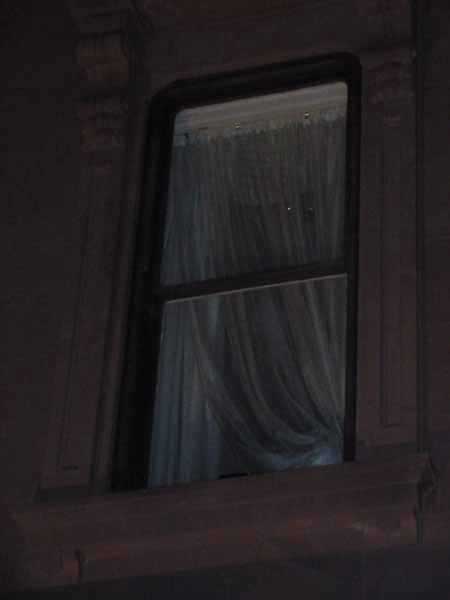 There is a really good murder story that take place in this park, involving a cuckold husband, young wife, and a dandy. This is the window the young wife may have watched the murder from - and if you look closely, you can see the flash reflected in her eyes - even to this day!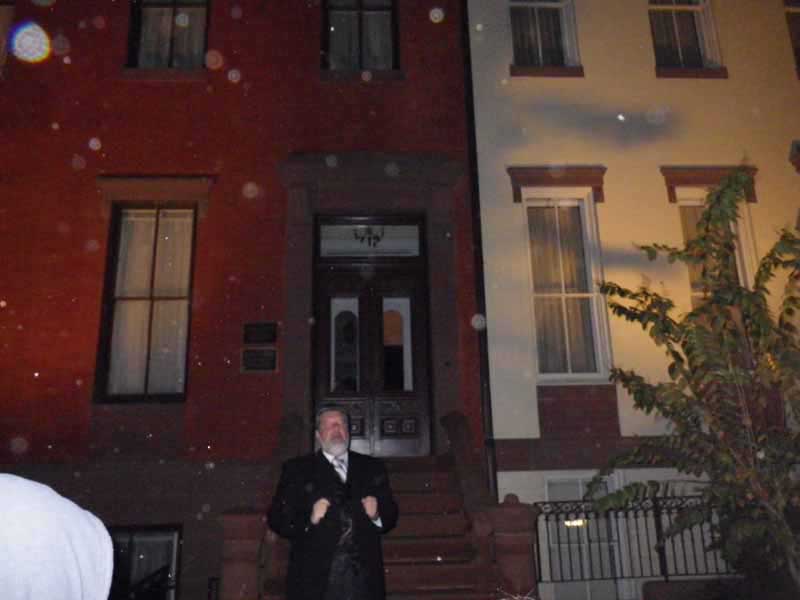 More orbs - outside the house of the couple who sat with the Lincolns that fateful night at Ford's Theater. It was on the very spot from which I took this picture that the couple experienced their last moment of happiness. Ooogah boogah boogah!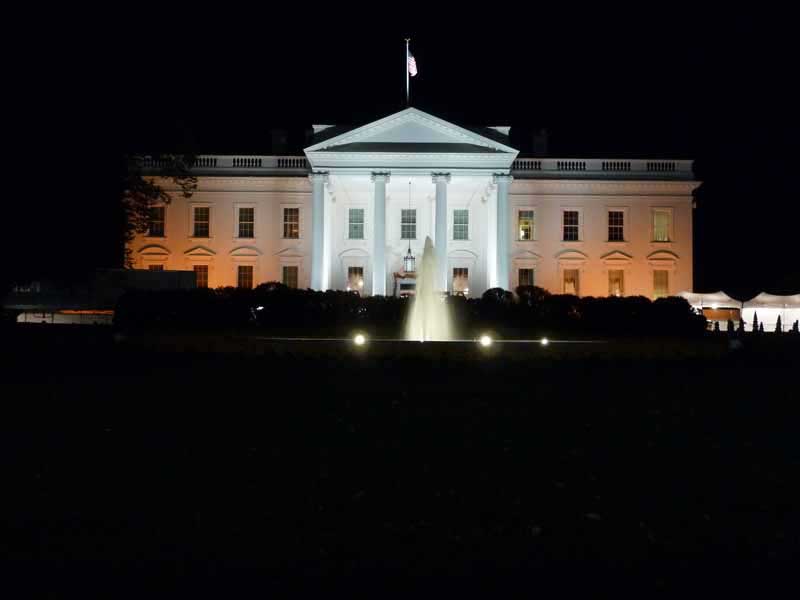 They had a Halloween party at the White House. that night and had the lights shine orange. Did I mention Keely and I got to see President Obama get on his helicopter when we were on the White House tour? It was pretty cool. You can't take a camera on the tour, so I got no pictures.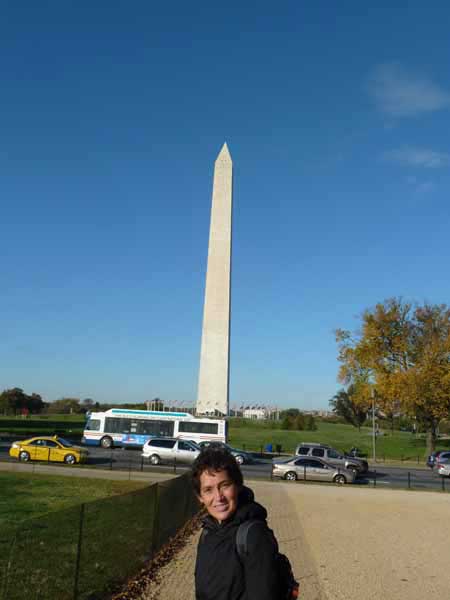 Next morning we were up early to make the most of our last day. We walked the length of the mall . . .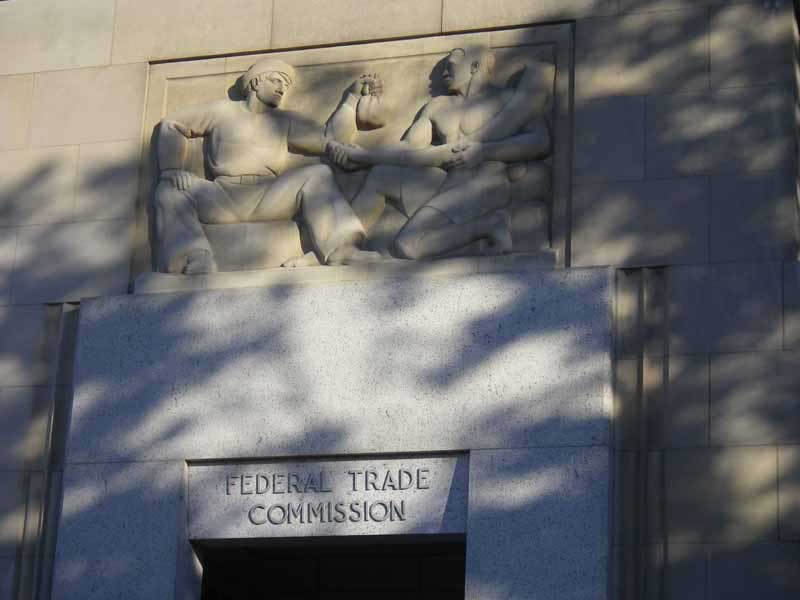 . . . past all the government buildings glorifying the theft of resources, enslavement of peoples, and slaughter of animals . . .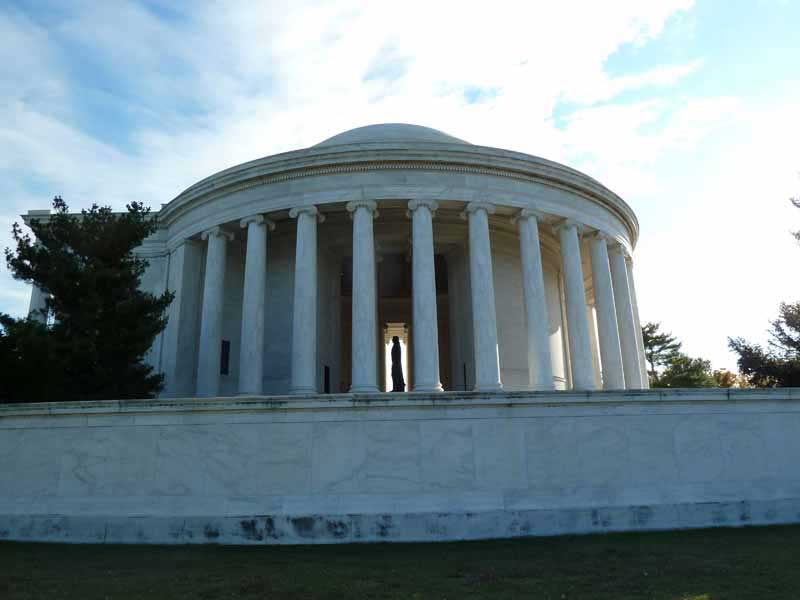 . . . to the Jefferson Memorial. Tommy was one cool dude, and his writings seem to capture what America was trying to be. I think every 'patriot' should have to visit here and read the inscriptions on the walls.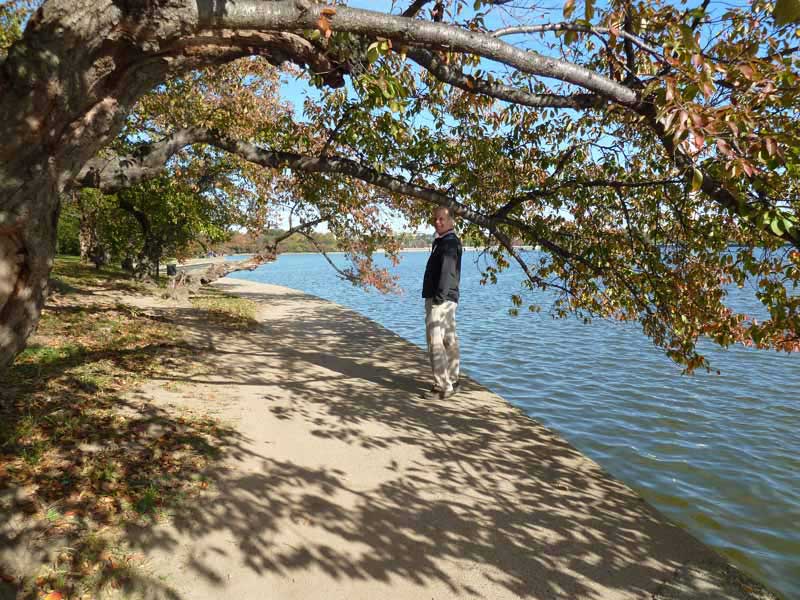 After visiting - and being awed by - the Jefferson Memorial, we walked along the Potomac This must really be beautiful when the cherry trees are in bloom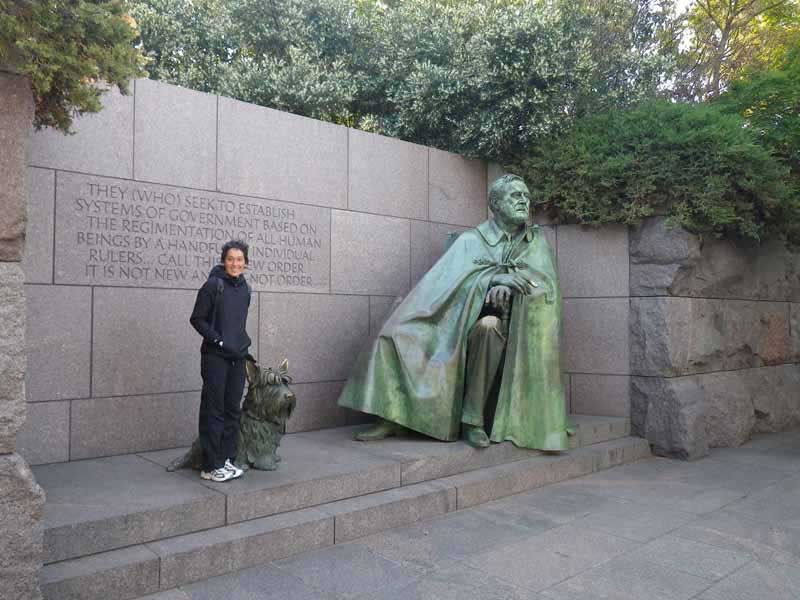 This is a very nice - very large Franklin Roosevelt memorial. Keely didn't feel like sittin' on Frank's lap.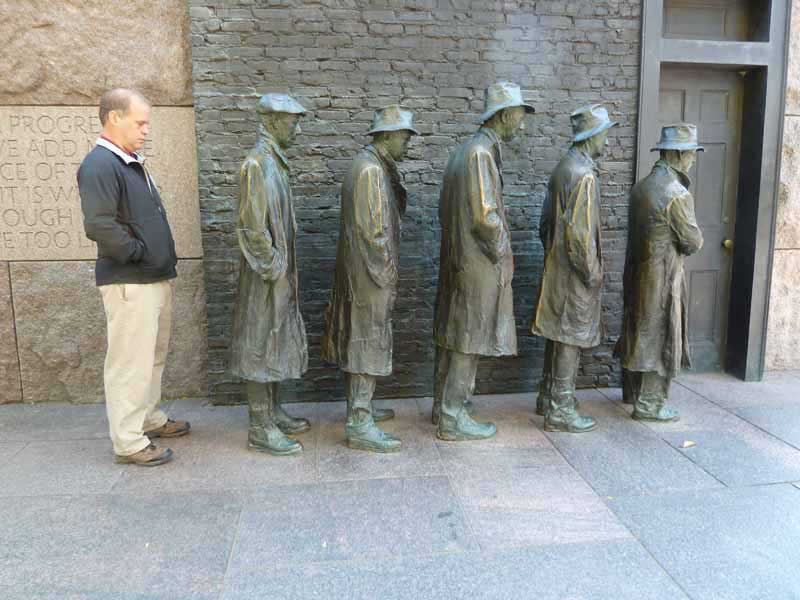 I went over to stand with the other unemployed guys.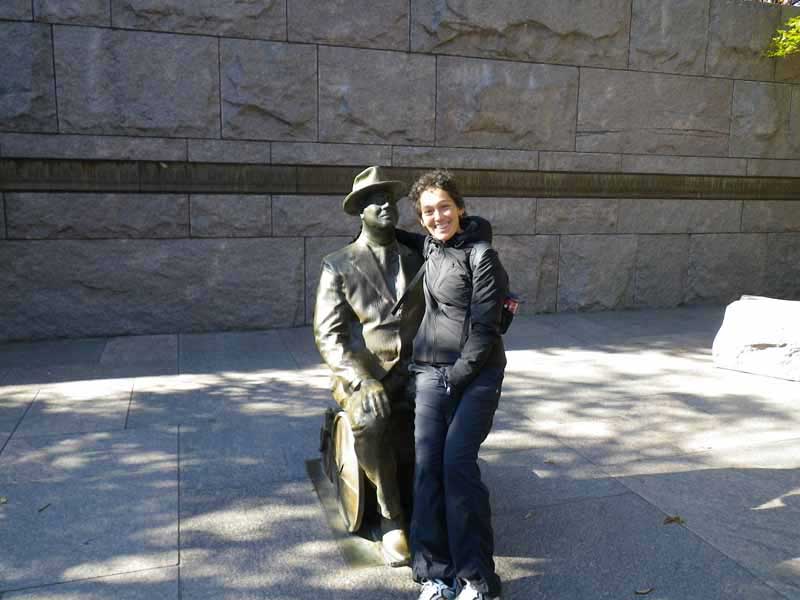 This is the young Frankie (we did the monument backwards.)
Of course, you have to stop and see that building on the back of pennies.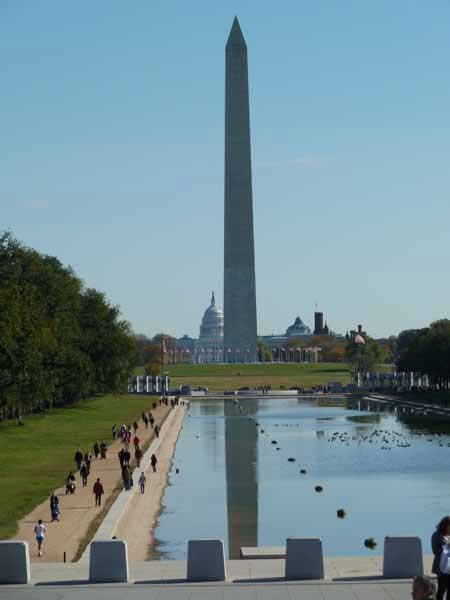 Nice art shot with the reflecting pool. It'd be nice if they filled it up every once in a while. I was here 22 years ago, and it was only 1/4 full then, too.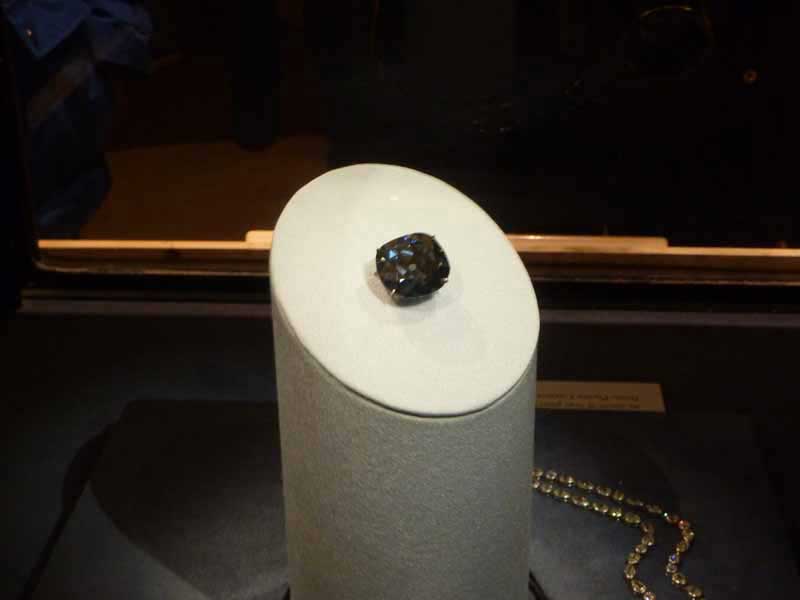 We finished up with a visit to the Smithsonian Museum of Natural History. This place has changed since I was here before. I was a little disappointed, but Keely got to see the Hope Diamond, so that was cool.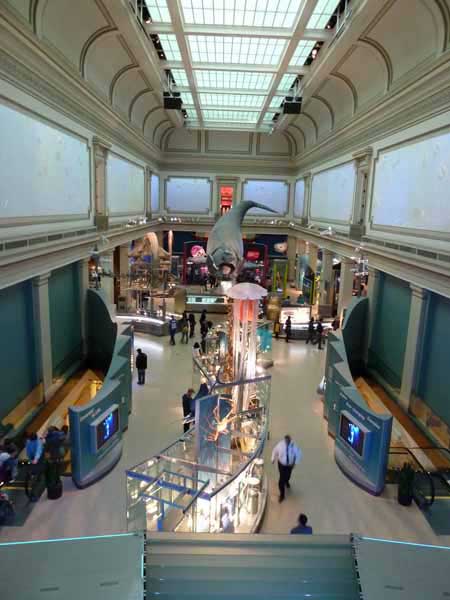 They do have fantastic displays. Ya gotta give that to 'em.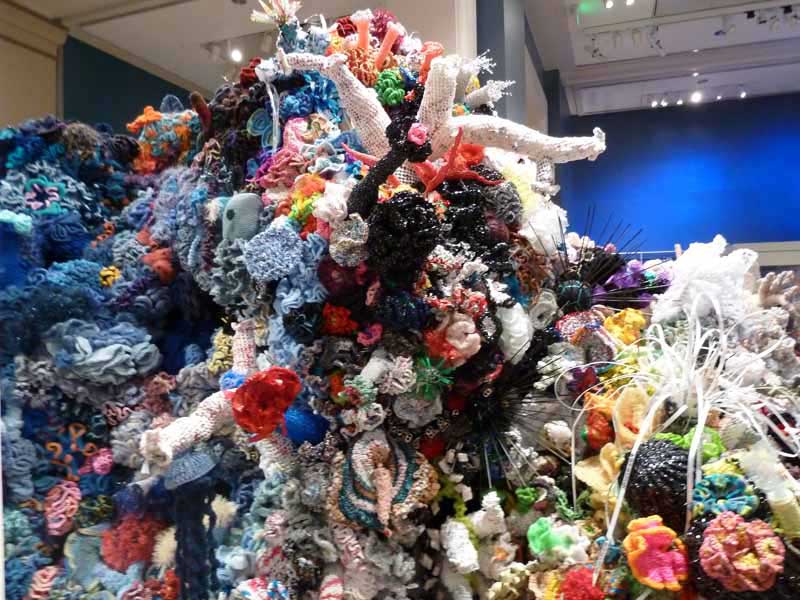 This is a life-sized representation of a coral reef ecosystem - done in crochet. Wow.
That's it - another fantastic trip with my lovely bride. That bloody, mass murdering, bastard, Mao, coined a phrase in China that goes something like "You are not a true patriot until you have walked on the Great Wall." I have to say, I think that sentiment ought to apply to Americans and Washington DC as well. I'm a west coast boy, bred and born in Oregon and to me, anything past the Idaho border is considered East Coast. Going to Washington DC and seeing the seat of power and government is pretty cool.