Bryce and Zion National Parks - October 2010
Keely and I have talked about going to Bryce and Zion for so long, the trip took on mythical proportions. Every so often, she'd ask "Where do you want to go this year?" and I'd say "We could go to the moon, maybe a unicorn ranch, or how about Bryce/Zion? Ha ha. No, let's go to Cincinnati instead."
Well it finally happened.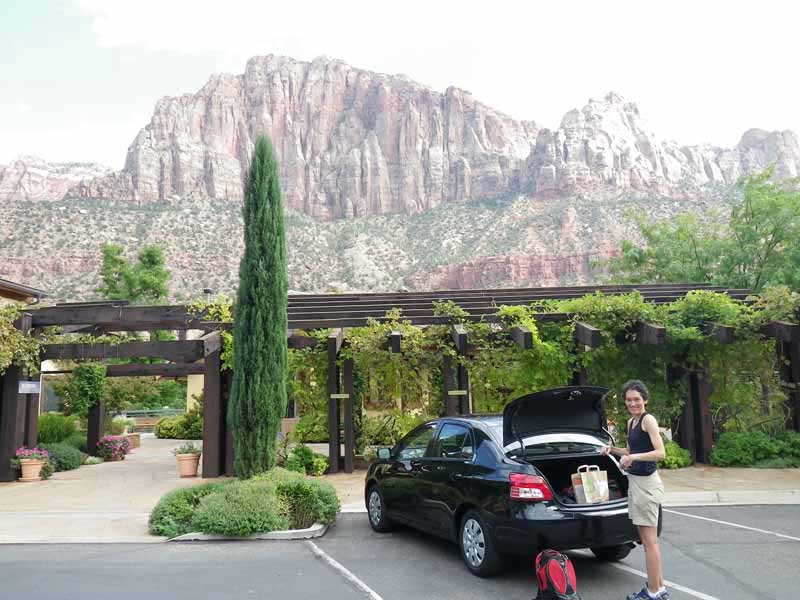 We landed in Las Vegas and drove 130 miles or so to Springdale where we stayed at the Desert Rose hotel. I really liked that hotel. While it wasn't cheap, I've paid a hell of a lot more and gotten a hell of a lot less.
Springdale has an excellent symbiotic relationship with Zion (not like Carlsbad, NM, which has a parasitic relationship with the caves.) The food is great, the shopping is adequate, the people are nice, and there is a free bus that runs through town every 15 minutes taking people to and from the park.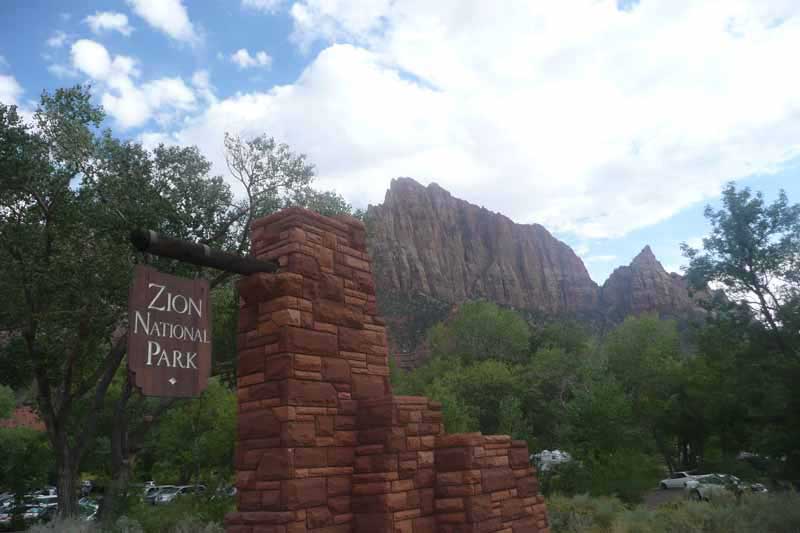 There it is, and the scenery is MAJESTIC.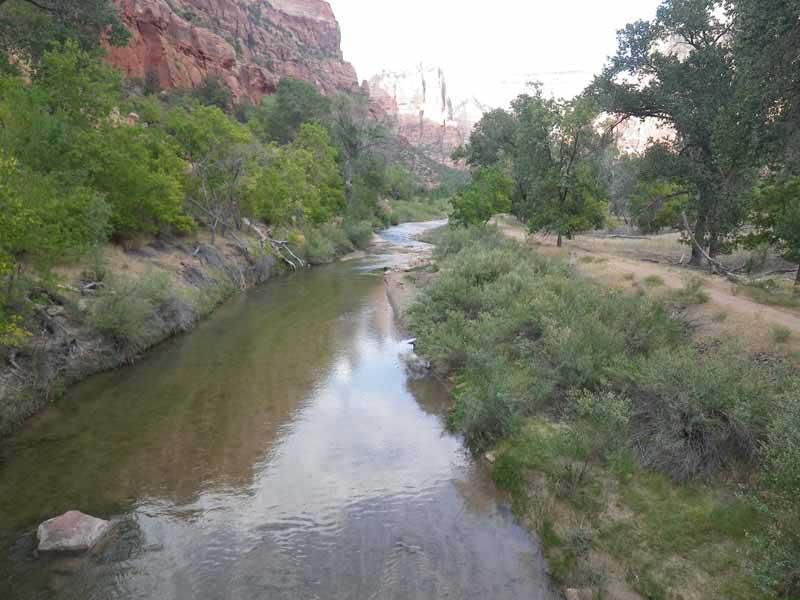 Oh, lookit that cute little trickle of a creek. Ha ha - they call it the Virgin River and claim the whole canyon was carved by its erosive action. Silly hillbillies, how can this miserable little creek carve this huge canyon.
(this is a literary technique called 'foreshadowing')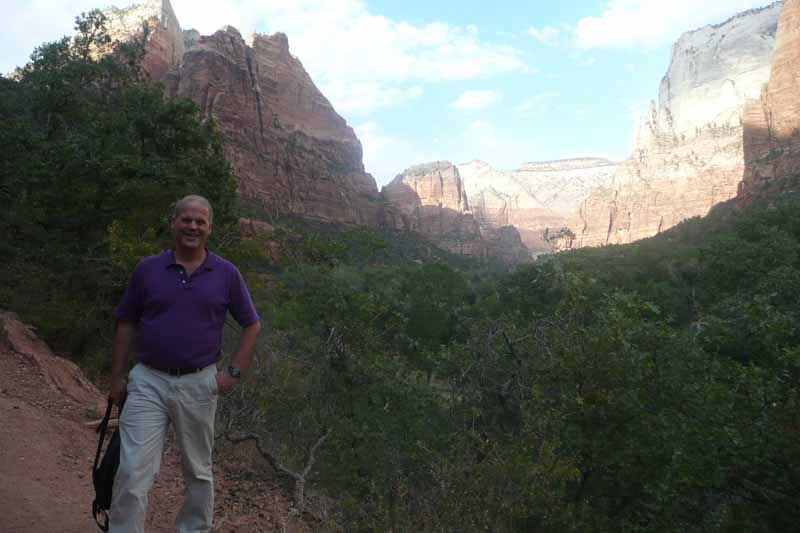 Day 1, first stop: Hike to Emerald Pools. Early this century, they figured the 5000 cars a day on the park's one road was a little much, so they have a free park bus to take you out to the sights. Hop on and off as often as you like - they run from 7am to 10pm.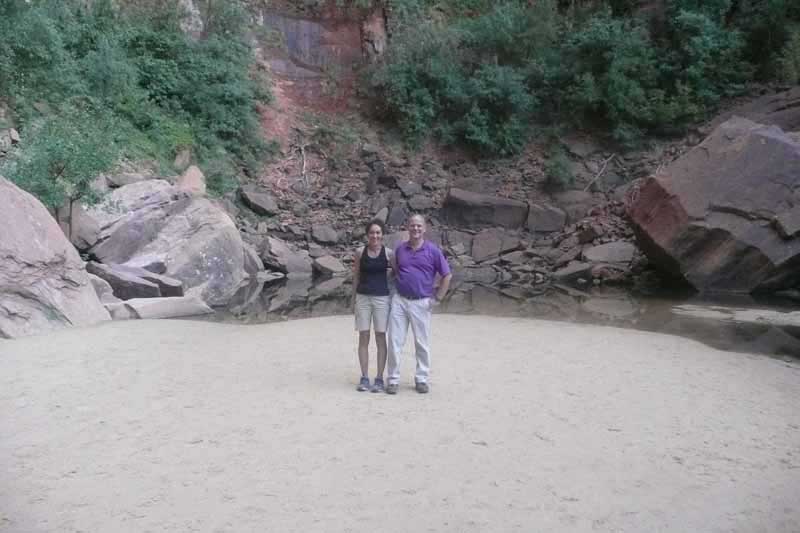 There are Upper, Middle, and Lower pools, and they are kind of emerald green from algae.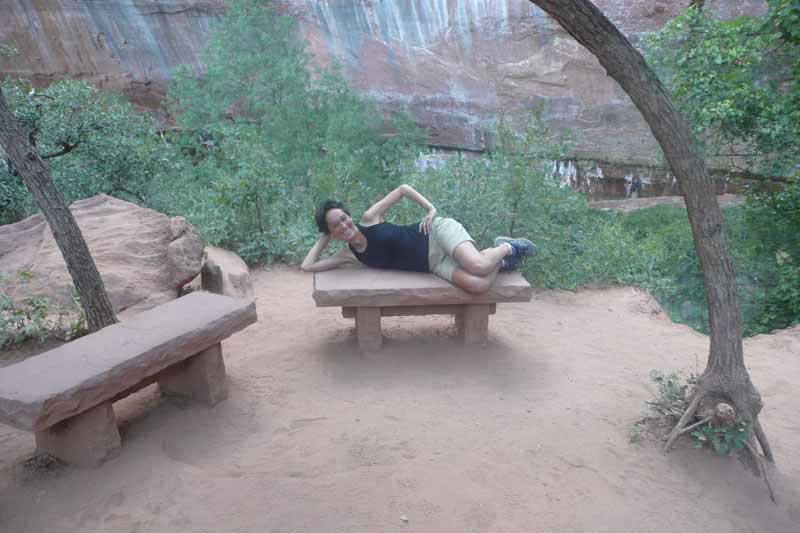 Someone's hamming it up on the sandstone benches. This really is a nice park.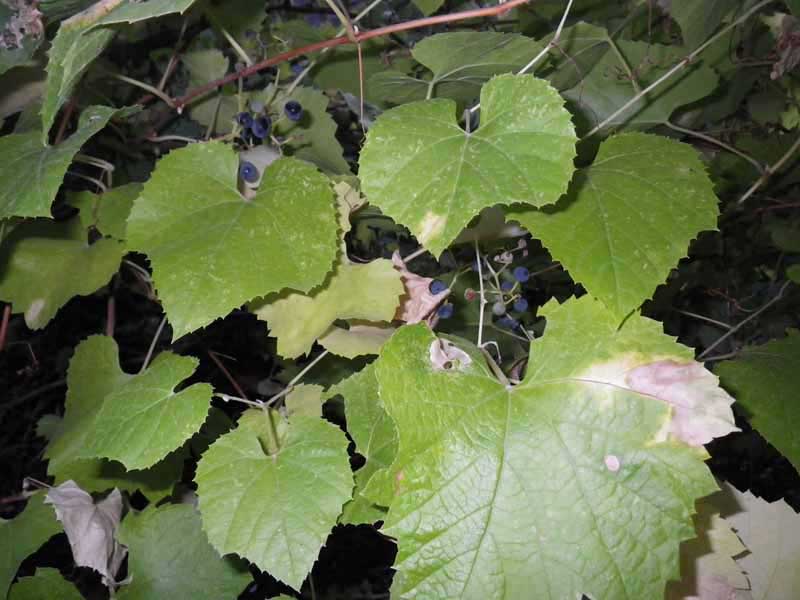 Our next stop was the hike to Angel's Landing. For a high desert area environment, Zion canyon is shockingly lush. They even have their own wild grape - Canyon Grape - that helps feed the wide variety of wildlife. They are pretty tasty, too (the grapes - we didn't eat any of the animals.)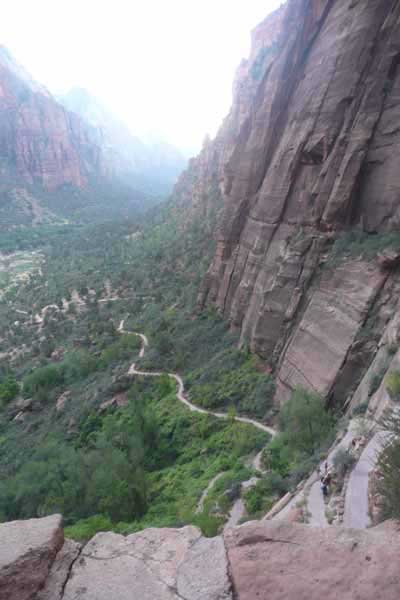 The book says the hike to Angel's Landing is 5 miles and takes 5 hours. It is and it does - and it's some pretty strenuous going, too.
They have this at Scout's Landing, warning you that the last 1/2 mile or so is scary steep. Pfft. Like we are going to pay attention to some silly sign.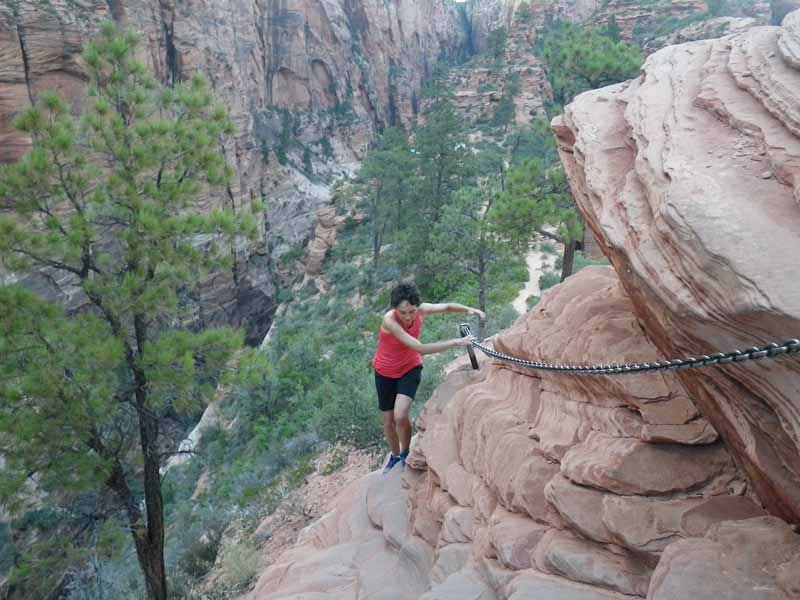 Holy crap! That sign was right! After yarding our way up these chains, we came to a flat spot. Darling, daring Keely deciding she had been daring enough and decided to be her darling self at the flat spot while I went up to the top.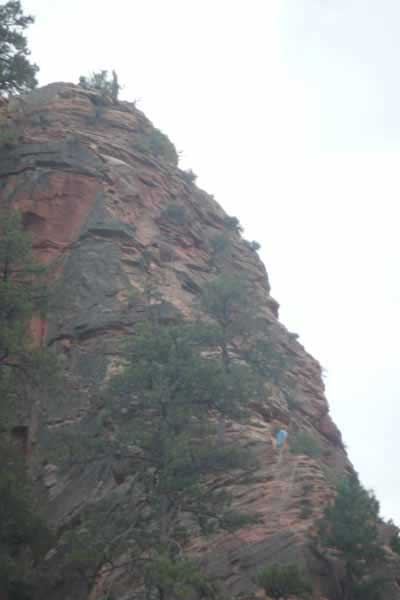 That little patch of blue near the bottom is me.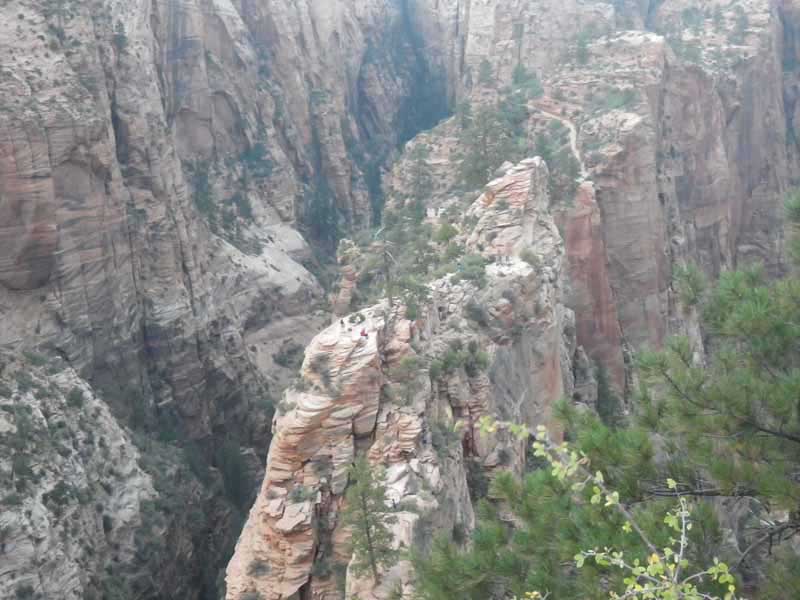 That little dark spot on the flat spot is Keely. Wheee! Having some fun now!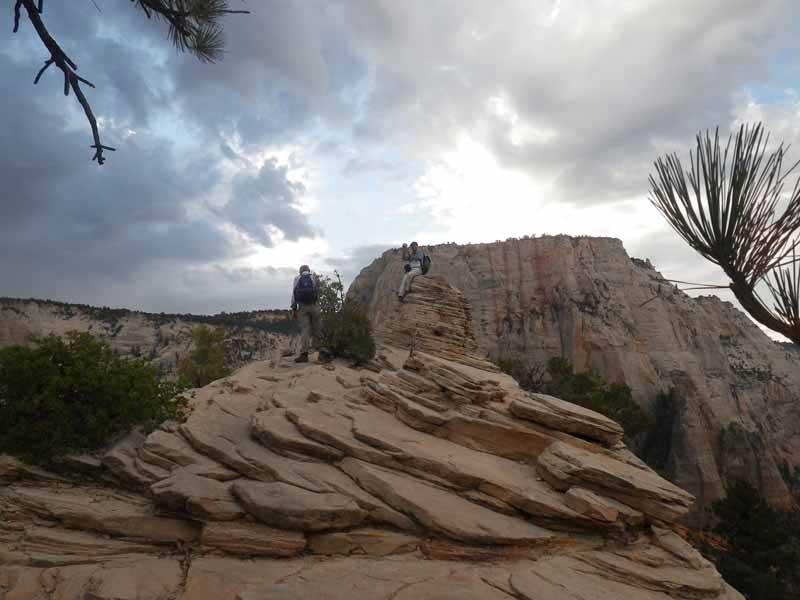 At the top, I met Tom and Bill, a couple of guys from York, England. They had met on a cruise in 1993 and have been traveling together ever since. They like to climb things, and Zion is just one of many places they have been in the US. Kinda makes me sad that more Americans don't get out and see our beautiful country.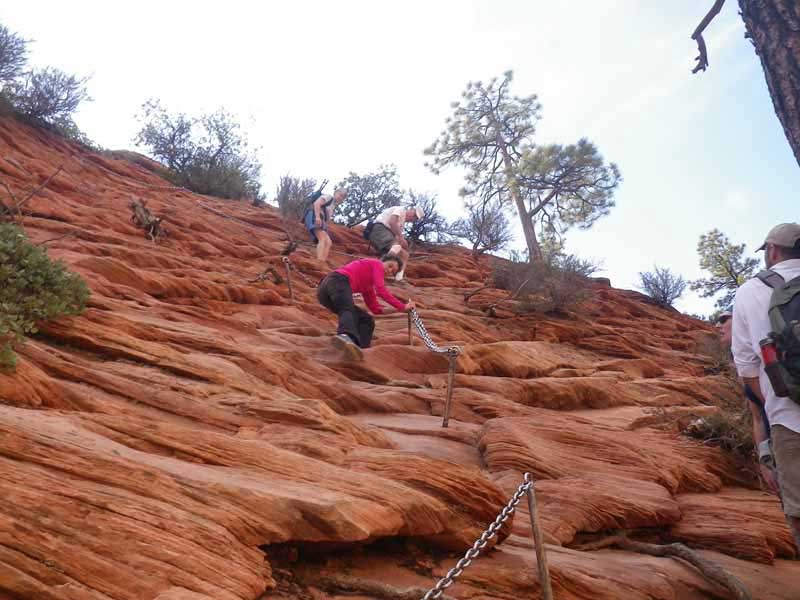 The return to Scout's Landing was no less enjoyable than the trip up. Poor Keely, she really doesn't like heights.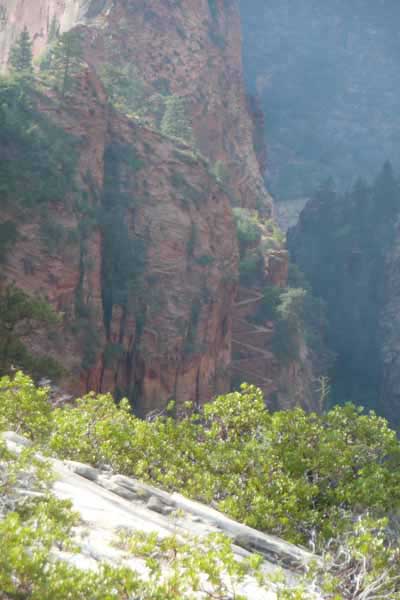 That zig-zag in the distance is the path up to Scout's Landing. It's called Walter's Wiggles - 20 something switchbacks that kick yer ass. Named after the sadist that was managing the park when they were built.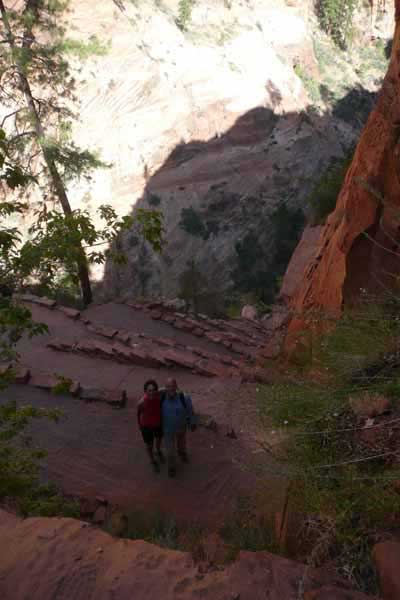 There's Keely and I on our way back down the Wiggles. The picture was taken by a young couple who were trying t chase her 70-year-old father up the trail. "Man, he just keeps going" wheezed the guy. "He's gonna outlive us all."
Back at the bottom, the afternoon was waning so we bussed back to the hotel - checking out various visitor centers and such along the way. We ate at one of the very nice restaurants in Springdale and went to bed in our very nice room.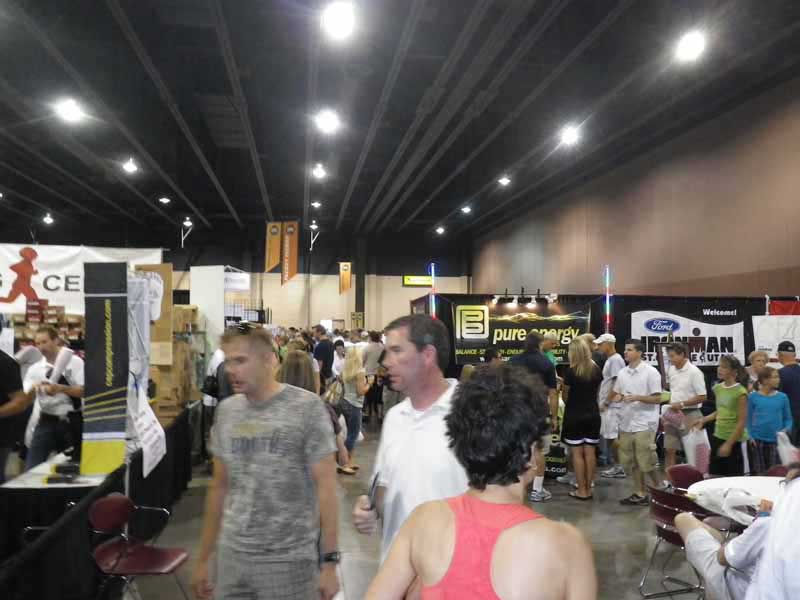 We were at Zion so Keely could run the St. George Marathon, so we were up in the morning and on the road, driving an hour to St George to register her at the expo. It was your usual madhouse of vendors and athletes.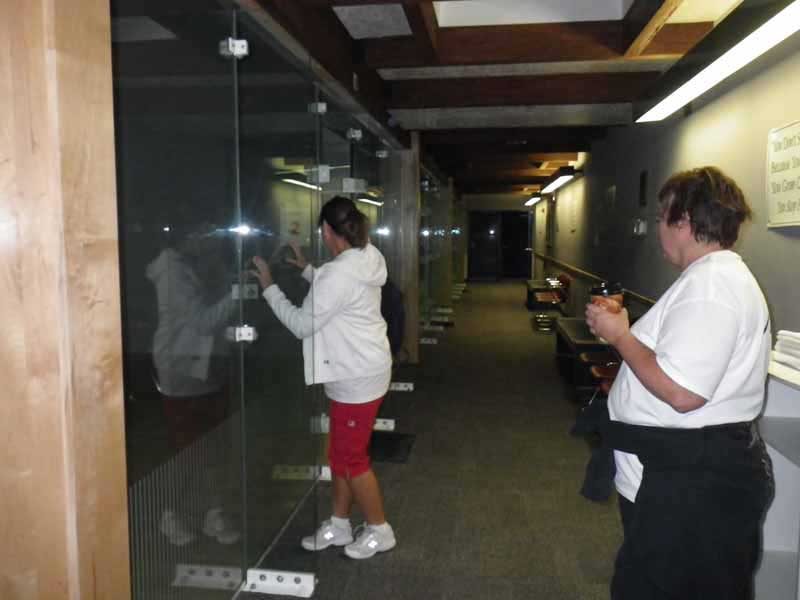 When ever I can, I like to volunteer while Keely runs. The people at St. George needed people to help direct traffic, so I had to meet to the coordinators at 3am in rec center. While we were waiting for the other volunteers, someone let slip that the building was haunted and the ghost liked to hang out in one of the racquet ball courts. We all trooped over to the courts, but saw no ghost. Of course, I suggested someone go inside the court - then also suggested someone turn out the lights. Racquet ball courts have glass walls with glass doors, so when the lights went out, and someone - I don't know who - said "I see the ghost!" the poor lady inside the court freaked and couldn't find the exit.
Sometimes people volunteer to help. Sometimes people volunteer because they are pricks.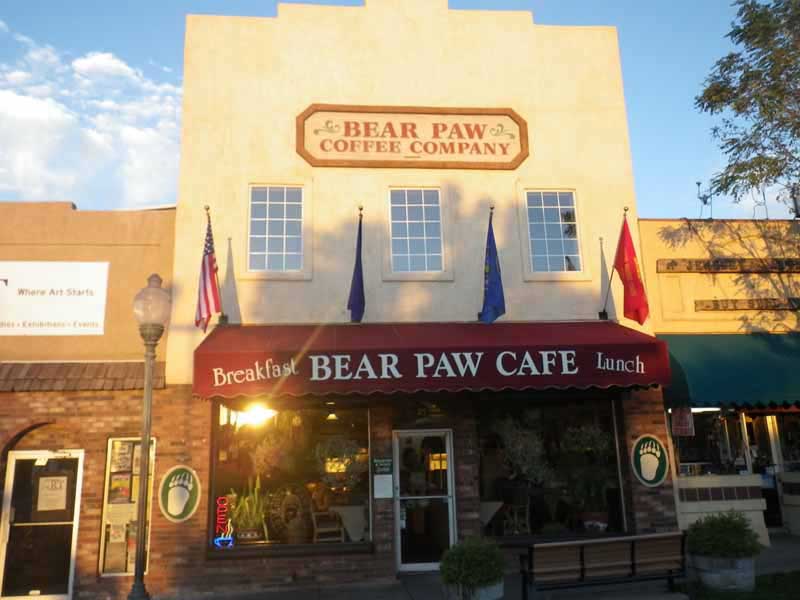 Marathons start early in the morning, so once I was done with my parking duties and terrorizing the other volunteers, I wandered off to amuse myself. The Bear Paw Cafe was recommended, and I had a nice breakfast. But I still had a lot of time to kill.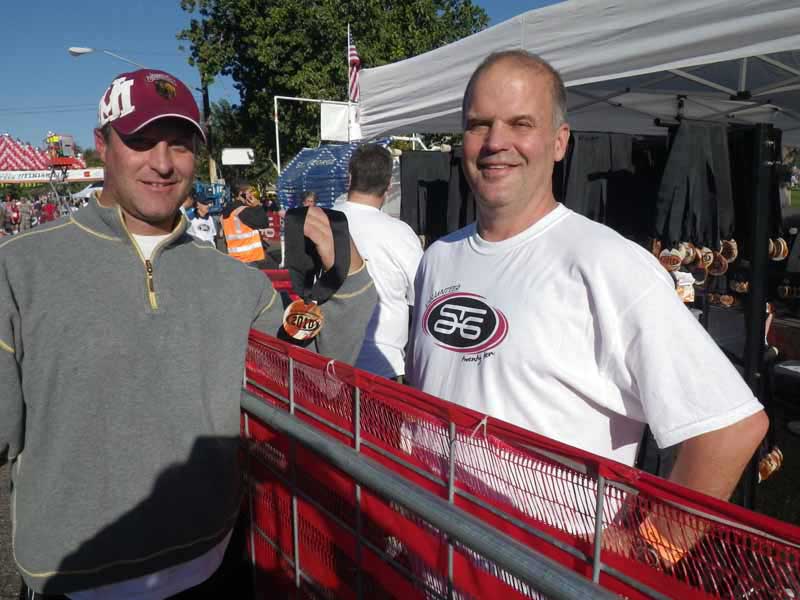 I returned to the race area and asked if I could volunteer in any other way. They said I could help hand out medals to the finishers. Here I am with Steve, the guy who designed the 2010 St George Marathon medals. The picture was taken by his very proud mother.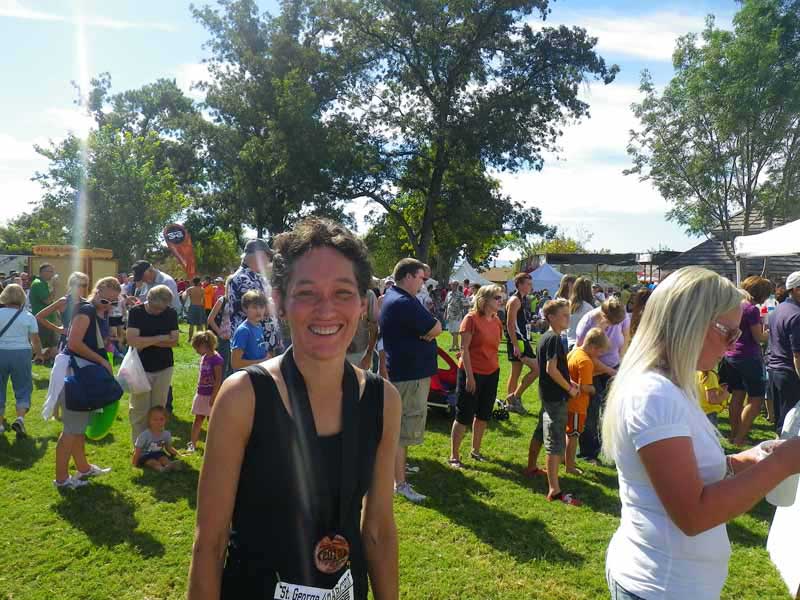 There's Keely with her medal and a finish time of 3:55:55 - good enough to qualify for Boston (again.)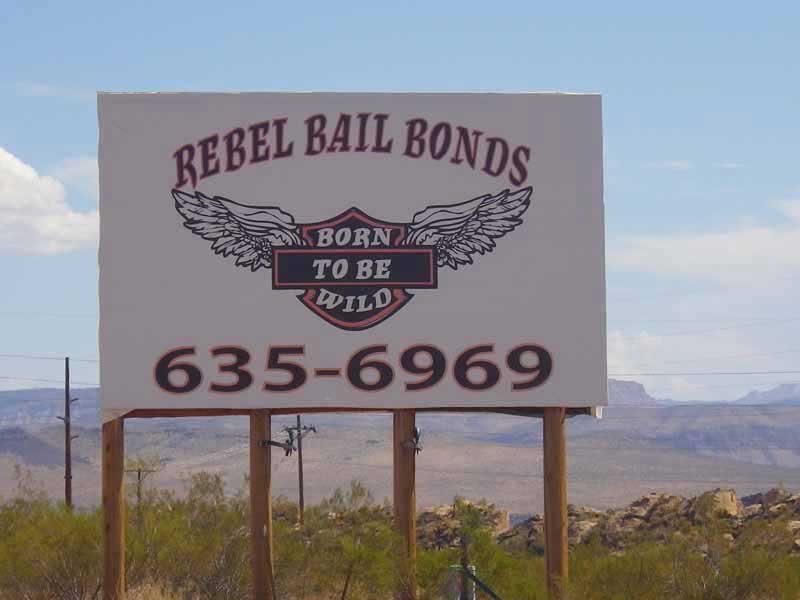 On the road back to Springdale is this sign. My brother-in-law works for a bail bond company, but their logo isn't as cool as this one.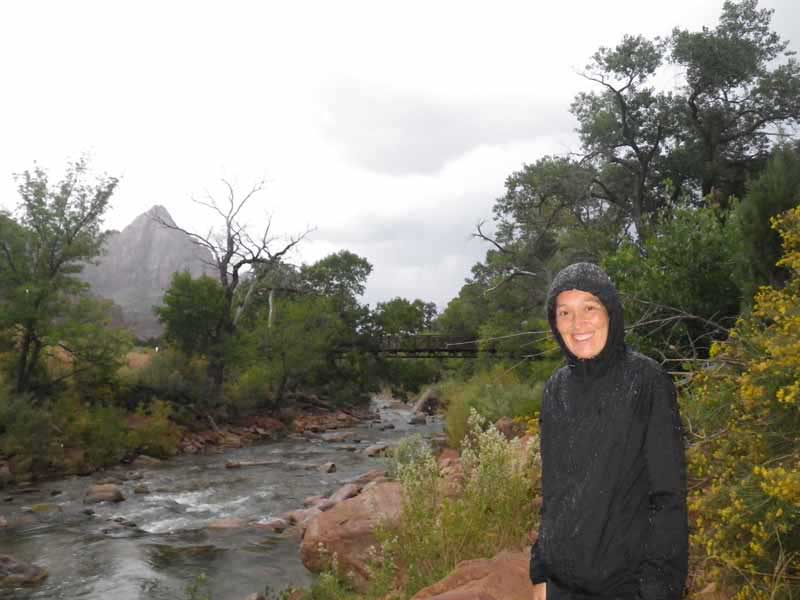 So what do you do with your wife after she has run a marathon? You take her on hikes, of course! The evening turned wet and we got rained on a bit as we did the 2+ mile Riverside walk.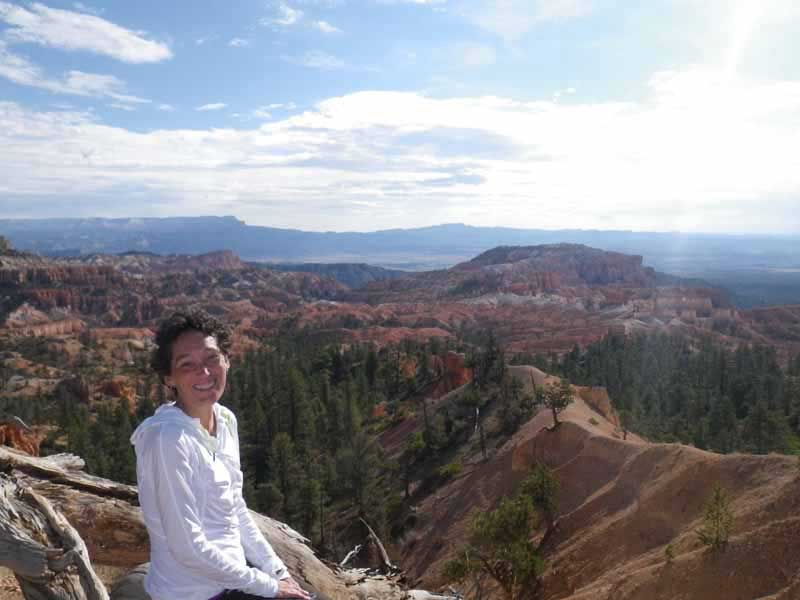 Next morning was off to Bryce. We drove through a 4 mile long tunnel to get there. Man, if Zion is beautiful, Bryce is simply stunning.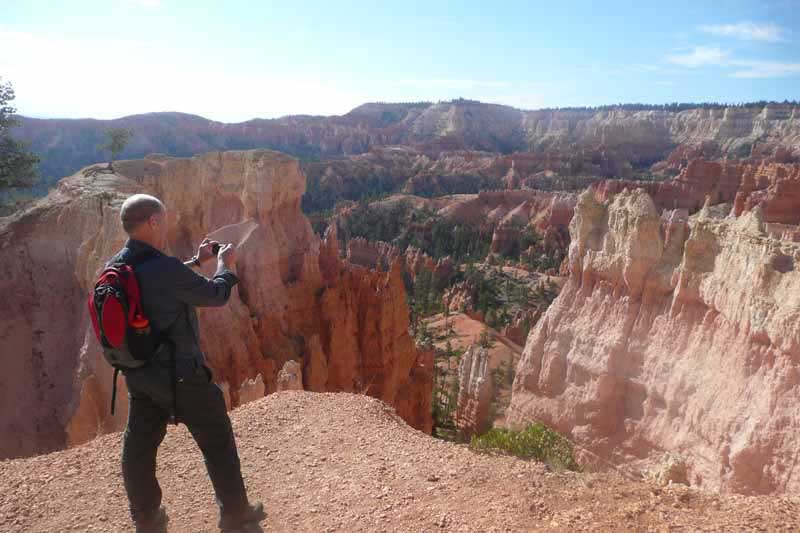 Unlike Zion, there is no river at the bottom of Bryce, so the land is just sort of melting away under rain and snow. It makes for fantastic formations.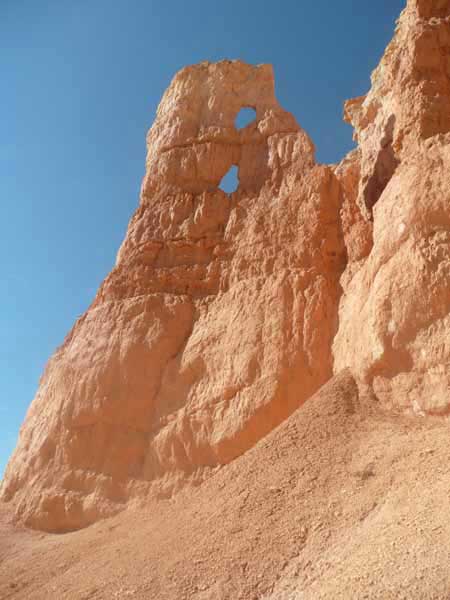 There are a lot of 'rock window' formations in the hoodoos.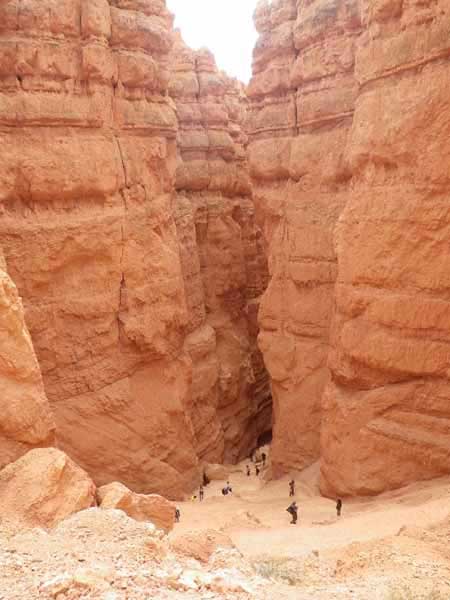 We walked our butts off that day - a three mile loop here, a six mile loop there, everywhere a loop loop. This is Wall Street.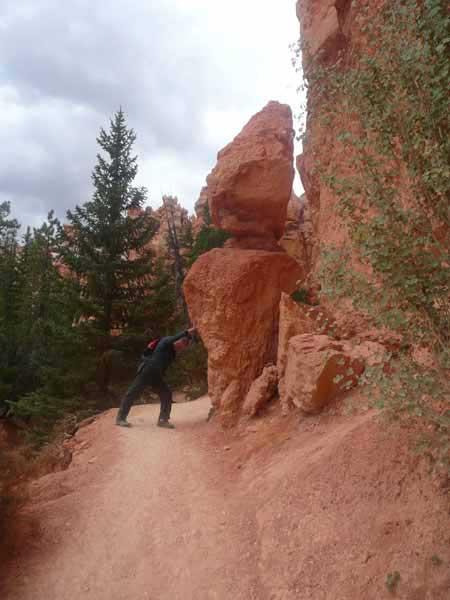 Here I am proving no 'real' man ever grows older than 12.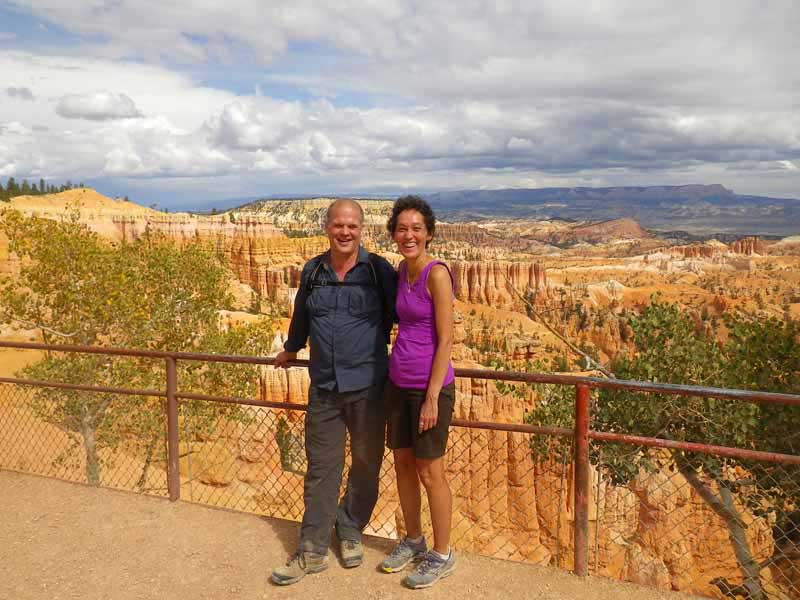 Just frigging beautiful.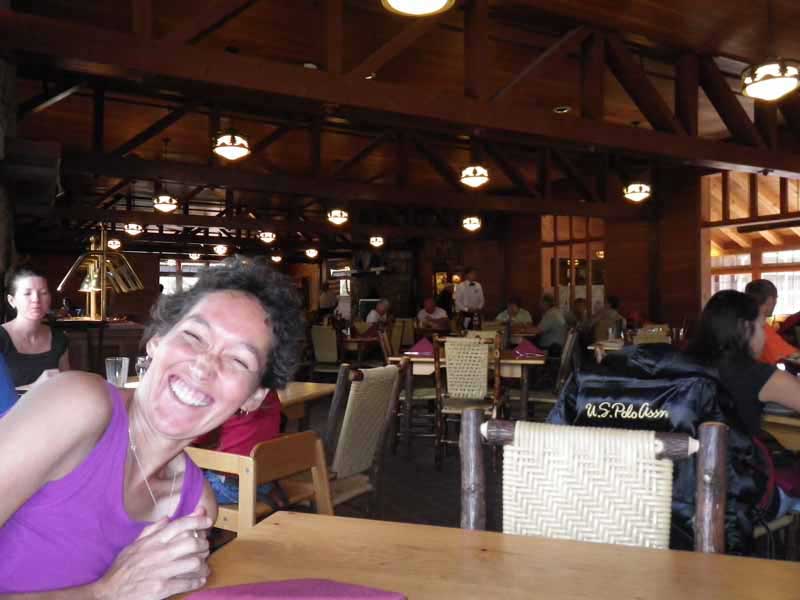 We stopped for lunch at the lodge. I was a little trepidatious - lodge food in Yellowstone was pretty terrible. But here? It was fantastic. I mean it was really, really good.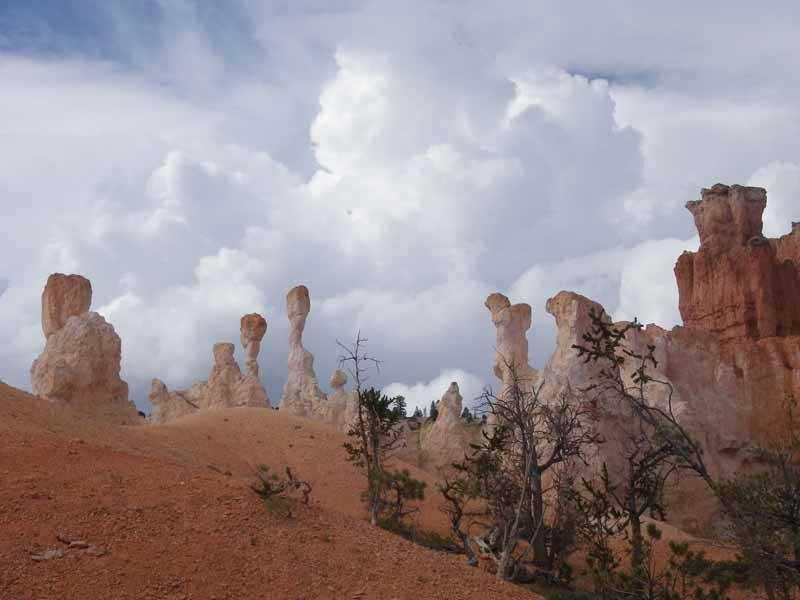 After lunch, it was off to see more hoodoos.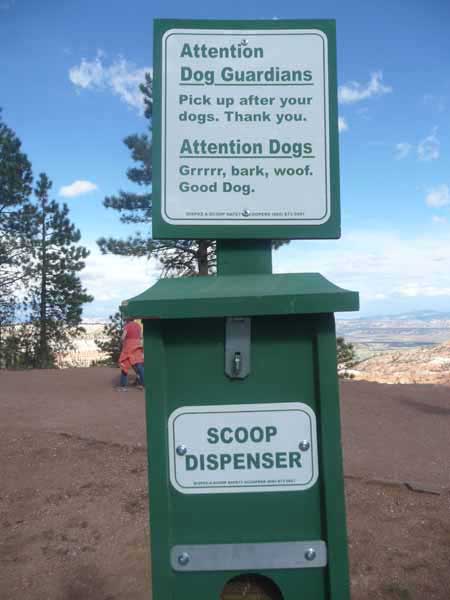 OK, someone at the park service has a sense of humor.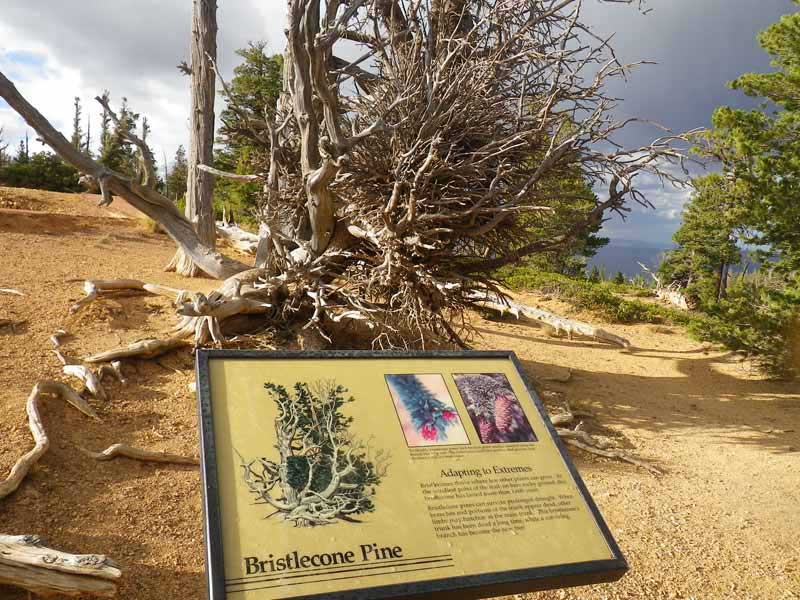 We took off for a drive along the rim of Bryce (at Bryce, you look down. At Zion, you look up.) Ever since reading Charlie and the Great Glass Elevator, I've had a passing interest in bristlecone pines. I hate to tell you guys, but this one? He dead.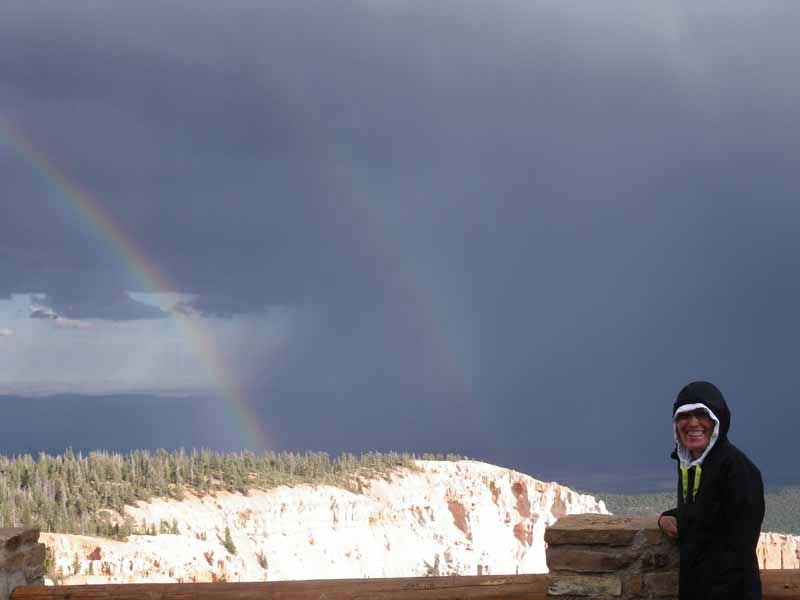 As evening came on, so did the weather. We got to see a perfect double rainbow.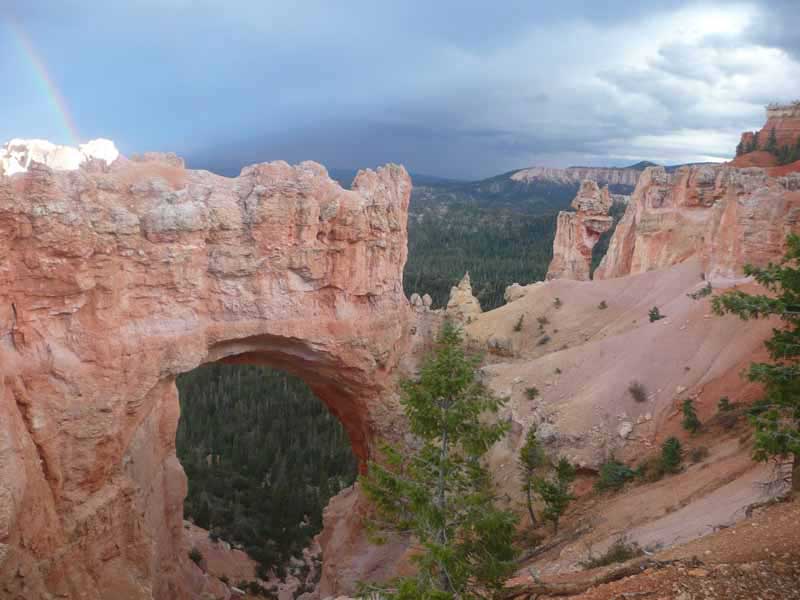 There's the rainbow again - here at the Natural Bridge.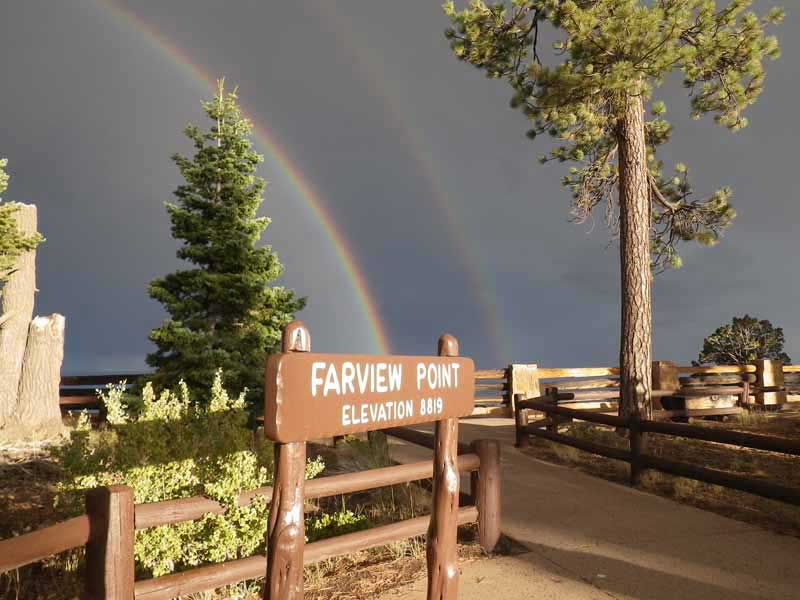 And more double rainbow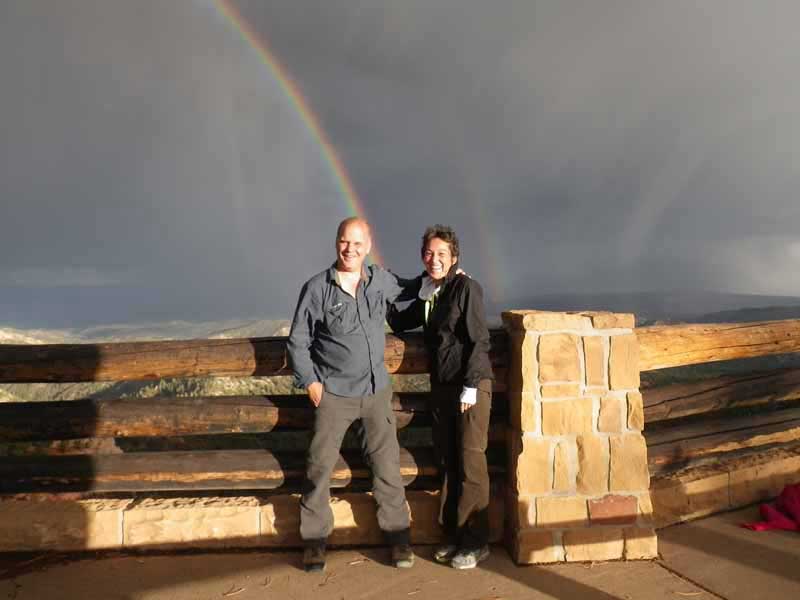 And a little more, 'cuz you just can't get enough double rainbow.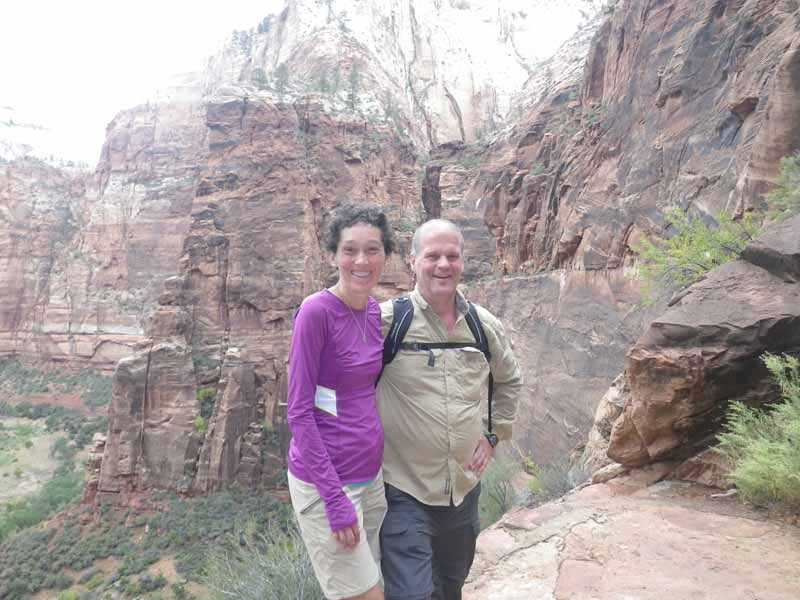 The next morning started out fair. We were going to do Observation Point - 8 miles, 2150ft elevation change, and all in 5 hours.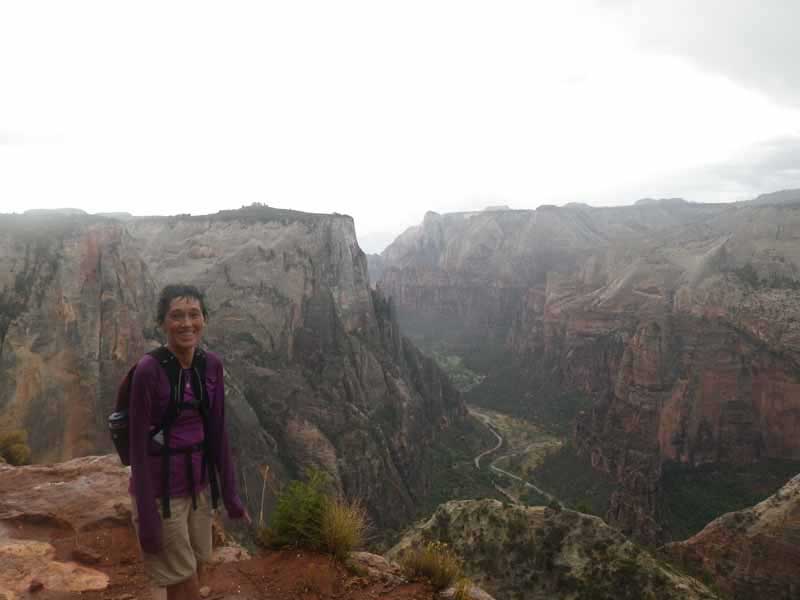 It started raining a little as we neared the top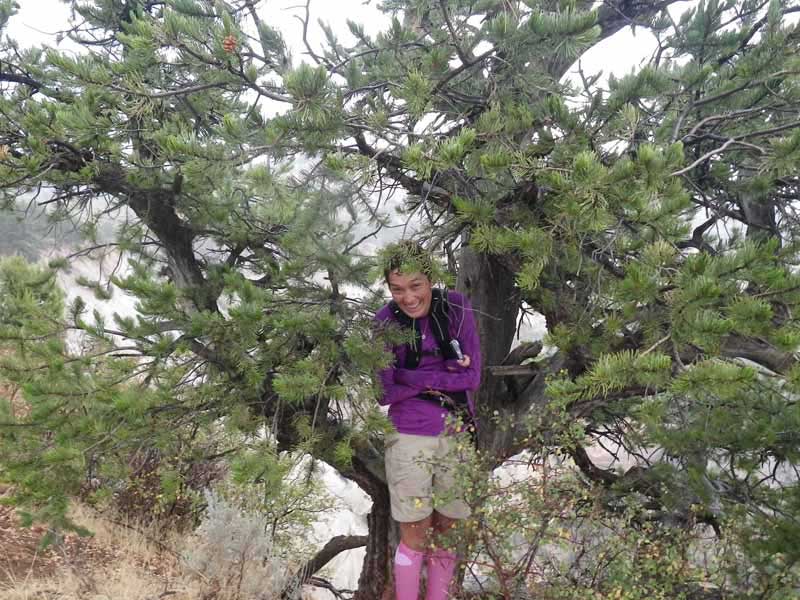 Then it started raining a lot, and we thought we could hide out a bit.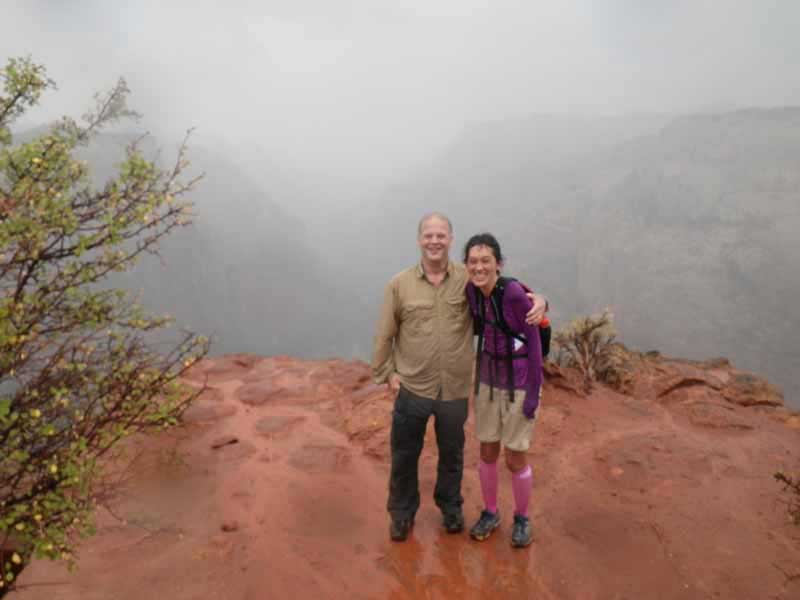 And finally we just said 'screw it' and tried to enjoy it. There we were, on a mountaintop, pissing down rain and thunder in the distance, with nothing but a 4-mile hike down an exposed mountainside to look forward to.. Good times, good times.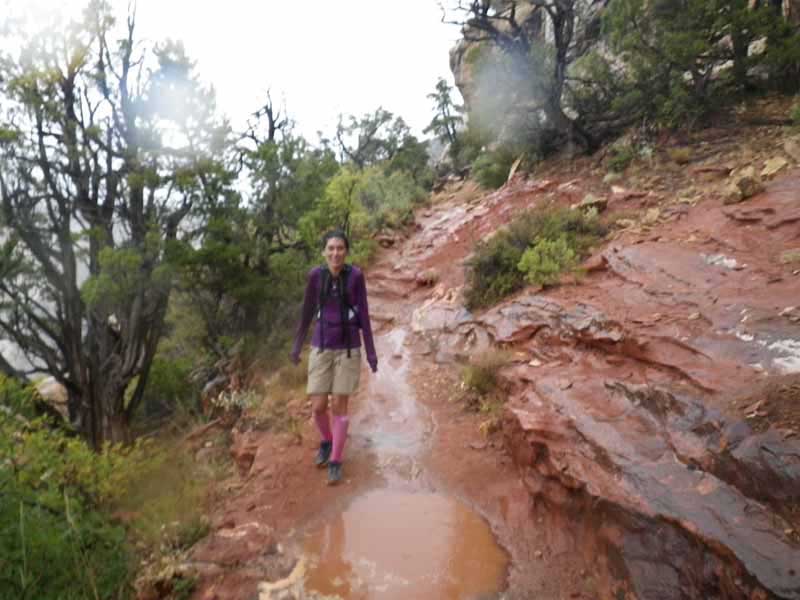 The trails turned to creeks and we just got wetter and colder, wetter and colder.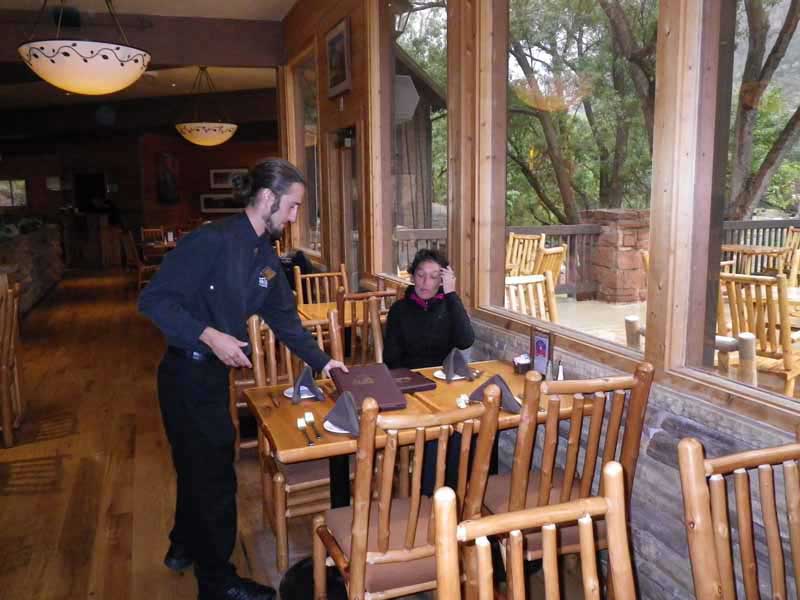 At the bottom we headed to the bus, then to the hotel, showers to warm up, a little nappy-time, then back into the park and to the lodge for an excellent dinner. I can't praise the dining in the lodges of Bryce and Zion enough. Excellent food.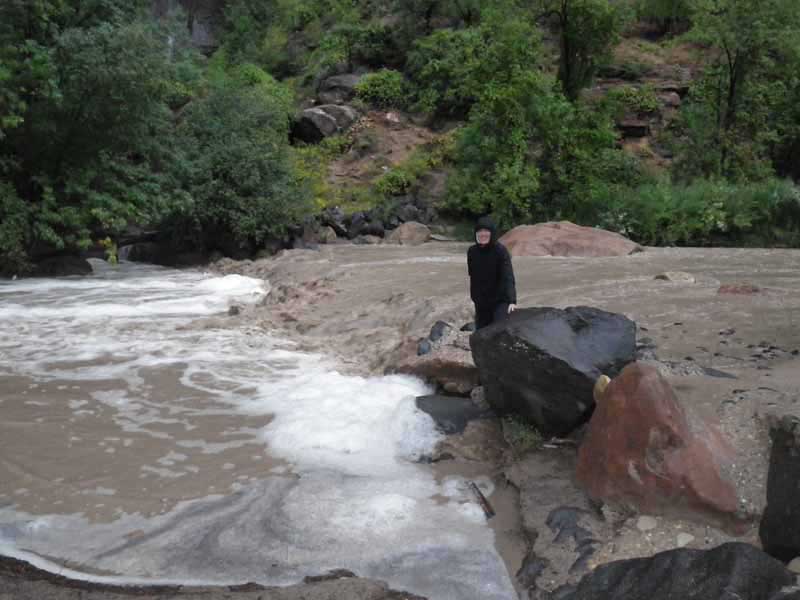 We had hoped to "Hike the Narrows" on our last day in Zion. The Narrows being a thin canyon cut by that pissy little river I denigrated way back on the first day. Well, that miserable little creek had become a raging torrent.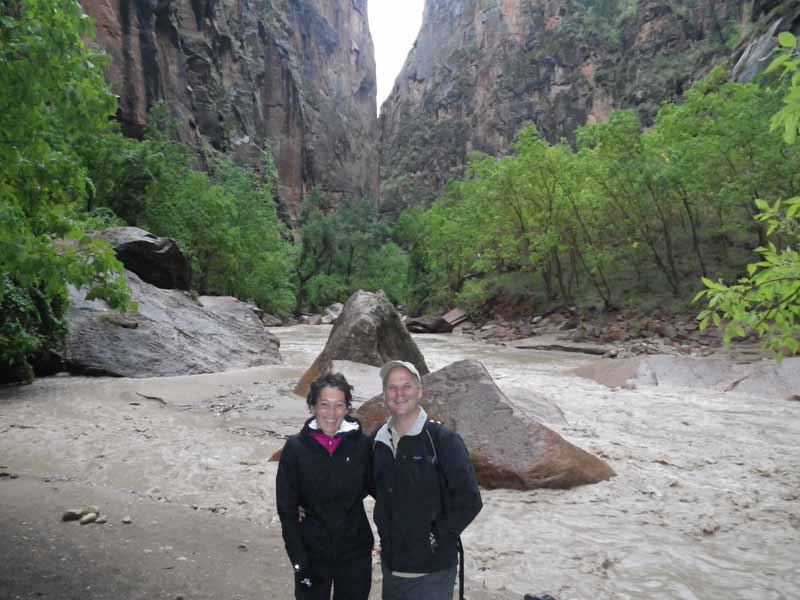 Nothing to do but laugh and get our picture taken. That's the Narrows off in the background.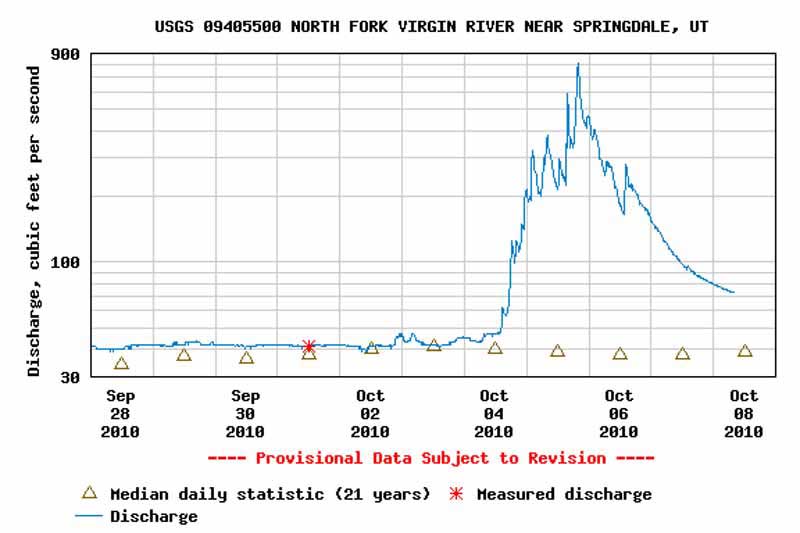 Here's a graph of the waterflow of the Virgin River. The close hiking in the Narrows when the water reaches 130cfm. We were there on the 5th.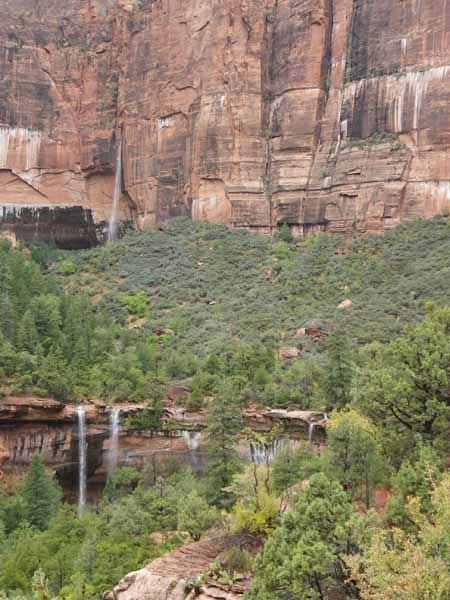 Remember the Emerald Pools? Here's waterfalls running down the different tiers.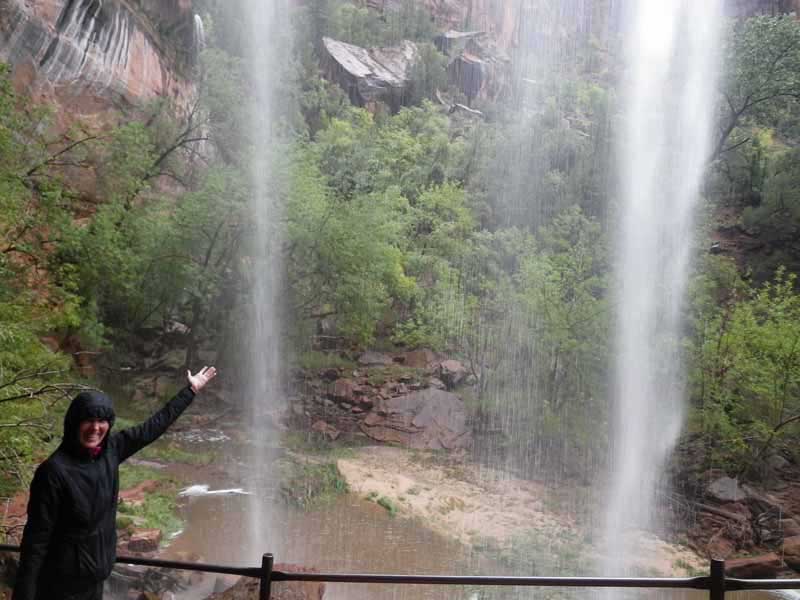 That's a lot of water coming off the middle tier of the Emerald Pools.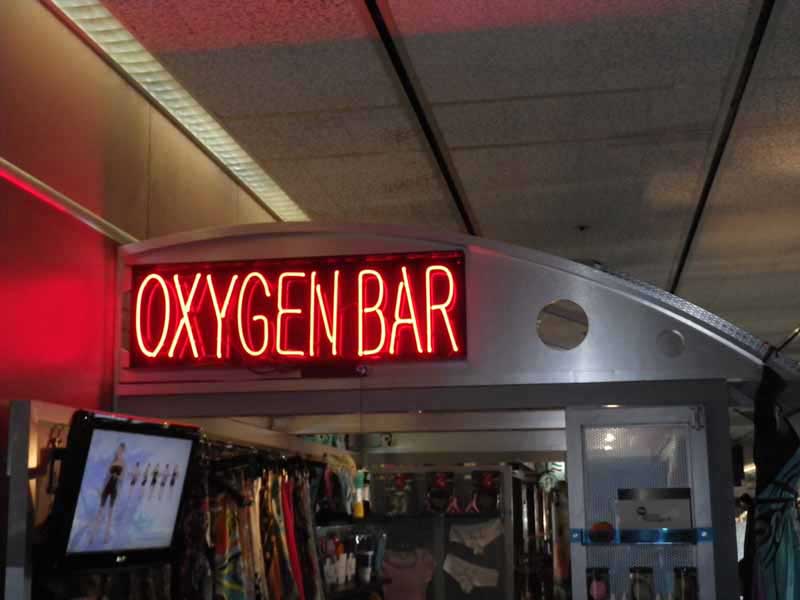 We left Zion and made our way back to civilization. One glance at Las Vegas was enough for me - we headed straight to the airport. At the airport I saw this - actually selling hits of O2 and, apparently, panties. I'm not a religious person, but if any of that hokum is true, we are going to deserve everything we get.
That's it - our trip to wonderful, mythical, Bryce/Zion. I highly recommend going.